The social media management space requires high levels of organization. If you're working by yourself on one brand and one channel, you can find it manageable. But if you're handling multiple brands on numerous channels with a team, you need a system.
In this article, I'm going to share my top agency hacks for working with others more efficiently in a fast-paced marketing environment. I'll also be showing you how the Agorapulse social media inbox can streamline your team.
What Is Agorapulse's Social Media Inbox?
Before we get into the hacks, let's talk briefly about Agorapulse's social media inbox. Agorapulse offers a dashboard that contains calendar scheduling, reporting, and social media notifications.
Once you've connected your social media pages and profiles to Agorapulse, the social media inbox kicks in and will collate all your messages in one place. That includes fan comments, messages, and Instagram and Facebook ad comments.
No more logging in and out of each platform to check messages and notifications.
Plus, any team member added to a client account can see what's been dealt with and what hasn't. So, no overlap or missed replies.
Now, let's look at how to more efficiently work with others on your team and outside your organization.
1. Assign Folder Access
Every agency and brand are different, but at Contentworks Agency we have clear systems in place to speed up collaboration among team members. Being able to access the information you need to do the job is essential to prevent bottlenecks.
Anyone working on a client account should have access to the following folders on your server:
The client's style guide, brand book, or tone of voice document
An extract of the client contract that shows the scope of work
Any legal risk warnings or disclaimers
Key contacts within the organization
An image/GIF library (available within the Agorapulse dashboard on certain pricing plans)
When you onboard new team members, ensure they have the correct access and know where to find or request everything they need.
2. Add Team Members to the Agorapulse Dashboard
Adding all your team members to an account they are not involved with is not a good way to work. One of the great things about the Agorapulse dashboard is that the access levels are very specific.
You can add specific team members to a brand's socials, and you can tailor their level of access. A Manager automatically has Admin rights on all social profiles included in the organization. Any Member they add can then be an Admin, Editor, Moderator or Guest.
Updating access levels is a two-second job. That makes working together on accounts super-easy.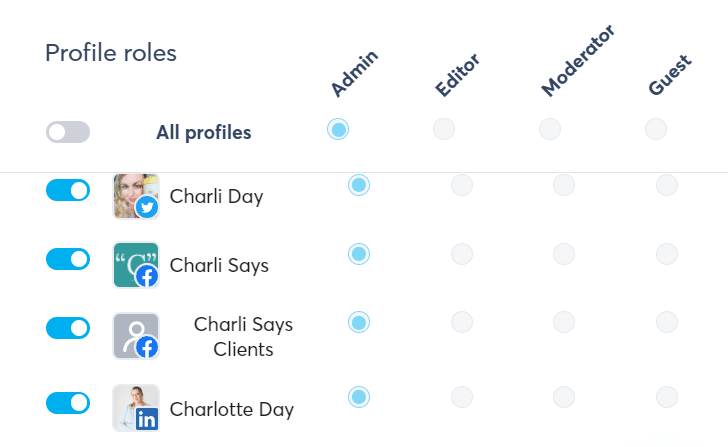 Team members working on a client account can give general updates during team meetings, so everyone is kept in the loop.
Related read: How This Agency Cut Down Its Time and Can Now Focus on Growth
3. Fully Utilize the Assign Feature
Constantly screenshotting fan comments and sending emails to team members is a huge time drain. But it's still something most social media managers end up doing. Fully utilize the "assign" feature in the Agorapulse dashboard to communicate comments, complaints, and replies with your team members.
Examples of using the assign feature when working with others
A team member assigning a difficult message to their manager to respond
An agency assigning a customer complaint to the client for their advice.
An agency getting approval from a client's legal or compliance before posting a reply.
An assigned comment looks like this: (Remember it's all private and fans cannot see this note!)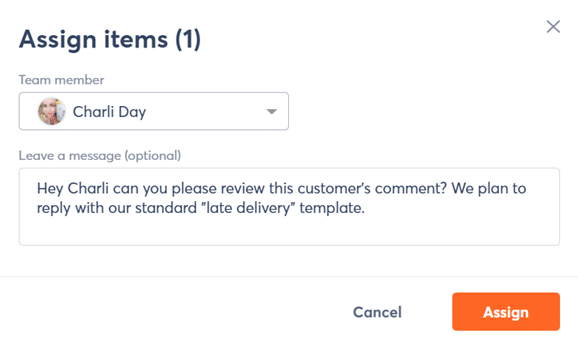 Each team member can easily see what's been assigned in their assigned tab.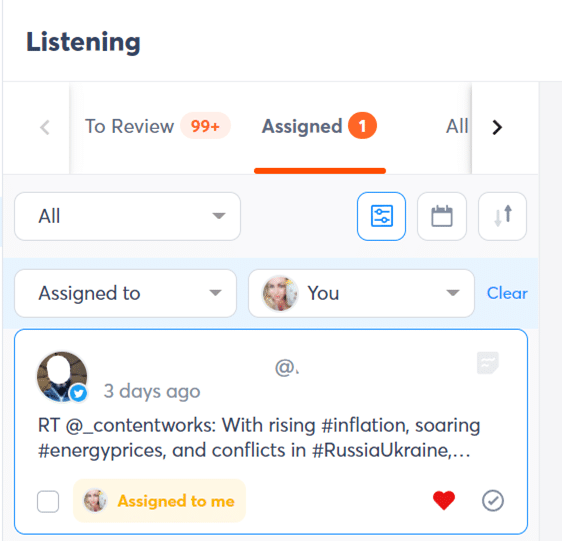 This is a much more efficient way of working with others on your team. It helps social media managers and agencies avoid duplicated or missed responses.
4. Work in the Same Calendar for a Unified Content Strategy
Working with other team members on the same client is great for reducing workload. But how can you ensure that the content plan you agreed with the client is materializing?
Working in the same calendar is the answer. You and members of your team assigned to a client account can see the calendar of scheduled posts. You can add, remove, duplicate or assign scheduled posts for approval. Approvals can be internal or external making, which makes a shared calendar a great tool for working with clients who are tightly regulated (or nervous).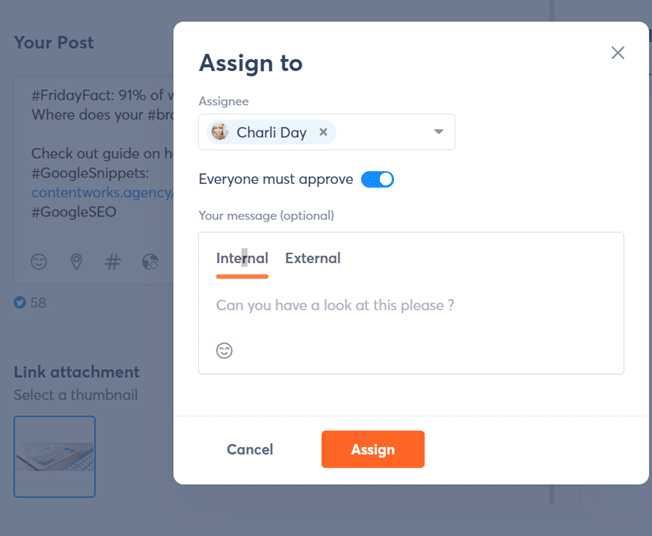 Here are some of the other ways a shared calendar can help when you work with others:
Get post feedback from other team members before you publish. This isn't something you will need to do all the time, but consider it for new clients or when handling a PR crisis.
Encourage clients to comments on scheduled posts. This probably only needs to happen for more sensitive posts. However, it is helpful that the whole team can view feedback.
Encourage team members to plan ahead. At Contentworks Agency, planning a month ahead is crucial to staying on track. A shared calendar helps the team to plan for holidays, campaigns and hashtag days. It also provides an aerial view of what might be wrong. For example, that could be not enough links to the blog, a duplicated post, or too many GIFs.
Support new team members. Nobody likes a micromanaging boss, but at the same time, new team members often want reassurance that they've got things right. By adding yourself to a calendar, you can oversee upcoming social media posts, spelling, grammar, designs and tone of voice.
Cover holiday and sick leave. Working in a shared calendar means you can plan for your team member's holiday or cover unexpected sick leave.
5. Know about the collaboration tools for working with others
Agorapulse's social media inbox facilitates working together in so many neat ways. Let's wrap up with a few more collaboration tools it has that you can try out.
Response templates. Creating response templates saves your team members time and means your messaging and tone is aligned. You can edit them for each reply.
Filter out spam. The social media inbox allows you to filter out spam based on commonly used spam words!
Hello, AI! Automatically review, assign, bookmark, and label inbox items based on words or phrases.
Download the App. Agorapulse social media inbox is available on the app ensuring remote or traveling team members can stay updated.
Great communication combined with sleek social media tools make for a dream team scenario.
Get started on wielding the power of your social media inbox! Check out our free trial of Agorapulse to help you schedule, track, and measure all your social media efforts.