You may be a pro at managing multiple Facebook pages. But sometimes, you may want to merge two (or more) Facebook pages into one.
There are a lot of reasons you may have ended up wanting to merge two (or more) Facebook Pages into one:
You lost admin rights to your Facebook Page at some stage. So you set up a new page, only to get admin rights back on the old page.
When you first set your business up on Facebook, you started it as a Facebook profile under your business name rather than a page. You realized this was a mistake, so you created a Facebook business page from your personal profile. Now, you're left with 2 profiles and one page. So you converted the business profile into a page, and now you have 2 pages and one profile. (Arghhh!)
Enthusiastic employees and contractors who out of the goodness of their heart started a Facebook Page for you. Now, you have many, many pages.
Facebook somehow generated additional place pages for your business when users checked in. This can happen if someone tried to check in to your page but couldn't find the official page, or sometimes they are auto-generated from Wikipedia articles.
When you set up your page you got the name wrong so you set up a second Facebook page. But the old one stayed there and people engaged with it. Now you have two Pages.
According to Facebook, "If you have 2 Facebook Pages for the same thing, you may be able to merge them if:
You're an admin of both Pages.
Your Pages have similar names and represent the same thing.
Your Pages have the same address, if they have physical locations."
What to Do Before You Merge Two Facebook Pages
Preparation is most important here. The merging process itself is fairly explanatory, but it can get hung up on several issues you can easily resolve before the merging process.
I recommend beginning this process about a week out!
Find all your pages
Make sure you've found all the pages associated with your business. Do a search on Facebook to be sure you've identified them all.
Tip: Sometimes, the search on the Facebook mobile app will reveal an extra Page not seen on desktop. I recommend doing the search twice.
Make a note of how many followers and check-ins each page has.
Change profile pictures
So that you can easily identify each page during the merge process, make sure each page has a different profile picture and make a note of each.
Update Facebook page info
If you have added an address to your business pages, make sure it is exactly the same on each one.
Do the same for your phone number, website links, and About sections.
The names of the two Facebook pages you want to merge should be as similar as possible, so you may need to request a name change for some of the pages.
If your name change gets rejected try changing it incrementally, one word at a time over time.
If you don't have access to some of the pages, you can claim them (if they are unmanaged).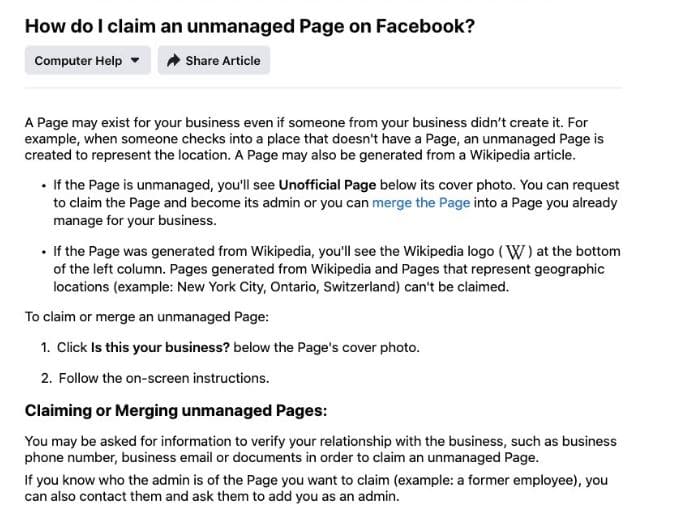 Tell your Facebook page followers
Let the audience of both Pages know that you are in the process of merging Pages. You could create an image and post it on your pages. Pin that to the top of both Pages so current followers have a chance to see it.
If you have a large audience on both Pages, consider running a Facebook ad or a sponsored story. Don't forget to inform your email list and other groups of online followers.
Decide which Facebook page to keep
Choose which page you want to keep. When you merge pages, you will lose all content from that Page once you merge. If you have pictures or information on there you want to keep, this is the time to go and download that content.
In most cases you will want to keep the page with the most followers and merge the page with the least.
The Page you keep will retain all its content. Followers and Check-ins from the two pages you merge will be combined. Keep in mind that the numbers won't always add up to double as people might have 'liked' both Pages, resulting in no 'extra' new like from that person.
Business Manager
Make sure both pages are part of the same Business Manager/Business Suite account. If not, you'll need to add the page to your business manager to proceed.
Now, you're ready to merge your two Facebook pages.

What to Do During the Merging of Two Facebook Pages
Whenever possible, start the merging process from a computer that you regularly use to access the Facebook page.
If you try to take this action from a device that hasn't accessed the page before, you will run into security issues.
This means that I usually travel to the clients' place of work or talk them through the merge via screen sharing if distance keeps us from meeting in person.
What to merge first
If you have multiple small pages, place pages or Wikipedia pages merge these first. Most of these Pages have little or no content besides the check ins and are a nuisance.
Merging those into one Page will be helpful at the next stage of the process and there's no worry about losing content if there's none on the Pages. Once you have all these Pages merged into one, move onto the next step.
How to merge two Facebook pages
Step 1. Go to https://facebook.com/pages/merge.
You will be prompted to input the password for your personal Facebook account.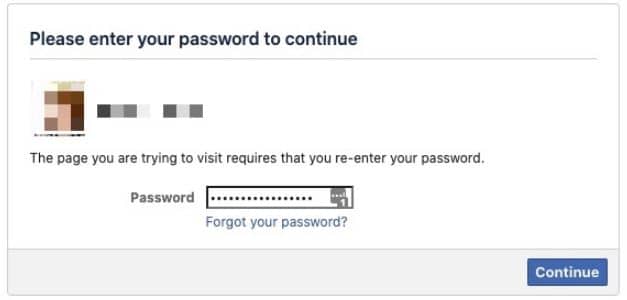 Step 2. Add the pages you want to merge.
Start typing the names of the Facebook pages you want to merge into the boxes. As you type the page will appear in a drop down menu. Click on the page you are choosing to merge.
Click 'Continue.'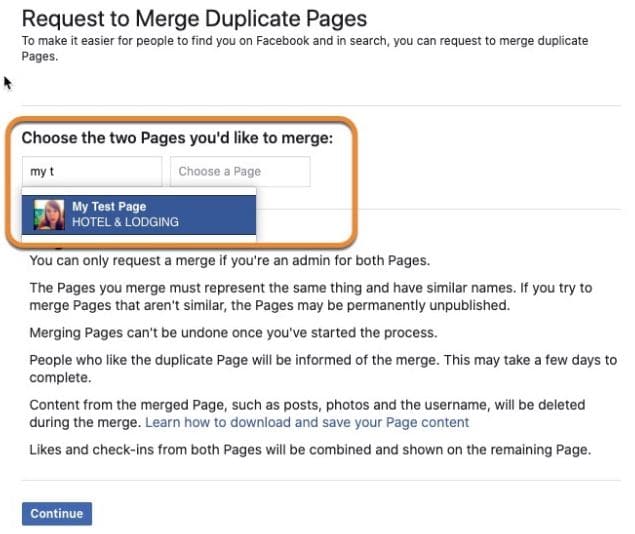 If there is a problem merging the pages, Facebook will tell you and suggest a solution.
Step 3. Choose the page you want to keep.
On the next page, Facebook will ask you which page you want to keep. Choose the keeper from the dropdown menu and click 'Keep page.'
Facebook will ask you to confirm the merge. And that's it, you've merged pages.
What if my Facebook page merge is rejected?
If Facebook tells you that your request was rejected check:
The names are the same or similar.
The location of the page and other about information is the same on both pages.
That both pages are part of the same Business manager account.
That both the pages you want to merge are published.
If your Facebook page merge is still rejected, unpublish the pages. This will stop your audience interacting with them or being confused by multiple pages.
Related read: How to Be Better at Facebook Page Management
What to Do After Successfully Merging Two Facebook Pages
Having a new Facebook merged Facebook page is a great time to zone in on your Facebook marketing.
Overhaul the look of your new Page! Add a new exciting cover image, set a new profile picture, add as much information to your 'about' section as you can, using important keywords.
Put together a new content plan to keep your audience engaged.
Verify your Facebook Page if at all possible.
The two most important reasons to verify your Facebook Page are that Facebook will bump your page up higher in search (yay!) and your (potential) customers know that your Page is the real deal.
Answers to Readers' Questions
There are many hiccups and obstacles when trying to merge two Facebook Pages and many of our readers have had very specific questions.
Here are a few additional tips to keep in mind as you attempt to merge two Facebook Pages into one:
To merge two pages, you need to have full admin rights to both Facebook pages. If you are an editor, or something else, you won't be able to do the merge.
If your Facebook page 'two' gets merged into your Facebook page 'one,' the URL for page one should stay the same–and should be the one to link to on your website. To be safe, check it right after the merge and update links in your email signature, on your website and elsewhere, if necessary.
If your two pages have the same number of fans and the fans on those pages are the same people, then when you merge the two pages you can't expect your fan base to double. You'll just have those people which equals that number of fans. However, if you have two pages with different fans, when you merge you should be able to add the fans of page one to the fans of page two and thus have many more new fans on your one page.
Merging pages set up in different countries seems to be impossible.
Get started on saving time and energy on your own social media management! Check out our free trial of Agorapulse to help you schedule, track, and measure all your social media efforts.