Is it time for a Twitter audit? Probably so.
While juggling other business demands, it's easy to neglect your social media accounts. That's why it's important to conduct an assessment of your Twitter marketing efforts. Find out what's working well and what needs improvement.
So don't wait any longer. Here are five keys to a killer Twitter audit.
1. Identify Branding Gaps
Like all your communication channels, Twitter needs to represent your brand's mission and values. Your target audience should recognize your brand immediately.
"When conducting an audit, be sure to take some time and look at your messaging and make sure it is doing what you want and need for it to do," states Shelly Kramer, brand strategist and co-founder of V3*Broadsuite.
Customize your profile to fit your brand's style. Edit your header and profile photo, write a creative bio, and include a link to your website or landing page.
Pinning a relevant tweet to your profile is also an effective way to grab your customer's attention. Select a message that will entice followers to click or scroll down to read your other tweets.
Check out this pinned tweet from fast-food restaurant Taco Bell: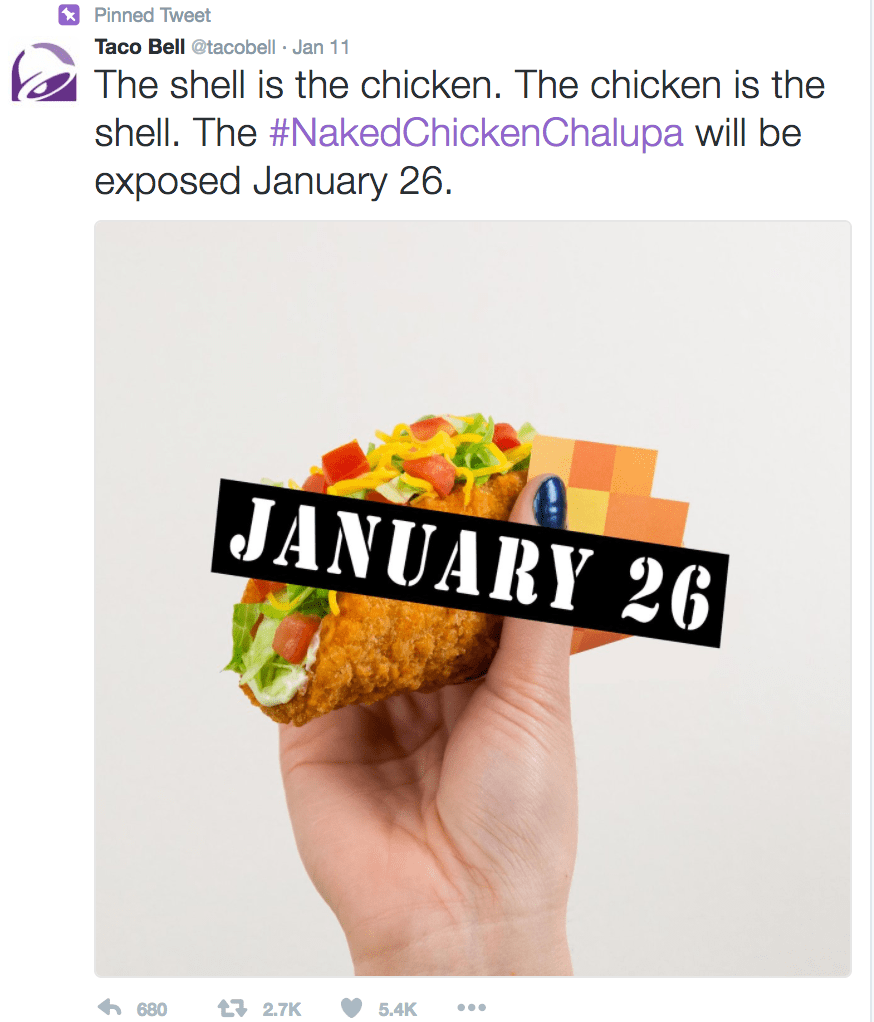 2. Assess Private Conversations
What's often left out of a Twitter audit is direct messages (DMs) with your followers. Your private conversations are just as important as the public ones.
Assess a small sample size of your direct messages. What questions are customers asking? How does your support staff respond? And what topics keep recurring?
By understanding what happens in your DMs, your team can be proactive about solving issues quickly. It's possible to stop minor issues before they escalate into major challenges.
And DMs shouldn't be reserved for only customer problems. Use private conversations as a medium to thank your buyers and to gain personal information to send free swag bags.
Transform how your brand treats customers behind closed doors. Evaluate your DMs to uncover opportunities for growth.
3. Examine Audience Quality
Quality trumps quantity. This principle rings true when it involves your Twitter followers.
We've all read the stories about brands bloating their follower count to gain authority. However, we also know that focusing on vanity metrics won't help your brand.
Audience quality determines when, where, and how your tweets will get shared online. It makes no sense to buy fake followers who will never retweet your messages to your targeted customers.
"Buying followers is the easy route, but it's like cheating during your favorite board game: you're likely to be labeled a fraud and a cheat than win like you wanted to," says Lauren Hockenson, a reporter for The Next Web.
But what does a quality audience look like? These followers will reply to your messages, post links to your website, and share your tweets to their loyal fans.
On Agorapulse, you can see all your favorite people in the "Fans and Followers" tab.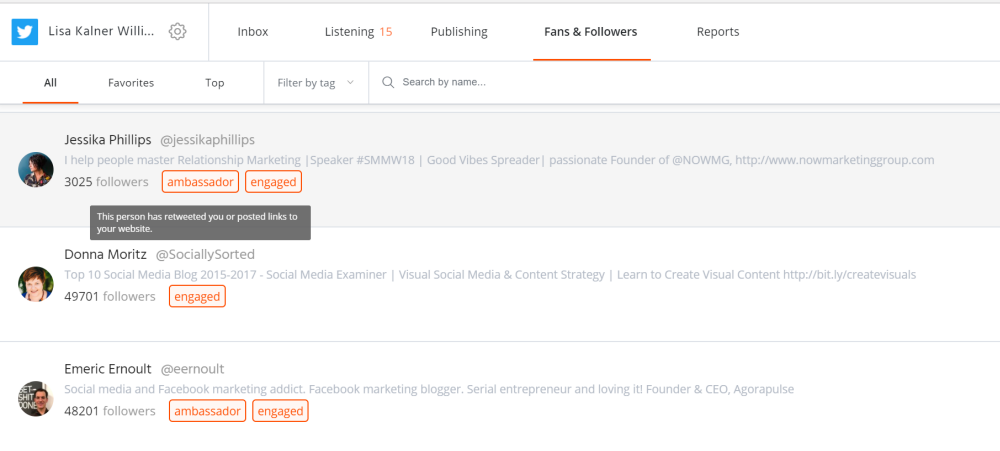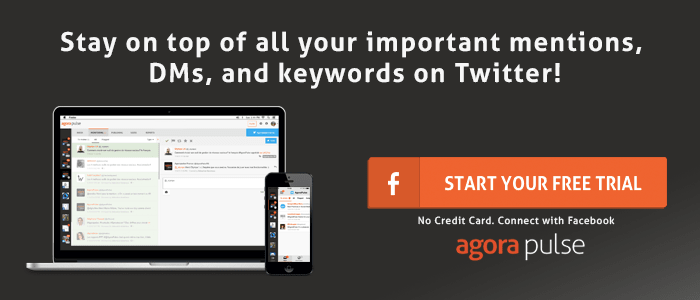 4. Analyze Engagement Levels
Brand engagement is essential for social media, and rising above the noise is sometimes difficult in a crowded content space.
Create messages that inspire a reaction from your audience. If appropriate, share an image that makes people laugh and use lots of emoji to express how your brand feels about a topic.
Also, don't forget to simply ask your followers for a response. People love stating their opinions and telling personal stories.
When conducting a Twitter audit, make sure to measure your engagement levels. Agorapulse offers the free Twitter Report Card to check your performance and how you stack up against competitors.



From liking to replying, social media relies on engagement. Learn more about your publishing habits to better engage your followers.
5. Review Content Types
After learning about your audience and engagement levels, focus on producing the content types that resonate with your fans the most. Recreating your followers' favorite posts opens doors to more customer interaction.
"By understanding who you're currently connected to, you can adjust your content strategy to either a) appeal more to their interests, if they are part of your target market or b) shift your content to attract a new, more targeted audience," writes Lauren Dugan, marketing strategist and former founding editor of AllTwitter.
If this works for your brand, post GIFs and memes to your timeline to add humor to posts. Use high resolution photos to showcase a new product or highlight a VIP event. If your followers desire more live interaction, schedule Twitter chats for consumers to ask questions.
Twitter is a versatile platform for communicating product announcements and spreading brand awareness.
Gain More Insight
A Twitter audit is helpful for optimizing your marketing strategy.
Identify opportunities to send relevant messages to your target audience and analyze how to boost your Twitter engagement.
What are you learning from your Twitter audit? Let us know in the comments below!