Struggling to find the perfect social media management tool for your needs? You're not alone! With so many tools out there, so many business owners, social media managers, and agencies out there have a hard time choosing one.
In this article, we're diving into two social media management tools: Agorapulse and Loomly. We'll compare main features and pricing. But we've also analyzed thousands of reviews on the most trusted and largest review site in the world, G2.
Agorapulse has superior ratings on many items, and Loomly has superior ratings on others. My aim is to provide clear and honest information to you. And I don't work for Agorapulse! So, this is an honest review.
TL;DR
In a rush?
Here's a quick summary …
Agorapulse has more reviews from mid-market and enterprise companies. Over 81% of Loomly's reviews are from small businesses.
Loomly scores higher than Agorapulse for publishing and the calendar.
Agorapulse scores higher than Loomly for Analytics and Reporting.
G2 doesn't have a rating category for listening and monitoring.
Loomly and Agorapulse are level-pegging in regards to team management.
Loomly doesn't offer Listening and Monitoring or Audience, CRM and Community features.
History of Loomly and Agorapulse
First of all, let's give a brief history lesson on Loomly and Agorapulse—just so we know a bit of context.
Loomly
Loomly was founded in 2016 in Los Angeles by husband and wife Thibaud and Noemie Clement. The business was originally called Calendy but was renamed Loomly. It was born out of the frustration of running a social media agency from Excel spreadsheets. At the heart of Loomly is the calendar, with all the other features being built around it.
Agorapulse
Agorapulse was founded back in 2012 in Paris by Benoit Hédiard and Emeric Ernoult. It began as a social media management tool focusing on Facebook and Facebook page tools. Twitter integration was added shortly afterwards, followed by LinkedIn, Instagram, and YouTube.
Agorapulse quickly established itself as one of the top social media management tools. It still has its head office in Paris, but its team has grown and is truly global.
G2 Ratings
As I mentioned above, G2 is the largest and most trusted review site in the world. For a review to appear on G2, reviewers need to verify that they are an actual user of the tool they are reviewing. Leaving a review on G2 actually takes quite a bit of effort, and so the data you get is really helpful.
Please note, the ratings and scores were correct at the time of writing this article. However, these are likely to change as more reviews are added over time.
When we compare Agorapulse and Loomly side by side, we can see the following:
Agorapulse has slightly more reviews (709) than Loomly (668).
Loomly has a slight edge with 4.6/5 stars compared to Agorapulse's 4.5/5 stars
Loomly has no pricing info listed on G2.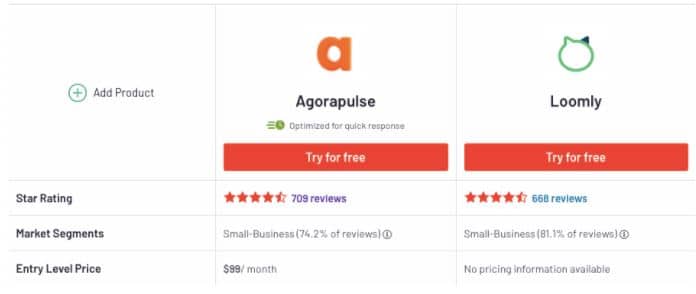 Agorapulse has more reviews from mid-market companies. Loomly has 81.1% of reviews from small businesses.
Agorapulse has over 50% more reviews from Enterprise companies.

Features
While both are social media management tools, there's a big difference between Loomly and Agorapulse as soon as you load them up.
Loomly is all built and focused on a calendar. You can connect one account per platform to each calendar. For example one Twitter, one Facebook and one Instagram. There's no limit to the number of calendars.
Agorapulse has a calendar feature too, but instead of it being center stage, it sits alongside the other features as it displays your social posts. You can view your social posts on the calendar:past, present and future ones.
Social media management tools try to be a "one-stop shop" and help you manage all aspects of your social media empire. They're kind of The Lord of the Rings—"One Tool to Rule Them All"—and help you with:
Publishing (and scheduling)
Viewing your posts (calendar)
Social inbox (engagement)
Listening and monitoring
Audience, CRM & community
Analytics & reporting
Team features
Tools such as Buffer, Brand24, or SEMRush are all great tools—but they focus on just one aspect of social media management.
A true social media management tool should do all of the above.
Loomly offers publishing, viewing, a social inbox, analytics and team features, but it doesn't have listening and monitoring or audience and community insights.
Agorapulse, on the other hand, has all those features.
When you choose the best social media management tool for your needs, you need to balance the most important features and how easy the tool is to use and maintain.
And one final critical thing to consider: support. How good is the tool's support? It's not something you often know until you try the tool. That's why I've trawled through thousands of reviews on G2 to give a more accurate view of this.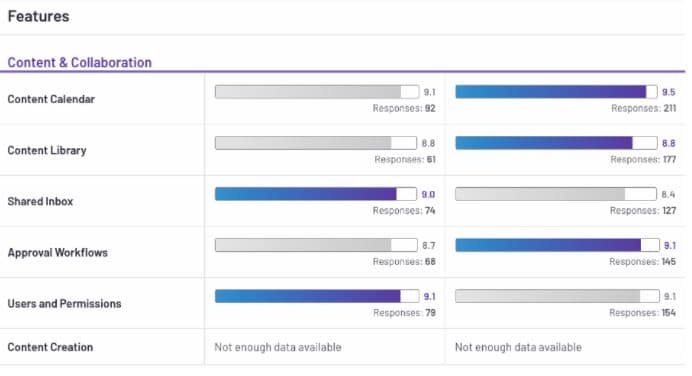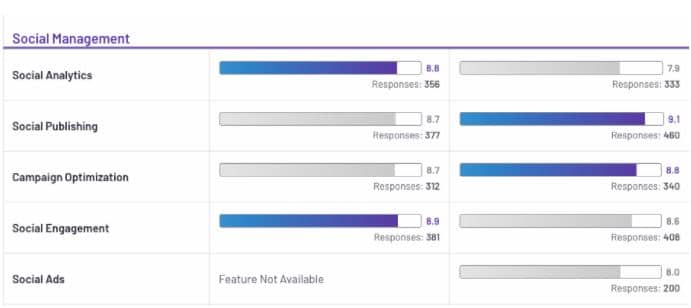 1. Publishing
Being able to publish and schedule to your (or your clients') social networks is a given feature in a social media management tool.
Both Loomly and Agorapulse let you post and schedule to Facebook (pages and groups), Twitter (including direct messages), LinkedIn (profiles and pages), YouTube, and Instagram business profiles (direct publishing and via push notifications).
Loomly lets you post to Pinterest and Google My Business. And you can post to Snapchat and TikTok via push notifications and can also create custom channels.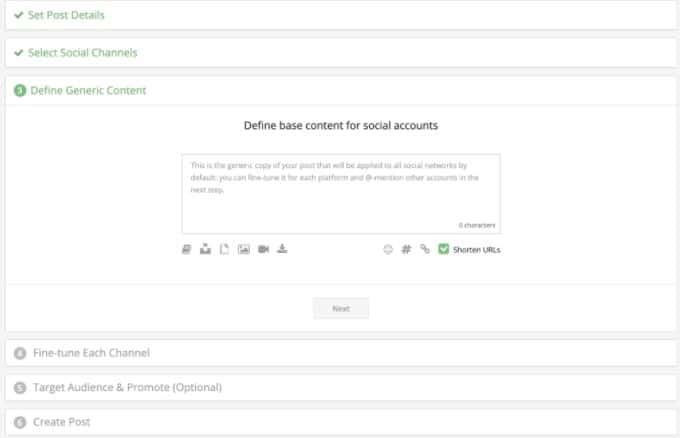 Bulk posting and scheduling allows you to create multiple posts through a CSV file or other methods. Loomly has a "posts ideas" feature, which allows you to add your RSS feeds, so you can generate posts from your blog.
Agorapulse has a bulk publishing feature. You can import posts from your blog's RSS feed, from a spreadsheet (CSV file) or from a group of image files.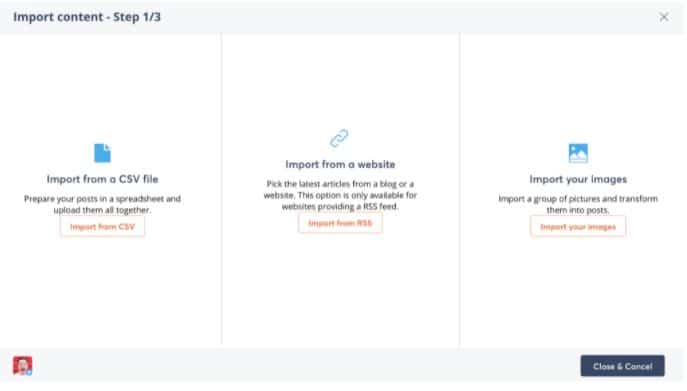 With Agorapulse's bulk publishing feature, you can schedule these bulk posts using the scheduling feature, or add to a publishing queue.
Publishing queues are different buckets of posts that get posted weekly. You can have different queues with different categories of posts—each with their unique schedule. For example, you could have a "Blog Posts" queue with all your popular blog posts in it. Each post will get posted one at a time over the scheduled times.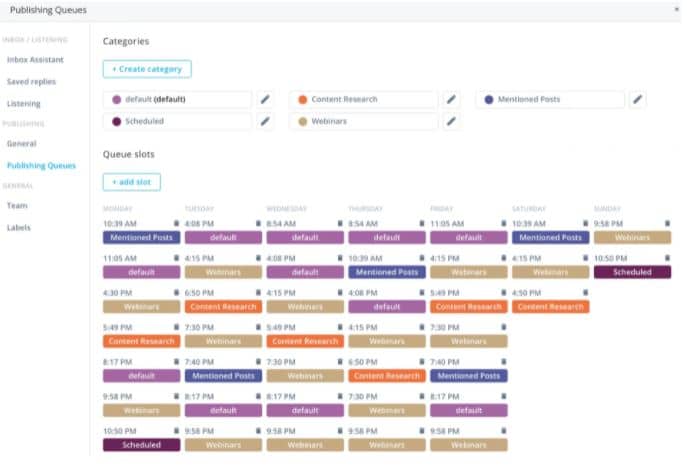 Agorapulse allows you to create unlimited queues, each with their own category and scheduled times.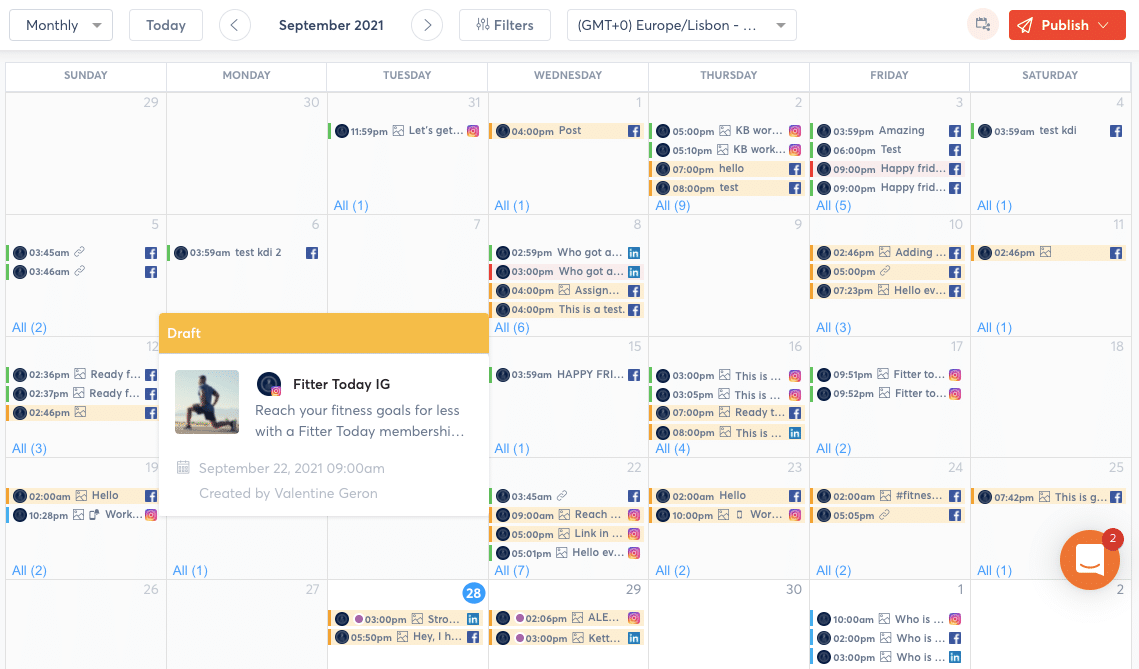 Loomly allows you to create one schedule (called Scheduling Slots) per calendar.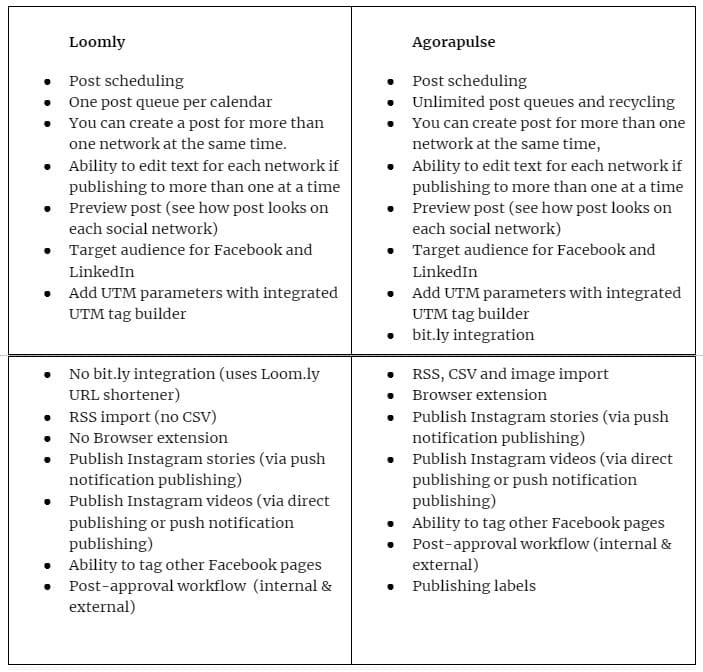 Loomly also offers post-optimization tips for each network and the ability to boost Facebook posts with paid advertising.
On G2, in regards to publishing, Loomly has more responses (480) compared to Agorapulse (377) and has a rating of 9.1 compared to Agorapulse 8.7.
2. Calendar
Both Loomly and Agorapulse have calendar views. This allows you to view your posts from different platforms all on one view. Also, you can easily create scheduled posts from this view.
Loomly only shows posts created within Loomly and has a month view and a list view of your posts.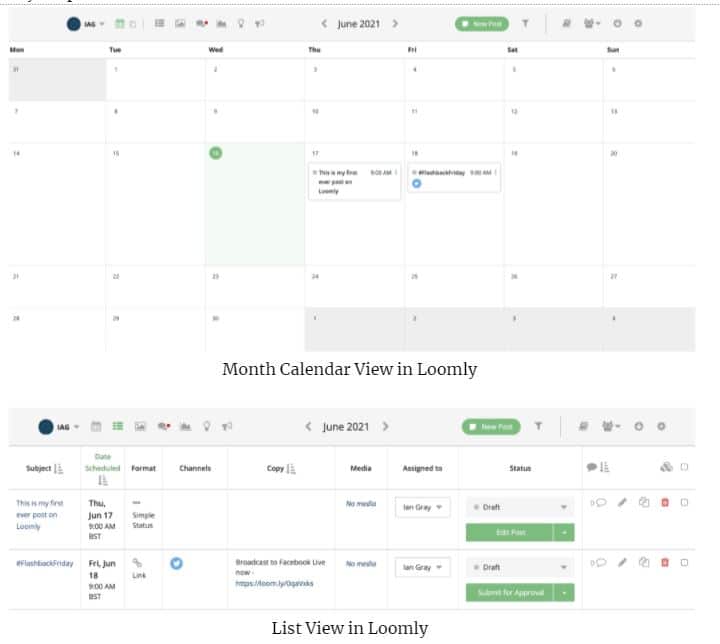 Agorapulse shows posts created everywhere (natively and from other tools). It has a monthly or weekly view.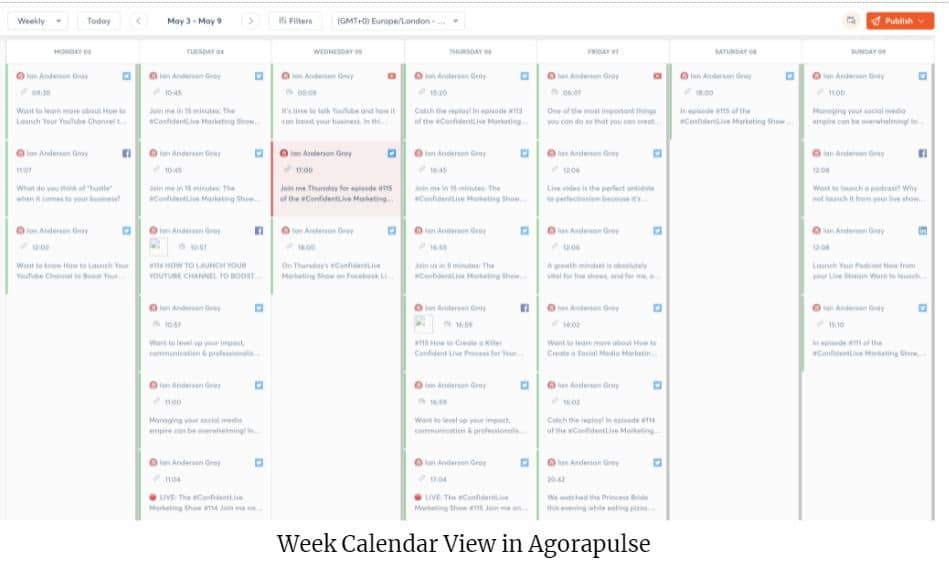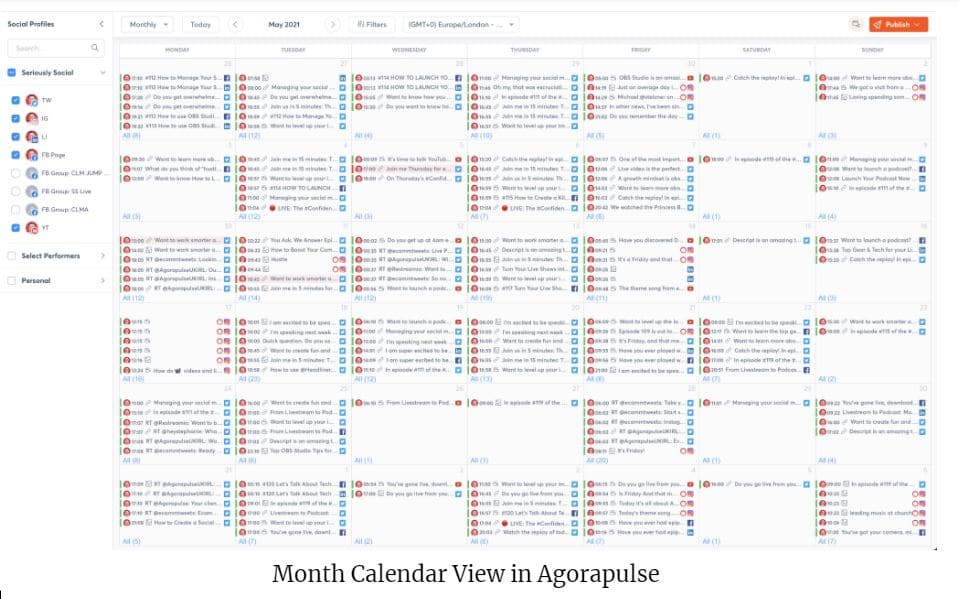 And the publishing lists section displays everything that has been published, scheduled, needs approved, or been published. And you can view your post queues.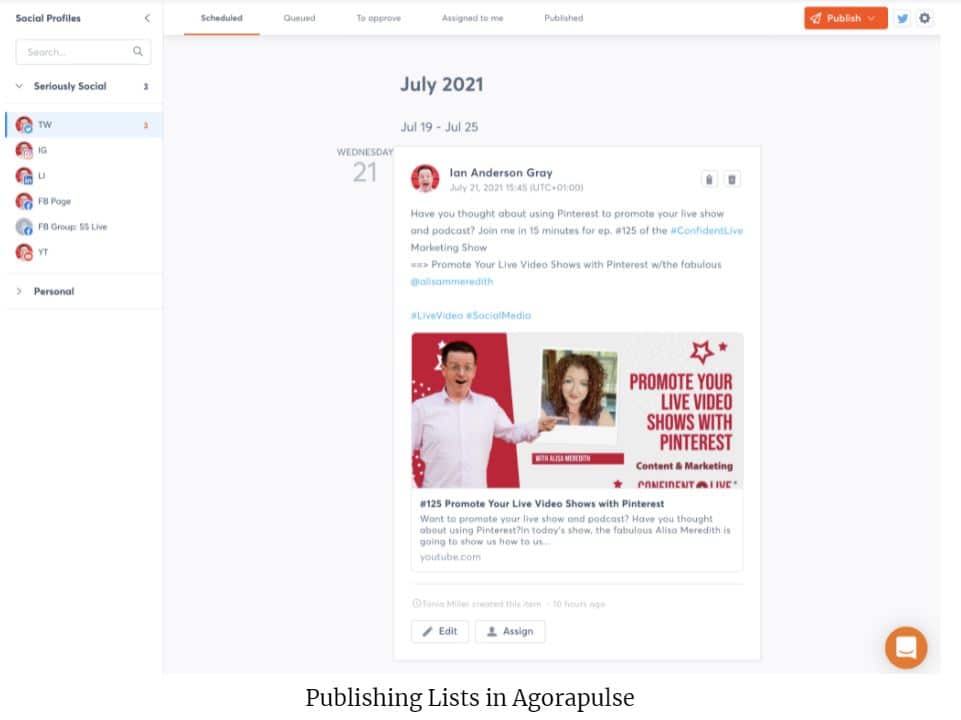 You can label each post in Agorapulse, which makes campaign management really easy, and great to measure campaign performance and organizing posts.
Loomly has 211 responses on G2 with an overall score of 9.5 compared to Agorapulse's 92 responses and a score of 9.1.
3. Social Inbox
A social inbox is where you can view and engage with all your social messages. This includes mentions on Twitter, and replies/comments on other networks. A social inbox should allow you to reply, archive, tag and assign to team members.
One of the most powerful features in Agorapulse is the social inbox. It has a zero-inbox workflow that helps you go through all your social media mentions, comments, and messages quickly and easily—getting you down to inbox zero really quickly and efficiently.
In regards to the social inbox, Loomly and Agorapulse have similar integrations. The difference is that Loomly's social inbox doesn't work for YouTube or comments on Facebook ads.
Agorapulse's social inbox works with YouTube and comments on Facebook and Instagram ads. And it has a full zero inbox workflow allowing you to assign messages to team members, label, review and even do these in bulk.
Agorapulse also has a saved reply feature, allowing you to reply to your audience with frequently used messages. Also, Agorapulse has an automated Inbox Assistant, which can assign, review or label messages based on certain criteria which is very useful.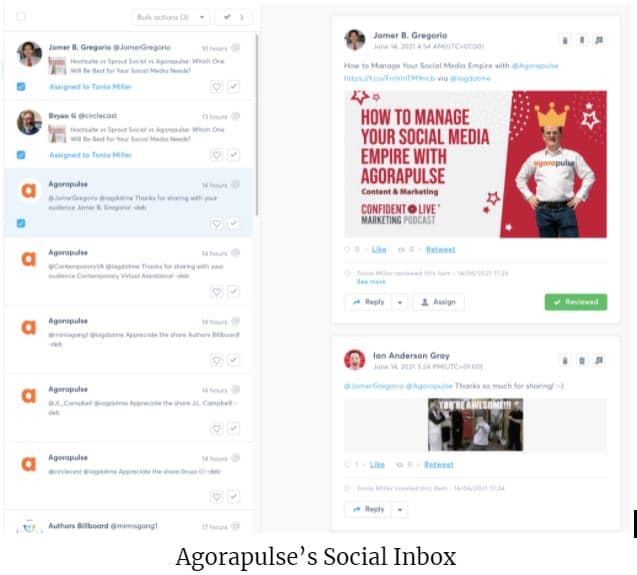 Loomly's social inbox allows you to reply to and archive your messages. But it doesn't have some of the standard features that Agorapulse has.
For example, Loomly's social inbox does not have a bulk edit option, the ability to assign to team members, automated moderation, or saved replies.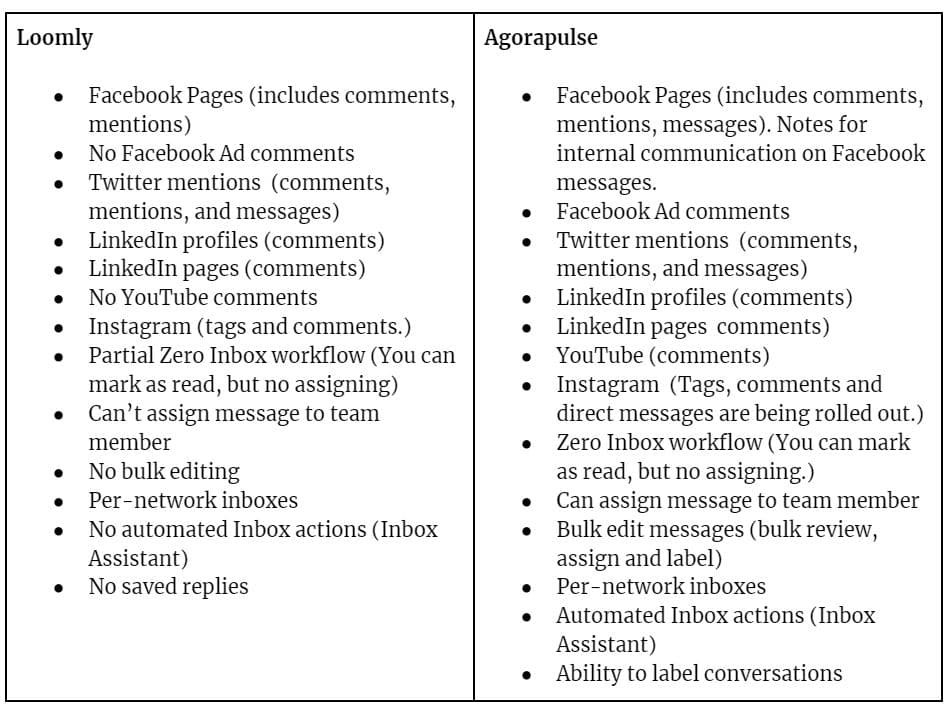 On G2, Agorapulse has a lower number of responses (74) for the shared inbox feature compared to Loomly's 127. Despite that, Agorapulse gets a score of 9.0 for the social inbox feature compared to Loomly's 8.4.
For social engagement (the main advantage of a social inbox), Agorapulse has 381 ratings with an overall score of 8.9 compared to Loomly's 408 ratings and a score of 8.6.
4. Listening & Monitoring
Loomly doesn't have any listening or monitoring features.
Agorapulse has a full listening and monitoring feature, which integrates with Twitter, Instagram, Facebook (pages and public mentions) and YouTube. This allows you to search for keywords, hashtags and mentions, for example, brand mentions, competitor mentions, and more.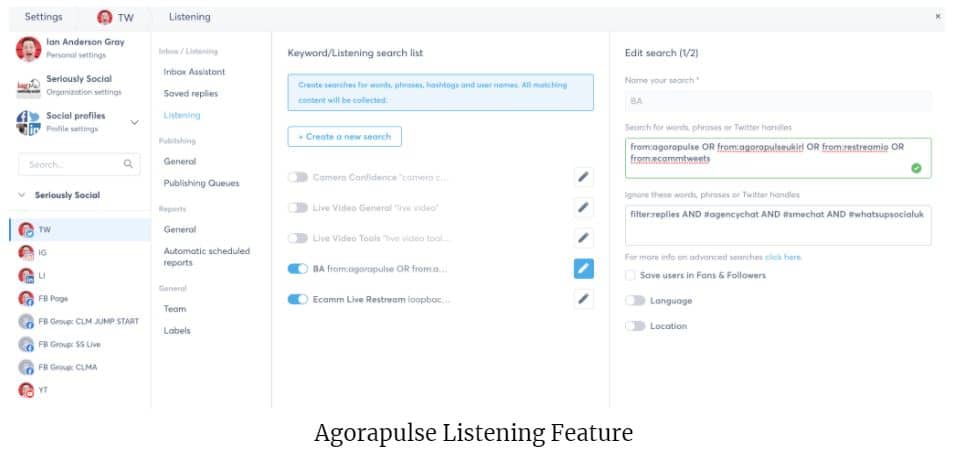 G2 doesn't have a rating category for listening and monitoring, so I can't give you any data on this.
5. Audience, CRM & Community
Loomly doesn't have any audience, CRM (customer relationship management) and community features. You can see the name and avatar of the person commenting or mentioning you in the social inbox. But you can't view any more information about them or follow/unfollow them.
Agorapulse displays a full info tab when you click on the user in the social inbox or listening tab. That way, you can view their name, bio, location, link, follower information, and more.
You can easily follow or unfollow them and label them with Agorapulse's CRM tool. Agorapulse tags the user, so you can see what part of your audience they are in, such as engaged, influencer, or ambassador.
The "Fans and Followers" feature in Agorapulse gives an in-depth breakdown of who is in your audience for each network.
You can list your top followers, your favorites and filter by influencer, ambassador or engaged. This works with Twitter, Instagram, Facebook and YouTube.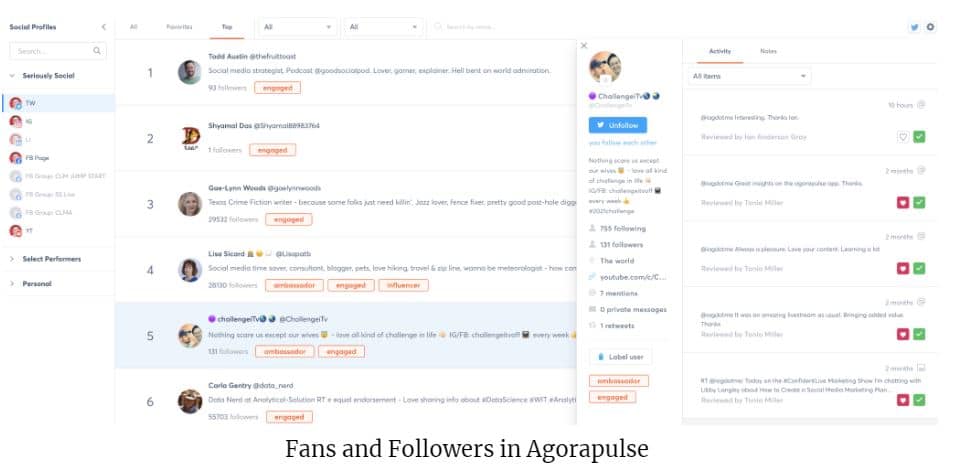 G2 doesn't have a specific rating category for audience and community, so I can't give you any data on this.
6. Analytics and Reporting
Loomly offers reports for Facebook pages, Twitter, Instagram, Pinterest, and LinkedIn Company Pages. It offers per-network reports only, although if you use the Loom.ly URL shortener for your links, you can track clicks, sources and locations.
These analytics are only available on the standard plan upwards and are unlocked after you schedule five posts. Base plan users get basic analytics, which are basic metrics for individual posts.
Loomly's analytics can be exported as CSV or PDF files. As I said above, Loomly doesn't offer unified reports, and there's no competitor analysis. Unlike the calendar view that only shows posts created within Loomly, the analytics feature (except for the Loom.ly report) does show data from all posts.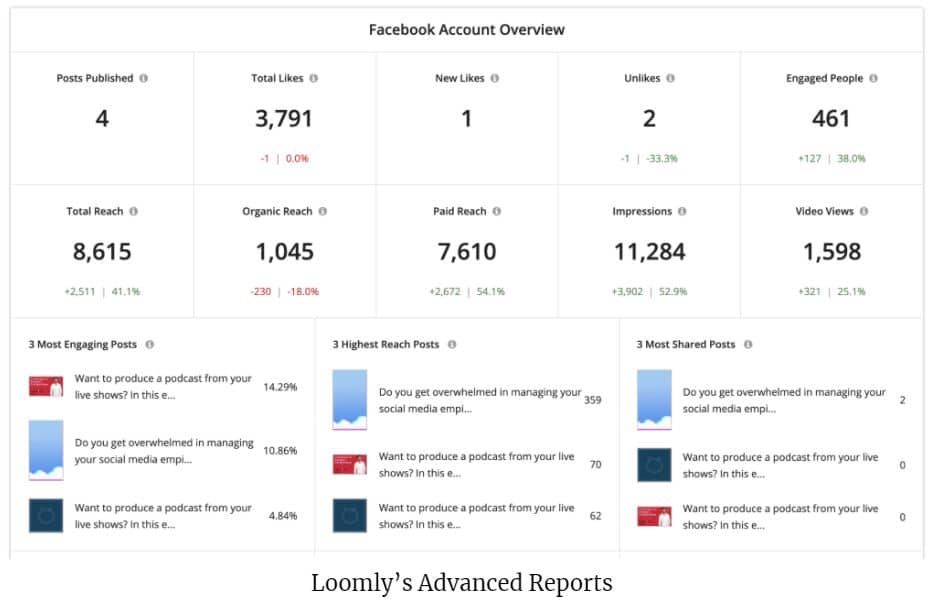 Agorapulse offers powerful reports for Twitter, Instagram, Facebook and LinkedIn Company Pages. It offers per-network reports as well as unified custom reports (which are called "Power Reports"). Per-network reports are available on all plans, with Power Reports available as a paid add on.
You can view reports on your audience, global or performance content or community management. Also, you're able to set up competitors on Facebook, so you can track and compare your progress. Reports can be exported as PDF, CSV, or PowerPoint files.
You can also schedule the reports to be sent out via email, which is very useful if you are an agency and want to send regular reports to your clients.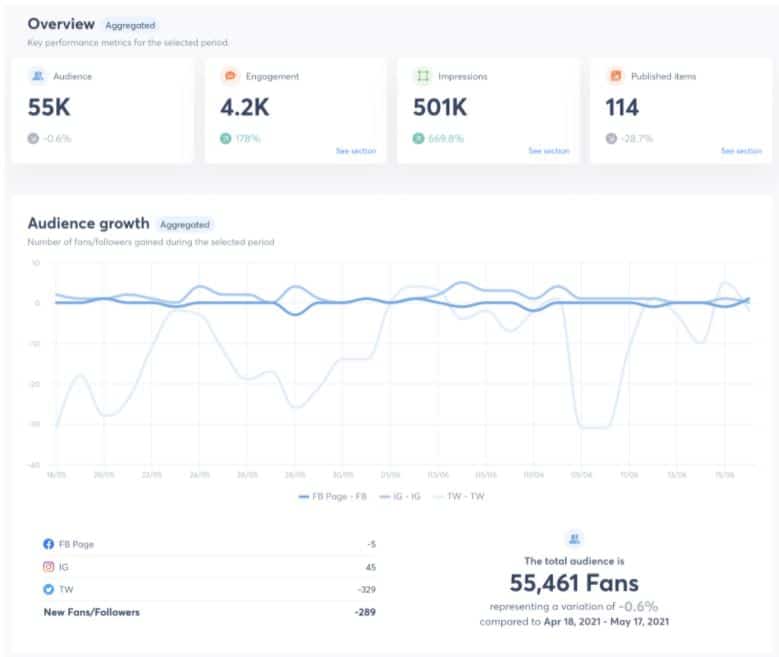 Power reports are totally customizable. You can create full unified reports for all your (or your clients') social networks. You're also able to customize them with your logo and name. In addition, label reports are also available for users who want to measure their campaigns' performance in detail. And I love the Community Management metrics which give information such as average response time.
Agorapulse's strong reporting and analytics feature gives it 356 responses with a score of 8.8 for social analytics. This is a lead of 1.1 over compared to Loomly's score of 7.9 (with 333 responses).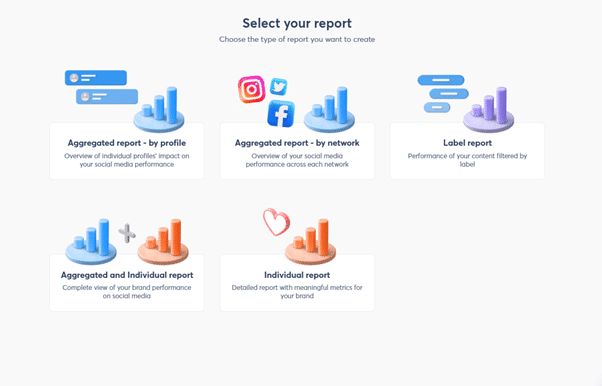 Agorapulse's strong reporting and analytics feature gives it 356 responses with a score of 8.8 for social analytics. This is a lead of 1.1 over compared to Loomly's score of 7.9 (with 333 responses).
7. Team Features
If you have a team, it's vital that each of your team users have separate logins. Sharing your username and password is very bad for security. There have been more than enough stories of team members going rogue with very damaging results.
A good social media management tool will have team management. On a basic level, this allows you to add users to your account and give them access to the social networks you want them to. They should also have a team management workflow, which will allow you to assign messages or posts to specific team members to deal with.
Both Loomly and Agorapulse have team management workflows.
On the Loomly base plan, you can have up to two users to access the account (with separate logins). Standard offers 6, Advanced 16 and so on. Loomly offers a custom team publishing workflow on the advanced plan ($159 per month).
The team feature only works for managing posts. You can't manage and assign messages from the social inbox within a team.
Loomly also allows you to create custom roles, which are useful for very specialist and advanced setups.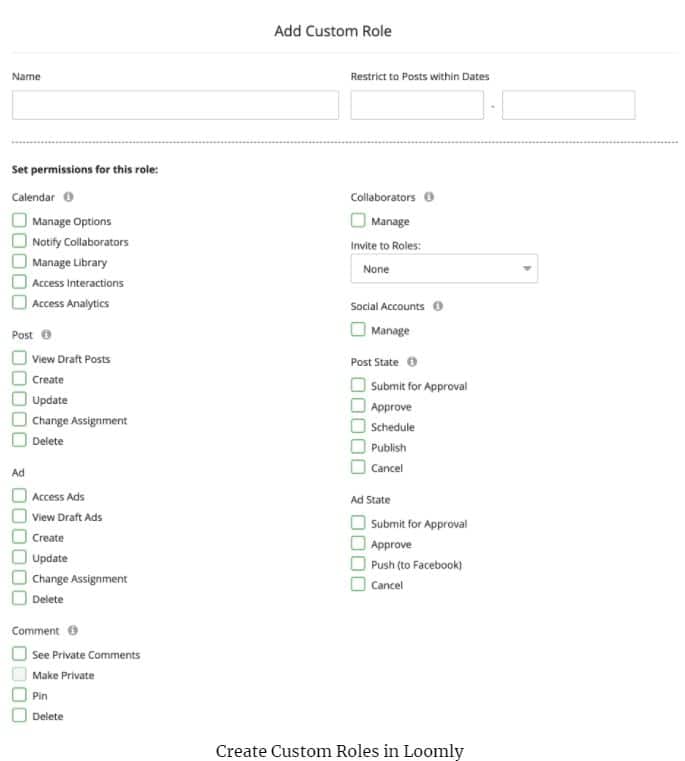 The Agorapulse base plan (Pro) gives you two users with separate logins. The Premium plan gives you four users, and you can add extra ones if you want. The Premium and Enterprise plans both have a full Team Workflows. With this, you can send posts to your team members for approval. And you can also send social mentions, comments and messages in the social inbox to team members.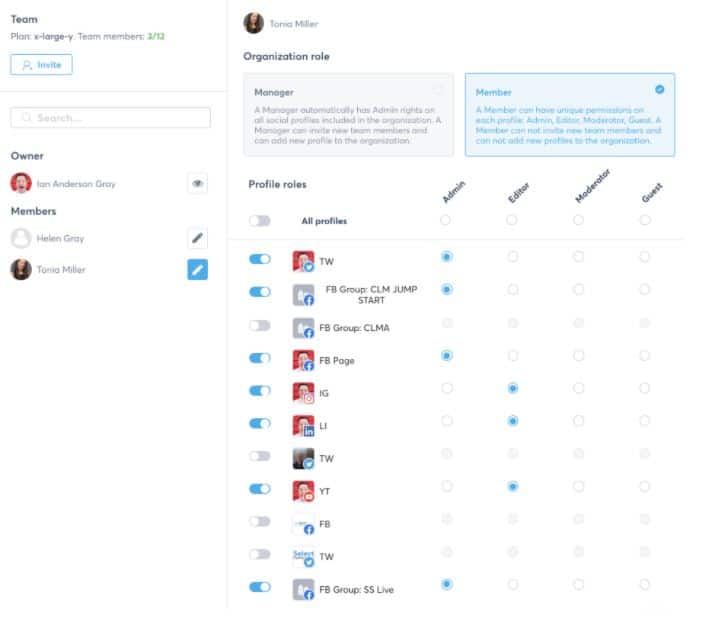 On G2 for "users and permissions", both Agorapulse and Loomly score 9.1 with Agorapulse having 79 responses compared to Loomly's 154 responses.
Pricing and Plans
Both Loomly and Agorapulse offer a free trial.
If you're looking at a completely free plan, Agorapulse offers a free plan. Loomly does not have a free plan.
Loomly has the cheapest paid plan (called "Base"). It's the equivalent of $26 per month (when paying annually) or $35 per month if paying monthly. Agorapulse's cheapest paid plan ("Standard") costs the equivalent of $49 per month (when paying annually) or $59 per month if paying monthly.
As with many tools, you have the option of paying monthly or annually, and they offer discounts for annual plans. Just so you know, not all tools give you the option to pay monthly. (The Hootsuite Business plan is listed as costing $599 per month but has to be paid annually at $7,188 per year.)
Ease of Use and Set-up
A tool's features and prices are only part of the story. You need to learn how to use the tool, set it up, and use it regularly.
Some feature-packed tools can be difficult to use, especially if they've not invested in a solid and easy to use user interface design. However, whatever tool you decide to use, you'll need to invest some time learning how to use it effectively.
Both Loomly and Agorapulse and Loomly have very high ratings for Ease of Use, Setup and Admin. Loomly's rankings are slightly higher, but Agorapulse won the prize for the Easiest Setup for Enterprise tools from G2.
At the end of the day, I always recommend that you sign up for the free trials and have a play yourself to see how you get on with each tool. Either way, you'll need to invest some time.
Quality of Support
According to the G2 reviews, the quality of support from Agorapulse and Loomly are both very high. Both Loomly and Agorapulse have got very high ratings for support, and both Loomly and Agorapulse are well over 9. Support ratings that are 9/10 or higher are excellent, and it's helpful to compare with Hootsuite's support rating of 7.9/10 which is much lower.
Both Loomly and Agorapulse offer support via email and chat. Loomly offers enterprise customers an account manager, but it doesn't say what method of communication you can have with them.
Agorapulse's enterprise plan includes priority email, chat, and phone support, you get an account manager, and you get a quarterly business review. Agorapulse Premium and Enterprise customers also get free access to the Social Media Manager School for unlimited social media training.
Product Direction
The future is bright! Well, hopefully! There are tools out there that start off with a bang and with buckets full of ideas for the future. But sometimes, stagnation occurs and those hopes and dreams are lost.
The product direction rating in G2 is a really interesting one. It shows how reviewers feel about the direction the tool company is headed in. Are there new and exciting features? Is the tool focusing on the right things? What about the ethos of the company?
Both Agorapulse and Loomly score very high ratings for product direction. Loomly has a very slight edge of 9.4 over Agorapulse's 9.2.
In Conclusion
As I said earlier, choosing the perfect social media management tool for your business can be confusing.
When you decide on which one to use, you'll need to do some research and list the top priorities for your social media management. Comparing features is part of that process. But you'll need to choose a tool that will scale and grow with you (in a direction you align with) and that has good customer support. Of course, pricing is a key factor, too, and it can be difficult to compare prices when they are not listed anywhere, or have some hidden pricing.