Whether you run a large social media team or a digital agency, you need a way to manage multiple social media accounts efficiently. After all, what agency team has the time to continuously jump between social channels, logging in and out of client accounts throughout the day?
If your social media agency is like most, your team wastes up to one workday each week on repetitive manual tasks and loses up to 40% productivity by attempting to multitask. You've already wasted enough time.
You've got much more important things to do–like running your agency and designing strategies for your clients.
The good news is that managing client accounts doesn't have to be a hassle.
So, let's get right to it. Here are 10 tried-and-true recommendations for how to manage multiple social media accounts and boost your productivity at the same time.
1. Manage Client Profiles With a Social Media Dashboard
If you've ever tried to manage multiple social media accounts using native tools, you know it's an exercise in frustration. You can only monitor a single account at once, so you have to switch between tabs or browser windows to keep track of each account.
In contrast, a social media management solution like Agorapulse supports multiple client accounts–at least 10 with any paid plan. To set them up, you only have to connect your client accounts once. Then Agorapulse keeps you signed in around the clock.
With one glance, you can get a quick look at all your client accounts.
Visual notifications alert you to new Social Inbox items, social listening items, or assigned tasks. There's no need to switch between accounts or tabs. You can expand the dropdown menus to get more details.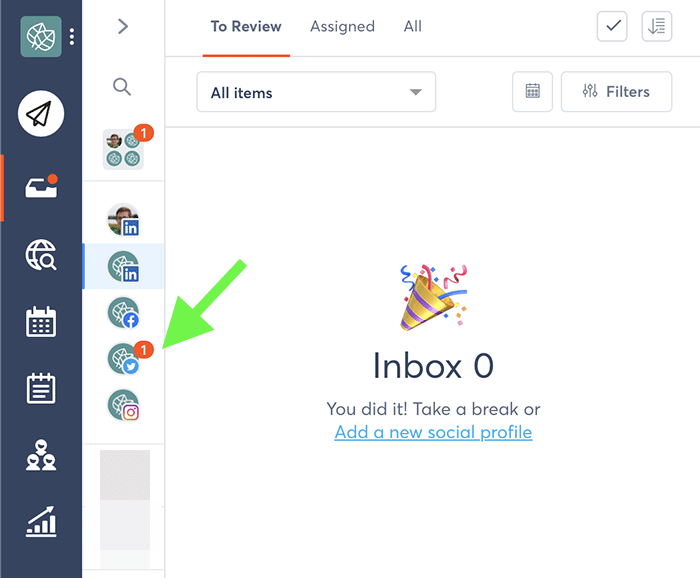 With all those accounts in the same dashboard, it's probably tough to keep everything organized, right?
Not really.
You can create separate groups for each client and organize the profiles however you like. This approach allows agency teams to get a quick overview of any client and helps you avoid mixing up brands or social channels.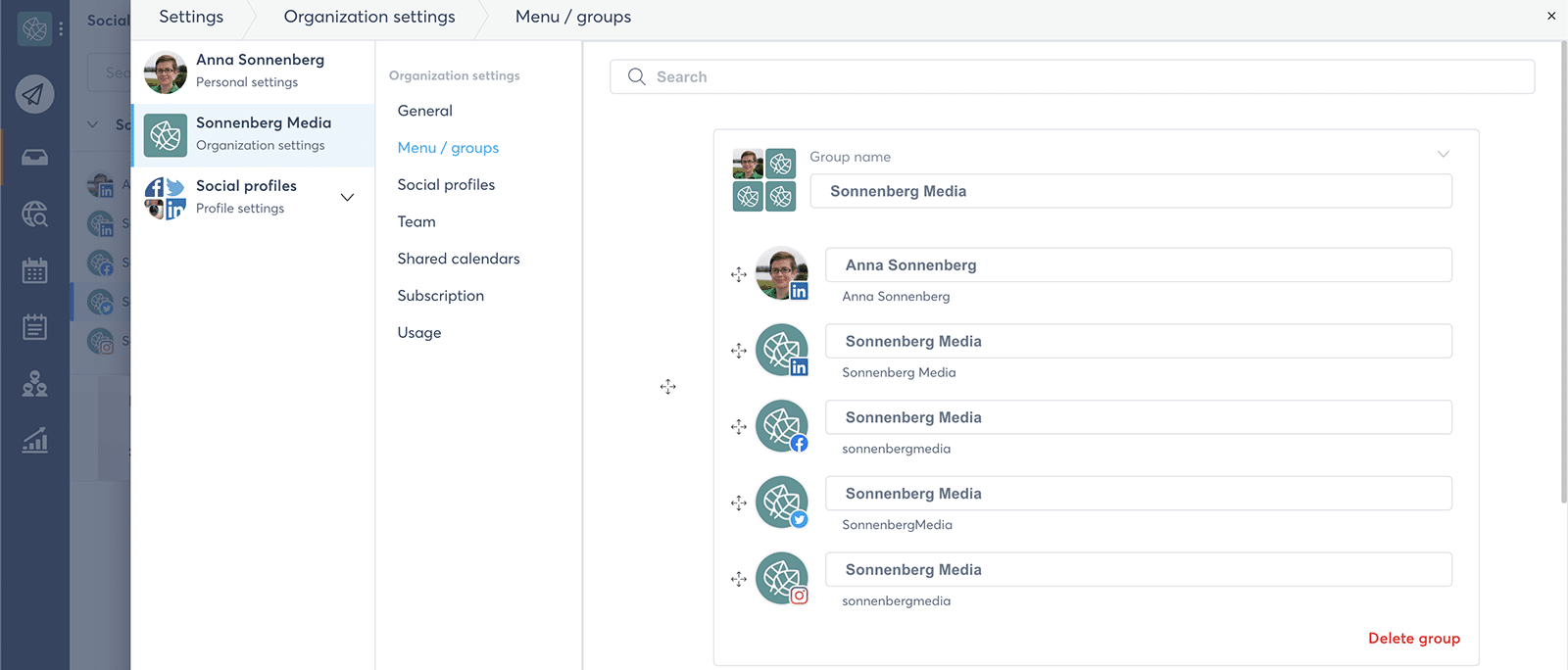 2. Set Up Secure Access for Team Members
Raise your hand if you've endured the security hurdles that come with logging into a client account for the first time.
Keep it up if you've had to multiply that struggle a few times to grant each team member access to new accounts.
We've all been there, annoying that new client with yet another security alert.
When you rely on a social media dashboard, there's no need to deal with endless security codes or set up team members with access to native apps. Instead, all you have to do is link each social media account to the dashboard one time. Then you can add team members and grant appropriate permissions securely.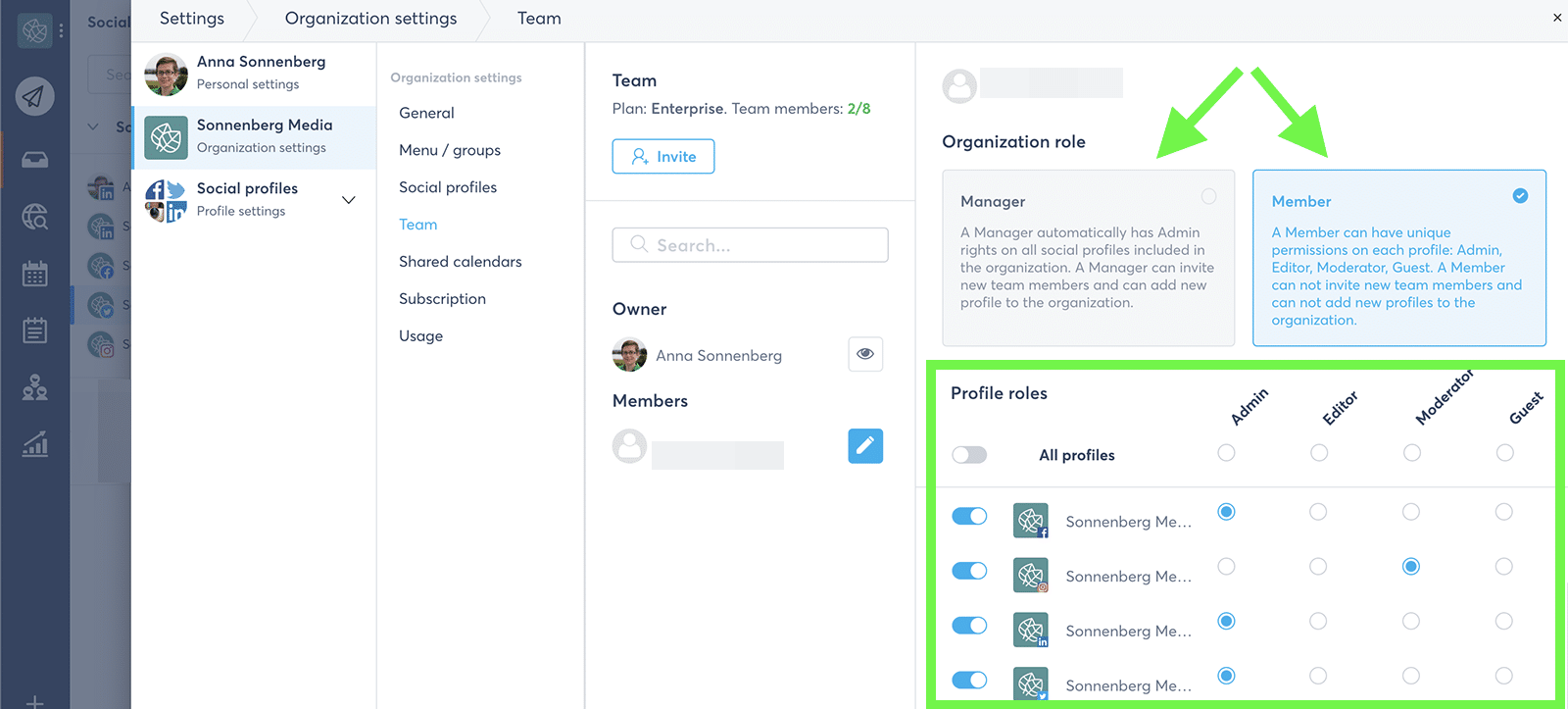 With Agorapulse, you get granular control over all permissions–so you never have to worry about someone accessing an account they shouldn't. You can seamlessly invite team members to manage accounts, publish content, moderate engagement, or simply view what's happening with no editing capabilities.
3. Optimize Social Media Posts for Each Channel
Publishing the exact same post on a client's social media channels could save your team time.
But this approach often leads to less than ideal results. Naturally, when you publish client content, you want it to look great on every channel–and that requires a bit of extra work.
When you use Agorapulse to publish social media content, you can balance great work with time savings. On the one hand, you can save time by creating content for every social channel at once.
On the other hand, you can quickly optimize every post for the right social channel.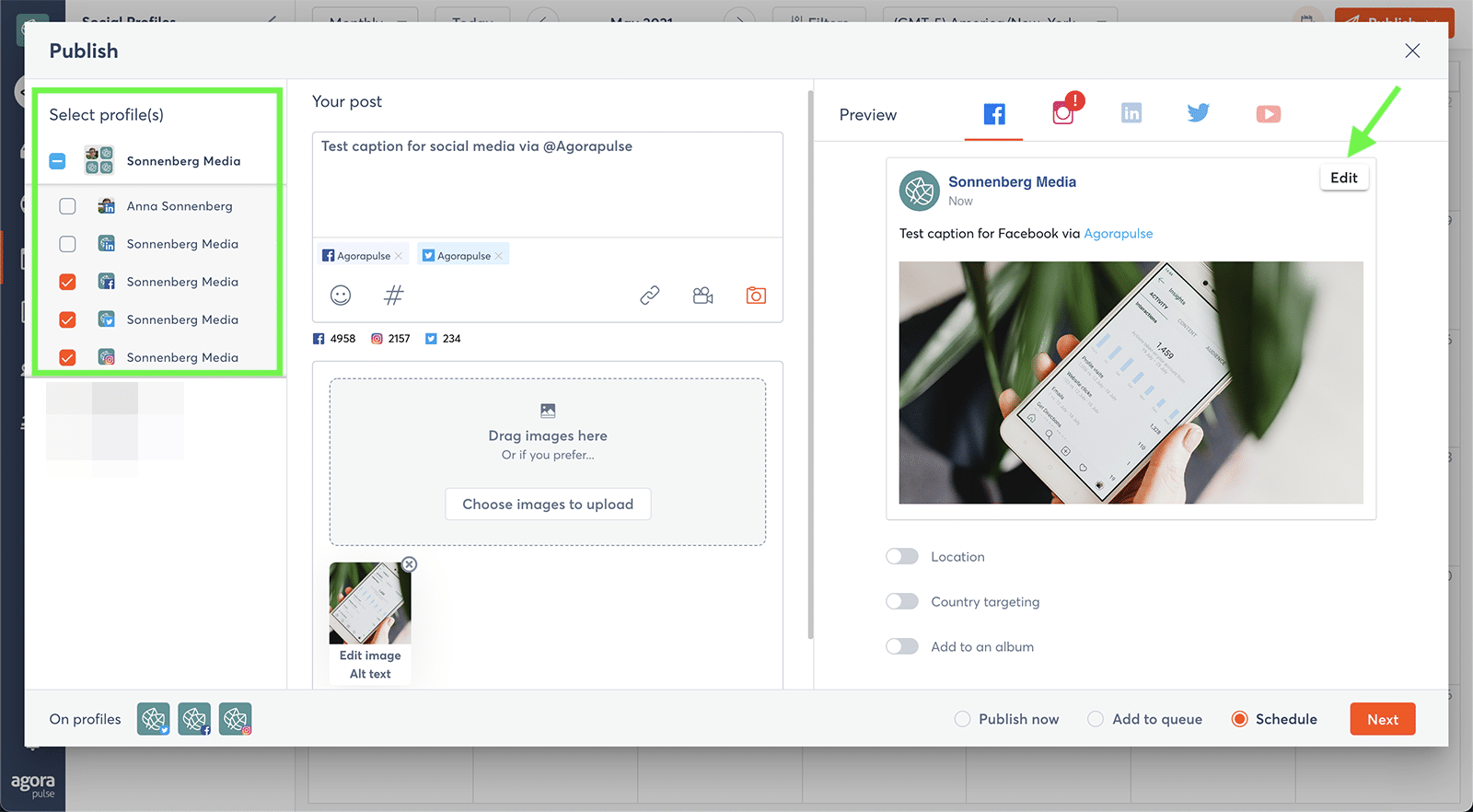 Here's how to do it
Select all the profiles where you want to publish the post.
Write a social media caption and upload the creative or add a link.
Preview the post on each channel and make any necessary adjustments to the captions, such as tagging users or leveraging hashtags.
Edit the image, so it looks sharp on every profile.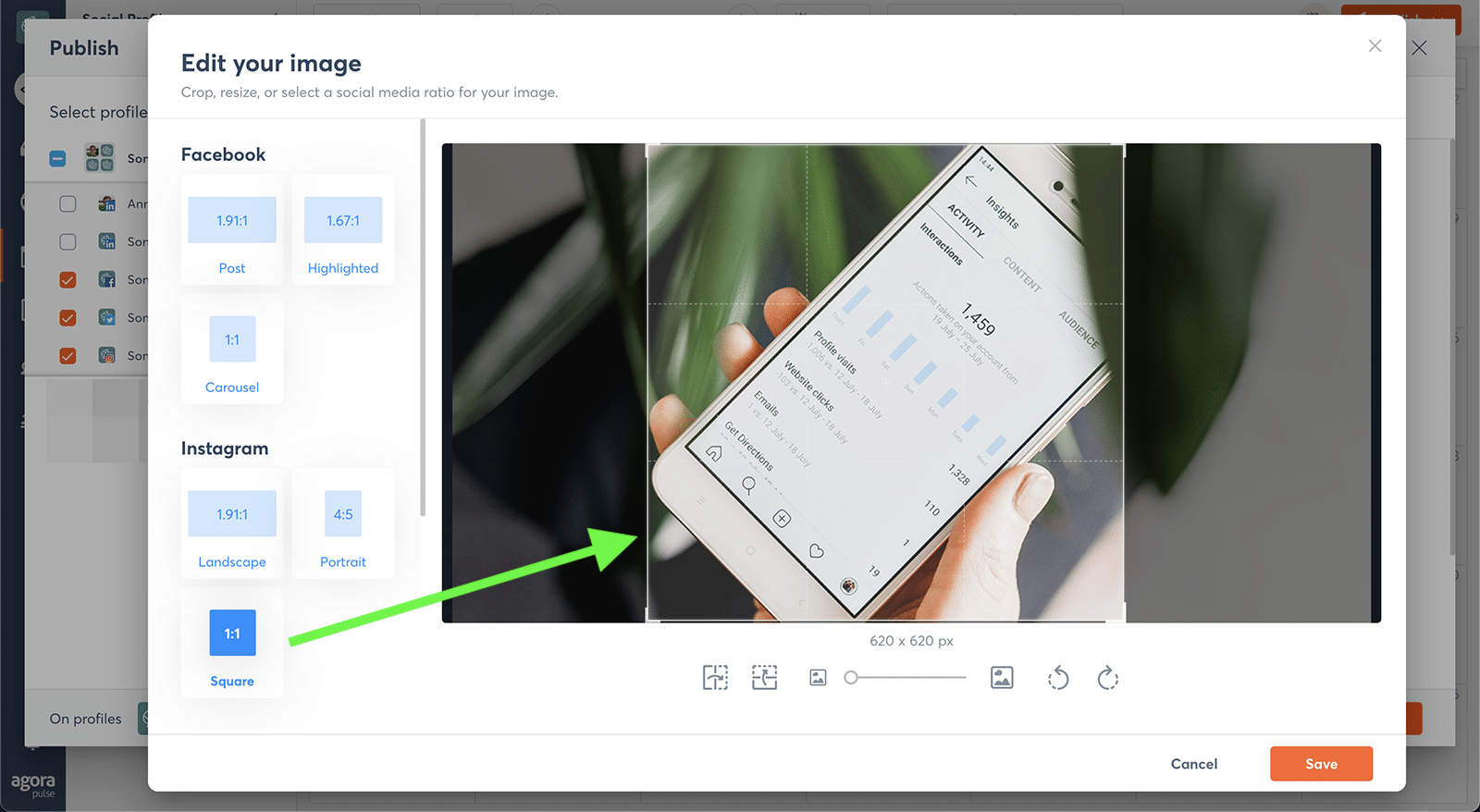 4. Confirm Client Approvals Efficiently
No matter how efficient your agency's team might be, it's easy to miss deadlines when you have to wait for client input.
Sure, you could request client approvals outside of your social media management tool. But that means keeping track of client communication and managing client social media separately.
Instead, you can manage client approvals from your social media dashboard.
When you have multiple clients and accounts to keep track of, this system can be a lifesaver:
Since you can manage content and approvals in one place, there's no need for double-checking between apps.
Posts that require approval don't publish until the assigned person approves them. You don't have to worry about anything slipping through the cracks.
You can keep track of all content on a single calendar, with color-coding that instantly tells you if it's scheduled or awaiting approval.

If you use Agorapulse, you could add clients as users.
However, there's no need for clients to take up a valuable user seat. Instead, you can give clients access to a Shared Calendar, which lets them see all their channel content.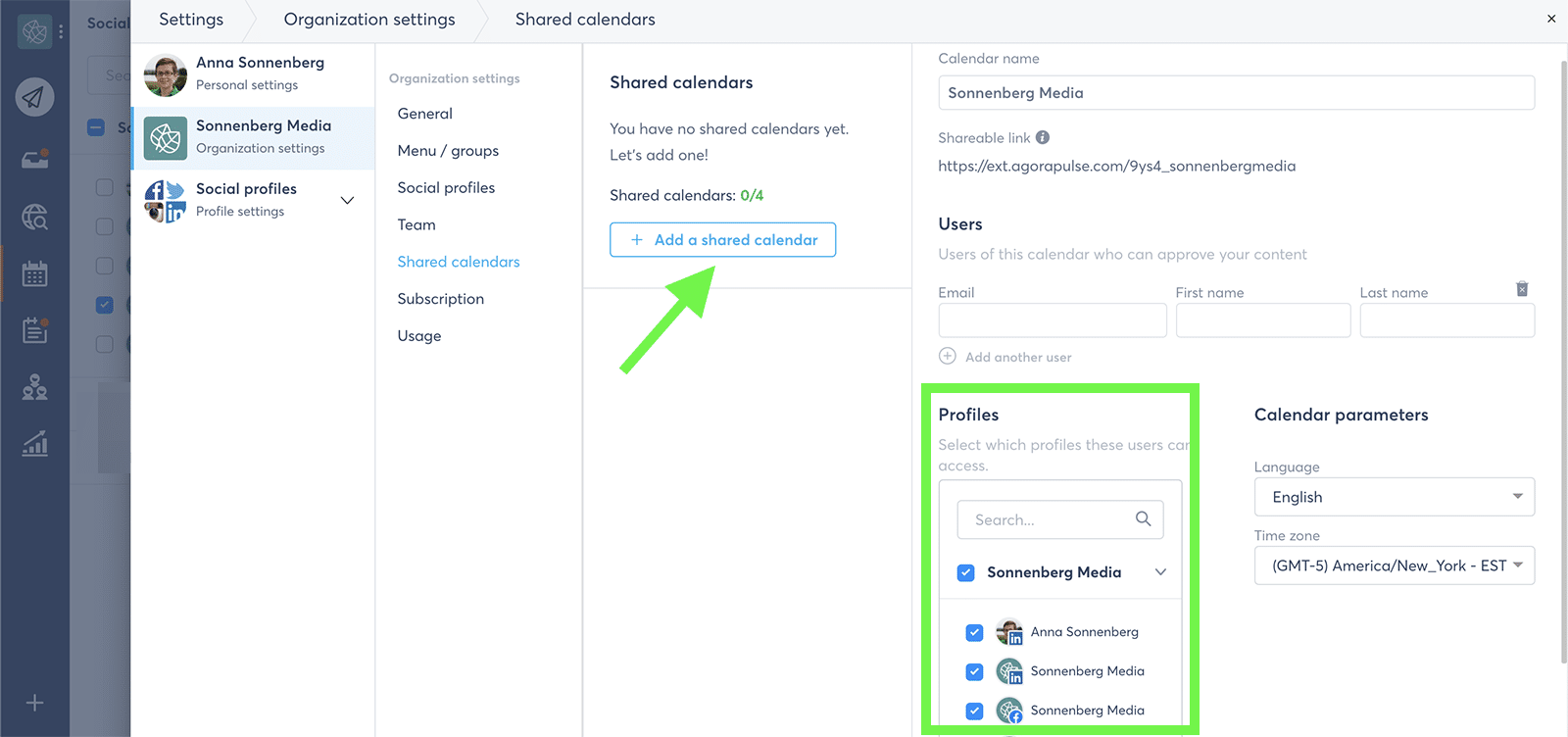 With Shared Calendars, you can request approval for specific posts, keep track of edit requests and comments, and keep clients updated on their social media content at all times.

5. Schedule Social Media Content in Advance
Sometimes, it's necessary to publish social media content at the moment. You can't exactly plan breaking news or film livestreams in advance.
Yet when you manage several clients, you can't always execute everything at the last second.
That's why the best way to manage multiple social media accounts is to schedule as much content as possible in advance.
With a social media solution like Agorapulse, you can schedule content down to the minute on virtually any day.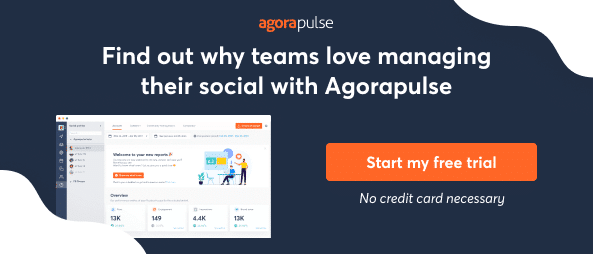 You can schedule for this year, next year, and the next 20-plus years. (Seriously, you can currently queue up content through 2044.)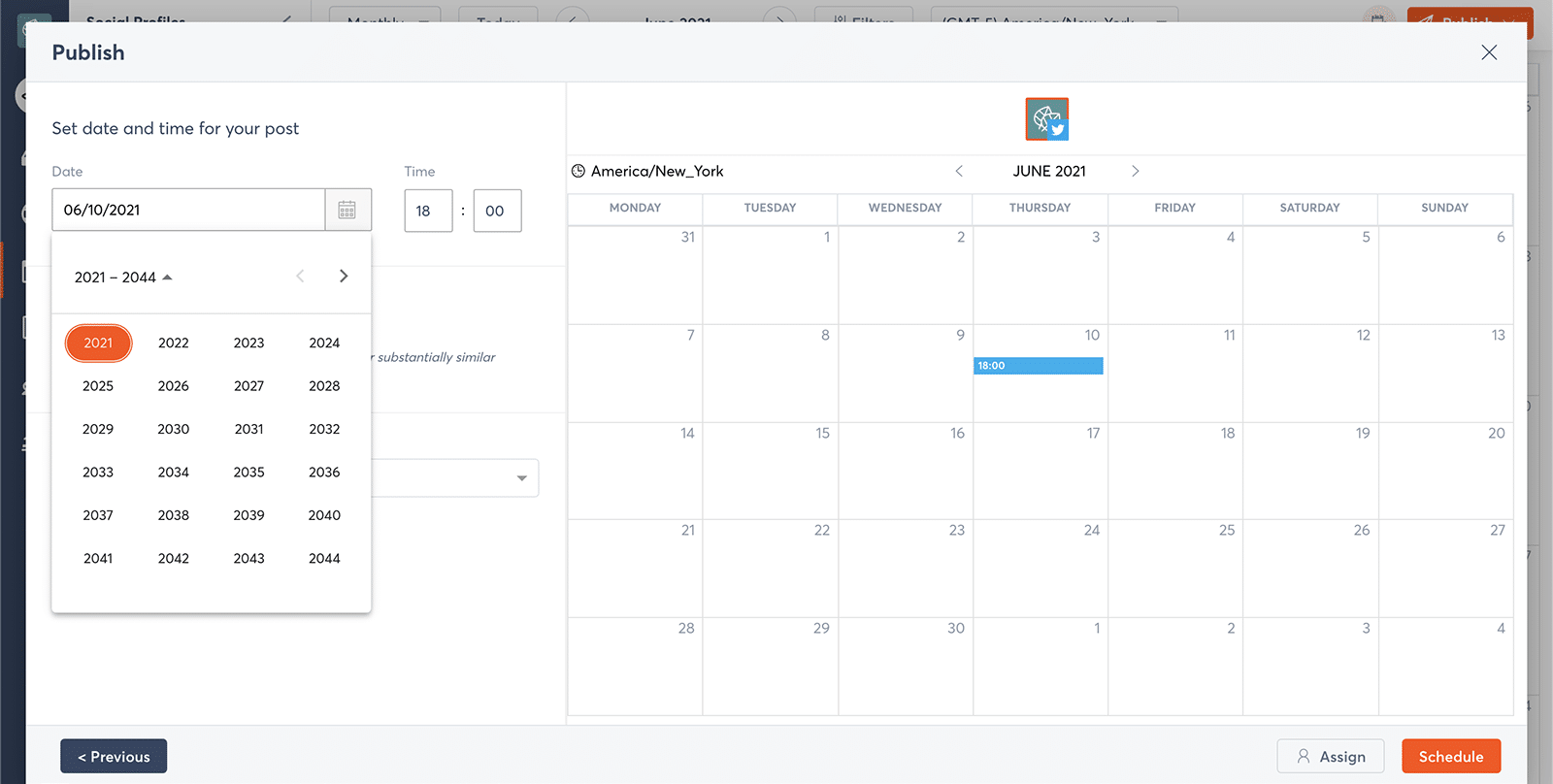 If you have a ton of content to schedule for a client, there's no need to create each post one by one. Instead, you can bulk publish posts on any supported platform, saving your team tons of time.
6. Manage Engagement With a Central Social Media Inbox
How many accounts can a social media manager handle at once?
If you use an all-in-one social media solution like Agorapulse, there's no hard limit on the number of channels or accounts you can handle effectively.
That's because Agorapulse's Social Inbox organizes all of your clients' comments and direct messages (DMs) in one convenient place.
You can respond to all engagement from the dashboard and then clear it from your inbox.
You can also assign inbox items to team members without leaving the dashboard.
That's ideal when comments or DMs need a more thorough response from a sales or customer service specialist.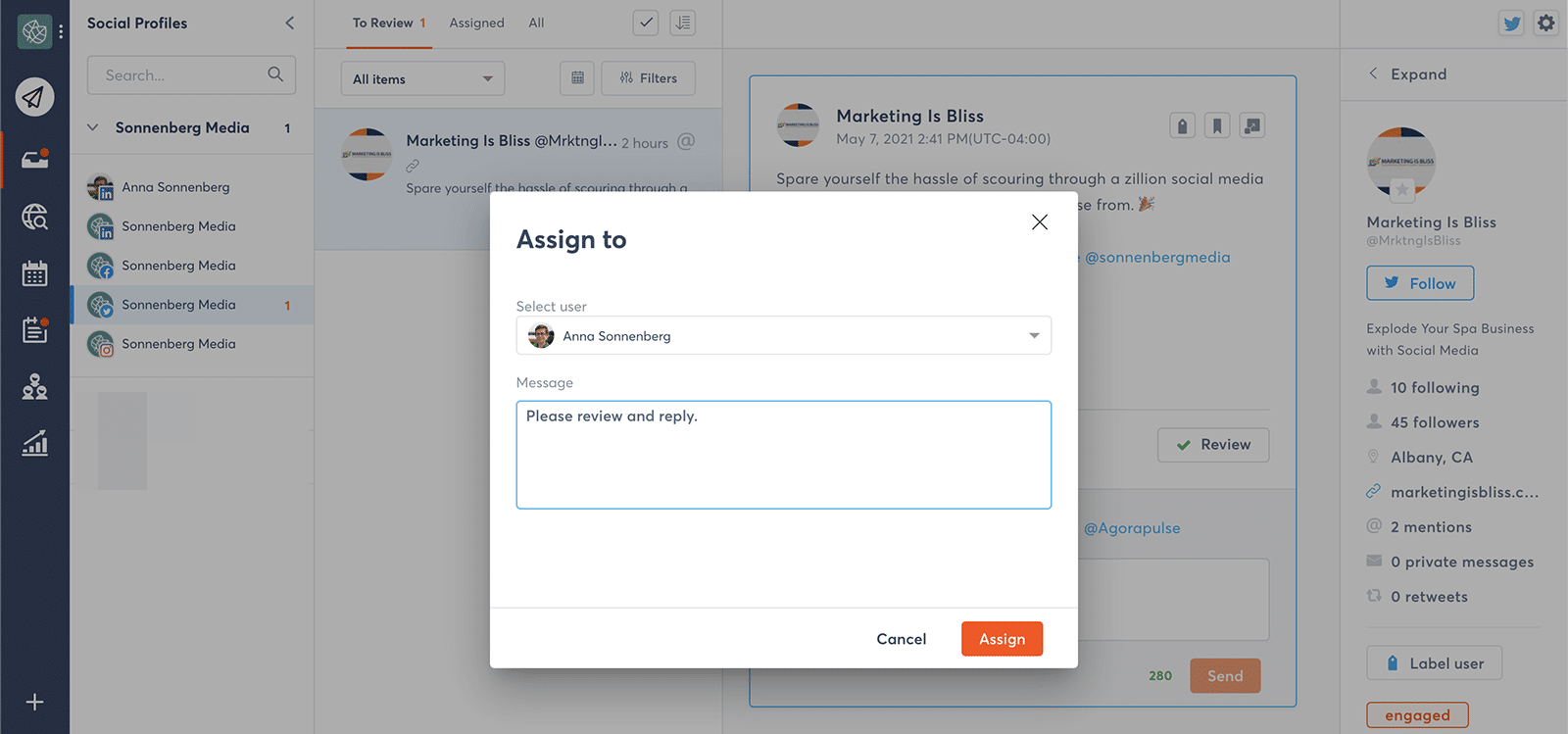 In addition to collecting comments and DMs from organic posts, Agorapulse's Social Inbox can also pull engagement from your clients' social ads. Every paid plan can monitor comments on hundreds of active ads per profile, so you don't have to worry about missing an important comment or DM.
Because Agorapulse shows you when team members are reading or responding to inbox items, it's easy to see who's working on what in real-time.
You can avoid spending time on duplicate responses and focus more on what matters.
7. Streamline Social Media Engagement Tasks
If your clients' social channels tend to get tons of engagement, there's not enough time in the day for your team to process everything manually.
Instead, use these tips to handle social media engagement tasks more efficiently.
Moderate select comments and DMs automatically
Do social media users regularly spam your clients' comments with links?
You can create a rule that automatically hides these spammy comments and assigns them to a team member for further review.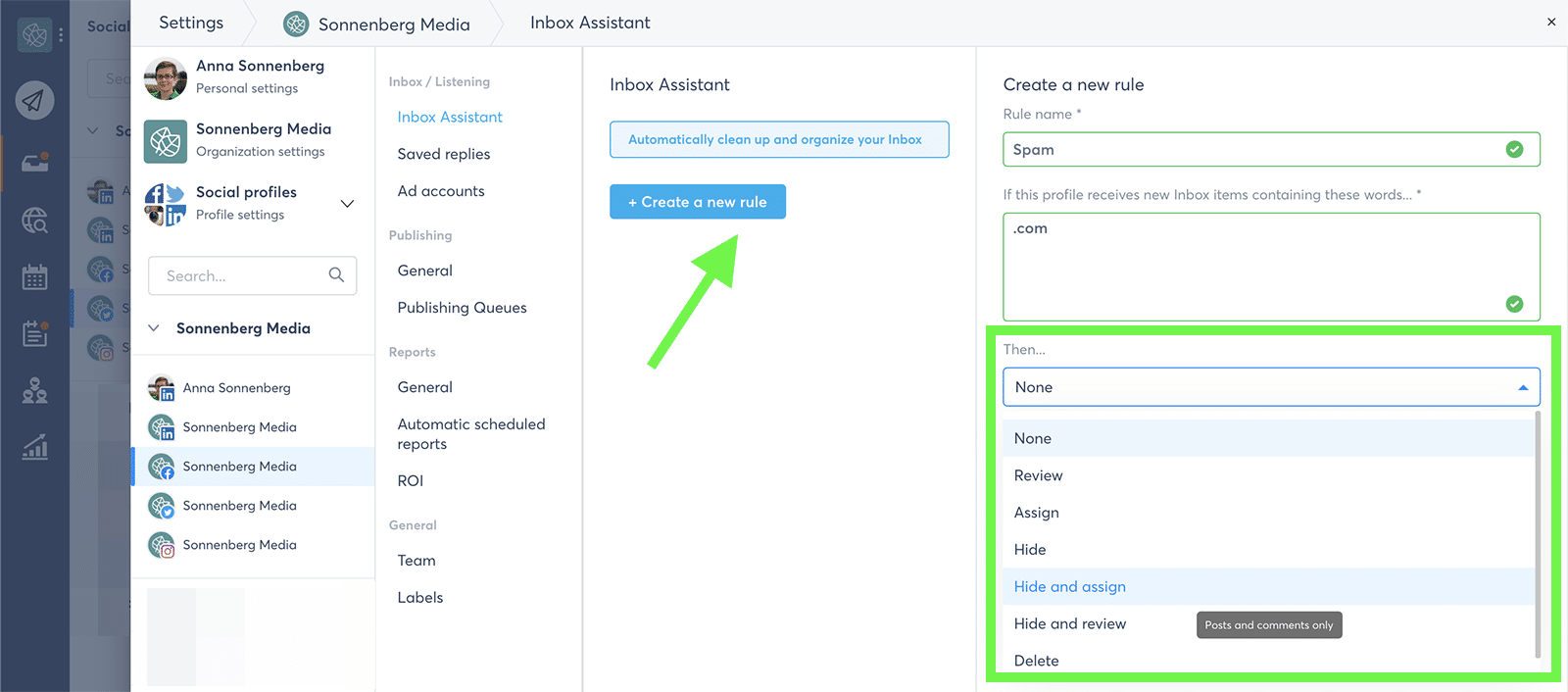 Create saved replies that you can reuse any time
Do your clients' followers tend to ask a lot of the same questions? Create saved replies that you can reuse with a single click.
Take a second to personalize your saved replies, so they won't sound exactly the same every time.

8. Handle Social Media Monitoring Seamlessly
Social listening is key to managing clients' brand reputations and understanding trends in their industries.
If you manage Twitter or Instagram accounts for clients, it's easy and convenient to manage social listening directly in your Agorapulse dashboard. You can create any number of searches to monitor these channels automatically.

For example, you can:
Monitor brand and product names to keep an eye on conversations about your clients' brands. Identify social media influencers and disgruntled customers alike and engage with both groups as appropriate.
Get data on campaign hashtags, so you can track the success of your social media marketing efforts.
Listen for brand hashtags, and identify great user-generated content (UGC) that you can reshare on your clients' social media channels.
Search industry keywords and competitor usernames to stay on top of what's happening in your clients' space.
9. Automate Social Media Reporting
For any social media manager, reporting is a critical part of the process.
It's just as crucial for agencies. With so many clients to manage, reporting can easily take up all your available time.
With Agorapulse, analytics becomes substantially easier because you can create all the reports you need in a single dashboard rather than logging into each individual account.
If you manage multiple social accounts for each client, you can also build aggregate Power Reports. That way you can give clients an easily understandable summary of their results rather than filling their inbox with separate reports.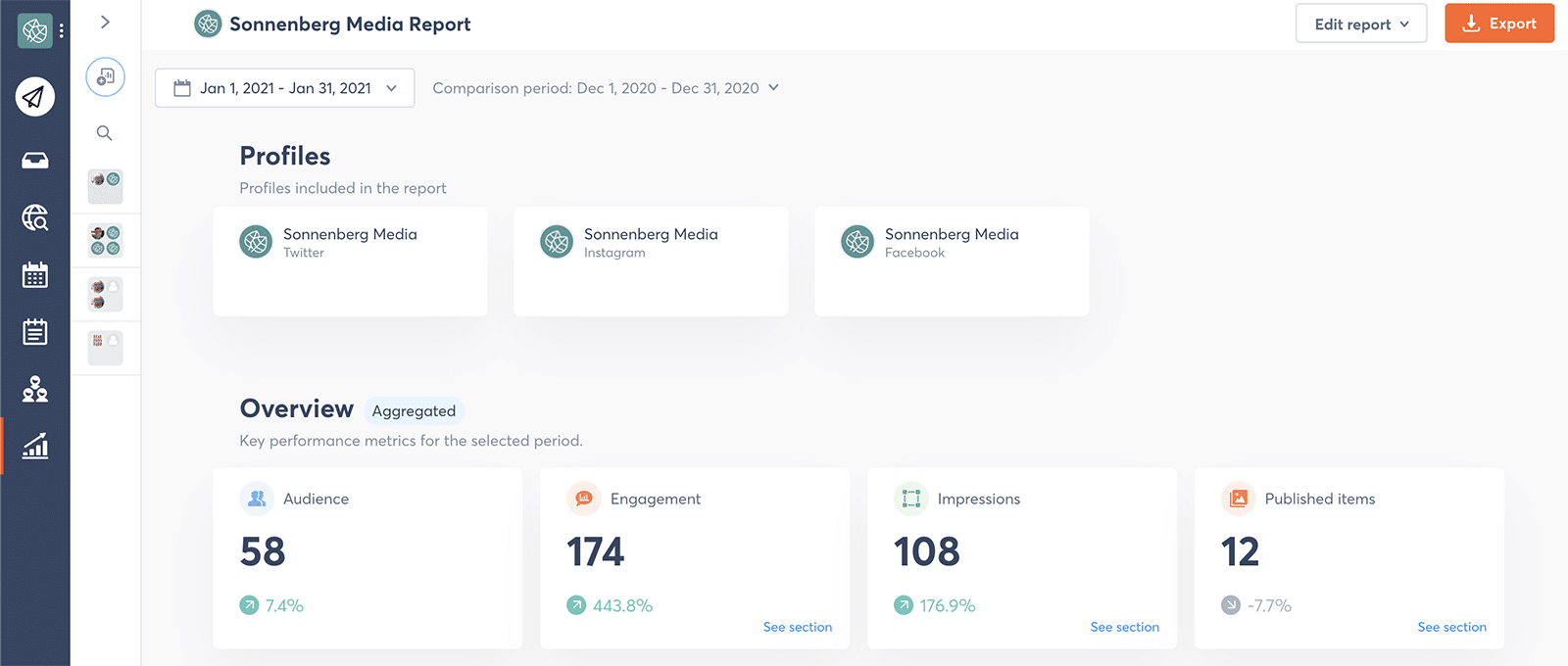 To save even more time, your team can even automate reports, so you don't have to compile them every week or month. Simply select the client profile and choose the timing (weekly or monthly).
Then decide whether you want to send a comprehensive report or choose the specific sections to include. Finally, add the recipients, who may be internal team members or external clients.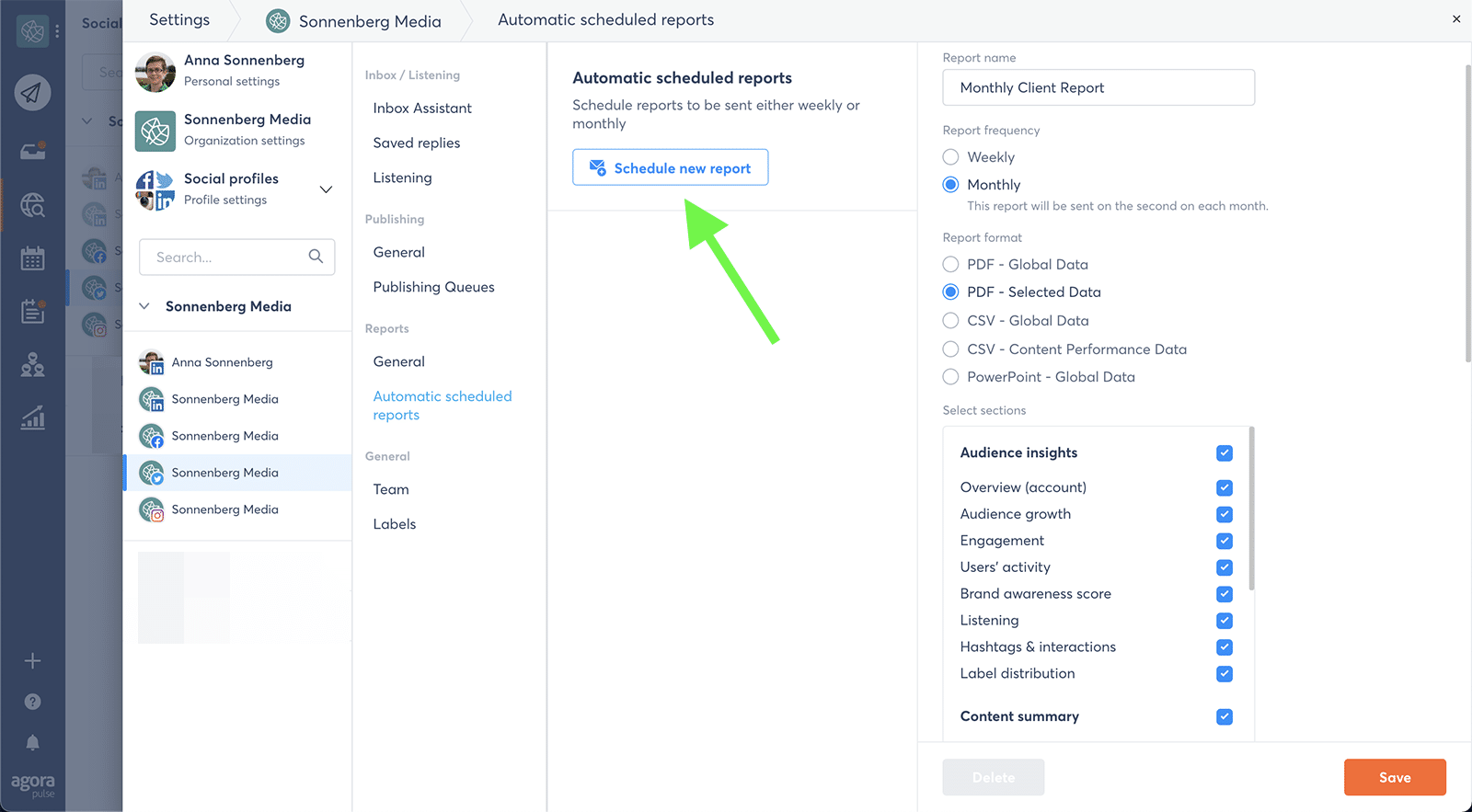 Then check Client Reports off your to-do list and let Agorapulse automate the process. Rather than putting time into collecting and organizing the data, you can devote time to gleaning insights, identifying trends, and using your analysis to improve client results.
10. Communicate With Colleagues
When you work with an agency team, good communication is vital. Yet using several apps to stay on top of projects can be confusing and time-consuming.
By adopting a social media management solution that supports teamwork, you can keep team communication flowing in one convenient place.
When you assign posts to team members, the Agorapulse dashboard keeps track of the conversation. It's easy to see when the approval workflow started, who requested which edits, and who responded in a timely manner.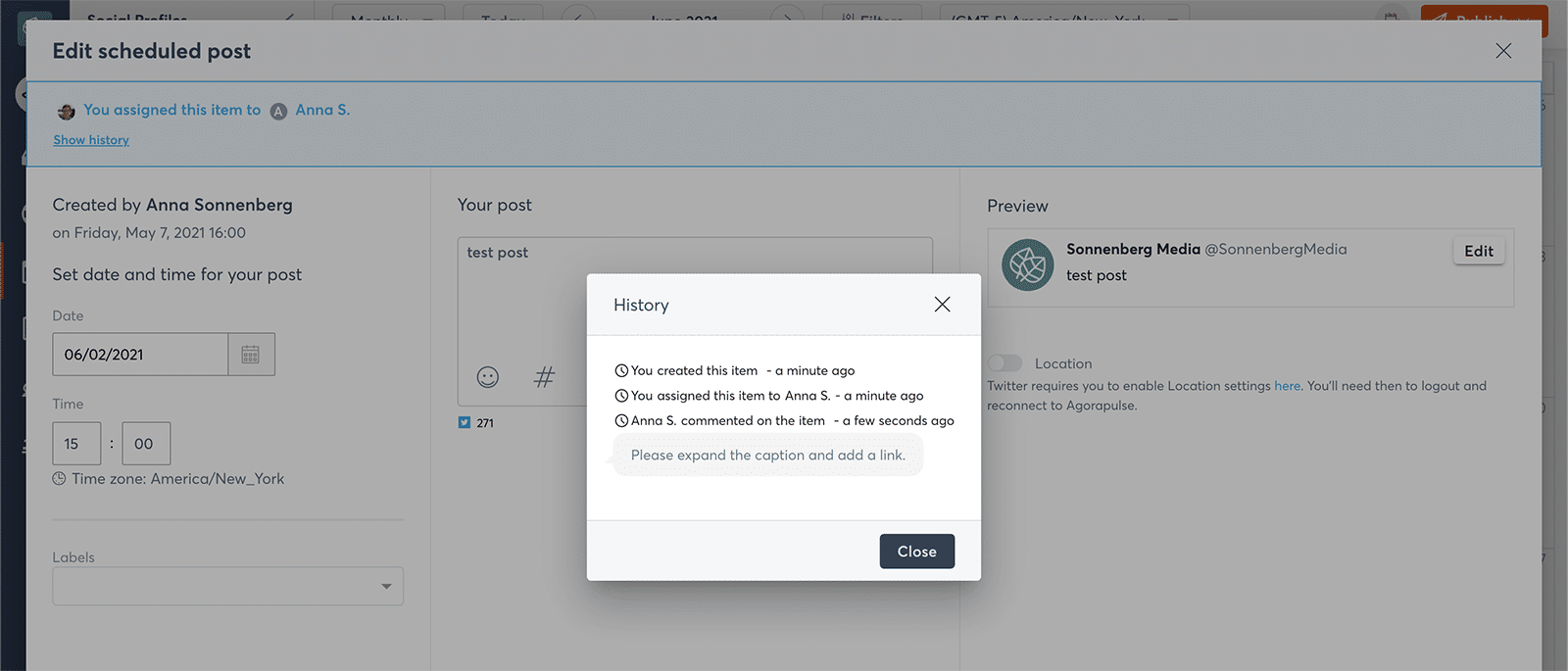 Your agency team can also communicate about client followers on any supported channel. Team members can leave internal notes in the social media customer relationship management (CRM) tool so everyone has all the information they need at their fingertips – without having to check email or Slack.
Take control of your social media! Check out our free trial of Agorapulse to help you schedule, track, and measure all your social media efforts.