Would you like to amaze and retain your clients for the long haul? We've got good news for you.
I'm going to give you 9 essential tips for getting started today.
[Tweet "Want to retain clients for the long haul? Follow these steps to find out how"]
#1 Win More Clients by Leveraging Competitive Analysis
Agorapulse can help your agency turn prospects into clients.
How can we do this? We've got data and lots of it. The data is easy to understand and helps you to share information with clients that they may not know. The data will help you to show clients how they are doing and then you can use that information to show them how you can help.
Use the Facebook Page Barometer to Identify Weaknesses
The Agorapulse Facebook Page Barometer is a free tool that allows you to benchmark a page's performance against the average according to a number of key performance indicators. A user-friendly heat map makes it easy to see what works and what can be improved.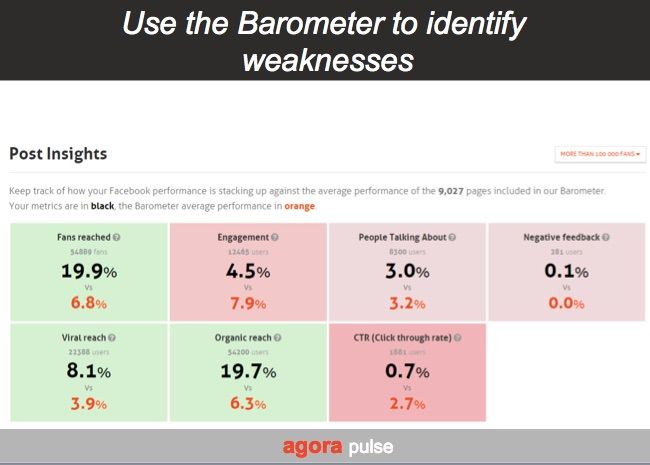 Fans reached is ok, but it could be improved along with organic & viral reach. However, we can see this page is doing well on their engagement, PTAT and CTR.
These metrics help us as agencies to identify areas that need improvement. The question we need to ask here is how can we reach more of the right people with the page's content?
Use the Barometer to:
Show clients their strengths and weaknesses in a way that's easy to understand
Easily identify the areas where you can help them
set a value benchmark for your value proposition
Where you can find the barometer tool:
https://barometer.agorapulse.com
Competitors Benchmark
How does your page stack up against your competition, peers or other successful pages?
This simple heat map makes it easy to discern what's working and what's not. Once your new competitors benchmarking tool has identified the general strengths and weaknesses, a quick check of the actual content on the examined pages will reveal why one page is performing better than the other.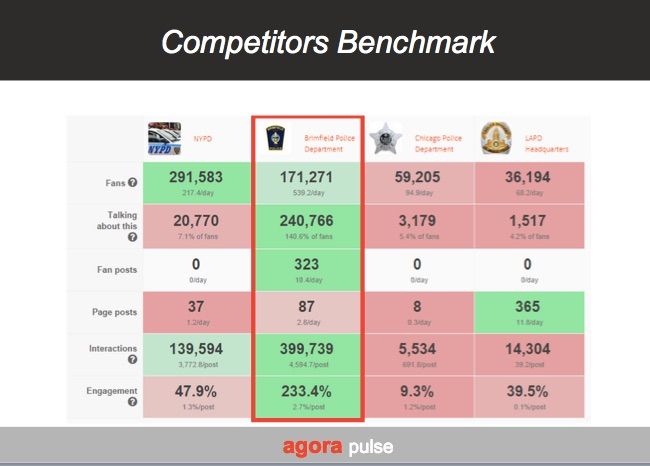 In the example above, if you're advising the LAPD (Los Angeles Police Department), you'll immediately notice that despite a very high level of page posts (11 per day!) the page is getting very low engagement per post (39 interactions vs. 4,500 for the best in class, and 0.1% fan engagement vs. 2.7 for Brimfield PD. Wow!). Next, a quick check on the Timeline reveals they are reposting their tweets on the page… Not a best practice.
Now, you can pitch the prospect with actual numbers, why their performance is low (compared to other pages they can relate to) and what the others are doing to thrive. Much more convincing!
Competitive Analysis will help you:
Provide a benchmark that your clients can relate to
Give you a short cut to identifying best practices
Help you to identify whether clients have an industry problem or an individual one
Set a benchmark for your value proposition
Give you metrics (and ammunition) if you're not an admin yet
[Tweet "Competitive analysis can help you win more social media clients. Here's how. "]
#2 Make Sure Your Clients Know How Hard You Work
Managing social media accounts can be measured in two ways: quantitive and qualitative
Qualitative results are very important, but harder to demonstrate. It's easier to show that you're doing a lot of work than proving you are doing it well.
Quantitative Reporting
Is the client aware of the number of comments you've moderated? Tweets replied to?
How are you making sure your daily work is being seen?
Agorapulse provides sharp reports with easy to understand numbers. As you can see below, these four team members have reviewed hundreds of items this month. This section of your Agorapulse report will show how active each team member is in reviewing and responding to posts, comments, and messages.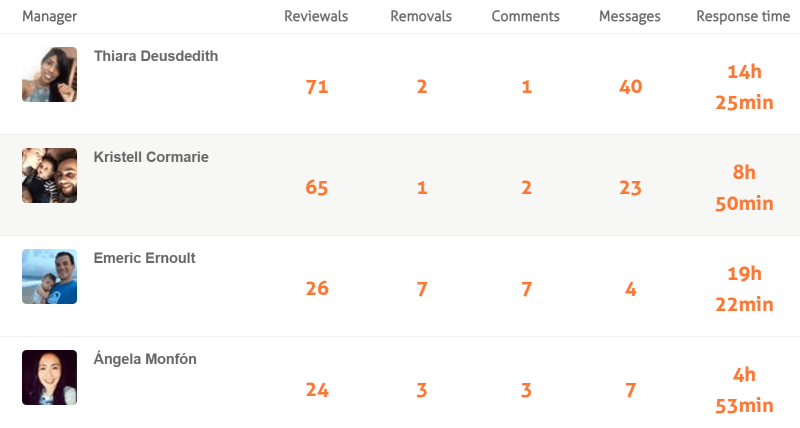 Over the past month, the above team has reviewed 42 fan posts and 18 fan comments, removed a bunch of spam within the comments, and responded to fans in just under 10 hours on average.

Page Moderation Reports Can Help:
How? Your clients remain aware of your efforts on a daily basis, and it's harder to fire someone who's working a lot!
Now that your clients know you're working a lot, do they know the value of your time? Can they attribute a value to your hours of work and does that value have a business impact? Does your work translate into business assets they can recognize?
[Tweet "Agencies can prove their value to their clients with these reports! "]
Working hard is good, but producing results is great.
Define value that your clients can agree with. Cost per lead, cost per click, cost per 1000 impressions, and apply that to what you're getting on your Facebook page.
It's as easy as that! Last month, our page was worth more than $7,700 in leads, clicks and impressions.
Turn Social Engagement Into Real Lead Generation
Knowing what your Twitter and Instagram followers are worth is a good way to benchmark your relationship building efforts. Agorapulse will automatically qualify each user that interacts with your account by tagging your ambassadors, engaged users and influencers with meaningful badges you'll notice at a glance.
You can even take it a step further and add custom tags to each user that interacts with your account.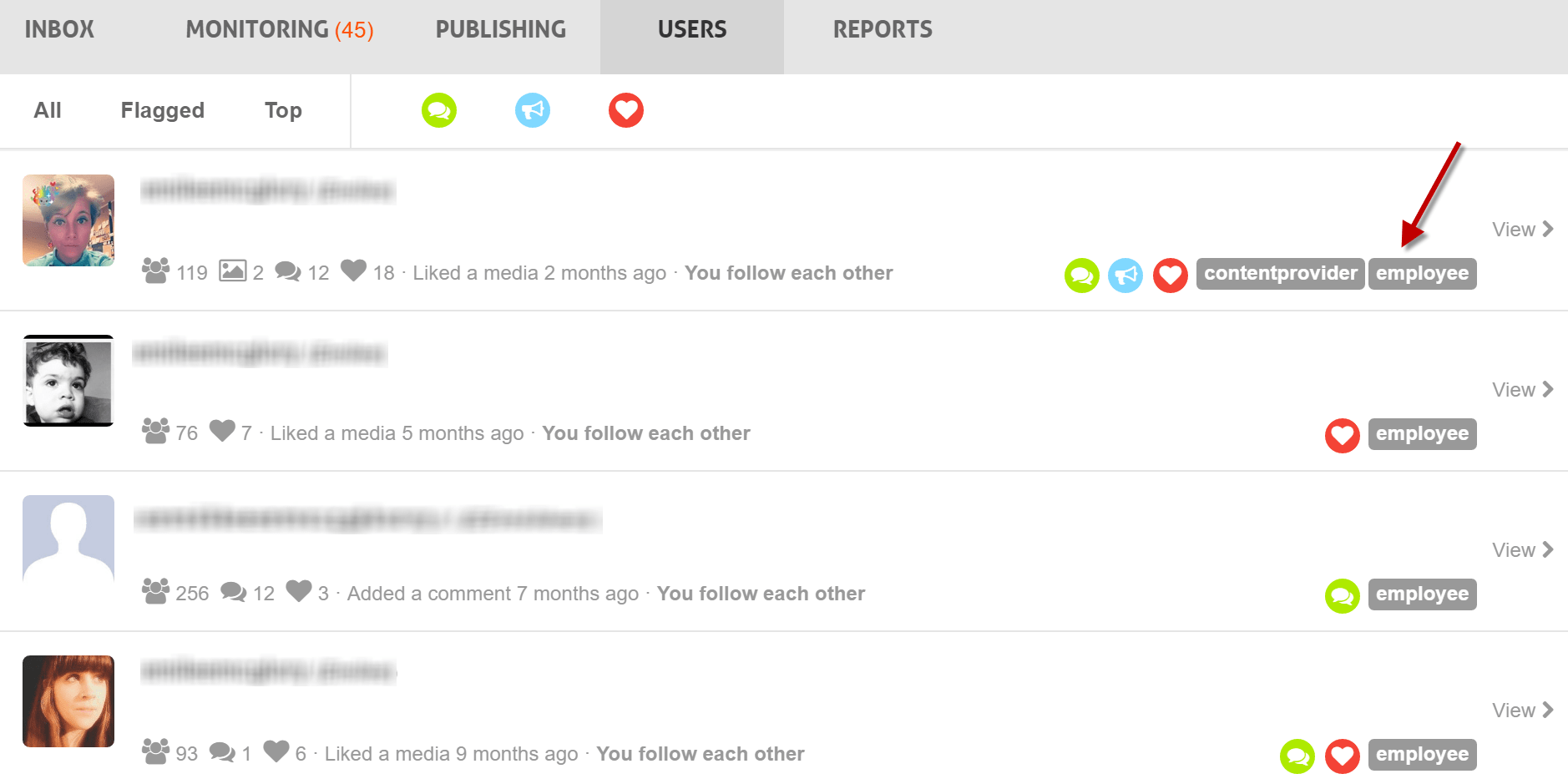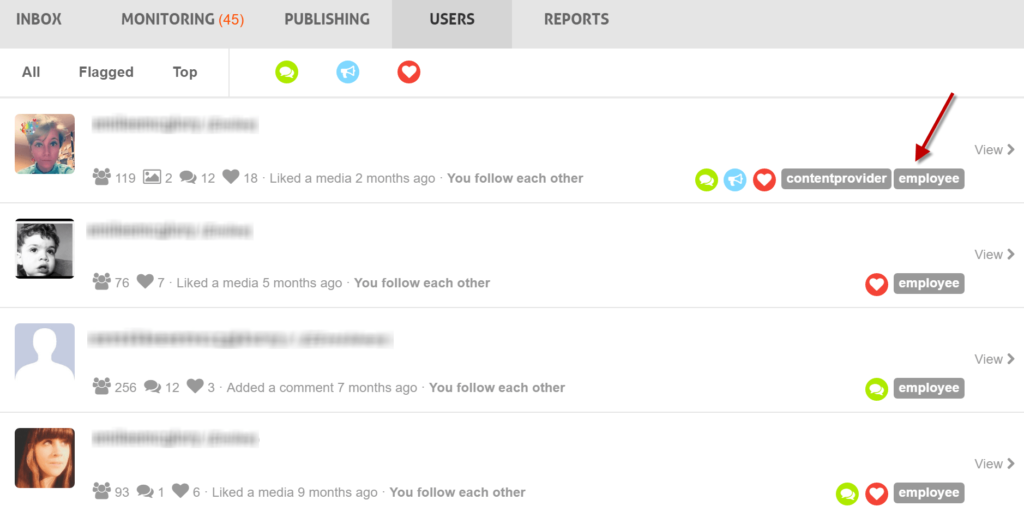 [Tweet "Knowing what your followers are worth is a good way to benchmark your relationship building efforts."]
Our custom tags allow you to qualify your Facebook, Twitter, and Instagram users you engage with and show your clients that they are building relationships with people who matter to their business.
Tagging and qualifying your Twitter users shows your clients that they are building relationships with people that matter to their business and lets you focus on those who are most valuable.
Facebook doesn't provide you a way to contact individual fans, but what if you had a way to connect an engaged fan to their email address? With Agorapulse you can.
Qualitative reports help you to:
Educate your clients on the value of social media
Define reasonable goals together to measure against your future performance
You'll last a lot longer as the agency of record if you can report results that the client values
#3 Help Your Clients Audit Their Content Strategy
A successful social media presence starts with a content strategy, but content is what clients struggle with the most. What works? What do my followers want?
Content is more of an art than a science and art is a hard thing to audit or evaluate compared to more obvious metrics. What you need is a scientific way to audit art, and Agorapulse will make this easier for you.


Our reports will tell you which hashtags resonate the most with your audience.
[Tweet "Understanding what type of content works is tough. Here's how you can make it easy."]
Facebook will tell you which format gets the most reach and engagement. Agorapulse will also tell you how many times you've used each format — so if you're posting too much of one format that doesn't perform too well, you'll know how to balance it out.
Facebook will tell you when your fans are online. This is the time of day when competition for space on the news feed is the fiercest. You need better insights to tell you what time of day you're likely to beat the competition and reach the most people.
The graph below shows that you have fewer fans online on Sundays, but what if you are getting greater reach and engagement on a day off due to less competition? Agorapulse post recommendations go beyond vague generalities to tell you how your content is performing.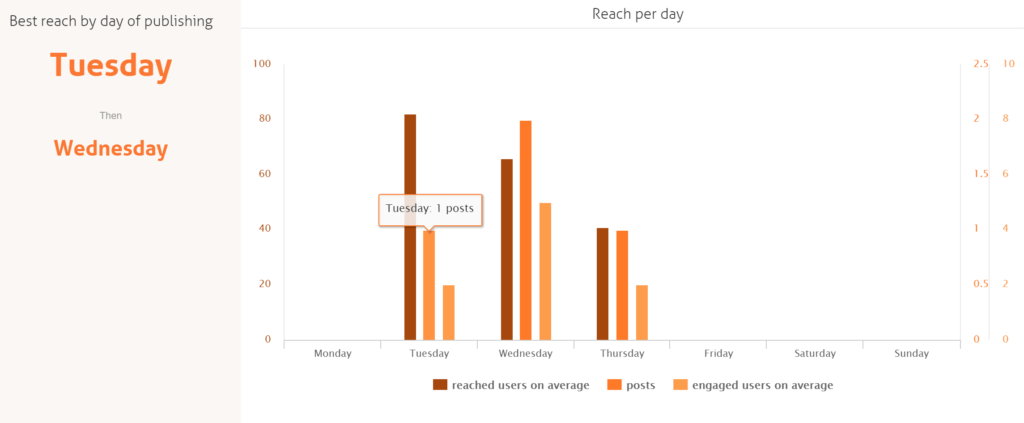 Not all pieces of content are created equal. Which posts get the most shares, likes, comments, clicks and why? Our post level metrics will show you in a heat map so you can quickly and easily spot what's resonating and what's not. Which of your clients' posts are getting the best organic reach or the best viral reach? What explains the gaps between the best and worst performing posts?
If you can answer these questions, your clients content strategy will improve for sure!
Content Metrics
Most clients have no idea if what they're doing content wise is "right". That's where content metrics come to the rescue by providing a scientific/data driven approach that can't be challenged by subjective opinions
With data in hand you can't be wrong and they can't argue.
#4 Make Sure You Stay On Top Of Everything (Without Losing Your Mind!)
You need a system that tells you exactly what to focus your attention on and lets you know when you are caught up. Agorapulse is designed to give you that fresh clean feeling you have when you are on top of things. We call it social inbox zero.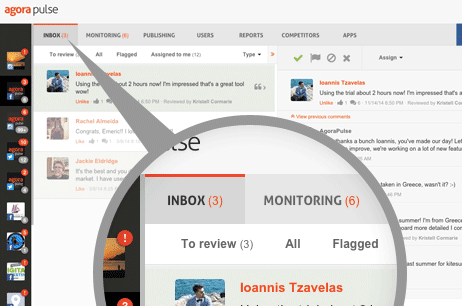 Moderation rules can help you do what Facebook can't- trigger email alerts, assign, tag or hide content based on specific key words… etc. Create as many rules as you like, then automate them so that they work themselves.
Efficient page moderation tools can help a lot!
The one thing you never want to hear is that you've missed a tweet or comment!
Clients need to be reassured that you are on top of everything so that they can let go, but, before they do, they need to be able to check for themselves.
[Tweet "Never miss a tweet, comment, or message again! "]
#5 Boost Engagement For FREE (Almost!)
Engagement is hard to get! Without it, visibility remains low. Coming up with great content that people will love and share is not easy, but Timeline contests can help a lot, even if the brand is not sexy.
Timeline contests can help!
They engage when regular content is hard to come up with and the prizes can be of low value since the barrier to entry is low.
Our timeline contest manager is free to use!
Need inspiration? We have 14 creative ideas for your next Facebook timeline contest.
#6 Organize Contests Without Incurring Development Costs
Success should not always come at a cost!
Client's budgets are what they are, and sometimes they won't allow you build that great campaign that you've been proposing, but a limited budget doesn't mean that the client will settle for less.
Let's offer them quick wins that will make them happy, make you look good and will fit in the allocated budget.
[Tweet "Limited social media budgets doesn't mean you have to get limited results."]
We have more than a dozen applications, all ready to launch in a matter of minutes. Our catalog of pre-built apps are the most advanced on the market and they're free with your subscription. You can run unlimited campaigns and no additional cost.
These apps are fully customizable with full HTML/CSS so they'll look as sharp as you want.
Need inspiration? We've got you covered with a list of which apps will be a good fit for your page.
Our pre-built apps can help:
launch beautiful, successful contests and giveaways
increase your margin
reduce costly app development work
#7 Let The Client Be In The Driver's Seat (For A While)
Make sure your clients are comfortable with you taking over.
Giving control of your baby's social media accounts can be stressful. Give them some time to trust you.
Agorapulse's roles and workflow tools allow you to be uber specific as to who can do what on your Facebook page. You can give your client control while getting the job done seamlessly. Go ahead, build a little trust at the beginning of your mission.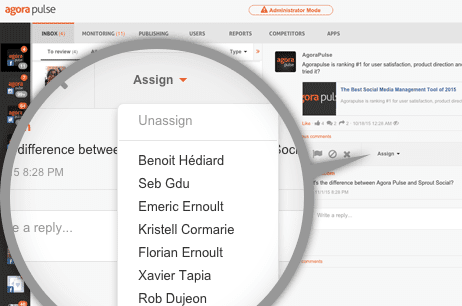 You'll have the ability to create posts and comments but they won't be published until the client approves them. That will give them the security they need to build trust. This feature also works well when you are outsourcing work to your summer interns.
There will be times when you won't know how to respond and you'll need to assign tweets and comments to your client. Agorapulse makes this easy.
[Tweet "Giving control of your baby's social media can be stressful. Here's an easy way to do it. "]
Showing your clients everything that's been published on their social media accounts can be challenging. A calendar view is the most efficient way to do this. Offer your clients full tracking of who's done what on the account. If something goes wrong, they (and you) will know who did it.
Custom workflows help you do your job comfortably without too much burden, while reassuring your clients if they're afraid to let go.
#8 Reporting Is The Key
A client in the know is a happy one and you have the ability to generate comprehensive reports with ease.
With one click of a button Agorapulse will generate a beautiful report in PowerPoint with all your analytics so you won't waste valuable working hours just to keep your client informed.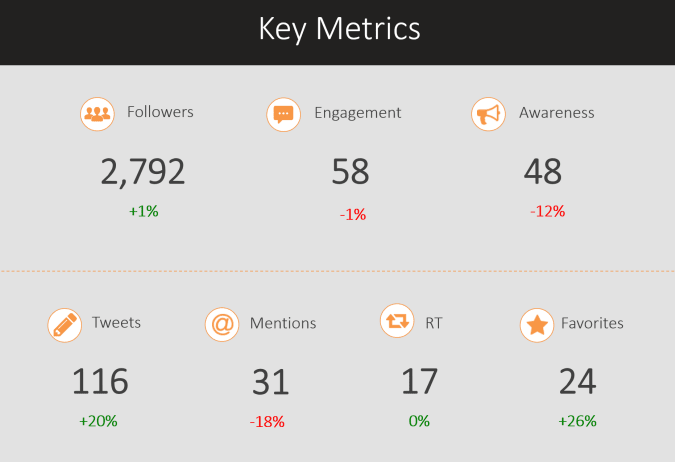 In PowerPoint, you can customize and personalize it as you wish by adding your own logo, adding or removing slides… etc.
These one click reports can help:
save you time and money
keep the client happy and informed
show off your efforts and value
We have clients who used to spend two days a month building these reports, now one click is all they need.
[Tweet "Stop wasting time creating social media reports. Follow these tips and do it in one click. "]
#9 Tools Should Help improve your margins, not cut them
This is why Agorapulse is priced especially for agencies:
Easily switch social media accounts as clients may come and go (at no extra cost)
As low as $49 per month for 5 accounts (any combination of Facebook, Twitter, Instagram, Google+ or LinkedIn) and two members. Need more? Try our post popular plan at $99 per month for 10 accounts and up to five team members. You won't find another product that gives you that many team members and free reporting at a better price.