For e-commerce companies, social retail is crucial to a well-rounded marketing strategy. By using that tactic, you can sell via social media, drive revenue, and generate more value for your business or your agency clients.
Curious about how you can implement this method successfully? Let's dig into how social retail works and get actionable tips for boosting sales and growing your business.
What Is Social Retail?
Social retail is the process of selling products via social media channels, using customer engagement and activity to amplify results. That approach typically involves selling direct-to-consumer (DTC) products, meaning it's a great fit for e-commerce businesses.
An effective social retail strategy rewards both your e-commerce business and your customers.
Here's how:
Customers receive engagement and additional incentives when they create content that features your brand.
Your business grows its audience and sells more products by cultivating a loyal community of engaged customers.
Why Is Social Retail So Important?
If your business sells products online, social retail offers tons of benefits. Let's look at why this social retail as a marketing tactic is so important and explore some positive outcomes you can get from doing it well.
Social retail increase e-commerce sales
From a business perspective, the biggest benefit of social retail is creating more opportunities to sell DTC products. That means this tactic can help you increase e-commerce sales, generate more revenue, and grow your business.
With the right tools, you can easily track the results from your social retail efforts. Below, I'll walk you through how to attribute revenue to specific channels and campaigns and show you how to measure return on investment (ROI).
Social retail helps generate word-of-mouth marketing
Social retail requires your team to use social media to promote your business or agency clients. Yet this tactic relies on much more than self-promotion alone. Instead, it also depends on your customers and social media followers to talk about the brand on social media.
As a result, this method creates substantial word-of-mouth marketing, which has the power to be incredibly influential. In fact, it's difficult to understate the power of this type of marketing. Around the globe, it contributes 13% of all sales and drives $6 trillion in spending.
Over a quarter of consumers confirm that word-of-mouth marketing helps them develop brand affinity. Especially among millennials, word-of-mouth is a popular way to discover new brands. It's no surprise that 64% of marketers consider word-of-mouth the most effective type of marketing.
Social retail assist in creating a loyal community
If your business has a low customer retention rate, your team may struggle with high customer acquisition costs and low customer lifetime value. Social retail can help you turn these metrics around by improving loyalty and attracting a community.
Naturally, the more customers feel connected to your company, the more likely they are to make repeat purchases. They may also be more likely to promote your content, post about your brand, and recommend your business to friends and family.
Social retail can easily integrate with other channels
It's easy to assume that the positive effects of social retail stop once you exit out of social media apps. In reality, this marketing tactic easily integrates with complementary channels, creating a much bigger impact than you might expect.
In many cases, you can repurpose social retail content on your e-commerce website or in your email marketing promotions. That means you can extend the impact of influencer- and user-generated content (UGC) and capture even more value for your business.

7 Social Retail Tips to Increase Sales
Whether your business is long-established or new to the market, you can create a successful social retail strategy. Start driving more e-commerce sales with the seven tips below.
1. Leverage customer reviews and testimonials
Customer reviews can make a major impact on your e-commerce sales. According to Qualtrics, 93% of people read online reviews before making a purchase. And you might be surprised to learn how much stock most consumers put in online reviews. Over 90% of millennials trust online reviews as much as recommendations from friends and family.
In some cases, positive reviews can even affect how much customers spend with a business. In fact, customers are generally open to spending 31% more with a business that has superior reviews.
So how can you use customer reviews to drive more sales? First, you have to ask for them. Tell customers you'd love to hear what they think about your products. Then tell them exactly where to go to leave a review. For example, you might link to your Facebook or Google reviews page.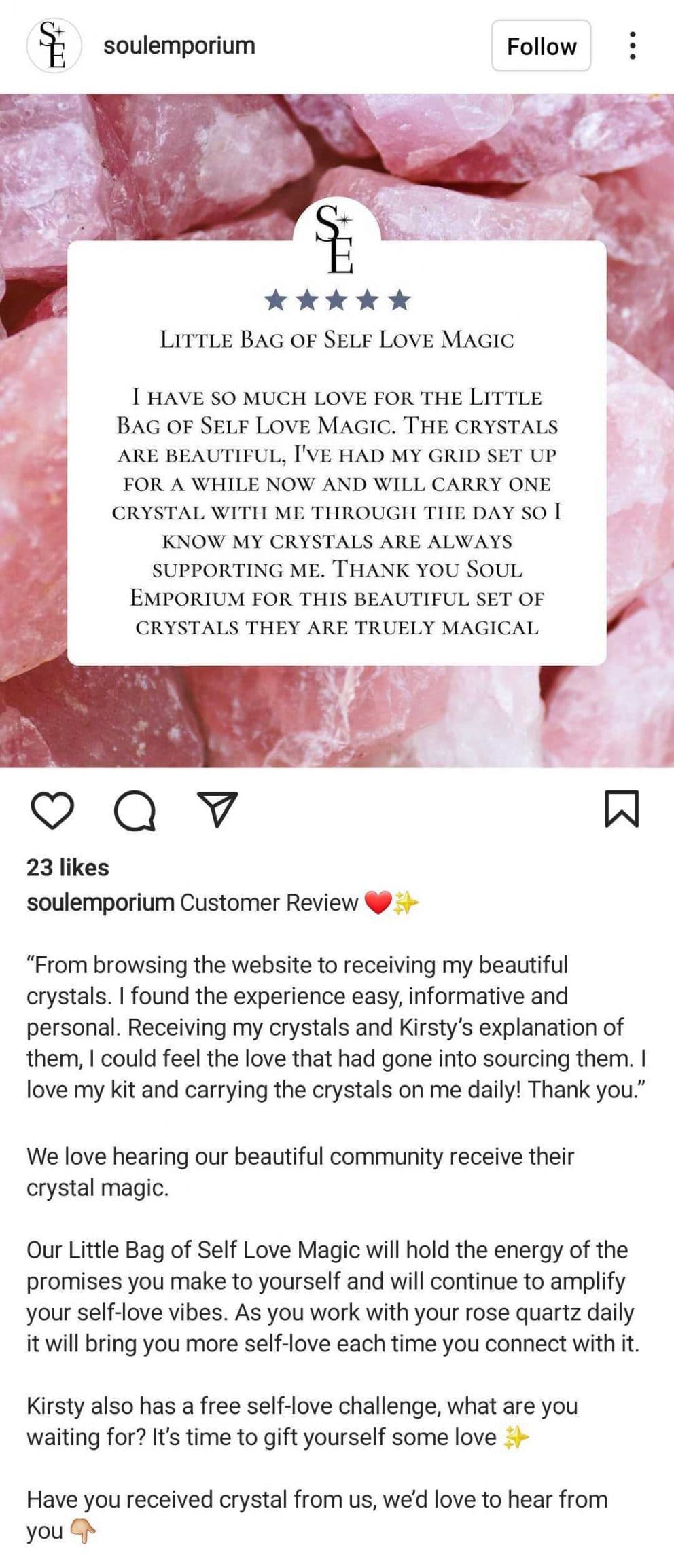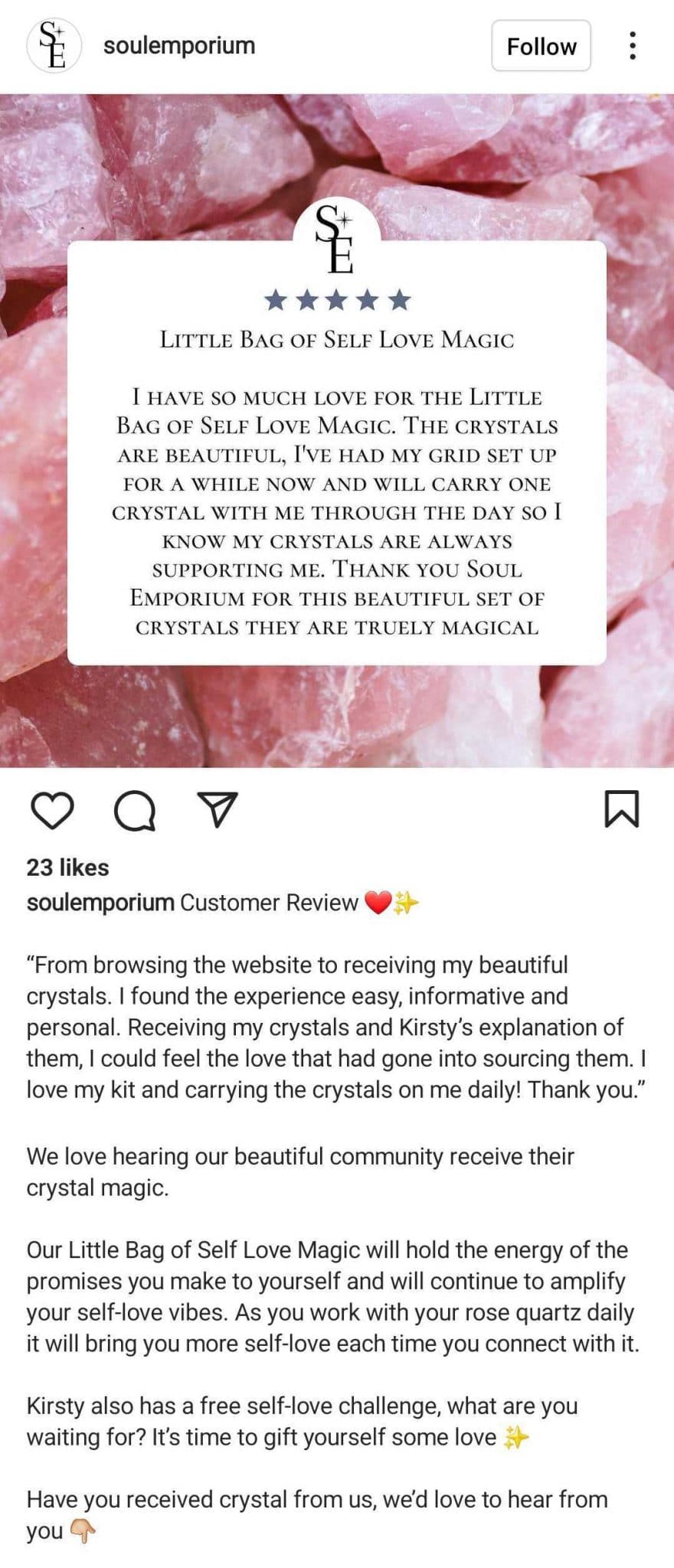 Take a look at the @soupemporium Instagram post above. In addition to featuring a great review, the post encourages followers to share their own experiences with the business.
As you collect glowing reviews, don't hesitate to share them on social media. You can copy and paste them word for word in your social media captions. Alternatively, you can add them to graphic templates, which may help them attract attention.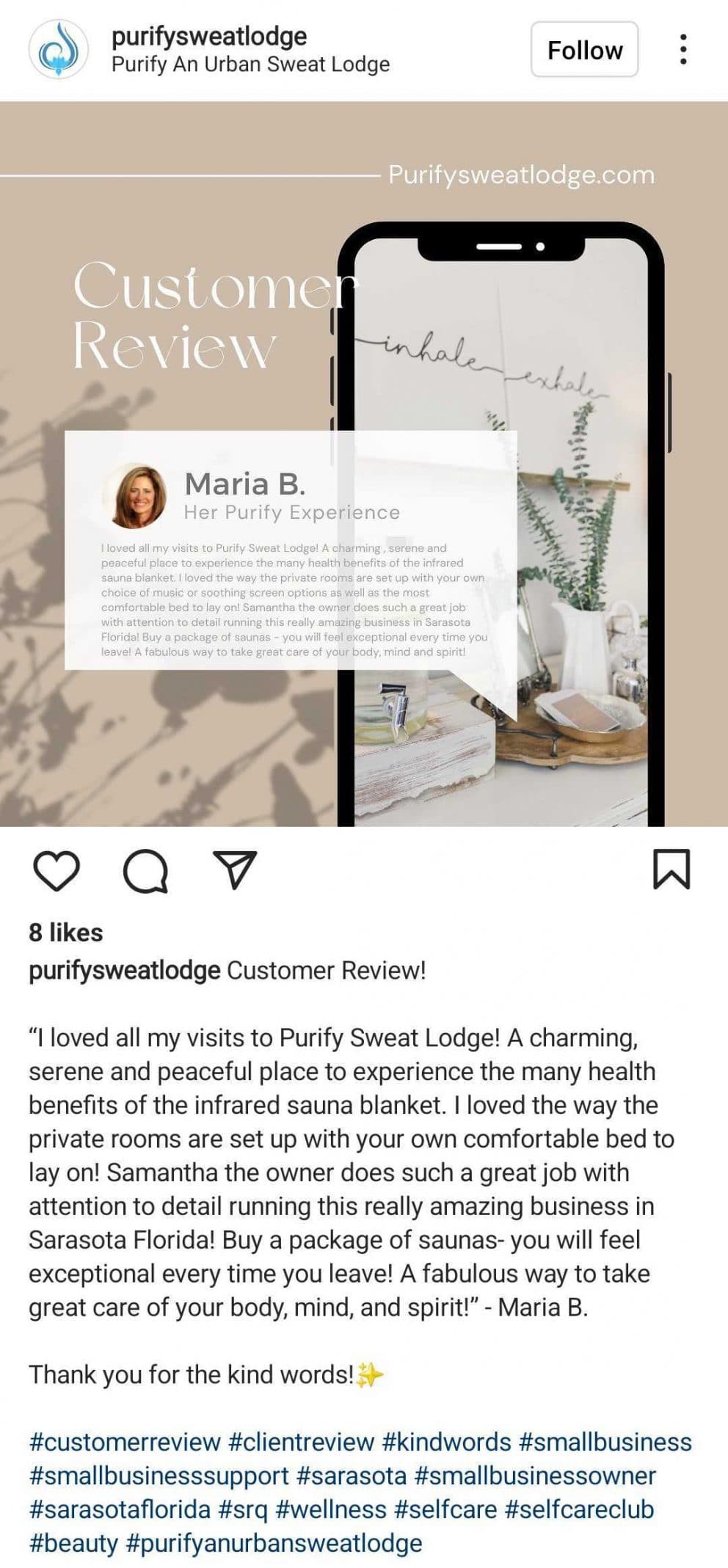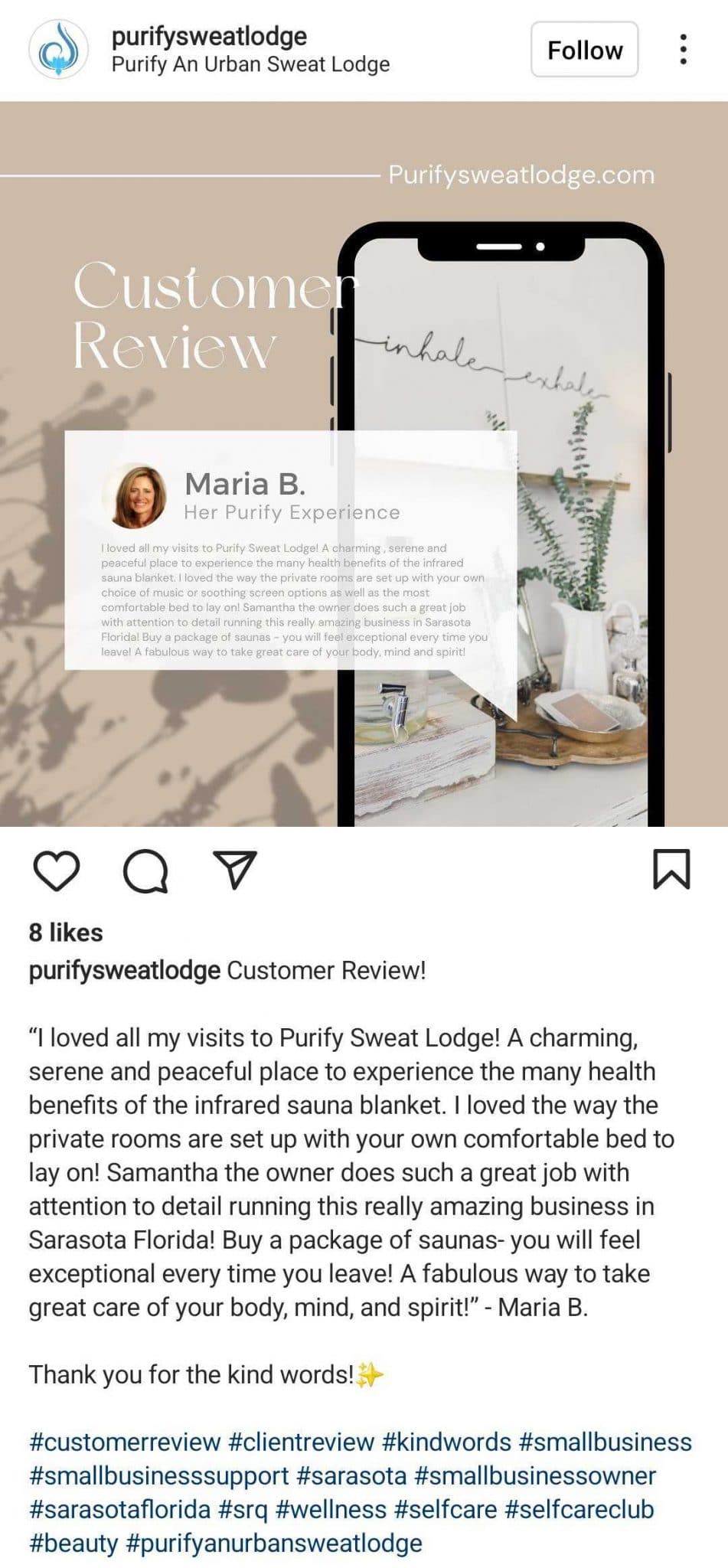 Keep in mind that good reviews provide social proof. They show prospects that your business already has happy customers. That alone can compel new customers to buy, which can help with social retail.
The @purifysweatlodge Instagram post above shares a customer review in the caption and in a graphic template. The customer's name and image provide added authenticity and credibility.
Below, @kitchen_fittings_direct uses an Instagram story highlight to pin customer reviews. Shoppers can tap through these curated stories to read other customers' experiences as they consider a purchase.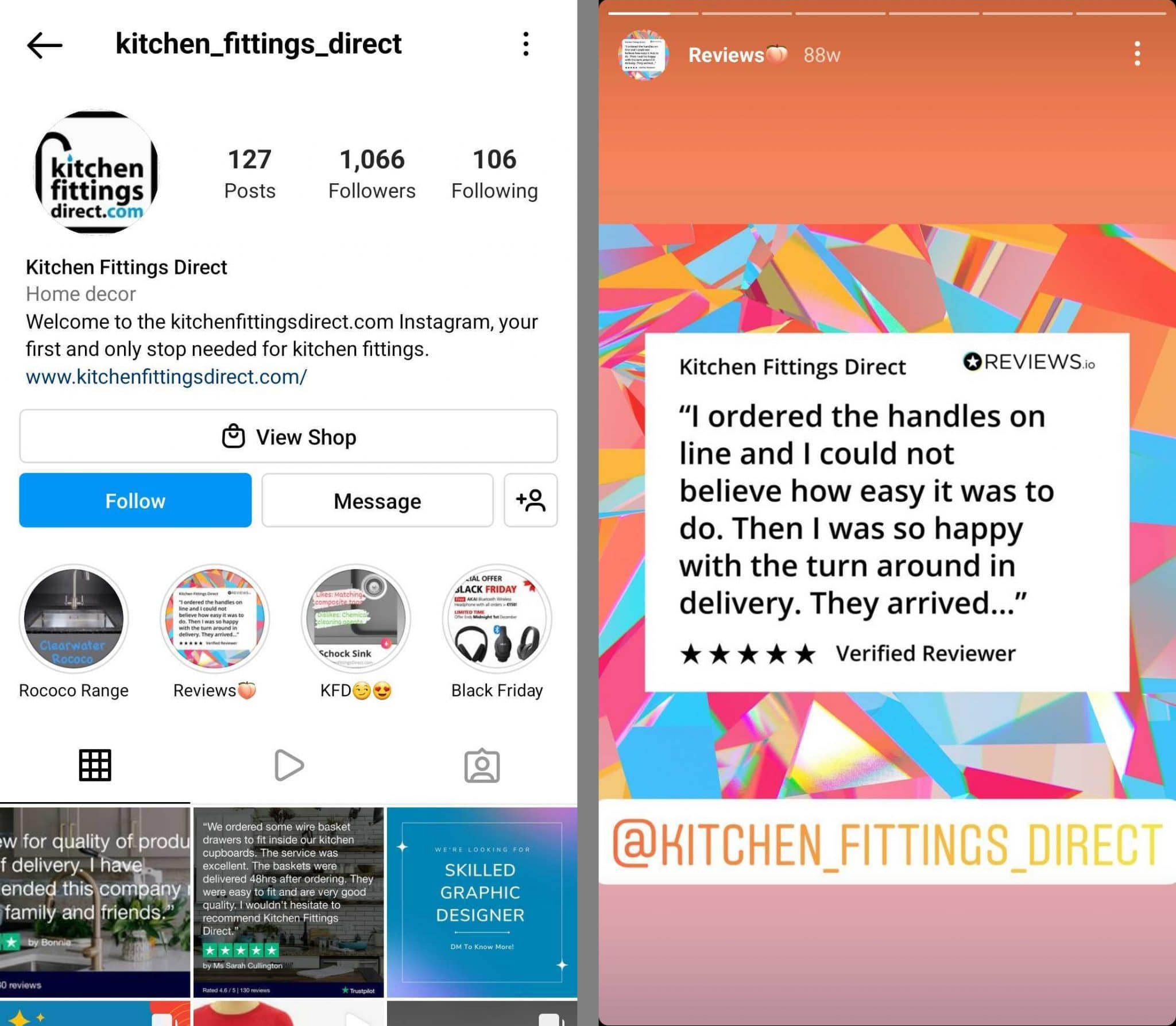 2. Create and monitor campaign and branded hashtags
Customers' words can be incredibly valuable for your business. When they create content that features your brand, products, or services, they can provide even more value.
To encourage customers to show off their favorite purchases or share how they've used your products, create a unique hashtag. Then ask customers to add the hashtag to their posts, so you can find their content easily.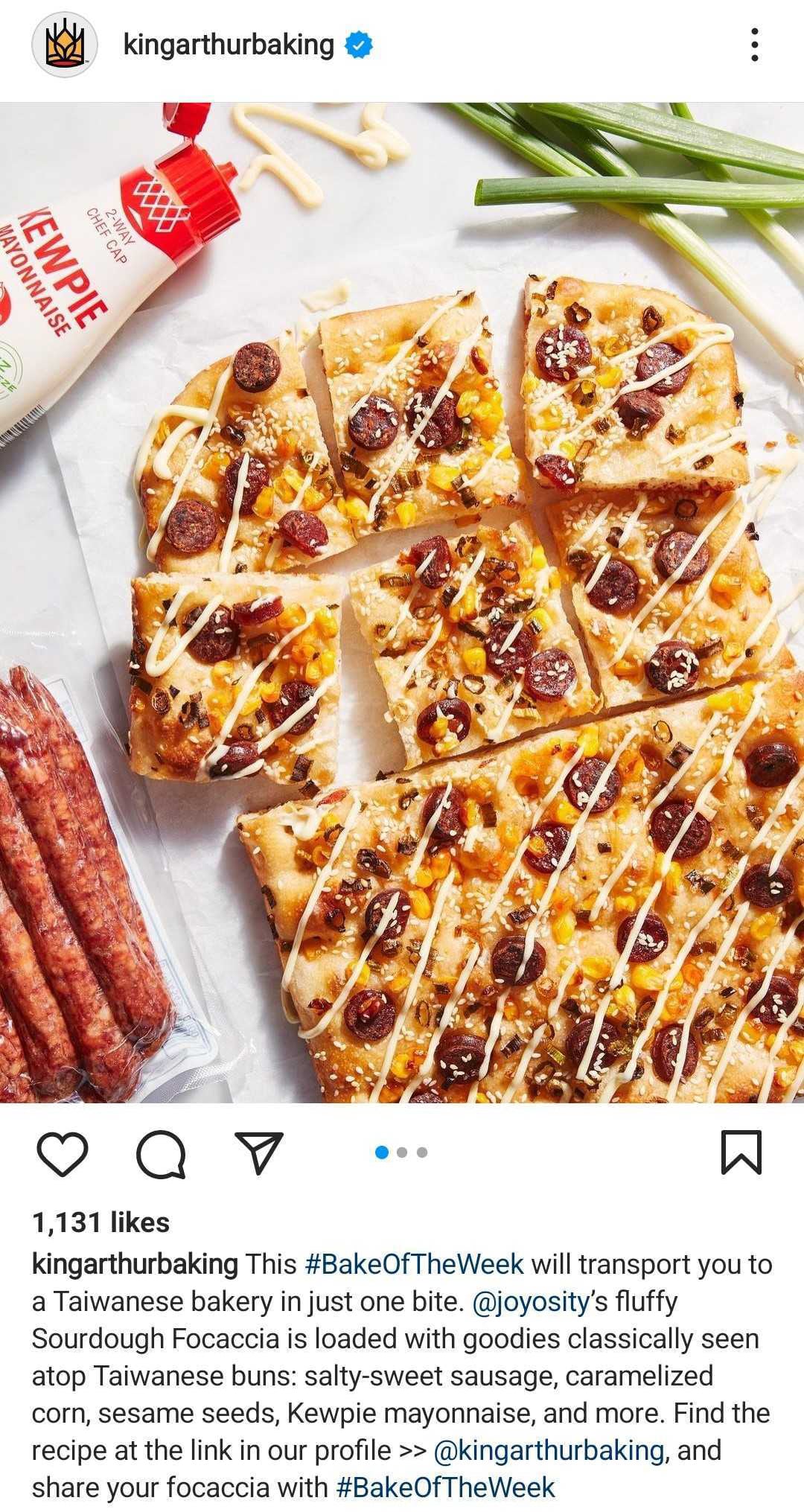 In the Instagram post above, @kingarthurbaking prompts customers to use #BakeOfTheWeek to share what they've baked using the brand's flour. The brand sets a weekly theme to encourage customers to get creative with their submissions.
With a social listening tool like Agorapulse, locating UGC is a breeze. In the Listening tab, set up a new listening search for your hashtag. On Instagram or Twitter, add the hashtag to your bio and mention it in posts, asking customers to use your hashtag.

Then visit your Agorapulse dashboard and check the Listening tab regularly to review hashtagged content. Before you repost UGC to your account, check with the original creator and confirm that you have permission. Then you can share the content from your brand's account, crediting the original creator.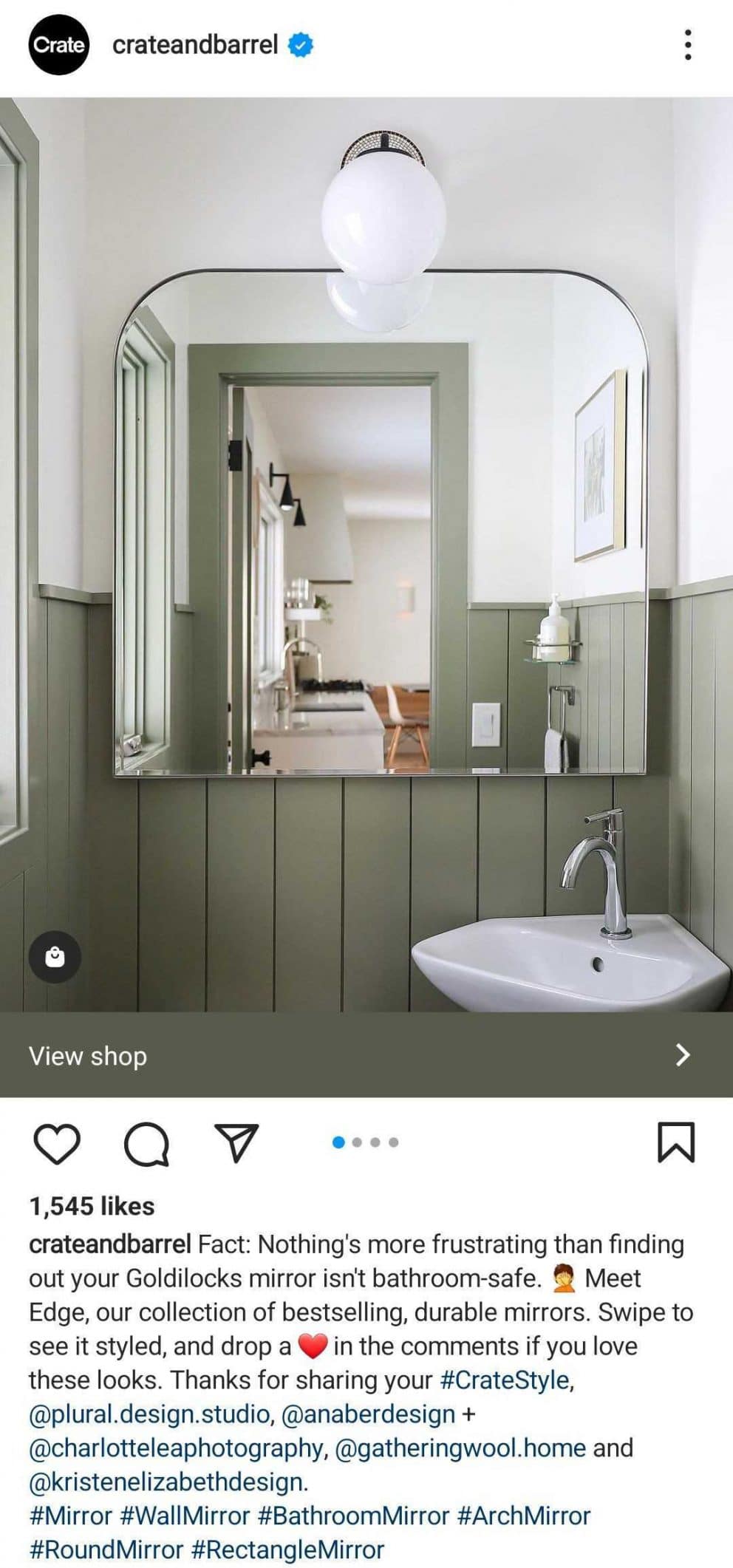 In the Instagram post above, @crateandbarrel shares a series of UGC that shows the brand's bathroom mirrors in several customers' homes. The brand uses #CrateStyle to collect and share UGC efficiently.
Below, @williamssonoma shares a customer's backyard dining setup that features the company's dining chairs. Like the other examples above, this UGC image gives people new ideas about how to use the brand's products, which can convince prospects to buy.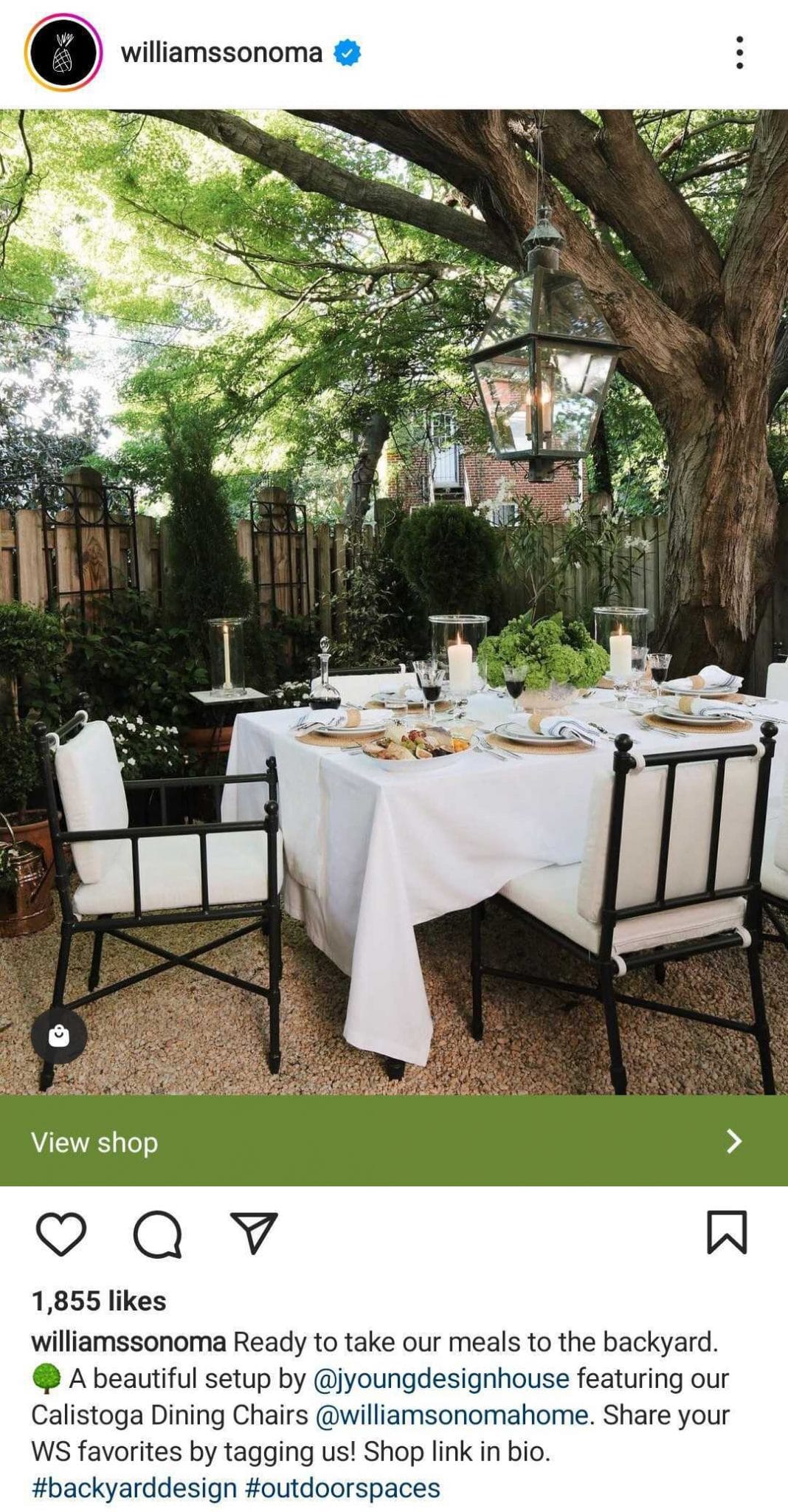 3. Build a network of brand advocates
As you cultivate a community of happy customers on social media, keep an eye out for people who regularly comment on your posts—and those who create original content featuring your products.
People who frequently engage with your content on social media may be more than just happy customers. If they regularly purchase from your business and talk about your brand on social media, they could be good candidates for a brand ambassador program.
Typically, a brand ambassador program welcomes people who naturally advocate for a brand. Most brands send their ambassadors free products to try and suggest ways to share them on social media. Some even send pre-launch products to give ambassadors exclusive previews.
With this type of program, your business gains a network of brand advocates who create word-of-mouth marketing. They also publish a steady stream of social media content, which you can repurpose on your company's own social channels. In exchange, your ambassadors get complimentary products from a brand they love and additional social media exposure.
A social media customer relationship management (CRM) tool makes finding brand ambassadors much easier. On your Agorapulse dashboard, go to the Fans & Followers tab, which tracks the people who have engaged with your content.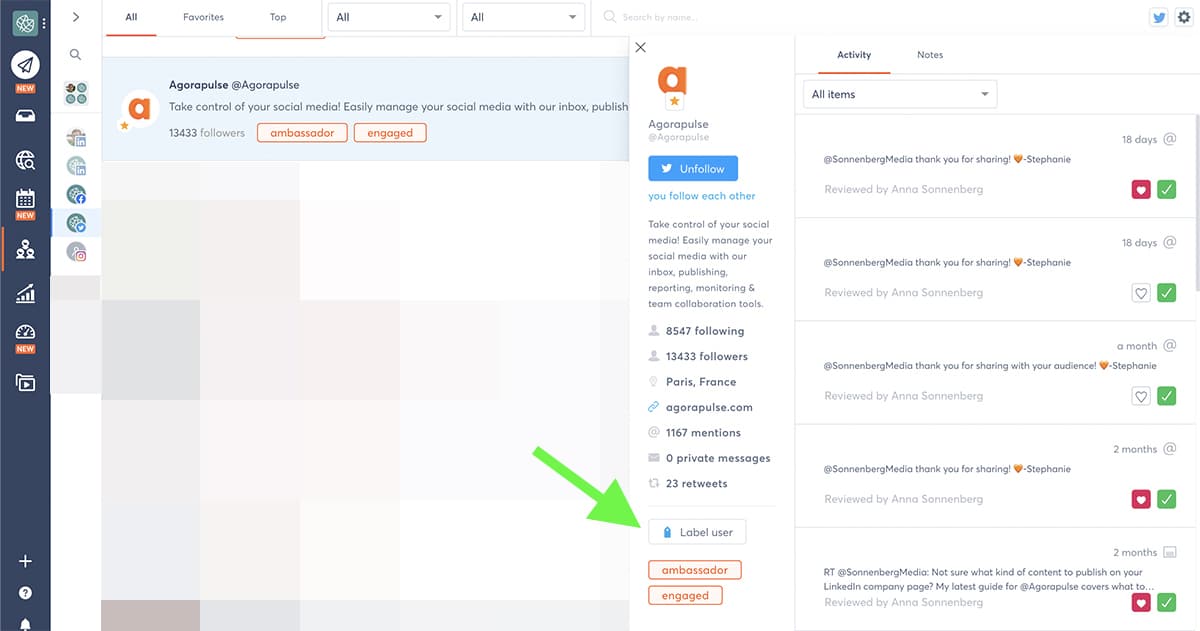 Agorapulse automatically labels people based on their engagement type and frequency. Look for people with the Ambassador label to identify potential brand partners. Alternatively, apply your own custom label in your social media CRM to keep track of people you want to add to your network of brand advocates.
4. Partner with popular influencers
In addition to creating a brand ambassador program, it's a good idea to consider an influencer marketing program. Curious how the two are different?
Brand advocate networks tend to be more casual. Brand ambassadors generally receive free products but no payment. They can choose whether or not to post about your brand, and there are no guidelines or requirements for the content they create.
Influencer marketing partnerships tend to be more professional. Influencers generally receive free products and payment for their time and expertise. They typically agree to publish a certain type of content or number of posts in exchange for payment.
Influencers also tend to have much larger networks, which can lead to a much bigger increase in sales. In addition, you can give influencers unique URLs or promo codes that they can share with their followers. That way you can attribute relevant sales to them.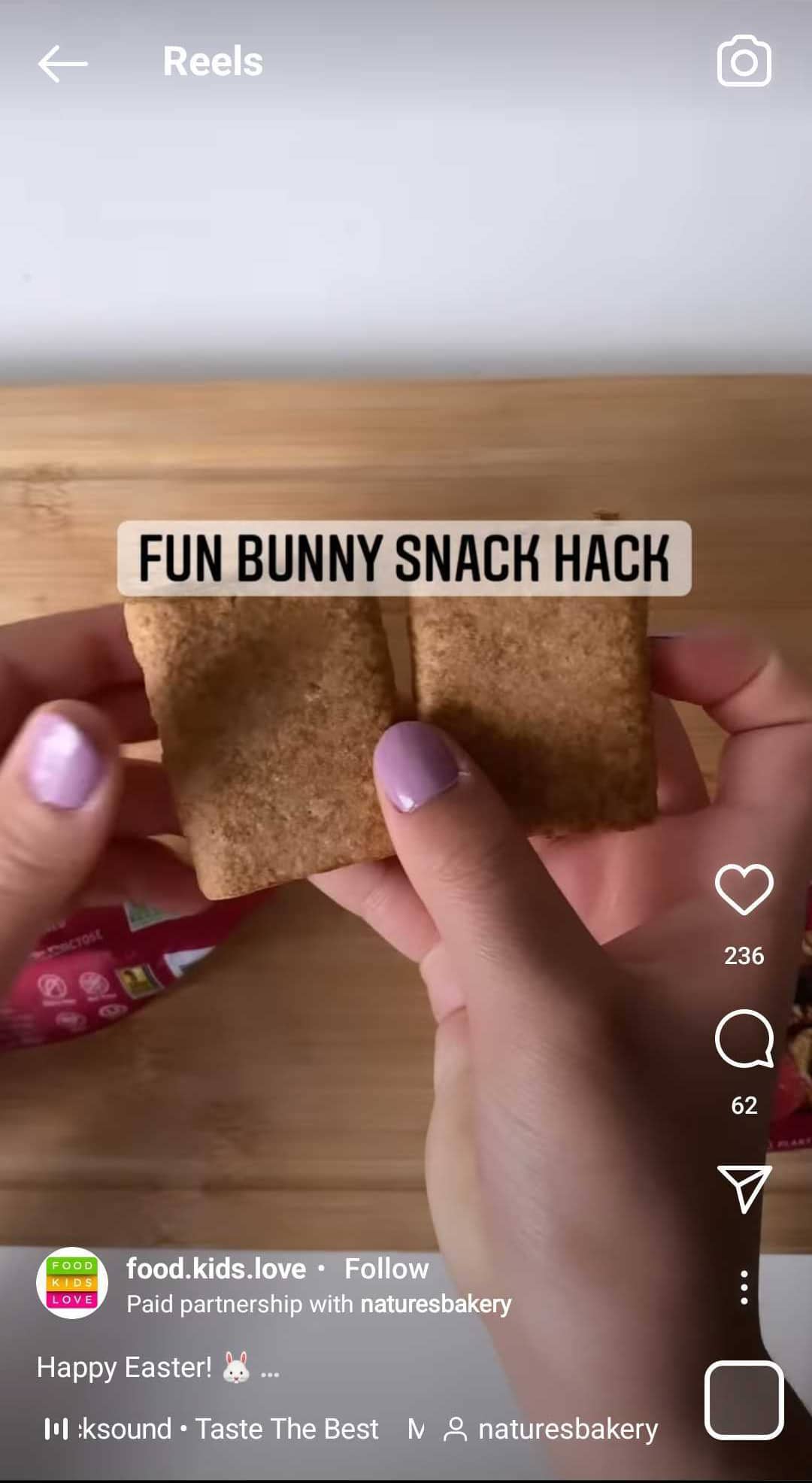 In the Instagram Reel above, influencer @food.kids.love shows a snack hack using @naturesbakery fig bars. The paid partnership label confirms the paid influencer marketing partnership, and the content allows the snack brand to promote its products to an engaged audience.
When you partner with an influencer, your brand often has the option to republish the content. That means you can increase sales among the influencer's audience and your own.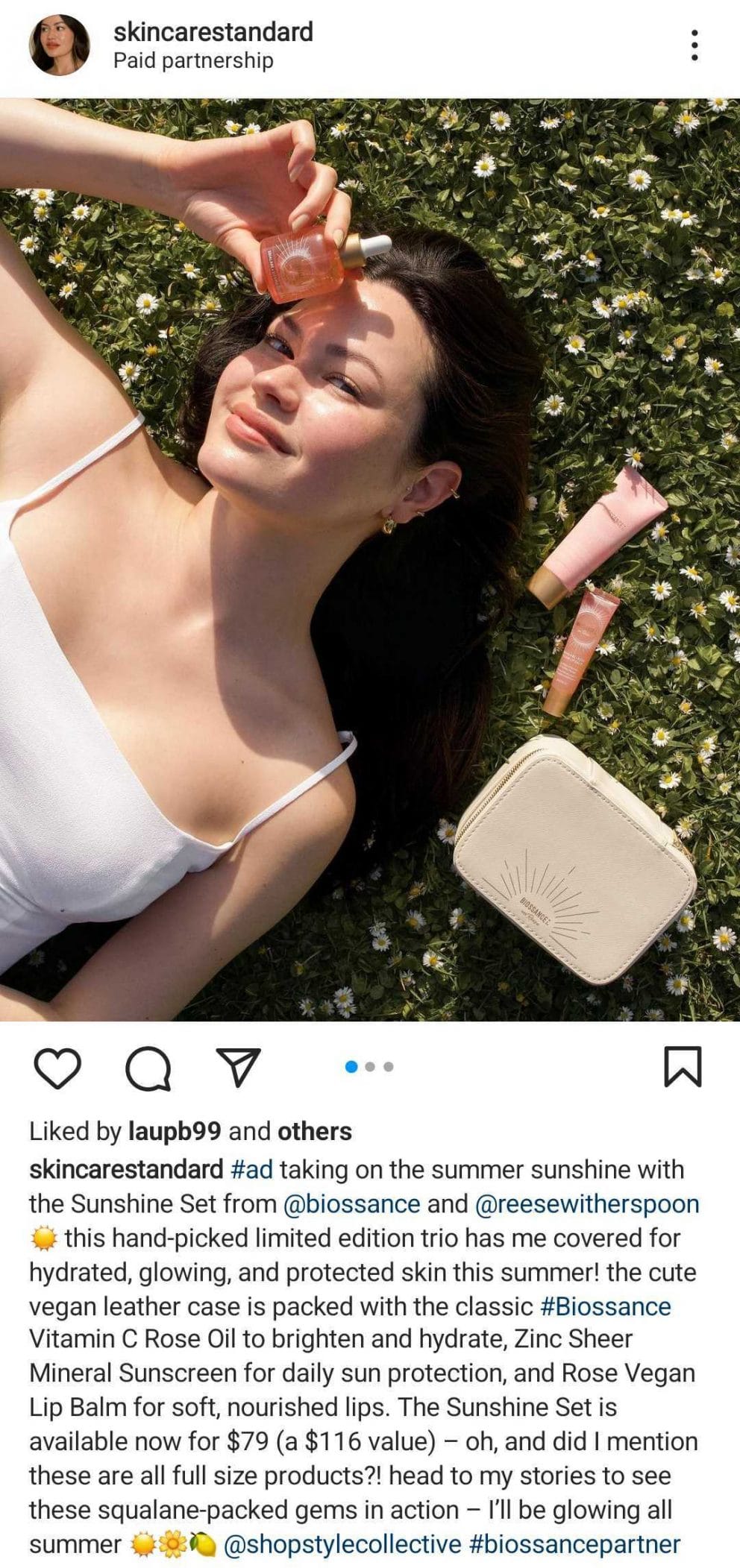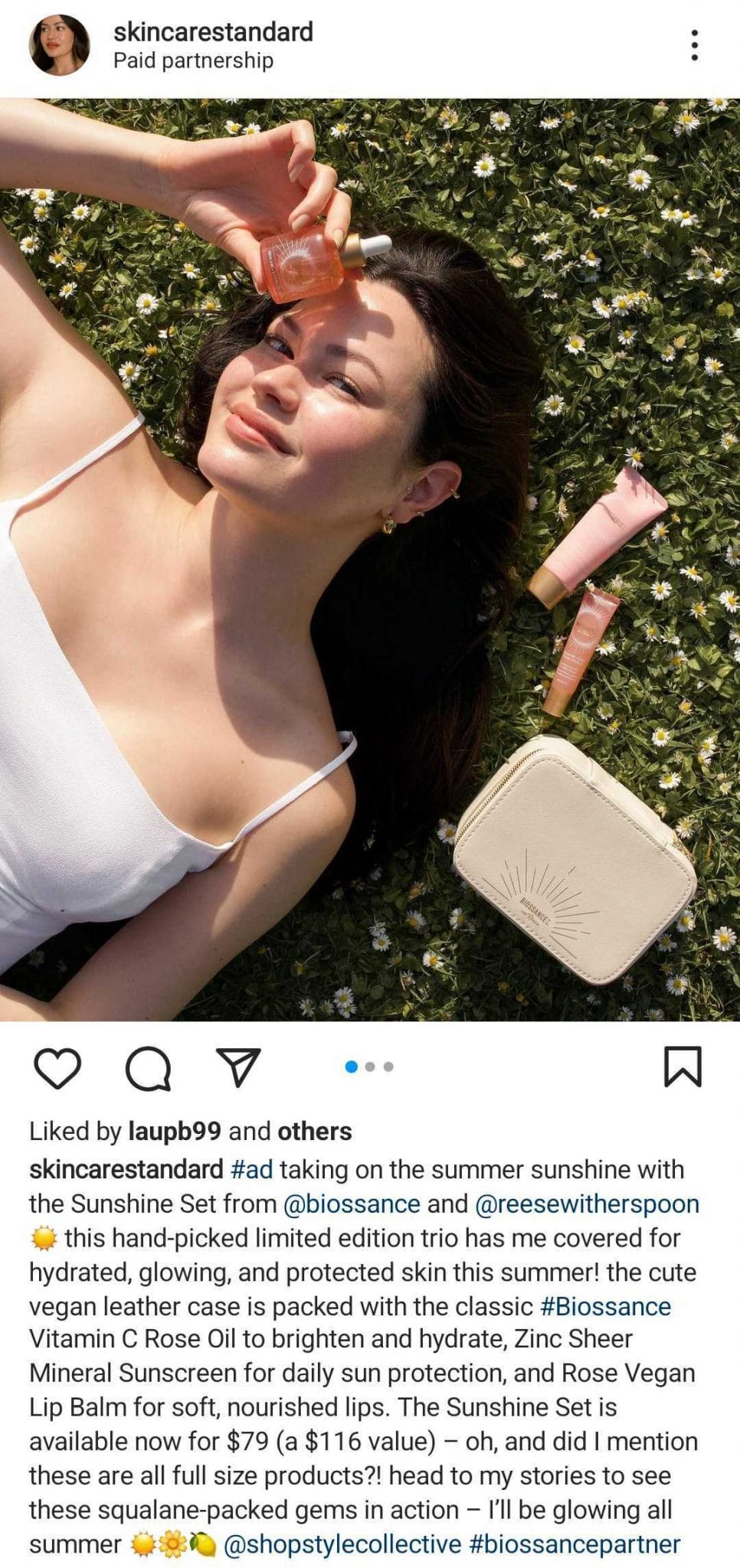 For example, in the Instagram post above, influencer @skincarestandard posts about @biossance products using the paid partnership label. In the Facebook post below, @biossance reposts the content on its own channels, tagging the original creator. The brand also adds a link to make it easy for followers to shop.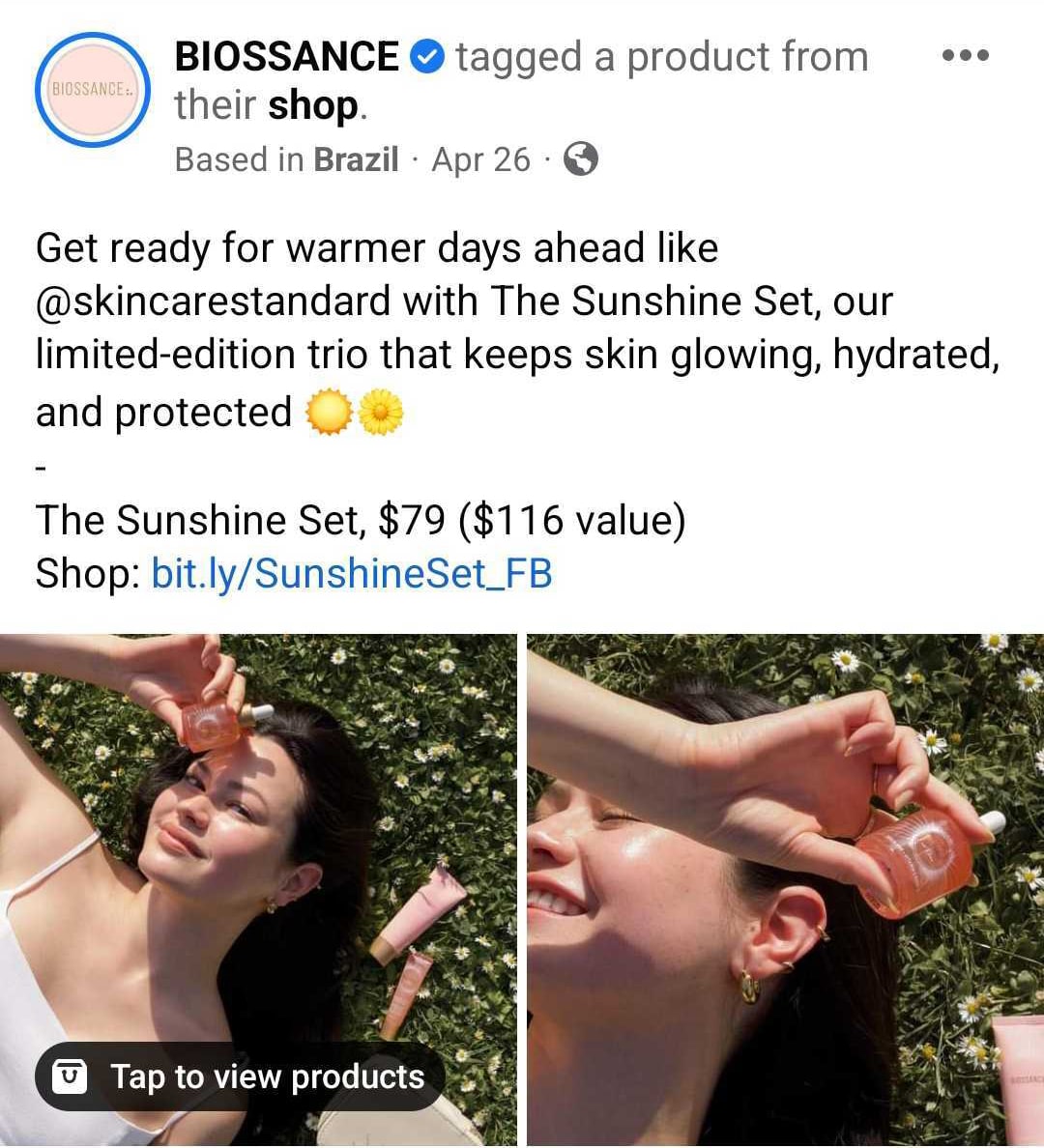 5. Use product tags to streamline shopping
When you want to drive sales on social media, adding links to your e-commerce site can certainly help. But in many cases, adding product tags can be even more efficient. With product tags, customers can begin browsing from your Facebook or Instagram content. When they're ready to purchase, they can either visit your website or use in-app checkout.
To make the most of product tags, get creative.
For example, @BobsRedMillNaturalFoods asks customers why they purchased the brand's steel cut oats in the Facebook post above. The post generated dozens of comments that give insight into customers' preferences, thought processes, and reasons for loving the product.
As a result, the post includes ample social proof. The post also includes product tags, so curious customers can easily tap to shop steel cut oats.
In the Instagram Reel below, @breadsrsly shares UGC featuring the company's bread. In this regram, the brand adds product tags so customers can browse bread and recreate the breakfast shown in the Reel.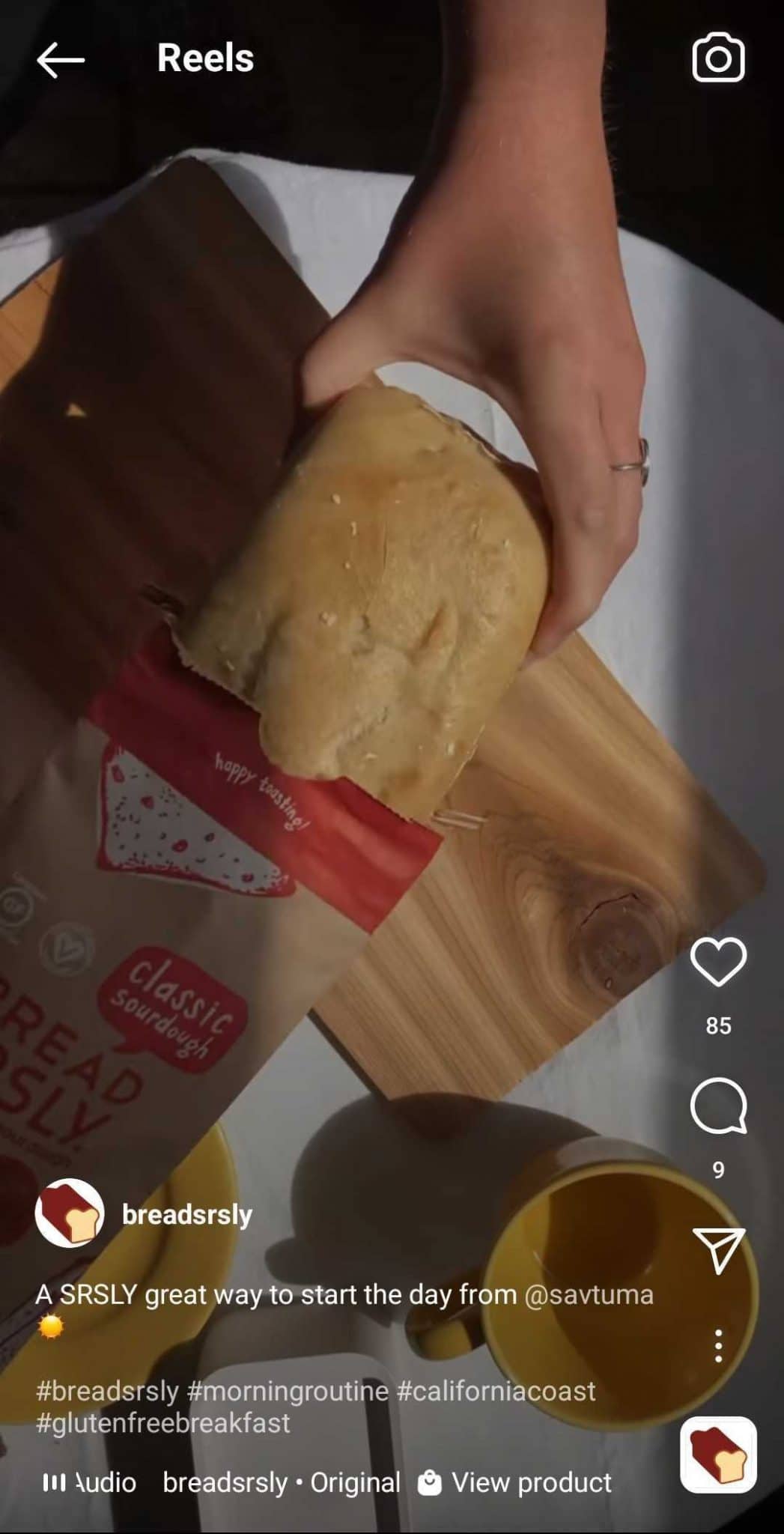 For years, Instagram has limited product tags to the account that owns the shop. As of April 2022, however, the platform is rolling out product tags to all public accounts. That means the influencers or brand advocates you partner with may be able to add your company's product tags to their UGC—which can help you reach your social retail goals.
6. Run carousel ads to promote e-commerce products
Organic social media offers countless options to pursue social retail. But if you want to reach your sales goals more quickly, consider running ads.
You can promote e-commerce products on Facebook and Instagram using Ads Manager. Create a new ad campaign using the sales or catalog sales objective and link your e-commerce catalog. At the ad level, choose the carousel format.
If you opt for a dynamic ad, Facebook and Instagram can automatically show up to 10 of your products in carousel format. The algorithm displays the products each user is most likely to interact with, which is ideal for driving sales.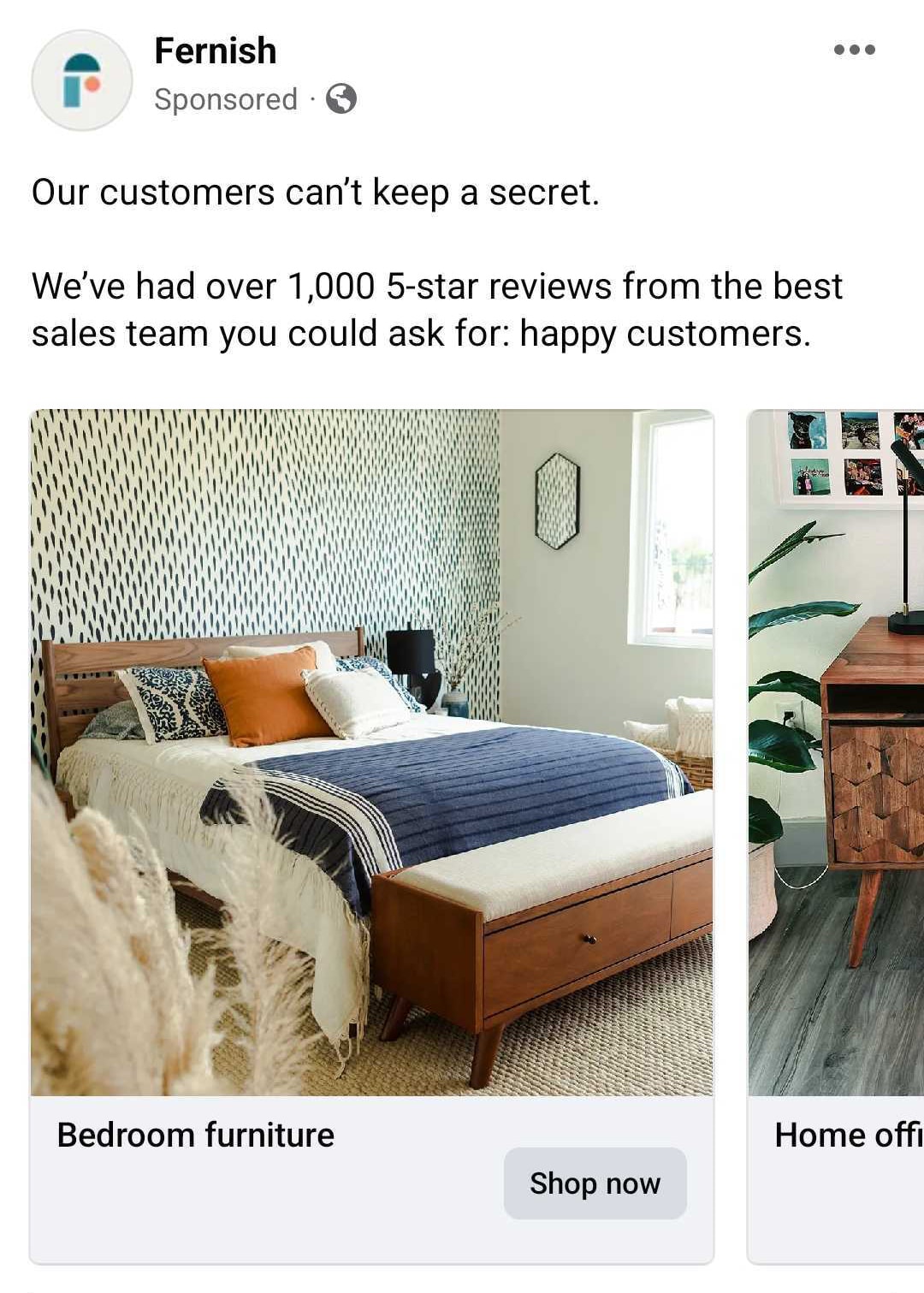 In the @fernishliving Facebook ad above, the brand uses a carousel to promote furniture options for the most important rooms in the house. To boost sales, the ad caption also features social proof from happy customers.
The @insideweatherdesign Facebook ad below uses Facebook's collection ad format to encourage in-app shopping. To leverage the power of social retail, the caption refers to the company's 3,000+ five-star reviews.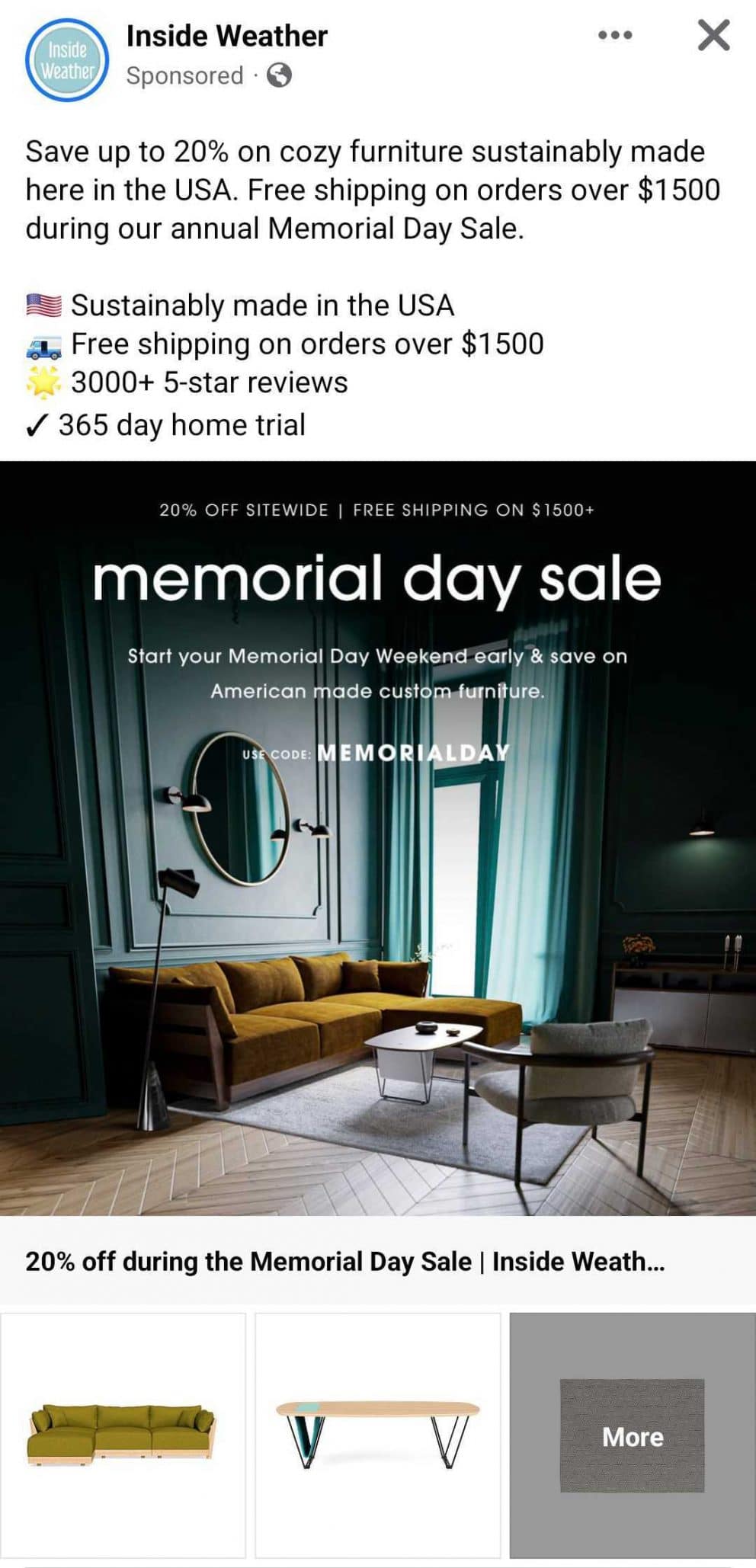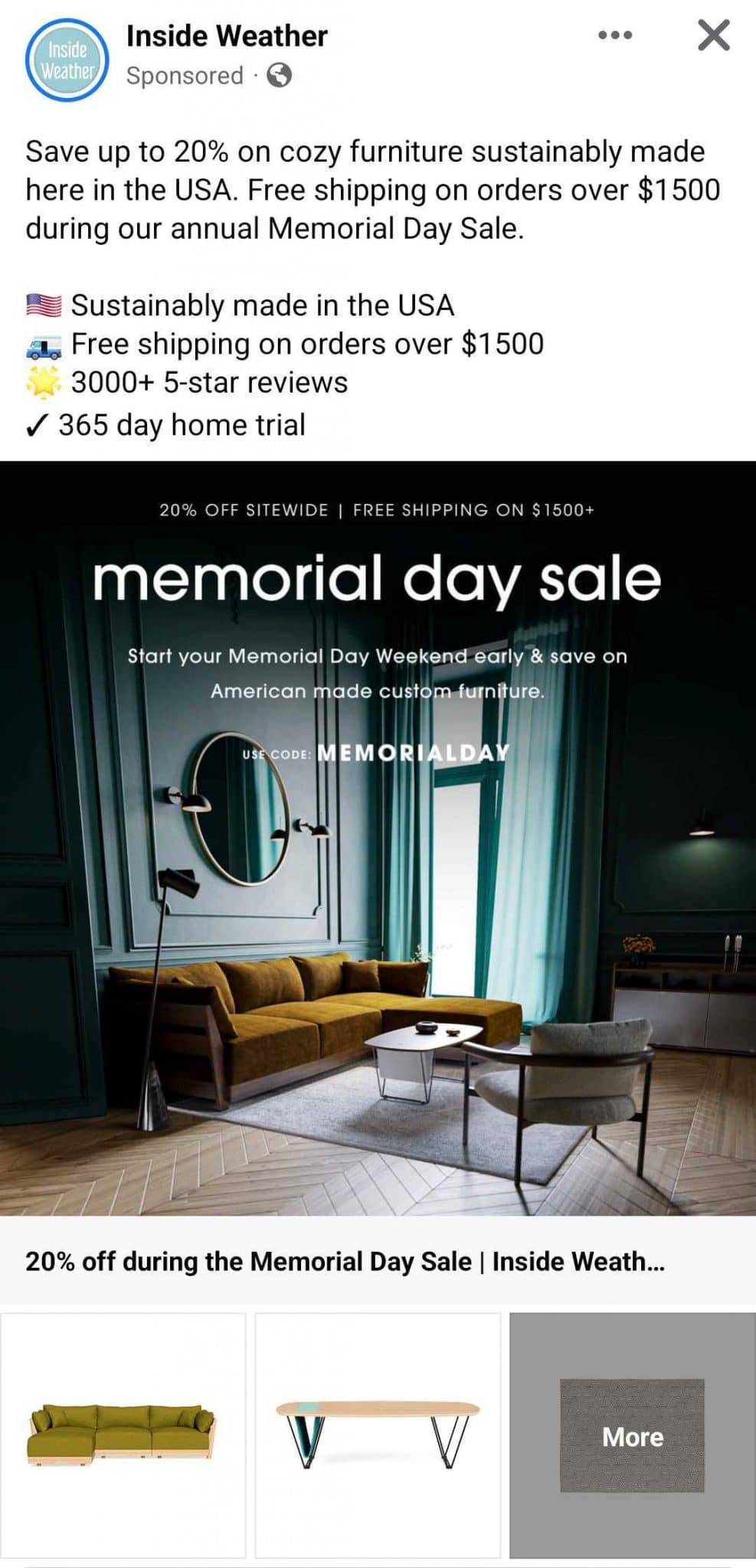 7. Measure ROI with social media management software
To make sure your social retail efforts are on track, you must measure social media ROI. Although you could use Google Analytics or your e-commerce platform to track social media ROI, the process isn't particularly straightforward. In fact, these analytics tools could cause you to waste a lot of time and resources.
But with Agorapulse, you can efficiently track social retail ROI for channels ranging from Facebook and Instagram to Twitter and YouTube. Start by linking your Google Analytics account to Agorapulse. Then go to the ROI tab in your Agorapulse dashboard and begin reviewing results.
At a glance, you can see the number of visitors, the total transactions, and the amount of revenue your business has gained from social media. To spot sales trends, you can track each metric over time using the daily graphs.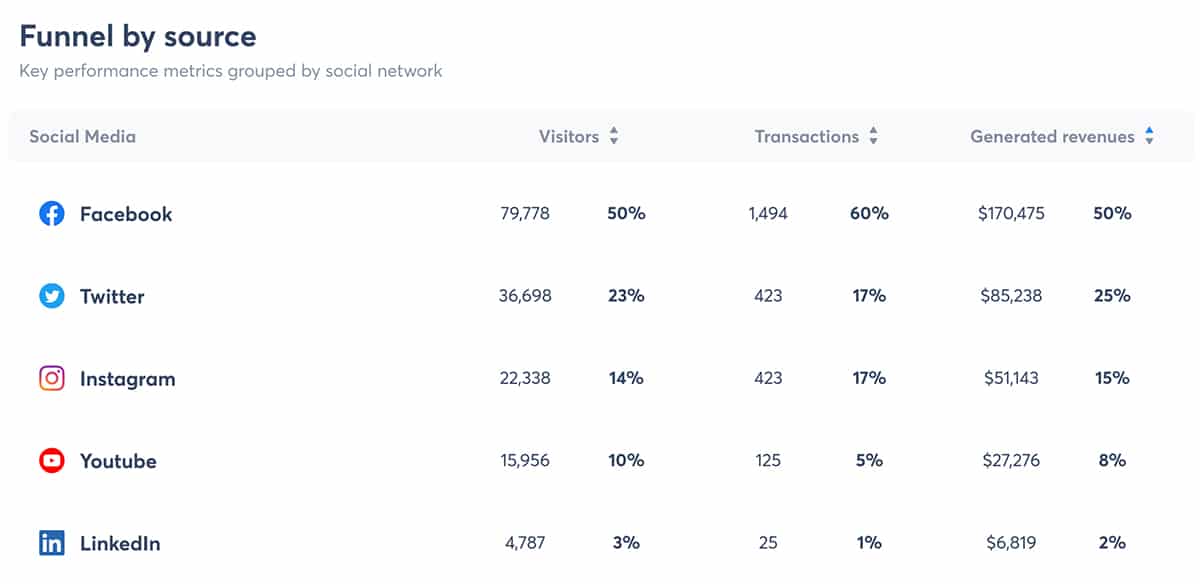 Agorapulse also shows a channel-by-channel breakdown so you can identify which social media platform is working best for your brand. Are you curious which landing page or campaign drove the most sales? Use Agorapulse's charts to find out what's delivering the best ROI. That way you'll know where to focus future social retail campaigns and how to structure them effectively.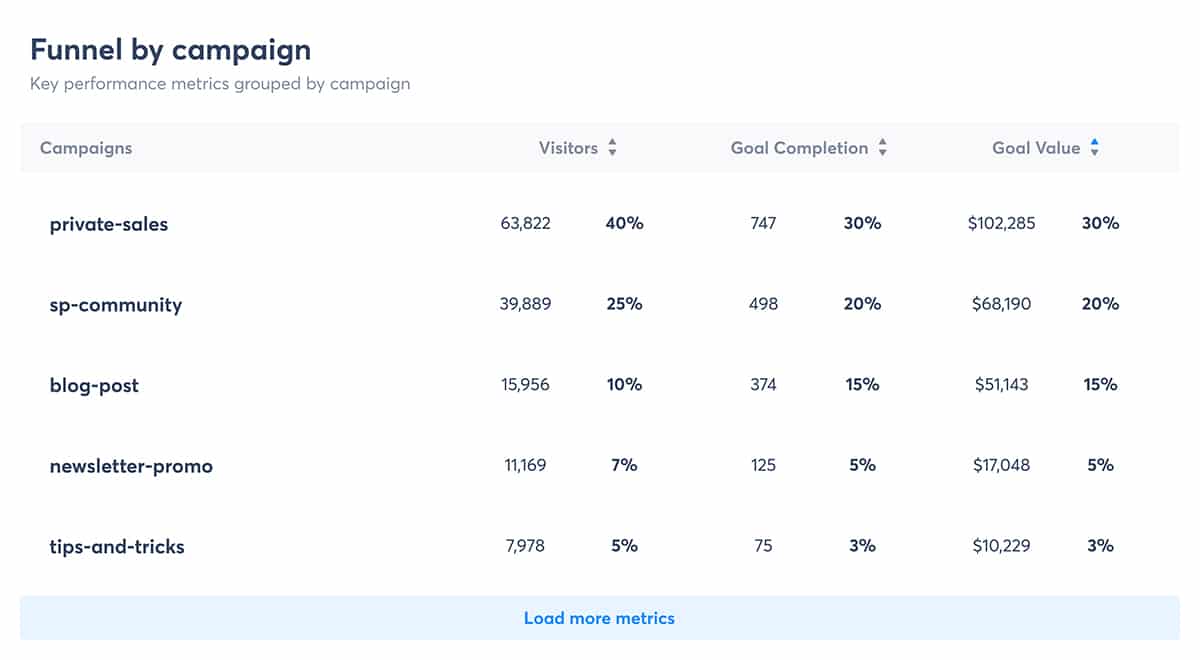 To attribute ROI to campaigns accurately, make sure to add UTM parameters to the URLs you post on social media. For organic posts, you can add UTM parameters in the Agorapulse publishing composer. For paid campaigns, use the URL parameter builder in Ads Manager. Once these posts are live, you can track the results in the ROI tab of your Agorapulse dashboard.
Wrapping Up What We Learned About Social Retail
Whether you manage social media for your business or for agency clients, you can incorporate social retail into your strategy today. Use the tips above to start increasing e-commerce sales, build an engaged community, and reach bigger business goals.
Ready to do some serious social monitoring, use hashtags like a pro, and boost your social retail? Start your free trial now!