Are your Instagram Reels hashtags performing, or are they simply there to look fun and add flair to your Reels? When used properly, hashtags have the power to transform a fun Reel into a powerful selling tool, community builder, and engagement magnet. But what's the science behind Instagram Reels and how can you boost your performance? Let's look.
What Are Instagram Hashtags?
As the famous "Sound of Music" song goes, "Let's start at the very beginning. It's a very good place to start." In 1988, the very first # was used on Internet Relay Chat (IRC) to label topics and groups across the network. They made it easier for users to find the information they were looking for. Fast forward to 2007, and the hashtag, as it is currently used across social media sites today, was suggested on Twitter by former Google developer Chris Messina.
Brands post an average of 7.5 times a day on Facebook and around 6,000 tweets are sent every second. With more than 200 million brands on Instagram, your content can easily go unnoticed, but hashtags mean that the right people can find and connect with you. Hashtags start with the # symbol and can include various combinations of words, letters, symbols and numbers. Brand names are often hash tagged such as #Agorapulse. Searching for #Agorapulse on Instagram brings up the original hashtag and then any other similar ones. Such as #AgorapulseSummit.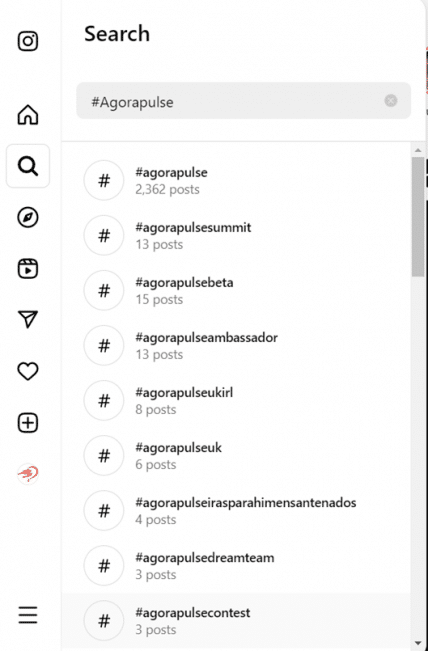 On Instagram, all hashtags are hyperlinked. So, when you click on them you will see all the Instagram content using that hashtag.
Get your FREE guide to selling on Instagram
Most Popular Instagram Reels Hashtags 2023
A small selection of trending or popular hashtags on your Instagram Reel is the key to getting your content discovered, followed and shared.
I've broken down the most popular hashtags for the key sectors of Food, Beauty, Travel and Fitness. These are the most used on Instagram and therefore rank your content higher.
Food Instagram Reels hashtags
If you're a chef, restaurant, food delivery company, café, bakery, food store or caterer, these are some hashtags for you. Remember to include product or food specific hashtags like #pancakes or #bagels if they feature in your Reel. Similarly, adding a location tag and location hashtag will help to localise your content. That's important if you actually want food orders and bookings in your location.
Check out @travelingfoodieguyde for some Instagram Reels hashtag inspiration!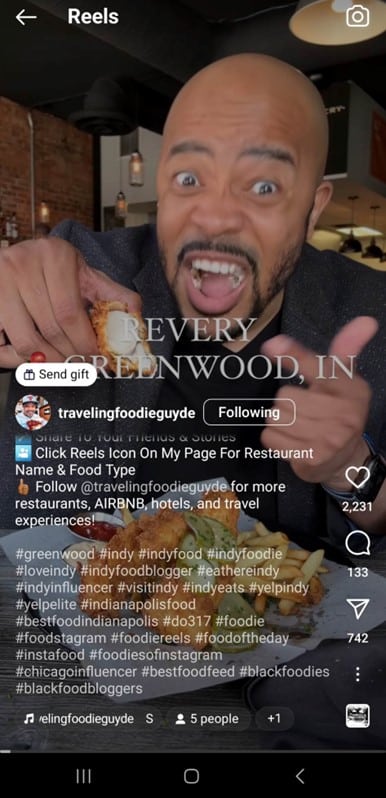 #food #foodporn #foodie #instafood #foodphotography #foodstagram #yummy #foodblogger #foodlover #delicious #healthyfood #homemade #dinner #foodgasm #tasty #foodies #restaurant #cooking #lunch #foodpics #instagram #healthy #chef #breakfast #eat #dessert #vegan #foodiesofinstagram #fitness #yum #delivery #italianfood #healthylifestyle #indianfood #foodpic #foodlovers #foodblog
Beauty Instagram Reels hashtags
If you're a makeup artist, beauty model or makeup/beauty brand, then these are some of the hashtags you should be using in your Instagram Reels. If you're collaborating with a brand or featuring products or people, then you should also include their hashtags. In fact, if you're not collaborating with a beauty brand, but you want to, use their products and tag them/hashtag them in your Reels!
#beauty #love #beautiful #fashion #makeup #instagood #photography #style #model #photooftheday #skincare #cute #photo #hair #me #selfie #makeupartist #myself #instadaily #lifestyle #photoshoot #mua #photographer #lashes #cosmetics #nails #skin #instalike #explorepage #summer #girls #insta #pretty #fashionblogger #selfcare #viral #skincareroutine
Check out @callme_tyla for good tagging and hashtag examples.
Travel Instagram Reels hashtags
Travel blogging and van life has grown popular in the Instagram space over the past few years. But it's tough to earn revenue from it. A good start is to use the right hashtags in your travel Reels. If you're collaborating with a brand or featuring products, then you should also include their hashtags.
#wanderlust #amtravelling #travelling #travelblogger #traveling #travel #travelmore #travelbug #instatravel #travelholic #travelguide #travellife #vanlife #travelgram #traveldiaries #travelgram #traveladdict #nature #travelreels #tourism #instatraveling #adventure #travel #travelphotography #instatravel #nature #photography #traveling #traveller #traveltheworld #photooftheday #trip #instagood #vacation #explore #landscape #hiking
Follow @simplyslowtraveler for some beautiful videos and well executed travel hashtags.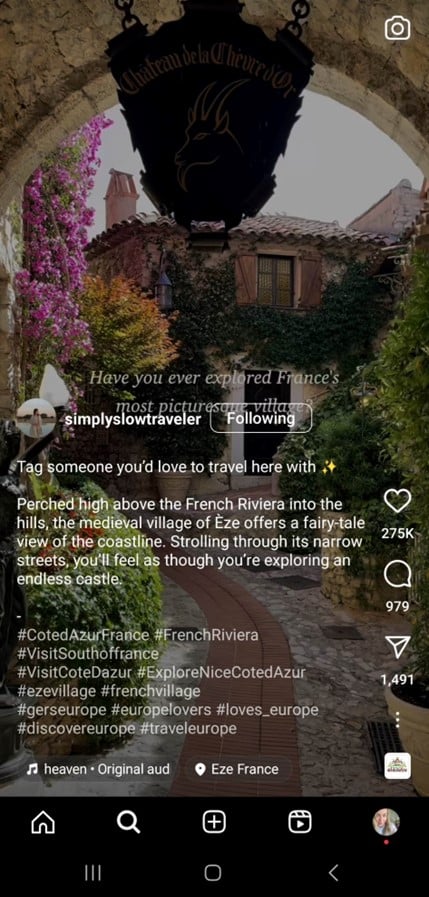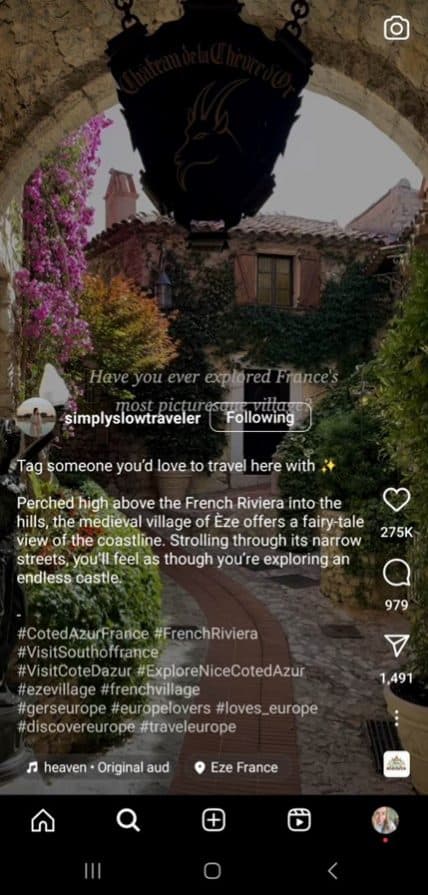 Read more: Instagram Reels vs Posts: Which Is Better?
Fitness Instagram Reels hashtags
If you're a fitness model, instructor, gym owner, gym teacher or competitive athlete then here are some hashtags for you to use. You should also include hashtags for any product or brand partnerships.
#training #lifestyle #fitnessreels fitness #fitnessmotivation #health #gymlife #muscle #bodybuilding #abs #workout #fitnesslover #gymmotivation #beastmode #fitnessmodel #fitnessgirl #gymbod #fitnessaddict #workoutmode #gym #noexcuses #fitnessjourney #fit #motivation #fitnessgram #fitnesslifestyle #fitnesscoachand
Check out the hashtags on @fitness_education_ireland which also incorporate wellness and happiness. As a bonus you get to listen to a nice Irish accent!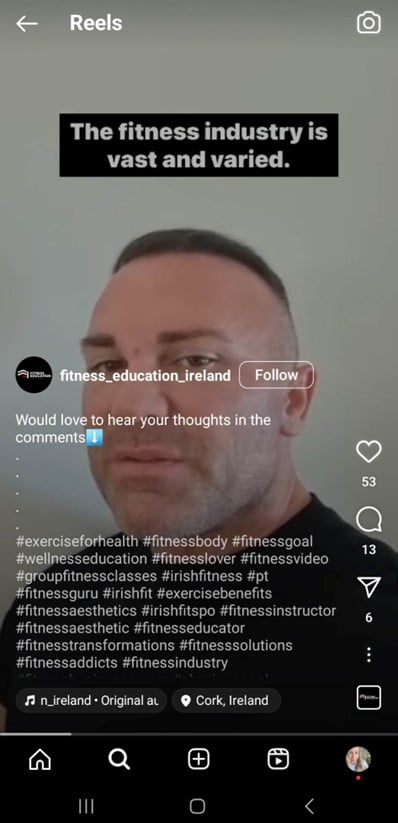 The Science Behind Instagram Reels Hashtags
So, are Instagram Reels Hashtags the same as Instagram post hashtags? Kind of. But also, no! Hashtags work on Reels by automatically tuning into the platform's algorithms. The content then appears in the feeds of potential customers or fans. For example, I like cakes, animals, and books. Instagram's algorithm, much like Google's will automatically show me content I might be interested in. This Instagram Reel from jrmbookreads is so relatable for me but I wasn't a fan until I saw the Reel!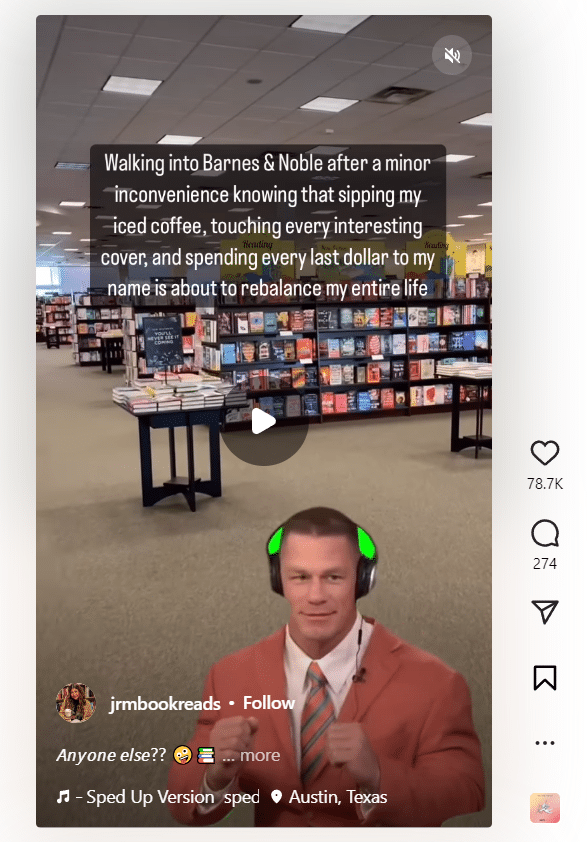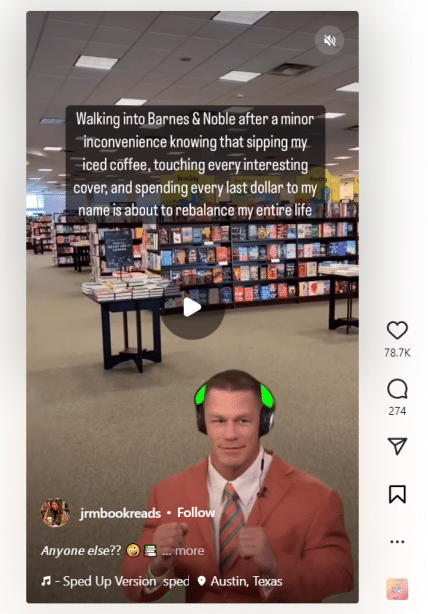 And there are some other differences between Instagram post hashtags and Instagram Reels hashtags.
Instagram Reels has its own algorithm. In fact, every Instagram feature: Feed, Stories, Explore, Reels and Search, operate uniquely as explained by Instagram's Adam Mosseri. Reels rank on 4 factors: Relationships, Timeliness, Relevance, Popularity. So, breaking that down, a small account with a Reel about collecting stamps will be outshone by a popular account with a Reel about a trending topic like The Oscars. We probably already knew that on some level, but it's important to remember when planning content.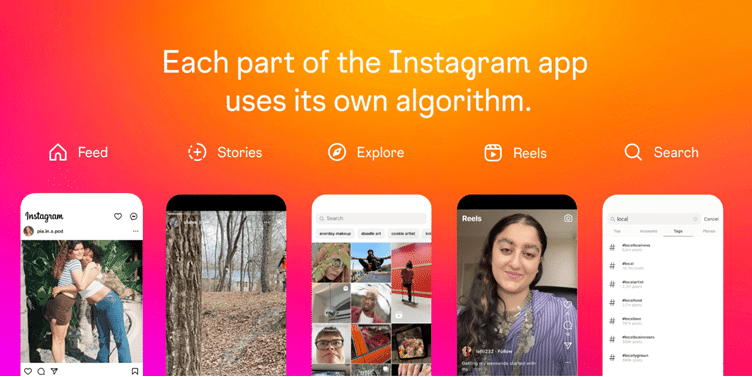 As a comparison, the Instagram Feeds algorithm is a mix of content from your friends, family, and interests.
Instagram Reels also place an emphasis on entertainment. Instagram analyses how likely you are to reshare a reel, watch a reel all the way through, like it, and go to the audio page (perhaps inspired to make your own reel.) This isn't dissimilar to TikTok which ranks your content based on the percentage of time people watch it, how engaged they are and whether they Duet, Comment, Share or Like it.
Another slight difference is that the quality of your Reel will impact its visibility. Low-resolution or watermarked reels (that means TikTok watermarks by the way!), Too much text, poor content or Reels with political or offensive hashtags are likely to be downgraded by the algorithm.
Instagram Reels allows 30 hashtags, but most social media managers will only use around 5. And Instagram's own account @Creators agrees. Plus, excess hashtags clutter up the look of the Reel and fall below the "more" cut off.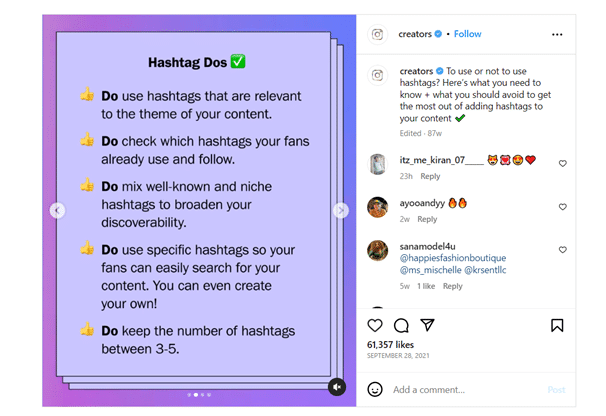 In Summary
The best hashtags for Instagram Reels are.. ok that was clickbait because there really isn't a one size fits all "best hashtag". It depends on your audience, brand, social media KPIs and all the other fun marketing stuff. But there are some basics that you should consider when creating content. (That's if you want it to get picked up of course. If you're just making Reels of your cake making for fun and friends then it doesn't matter at all and you can keep having fun!)
Entertainment news, celebs, new movies, new adverts and trends
What your target audience or potential audience is checking out on Instagram (audience-specific hashtags)
Evergreen and popular Reels hashtags like #IfYouKnowYouKnow or #Funny. Hashtag #funny is commonly used by the 25-34 age group. Other evergreen hashtags include #epic #cringe and #LOL
Your brand hashtags, campaign hashtags, new product lines or trending products. A great example of this is Starbucks #PSL (Pumpkin Spiced Latte).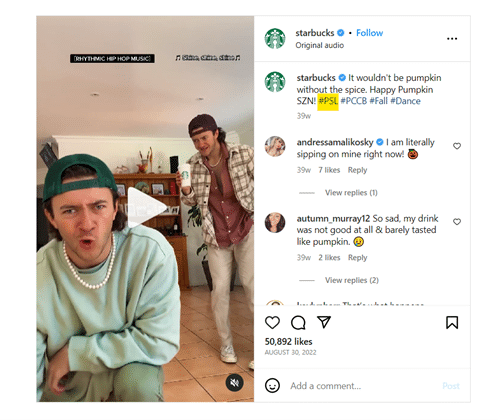 Getting Strategic With Instagram Reels Hashtags
Recently, we talked about dropping vanity metrics and getting serious about our social media marketing. And we need to have some tough love about those Instagram Reels hashtags too. We've all used silly hashtags before, especially on our personal accounts. But, if your social media KPIs are linked to ROI, lead generation, signups, downloads or any other tangible business metric, you need to take a more serious approach.
Let's look at some Agorapulse tools to help you get strategic with Instagram Reels.
1. Check your analytics
Check your Reels analytics. You can do this directly in the app or head into your Agorapulse dashboard. In the dashboard reports you can view key Reels metrics like Reach, Comments, Likes, Saves and Engagement Rates.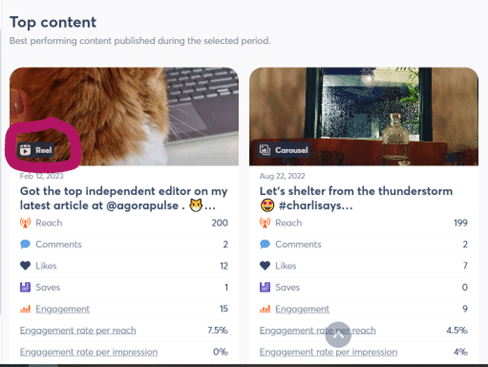 And you can view even more! Now, I don't track metrics on posts about my fat orange cat. (Although he has been invited to be an influencer for various pet companies!) But had I been tracking the Reel, I could also ascertain clicks, goal completions and generated revenue.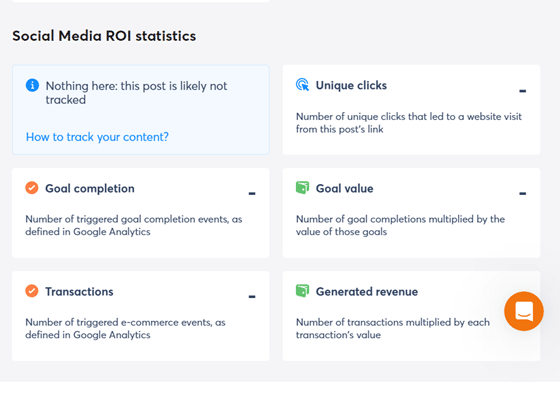 2. Schedule your Reels
Yes, you heard that right. With Agorapulse, you can now schedule Reels to go out at any time or day you want! And it's so easy. Just select the Instagram account to publish from, open up the composer, write your Reel content and upload your video.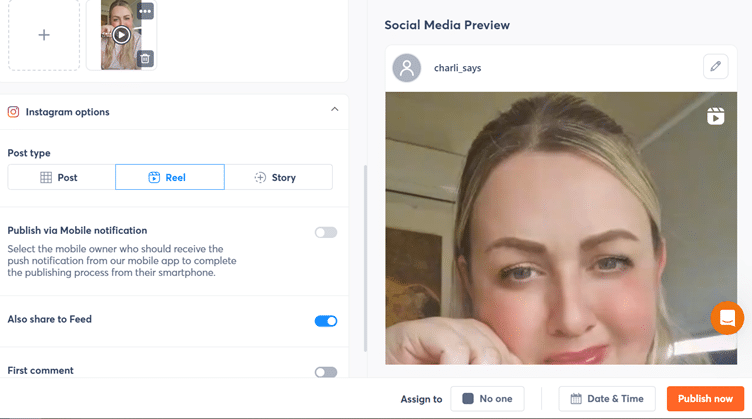 Then scroll down where you have the choice of Post, Reel or Story. Choose Reel then head down to the Date & Time tab. Here you can choose when you want your Reel to go live. This is game-changing stuff because you can publish your Reel while you're sleeping but your audience is awake! Or schedule ahead for holidays when you just don't want to create Reels!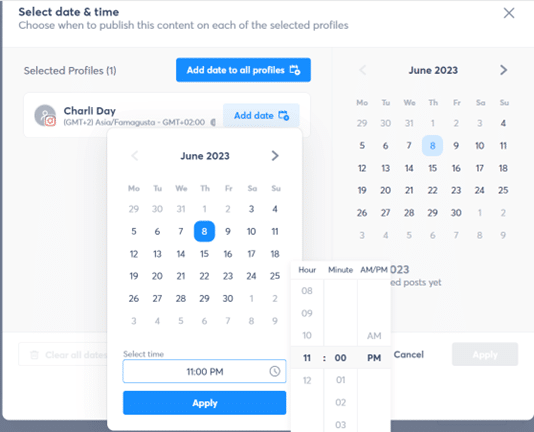 With the right hashtags and great content at the right time, you can reach the Instagram users you want!


3. Start listening
Of course, listen to comments and feedback from fans engaging on your Reels. You will receive alerts for all comments in your Agorapulse dash. But you can also start listening for/monitoring hashtags. Just create a search, add a hashtag, and choose whether to add it into your awareness score. I often use this listening tool to check out competitor hashtags and campaigns. But you could also use it to monitor hashtags on your own Instagram Reel. Matching content gets rounded up and delivered straight to your inbox.
Social media tip: For finding great Instagram user-generated content about your brand, you can monitor or search your own brand name hashtag to see what others have posted.
4. See which hashtags your followers are engaging with
Diving back into the awesome reporting tool, we can see the impact of our hashtags on our audience. So for Contentworks Agency on Instagram, we can see that in the last month, the most popular hashtag is marketing with 64 interactions, whilst reviews only had 6. This might also be the content, image or video, but it gives a clear indication of what hashtags are popular.
Crafting a solid hashtag strategy is wise if your brand is focused on Instagram marketing. That's a definite need for retail, beauty, fitness, travel and fashion brands.
Do you see your Instagram Reels hashtags as part of your social media strategy? Or do you just add them because they're popular? Sign up now for a free demo of Agorapulse and see what you can do with Instagram.