There's a lot of pressure on marketing agencies regarding content. Agencies must produce creative posts, large follower numbers, and great engagement.
That is especially true on LinkedIn, where their company page and performance are under scrutiny by industry professionals. But what to post on LinkedIn?
Here are my tips for marketing agencies and advanced marketers.
LinkedIn Tips for Your Agency
Let's look at how to make your agency pop on the channel.
1. Author original content
As creative director of a content marketing agency, I might be slightly biased. However, I am a big fan of authoring original content.
When you author an article as the director of a marketing agency, you achieve several things.
You position yourself as a thought leader in your space. You're coming at an issue or idea from a fresh new angle that gives you the edge. It demonstrates an understanding of your sector and makes you the one people want to hire.
You improve your SEO. If you're original, using keywords, and answering important questions, you have a better shot at being featured on Google Snippets.
You meet like-minded authors. Authoring original articles will bring you into the vision of other thought leaders and decision-makers. This opens the possibility of collaboration and business for your agency.
LinkedIn Tip
Author articles that add value to your readers who may be looking for tips or advice. I author a lot on marketing hacks, predictions, trends, and "best of" marketing campaigns.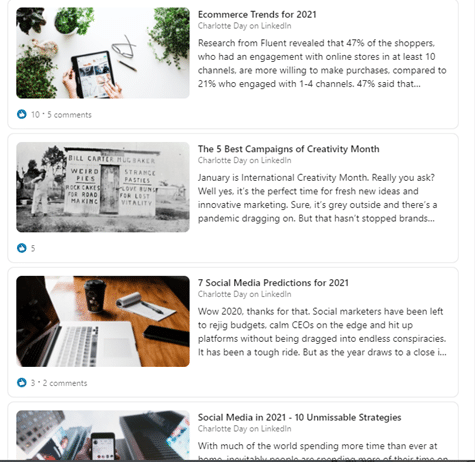 To inspire your authoring side, take time to listen to the online conversations happening. Use Agorapulse's monitoring tool to hear what's top of mind for your existing and would-be customers, scope out the latest intel from your competitors, and listen to who is mentioning you. All that culled information can help you brainstorm and craft an original piece that's relevant and strategic to your target audience.
2. Run an AMA
Running an AMA (Ask Me Anything) is a great way to showcase your knowledge while also being authentic and transparent.
We're all tired of fake news and stock photos, so authenticity by industry leaders is refreshing. A total of 86% of consumers say that authenticity is a key factor when deciding what brands they like and support.
Have some fun promoting your AMA like James Laurain below!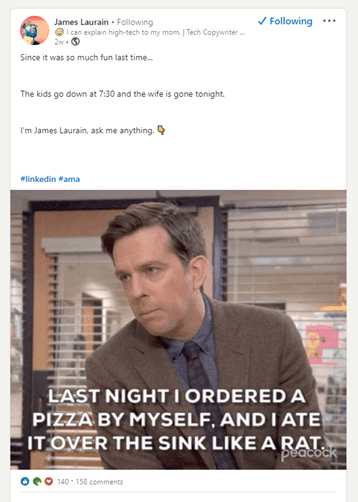 LinkedIn Tip
Your AMA featuring a director or employee can be posted directly to your company page or via your personal profile. We use TikTok to produce ours, and others go live on the platform or upload a native video.
You can use Agorapulse to track those LinkedIn comments and keep the conversation fresh and lively. You won't miss anything with Agorapulse, and you'll be able to like, review, assign, bookmark, label, and even remove comments on LinkedIn as needed.
3. Share team photos & news
LinkedIn is a great place to show off your team, company culture, and company events. Doing this strikes the right balance between professional and fun, and it hits that authenticity checkbox again.
Your employees are your best ambassadors.
They can help you:
Connect with customers
Grow your business
Attract more employees
Get more social media engagement
Some 76% of people say that they're more likely to trust content shared by "normal" people than content shared by brands. There's a trust gap that can be bridged here. Bridge it with team interviews, photos, behind-the-scenes, quotes, employee videos, and takeovers.
I love this post from #YesSheCan featuring Alice Stephenson. Friendly, engaging, and transparent. I absolutely read her story.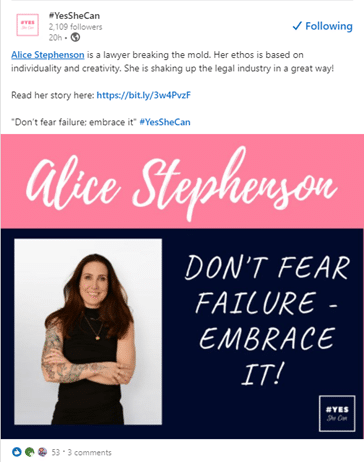 And this video post from Don't Cry Wolf PR Agency that thanks the team and highlights their awesome work during tough times.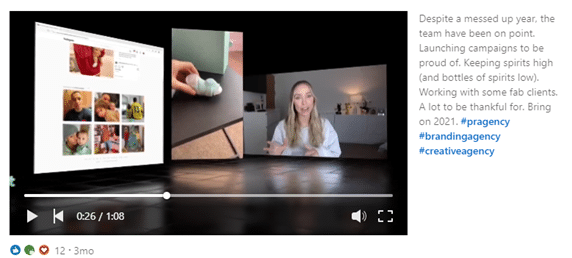 You can also share links to your webinars, panel discussions, or keynote speeches. Be sure to tag other people on the panel!
Working at home alone? Share your furry team photos too. People love to see the occasional pet, especially if you tie it in with a funny caption.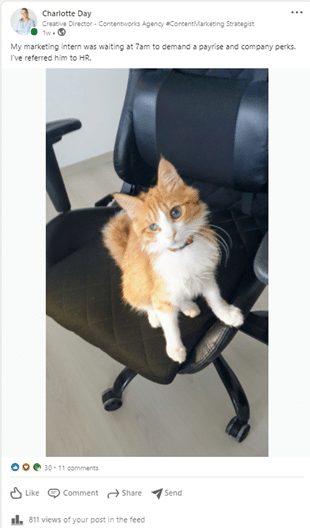 The comments on this were stellar and serve as a good reminder that we are actually networking H2H (human to human) above all things. This is especially true in these strange, isolated times.
LinkedIn Tip
Don't force team members to take part in your marketing initiatives. Suggest ideas and keep photos and interviews fun and impromptu.
The free employee advocacy tool from Agorapulse, Easy Advocacy makes getting your employees sharing content super-simple. Run a full-fledged employee advocacy in fewer than 10 minutes.
4. Update on charity initiatives
CSR (Corporate Social Responsibility) is big on LinkedIn. This term includes initiatives like direct giving to non-profits, which might be a homeless shelter, in conjunction with volunteer efforts by employees. It could be intern schemes or training for the disabled. Commitments to diversity, equal opportunities, and fairness in the workplace should be standard but still are not.
My agency sponsors Room2Read, a charity dedicated to providing books and literacy to underprivileged children around the world. Many of those shut out from literacy are girls and women. This is a cause close to our hearts at Contentworks as we are a women-founded marketing agency. The exciting thing is, we can support our chosen charity by sharing their updates, jumping on relevant hashtags, talking about literacy, and encouraging more donations.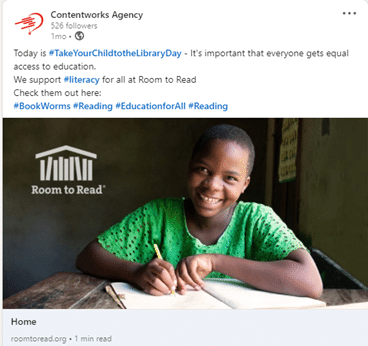 We also celebrate women in the finance space with articles that shed light on their roles, breakthroughs, and accomplishments.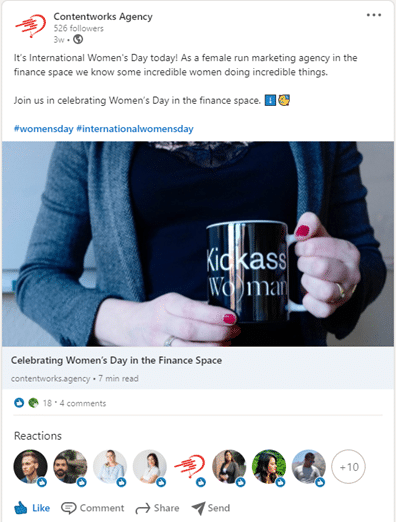 LinkedIn Tip
Don't be braggy about your CSR. Instead, think about how you can help that charity further by spreading awareness for the cause.
5. Share case studies and success stories
Marketing agencies know all about social proof. It's the powerful FOMO effect of seeing success stories, testimonials, reviews, certificates, awards, recommendations, and case studies. In fact, 97% of consumers say online reviews impact their buying decisions and testimonials can increase page conversions by 34%.
And with Linkedin's audience consisting of so many decision-makers, it's a great idea to show off your work, reviews, and happy customers.
You should also pull out key stats that will appeal to brand owners and decision-makers like this case study below from SaudiaME.
Sharing your marketing campaigns, videos, and success stories is super engaging for your LinkedIn page. It also boosts credibility if you're working with some great names.
LinkedIn Tip
Show how you addressed key concerns or challenges for the client and their sector like PopcornApps did here. This shows potential clients that you understand the sector and will be able to help them.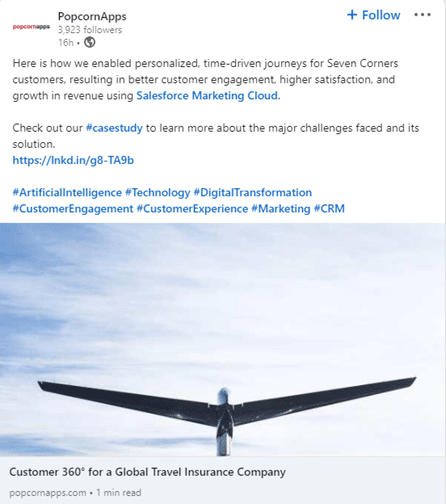 All your LinkedIn content can be scheduled and/or published immediately with Agorapulse. You won't need to hurry to publish everything natively in a rush. Plan ahead, strategize, and make sure your LinkedIn content is strong and purposeful.
Not sure if it was? Create and download a LinkedIn report from Agorapulse to find out the details about your content: top-performing posts; how many clicks, impressions, likes, and comments the content garnered; and how much engagement each post received.
6. Share TikTok videos
Video continues to dominate on views, engagement, and conversions, even on LinkedIn.
I'm a big fan of TikTok for marketing agencies and recently experimented with sharing TikTok videos to LinkedIn. TikTok videos are up to 60 seconds long, which is perfect for sharing some quick marketing tips or a useful hack.
It also adds to the fun because you're speaking faster, annotating your tips and you can add special effects and animation to your video.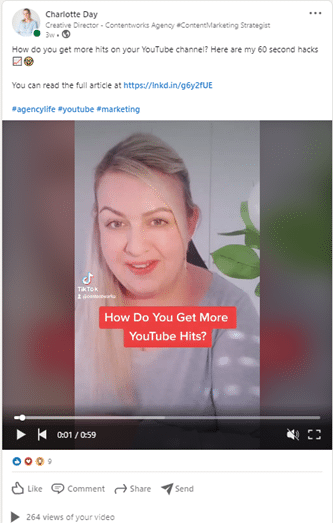 I also love the Linkedin TikTok updates from … well… TikTok! Here they share their 9-year anniversary and the story behind their success. The ByteDance CEO returns to the apartment where he first started the company, and it's showcased on YouTube.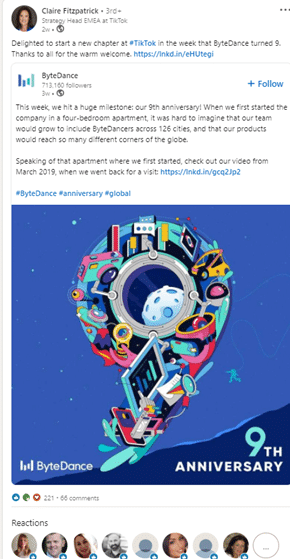 LinkedInTip
Add a link to your full article in the caption or comments. If people loved your 60-second video, they can read your full article for more. Also, add subtitles or annotations as 85% of videos in social media feeds are watched without sound.
7. Link to your blog & press releases
Marketing agencies usually have the best blogs and PRs but often don't showcase them as much as they should.
When you're thinking about what to post on LinkedIn, your blog articles should be top of the list. That doesn't mean you need to share every single blog to LinkedIn. But do think of your target audience on the platform and what they would like to read.
Sharing PRs to LinkedIn adds kudos to your marketing agency. You're showing that you made the news, you're relevant, and you have news to share. If you're sharing PRs, you need to walk the humble line between showcasing your great achievements and being braggy and annoying.
PR expert Nadia Ivanova always strikes the perfect balance between promotion and politeness in her posts by tagging event organizers, thanking press outlets, and praising team members. Additionally, she is showcasing genuine excitement in her content.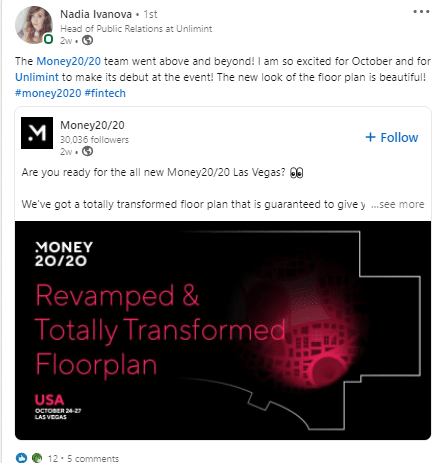 Another great example is Charlotte Ashton who shares relatable, fun links to her PRs. Charlotte also shares great case studies and success stories from her clients. A well-connected marketer, Charlotte uses these posts to touch base with international contacts and potential clients in the comments.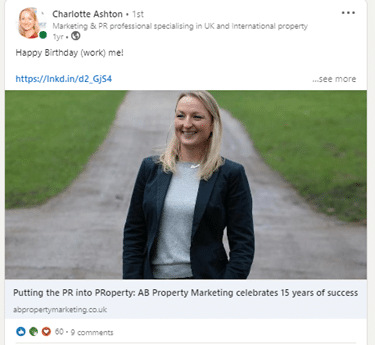 LinkedIn Tip
As a marketing agency, potential clients will look to your company page to see how well you do PR. Aim to share regular updates including company news, interviews, awards, events, and team photos.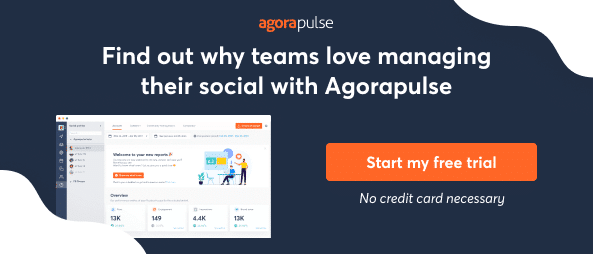 8. Trending ads & sector news
Sharing trending ads and sector news are great ways to demonstrate you're in the loop with what's happening.
They also encourage debate which equals great engagement and your posts getting seen in more feeds. As a marketing agency or advanced marketer, you need to know the latest trends in your sector.
You don't need to author articles, but you can post updates, ask questions or share social media screenshots.
Here are some ideas:
Industry trends for the quarter/year ahead
Did you see the latest campaign by XYZ? Do you like it?
3 trending topics this week …
Love it or hate it? Check out this campaign from …
I like posting things like this to LinkedIn because I also get to hear from other marketers and, of course, non-marketers. Getting a broad mix of opinions and listening to them is important for a marketing agency.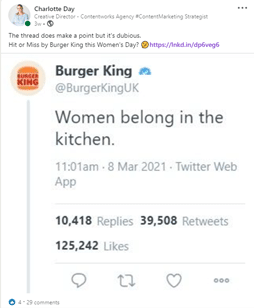 LinkedIn Tip
Share posts from other markets and brands. This will keep you relevant in the marketing community and updated on what's happening.
Again, you can use Agorapulse's listening feature on Facebook, Instagram, Twitter, and YouTube to hear what your competitors are buzzing about, what your would-be audience is discussing, and what your clients are saying. Create searches for words, phrases, hashtags, and user names on those social channels to stay informed and relevant.
You can then use those learnings to help decide what to craft and what to post on LinkedIn.
More Tips for LinkedIn Posting Success
Create a consistent posting schedule. According to LinkedIn, businesses that post at least once per month have been shown to gain followers 6X faster than those that don't. Although I would say that's nowhere near enough and 2-3 times per week is the sweet spot. Utilize your Agorapulse calendar to ensure your posts go out consistently.
Add a LinkedIn "Follow" button to your website. Sounds basic but there are so many brands that haven't done this.
Include eye-catching images. When you create a blog post, ask your designer to create matching images for your social media channels including Linkedin. Incorrectly sized images don't give a good impression of your agency.
Re-share top-performing content. Use ICYMI (in case you missed it) to reshare top content. Try resharing it in another time zone to hit a new audience.
Relevant hashtags. Add hashtags to the end of your posts to attract your target niche. It also helps to establish branded hashtags for your agency.
Add emojis to posts. You're a marketing agency, have fun with your posting layout and include emojis, bullet points, and questions.
Post your latest jobs. This shows growth and gives you an opportunity to talk about the benefits of joining your team.
Notify your team. On Pages, you can notify your employees of your latest post. Don't do it all the time because that would be annoying but boost key messages with employee advocacy.
Use Slideshare. LinkedIn owns Slideshare and that makes for a great duo. Repurpose your awesome agency ebooks and presentations to Slideshare and give them a fresh lease of life on Linkedin.
Take control of your social media! Check out our free trial of Agorapulse to help you schedule, track, and measure all your social media efforts.