Remember when they said TikTok is just for teens? A lot has changed since 2017 when the video app was launched. The TikTok app has now been downloaded over 2.6 billion times and has over 1 billion active monthly users. But how can social media marketers be as cool as the cool kids on TikTok?
Let's look.
As director of leading financial content marketing agency Contentworks, I never thought our traditional finance clients would be persuaded over to TikTok. Or that a TikTok marketing strategy would be a must for them. Like many, they thought TikTok wouldn't fit their serious financial niche. And it doesn't, which is why it works so well!
There's a place for all sectors on TikTok, and the marketing possibilities are extensive.
But before we get into it, let's look at some of the latest news and tools from TikTok.
What's New From TikTok?
Content writers rejoice, your captions on TikTok can now be up to 2,200 characters for each post. The original caption limit was a measly 300 characters. A word of caution: Don't write an essay. Your video should do the talking on TikTok. Check out our social media writing tips, if you need some help.
TikTok is heavily investing in Creators, something that other social media platforms were slow to do. The TikTok Creator Marketplace is the go-to destination for creator collaborations and is a streamlined way to discover creators based on industry, budget, and business KPIs. On the Marketplace, brands can connect with over 100K creators across 24 markets. That is significant for brands looking for the right micro or macro influencers.
TikTok is working hard to prevent bullying and to protect younger users on the platform. This is following the deaths of several young TikTokers from bullying or dark "challenges." If someone younger than 16 years old creates an account, it will be private by default. TikTok-ers ages 13-15 will have commenting options limited to Friends only to help protect against unwanted interactions.
2022 will be the first full year for TikTok Shopping, a suite of e-commerce tools that turn videos and LIVE into shoppable entertainment
In perhaps another bid for Instagram's user base, TikTok has released Photo Mode, a new carousel format available on mobile for photo content. It's ideal for sharing high quality images on TikTok.
As of February 2022, the TikTok maximum video length is 10 minutes. This is a huge difference from the previously allotted 3 minutes and an even bigger jump if you recall that the app had a 15-sec. limit at the start.
TikTok has added and improved its editing tools, so now you can:
Edit clips: Stack, trim, and split video clips for part or all of your video.
Edit sounds: Cut, trim, and set the duration for sounds. You can add from a vast sound library including trending sounds.
Edit and position text: Now it's easier to edit, position, and set the duration for text. (It used to be so fiddly!)
Add overlays: Add photo and video overlays for picture-in-picture (or video-in-video) stacking. I love this for Before/Afters or reveals.
Adjust video speed: Speed or slow the pace of video clips to emphasize key points or show a tutorial in more detail.
Frame content: Rotate or zoom in and out of frame of individual clips.
Add sound effects: Famous speeches, monster noises or some sleigh bells for Christmas.
1. Advertise Ahead for Key Holidays
68% of TikTok-ers start their shopping at least a few weeks before the holiday. Plus, they're more likely to shop online and be more open to direct social shopping. And TikTok is clearly going after the small-business option with an advertising help center aimed at getting them geared up for key shopping holidays.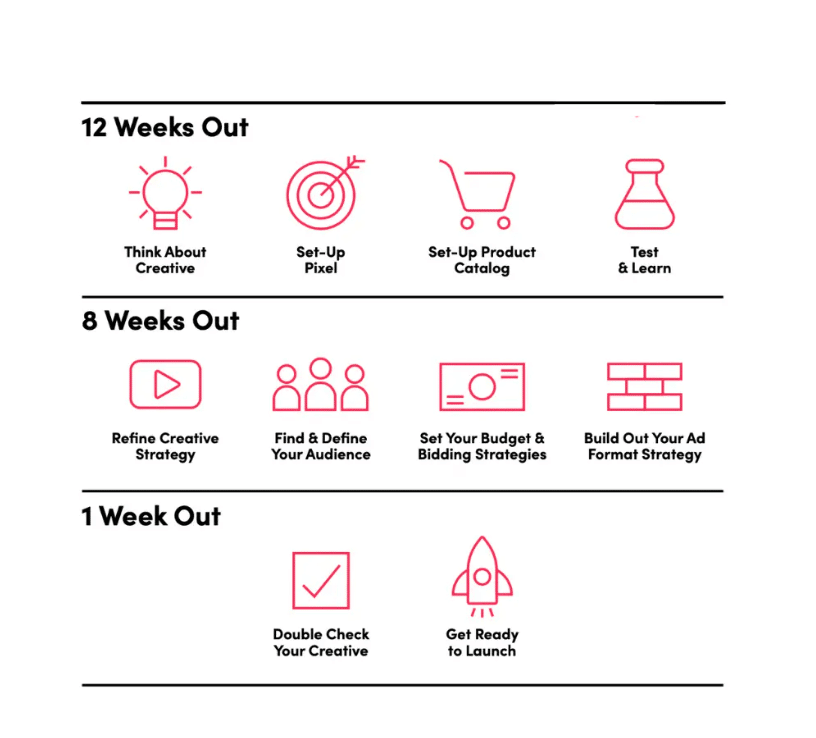 TikTok started out offering ads through their own reps or partner network. But that's changed, and you can now have your own advertising account. To get started on TikTok Ads Manager you'll need to create an account, complete your account setup, and pass an account review. You can check out the steps.
Marks & Spencer is an unlikely hit on TikTok but they are a hit! The brand leveraged TikTok to maximize Christmas 2021 in store sales. Alongside their big ad, they also shared teasers for beauty and food products available in-store. Director of marketing for M&S food Sharry Cramond told The Drum the TikTok push is part of its "overall strategy to be more relevant, grow with families and attract a younger audience."
I loved their SPOILER ALERT TikTok, which gave a quick flick through all the products available in their beauty advent. This is just enough to make you want the products without being too lengthy. They also use hashtags in their captions, which is good because #beautyadventcalendar is popular from November each year.
TikTok marketing strategy takeaways
Start early if you want ecommerce sales for holiday products. It will take you time to create the TikTok and any matching landing pages you need to snare those sales. Plus, people shop in advance of big holidays.
Keep your TikTok short if you want great traction. TikTok users found videos that were over one minute in length to be stressful. A quarter of the highest-performing videos on TikTok were between 21 and 34 seconds in length.
Showcase your products if you want to sell them. Viewers need to know what the packaging looks like, the name of the product and where they can buy it. You can drop more details in the caption, so viewers can head straight to the checkout!
2. Tap Into Trending Music (or Make Your Own!)
TikTok is probably best known for its music and sound is integral to the TikTok experience. Trending songs on TikTok came from a mix of established and breakthrough artists. Some were really unlikely. Did you ever think a 19th century sea shanty would be on everyone's lips in 2021? Nathan Evans made it a reality reviving the song and making it a must-have soundtrack for brands.
88% of people on TikTok say sound on the platform is central to the overall app experience. And that sounds have led them to research, stream, and buy songs they hear while they have been browsing the app. Songs really do get into your head!
Music also generates longer watch times on average and makes people less likely to skip content. It also impacts mood, making people feel more positive. Moreover, TikTok just introduced StemDrop, an evolution in global music collaboration.
Simon Cowell and Syco Entertainment have partnered with Universal Music Group, the world-leader in music-based entertainment and its Republic Records label to create StemDrop. This is a new evolution of musical collaboration, curation, and artist discovery to be launched exclusively with TikTok and Samsung. There are some big names in there. Because of Simon being the mastermind behind X Factor and the various franchises of talent shows, I'm sure this will be a success.
Speaking on the launch of StemDrop, Simon Cowell said: "Hit songs are like diamonds and they can change an artist's career overnight. With tens of thousands of songs uploaded every day, this idea will give aspiring artists the opportunity to collaborate with some of the most successful songwriters in the world. I want to thank TikTok, Samsung, and Universal for their support and enthusiasm. Again, their passionate support of talented people is amazing."
TikTok marketing strategy takeaways
Don't skimp on sound. Many brands don't fully utilize trending sounds and hit tunes. To use trending sounds and music for sponsored content or on a company profile, you need to purchase a license. That's why many brands use the royalty-free music library that TikTok has to offer. Many trending songs are only available for individual user TikToks, not businesses.
Team up with music creators. They don't have to be megastars. Partnering with talented creators at an early stage can really be a win-win situation. If they make it big, your brand will be in the spotlight, too.
Get creative with sound bites. You don't need to have a full track playing in the background. Trending sound bites of 2022 included Oh No. by Kreepa, No Idea. by Don Toliver and my favorite, which was Spongebob Tomfoolery–Dante9k Remix. by Dante9k. For the latter, it was the first 15 seconds that were most used in TikToks. Check it out if you didn't already!
3. Get Into Hashtag Challenges
Challenges have been part of the TikTok community from its inception. Actually, they are a core feature of the hashtag heavy search engine.
Users used to be able to tap on Discover located at the bottom of their screen. But a recent TikTok app update replaced this with a "Friends" tab, which makes it hard to search for trending hashtags. The Discover tab led TikTok app users to a page that showcased a selection of the trending hashtags and popular sounds. This was very helpful for creators who now have to do a lot more digging to find what's trending. This change rolled out in the summer of 2022. (It's my view that TikTok will put it back again once they understand its impact and potential loss of advertising opportunities.)
Top TikTok Challenges of 2022 (so far)
In 2022, I Will…
The Shoot in the Sky challenge
The Learn Something New Challenge
The Empath TikTok Challenge
The Journal Challenge
Hot Pot Sauce Challenge
And then there are the always popular Dance Challenges, Glow Ups, What I Ordered vs. What I Got, Tell Me Without Telling Me, That's Not My Name and many more!
A branded hashtag challenge (and account) I'm especially obsessed with is Netflix. Always right on the money with their trends, the brand has challenged fans to make a Squid Game-themed pumpkin for Halloween. Squid Game was Netflix's most popular show with 1.65 billion hours watched. Complete with creepy Squid Game music this one is sure to be a hit online and IRL.
TikTok marketing strategy takeaways
Be seasonal. If Halloween is approaching, then be in the right place at the right time with your challenge or meme. People are much more likely to engage with your video if it's timely.
Don't be promotional. Very few viral hashtag challenges have been promotional. They always focus on a message, funny meme, or engaging challenge.
Build your following first. Unless your brand has managed to build up a popular TikTok channel, you will probably do best to work with micro-influencers to kickstart your #hashtag challenge. Alternatively, you can use employee advocacy to kickstart your views.
Piggyback off an existing hashtag. If you're a small brand, you will probably have more success using a trending challenge hashtag than creating your own. Your #MyCEODancingAtTheWaterCooler video probably won't go viral. Tag it to a popular #dancechallenge, and it might.

4. Team Up With TikTok Creators
TikTok is placing heavy emphasis on Creators and rightly so. Creators are the lifeblood of social media platforms and without them you end up with a feed full of ads and product placements. (Facebook I'm looking at you). The reality is that ads are a part of life, and they do fund platforms. But that doesn't mean they can't be creative. TikTok is a hive of creative minds, from artists through to dancers, singers, writers and entrepreneurs. And it's the teen entrepreneurs that really caught my eye for creative partnerships.
Check out the collabs between Step Bank and young finance savvy TikTok creators. First, the brand's TikTok channel doesn't rely on influencers, it's already awesome. Aimed at Gen Z it gives fun facts, hacks for discounts, life skills and finance tips that are easily absorbed and useful. Do I want to know how to get free nuggets at McDonalds? Yes, I do.
Second, the channel is timely with facts about pumpkin spiced latte just as we are in fall season, and the drink is trending!
And news led finance content but broken down into a way that's fun and relatable!
They also team up with demographic relevant influencers on Tiktok like@NickMoneyMast to promote their accounts for teens. Nick is a popular TikTok and YouTube creator who shows teens how to save, invest and spend. He also promotes Bumper, another teen banking app.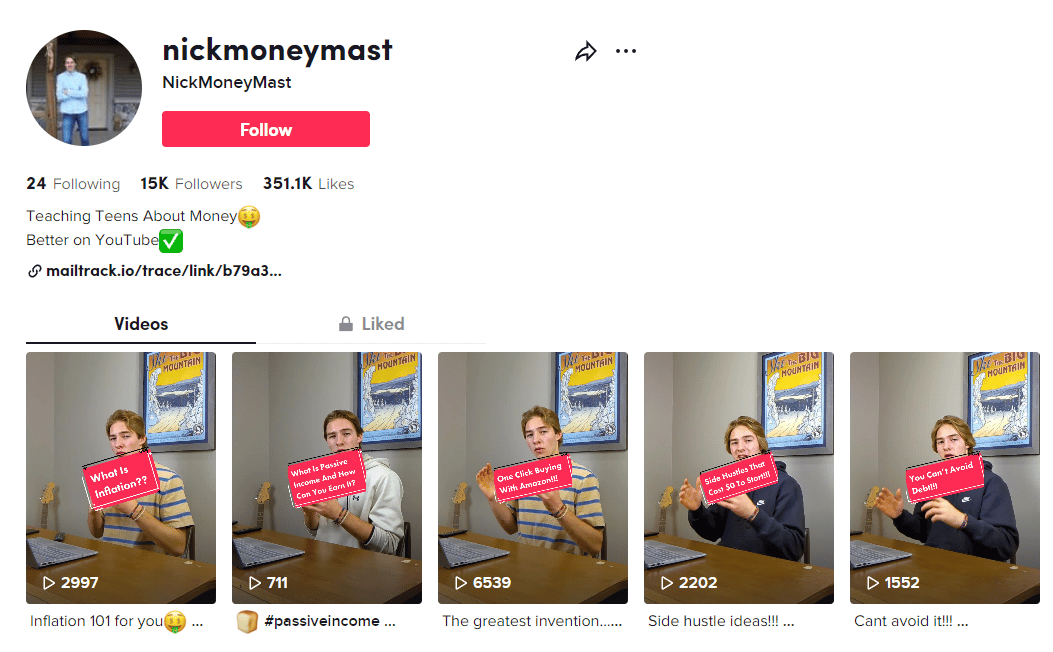 TikTok marketing strategy takeaways
Pick the right creator.

Do your research and due diligence to find a good influencer/ creator match for your brand. When you find them, be sure to create a

secure working agreement.

Strike a balance between creator and brand.

Your chosen creator needs to understand and correctly showcase your brand and product. On the other hand, you need to respect and allow the creator to be creative in their own style. Micromanaging creative people won't end well, but then neither will the "do what you want" approach.

Make it a good campaign.

If you plan to spend money working with creators, then take the time to make a really good campaign. Work on your blog, PR, social media updates, landing page, video script and hashtags.

Plan key events so the campaign is properly rolled out.

Utilize user-generated content.

Not all creators need to be paid. By utilizing social media listening, you can scout out positive product reviews, unboxings and videos featuring your brand. Be sure to thank these creators and include them in new releases, limited editions, and exclusive product lists. It will really pay off if you do!
5. Provide Useful Educational on TikTok
Whatever we need instructions for (furniture assembly, DIY, beauty or hair), we all prefer watching a video to reading an article. Gen Zs have a higher preference for learning from YouTube and TikTok videos, compared with printed blogs and that trend is also seen in millennials and Gen X. That's not to say they won't read your blog, but for education or how-to's, a video is usually better. Viewers want to tackle challenges in a fully immersive environment that lets them conduct their own research, make decisions, and take action.
An educational TikTok that explains and doesn't dictate is perfect!
Fenty Beauty has nailed the art of the TikTok tutorial garnering 1.4 million followers and 23 million likes. With catchy tunes, on-screen annotation, and clear CTAs, this is a brand winning at TikTok.
Fenty teamed up with huge megastars like Rihanna and Soukenya to show off their products. I'm obsessed with this video that shows off their shade range on this beauty's skin. Notice how they clearly show the product, its name and the shade ranges and hashtags in the caption.
Another brand nailing educational videos is IKEA USA. I love their recipe for Hispanic Heritage Month, and you just know those gorgeous bowls and serving items are from IKEA. I want all of it, including the food!
If you're doing tutorial videos like IKEA, you need to master the art of keeping them short and sweet. Quick tips, before and afters, or a series to create a complete look will work well. The above video was just 27 seconds long and that was all we needed for a quick and colorful recipe idea.
If your topic is complicated or lengthy, then break it down into different videos. Those longer videos will also sit nicely on YouTube playlists where users can easily find the exact topic they want.
TikTok marketing strategy takeaways
Showcase products well.

The best TikTok marketing videos showcase products in a great light. That means using good lighting, microphones, a high-quality smartphone, and carefully thought-out scenery.

Keep your TikTok content fun.

Nobody wants to watch a boring video. Smile, have fun, make mistakes, and don't try to be perfect. Leave the bloopers in the video or save them for a Christmas outtakes compilation!

Embed videos in your blog.

TikTok videos can be embedded easily into blogs for a great reader experience. Your blog can go into more details with a

learn in under 1 minute

video option.

Try new things.

Some things won't work, and others will. This is a chance to be creative and try something you haven't tried on the other platforms.

Don't neglect your content.

Your tags, descriptions, and CTAs need to be on point. Just because TikTok is a video app, that doesn't mean you don't need to write good captions. All that written content is searchable, and unless you're a celebrity, simply adding an emoji won't cut it.
What We've Learned About Creating a TikTok Marketing Strategy
TikTok and Instagram are now almost equal for downloads and monthly active users. And predictions show that in the next few years, TikTok will take the top spot.
Add to this the aging population of Facebook and most brand's need to target the next generation, and you have your answer. TikTok marketing is a must for future-thinking brands. Check out our How to Launch a Brand on TikTok: A CMO's Guide.