Consider how you're using YouTube right now. Are you following YouTube best-practices? If you need a refresher or learn them for the first time, we've got you covered in this article!
Nearly 8 out of 10 marketers found YouTube to be the most effective marketing platform, according to a recent study. And 62% of businesses are already using it for marketing purposes.
However, not all businesses that use YouTube as a marketing channel are seeing results.
It's not enough to simply create videos that you think are interesting, upload them, and wait for the clicks to come pouring in.
You need to know all the best practices in regards to YouTube publishing so that your account stays in good standing, you connect with your target audience, and you can drive results.
In this post, we're going to take a close look at specific best practices of YouTube publishing that will help you get the biggest impact out of this potential goldmine of a platform.
1. Know What Does & Doesn't Violate Copyright Law
All brands should be fully aware of what copyright law does and doesn't cover. Not only can it protect you, but accidentally using something that you can't use will often come back to bite you, too.
Here's the simplest breakdown: Anything that's published online is automatically protected under copyright law through the DMCA. That means that someone can't take one of your pictures or a blog post or a video and publish them; you can file a DMCA takedown request and file a lawsuit citing copyright law.
When you're using social media (especially as a brand!), you agree to their terms of service that you aren't using any content that you don't own or have permission to use. And trust us… they'll likely find out.
Content owners can use a native YouTube tool called "Content ID" to find other videos using their content, including audio tracks.
YouTube can remove the audio or the video altogether. If your account has enough issues with copyright violations, your account could be suspended or banned.
Here are the basics of what you need to know to avoid copyright issues:
Don't use any audio, images, or video clips that you don't own or have express permission to use.
That's basically it. And that includes the fact that just because you bought a song on iTunes doesn't mean you can use it in your branded video. You must purchase commercial use for that.
If you want to include music or stock photos in your videos, you can; you just need to either find "free for commercial use" options that sometimes come with tools like Snappa or Shakr, or to purchase commercial licenses for copyrighted content.

2. Always Factor Keywords Into Video Text
YouTube is the second largest search engine on the Internet, falling only behind Google itself. So, you need to be optimizing every part of your video for the native search engine, as it can be a crucial part of helping customers find your content and discover your brand.
You want to include keywords in your video title, description, and ideally in your closed captions, too. (We'll discuss this more in the next section). Include different keyword variations in each place to maximize your search potential.
For example, your title might have the keyword "best luggage" and your description has keywords like "best suitcases" and "durable luggage review."
You can use a tool like Keyword.io to determine which keywords are most frequently used by your target audience. Make sure to use its YouTube-specific research tool to see what people are searching for on YouTube in addition to Google. And if you need additional content ideas, download our free social media content calendar.
3. Create Closed Captions for Every Video
Closed captions on your YouTube videos are a must-have for all brands. They make the video accessible to users who are deaf or hard of hearing, first of all, but they also allow people to watch without sound if they choose.
With increasing numbers of people watching YouTube on mobile and sometimes in public places, captions are an important option to provide viewers.
Though you can add captions to your videos in the video editor of your choice, we strongly recommend adding them through an SRT file or YouTube's own subtitles feature. When you view a video that you've uploaded in the Creator's Studio, you'll see a "subtitles tab." From here, you can create subtitles and closed captions for your video, helped by YouTube's automatic transcription features.
When you go in to edit the video's subtitles, you can choose what text appears on the screen when.
You can also edit the auto-generated captions, and trust me when I say that you'll want to double and triple-check these. YouTube's auto transcribe features have improved significantly over the past few years, but a few slip-ups always still seem to pop up.
If you're soft-spoken or have an accent at all, expect a little more time will go into editing these captions.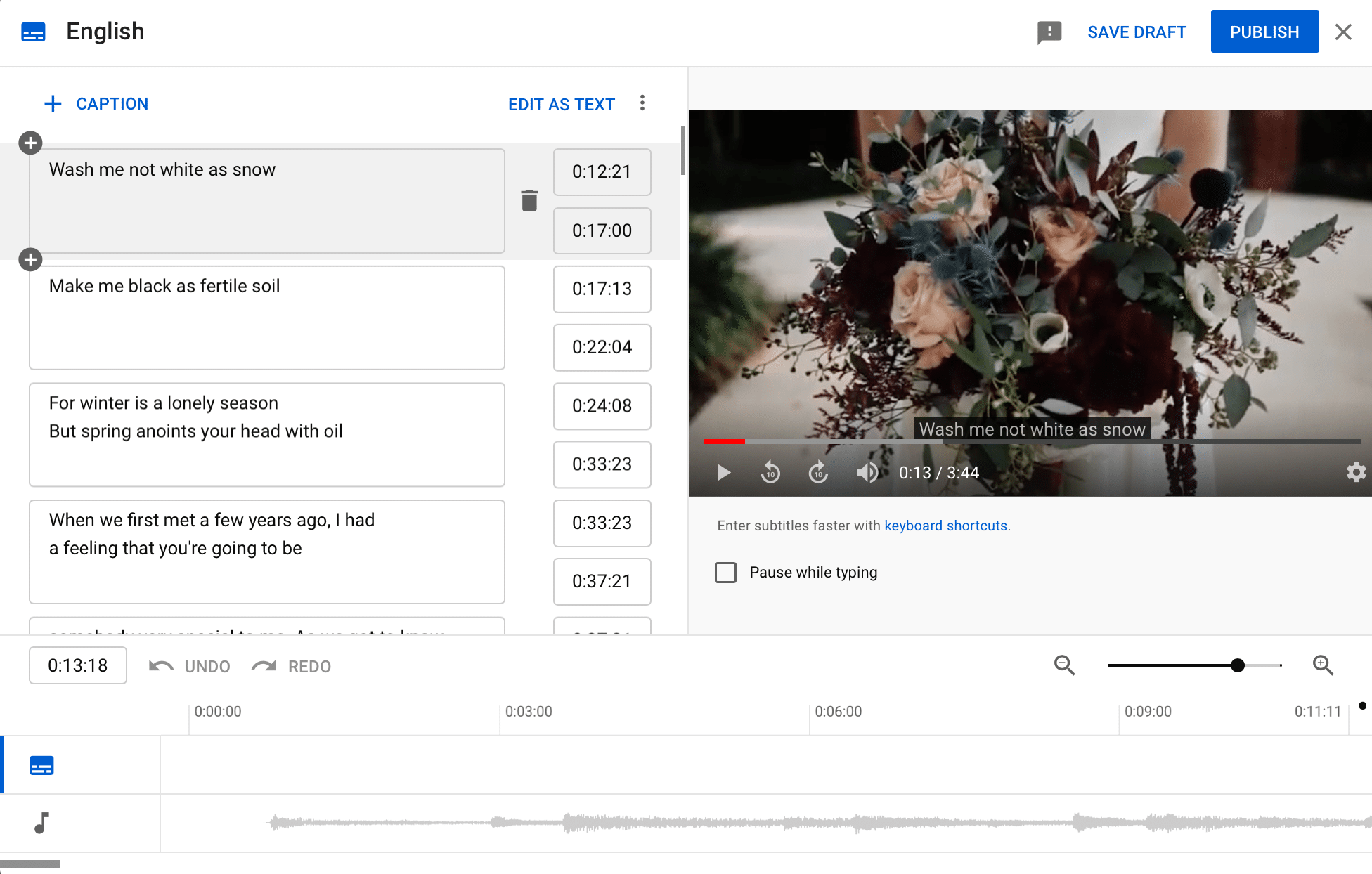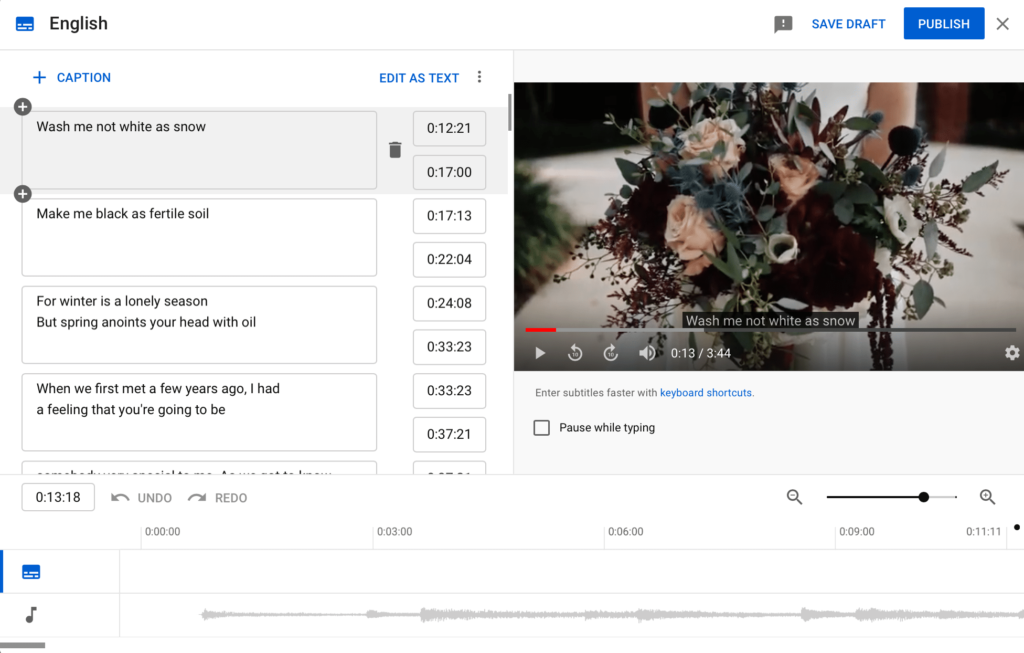 The beauty of closed captions is that users don't have to use them, but they're there for anyone who wants them.
4. Know the Best Times to Publish
When you're uploading your video, you'll see the option to schedule it for publication. This is typically a great choice, especially if you want to have some consistency on your channel, like releasing a video every Tuesday at noon.
Even though scheduling times aren't as significant as they are on other platforms, choosing the right time to publish on YouTube can still give your new videos an added boost.
Posting on weekdays between noon to four in the afternoon is typically going to be your best bet. This publishing time allows YouTube enough time to register your content and show the video to subscribers when they're ready to unwind after their standard 9-5.
5. Watch Comments on New Videos Carefully
You always want to monitor all engagement on your business's (or your clients'!) YouTube channel, so it's particularly crucial to keep an eye on new videos not long after you've published them.
This is for several reasons:
You may be promoting newer videos on other platforms, including other social media channels or your email, driving more traffic to them.
This can help you assess the overall sentiment of your new videos quickly, adapting and reacting to any potential issues before everything blows up.
New videos will be pushed to subscribers quickly, also driving plenty of traffic to them.
Monitoring comments allows you to address questions, concerns, or complaints. It ensures that you can shut down trolls quickly, while also helping and interacting with users who are engaging meaningfully.
Use YouTube's management system, but third-party systems like Agorapulse can make this process a little easier. Your team and you will be notified when a new comment appears so that you can respond quickly. You can also set up automatic rules to hide comments containing certain words (especially those that use hate speech) until you get a chance to check them out individually.
YouTube is a public platform, so the comments that one person leaves can impact the perceptions of others. Staying on top of your comments, therefore, is a crucial part of publishing.
6. Always Choose Your Own Custom Thumbnail
Your video thumbnail is what users will see when they're browsing and deciding what to watch next, including in the search results, on your video's channel, and in the "suggested videos" section that appears when you're watching something.
Thumbnails are important because they can grab user attention and significantly impact the number of clicks you receive.
You always want to create a custom thumbnail to capitalize on this, using text and a high-quality image to showcase what your video will be about. These will almost always look much better (and more professional) than YouTube's auto-generated thumbnail options.
When you upload your video, you'll see the option to choose a thumbnail. Upload a thumbnail of your own creation, which should be 1280 x 720 pixels.
Some businesses prefer to have "Branded" thumbnails, which will have brand icons and colors and distinctive layouts for all of their videos. Using branded thumbnails can help promote brand recognition and increase views on your channel videos overall.
You can create a standard layout with third-party design tools and just change up the background image and text.


In Conclusion
YouTube is an outstanding platform that offers so much potential for businesses of all shapes and sizes (B2B and B2C both included!), but you need to adhere to standard best practices if you want to see those incredible results.
The best practices discussed above will give every single YouTube video that you publish it's best fighting chance to receive strong visibility and drive performance, all while avoiding common missteps that could sink your campaigns before they even really begin.
When you combine these best practices with a strong YouTube strategy, your channel will be in great shape to attract your target audience, build brand awareness, establish thought leadership, and even drive sales.
Get started on saving time and energy on your own social media management! Check out our free trial of Agorapulse to help you schedule, track, and measure all your social media efforts.