Everyone loves a big following right?
But, what about a relevant big following on Twitter?
Do you follow people selectively and hope that they'll follow you in return? This is a popular tactic that works on Instagram (for now) but not quite so well on Twitter.
You can get more Twitter followers that bring value to your business for free! No tricks. Talking about tricks, you should also probably avoid making these 9 amateur mistakes when you manage your Twitter account.
Now, before I tell you how I do it, let's take a look at my humble Twitter following statistics over the past year or so.
NOTE: I didn't spend a cent on acquiring Twitter followers.

I experienced steady growth from late August 2012 to June 2014, before I saw 2 spikes, one in July and one in November this year. My Twitter following effectively doubled in the last 6 months.
Okay, I could have bought fake followers. Or lots of fake followers could have followed me to escape detection. So let's take a look at the interests and locations of my followers.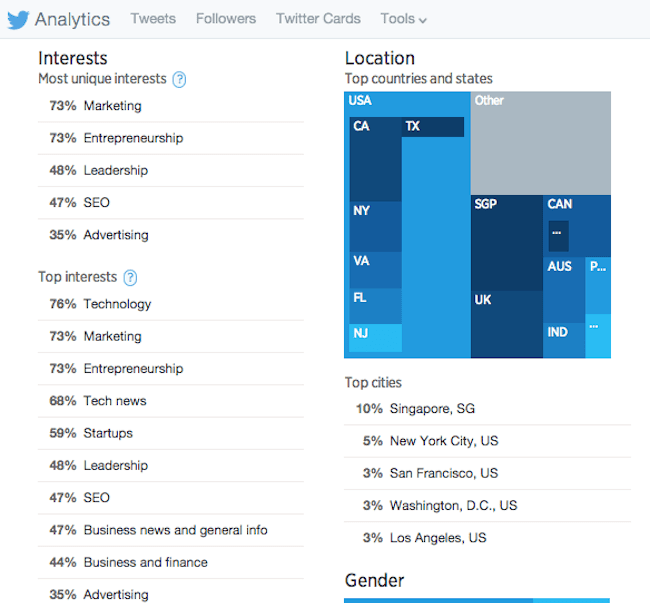 Interests
73% of my followers are interested in Marketing and Entrepreneurship. Given that I only tweet about Facebook and Twitter ads, and that a lot of my followers are either independent consultants or small business owners, this is a good sign. But let's not stop here yet.
Location
About 47% of my followers come from the USA, 10% come from Singapore (where I'm from), 7% come from the UK, 6% come from Canada and 4% come from Australia.
Since I use Twitter mainly to generate website traffic, let's take a look at my Google Analytics data.

4 of the top locations where my website visitors come from are the same as those from my Twitter followers. This gives me confidence that they're real followers as well.
If you're still not convinced, I also put my account to the "fake followers" tests. Here are the results.


The first test said that 3% of my followers were fake and 97% of them are real.

The second test said that 95% of my followers are real.
Both tests point to an overwhelming majority of real followers!
So, are you ready to learn how I got more Twitter followers for free?
The 5 right ways to get more Twitter followers for free
Here are the methods I used:
Guest blogging on authority sites
Interacting with influencers regularly
Exploiting multiple Twitter lists
Tweeting often but interacting even more often
Link up Twitter with both my online and offline presence
I'll show you step-by-step how you can make use of the same methods and get results.
1. Guest blog on authority sites
This is rather simple but often overlooked.
Surely by now, you know the online publications that your customers read. What if you could publish on it? It works like traditional PR. If you're featured on one of these publications, both your brand exposure and perceived credibility will skyrocket!
At least that's what happened to me.
This guest post I wrote for Social Media Examiner contributed to the 20% spike in Twitter followers in November.
How you can do it
Guest blogging on authority sites is tough.
First, you have to gain acceptance by the editor. Next, you have to write an article that is so valuable to the sites' readers that the editor comes back to you for more.
If you don't have an online publication in mind, try searching for one of these terms using Google and add your niche at the end of it (credits to TripleSEO):
"Submit a guest post" / "Submit post" / "Submit blog post"
"Add blog post"
"Submit an article"
"Suggest a guest post"
"Send a guest post"
"Write for us"
"Become an author"
"Guest bloggers wanted"
"Contribute to our site"
"Become a contributor"
"Become guest writer"
"(Write for our) guest column"
For example, I would probably enter a search for "Submit a guest post" Facebook ads.
Note that the suggested terms above need to be in quotation marks (" ") to get Google to return exact matches and get rid of irrelevant search results.
Once you have an online publication in mind:
Look into the About/Contact page
Look for the section on "Writing for us" or along the lines of "Submit your article". Sometimes it can be hidden away in a small section like Social Media Examiner's so try your best to find it
Follow the editor on Twitter
Start interacting with the editor and do so regularly but not too often (more tips in the next section)
2. Interact with influencers regularly
Interacting with influencers in my industry also helped me gain more followers on Twitter.
In fact, it was the chief reason for the 2 spikes in growth of my Twitter followers in the last 6 months. Interacting with influencers regularly got me listed on Mark Schaefer's list of 70 rising social media stars and Aaron Lee's list of 125 Best People to Follow on Twitter for Social Media Geeks. Mark Shaefer's and Aaron Lee's lists helped me grow my Twitter followers by 16% and 15% respectively.
Although I focus on writing good content on my blog, I also follow a select group of influencers' blogs, Facebook pages, and Twitter handles. I retweet their content and add my own opinions to it after reading them. Sometimes, it helps that you read from a variety of sources so that when influencers share a piece of content that you have already read, it also gives you another way to initiate interaction with them, beyond the usual kind response people give like "great read!"
This is no guarantee that you'll get listed somewhere, but these steps will still be useful for 2 other reasons:
Influencers will remember you and when they need you, they'll come to you, such as when they need someone to contribute to their blog.
Influencers will share your content once in a while
How you can do it
Identify a list of top influencers you want to connect with. You can do this with Agorapulse's Twitter tool either by filtering influencers who are already engaging with you or discover new influencers using Little Bird
Follow them on platforms where both of you are present, including their blogs!
Leave a comment when possible. You'll want to avoid leaving comments that only say "good read!" or "thanks for writing this". You should also avoid repeating what they wrote about. If you want to agree with them on something, offer some sort of data or experience you had. If you want to disagree, explain why. In a nutshell, you should try to engage them in a deeper conversation that attracts them to respond to you
Share their content and include a short comment. Retweets are too easy to do and everyone else is doing them. You'll hardly get any attention if you just retweet your influencers' content. But if you can offer some useful feedback or share a unique opinion, you're far more likely to be noticed. Heck, even top influencers like Mari Smith do these nowadays. There should be no reason you aren't doing the same or even better.

3. Exploit multiple Twitter lists
One of my favourite tools on Twitter is Twitter lists. It saves my time managing my Twitter account and allows me to focus on tweets that matter to me.


For example, when I want to only look at social media stuff, I have a Twitter list of my favourite social media influencers and I can look at just their recent tweets without any distraction.
Using Twitter lists has helped me to interact with influencers and followers more easily. It has also attracted more people to follow me on Twitter although I rarely ever follow back unless I'm sure I want to see their tweets.
How you can do it
Come up with a number of lists by categories

. Make sure that these categories will be useful for you in the future. For example, you can create different Twitter lists for different customer segments. It's also important for you to be able to easily identify potential followers by these categories

Make these Twitter lists public – you'll want to make sure to create a name that is generic enough to not let competitors or others know what you're using them for and how you're profiling them. You can keep a simple note to remind yourself what these lists mean to you
If people are interacting with your tweets, check out their bio and add them to an appropriate list. The reason for this is because being listed makes people feel important. When you add someone to a list, he or she will receive a notification and it will grab his or her attention
As a bonus, you can read more about my methods here on the use of Twitter lists to build a successful lead generation funnel.
4. Tweet often but interact even more often
My assistant recently found a really good quote that summarises how you should look at your followers.
'Every follower comes with friends and some are more influential than others.' You already have some followers, why not make use of the existing connection to grow your audience?
You could ask your followers to share you with their friends to grow your followers directly, but I wouldn't. After all, the lessons we learned from social media in the past few years tell us that if you provide value to others, they will recognise it and return value to you in one way or another. This results in value exchange, a fundamental principle behind marketing, and the social currency these days.
So, while you tweet often, you'll want to make sure that you interact with your followers even more often. After all, the point of tweeting is to get your followers' attention to have them do something. It could be a click to your website, favouriting your tweet, or retweeting to share with their followers.
How you can do it
Use a 3rd party app like Edgar

to automate the process of recycling your best content. If you're using WordPress, you can also use plugins like

Evergreen Post Tweeter
Use Agorapulse's advanced feed management and user management tools to easily engage with followers and never miss a chance to interact with your followers
5. Linking up Twitter with both my online and offline presence
This is going to be the easiest tactic to implement. Sometimes, people are not following you on Twitter although you seem to be doing everything right because they can't find you!
Let's just look at a related example. Before Nikki McGonigal added a popup form to her website, her email signup conversion rate was just 0.4%. After she added the popup form, the conversion rate jumped to 5.5%! The conversion rates increased only because more website visitors noticed the option to sign up for her newsletter – it's that simple!
How you can do it
Part of every marketing strategy includes choosing which channels you want to use to reach your target audiences. So the first thing you should do is to write down a list of all the channels that your brand is present on. Then, add the option to follow you on Twitter in all those places. You could be missing out on these less common places:
Personal email signature
Your blog's weekly email newsletter
Your print collateral, like flyers and posters
Social media graphics (like the one below)

Conclusion
Although I did not pay a single penny (and made many in the process) to gain new Twitter followers, I invested a lot of time on the things I did above.
In all honesty, I didn't set out to grow my Twitter following. I made use of Twitter to grow my business. In any case, if growing your Twitter following forms an important part of your strategy, you can make use of those tips that I just shared with you. These are real tips that have generated more followers for me.
Will you give them a try? Why or why not? Share with me in the comments below.