Do you find managing Twitter accounts too time-consuming? I did just a few weeks ago. But now, I spend less than an hour a day to manage multiple Twitter accounts.
Actually, the formula is straightforward yet comprehensive. To manage multiple Twitter accounts in the most time-effective manner you must have a focused mindset and create a clear workflow. Here is how to do it.
1. List your routine tasks for each account
Before you set out to create a complete workflow, make a list of everything you need to do for each account, whether you work as a social media marketing consultant or in the marketing department of a large company.
I listed some examples of common routine tasks:
a. Curating, writing, and scheduling tweets
Curating tweets can be especially time-consuming. To help yourself do this more effectively, you could either search for relevant keywords using Twitter search or create a list of influential thought leaders.
Writing tweets on the other hand, is often more of a hit-and-miss for most marketers. You can find many "formulas" online that make writing tweets a breeze, but the key ingredients for a successful tweet often include both good copywriting and consistency in brand voice. So while you might find the templates online useful, you should take a step further and customise them according to your needs. If you're new to copywriting, make sure you grab this free copywriting guide by Copyblogger first.
Once you have curated interesting and relevant content for your followers and produced copy for each of them, you're ready to schedule all of your tweets. Will you publish daily, weekly, or monthly? Follow a schedule and make it as similar as possible for each account. Different schedules will affect the way you work.
Scheduling tweets nowadays is extremely easy. Some tools that you can consider include Buffer, Hootsuite, and our very own Agorapulse.
The advantage of using a tool like Agorapulse over specialised social media scheduling tools like Buffer and Hootsuite is that you get access to many other useful features that can help you manage your account more effectively on a daily basis. Being a user of Agorapulse myself, I love the Facebook posts calendar, because you can see when you posted, what you posted, and what you scheduled for the upcoming days, weeks, and even months. The same feature is also available if you use Twitter.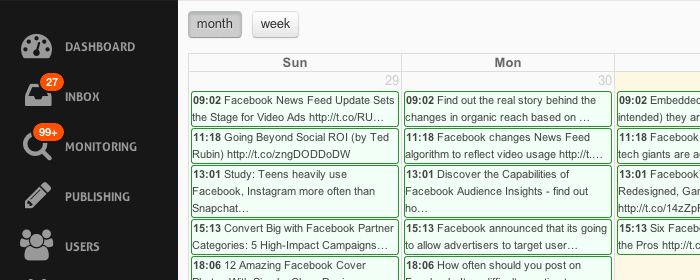 b. Managing interactions
Now, you'll need to reply to tweets, direct messages, and RTs, or follow up with those tweets that require further action that you couldn't complete immediately. For example, if you work in an environment where you have to contact your colleagues to clarify certain enquiries, you'll need to create a workflow that helps you to follow up on these tweets. Agorapulse's Twitter tool allows you to assign tweets to other page admins for them to respond to.
Managing interactions on Twitter is now considered a top priority for many businesses. There were a couple of well-publicised reports that showed how demanding customers can be – 72% of them expect a reply to a complaint within an hour. But in general, the acceptable response time is around 24 hours. This means that you only need to check once a day.
c. Monitoring tweets and identifying opportunities to interact with target audiences
Sifting through thousands of tweets each day to find the people who may need our product or service and strike a conversation with them is so time consuming many community managers just don't do it. This is another area where tools like Agorapulse can really help.
Each time you find such a person, you'll want to add them into a Twitter list. Over time, you'd curate a highly targeted list of people who may need your product or service. When you feel that it is helpful for the person to subscribe to your email list, you can make use of Twitter lead generation cards to simplify the signup process.
We'll go into details on how much time you should spend on each task later.
d. Listening to what people are saying about you and your competitors
Twitter has an edge over the other social media platforms because it is both open and updated in realtime. These characteristics make it the perfect brand monitoring tool. With over 500 million tweets a day, how do you sort through the clutter?
You can make use of tools that crawl through all the tweets to find the most relevant information for you. Most of these tools work like Google Alerts – where they send you a periodic report of tweets that are relevant to keywords that you specified. They include:
o
Hootsuite
o
Tweetreach
o
Klout
o
Socialmention
o
Twazzup
o
Addictomatic
o
Howsociable
o
Icerocket
o
Tweetdeck
o
Reachli
o
Agorapulse
If you want more information on any of the first 10 tools, you can refer to this list shared by Brandwatch.
Agorapulse also introduced a Twitter monitoring tool when it launched earlier this year. Setting up alerts is simple.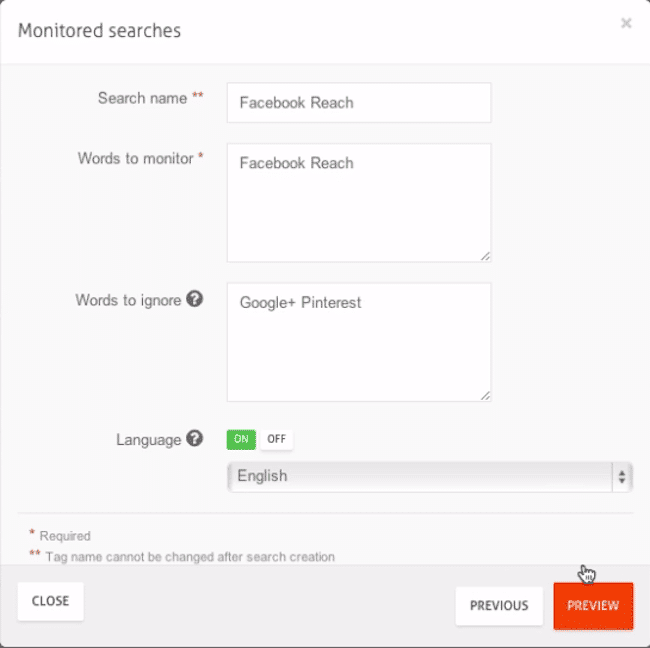 First, give your search a name, preferably something that will tell you what the search is about in a glance.
Second, enter the keywords you'd like to monitor, and it is generally good to be as specific as possible.
Third, choose keywords that you want to ignore in a tweet, so that the daily report does not pick it up. This is also my favourite feature since it allows you to take away a lot of search results that would be irrelevant.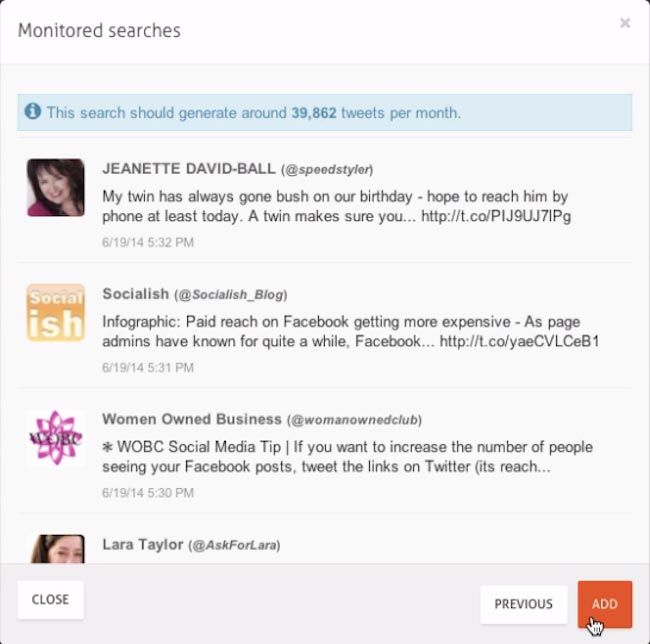 When you're done, simply click on "preview" and you'll see a list of real results based on existing tweets. Once you're sure that you have included the keywords you want to check and excluded the results you do not want, then click "add" and you're ready to go.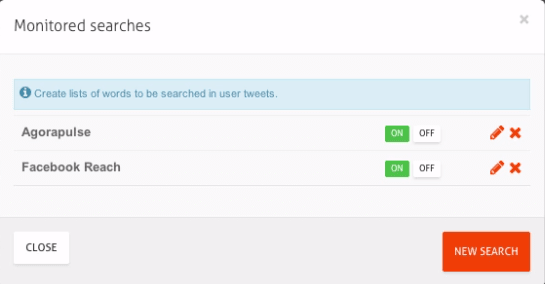 You'll arrive at a page with a list of searches that you have created thus far. As you can see, turning a search on or off is simple – go ahead and try to create as many as you need!
2. Allocating time between each account
Yes, you should be clear about how much time you can take for each account, if you aren't.
You can allocate time between each account in many ways:
o
Management fees: How much are they paying you relative to other clients?
o
Number of tasks: How many tasks do you need to complete for each account?
o
Estimated time required to complete all the tasks: How much time do you need to do 'all the things' for an account?
The key here is knowing how much time you have and not exceeding it!
If you find yourself consistently exceeding the time you take to complete these tasks, it's time to review each task and see where the problem lies.
3. Experiment with apps and stick with one that works
You heard me. Honestly, you don't have to use the same tools as I do, as long as what you're using is time-effective.Stay away from lists like "20 Twitter management tools you should give a try". Most of them do the same thing – they are time wasters. Instead, since you already know what you need to do, look for one among the top tools that works (proven!) and stick to it:
Here's a few I use consistently:
o
Buffer: Scheduling not just tweets but also other social media messages. Use this if you find yourself managing more than just Facebook and Twitter
o
Agorapulse: Agorapulse offers all-in-one solution for both Facebook and Twitter and most of my clients only work with these two platforms, I always recommend this one. Not only can they schedule their Facebook posts and Tweets using Agorapulse, they can also check whether they have scheduled them properly and look back some time later to see if they practised posting consistency.
o
Tweetdeck: I love to be able to see all the relevant tweets for specific keywords across one dashboard, including hashtag chats that update "live". This tool does that for me.
4. Focus
Perhaps some of you are already thinking through your minds, "Isn't this FLUFF?"
No. In fact, quite a lot of you underestimate the power of focus.
But I wouldn't blame you, since 90% of articles out there often list the most common tips to becoming more productive – many of which fail to deliver even 10% of the promise their headlines make.
Most people think of focus as what they should be doing. But a more effective way to focus on something is to also know what you should not be doing
Here's how to do it:
o
List the top 25 things you need to get done (or as many as you have, less than 25)
o
List the top 5 things you need to get done
o
The tasks in the top 25 but not in the top 5 are your avoid-at-all-cost list
o
Make another list of thing you shouldn't do, for example:

o
Browse your Twitter home feed. You should be using Twitter lists to create highly focused feeds if you haven't already

o

Click on links that are not related to your work e.g. Little-known bars that serve the best tapas in Barcelona 😉
So now, you have two avoid-at-all-cost lists. As long as you are able to make sure that you don't do any of those things while completing your daily routine for all your Twitter accounts, you should be able to accomplish everything under 60 minutes.
Conclusion
It is definitely possible to manage multiple Twitter accounts in a short span of time if you know exactly what you need to do, have a proper workflow for it, and you avoid doing things that waste your time. Is there anything else that you added to your Twitter workflow that has saved a lot of your time? Share with us in the comments below.