Managing social media for business-to-business (B2B) companies or agency clients often seems more challenging than marketing directly to consumers. From choosing the most effective channels to deciding on the right tone of voice to creating compelling content, B2B social media marketing requires a unique approach.
So how can you successfully market a B2B company using channels like Facebook, LinkedIn, and Twitter? Check out three B2B social media case studies to inspire your strategy—no matter what stage of the sales funnel you need to target.
What Is B2B Social Media Marketing?
Strictly speaking, social media marketing for B2B companies isn't too different from promoting business-to-consumer (B2C) organizations. Both types of companies use a variety of social channels to publish content, engage customers, and aim to get conversions. And both B2B and B2C companies tend to leverage a mix of paid and organic social media.
Even so, as you'll see in the B2B case studies, social media marketing strategies require a few important adjustments.
Let's look at a few of the key differences.
Social channels
There's no definitive list of social channels that B2B organizations can or can't use. Choosing the right channels for your company is generally a case-by-case situation that requires audience and market research.
But some social channels naturally work better for B2B businesses because of their user base and native tools. For years, LinkedIn and Facebook have stood out as the most popular B2B marketing channels. However, many businesses also use Twitter to connect with customers and YouTube for long-form video.
Target customers
When marketing their products and services, B2C companies generally speak directly to individual customers. These target customers can make their own decisions for themselves or their families.
In contrast, B2B companies target other businesses. To get buy-in from companies or departments, marketers typically have to target decision makers with various levels of authority.
Tone of voice
Don't assume that B2B marketing has to sound stiff or formal. After all, B2B marketing material often targets chief executive officers (CEOs) and other powerful decision makers.
But there's no rule that B2B content has to sound stuffy—or that it can't include emojis. Instead, B2B content should use a brand voice that fits your company's image and values. And keep in mind that conversational content is almost always the best way to connect with the human decision makers you're targeting.
Content tools
As a social media manager, you can access the same set of tools whether you're working with a B2B or a B2C company. However, some tools are much more valuable for B2B marketers because of the sales cycles and decision-making processes involved.
Some of these B2B content tools include the following:
Lead magnets that encourage prospects to provide their contact details in exchange for a high-value asset. For example, you may offer case studies or white papers.
Webinars and product demos that require prospects to register to access exclusive knowledge or a closer look at your product.
Native lead forms that allow prospects to request more information about your products and services without leaving the social media platform.

Use Cases for B2B Social Media Marketing
Now you've got an idea of how B2B content often looks and sounds. But what are the most effective ways to use it? Before we delve into social media B2B case studies, let's look at how to align this content with your sales funnel.
Boost awareness
Is your business new to the market or seeking to expand its customer base? In either case, increasing awareness is essential for growth.
With awareness-focused social content, you can introduce your business to new products. You can also put your products and services on potential customers' radar. Over time, you can highlight features and benefits to make prospects aware of the value your business offers.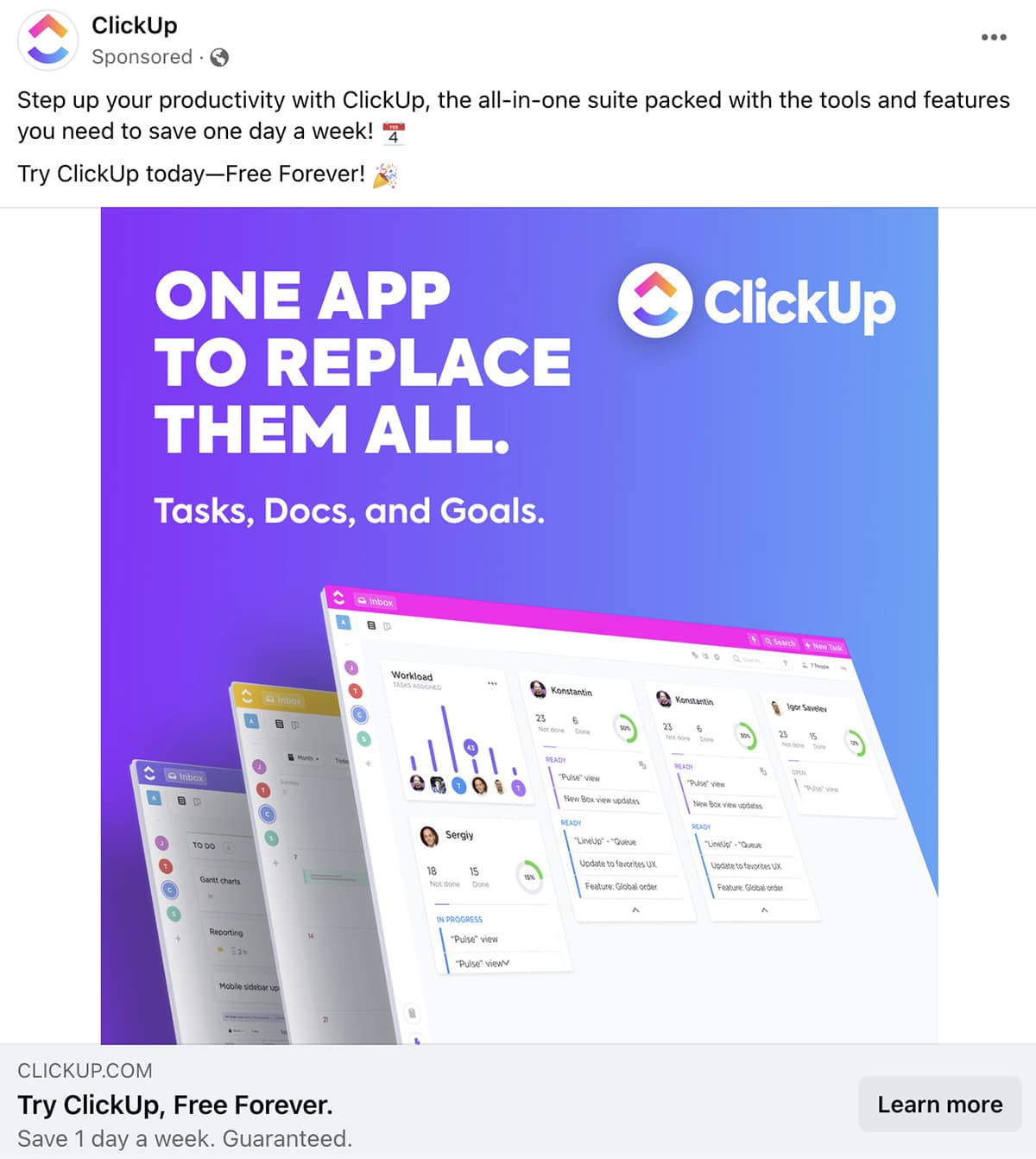 Take a look at the ClickUp Facebook ad above, which is great for brand awareness. The eye-catching creative uses a succinct tagline to tell prospects exactly what the app does. The subheading lists three key aspects of the productivity app, so people instantly understand how it works.
The caption uses a CTA that encourages prospects to use the app to boost productivity. And it seals the deal with a pretty impressive takeaway: The app can help you "save one day a week."
Establish trust
Most B2B companies aren't selling frivolous items. Instead, the products and services that these companies offer can make a measurable impact on their customers—helping them work more efficiently, produce better results, reach higher goals, and grow their own businesses.
That's why establishing trust should be a key part of any B2B company's marketing strategy. You can use channels like Facebook and LinkedIn to share social proof, publish thought leadership, and communicate your company values.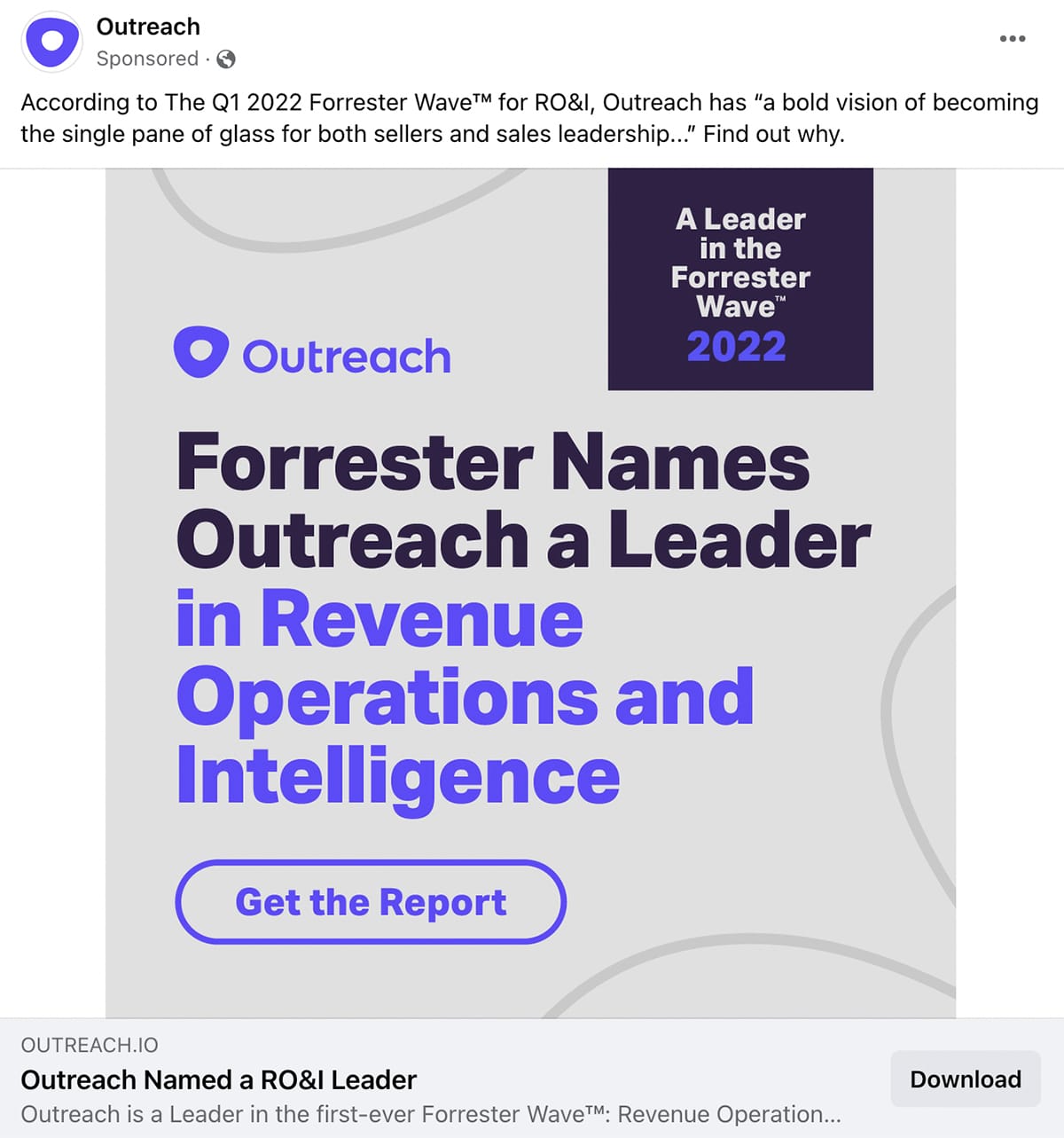 The Outreach Facebook ad above seamlessly handles credibility. The creative boldly confirms the company's status as an industry leader. The caption quotes a well-known third-party source to communicate the company's position in the industry, effectively building on preexisting trust.
The ad points to a third-party report prospects can download learn more about Outreach. By offering this report in exchange for prospects' contact details, the company can begin collecting and qualifying leads.
Generate leads
Once prospects trust your business and understand what it offers, they may be ready to take the next step. When you turn prospects into qualified leads, you can start nurturing your relationship with more targeted content.
Social channels offer countless opportunities for organic lead generation. After all, you can easily post links to lead magnets and webinars on your social profiles. But these channels are particularly effective at paid lead generation. For example, channels like LinkedIn and Facebook offer high-performing native lead ads.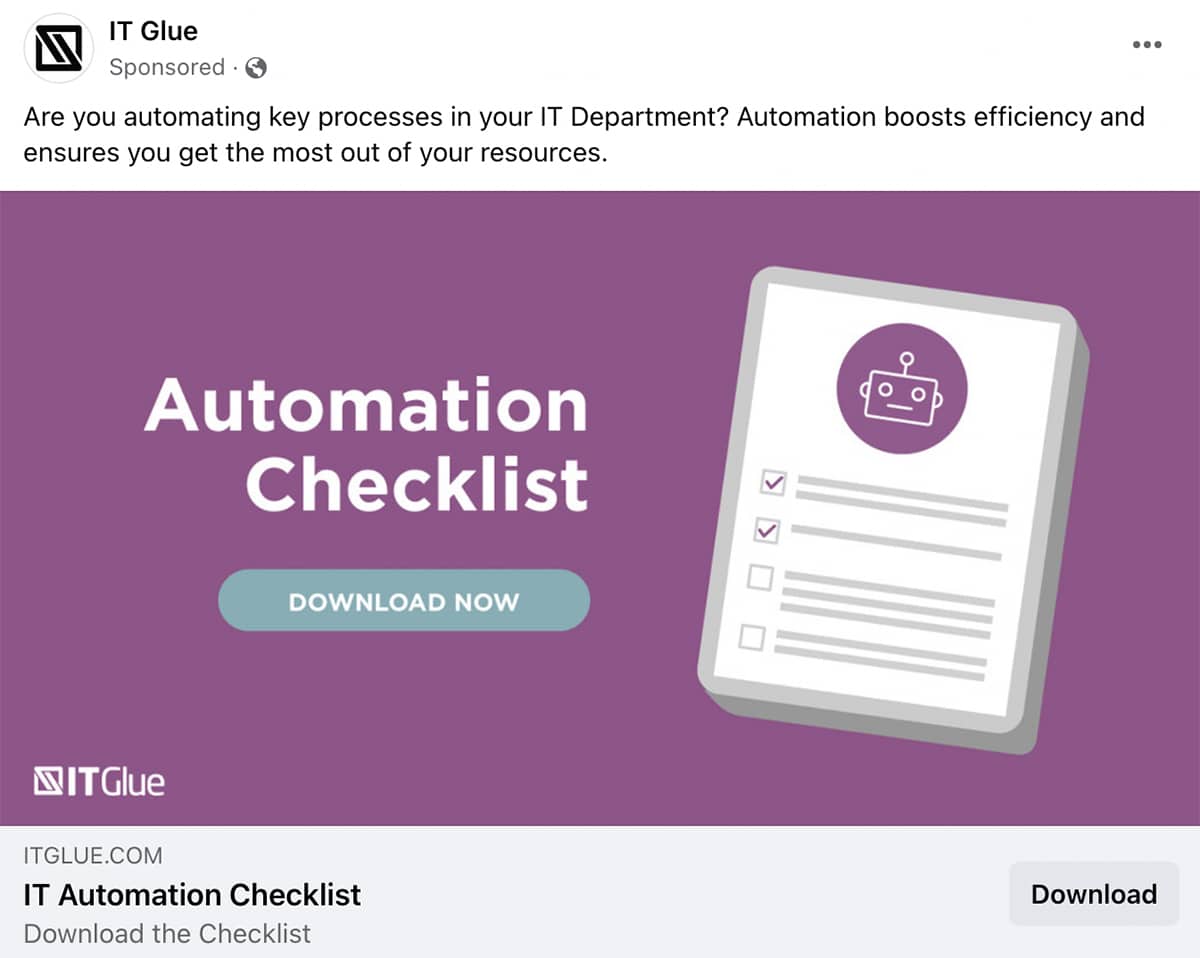 Above, the Facebook ad by IT Glue offers a helpful checklist to prospects seeking to automate IT processes. This simple lead magnet is great for helping prospects solve a problem while learning more about the company.
Below, the Miva, Inc. LinkedIn ad takes a similar approach. In exchange for prospects' contact information, it offers a downloadable five-step assessment designed to guide people through problem-solving.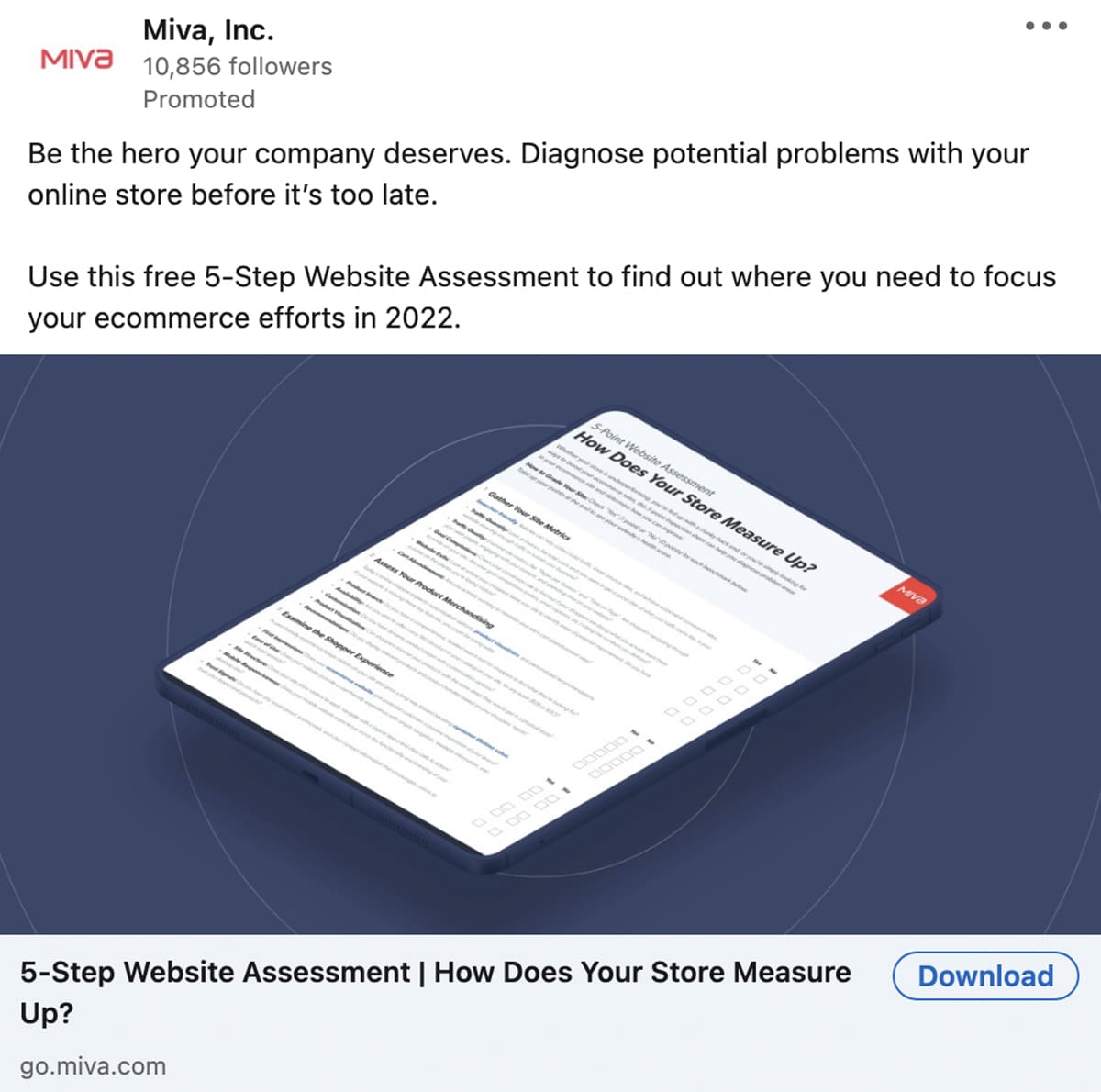 Convert prospects
In many cases, you can use social media content to give prospects that final nudge from qualified lead to happy customer. Depending on the nature of your product or service, linking to a free trial, a paid subscription, an e-commerce page, or a sales page could drive conversions.
When you want prospects to convert, you need to think about creative ways to incentivize them. Free add-ons, limited-time offers, and limited-quantity discounts can all prompt qualified leads to take that final step.
Above, the Cardata LinkedIn ad captures prospects' attention with a promise to streamline vehicle reimbursement calculations. The copy and creative both feature social proof that inspires trust, and the CTA prompts prospects to give the app a try.
Below, the Shopify Facebook ad catches prospects' eyes with a promise to help scale their businesses. The caption lists several features e-commerce business owners are likely to need, and the creative prompts them to get started with a free trial.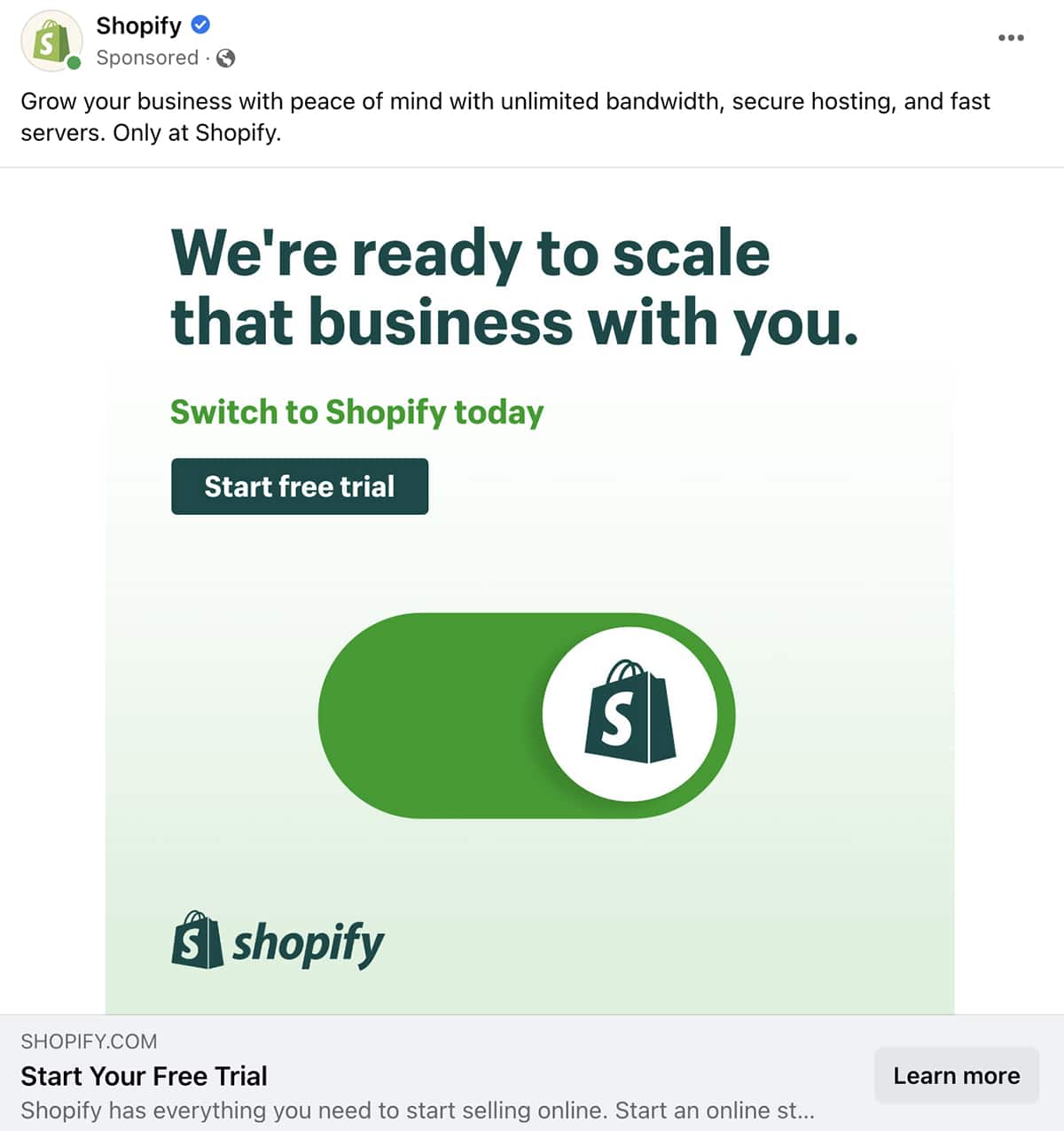 Support customers
Once you convert customers, you can use social media to help them maximize the value from their purchase. It's a good idea to think beyond customer support and brainstorm ways to help customers use your product or service more effectively.
For example, you can share advanced tips to help customers get more out of your product or service—and pique the interest of prospects at the same time. You might also discuss your loyalty program or spotlight longtime clients. These tactics allow you to give clients the accolades they deserve while also turning them into advocates for your business.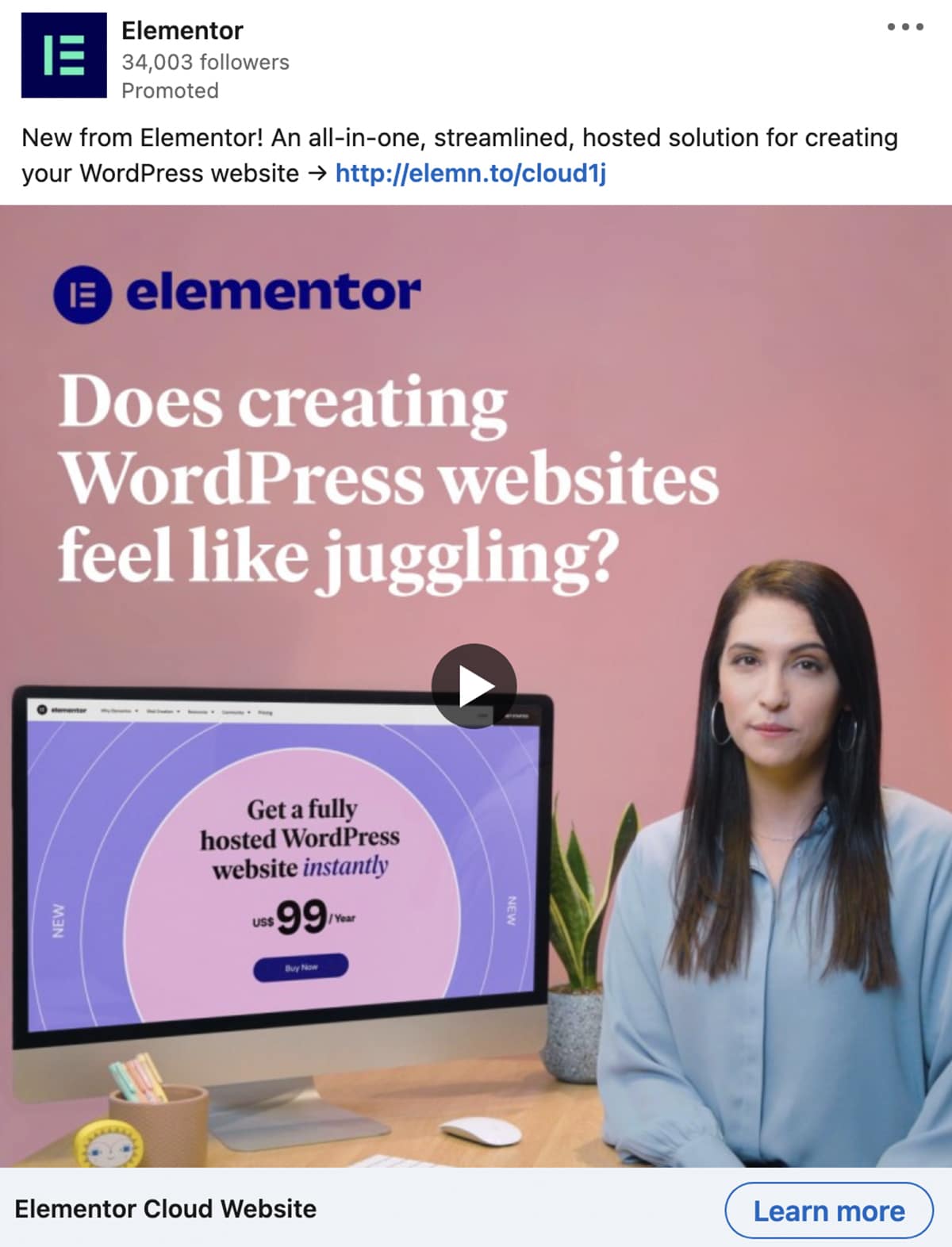 Above, the LinkedIn ad by Elementor targets people who are already familiar with the company's website builder. By introducing a new product, the company can upsell to existing customers and deepen the relationship.
Three B2B Social Media Case Studies to Inspire You
Wondering how real-life B2B companies have applied these tactics on social media? Take a look at three B2B social media marketing case studies to get ideas for your business's own strategy.
1. Turface Athletics and Profile Golf
Turface Athletics and Profile Golf, two brands under the Profile Products umbrella, worked with Elevation Marketing to address social media engagement for their B2B profiles. Take a look at what they achieved.
Challenge
Both brands are well-established in their respective niches. Turface Athletics provides field maintenance products for athletic fields, and Profile Golf specializes in golf course maintenance solutions.
Despite their strong positions in their respective markets, both brands were experiencing low engagement across social media channels. Although the brands published social media content consistently, they did so from a single company profile on a limited range of channels.
As a result, the B2B company struggled to increase awareness or drive consideration among new potential customers. That meant they weren't leveraging social media marketing effectively or using available tools to reach business goals successfully.
Approach
First, the agency conducted market research to get up to speed on industry trends and competitor strategies. The agency also performed a social media audit to review past performance and assess best practices for positioning the brands going forward.
After the preliminary research and audit phase, the agency determined that the brands would benefit most from a full-scale social media strategy across major channels. The agency proposed to plan engaging content designed to attract the brands' target audiences.
In addition, the agency proposed to create distinct brand presences for Turface Athletics and Profile Golf on Twitter and Facebook. Doing so would allow the two brands to differentiate themselves, reach more relevant audiences, and (periodically) share or distribute each other's content to increase reach and engagement.
The agency also designed an influencer marketing program to improve the brands' Instagram presence. Ideally, partnering with influencers would give the brands access to more lifestyle photography while improving brand loyalty.
Outcome
Over a six-month period, both brands saw impressive growth across all social media channels. The Turface Athletics Facebook page saw a 268% increase in engagement and a 44% increase in impressions, which suggests that the content truly resonated with the target audience. The strategy also drove 74% more web visits, a significant increase to the brand's web traffic.
During the same period, content for the new Facebook page and Twitter profile for Profile Golf generated nearly 35,000 impressions. It also drives a 253% increase in web visitors.
Ultimately, building out new B2B social profiles and attracting followers can be resource intensive. But this case study shows that creating content that truly resonates can build brands and reach marketing goals effectively.
2. Semrush
Semrush, a software as a service (SaaS) company specializing in search engine optimization (SEO) tools, worked with Walker Sands to improve its Twitter presence.
Challenge
As a long-established brand in the SEO space, Semrush already had a presence on Twitter. However, the SaaS company had struggled to differentiate itself from its many competitors. As a result, brand recognition, product awareness, and conversions weren't as high as they could be.
By partnering with Walker Sands, Semrush aimed to improve engagement and increase brand loyalty. The SaaS company also wanted to set itself apart from competitors.
Approach
First, the agency used a combination of social listening and competitive research to pinpoint industry trends and understand how similar brands were using Twitter. Using this research, the agency recommended that Semrush adjust its brand guidelines for this social channel, essentially creating a separate, humor-focused persona for its Twitter profile.
To fine-tune this new brand voice, the agency developed Twitter content based on product and industry topics and recurring themes. The agency balanced content that promoted Semrush products with tweets that appealed to the brand's audience of experienced digital marketers.
In addition, the agency used social listening tools to monitor and chime in on trending topics. This tactic allowed Semrush to join viral conversations and discuss relevant news in a timely fashion—further increasing the brand's reach.
Outcome
Semrush began to realize results quickly. In the first month, the social media marketing plan generated over 250,000 impressions and nearly 18,000 engagements. The engagement rate exceeded 7%, demonstrating how well the content resonated with the target audience.
Although Semrush is in a crowded space with numerous well-established competitors, the brand was able to distinguish itself on Twitter. As a result, Semrush improved brand sentiment and gained share of voice.
3. Collective Data
Collective Data, a fleet management SaaS company, worked with Sculpt to streamline its lead generation process and improve its lead conversion rate.
Challenge
The SaaS company aimed to expand its presence in a specific market and secure more qualified leads across the nation. However, the marketing team's activities didn't necessarily align with the sales team's ambitious goals.
Approach
First, Sculpt worked with Collective Data to outline buyer personas for the newly expanded market. The agency also mapped out the customer journey to identify key points to target or remarket to the new audience. To establish goals, the agency set cost-per-lead and cost-per-demo targets for the company's campaigns.
To reach the company's target audience of law enforcement professionals, the agency worked with Collective Data to build LinkedIn ad campaigns. The company focused on LinkedIn's native lead forms, which allow prospects to provide contact information without leaving the platform.
To get more value from their efforts, the agency launched paid search and display remarketing pay-per-click (PPC) campaigns using Google Ads. The SaaS company also invested in conversational marketing tools to engage potential customers on other channels and guide them through the sales funnel.
Outcome
As a result of these combined efforts, Collective Data achieved an 8-12% lead conversion rate from online advertising. Compared to the SaaS company's previous lead acquisition methods, these efforts decreased the average cost-per-lead by 70%. In addition to helping the B2B company expand into a new market, this outcome contributed to a significant cost savings.
Aligning marketing and sales isn't always a smooth process. By clarifying customer personas and journey maps from the beginning and setting up complementary cross-channel campaigns, the agency successfully partnered with Collective Data to improve leads and conversions.
Wrapping Up What We've Learned About B2B Social Media Marketing
From boosting brand awareness to generating leads, these B2B social media case studies illustrate how businesses can reach target audiences and get results using the right channels. Use these case studies and use cases to guide your team in developing an effective social media strategy for your B2B company or agency clients.