With more than 750 million members, 600 million decision makers, and countless business pages representing virtually industry, LinkedIn is the top social media channel for professional and business-to-business (B2B) marketing.
Whether you want to share thought leadership, generate leads, or build your business, mastering LinkedIn marketing is essential. So what's the best way to get started with this social media channel?
Let's look at how to use LinkedIn for marketing—from establishing yourself with a personal profile to promoting your business with a company page.
What Is a LinkedIn marketing strategy?
A LinkedIn marketing strategy clarifies your goals and audience, identifies the tools to use, and provides justification for investing in resources. It's essentially a roadmap you can refer to as you create content and allocate time for the social media channel.
Identify your marketing goals
First, define what you want to accomplish on LinkedIn. That way you can make a plan that supports your goals. For example, your LinkedIn marketing goals might include …
Growing your audience and attracting more followers
Establishing yourself as a thought leader by sharing valuable insights and content
Generating leads with lead magnets, subscriptions, free trials, and product demos
Acquiring new customers and closing deals
Cultivating a community of loyal customers
Deciding on a general goal is a great start. But when you use the SMART goals framework, you can turn your LinkedIn objective into something you can actually work toward and achieve.
Here's how:
Specific. State the what and the why. For example, you may want to attract more followers so you can add more people to your sales pipeline.
Measurable. Define the social media metric for tracking progress. For example, you may want to reach 1,000 followers for your company page.
Attainable. Use data to confirm that your social media goal is reachable. For example, you may need to review industry benchmarks to confirm the average cost per follower.
Relevant. Confirm that your goal aligns with your business needs. For example, you may need to clarify if new prospects would help you reach revenue goals.
Timely. Assign yourself a deadline. For example, you may want to reach your goal by the end of the next quarter.
Know your target audience
Because LinkedIn is home to such a large user base, it's important to narrow down the types of people you want to reach. Once you identify your target audience, you can create more relevant content and choose more effective tools—and avoid wasting resources in the process.
To define your target audience on LinkedIn, use your existing buyer persona or draft a new one.
Your buyer persona should clarify your audience's:
Age range
Gender ratio
Location
Industry
Job title
Seniority
Challenges
Problems
Choose the right tools
From native LinkedIn capabilities to third-party apps and platforms, you need the right tools to market yourself and your business on LinkedIn.
First, decide whether you need a LinkedIn profile, page, or both:
LinkedIn profiles are for individuals. They let you publish content and provide access to messaging, services, and creator tools like newsletters.
LinkedIn pages are for organizations. They let you publish content and provide access to analytics, advertising, and employee advocacy.
Next, consider additional tools that can help you accomplish more and work more efficiently. Some of the most useful LinkedIn tools include:
Social media management tools like Agorapulse, which let you schedule content, manage engagement, and produce insightful reports
Design apps like Canva, which help you create eye-catching graphics for organic and paid content
Video tools for LinkedIn, which help you create content that stands out
Live streaming platforms like Restream, which allow you to broadcast from LinkedIn and other channels simultaneously
LinkedIn Sales Navigator, a native tool that helps you find and track leads so you can make more sales
Set a LinkedIn marketing budget
It's free to create a LinkedIn profile or page. But even if you focus solely on organic tactics, social media marketing isn't free.
When you take the time to draft a budget, you'll know exactly how much you can spend on everything from hiring staff to running ads.
Here are a few elements to factor into your LinkedIn budget:
Social media team members to schedule content and respond to engagement
Content production via an in-house team or a third-party agency
Third-party tools for design, scheduling, and live streaming
Advertising campaigns to help you reach bigger goals more quickly

LinkedIn Best Practices for Your Profile
If you want to use LinkedIn to cultivate your personal brand or share your company's content, focus on your profile. Here's a look at some best practices for your LinkedIn profile.
Optimize your profile
Start by making your LinkedIn profile as visible as possible. By adding keywords throughout your profile, you can increase the chance of your profile appearing in relevant searches on LinkedIn. It's as easy as identifying popular terms for your industry and weaving them into the headline and experience sections of your profile.
In your headline, consider highlighting the value you provide rather than listing your job title.
For example, rather than using Customer Support Specialist as your headline, you might write something like I create positive customer experiences that improve loyalty and grow small businesses.
Turn on creator mode
To get access to even more profile tools, go to your dashboard and turn on creator mode. With creator mode enabled, you can add up to five topics you specialize in, which appear as hashtags on your profile.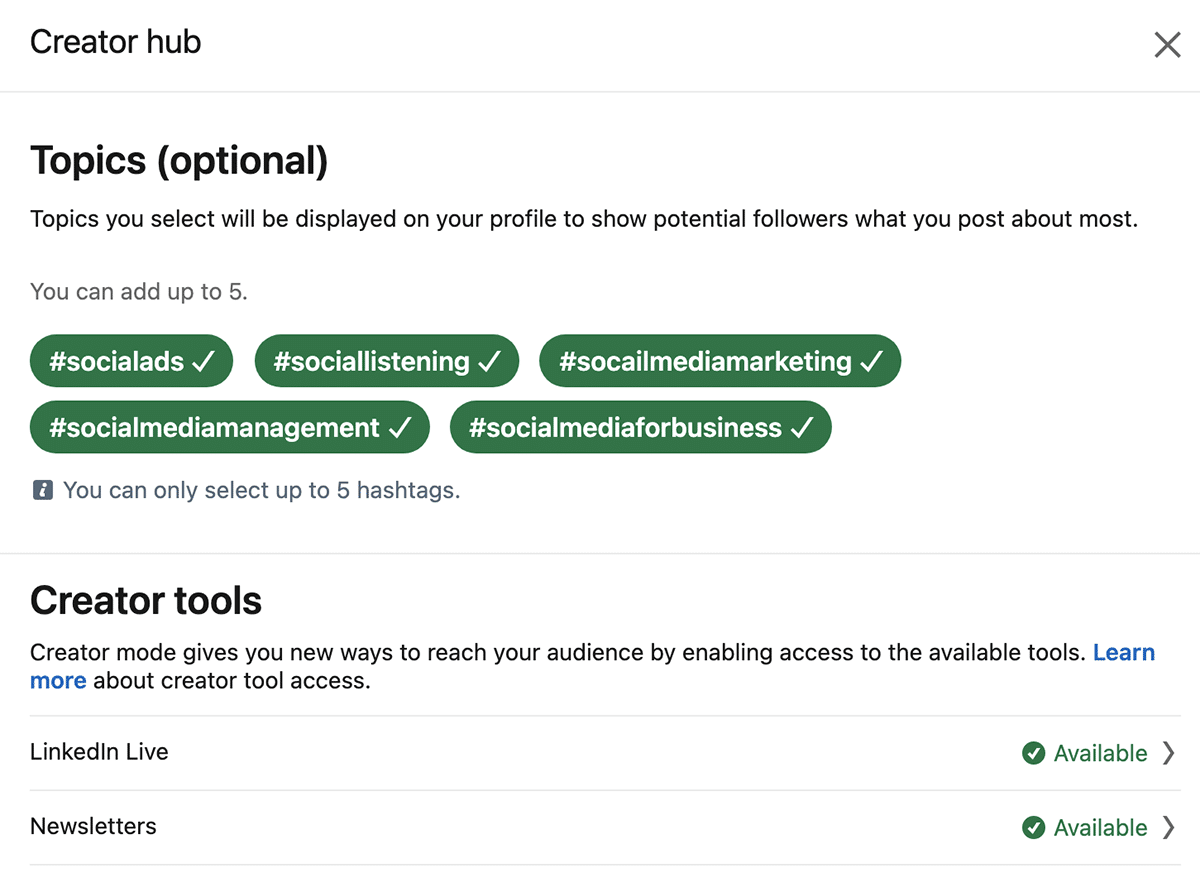 In creator mode, you can also feature your best content at the top of your profile. That means you can showcase your top-performing LinkedIn posts, content from your blog or website, or even PDF and other media files.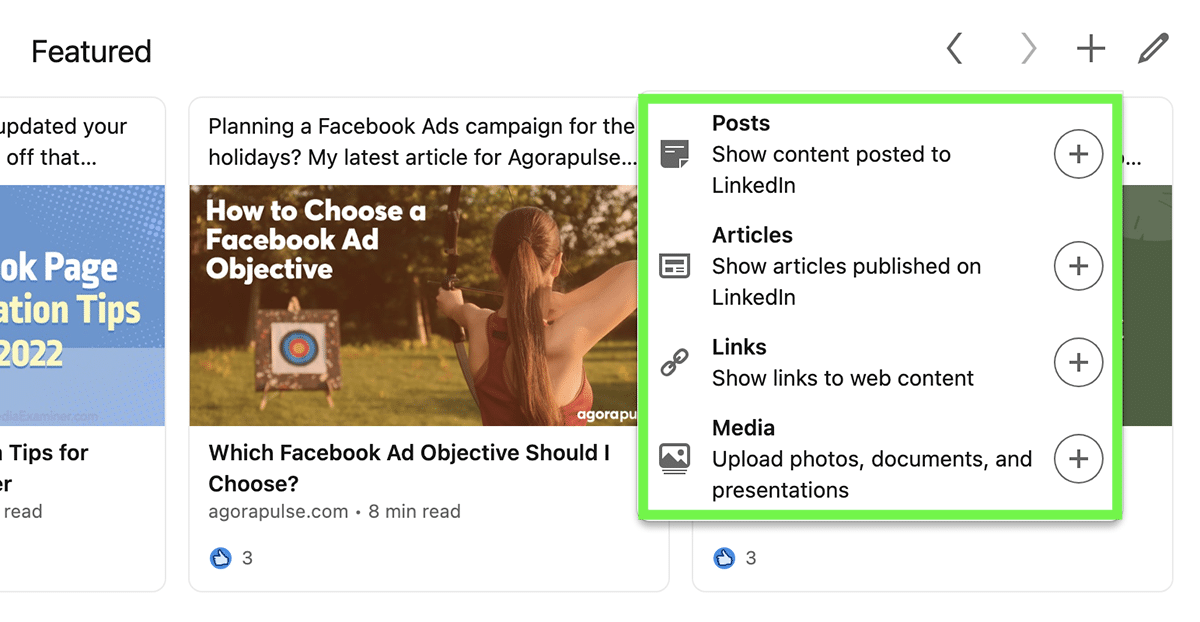 Stick to a publishing schedule for LinkedIn marketing
No matter your LinkedIn goals, creating a consistent publishing schedule is key. For most people, posting once a day is ideal. To determine the best time to post on LinkedIn, figure out when your audience tends to be most active. In most cases, in the middle of the workday is the optimal time to publish content.
To make sure you publish at the ideal time, you can use Agorapulse to schedule most of your profile content in advance. Agorapulse supports scheduling for posts (not articles) and streamlines republishing evergreen content on LinkedIn.
Although it's best to keep a consistent schedule, it's a good idea to mix up the type of content you post. Rather than writing lengthy text posts every day, test out different types of content to see what drives the most engagement or traffic. Options include:
Text posts
LinkedIn posts can be up to 3,000 characters long, giving you plenty of space to share your message. But you don't always have to use the maximum word count. Instead, vary the length of your posts so you can appeal to a wider group of prospects.
Text posts are ideal for telling stories and sharing insights that don't need graphics or external links. However, they can include emojis to break up text blocks and hashtags to increase your reach.
LinkedIn articles
As LinkedIn's answer to blog posts, articles can be up to 110,000 characters long—or over 15,000 words. Since they can appear in Google searches, LinkedIn articles are ideal for complex concepts that you'd like to share with a wider audience.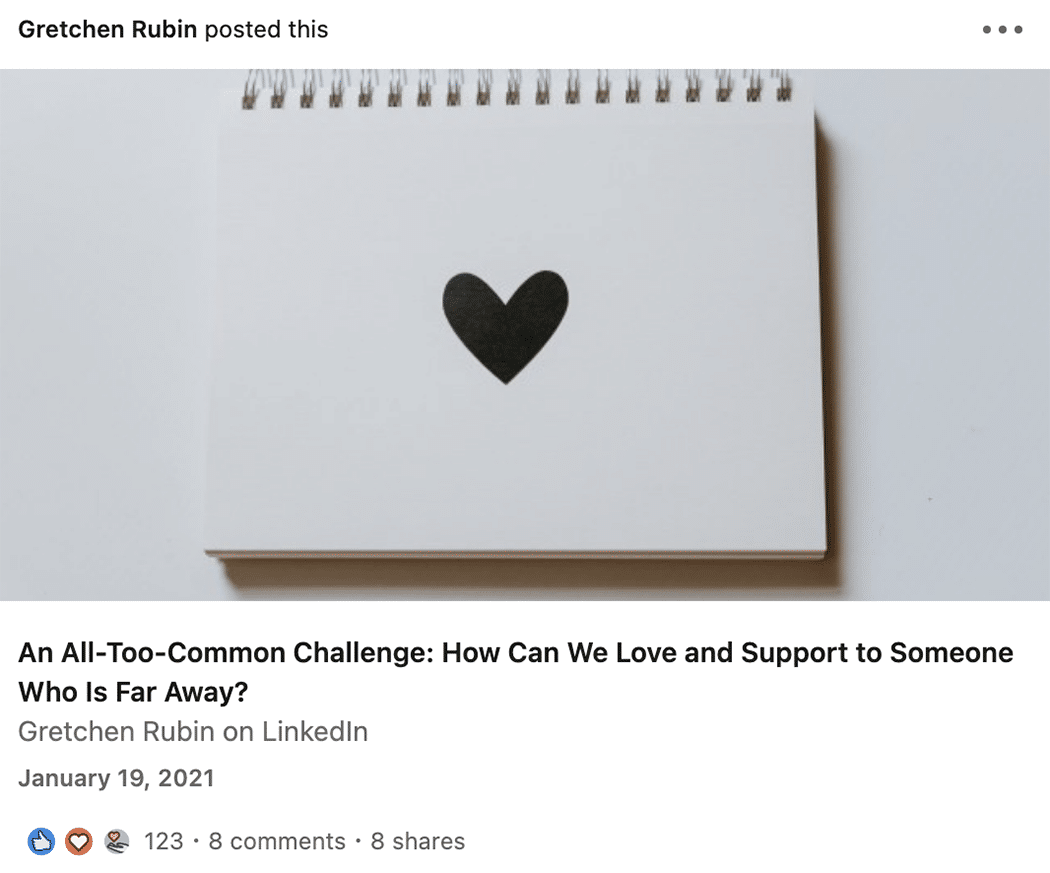 While articles should always feature your own content, they don't have to be completely original to LinkedIn. You can syndicate posts from your blog on LinkedIn to get more views and establish yourself as a thought leader.
LinkedIn newsletters
With LinkedIn newsletters, you can easily turn a single article into a weekly or monthly series—truly allowing you to establish yourself as a thought leader. Newsletters also allow signups so subscribers get notifications every time you post, potentially increasing impressions and engagement.
Link shares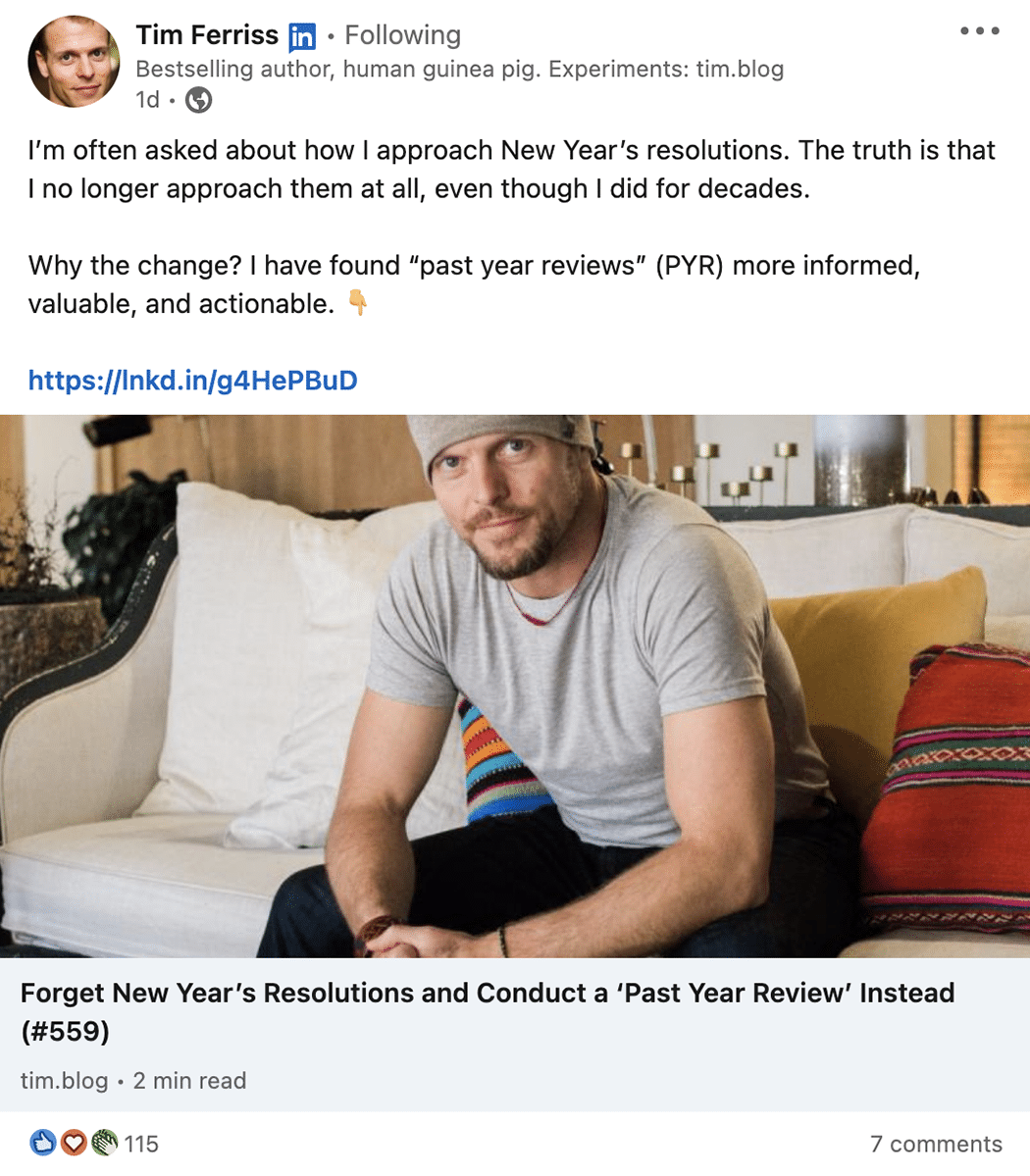 If you want to share blog posts, web pages, and other external links, you can add them to LinkedIn posts. LinkedIn automatically turns links into preview cards, which show the linked page's headline, a preview of the content, and a hyperlinked image.
Curated content for LinkedIn marketing
You might have a lot to say on LinkedIn. But if everything you post promotes your own content only, your followers might start to tune you out.
To avoid completely self-promotional posts, add curated content to your publishing schedule. In other words, share links to content from creators you trust or admire. If you tag them in your LinkedIn posts, you may be able to start a conversation that provides even more value.
Monitor engagement
If your content resonates with your audience, you can expect to get engagement on your posts and articles. Keeping track of all the comments isn't always easy, but Agorapulse's social media inbox can help.
Once you connect your LinkedIn profile, Agorapulse automatically collects all your comments in a designated social inbox. You can read and respond to comments in Agorapulse to make sure you don't miss anything.

If your content receives a lot of engagement, you can use Agorapulse's automated moderation rules to save time. For example, you can automatically delete spammy comments or create saved replies for faster responses.
Start a LinkedIn group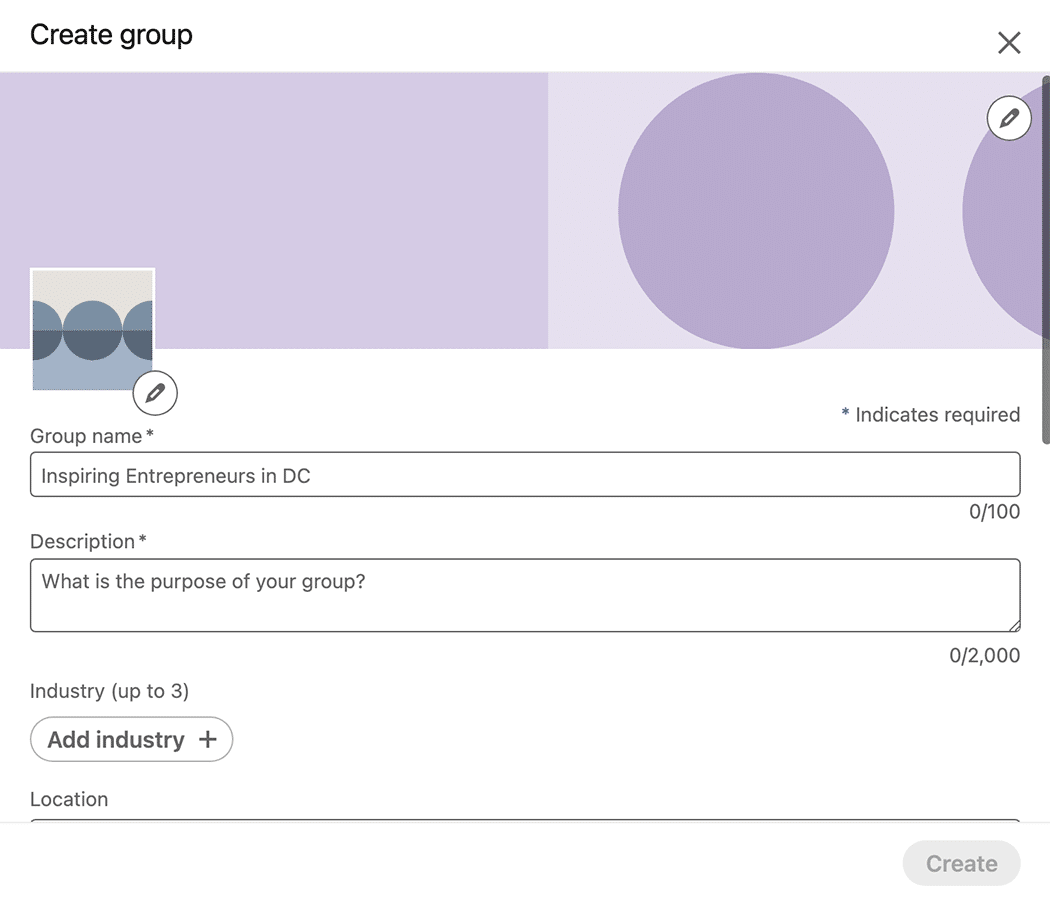 To start even more conversations, you can create a LinkedIn group. Essentially a space to discuss niche topics, share resources, and provide tips, LinkedIn groups are great for networking and establishing yourself in an industry.
Since you can share your profile content to your groups, they're also great for getting more traction or feedback.
Follow hashtags

Rather than waiting for engagement to come to you, make a point of following creators, companies, and hashtags that are relevant to your brand. You can find examples of all three by using the LinkedIn search bar. Once you follow people, companies, and hashtags, they'll appear in your news feed.
LinkedIn Company Page
If you want to use LinkedIn to grow your business or run ads, focus on your LinkedIn company page or showcase page.
Are you curious about the difference between the two? Every business needs a LinkedIn company page, which serves as your organization's public profile.
If your company has a variety of brands or business units, you can link multiple showcase pages to your company page. Company and showcase pages have similar publishing capabilities.
Optimize your LinkedIn page
Similar to profiles, LinkedIn pages should include keywords for search engine optimization (SEO). You can weave keywords into your page's description and about sections.
Next, add a button to your page. You can choose from a handful of calls to action (CTAs) like Contact Us or Sign Up and add a link to your website.
If you or your organization has a relevant LinkedIn group, you can feature it on your page. That way you can make your group more visible and attract more members.
Create high-quality content for LinkedIn marketing
Like profiles, pages tend to perform best with consistent publishing schedules and daily posting. Although profiles and pages have access to similar publishing tools, you'll want to take a slightly different approach when creating LinkedIn page content.
Share blog posts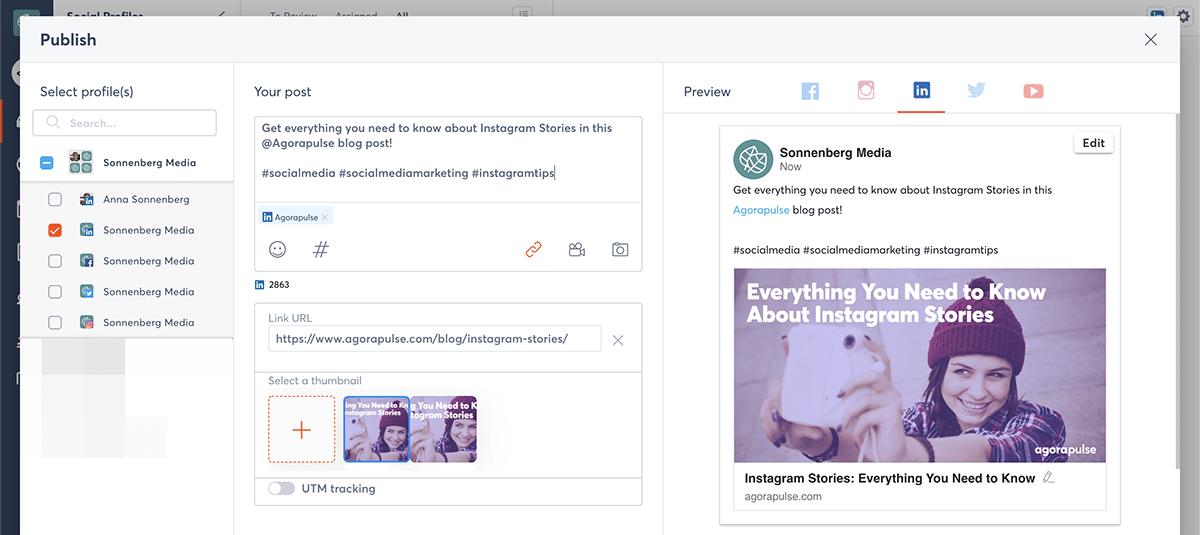 Does your company have a popular blog with tons of helpful posts? You can share the best ones by scheduling a post in Agorapulse. Paste the link, write a caption, add hashtags, and even tag creators or brand partners. To republish evergreen blog posts, choose Republish regularly or Schedule again.

Ask questions
Do you want to do market research or get your audience's feedback? You can ask questions in any post or article you publish. But when you want your questions to stand out, consider creating polls instead.
Polls can include up to four custom answers and can last for up to two weeks. You can also encourage followers to write unique responses in the comments.
Produce documents
Although LinkedIn doesn't allow organic carousel posts, you can create documents that are up to 300 pages long. For best results, keep yours to 10 pages or less and use a design app to make each page stand out.
With documents, you can do anything from sharing tips to explaining a step-by-step process.
Create lead magnets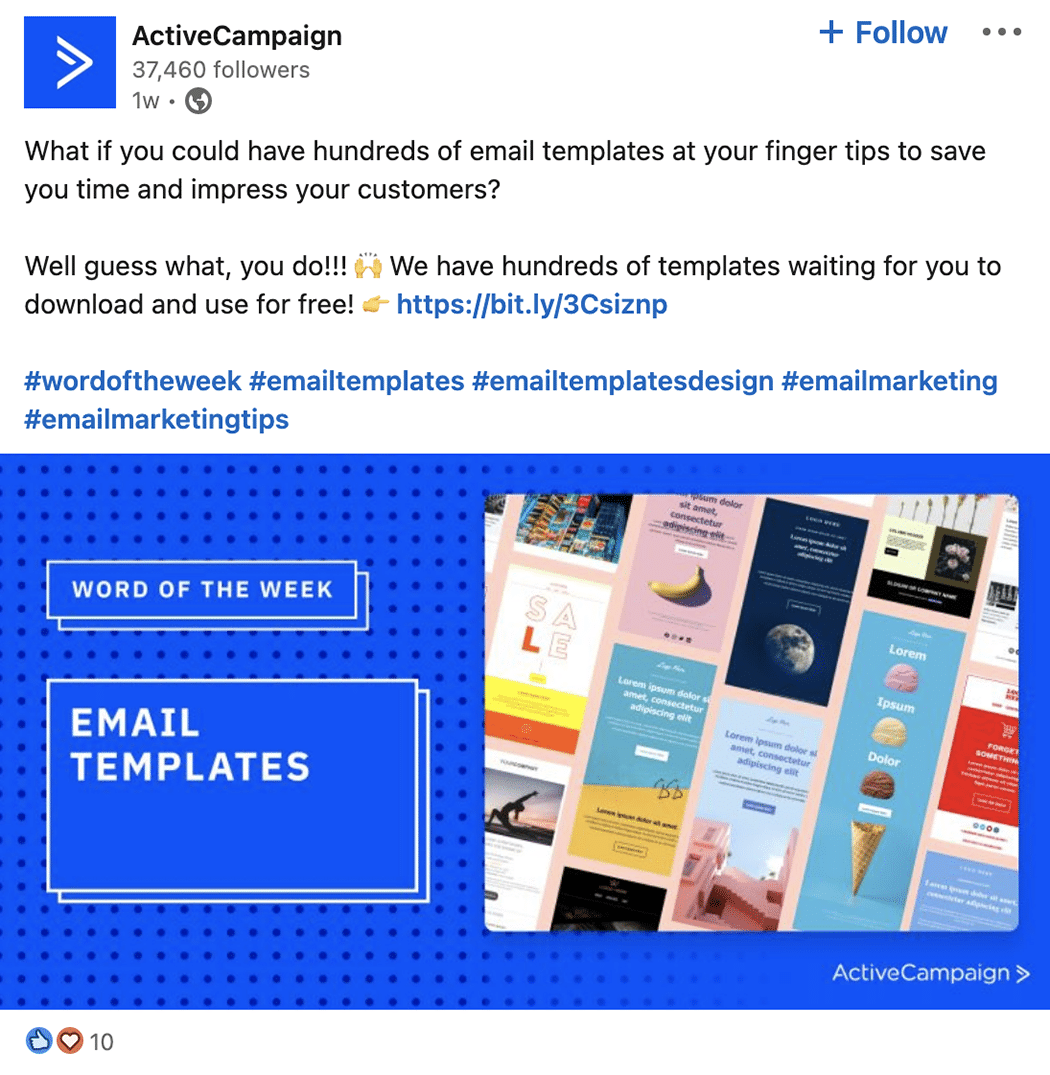 You can also share links from your LinkedIn page—but they don't necessarily have to direct to blog posts. Instead, consider sharing gated content or lead magnets that encourage prospects to trial your service or sign up for a product demo in exchange for something of value.
Upload native video
Native video is especially important for LinkedIn pages, as this type of content is known for generating higher engagement and starting more conversations. You can schedule native video uploads from Agorapulse, and you can use the Canva integration to pull content right from the design app.
Host LinkedIn Live events
If your organization is planning to host a virtual event, LinkedIn Live may be the ideal choice. Since they tend to get exponentially more engagement, live streams are ideal for interacting with your audience.
You can schedule LinkedIn Live events in advance and create event pages that you can share with your audience.
Get employees involved
Do you want your company page content to reach a wider audience? You can easily share content with all the team members connected to your page. Above any post, click the three dots and select Notify Employees from the dropdown menu.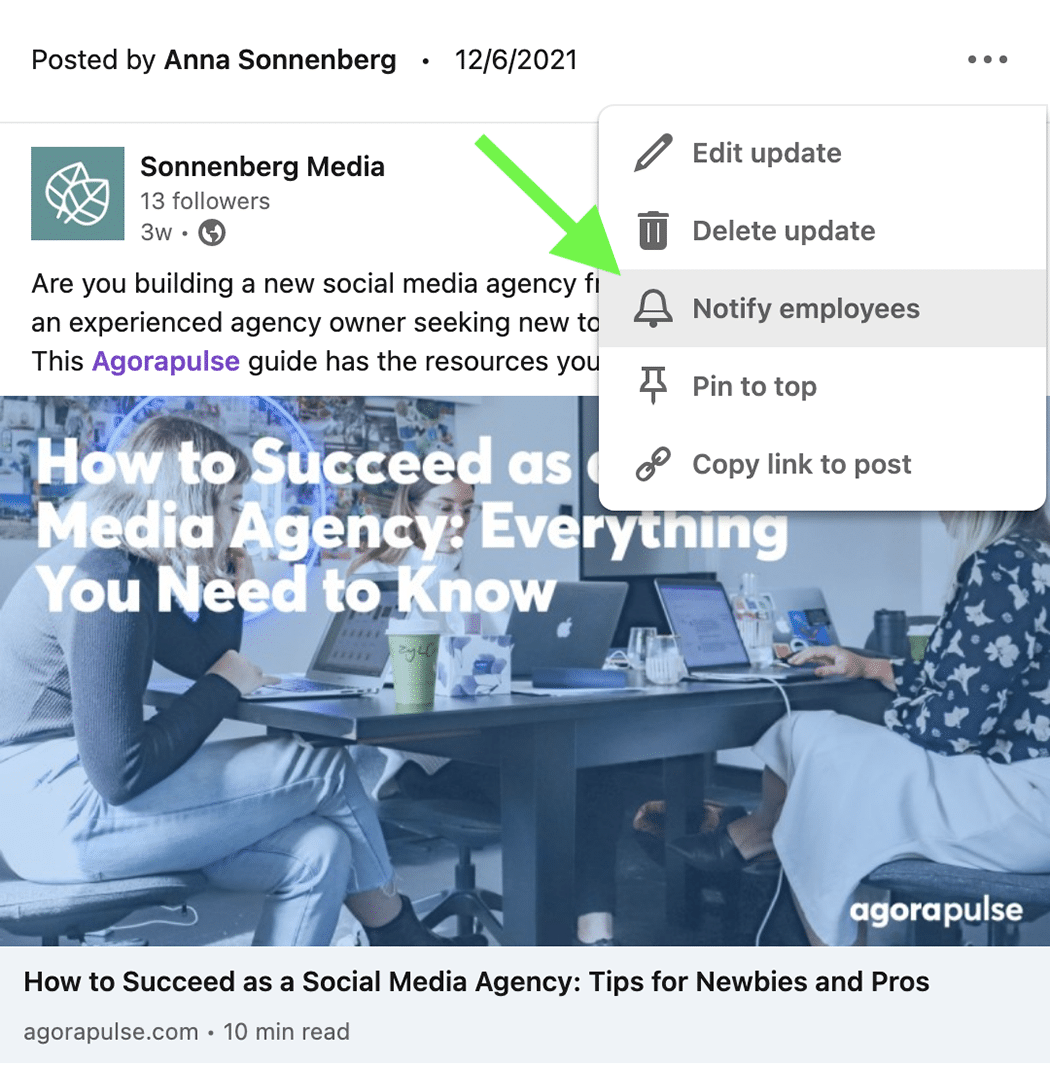 Your team will automatically get a notification about the content you published. Then they can share the post with their own audience to amplify the original content.
Respond to engagement

When you connect your LinkedIn page to Agorapulse, all your comments automatically appear in the social inbox. You can monitor all your company page engagement in Agorapulse using tools like saved replies and automated moderation.
Review LinkedIn analytics
While LinkedIn profiles don't offer very in-depth analytics, pages offer plenty of insights about your audience and your content. That way you can make sure you're reaching your SMART goals and building your business effectively.
To access all the key LinkedIn metrics for your page, check the Reports tab in Agorapulse. You can pull reports manually or schedule them to land in your inbox every week or month.

You can monitor everything from audience growth and demographics to impressions and engagement. Agorapulse also tracks top content by your metric of course, including impressions, clicks, likes, shares, comments, or engagement. In addition, your reporting dashboard can tell you the best time to post, based on audience engagement.
Run LinkedIn ads
If you aren't quite reaching your goals organically or if you have a budget for advertising, then you can experiment with LinkedIn ads. To start running ads, open Campaign Manager and choose the objective that best aligns with the sales funnel stage you want to target. For example, you can build awareness, consideration, or conversion campaigns.

Then you can build target audiences using LinkedIn's profile data, your own customer lists, or your website tag. From expanding your audience to generating leads to getting conversions, LinkedIn ads can help you reach your target audience and achieve your goals efficiently.
In conclusion
Whether you want to build your personal brand, your business, or both, leveraging LinkedIn marketing tools is critical. With a solid understanding of how to best use LinkedIn for marketing, you can grow your network, fill your sales pipeline, and reach your goals with this B2B social media channel.
Get started on saving time and energy on your own social media management! Check out our free trial of Agorapulse to help you schedule, track, and measure all your social media efforts.