For the past couple of years, Facebook has been doing its best to integrate itself in your everyday life in as many ways as possible. One of the biggest (and possibly most successful to date) examples is the introduction of the Messenger app.
While there was a little bit of pushback from users when Facebook moved it to a stand-alone app, Messenger has started to become the preferred communication channel for for one-on-one and group conversations. In some instances, it's completely taken the place of texting or emailing.
These use cases are now extending to the communication with businesses that have a Facebook presence. Customers are realizing the convenience of having an even more real-time, direct communication channel with these businesses. From a social media management perspective, this creates a huge opportunity to provide "wow"-worthy customer service.
In this post, we'll talk about why Messenger is becoming such an important communication channel, great ways to use Messenger for customer service, and a little peek into the future of how Facebook is planning on integrating it even more into the fabric of how e-commerce operates.
The Basics of Messenger
Let's start at the beginning and cover the basics of what Facebook Messenger is, and how it's used.
Messenger comes in two flavors: a stand-alone mobile app, and what is formerly known as the "Facebook chat" function that you see on the right side of your web-based Facebook page.
As an "instant-messaging"-like platform, it has advantages that traditional SMS communications lack — such as being able to see if your contact is available, knowing that they've read your message, and seeing that they're writing a response. From a customer service perspective, it's much quicker than email and caters to the increasing preference of using a mobile device for communication.
Messenger for Business
You're probably familiar and comfortable with using Messenger on your personal account, but it looks quite a bit different on the backend of your Facebook business page. Here's what you can expect to see:
On the left hand side, you can see and scroll through the messages you've received. You do have the ability to archive them and once you do, they won't appear in this list. This can be helpful in making sure that you're paying attention to current customer service issues. Much like a ticketing system, once an issue is resolved, you can choose to archive it so your messages are a bit more organized.
In the middle is your actual message text. It resembles the personal Messenger setup. Along with the message conversation, you can see when the customer has read your reply. This is indicated by their profile picture popping up next to your message.
Every message sent by your page also is tagged with the name of the user who sent it. This allows you to easily track who is handling which customer, if you have more than one person who manages your Facebook page.
On the right hand side, you can see all the available public information about the person you're chatting with. If they've made their location public, you'll also be shown what their local time is, which can be helpful if you're dealing with international customers. A message sent at 3 a.m. their time most likely won't get an immediate reply, and you'll know to look out for it in a couple hours.
Facebook also gives you the option to add keywords and notes, to make the chat searchable. Some businesses that use a CRM or email ticketing system will assign customer numbers to the chat, but you can also make it as simple as sorting the issues by type, such as "returns" or "delivery status." This can also give you a way to track the occurrence of specific issues which can be helpful in watching trends and preventing larger problems down the road.
In case you were wondering what the message looks like on the customer side, it's almost the same as a regular message from one of their Facebook friends: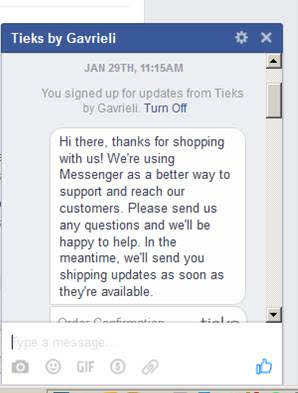 Your customers are comfortable with their user experience so you can expect that they'll be reaching out to you through this channel more and more often as time progresses.
One last important feature to note here is Facebook will show your customers how quickly you respond to messages. If you have under a 5-minute response time and answer 100% of your messages, you'll get a badge that shows up right under your profile photo to indicate that you're very responsive.
If your response rate drops below 100%, or your response time goes above 5 minutes, your badge will disappear. However, visitors to your page will still see how responsive you are with a status box that's on the left hand side of your page, in line with posts to your page.
Keep up with the speedy responses so you can make sure to have that badge displayed!
Now we've gone over the nuts and bolts of Messenger, so let's talk about ways for you to use it as a customer service opportunity.
Great Ways to Use Messenger for Customer Service
Of course, as with any social media channel, if you have a Facebook page, you should be paying attention and responding when your customers message you. (Having a Facebook CRM tool like Agorapulse really helps.) It's a great opportunity to connect with them, one-on-one, which isn't often an option if you're running a business that doesn't have many customer touchpoints, like e-commerce.
Most times, customers (and potential customers) are going to reach out because they have a specific question. The advantage of Messenger is that it lends itself to being more of a long-form communication channel, unlike Twitter or even a regular Facebook wall post.
This may sound like a no-brainer, but take the time to give your customer the same level of help you would face-to-face. Additionally, make sure you keep an eye on replies – because it's so instant, they could message you back within minutes with another question. Keep the conversation going!
Turn a Wall Post to Facebook Messenger
You may have noticed that on comments on your Facebook page, you now have another option besides "Like" and "Comment" – you can now send someone a message. This can be a great option in a couple scenarios.

It's not the best to talk about, but sometimes it can't be avoided – you have an angry customer leaving a rant on your page. You now have the ability to initiate a private message conversation, to steer them out of a public channel (and not push them to email). Just remember to also publicly respond to their comment so it doesn't look like you're ignoring them!
Another example is if you run a business that deals with information like subscriptions or user accounts. If someone starts a conversation on your wall in which you would have to go into specific details to answer, you can bring them into a private message to keep their info private. Of course, this isn't to say you should discuss credit card or bank account information. However, for issues like changing settings in their account or assisting with a subscription, this is a perfect channel.
Show Your Fans Some Love
Going the same direction of the "Message" option on Facebook posts, you can take the opportunity to show some love to fans who sing your praises on a post you make.
You can take this two ways. If you use a service like Printfection, you can give a personalized link to someone to redeem company swag – think tshirts, water bottles, or stickers.
The other direction you could take it is to ask the person for their email address and hint to keep an eye out for a small token of your appreciation. Starbucks gift cards and Sugarwish are two popular (and inexpensive) ways to say "Thanks!"
Looking to the Future
Facebook is working to make Messinger even more business-friendly by working on full integrations with ecommerce websites.
Available to select businesses (you can sign up to tell them you want to use it), customers are able to sign up for communication by Messenger, where they'll receive order confirmation, shipping and delivery notifications. It also allows the customer to ask questions about their specific order quickly and efficiently.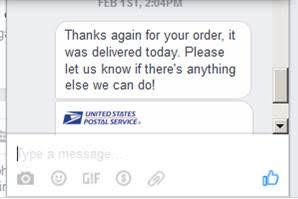 As of right now, Facebook hasn't made any specific statements about an official rollout, but we social media managers are keeping our eyes out for it!
Embrace Instant Messaging
At the end of the day, the most important part of customer service is being able to meet your customers where they are, regardless of the channel they choose to contact you in.
Messenger is another way for you to make meaningful connections with your customers, and employ some cool new technology to help you serve them better.
Will you try Facebook Messaging for customer service? Let us know in the comments!