South West College, located in the southwest region of Northern Ireland, is a prominent educational institution catering to a diverse range of students. With students ranging from young vocational learners to GCSE and A-level students, the college offers an extensive course selection, including professional certifications and higher education programs. With a mission to build a strong community, stay connected with students, and support major marketing campaigns, South West College recognized the need for a robust social media management for its higher-education marketing.
This case study explores how Agorapulse, an award-winning social media management tool, helped the college overcome its challenges. Agorapulse also helps South West College achieve its higher education marketing goals while it offers exceptional value for money in the context of college social media marketing tools.
The Challenge of Social Media in Higher Education Marketing
South West College faced several obstacles in managing its social media presence. With a small team responsible for handling multiple social media profiles, South West College found maintaining an efficient workflow increasingly challenging.
Additionally, the college aimed to find a social media management platform that provided the best value, ensuring their limited resources were optimized. Plus, the platform chosen would need to integrate with South West College's social media strategy to help achieve its overall higher education marketing goals.
Goals for Higher Education Social Media Marketing
As an educational institution that uses social media as the backbone of its digital marketing strategy, South West College considered finding a tool that would help achieve these goals critical.
1. Building community. South West College aimed to foster a sense of community across its four campuses and to keep students, alumni, and faculty engaged with meaningful and relevant content.
2. Stay in touch. The college aimed to keep its audience informed and up to date about important events, open days, course updates, and success stories.
3. Supporting bigger marketing campaigns. South West College uses social media as a vital tool to promote and support the college's marketing strategy for recruitment and admissions.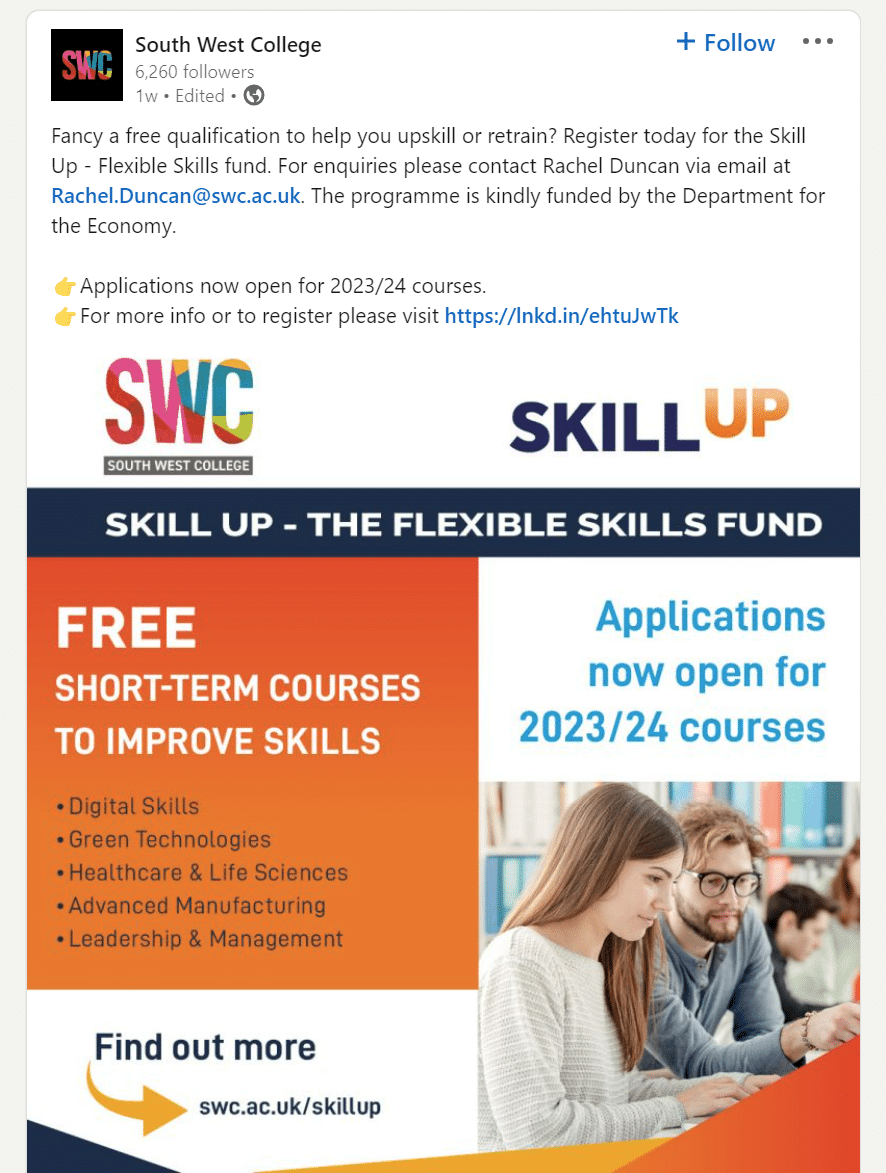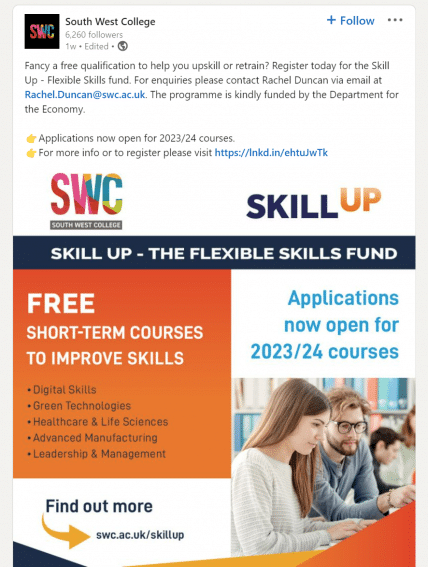 Troy Prenter, Digital Marketing Officer at South West College, recounted the evolution of their social media and other higher education marketing efforts over the years. Initially focused on local newspapers and press, the college gradually shifted its marketing strategy towards Facebook and other emerging channels.
As the demands of their social media grew, Troy began working with interns to help manage their social media accounts. However, Troy quickly realized the team required a more robust solution to keep up with the increasing number of social media channels effectively.
"As social media started to take hold, and the requirements of the college and reaching our audience changed, I started to realize that I needed more assistance and began researching other solutions," says Troy. "That's when I came across Agorapulse."
Researching Social Media Management Tools for Higher Education Marketing
After exploring alternatives such as Hootsuite and Sprout Social, South West College decided to implement Agorapulse as their social media management tool. The decision was driven by Agorapulse's reputation for providing a comprehensive set of features inside an intuitive, user-friendly interface, for a reasonable price.
The support provided by the Agorapulse team is another thing that Troy says he really values. He can rely on them to help if there is any issue that arises.
Troy also noticed that Agorapulse is constantly adding new features and improving its product, and has continued to evolve over the years to meet the changing needs of its users. That shows Agorapulse's commitment to innovation and customer service.
"It's the rate at which Agorapulse is constantly tweaking the software, so it almost feels like every day, every other day," says Troy.
"You don't sit on your laurels, you're constantly looking to improve the software. And I suppose that's the advantage of the SaaS software. But I have other accounts and I use different software not only for marketing. And Agorapulse seems to be the one that has been updated regularly."
Regular updates and improvements were one of the requirements Troy had in mind when he was searching for the best college social media management tool (along with a few others as well).
Requirements for the social media management tool
1. Best value for money. South West College was looking for a social media management tool that would offer them the best value, while still being cost-effective and in line with their social media marketing budget. While some tools appeared cheaper initially, Agorapulse provided an exceptional cost-to-benefit ratio by offering a user-friendly interface and extensive features for managing multiple social accounts.
2. Seamless onboarding. As some of the users would not have experience using social media management software, South West College was looking for a tool with an intuitive interface that would be easy to learn. Agorapulse's design and simple user interface helped facilitate seamless onboarding for new team members, even those unfamiliar with social media management tools.
3. Increased productivity. South West College was searching for a solution that would ultimately help their social media marketing team work more efficiently and effectively. Agorapulse helped simplify the social media management process by having all social accounts in one location, saving time and boosting productivity.
Effective College Social Media Management
With Agorapulse in place, the college experienced significant improvements in its social media management process.
To streamline their workflow, South West College leveraged multiple features offered by Agorapulse, including:
Social Media Publishing
The publishing feature allows them to plan and schedule content in advance, ensuring a consistent online presence across platforms. It also frees up some time, so they can experiment with other content formats, such as using video in their higher education marketing strategy.
This feature is also particularly helpful during busy periods, such as admission and recruiting campaigns. That way, when the team needs to focus on other marketing activities, they still can publish engaging content to their social channels.
Social Media Inbox
The inbox feature became a central hub for managing incoming messages, comments, and inquiries from different social media channels. By consolidating the college's social media communication in one place, the team can respond promptly and efficiently. The Social Media Inbox lets the team increase their engagement with its college students and ensure nothing slips through the cracks.
Additionally, with the use of saved replies, their team sped up response times to frequently asked questions by students, which was particularly important during high-volume times, such as the first week of classes.
Social Media Reporting
Agorapulse's reporting capabilities proved invaluable in measuring the success of South West College's social media campaigns. The comprehensive reports provided insights into key metrics such as reach, engagement, and click-through rates. Troy and his team then could evaluate their performance and make data-driven decisions for future marketing campaigns, plus prove the ROI of their social media marketing efforts.
Related reading: Social Media Reporting: What You Need to Know Right Now
"If I am trying to convince management of which posts aren't working… I can use the data from Agorapulse, and it gives me that backup when I go into a meeting. If I didn't have the data from Agorapulse I would never have that confidence knowing I could change their perception and change how we do things."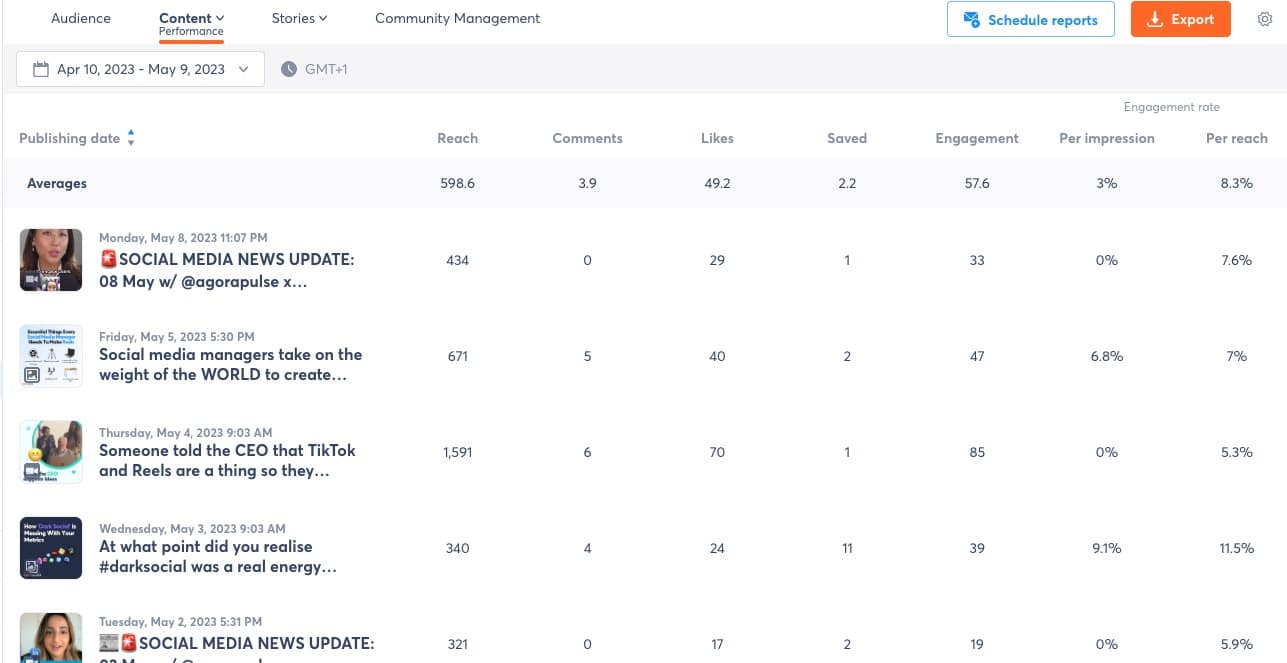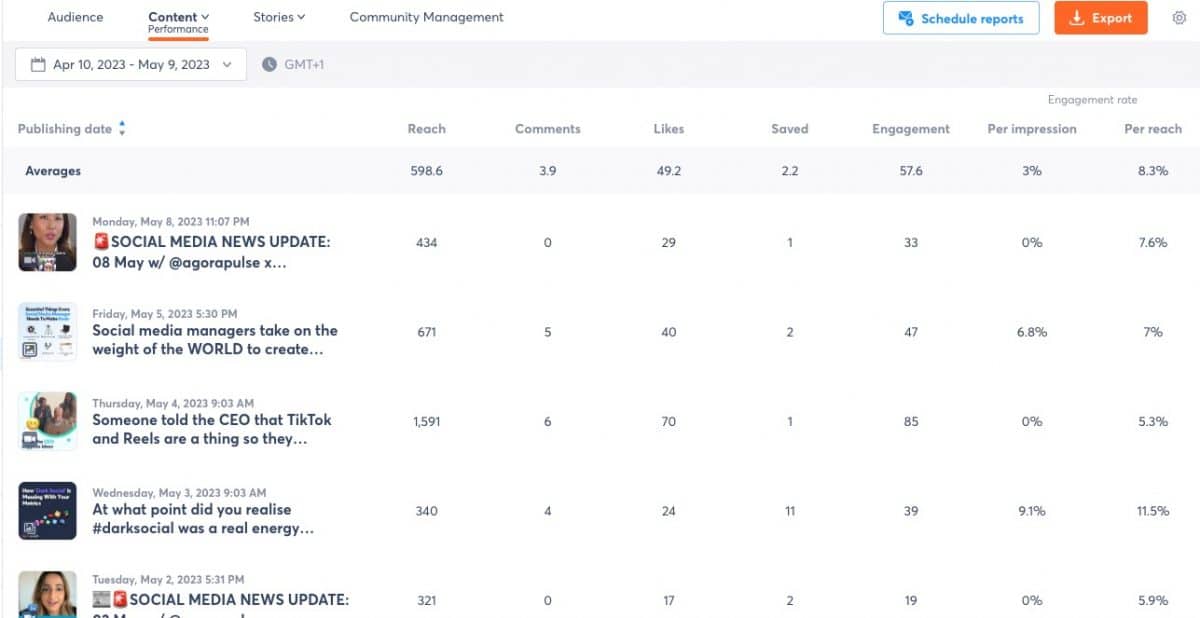 Approval workflows
The approval workflows helped South West College maintain quality control over its social media content. With multiple team members involved in creating and publishing posts, the approval process ensured that all content met the college's standards before going live.
Labels
The labeling system provided by Agorapulse allowed the team to categorize and organize content based on campaigns or themes. This feature streamlined content management and made it easier for the team to track and analyze the performance of different campaigns.
Seamless Social Media Management for Higher Education Marketing
Throughout the implementation and adoption process, Agorapulse's user-friendly interface and seamless onboarding process made it easy for team members to adapt and start utilizing the platform effectively.
Furthermore, the value for money offered by Agorapulse exceeded expectations. Despite the availability of seemingly cheaper alternatives, South West College realized that Agorapulse's comprehensive features, time-saving capabilities, and overall usability made it the most cost-effective solution in the long run.
In Conclusion
As a result of implementing Agorapulse as its social media management tool, South West College has been able to achieve its strategic social media marketing goals. They successfully built a sense of community among their students, faculty, and local residents. They effectively communicated important information about events, open days, course updates, and success stories.
Additionally, Agorapulse continues to play a vital role in supporting various marketing campaigns, including admissions and recruitment marketing efforts, and building the college curriculum each year.
Overall, South West College's experience with Agorapulse demonstrated how the right social media management tool can revolutionize the digital marketing strategy for higher education. By leveraging Agorapulse's features and capabilities, the college was able to overcome its challenges, improve its workflow and optimize its resources, all while meeting the goals for its higher education marketing strategy.
Sounds good, right?
Why not see for yourself? Book a demo with our team today to learn how Agorapulse can help you create meaningful social content that will resonate with students and alumni alike.