As a social media manager for higher education, you need to share a wide range of messages with a diverse audience while you contribute to the institution's bottom line. Yet, you also have a limited budget and finite resources. So how can you succeed with social media in higher education? For colleges and universities, higher-ed marketing with videos is a smart solution.
Video can help you connect with audiences across the globe, yet it can also be flexible and budget-friendly.
Ready to level up your higher-ed marketing?
Discover how to transform your social media strategy with video marketing and get actionable tips to start creating a content plan now.
Higher-Ed Marketing: Why Colleges Need Video
When you handle social media marketing for a college or university, you're responsible for reaching your institution's target audience throughout their journey. That means you need a video marketing strategy that connects with:
Prospective students as they consider their higher education options
Current students who want to maximize the value they gain from their experience
Alumni whose testimonials have the potential to influence others' decisions
Faculty who are seeking opportunities to grow their careers
When executed well, video content can:
Establish a positive image of the university
Help prospective students and faculty members envision themselves at the school
Communicate essential information to current students and faculty
Because video marketing spans so many channels—from Facebook and Instagram to TikTok and YouTube—it has the power to reach a large portion of your target audience. And since video is so easy to share, leaning into this content type can amplify your reach.
For most social media marketers in this field, however, improving reach and boosting brand awareness aren't enough.
Instead, your efforts also have to affect the university's bottom line—which typically means your higher-ed marketing strategy has to prioritize recruitment.
Because it's so effective throughout the student or faculty journey, video marketing is becoming increasingly important for college recruitment. In fact, prospective college students are 68% more likely to cite video as a factor in their school decision.
Since video content is so easy to repurpose across channels, a little can go a long way.
With a mix of stock videos, interviews, on-the-scene footage, and still photos, your team can create compelling videos that connect with the target audience and drive real results.
7 Ways to Design a Video Marketing Strategy for Higher Education
So how can video marketing fit into your social media budget?
With careful planning, it can be both efficient and affordable.
Here are seven ways (plus a bonus idea) for university marketing teams to produce marketing videos that make an impact.
Watch the college video marketing webinar that inspired this article.
1. Higher-ed marketing video idea: Student recruitment
Long before prospective students visit your college or seriously consider enrolling at your university, they seek out ways to experience the campus virtually. If your team can deliver a compelling experience through video marketing, you can successfully drive recruitment.
Campus tour videos make it easy for prospective students to explore college life and envision themselves as part of the community. For local students, these marketing videos can be almost as effective as visiting in person. For international students, these videos might be their only opportunity to "visit."
To make campus tour videos that pique students' interest, highlight the university's best amenities in an authentic way. Create an experience that feels natural by using a mix of interviews, behind-the-scenes content, and high-quality footage.
As an example, the following DePaul University video showcases a walking tour of the campus. The higher-ed marketing video creates an authentic experience with a little help from some student tour guides.
Videos highlighting the college's history can also help with recruitment. They're ideal for introducing students to historical facts and timelines they didn't already know, and they can also establish credibility.
Unlike campus tour content, university history videos typically work best for higher-ed marketing when they include high-quality stock images and footage. To weave a narrative through the video, just add voiceovers and subtitles.
As an example, the Harvard University video above spotlights six buildings that shaped the history of the university. The long-form video uses historical photos, voiceovers, and interviews to tell the stories.
2. Higher-ed marketing video idea: Brand awareness
While campus tours and college history content are great for introducing the university, brand awareness videos are best for showing current and prospective students what makes the institution unique.
Explainer videos in particular are ideal for highlighting features like programs, clubs, scholarships, and special initiatives. This type of content can also communicate the college's culture and values, ultimately establishing the university's brand.
To express the university's brand and convey the message effectively, use creative cuts to combine photos and videos. Add emotional music to ensure your brand awareness videos make a stronger impression.(If you need a little help in planning this type of video, check out our How to Make a Brand Video article.)
Related read: How Educational Systems Can Use Agorapulse
3. Higher-ed marketing video idea: Thought leadership
Another way to establish credibility through video is to enhance your college marketing strategies with thought leadership content. These videos are idea for spotlighting research initiatives and other major undertakings that are key to the university's future.
To maximize the effect of thought leadership content, feature interviews with subject matter experts. Encourage them to bring these projects to life and make them understandable to both students and the general public.
As an example, the Cornell University video above highlights a research project by the veterinary college. Although the video is short, it includes chapters that explain what the research is and why it's important.
Not all thought leadership has to focus on a big-budget research project. It's also a great idea to interview faculty members about their research or publications. With this kind of content, you can introduce professors to students and also engage prospective faculty.
Although faculty interviews can work well as short- or long-form videos, they can be even better as interactive content. Invite professors to participate in an ask-me-anything event on Instagram and then share across channels.
As an example, the following DePaul University video includes a faculty profile. The short video cuts between an interview with the professor and footage of important projects she's developed, giving students a well-rounded overview of her contributions.
4. Higher-ed marketing video idea: Student communication
Need to share policy updates or improve program attendance? Video marketing is just as useful for sharing timely information with current students.
With video content, you can communicate messages that are easy to understand and easy to retain.
In addition to publishing student communications on social media, it's often helpful to upload these marketing videos to digital displays across campus. Make sure to format the higher-ed marketing video correctly for each placement so you can get the message across successfully.
Related read: How to Use Social Media for College Recruiting
5. Higher-ed marketing video idea: Event promotion
For most college students, events like football games and commencement are essential parts of campus life. With video marketing, you can promote events while showing potential attendees what to expect from the energy, crowd, and experience.
To capture the energy of dynamic events, add upbeat music, frequent cuts, and animated text to your video marketing. Include all the key details—including dates, times, and speakers—in on-screen text and in captions.
As an example, the Washington University convocation recap above uses several fast-paced cuts to convey the students' energy. The chancellor's address makes an appearance in a voiceover that ties the video together.
6. Higher-ed marketing video idea: University fundraising
For social media marketers in the higher education space, recruitment is just one avenue for revenue generation. Since fundraising is critical to the long-term future of most universities, it's another important angle for college marketing strategies.
The most effective fundraising videos typically help potential donors envision the future of the university—and make them to want to be part of the story. Strong narratives and inspirational themes generally work best for fundraising videos.
To get more value from fundraising videos, consider using them in paid social campaigns. By promoting your marketing videos to targeted audiences, you can get them in front of the right people and reach your fundraising goals faster.
As an example, the University of Notre Dame video above announces a new fundraising campaign designed to ensure the institution's mission lives on. The university has created a separate channel, ND Loyal, for fundraising content.
7. Higher-ed marketing video idea: Alumni relations
Alumni can also have a tremendous impact on the university's future. Successful alumni can serve as role models for prospective and current students, inspiring students to follow in their footsteps.
Through video content, alumni can share their stories and become advocates for the university.
By spotlighting particularly connected alumni in your higher-ed marketing videos, you can increase reach automatically, as their connections will be likely to share with their own networks.
Alumni relations videos can be either scripted or casual.
If you opt for the former, make sure to work closely with alumni to script their stories in a compelling way.
If you opt for the latter, consider creating short-form question-and-answer videos.
Bonus idea: Content repurposing
As standalone social media content, videos can help you achieve goals throughout the funnel. But they can also help you amplify other content formats, which can stretch your marketing budget further.
For example, you can turn content like blog posts on university life into short videos. All you need is stock photos or videos and text overlays. Then you can share the videos to social media, giving your audience new ways to consume the content.

Higher-Ed Marketing: Tips for Streamlining Your University's Video Marketing
Now you know what kind of content to make. But how can you produce a higher-ed marketing video, get it approved, and measure the results without overspending your budget?
Use these tips to streamline your video marketing strategy.
Use storytelling to weave a narrative
Whether you're creating short- or long-form videos, storytelling is important for social media. Before you start creating, map out the story you want to tell in the higher-ed video.
It's often helpful to start with the ultimate goal for your college marketing strategies. For example, do you want to recruit prospective students or encourage alumni to donate?
Then create a simple storyboard to clarify exactly what needs to go into the video. To streamline the process, create multiple videos in a single batch whenever possible.
Find the right video editing app(s)
When you create short-form content like TikTok videos or YouTube shorts, you can often rely on the in-app editing tools. Since they offer everything from text overlays to video filters to audio tracks, they have everything you need.
But when you create long-form content (and even if you want to add a little something extra to your long-form content) you need a third-party app. For example, with an app like PlayPlay, you can create professional videos in just a few minutes.
From templates and dynamic elements to branding and stock footage, PlayPlay makes it easy to start creating video content. You can also use PlayPlay to storyboard content, which can save you time during the planning process.
Batch and schedule video content
Once you've produced video content that aligns with your college marketing strategies, you're ready to start publishing. It's usually best to balance scheduled content with in-the-moment publishing. The former saves you time, but the latter can drive engagement.
No matter when or how you plan to push content live, you can publish it via Agorapulse. Since Agorapulse connects to video marketing platforms like TikTok, Instagram, Facebook, and YouTube, it makes publishing on any channel easy.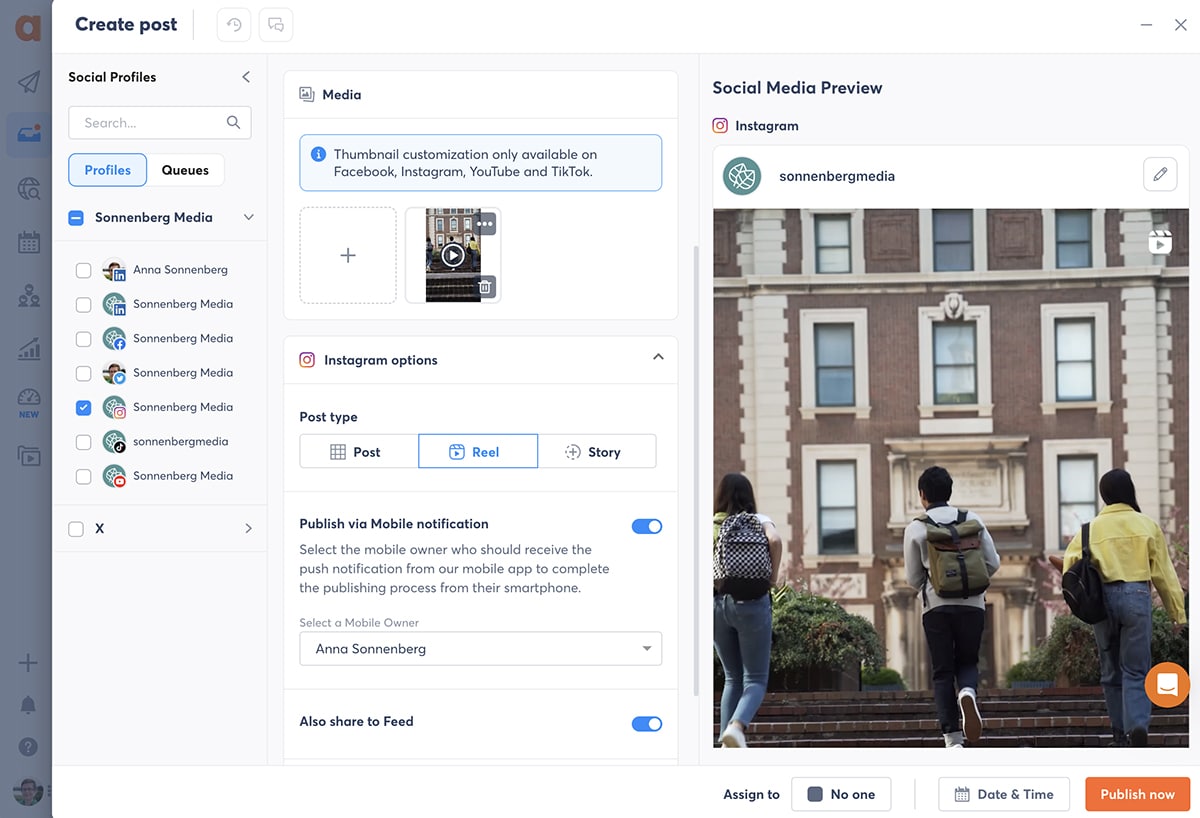 Upload your content, write a description, and choose channel-specific settings. For example, you can opt to publish TikTok videos and Instagram reels via a mobile app notification. Then choose whether to publish instantly or schedule for a later date.
Create an approval workflow
Do certain stakeholders need to weigh in before you publish video content? You can build your approval workflow directly into Agorapulse to ensure that content doesn't go live until everyone has signed off.
To get video content approved, select the Assign to option on your Agorapulse dashboard. Then add all the internal or external stakeholders who need to review the content and click the Assign button.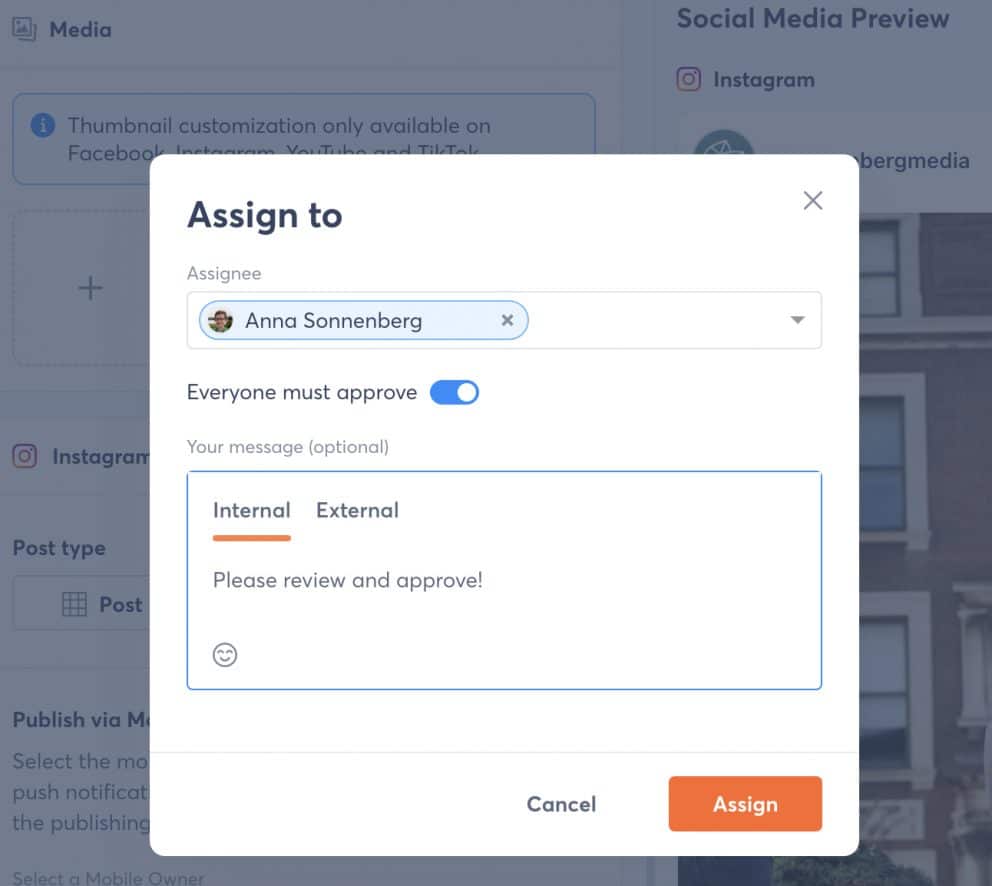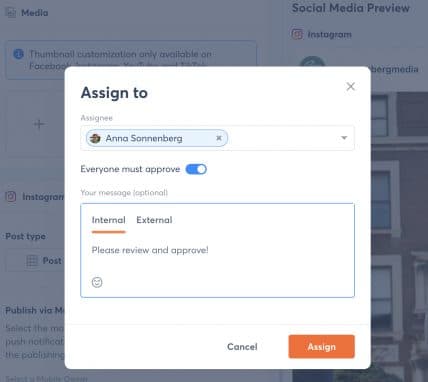 If you have a lot of stakeholders who don't otherwise need a seat in Agorapulse, you also have the option to create a shared calendar. With a shared calendar, external colleagues can still review, approve, or request edits to content.
Repurpose video content across channels
Why publish your video content on just one channel? In many cases, your video content can drive reach, views, and conversions across channels.
When you publish content via Agorapulse, you can easily cross-post videos across channels. Select all the profiles where you want to post, and then schedule the optimal time for each channel.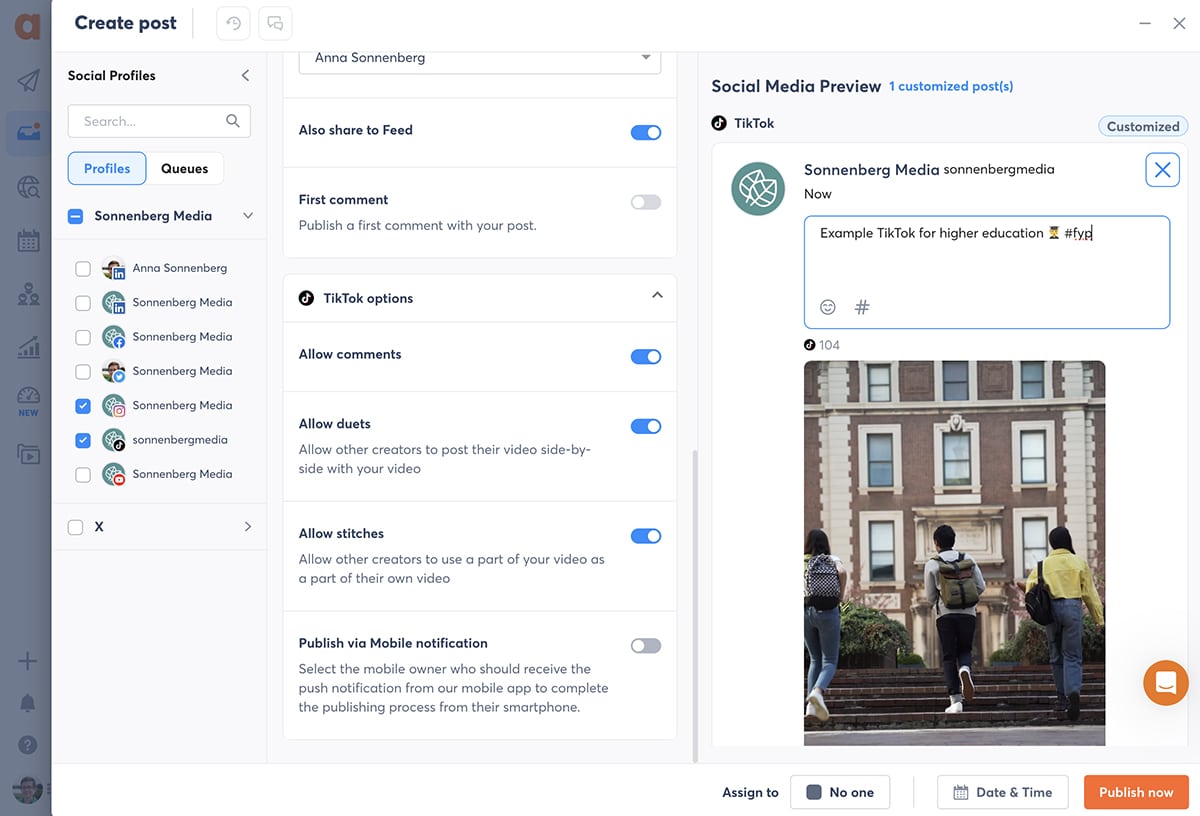 Keep in mind that you don't have to publish the exact same content to each profile. You always have the option to customize posts for individual profiles and toggle channel-specific settings.
Engage with your community
Don't want to jump from app to app while managing content? You can manage all comments and direct messages from your Agorapulse dashboard. You can even use saved replies to provide helpful responses more efficiently.
With Agorapulse's inbox, you can also build relationships with your community. Agorapulse automatically creates user profiles for everyone who comments or DMs your accounts so you can see how engaged they are.
You can also add custom labels and internal notes to these user profiles, making it easier to keep your team on the same page. For example, you can label current students, prospective students, alumni, or faculty so you can frame responses appropriately.
Monitor metrics and track progress
No matter what your goals are, you can track social media metrics with Agorapulse. The reporting dashboard automatically pulls analytics for supported social accounts—so you can quickly see how your stories, short-form videos, and long-form videos are performing.

With Agorapulse's ROI dashboard, you can track website traffic and conversions that originated on social media. The ROI tracker groups metrics by channel, profile, campaign, and even individual video. With this data, you can confirm which social channels and campaigns are driving results for your college—so you can do more of what works.

Wrapping Up What We Learned About Using Video for Higher Ed Marketing
Whether your university has already dabbled in video or you're just starting to embrace it, this type of content should be a critical part of all college marketing strategies. From recruitment and brand awareness content to fundraising and alumni relations content, video can have a major impact on your college's bottom line.
Sign up now for a FREE demo of Agorapulse and see how it can transform all your social media higher-ed marketing.