Branding for your agency and for yourself is so very important.
Brands are …
What make you you online
The you that you show to the world.
Help you get noticed and remembered
Help you build trust
Plus, they can open new opportunities because you are known.
But when you try to brand yourself online it seems so complicated, so frustrating. Where do you start? Should you just go ahead and see what happens?
Personal brands will work faster and better if you are intentional. That's why I've created this guide on how to brand yourself online. I'll talk you through the different steps you can take to establish your personal brand and give you some examples.
Start by Creating Your Brand
1. Define your brand personality
This might seem strange. You have a personality … Why do you need to create a "brand" personality?
Human personalities are complex and consist of many elements. There will be parts of your personality that you want to shine through and define you, and parts of your personality that you don't.
This doesn't mean you should be inauthentic.
You're creating another version of yourself, and there are already multiple versions of yourself. There's the you that you are with friends, the you that you are with your family, the person you are with work colleagues, neighbors, your partner. You already edit yourself for these different groups of people, online isn't any different.
How?
We've established that personalities are complex so what I'm going to suggest may sound bizarre.
Choose 3 words that define your brand personality.
It's a hard exercise to do by yourself, so recruit a business friend and brainstorm ideas. Don't limit yourself to three words to start with, instead, make a list of words that you hope represent you.
These could include …
Helpful
Professional
Fun
Quirky
Knowledgeable
Grumpy
Controversial
Friendly
Nurturing
Once you've written down all the words you can think of, start to narrow them down to the ones you think are most important to your brand.
When you have your three, print them out and stick them on the wall where you'll always be reminded of your online brand.
Now practice writing content that is infused with your brand personality. Each time you create a new piece of content, whether it's a blog post or a tweet, check it against your words, soon it will become your natural way of writing.

2. Choose your colors
If you use the same colors consistently in all your content, those colors become part of your online brand. People will start to recognize your content by the colors you choose.
But how do you choose your colors?
Start by picking a color you like, this brand is all about you so it's OK to be indulgent. If pink is your thing, pick a shade that you love as your base color.
Can you guess what color Sandra Hennesy from BeDynamic loves?
Her love of pink doesn't stop with her website. She'll always be wearing hot pink, and she runs her online training against a hot pink background.
Now you've picked your base color look for 2 or three colors that will complement it.
I love the Canva Color Wheel tool for this.
Pick out your base color, and it will give you colors you can use based on different theories.
Once you've chosen your colors you can use them to create a graphic in Canva.
What's Your Niche?
"Entrepreneur, you have to be known for something, not anything, but something specific, why? That's your distinction."
― Onyi Anyado
If you want to stand out get a niche. As Onyi says in the quote above, it's your distinction, the thing that sets you apart from everyone else.
But how do you define your niche?
It could be a specific thing that you do or it could be the specific type of customer you serve. Or even better, you can combine the two.
Like copywriter Marijana Kostelac does. And it works for her as you'll see in this Tweet:
The day I went from…

❌ Being average at a lot of things for many different clients, to

✅ Being excellent at one thing for a specific type of client

…my career changed forever. 💪 #tweet100 pic.twitter.com/zi4HstI0C0

— Marijana Kostelac ⚡️ (54/100) (@MarijanaKay) September 16, 2021
It's powerful. When you define your niche, you and the niche become one.
People are able to talk about you to others and describe what you do. And when someone is looking for someone who does what you do. It's your name that will come up.
How to Use Social Media for Your Brand
Now you have defined your personal brand, how do you apply it to your social media?
Headshots
Your headshot represents you on all your social media channels. I'd recommend hiring a professional photographer that will capture your online personality in the shots they take. It's worth the investment and will blow away any shots you try to take yourself.
Put together a brief that includes all the info the photographer needs, including your brand personality, color scheme, and the image sizes you will need for your social media channels.
This should mean you get a selection of images to use in profile pictures, cover images, and on your website.
Social media bios
Now, you've got your visual brand sorted on social media, look to the bio section of your social media profiles.
Character counts are limited on social media bios. Depending on the social network you use, you could have as little as 150 characters to infuse with your personal brand.
Sean Jp Markey is an SEO who loves Dinosaurs. He combines both in his online profiles when he presents on stage and in his content.
Wherever you see him, he's the SEO guy who's into Dinosaurs. And his Twitter bio is no exception.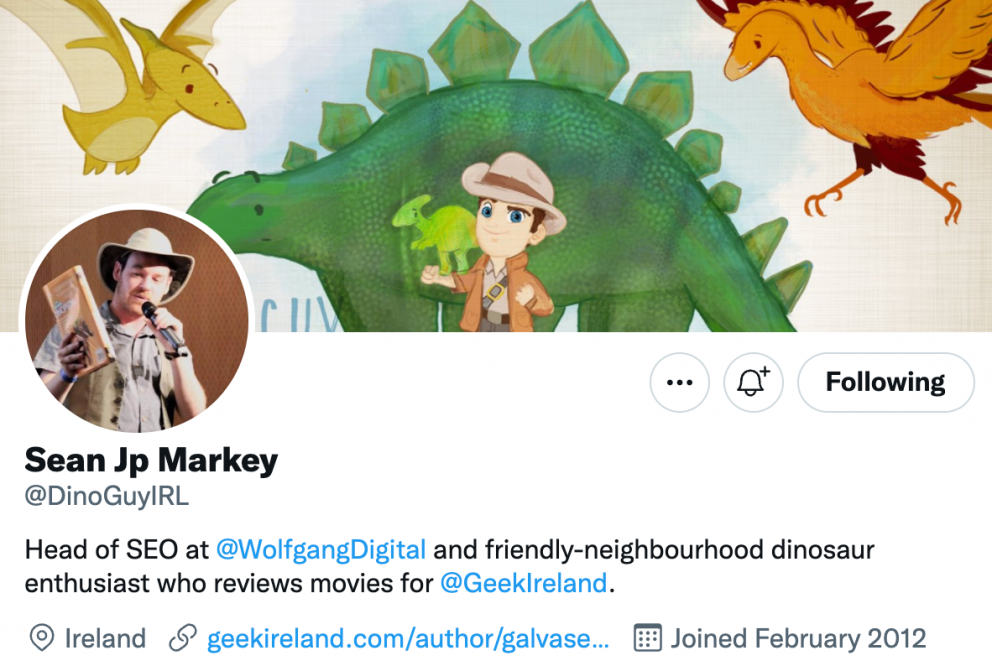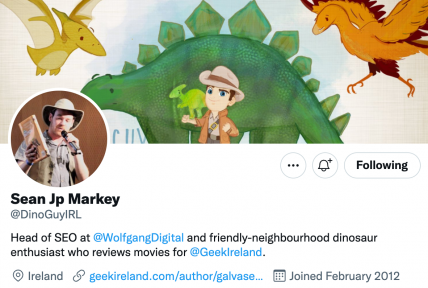 Use emojis consistently
What emojis can you use consistently that represent your brand? Adding them to your social posts is another way to be noticed and be memorable.
Laura Pearman has a strong personal brand and the 💋 emoji is central to this. She uses it in her YouTube show title, as part of her personal brand logo, on her social profiles, in her content, and even in the comments she leaves on social media.
SMALL BIZ / CREATIVE?
We can all get better at working with #CreativeDirection using these 5 top tips I have for you. Let's all pull together and make the creative parts of growing our businesses a truly joyous experience for EVERYONE involved.

I promise you, it can be done. 💋 pic.twitter.com/IffA0uC99c

— Laura Pearman (@LauraPCreative) September 10, 2021
Create GIFs
Gifs are an amazing way to express yourself on social, finding just the right one can take time.
What if you had your own set of GIFs that you could use? You'd always have one to use when you needed it. Plus, if you put your face in your GIF, you're using one of your strongest brand assets. People will recognisze you and remember you from your face.
You can easily create gifs from videos using Giphy, then all you have to do is to remember to use them.
Christine Gritmon uses personalized Gifs for fun replies, and she also uses them as part of her #ChatAboutBrand Twitter chat.
A6.@Starbucks is great with providing health insurance and paying for education while presenting as a socially progressive company.@patagonia won't even accept business with companies that don't share their values & encourages employees to get outside.#ChatAboutBrand ❤️ https://t.co/PPRdXR8DE6

— Christine Gritmon ❤️ #ChatAboutBrand (@cgritmon) September 28, 2021
Use video
There's something about video that makes people feel connected to you. By sharing videos, Reels, TikTok, or stories you are talking directly to your audience. And just like with Gifs, your face will become memorable.
I've lost count of the times that people have said that they feel like they know me because they see my video content on social media.
Topic choice
You've defined your niche, now you need to sell it through your social media posts.
To do this, make a list of topics you can talk about related to your niche and the customers you serve. These are the topics you should write social media posts about the most, it will keep you on brand.
Once you've done that, make a list of the topics you won't talk about. It could be politics, religion or maybe things related to your personal life.
This list will vary from person to person. Some accounts thrive on talking politics, some court controversy, just be sure that if you choose these topics that it's intentional and not accidental.
Be consistent
To be noticed, memorable, and trustworthy you need to show up. That doesn't mean you have to post 20 tweets a day or even a story every day on Instagram, but it does mean that you need to be there when people look for you.
One way you can stay consistent even when the day gets away from you is to schedule content.
And that's where Agorapulse comes in. You can create your content using Agorapulse's integration with Canva and schedule it all in one place.
I use Agorapulse to schedule out daily video segments to LinkedIn and Twitter. That means I don't have to find time every day to upload a video but my audience sees me in the feed.
Burst your bubble
The problem with social media is that the algorithms tend to keep us chatting to the same small group of people over and over again. Although that's great for being remembered, if you want to grow your brand on social media you have to find more people to talk to.
You already have your list of topics that you are going to create social media content around. You can use Agorapulse to find and engage with other people who talk about those topics by setting up searches.
From your settings page, select the social network you want to set up a search for.
Click on the 'Listen' tab.
Click 'Create a new search.'
Complete the information (this varies depending on the social network).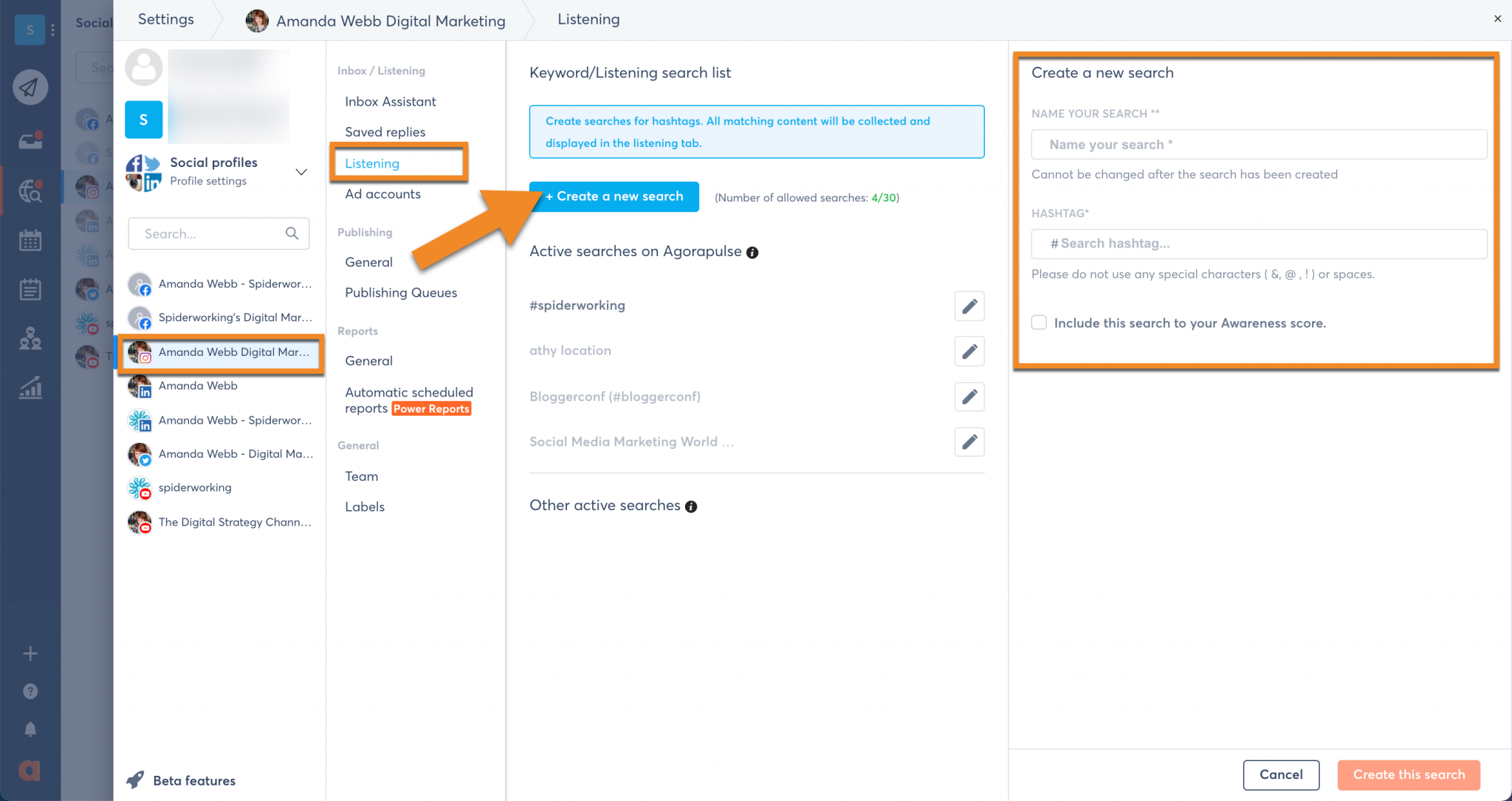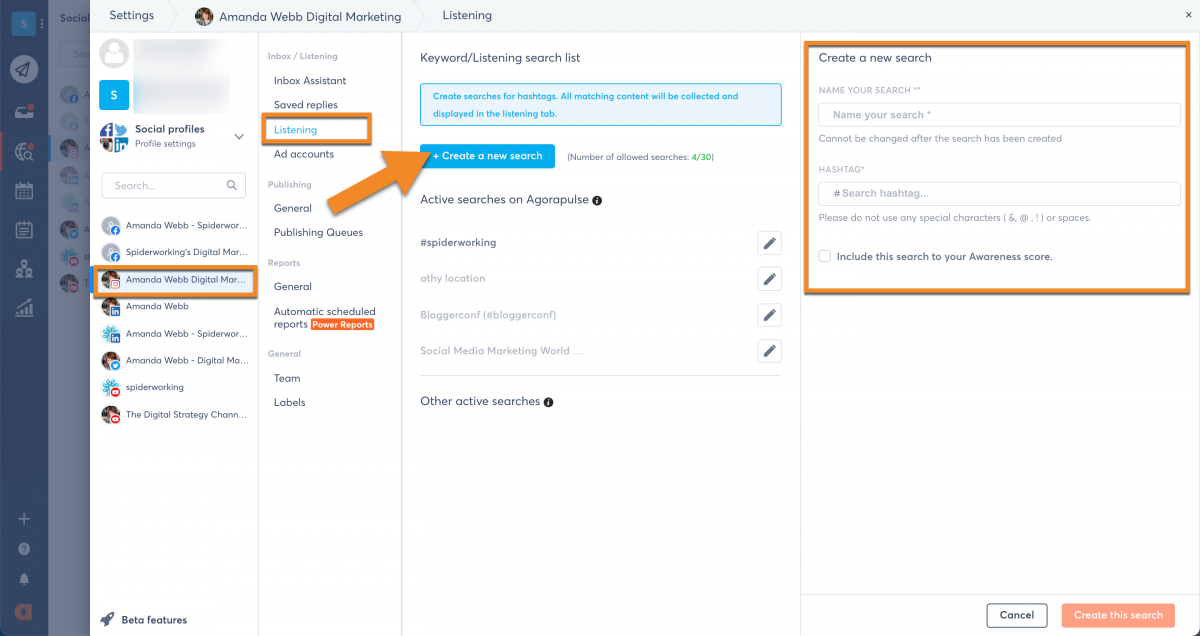 Search results will appear in the 'Listen' tab for each social network.
Be Engaging
When your personal brand is successful, you'll find it difficult to stay on top off all your mentions and replies.
With Agorapulse, you can easily manage your inbox for all your social networks on a daily basis. You'll never miss a mention again.
In Conclusion
Building your brand on social media is a wonderful way to get noticed, be remembered, and discover opportunities. If you follow the guidance in the post, you'll be on the way to building a strong personal brand that will deliver results.
Take control of your social media! Check out our free trial of Agorapulse to help you schedule, track, and measure all your social media efforts.