TikTok has over one billion active monthly users. But if you're new to TikTok, you might be wondering where they are.
If your videos are sitting lonely and unloved, this is the article for you.
What's the secret sauce for getting more views on TikTok? Here are my top seven tips.
How to Get More Views on TikTok for Free
1. Understand the TikTok Algorithm
Like all social media platforms, TikTok has a powerful algorithm and understanding it is your first step to mastering it.
Let's look at some core takeaways for TikTok:
The TikTok algorithm determines the videos you will see on your For You Page by looking at your language, location, interactions, and the type of content you engage with. (So, if you're watching lots of dance challenge videos, that's likely what you will see more of.)
TikTok videos that are shorter (15 seconds or under) are most popular on the platform. If you're posting long videos and users drop off, the algorithm will favor your content less. If you want to post longer videos, try to capture viewer attention and focus in the first 15 seconds.
When you upload a video, the algorithm looks at specific factors like followers, comments, video likes, shares and other actions such as Duets.
The algorithm is geared up to prioritize trending content. You can position your content to trend by including trending hashtags, music, effects, and themes.
If you have a business account, you can access your video analytics. From there you can see whether your videos retained users.
Take this video I uploaded from Contentworks Agency as an example.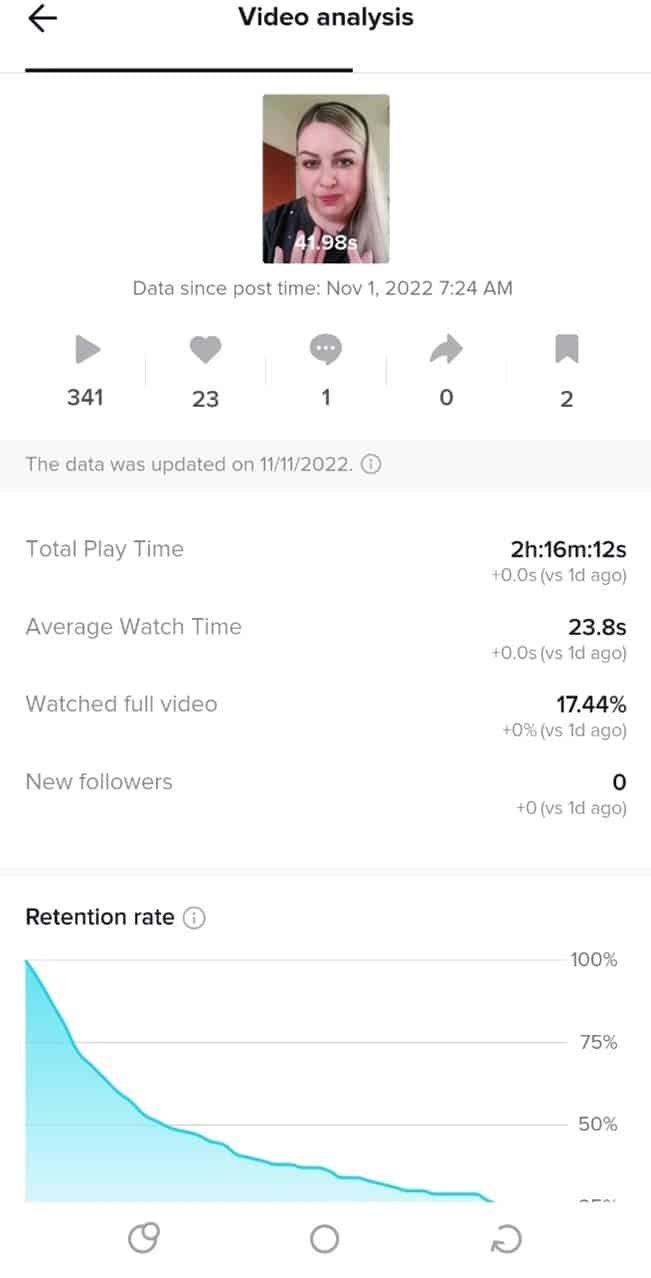 It was only 40 seconds, but you can see that viewer attention dipped on the 23.8-second mark. Additionally, only 17% of viewers watched the whole video. (Cries into coffee.) But there are lessons to be learned. Could the video have been more engaging? Could I have made it 30 seconds instead of 40? Perhaps I could have posted it at a better time for my audience? Yes. And I learned from looking at the data.
Analytics are your friend.

2. Duet With Someone Popular
It sounds like Mean Girls all over again, doesn't it? The popular accounts being the ones everyone wants to befriend.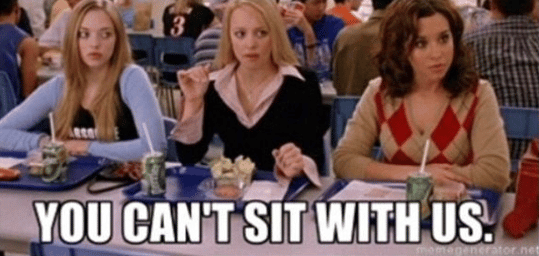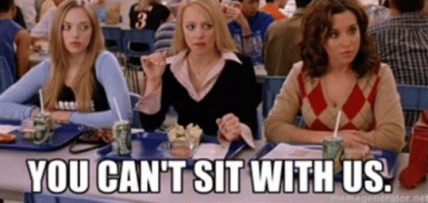 The reality is that popular TikTok accounts with more followers, likes, and comments are being shown to more users and therefore gaining in popularity. Meanwhile, your lonely video is sitting by itself on the lunch table in the corner.
So, how can you sit with the cool kids and boost your own TikTok profile?
One way to do it is to Duet with someone popular.
A cool tool on Tiktok is Duet. Users can choose to Duet with other creators (if they have enabled Duet on their video). This will display the two side by side and allows for some incredible interactions. Duet allows users to cover or join other users' dances or songs, provide commentary, reactions, roleplay, or layer interactive videos on-screen.
As a brand, you can use the Duet feature to grow your fan base, connect with other creators, and boost engagement.
Check out this funny example from chef.tnac who wanted to get the attention of celebrity chef Gordon Ramsey. Gordon, known for his savage and hilarious food critiques, often duets with other TikTok users. @gordonramsayofficial has 34.8 million followers, all of whom can now see the Duet!
How to Get More Views on TikTok Hashtags
3. Follow your hashtag strategy
Wait, what hashtag strategy?
Relax, this doesn't need to be huge. It simply means using TikTok hashtags in a strategic way to hit your social media KPIs. (Read more about TikTok KPIs in our 2023 guide to TikTok marketing).
Here are some of the core questions to be asking before you start adding hashtags:
What is the point of my TikTok account? Perhaps it is purely entertainment, and you want to showcase a fun side to your brand.
Who am I trying to reach with this video/account? What is your target audience demographic in terms of age, location, likes, and spending capabilities.
What is the goal of this video? To get mass exposure on the platform or gain a specific audience interested in your product or service.
What should your viewers do next? Consider whether you want them to make a purchase, share, follow, comment, or like.
Top ecommerce brands on TikTok certainly have a strategy that incorporates hashtags. Even those which appear to be "just for fun" will still be ticking certain boxes in the overall strategy.
Look at @verybritishproblems, one of my favorite funny accounts on TikTok. The account takes common British etiquette problems like leaving a train and turns them into short TikToks.
There's no hard sell, no buy now and no trending hashtags. But, the account is focused, has 123K likes, and also sells Very British Problems merch via a linktree in its bio.
4. Participate in hashtag challenges
Hashtags play an important part in the TikTok ecosystem, especially in regard to TikTok Hashtag Challenges.
Hashtag Challenges on TikTok are trends that start with one person or brand and become viral invites to everyone to take part. Challenges include athletics like the #PlankChallenge. There are also couples challenges, cooking challenges, makeup and transformation challenges, and just about everything in between. They always have their own hashtag, so you can use it if you're taking part, and there is always more than one challenge trending at any time on TikTok.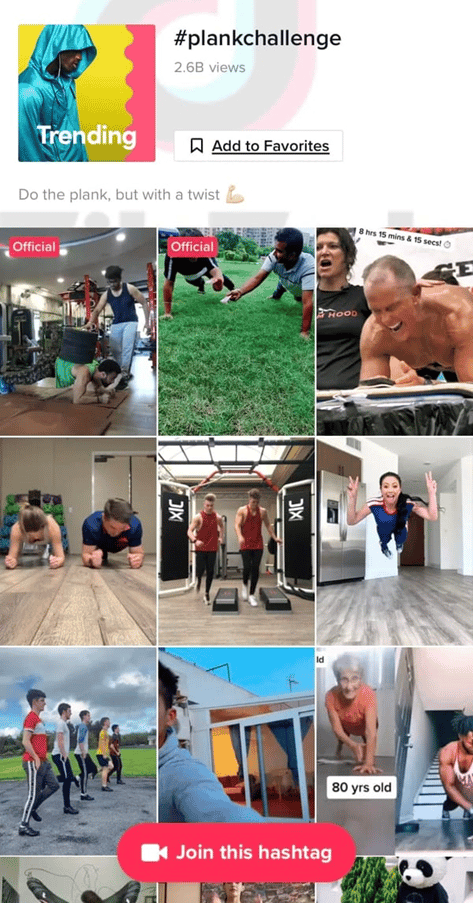 It's free to start a challenge or participate in one. But keep in mind that big brands pay to get more TikTok views on their Branded Hashtag Challenges! The cost of a branded hashtag challenge has a flat fee of $150,000 for six days, with firms spending additional dollars on promoting the challenge.
Let's assume you don't have a spare $150,000 in the budget for a Branded Hashtag Challenge.
You can still get more views on TikTok for free by following these tips:
Keep your challenge simple. It needs to be something fun and inclusive that TikTok users will feel inspired to take part in. I always think of it a bit like giving driving directions to a stranger. Make it easy and clear, and it's more likely to be followed. Otherwise, they're lost!
Be seasonal. If Christmas is approaching, then be in the right place at the right time with your challenge or meme. People are much more likely to engage with your video if it's timely.
Keep it inclusive. Think of a challenge that's as inclusive as possible for all nationalities, languages and ages. The plank challenge was huge for the fitness community, but the Chipotle Lid Flip challenge was something everyone could do.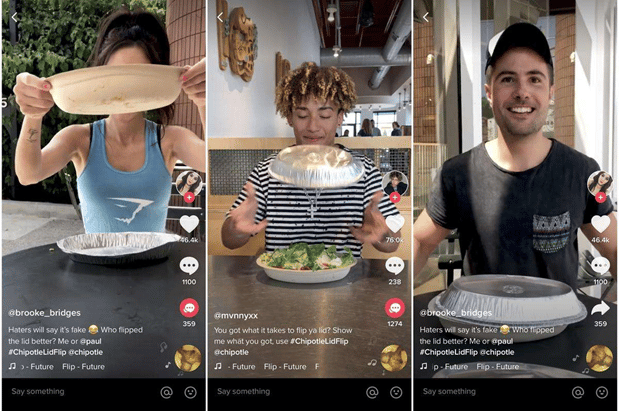 Don't be promotional. Very few viral hashtag challenges have been promotional. They always focus on a message, funny meme, or engaging challenge.
Think of younger users. The TikTok demographic is younger than other channels. Challenges like the "blackout challenge" encouraged users to do very unsafe activities and younger, impressionable users took part with several losing their lives. Challenges should always be safe and fun to follow.
How to Get More Views on TikTok Live
5. Team up with other influencers
When seeking to get more views on TikTok, one surefire way is to delve into some influencer or micro influencer marketing techniques. Teaming up with influencers is a great way to increase your reach on TikTok and align yourself with influential names.
But how can you team up with influencers on TikTok if you don't have a budget to tempt them?
Let's look at some free ways to get influencers on TikTok.
Discover TikTok's Creator Marketplace. With the new Creator Marketplace, you can search for Creators to work with your brand or campaign. At present, business partners can reach over 500,000 creators across 24 countries and regions on the TikTok Creator Marketplace. Some will be paid, and others not. Check it out for creator inspiration.
Filter your search. You can search for the right creator using different performance metrics, audience demographics, video topics, and more.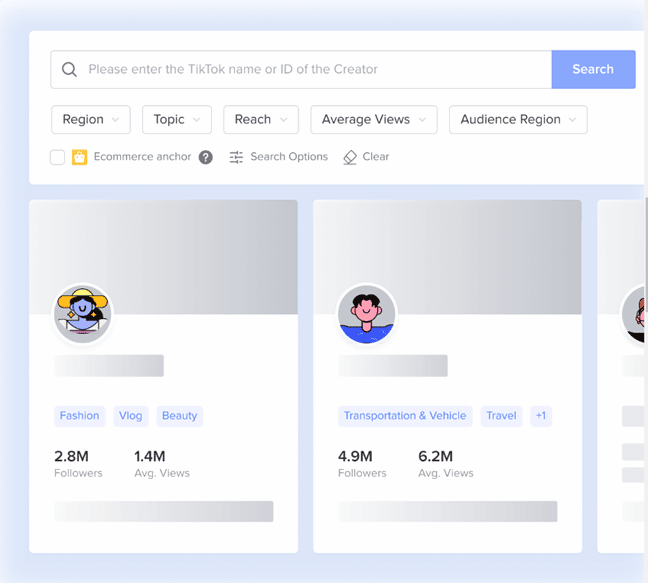 List the perks for them. Of course, there are perks for your brand to work with an influencer. But what are their perks? Will they get free merch? Will they be contributing to a charity or local project?
Research the platform. Including #ad in your search will help to identify TikTok influencers who are already posting sponsored content. This will give you an insight into the types of influencer content that performs well on TikTok
Forget the macro influencers. At Contentworks Agency, we've had brands tell us to try to get Kylie Jenner for free. Unless your product is revolutionary or charitable, you have no chance. To put things into perspective, Micro influencers get between $100–$500 per post. Macro influencers, on the other hand, start charging around $5,000–$10,000 per post. Celebrities like Kylie Jenner have been known to charge more than $1 million.
Choose carefully. Well matched influencers will greatly increase the likelihood that your audience will follow and trust you. The reverse is true for a poorly matched collab.
A good example of a well matched collab is the one between Tab for a Cause and @katiefliesaway, a Gen Z centric account with 632.9K followers. The campaign helped increase Tab for a Cause's brand awareness and drove a substantial number of new users in the days following the post. Almost 1/3 of the audience who viewed the video liked it and the average engagement rate was 30.71%. Compare this to the average Facebook engagement rate of between 1% and 5% and you can see the wow factor.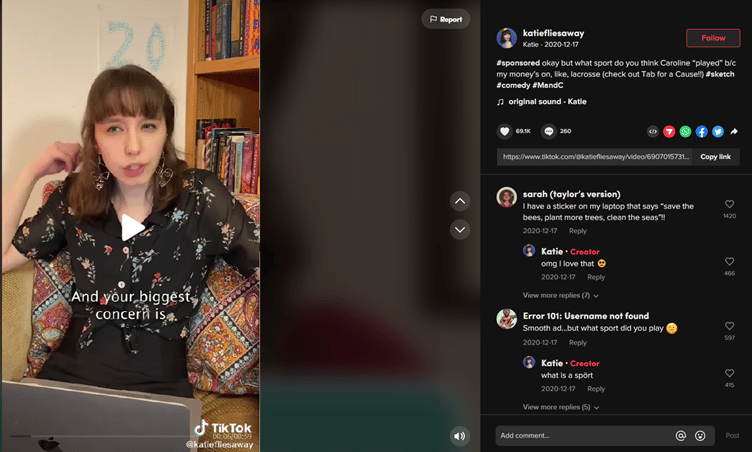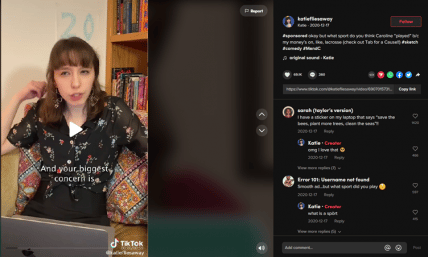 How to Get More Followers on TikTok
6. Be authentically you!
TikTok is a place for creativity, silliness, and authenticity. It has carved out a niche for itself as an entertainment platform and viewers are there to be entertained.
"Authenticity is the key to brands achieving success on TikTok," according to TikTok's Authenticity, Happiness and Joy research, conducted by Flamingo Group. The study found that 56% of users feel more positive about a brand after seeing it on TikTok and that ads on the platform are more creative and original than other digital platforms on average. So, one of the best ways to get new followers on TikTok is to be authentic.
Here's how you can find your authentic side on TikTok:
Learn to use the tools. If you don't learn how to use the video editing tools on TikTok, you're limiting your ability to be creative. Take some time out to have fun and play with tools like greenscreen, filters, trending sounds, and sound effects. You can discard practice videos or leave them as private so only you can see them!
Leave your corporate at the door. I'm not talking to the social media managers here because they get it. This is for the shareholders, CEOs and directors who don't understand the platform. Nobody wants to see your PowerPoint presentation or 10-minute company video. TikTok is a place to explore your fun alter ego. Remember, being on the platform is optional and if you don't think it's a good fit for your brand, you don't need to join.
Find a new audience. Perhaps you're a corporate brand with an older presence or client demographic. Having a TikTok account won't erase that, but it could allow you to expand to a younger and fresher audience.
Look at Natwest Bank. Established in 1968, the bank has kept itself focused on future generations who can be lifelong banking customers. When my Gen X self was growing up, Natwest launched its piggy bank collection, aimed at getting young people to save money.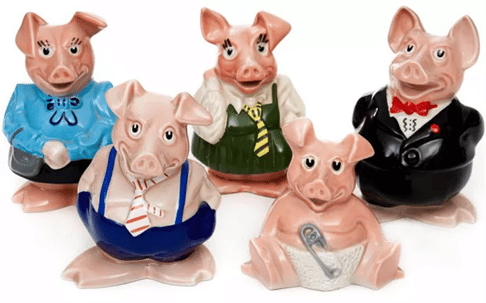 Now the bank is essentially doing the same thing with a new audience via TikTok. That's because big brands need to be thinking about the next generation and how they can support customers at every stage of their buying journey.
@natwest_bank

Talking money might always not feel easy – but the more you do it, the more your confidence will grow. Visit the MoneySense Talk Money hub for resources, information and more this #TalkMoney Week.
How To Get More Views On TikTok After Posting
7. Hitting "post" is just the start
We talk about this a lot here at Agorapulse, but it's true. When you upload a post or video, it's only the start of the social media journey. The same applies here on TikTok. If you want more TikTok views, there are several things you can do after you hit post.
Share it via email. If you have a dedicated and opted in email list, why not share your top TikToks with them? This is especially effective if you have a big announcement to make or a special offer. You can also share event TikToks with your database in case they were unable to attend. Share the TikTok via email and encourage your audience to follow you for more updates.
Embed it in a blog or PR. A great way to recycle TikTok videos is to embed them into a blog or PR. It's very easy, especially if your blog is WordPress. Just select the embed option and copy the link into your blog code. The TikTok will then show in your blog along with your account details so readers can follow you. If your blog is complex, having a short, fun video embedded is a good way to catch readers who want to learn differently.
Get evergreen posts in your content calendar. If your TikTok is evergreen, get it queued up for more shares later. Using Agorapulse, you can share the video to other channels like TikTok or Instagram. Just download the published video from TikTok so you have a high res copy. Then upload it to your content calendar. Make sure you include your TikTok handle so people know where to follow you.
In Conclusion
Getting more TikTok views organically is totally possible with the right combination of strategy, creativity and cross promoting. In fact, TikTok is fast becoming the ultimate platform for talented creators.