Does your company or agency client need a more effective ecommerce strategy? Are you wondering how to increase online sales fast so you can reach bigger marketing goals?
From social media marketing to search engine optimization (SEO), you have tons of options for driving e-commerce. Find out how to increase online sales across marketing channels and discover how Agorapulse can support e-commerce efforts on social media.
How to Increase Online Sales Across Marketing Channels
For most marketers, driving e-commerce sales is a cross-channel effort.
Follow these tips to improve your e-commerce strategy using social media, SEO, and email marketing.
Improve brand and product visibility
If potential customers can't find your brand or your products online, they'll have a tough time purchasing from your business. First, focus on making your e-commerce store as easy as possible to discover online.
For most businesses, that starts with a strong SEO strategy—which can ensure your website displays at the top of relevant search engine results pages (SERPs).
Here's a checklist to help you get started:
Organize your website content in a logical, easy-to-navigate way that follows standard SEO best practices.
Use a responsive design that looks great and functions correctly on all devices—especially smartphones.
Confirm that your site loads quickly across devices to avoid losing customers who click away because of slow page speed.
Identify relevant keywords for your brand, industry, and products. Then use these keywords to create content that provides value to your customers.
Great SEO requires a good plan for initial site structure and design. But boosting visibility and keeping your site at the top of SERPs also involves ongoing content creation.
Work with your team to develop a content marketing strategy that targets keywords and attracts customers. With high-quality content, you can do much more than boost SEO.
You can also share links on social media or in emails, giving you added opportunities to promote products and drive sales.
Optimize landing pages
Having a strong SEO strategy is a great first step for e-commerce businesses. But it's just as important to pay special attention to the landing pages where you send e-commerce traffic.
In many cases, landing pages aren't indexed, which means they won't appear in Google searches. Instead, customers access them when you link to them on social media, in emails, in ads, and in other digital campaigns.
Instead of following typical SEO standards, landing pages generally focus more on conversion rates. To optimize a landing page, create one that features compelling copy and creatives, an irresistible offer, and frictionless checkout.
Then use tools like Google Analytics to monitor conversion rates.
Think your conversion rate and sales numbers could be better? Use split-testing to make small changes to your site and find how to increase online sales.
Perfect your product positioning
No matter which channels you use most for marketing, you need to know how to position your products effectively. If potential customers don't understand why they should want your products, they probably won't buy.
You can start improving product positioning by clarifying the unique selling point (USP). Your products likely do a lot of the same things that your competitors' products do. So what makes your brand's products unique? It could be the price, the value, your brand's origin story, or something else.
Next, it's important to clarify who your ideal customers are and why they should want what your business sells.
You can do this by creating a buyer persona that defines your target customer. A buyer persona typically outlines qualities like your ideal customers':
Demographics, including gender, age range, family status, and location
Education, employment, and industry
Interests and lifestyle choices
Problems and pain points
Goals and needs
If your products serve more than one target group, you may find it helpful to create multiple buyer personas. Then you can use these documents to create marketing content that resonates with your target customer—and ultimately gets them to buy.

Make products shoppable on social media
Creating eye-catching social media content can be incredibly helpful for improving e-commerce sales. Product photos, lifestyle videos, and snappy captions can all help you get customers' attention and increase interest in your brand.
But sometimes linking out to product pages or special offers isn't the right choice.
You might struggle with reach when posting external links on social media, or you may not have the option to add a URL—such as when you publish Instagram posts and reels.
In these cases, setting up shops on social media channels like Instagram and Facebook can be a great way for you to promote products within the app.
You can also tag shoppable products in your content, which can help increase sales. Then customers can browse, add products to a shopping cart, and even complete a purchase—often without leaving the social media app.
For example, @pachasoap has an Instagram shop that features several of the soap company's best-selling products. Customers can browse collections, scroll through product images, and buy directly in the Instagram mobile app. The brand also tags products in Instagram content so customers can shop as they scroll through their feeds.
By the way, you can tag products and make them shoppable in your Instagram posts without ever leaving Agorapulse. All you need to do to take advantage of the product tagging feature is make sure that you have your Facebook Commerce Manager account set up properly. Once that is done, simply add some items to your shop, and you're ready to start tagging products in your posts using Agorapulse. You can tag up to 20 products per post, and up to 30 products per reel using the publisher in Agorapulse.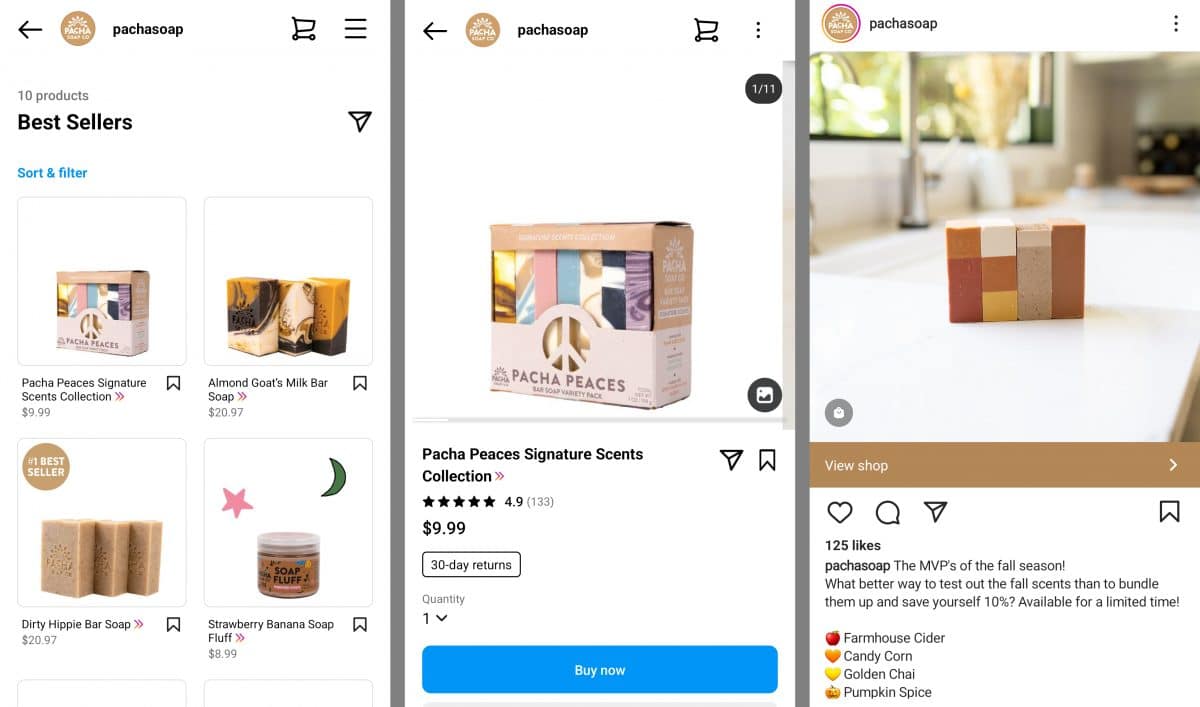 Create a sense of urgency
If your e-commerce products are always available, customers may not feel a need to buy right away. As a result, they may hold off on making a purchase—and eventually decide against it.
To encourage customers to buy and get them to avoid waiting, create a sense of urgency or a fear of missing out (FOMO). One of the best ways to instill a sense of urgency is to launch a limited-time product or make a limited-time offer.
For example, @califiafarms regularly offers seasonal products like the pumpkin spice creamer: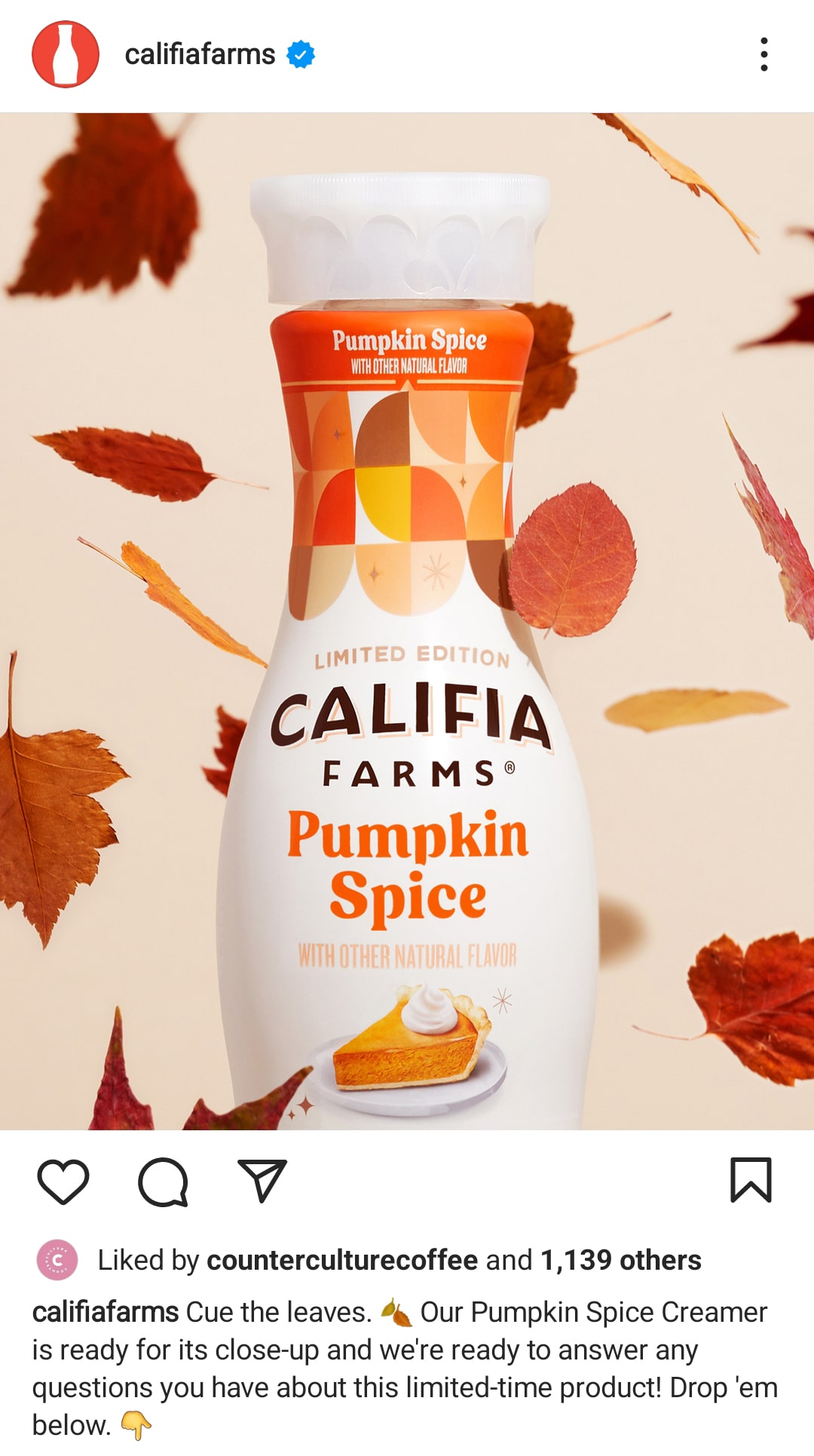 The dairy-free milk brand creates interactive educational content to highlight seasonal items and drive sales during limited time periods.
Offer irresistible discounts
If cost is a major factor for your customer base, you may struggle to get customers to buy products at full price. In that case, offering discounts can be helpful for increasing online sales.
You can try several tactics for announcing discounts. If you use native shopping tools, they can automatically alert customers to sale prices, which can encourage them to buy. If you want more sales in your e-commerce store, you can distribute promo codes for customers to use.
Offering discounts can also be helpful for growing your email list. For example, you can offer a welcome discount to new subscribers, which can give customers an incentive to join your list.
Discover how to rock ecommerce at our FREE summit on Dec. 15!
Launch subscription offers
Speaking of subscriptions, offering recurring weekly, monthly, or quarterly deliveries can help drive online sales.
While selling a single product is great, selling the same product to a happy customer on a recurring basis is bound to be even better for your bottom line.
Not sure if subscriptions are right for your business? Subscriptions allow customers to replace items they've used or try products that are new to them. That means subscription models tend to work best for brands with consumable or collectible products.
In addition to creating website and social media content about your subscription model, use your email list to market your new offer. Segment your list so you can focus on current customers, and then upsell people who already use your products.
Share social proof
No matter how convincing your marketing efforts might be, they may resonate with your customer base the way word-of-mouth marketing does. After all, branded content can come across as overly salesy and may even sound like an advertisement to customers.
One of the best ways to supplement your library of branded content is to add social proof.
In other words, share what actual customers, press outlets, and industry voices have to say about your brand and products.
Here are a few ideas to try:
Share customer-created content. Do your customers publish videos or photos of your products on social media? Reshare their user-generated content (UGC) on your social media channels to give them a shout-out—like @outdoorvoices often does on Instagram.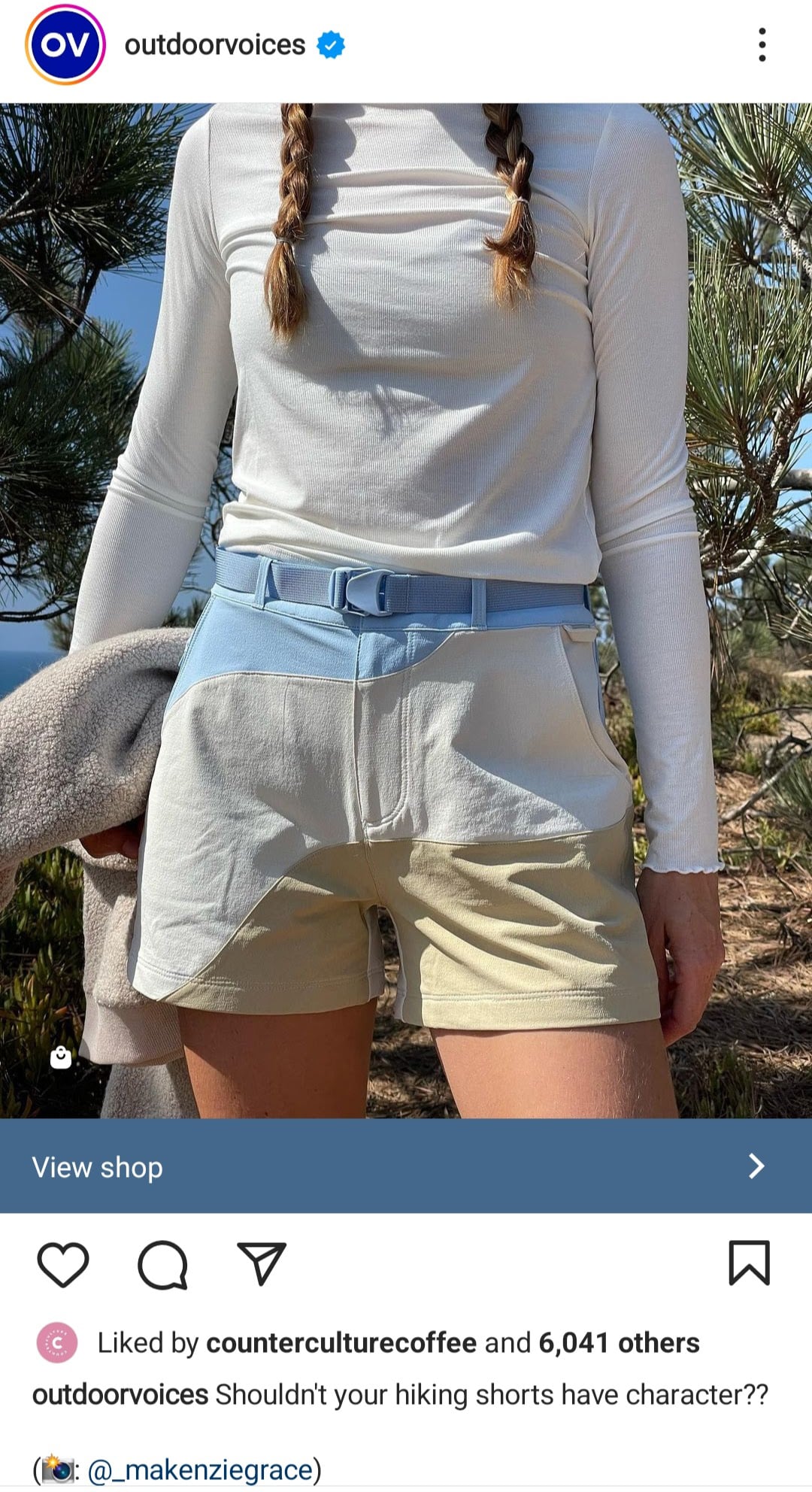 Let customers speak for themselves. Do your customers leave a lot of amazing reviews? Repost their comments to your social media channels or paste them into a marketing email. Chances are their words will speak to customers like them.
Quantify your customers or sales. Have you sold way more products than your competitors have? Celebrate when you reach milestones like 1,000 customers, 5,000 orders shipped, or a new product launch sold out in an hour.
Run paid social campaigns
Organic social media content can help you sell a lot of products, especially if your reach and engagement are above average. But when you want to raise the bar, running paid campaigns is a smart choice.
With social media ads, you can expand your customer base, find people similar to your best customers, and reach more ambitious sales goals.
What's the right social media platform for paid campaigns?
It's often best to start with the platforms where you've had the most success with organic social media. In fact, you can start running ads by boosting your best organic content. If you want to drive sales, be sure to choose organic posts with clear calls-to-action (CTAs) and links to your e-commerce store.
To create more complex campaigns or to guide potential customers through your sales funnel, use each social media platform's dedicated ad management tool. You'll be able to fine-tune your ad targeting, leverage more advanced features, and even tap into remarketing tools.
How to Increase Sales Online Using Agorapulse
When you use social media to sell e-commerce products, you always have the option to rely on native tools.
But when you add Agorapulse to your e-commerce marketing stack, you can take your online sales goals to the next level.
Wondering how Agorapulse can make your job easier? Let me introduce you to Agorapulse features you'll want to start using right away.
Publish and schedule social media content
Planning an annual sale or product launch? Want to share a great behind-the-scenes video? With Agorapulse's publishing composer, you can do everything from making note of ideas and drafting content to publishing and scheduling social media posts.
Need to share content across social media profiles? Agorapulse makes it easy to publish and customize content on all your social media channels — including adding product tags for your Instagram posts. Open the publishing composer and check off all the channels where you want to publish.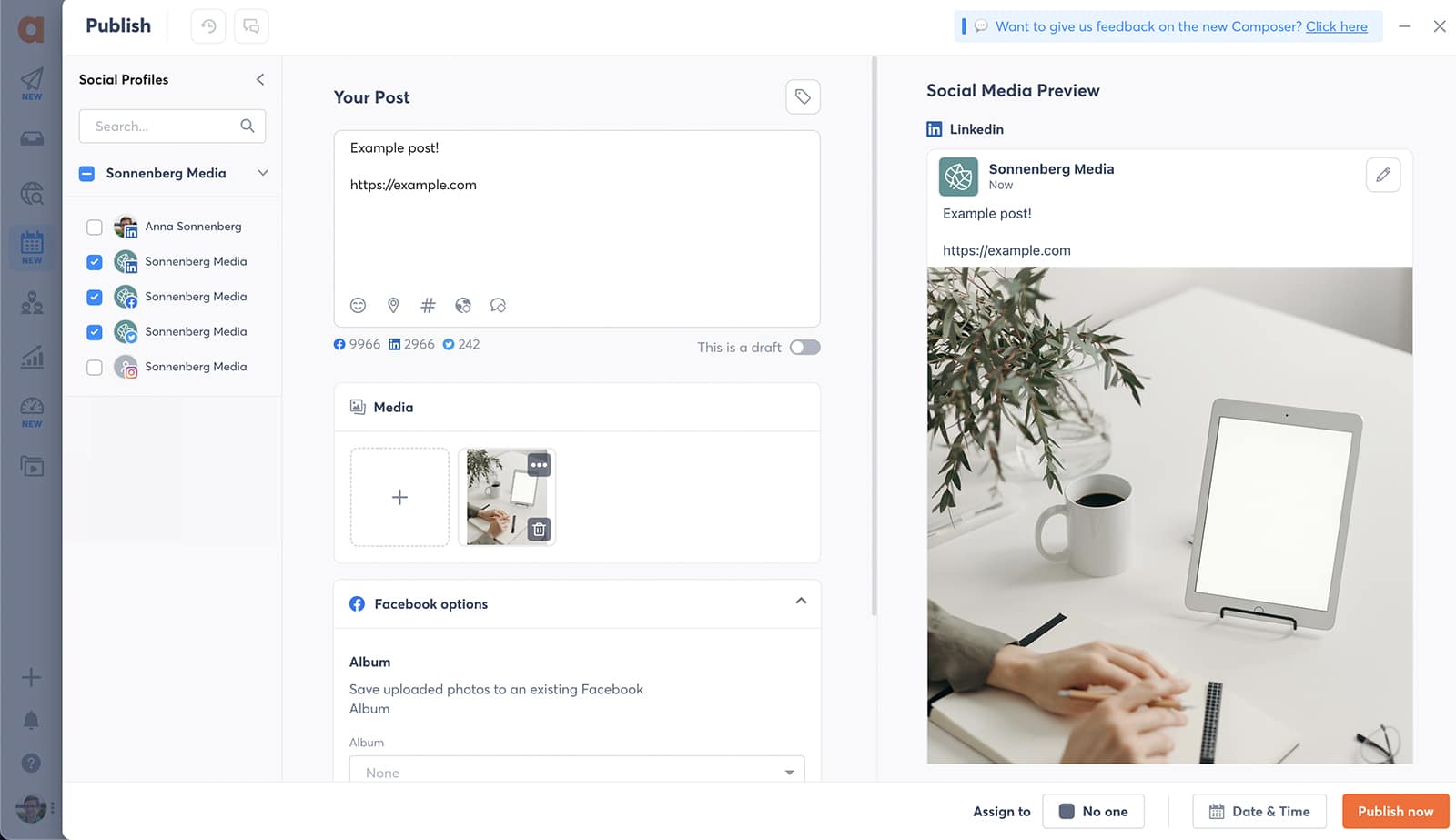 Then draft your post, add a link or product tag (if applicable), and choose a creative.
To streamline your process, upload all your creatives to the Agorapulse asset library—and then plug them directly into your social media posts. To customize your post for any network, click the pencil icon next to the preview.
With Agorapulse analytics, you can easily see what kind of social media content drives reach and engagement. You can export social media reports manually or schedule them to go out to your team every week or month, so everyone can keep an eye on results.
Create a Link in Bio page for Instagram
A "Link in Bio" page is like a mini-website you can add to your social media bio on Instagram. When people click on this link, they find a landing page with multiple links that has buttons or it can look similar to your Instagram grid. This makes it easy for your followers to find and visit different sections of your website or other online resources quickly.
Agorapulse now has it's own Link in Bio feature called PulseLink. You can set up your PulseLink page within minutes from Agorapulse and use it to add links to your Instagram posts. You can even go back and add links to content that has already been published on Instagram, and then add it to your PulseLink page. Here's an example of what a PulseLink page looks like. Keep in mind you can always customize the page colors and links so it is exactly how you want it.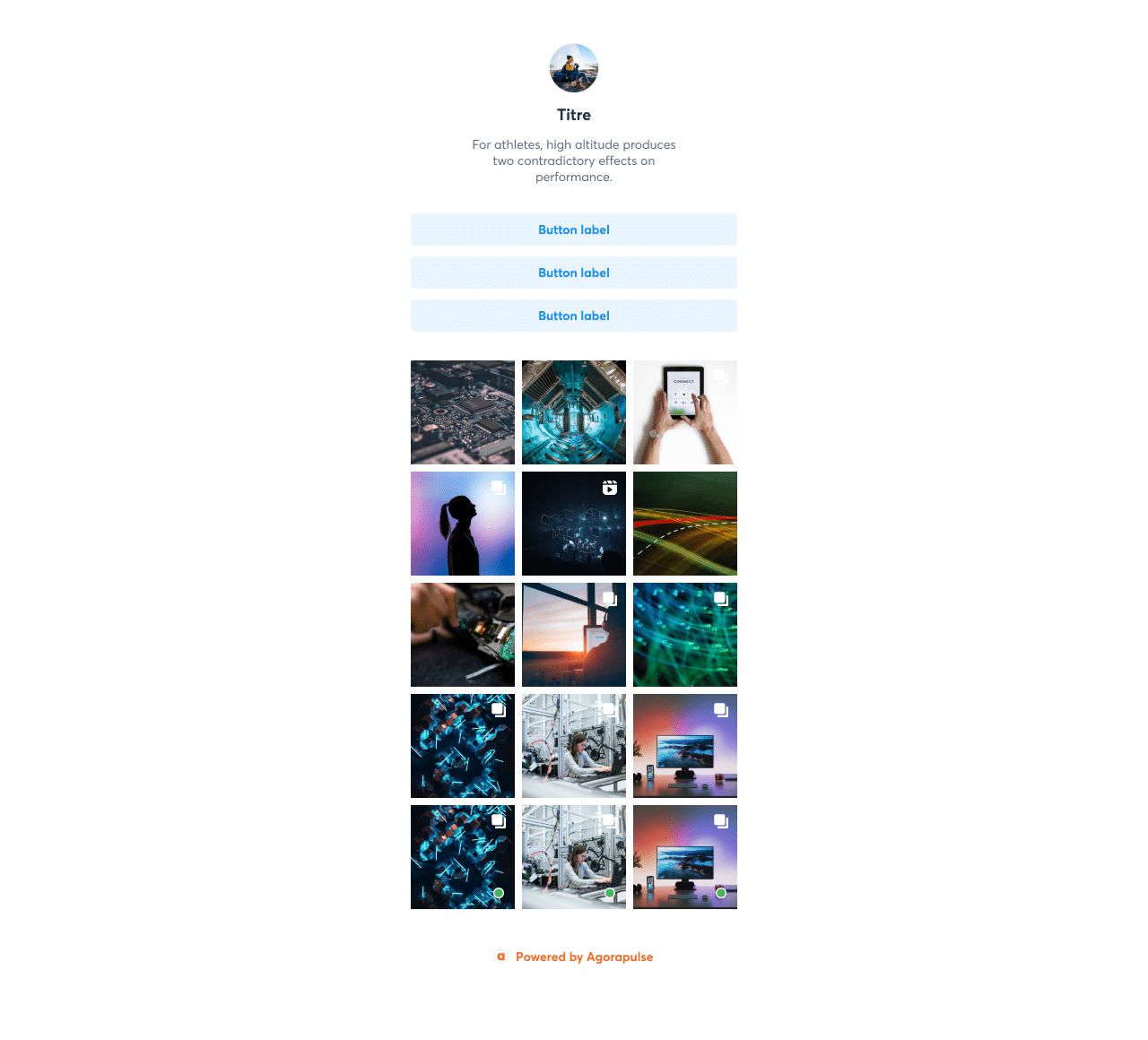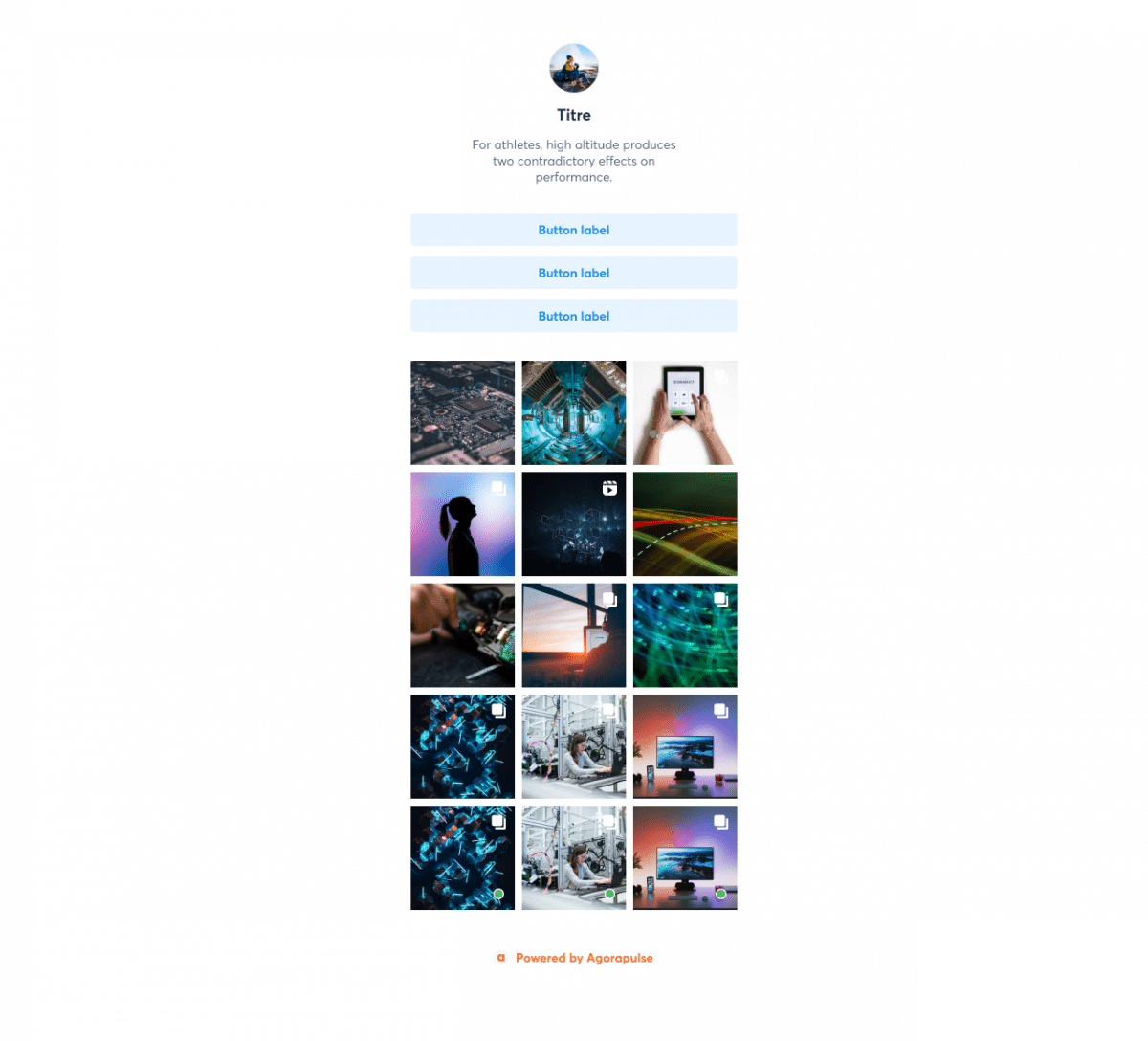 When you're done setting things up, remember to display the link to your PulseLink page on your Instagram profile in your bio so anyone who visits your profile will see it.
Use labels to create campaign reports
Whether you're running a sales-focused campaign on a single profile or across channels, you need a simple way to separate the signal from the noise. With Agorapulse's publishing labels, you can tag campaign content as you publish or schedule it.
When you're ready to review analytics, you can zero in on campaign content. Click to create a custom report, and choose the label report format. Then choose all the social media profiles involved in the campaign and select the publishing label you used.

Then select the metrics you want to include in the report. You can add anything from reach and impressions to engagement and publishing metrics. You can also choose the metric that you want to determine top content.
The overview panel helps you check campaign performance at a glance, while the reach, impressions, and engagement panels break down metrics by platform. The top content panels make it easy to see what's driving your audience to engage and buy.
Create Social Media Reports That People Will Actually Read
Monitor engagement and offer customer service
Keeping tabs on multiple social media inboxes is always a challenge, especially if you have to switch between profiles or jump from tab to tab.
Agorapulse manages all your social media engagement in a single inbox tab, where you can quickly see the number of outstanding comments or DMs for each profile.
Concerned about missing important questions or requests from customers? The Agorapulse social media inbox creates a separate item for each user who's messaged your account or commented on your content—so nothing slips through the cracks.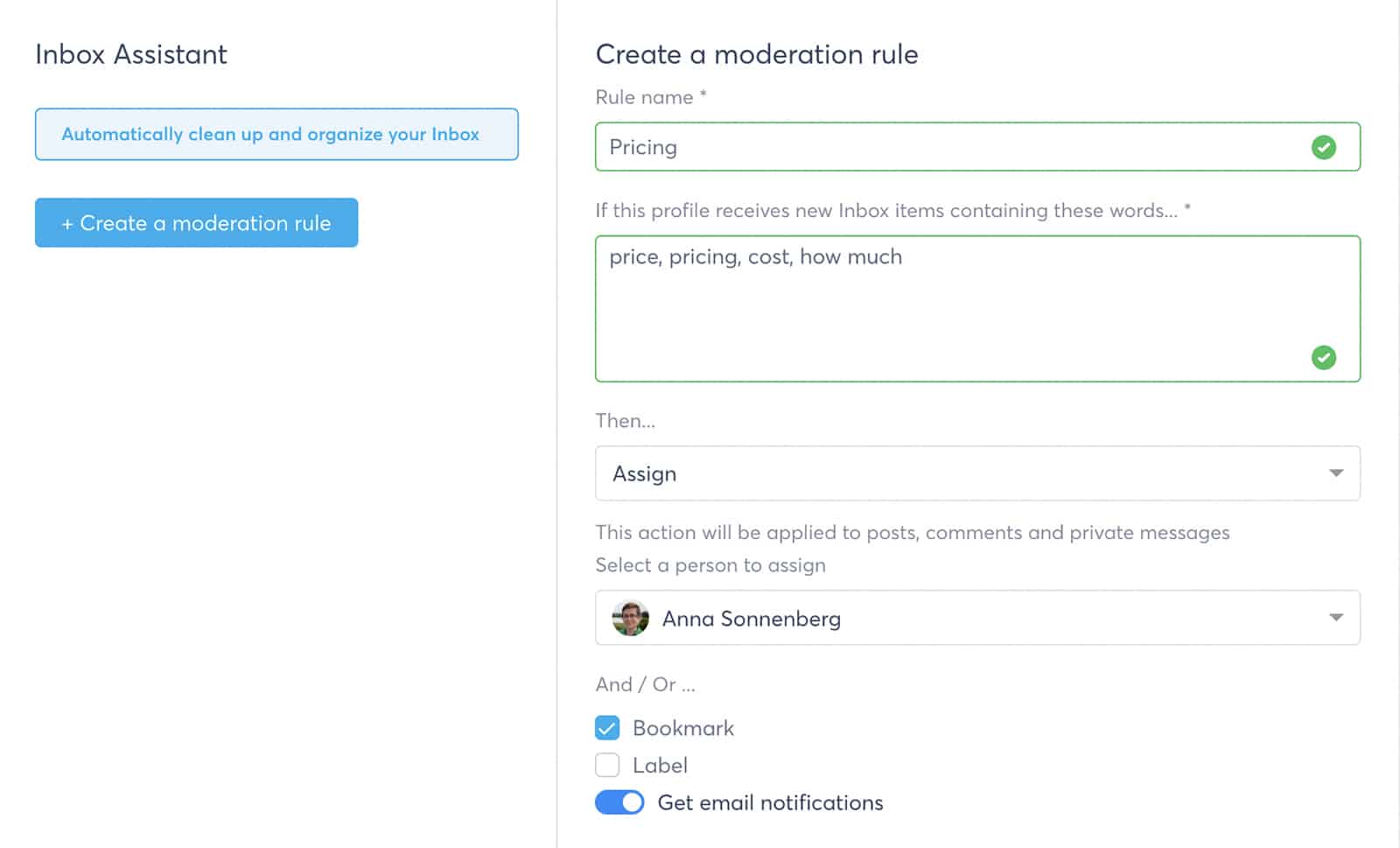 To manage your inbox more efficiently, you can automatically send certain kinds of messages—like DMs about pricing or shipping—to appropriate team members.
You can also build a library of saved replies so you can answer common questions more efficiently.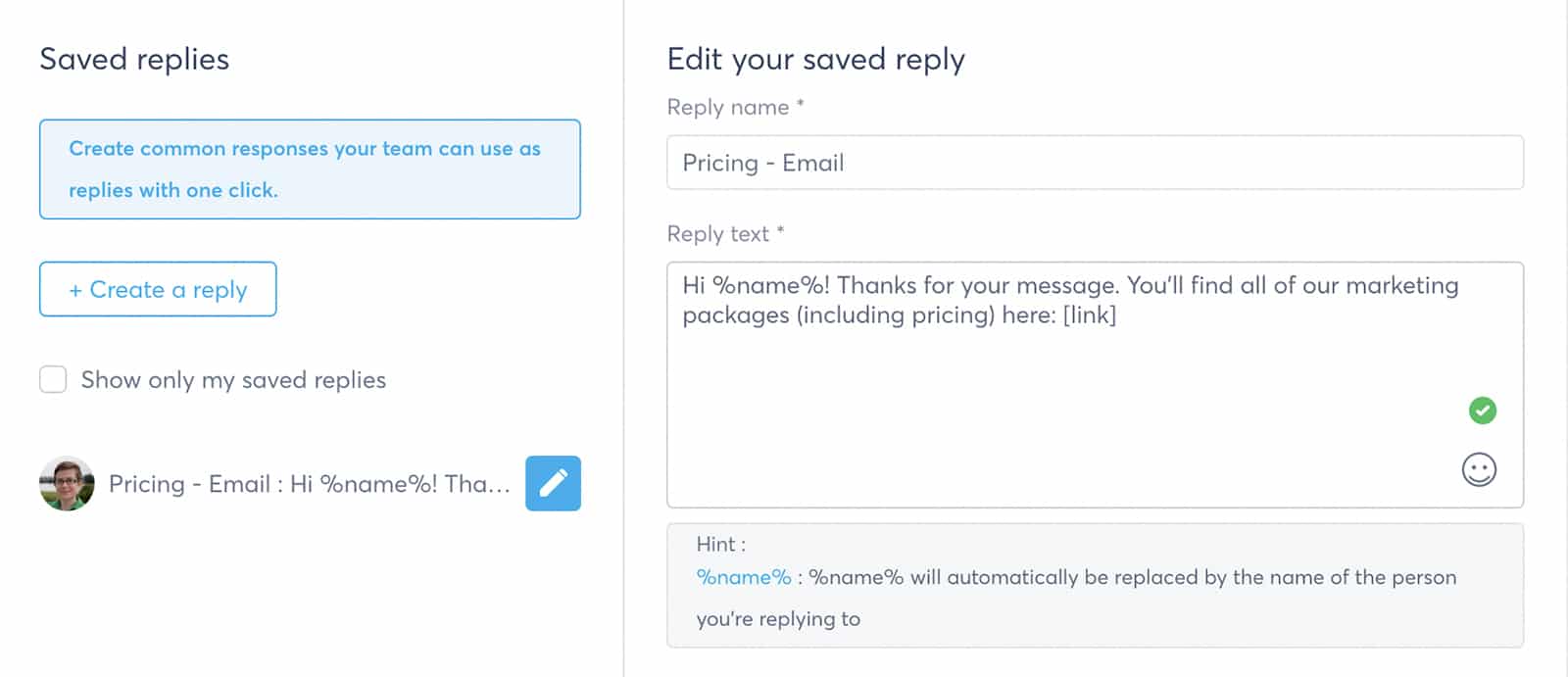 Listen in to customer conversations
If potential customers aren't following your content or engaging with your brand directly, it's tough to sell to them. But if they're actively searching for solutions that you offer or talking about your brand online, you can tune in to the conversation.
With Agorapulse's social listening tools, you can set up automated searches for brand and product names as well as industry terms and even competitor names. Every time these keywords pop up on social networks of your choice, you'll get a new item in your listening inbox.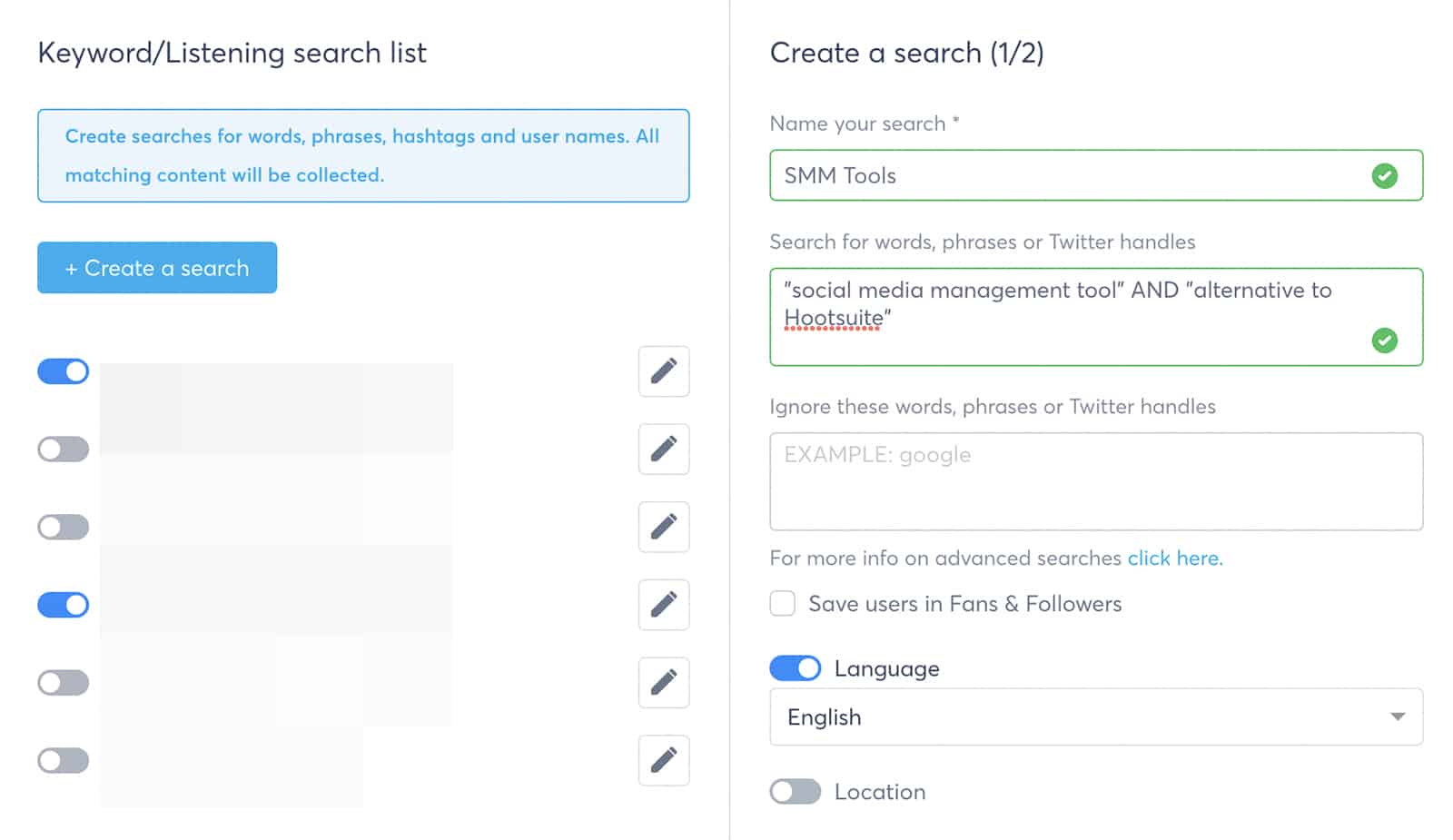 In some cases, you may just want to listen in and hear what customers say about your brand. But if customers are searching for more information or if they're close to making a purchase decision, you can join any public conversation—by answering questions, sharing information, or dropping a link.
Track sales from social media posts
After developing and executing a solid campaign strategy, you need to know whether you've reached your sales goals. With Agorapulse's return on investment (ROI) reporting panel, you can plug Google Analytics data directly into your Agorapulse dashboard.
Rather than tracking all website analytics, Agorapulse automatically displays website activity and results attributed to social media channels. You can easily track visitors, transactions, and even revenue across your brand's social channels. If you've configured goals in Google Analytics, you can also view separate charts for each.

Agorapulse automatically breaks sales analytics down by UTM campaign, landing page, and social media channel. Using these reports, you can prove social media ROI and demonstrate the value of your work. You can show stakeholders which efforts are driving maximum value—and use these insights to continue to increase e-commerce sales.
Wrapping Up What We Learned About How to Increase Online Sales
Standing out in a crowded market isn't an easy job. But with the right tools and a smart strategy, you can take steps to reach your sales goals and grow your e-commerce numbers on social media and other marketing channels.
Get started on saving time and energy in managing your clients' Instagram accounts! Check out our free trial of Agorapulse to help you schedule, track, and measure all your social media efforts.