Social media planning and content approval can be time-consuming client work. But with the right social media management solution, agencies can work faster and smarter.
Read on to find out how one particular agency saved time with their social media management.
Imagine Social
Imagine Social is a U.S.-based digital marketing agency that uses the right blend of marketing products and services to elevate brands and empower them to grow. Imagine Social helps small companies thrive by enhancing their social media profiles and increasing brand awareness.
Key takeaways
Imagine Social specializes in social media marketing.
Before using Agorapulse, Imagine Social manually pulled data from spreadsheets to create reports for its clients.
Since using Agorapulse, Imagine Social has increased transparency, trust, and client retention rates all while saving 2+ hours per week on social media planning.
Agorapulse became Imagine Social's ally by providing great features and an amazing support team.
Challenge: Find a Better Content Approval Process
Before Imagine Social began working with Agorapulse, the digital agency's content approval involved a lot of manual work.
"We were previously building everything in a Trello board and inviting clients to that. as our company grew very quickly, we needed to set up a better process that would allow for scheduling, planning, and approvals. This was when we needed to find a product that would help us solver this challenge." (Michele Biaso, president of Imagine Social)
Michele and her team were looking for a solution that met three main criteria:
The ability to easily schedule content in advance for multiple social media platforms. Doing this natively was no longer sustainable.
The option to share content with clients, giving them access to approve or reject content. Communication is a key part of this agency's workflow. It couldn't afford for messages to get lost in an inbox.
A secure platform that would protect against information leaks and prevent clients from seeing the wrong content by mistake.
So, how did Imagine Social find the perfect solution for its specific needs?
"My team researched a variety of scheduling and planning platforms and did full audits of them to assess which one would be the best for our company. We liked that Agorapulse offered the approval feature through a shared calendar that other platforms were just missing." (Michele)
Solution: A Streamlined Content Approval Process From One Single Platform
Instead of using an external tool and having to train its teams to use other platforms, Imagine Social found an easier way to collaborate with its clients on their content approval processes.
"Rather than create everything on a Trello board and share it with our clients, we can easily streamline it for them by simply sending them an approval through shared calendars. The approval process is also simple. They don't even have to learn how to use Agorapulse fully. This has saved a ton of time from having to train each client on Trello. So, instead of logging into a messy board, from Agorapulse, our clients get to see the final result—the awesome content we produce for them!"
The Agorapulse content approval process uses shared calendars and was designed for agencies that need a platform to fully streamline their content creation and approval processes.
For Imagine Social, this process requires just three simple steps.
1. Schedule the posts in advance for multiple platforms and customize the content for each platform
With the advanced scheduling options, Michele and her team can:
Select which platforms they want to post their content to
Customize content for each channel
Assign it internally to make sure the results align with the overall strategy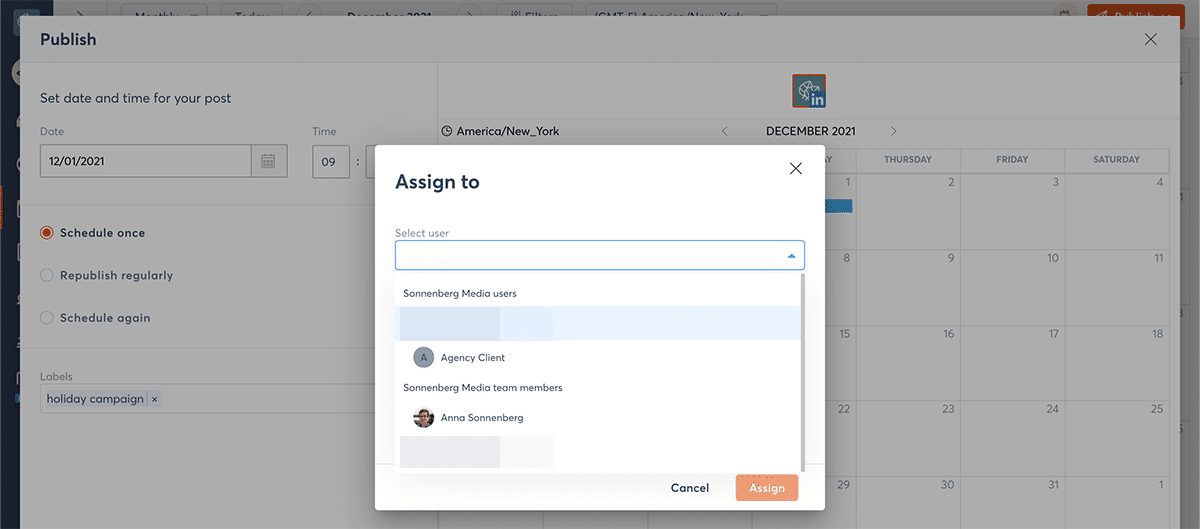 2. Assign content to individual clients using shared calendars
Michele's team can create separate calendars for each client, which include only the social profiles each client uses.
Her team can then invite all relevant client stakeholders to their specific calendar. These stakeholders don't count toward a seat on Imagine Social's subscription.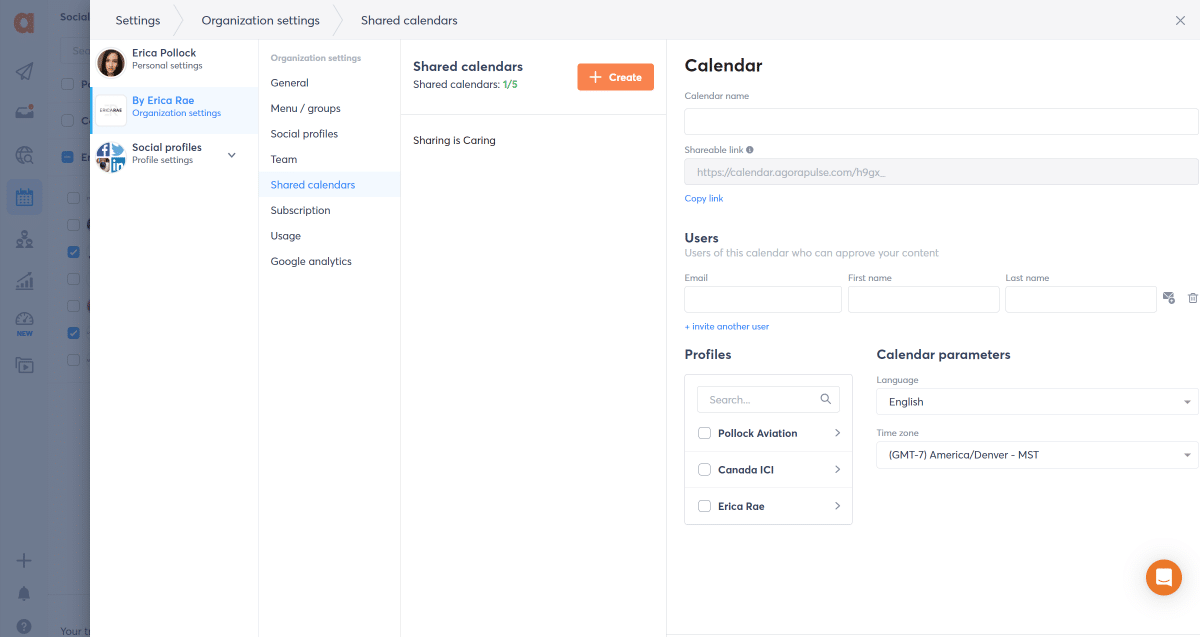 3. Review approved or rejected content and get ready for the social part of social media
Michele and her team can easily check whether the client left any comments or suggestions.
Doing so keeps all communication in a single thread by reassigning the post once the changes are complete.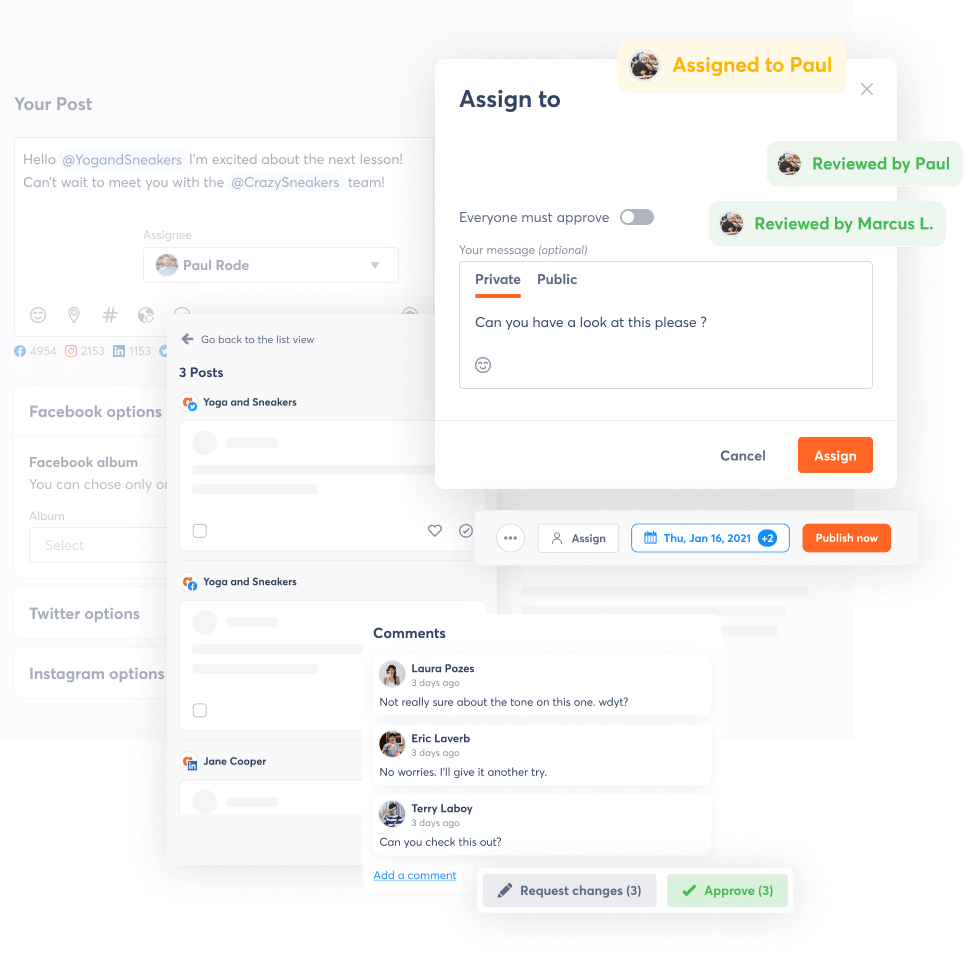 If there weren't any changes, they can sit back and relax. Their content will be posted on time. Their social inbox will gather all the comments they get, so they can focus on nurturing relationships with their clients.
But the story doesn't end there.
One of the biggest nightmares for social media managers is having content published before it's been approved by the client. This is a recurring issue that agencies face, especially when dealing with multiple clients and posts across different social media channels.
Michele is now confident she'll receive feedback on what needs to be adjusted before the content posts.
She also knows her team won't post content before it's been approved by the client. Moreover, once it is approved, it will post on time.
"Our clients and agency discuss what their social media goals are so we can implement them through content creation. Once our content is approved by the clients, we ensure that the posting schedule is what they want before we schedule it on Agorapulse. We have control over the posting (days, times), so that's all done on our end with our team members having specified roles on who schedules or posts what, at a certain time. Then, our clients simply approve it through a Shared Calendar."
Outcome: Less Time Spent and More Transparency
Since using Shared Calendars, Imagine Social has gained on both sides of the business by increasing client transparency and saving precious time for their team.
According to Michele, working with Shared Calendars has saved her team more than 2 hours a week that were previously spent creating Trello boards for their clients, sending emails, and even training clients to use the tool.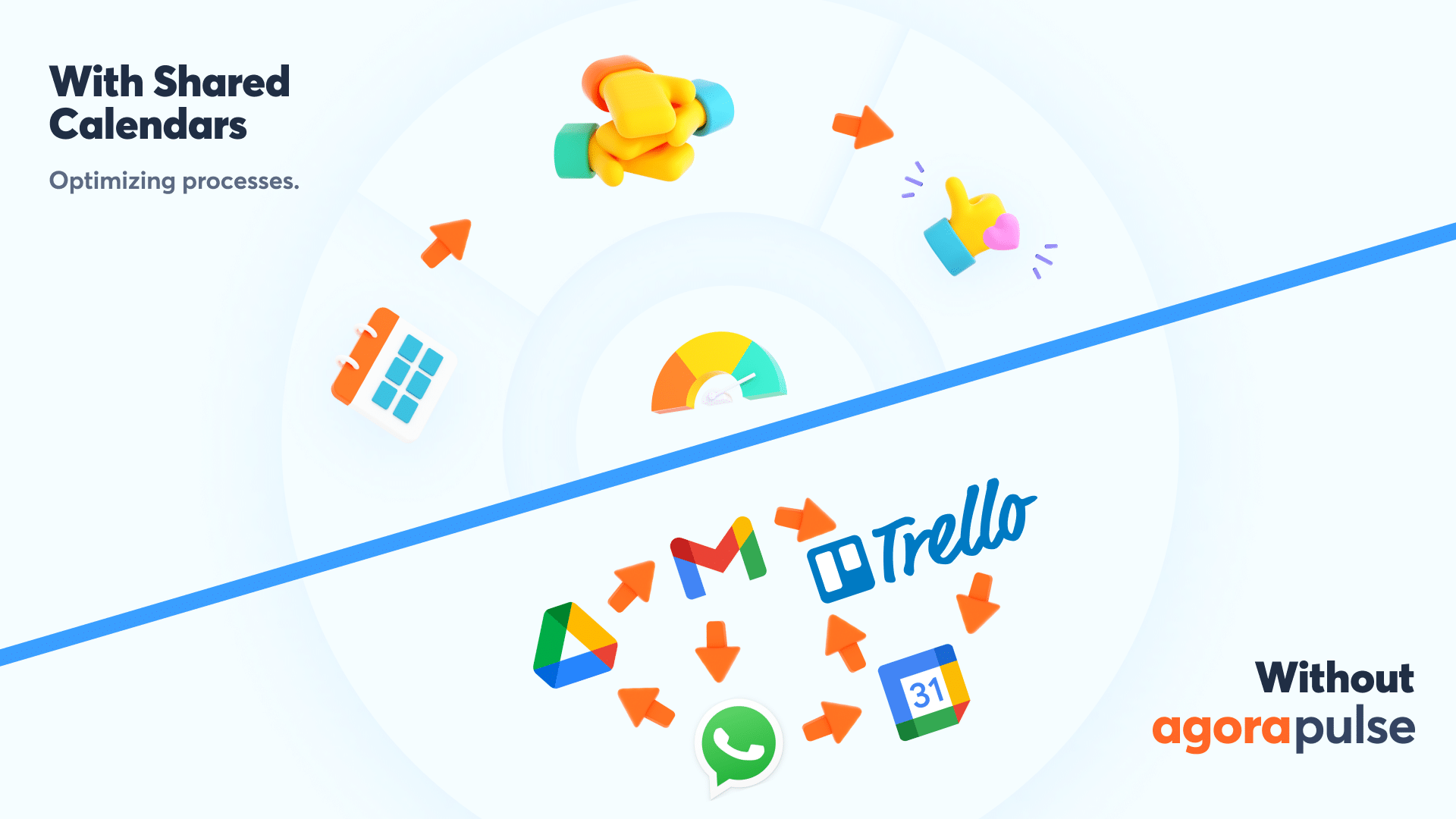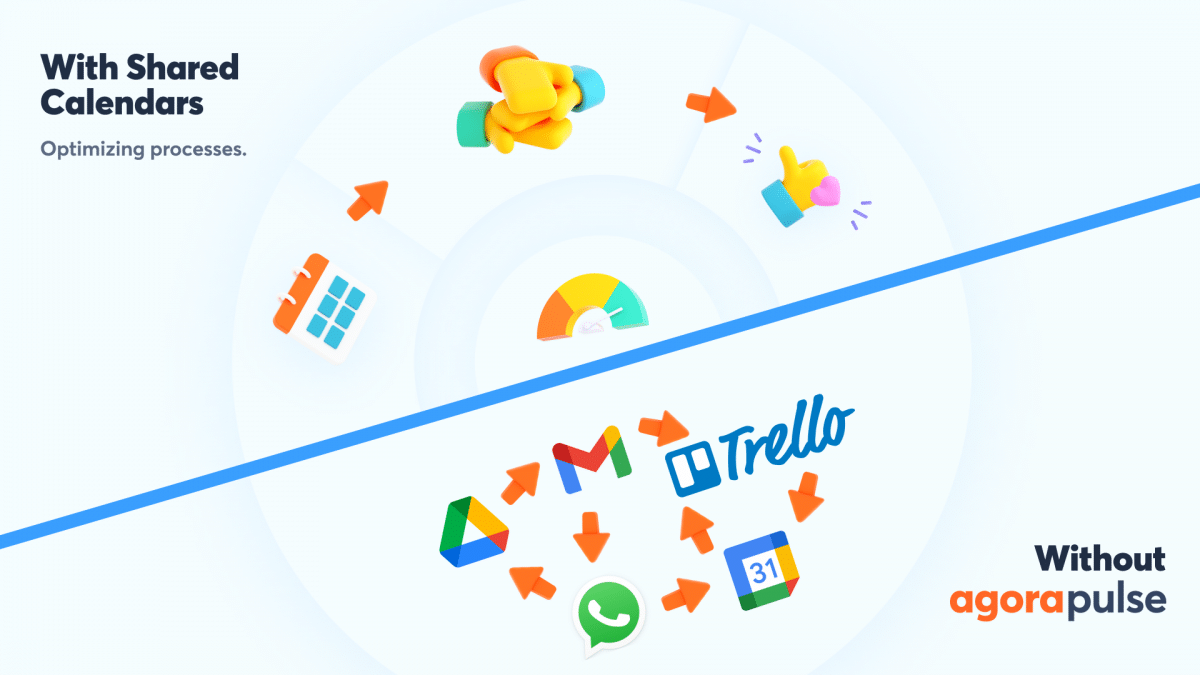 Along with the benefits of using shared calendars, Imagine Social has also seen a positive impact on their reporting process.
Agorapulse helps Imagine Social create reports that have a direct influence on the development of their clients' social media strategies.
As Michele explained, they make use of the Power Reports feature to offer their clients a full analysis of their digital footprint at the end of every week.
"Previously, we were manually inputting analytics into a spreadsheet for clients, and it took us several hours per week. Now, it's just a few clicks and we get a professional, visually appealing, in-depth report to forward to our clients!"
Additionally, these reports can be sent to clients automatically.
Michele's team can focus on what really matters: driving an impactful social media strategy for their clients.
In Conclusion
Running a successful agency is all about finding the right mix of expertise, strategy, and process optimization—and the right social media management tool can make all the difference.
We at Agorapulse created the shared calendars to streamline your content approval process internally and externally, all from the same place.
Like Imagine Social, you can save hours a month, increase client transparency, and continue delivering impactful results to your clients with help from Agorapulse.
"We are super-happy that we found a platform that has just about everything we need. We are able to manage our own profiles, as well as our clients, in just one place. The support team is super quick and has always been able to help with any questions we have had along the way. Agorapulse just has everything we need. We didn't have to sacrifice any features or use multiple platforms."
If you'd like to start saving time by using Agorapulse, get in touch with our team to book a free demo today.