Are you approaching your social media strategy like you always have? In this new year, level up with these social media tips from experts.
What top tips do you need to know to level up your social media strategy in 2021? We gathered some of the very best tips from Agorapulse's training courses and sessions in 2020 to help you kick off the new year with creativity and inspiration.
Every year, some of the most brilliant social media marketers in the industry provide training and tips to our audience through summits, courses, and top-notch content.
So, if you need help creating a strategy so your brand can thrive and succeed in 2021, read on.
1. Get out of a creative rut
Social media tip from: Alan Gannett, author of "The Creative Curve"
Creating content—whether video, copy, or images—can be difficult if you're feeling stuck, stifled, or drained of creativity. 2020 was draining for many of us, so a major challenge in 2021 will be getting our creative juices flowing once again.
Alan Gannett shared the example of The Beatles' Paul McCartney and how the song "Yesterday" came about. One morning, Paul woke with the tune to the song in his head. He asked his fellow bandmates whether they'd heard it before and if they knew what it was, but they hadn't. Ultimately, he realized that he'd created the tune.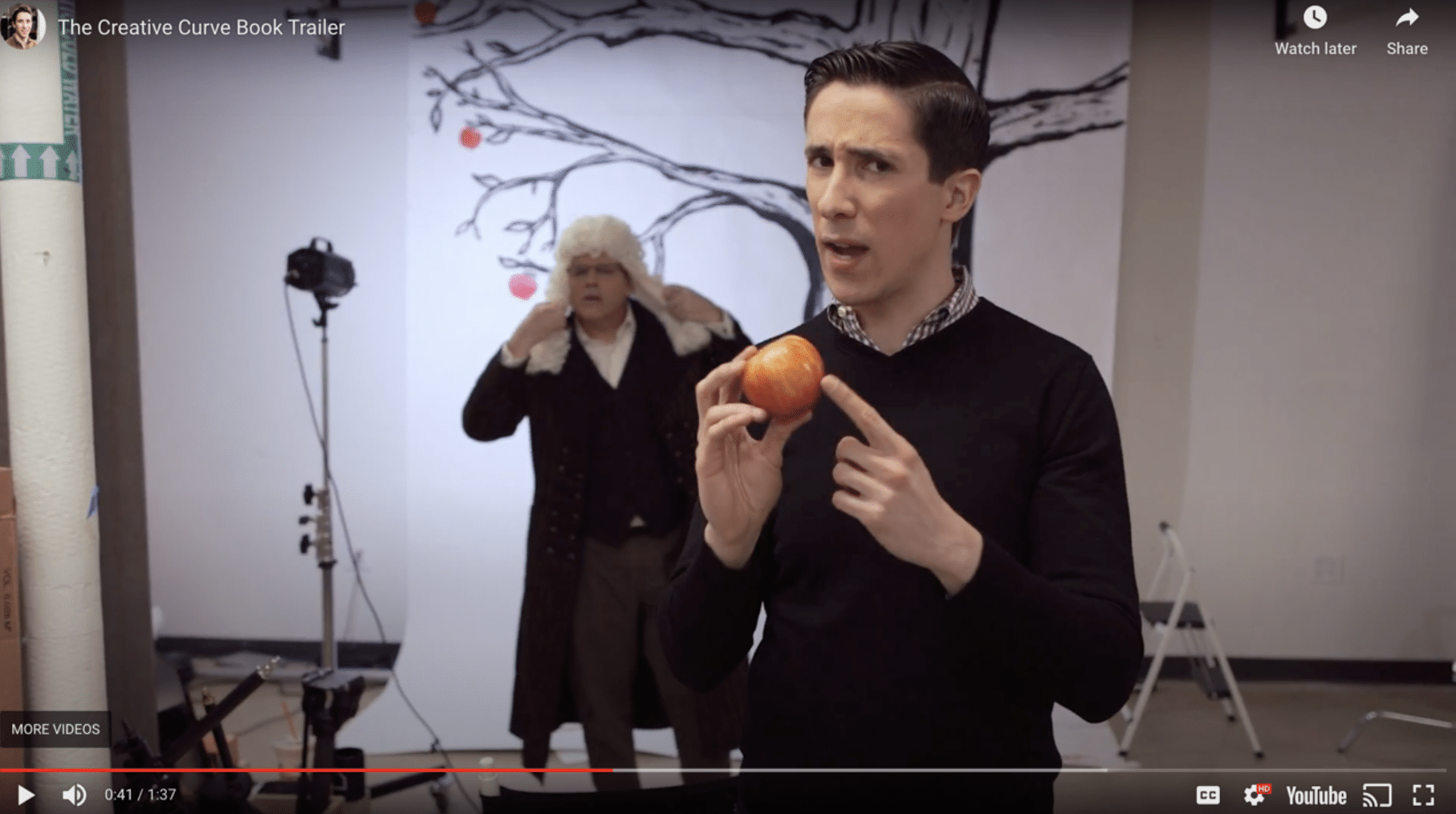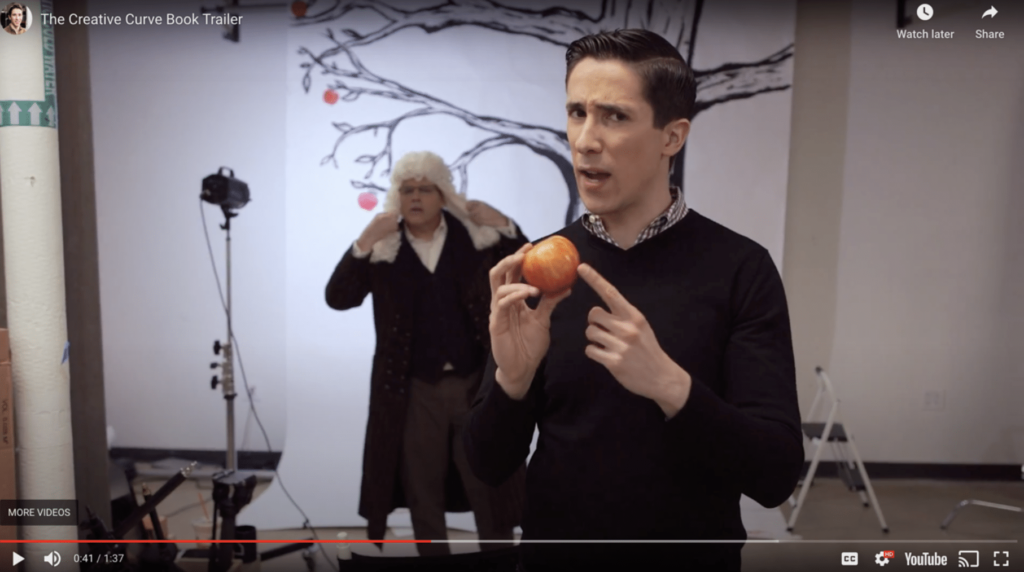 To get the song written, he composed gibberish lyrics to fill the melody until he could write the real words. Instead of the iconic verse, "I believe in yesterday," he wrote, "I believe in scrambled eggs." Doing so allowed him to get the music written before circling back to perfect the lyrics.
So what's the lesson here?
Inspiration comes in many forms. And sometimes, the inspiration for a piece of content doesn't come fully formed. The Beatles were constantly listening to other people's music, just like we consume other marketers' content. Because Paul was constantly immersed in other people's creativity, his brain created this melody that became one of the most famous and recognizable songs ever written.
How to get out of a creative rut
Keeping your creativity flowing means you should stay immersed in creative content that inspires you.
Here are a few ways to do that:
Surround yourself with expert content and creators who are both established and new
Carefully curate your sources of inspiration, looking only at people and feeds that truly inspire you
If you're feeling stuck, start by reviewing who you're looking at and listening to, and culling out content that doesn't make you feel inspired or motivated.

2. Use live video for community building
Social media tip from: Jeff Sieh of Manly Pinterest Tips and Ian Anderson Gray of The Confident Live Marketing Podcast
Last year was the year of video. And according to Jeff Sieh and Ian Anderson Gray, video builds a trust factor that, in turn, helps to build an audience without borders.
Because of smartphones, many of us have a live video studio in our pocket now. We can use video to connect multiple people from around the world, all in one place. And when we can't easily connect in person, live video is an excellent substitute.
Live video offers a level of interaction with your audience that you can't get any other way.
But like other marketing skills, live video takes time to master. It can be tough to get started with video and stay consistent, particularly if you're nervous about going live at first.
But remember: Everyone makes mistakes when they're learning something new. (Even the most seasoned professionals still make mistakes.)
3. Provide outside perspective
Social media tip from: Jay Baer of Convince & Convert
Many agencies and service providers hesitate to teach their clients what they know because they're afraid those clients will no longer need them.
In Jay Baer's session, Five Services Social Media Agencies Need to Offer, he spoke about service providers' unique ability to approach a client and provide them a perspective outside that they cannot provide in and of themselves.
From within a company or brand, it's easy to lose sight of how the company actually comes across.
What you think your brand is may not be what others perceive it to be. So it's useful for brands to stay on top of their identities, and marketers can help them do that by asking and answering questions, such as:
What does this brand sound like?
Is the brand serious? Is it smart? Funny? Iconic?
In addition, businesses often make the mistake of seeing themselves as the hero of their story, rather than their clients and customers.
When the customer is the hero of the brand story, that changes how a business interacts with its audience.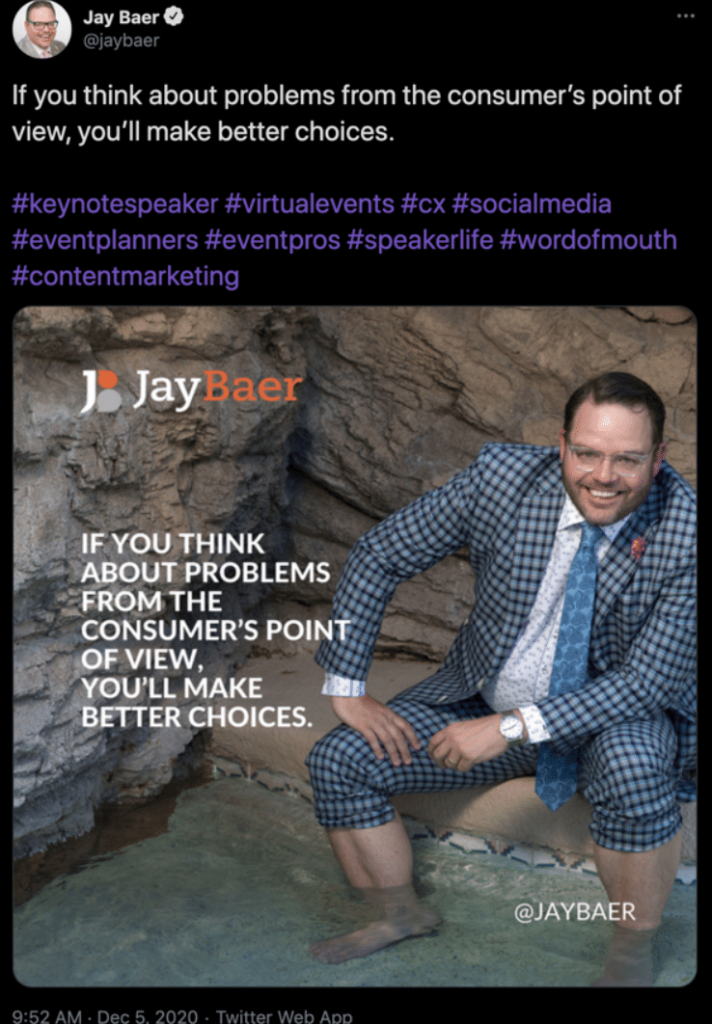 So rather than worrying that your insights will give your clients the tools to take you out of the picture, consider how you can function as a brand consultant outside the walls of their business.
Ask clients tough questions and help them craft the things they can't do on their own.
Your perspective is invaluable.
4. Empower your employees to tell your brand story
Social media tip from: Jennifer Watson of Agorapulse
Jennifer Watson, our social media manager here at Agorapulse, encourages brands to empower their employees to tell their brand story.
Tools like Agorapulse's free Easy Advocacy can help with this, making it easy for the members of your team to broaden your company's reach.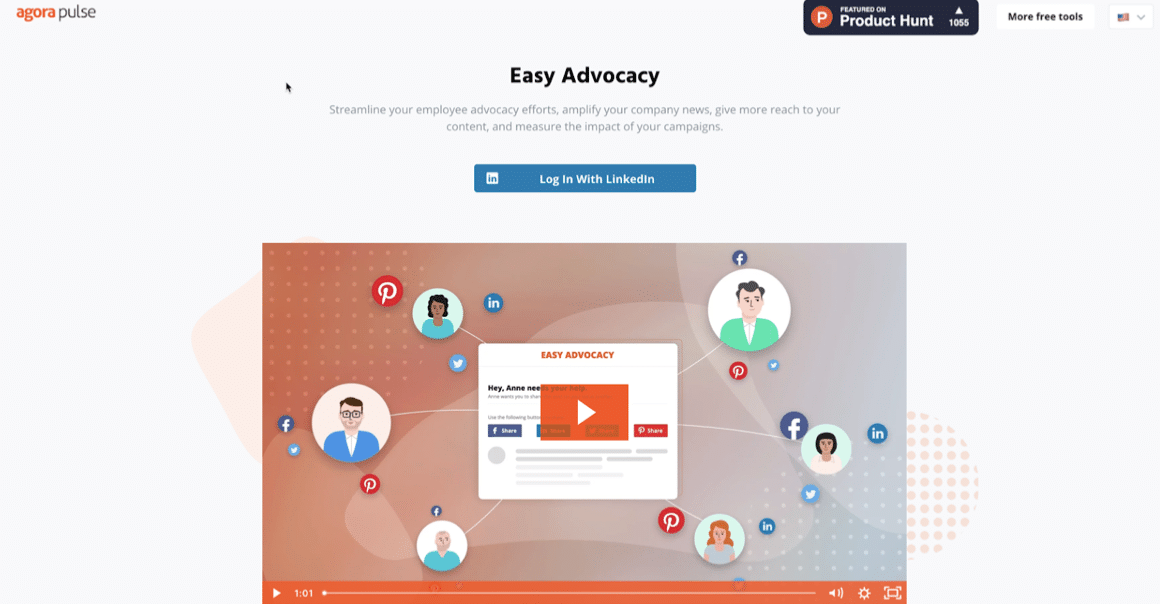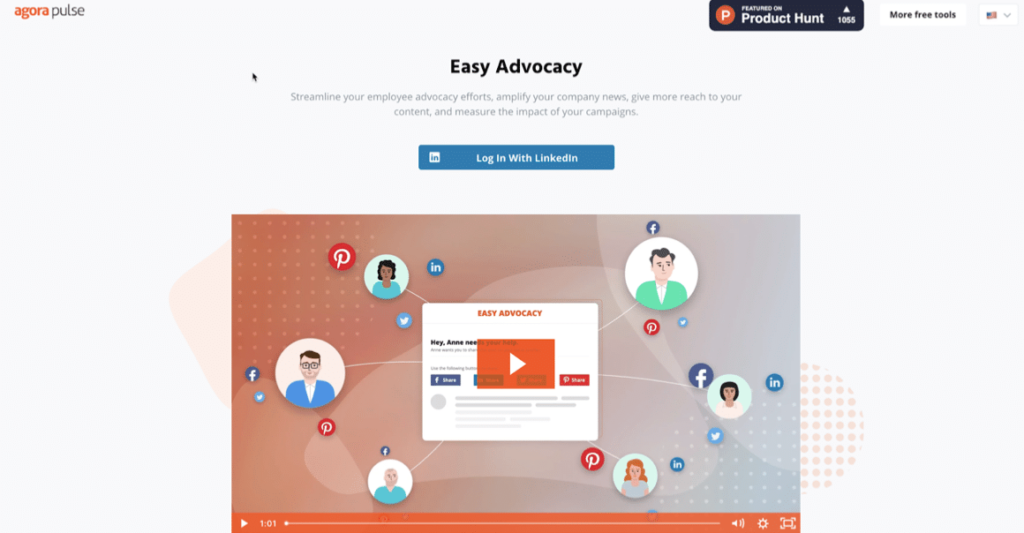 Provide employees with the copy and images they need to easily share your brand online. Test different types of content with your audience and to see what's resonating best with your employees, too.
Tools like Easy Advocacy help to get your employees excited about the content you're sharing. If your internal team isn't excited, then your customers and prospects won't be, either.
Additionally, consider making your team members part of a test pool or think tank to help weigh in on new product offerings or services.
How to Craft an Authentic Brand Voice & Maintain It Across Social Media Platforms Successfully
Use weekly team meetings to encourage employees' brand advocacy
In addition to using the free tool, having weekly team meetings as a company can also energize your team.
Reiterate your brand values.
Show how those values are being lived out in real-time.
Teach and show your team the lessons and rewards that come from adhering to those values consistently.
Most importantly, share your wins together.
Living out the company culture together reinforces the desire to share what's happening in the company with the rest of the world.
5. Focus more on relationships than marketing
Social media tip from: Jessika Phillips of NOW Marketing Group
According to Jessia Phillips, relationships are more powerful than marketing.
Rather than sending canned pitches to prospects or customers, being relational is ideal.
While it's possible to make automated messaging unique and more personal, the ideal is to craft real relationships. Building genuine connections with others will never feel like spam, automation, or swipe copy.
Real, personal interactions are key.
You might even consider shaking things up by sending voice messages on LinkedIn, for example, for a real personalized touch.
6. Utilize text posts on LinkedIn
Social media tip from: Scott Ayres of Agorapulse
In Scott Ayres' session, LinkedIn Marketing Myths Busted With Science, he shared research he conducted to find out which LinkedIn posts get the highest views.
According to Scott, text posts actually get the most attention: 1000% more views than photos and links, in fact.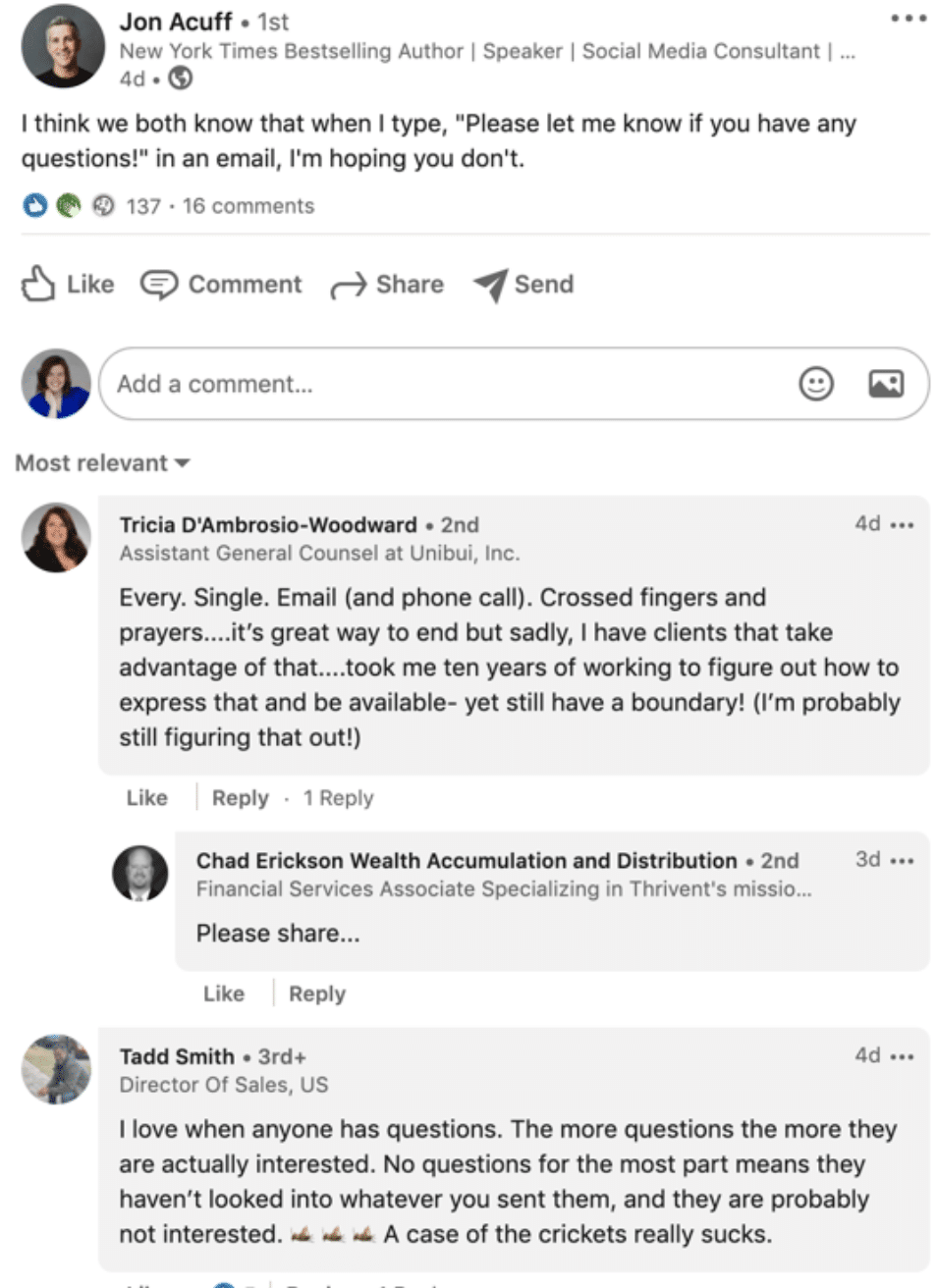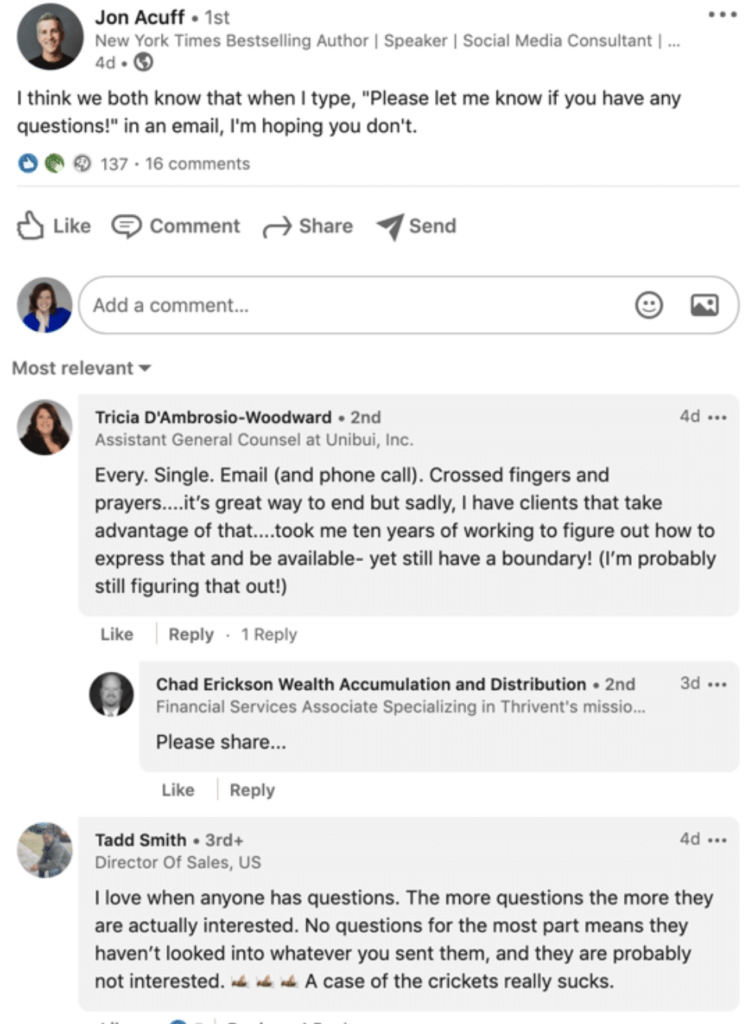 Asking questions and making statements in a LinkedIn text post hooks readers and helps encourage them to respond.
But when a post goes viral, people in the poster's network will begin receiving notifications that their friends have commented on the post. This helps continue boosting viral posts to wider and wider audiences over time.
LinkedIn wants to keep users on its platform rather than clicking out, which is the reason the platform rewards text posts that don't contain outbound links.
The beauty of LinkedIn text posts is that as interaction grows, you can start a dialogue right there in the comments. High-value text posts on LinkedIn become like their own many chat rooms right on your post.
As a result, the professionals who interact with your content lend their own expertise and experience to the conversation.
In Conclusion
We're so excited to come alongside you as we head full-speed into 2021.
For a deeper dive into these tips and more, check out our Facebook Live featuring Jennifer Watson and Erik Fisher here.
Get started on saving time and energy on your own social media management! Check out our free trial of Agorapulse to help you schedule, track, and measure all your social media efforts.