Thinking that video can only help your business if you have a big business with a big budget? 
By using Periscope, a live video-streaming app, you won't need a lot of fancy gadgets to start maximizing this platform for your business.
I'll show you how, even with a limited budget, you can put yourself out there for many to learn about your business with Periscope.
Grasping the Power of Periscope
How powerful is one minute of video? According to Dr. James McQuivey of Forrester Research, it is worth 1.8 million words. So imagine how much can be conveyed in live video streaming!
More than 10 million people are on Periscope already, and most of those are considered early adopters since the app didn't go live on iOS until end of March 2015 and end of May 2015 on Android.
That said, ten million people is not chump change.
You'd be surprised how many of these users are using Periscope for small business. Here are seven reasons why these businesses have taken to this live streaming app.
Related Posts:
How to create a Social Media Post Schedule in Three Easy steps 
1. No fancy tools required
Yes, you can get a microphone or purchase a special lens for your phone. However, they are not required.
As long as you make sure that you are speaking clearly and minimize background noise, you can have scopes that are done well and have no extra investment from equipment.
Simply use your phone, either an iOS or Android device and you'll be ready to go.
You'll want to make sure that you hold your phone up and down and not horizontal when broadcasting on Periscope. Otherwise, your viewers will be tilting their heads sideways to watch or they'll just stop watching. Neither of those is a good option.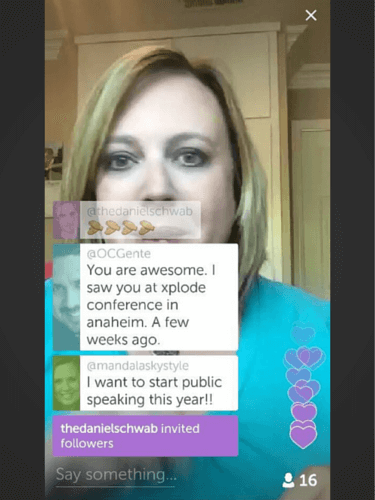 2. Increased reach with a mighty tweet
There are other live video streaming apps out there such as Meerkat. However, the power that Periscope has with Twitter is huge.
To get ready to broadcast live on Periscope, click on the little Twitter icon indicating that you want to share on Twitter the scope you are about to do.
Then the moment you click "START BROADCAST," a tweet will go out to all of your Twitter followers that you are live on Periscope along with your title.
Especially since Periscope is fairly new in the world of social media platforms and everyone is trying to get more followers on Periscope, it is great leverage to be able to share your scopes with your Twitter audience with the click of one button.
It gets even better. Your audience also has the ability to share your scope with their Periscope and Twitter followers.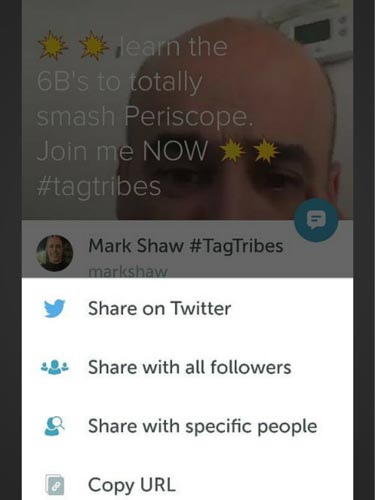 3. Show up LIVE expressing your real message
Not everyone is you. In fact, I'll go one step further to say that if you want to do well in Periscope for business then show up and be different than your competition.
Most likely many of your competitors aren't even on Periscope and you can have a competitive advantage of going to a social platform where many of them may not be yet.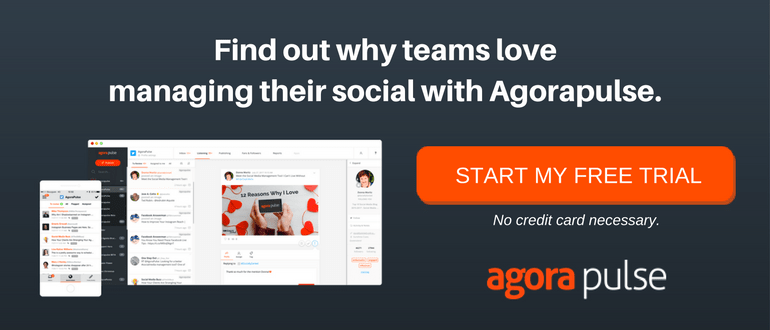 4. Engagement is a two-way street
One of the things I love most about Periscope is that you can interact with your audience. You may think that since you are the broadcaster, the communication is a one-way street.
Not true.
Here are some ways that two-way engagement occurs on Periscope.
Those watching your broadcast can give you feedback by tapping on their screen and giving you hearts (i.e., social proof).
If you ask your audience members questions, they can respond with a comment in the stream for everyone to see.
As comments are made, everyone on the scope can find new followers for their target audience by easily clicking on that person's comment.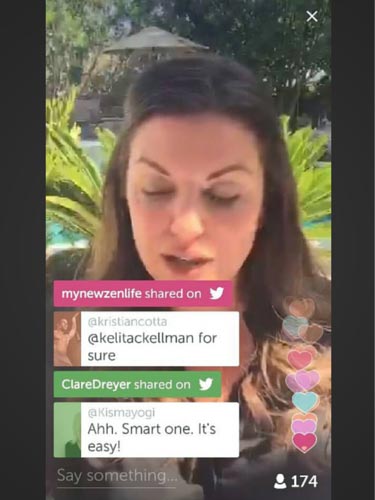 5. Get real-time feedback
If you want to know what your customers want from you next, simply ask.
With Periscope, you can ask those questions right on a LIVE broadcast and you can even promote it ahead of time on other social media channels to increase your audience size.
Use the best times to post on social media so that you can capture the widest audience for your scope.
The momentum and energy in a scope often is encouraged by the broadcaster, so be sure to call out people's names aloud as they come into the scope.
Make comments specifically to individuals as it shows you are really interested in making those personal connections.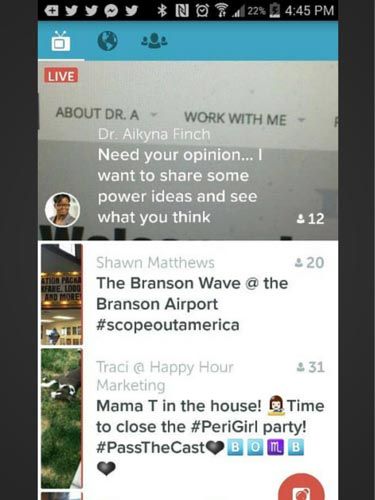 6. Behind-the-scene tutorials and glimpses
If you have a brick and mortar business, you can really take advantage of showing parts of your store and or your process that many can't just see when they walk in the door.
Periscope allows you to do "how-to" scopes and give your information first hand all the while addressing concerns and questions that come up during the scope.
7. Increase you as an influencer
Maybe you want to do a "how-to" Periscope or have a Q&A session where you take the questions you get asked often to a live stream sharing that value information.
Whichever of these approaches you consider, you'll be building yourself as a credible resource for your audience and helping people get to know you better.
Remember the "like, know and trust"' factor that you are always hearing about? Well, this is exactly how you can leverage Periscope for your small business' growth and allow people to like and trust you even more.
* * *
Sign up now for a free trial or demo at Agorapulse.