Are you getting everything you can from Pinterest? These tips can help you brush up on the basics and also dig deeper into this social media platform.
With its striking images, easy-to-organize boards, and comprehensive search tools, Pinterest is a social media platform like no other. In fact, Pinterest stands apart from its competitors in some major ways.
One is that Pinterest has a knack for inspiring users to purchase. Almost all Pinterest users have relied on the platform to research and plan purchases. Nearly 90% of users have made a purchase because of Pinterest. Also, about two-thirds of the platform's content comes from businesses themselves, which shows how marketing-friendly Pinterest can be.
Also, Pinterest content has an average lifespan of several months—which is much longer than the very brief lifespan of Twitter and Facebook content. So, you can feel confident that your investment in Pinterest will benefit your brand over time.
But how can your brand use this platform effectively? Find out how to create a content strategy, learn from analytics, and develop an advertising plan in this Pinterest guide. (Editor's note: Agorapulse does not support Pinterest just yet. It's on our product roadmap, however. In the meantime, we want to provide tips to set up social media managers for Pinterest success.)
Pinterest Management
If you're just getting started with Pinterest, you need to get the basics down first.
Let's look at the essentials of creating and managing a Pinterest account.
Why do you need a Pinterest Business account?
Like many other social media platforms, Pinterest lets you create either a personal or a business account. Whether you're managing Pinterest for a client or for your company, this decision is a no-brainer.
Creating a Pinterest business account gives you access to these key features:
Native analytics: Easily check engagement and find out how users interact with your content with Pinterest analytics. You can also identify top-performing Pins and get ideas for creating more great content.
Website tools: You can add widgets and Pinterest save buttons on your website, so visitors can create Pins directly from your site.
Pinterest advertising: You need a business profile to run ads on Pinterest. Once you set up an advertiser account, you can give clients and coworkers access.
How to manage your Pinterest account
Whether you're starting a Pinterest profile from scratch or taking over a client's account, follow these simple steps to manage it effectively:
Post consistently—and frequently. If you only post once a week or when you feel like it, you'll struggle to gain traction on Pinterest. Instead, create a content calendar that prioritizes regular posts, including multiple Pins throughout the day. Many Pinterest experts recommend posting at least three Pins per day and up to 30 each day.
Schedule content in advance. Managing a Pinterest account can become time-consuming if you have to create content each time you post. Instead, save time by scheduling Pins in advance. Use the native Pinterest scheduler to plan content up to two weeks in advance for more lead time.
Get and stay active. Building a strong Pinterest profile isn't a one-way street. Rather than focusing solely on creating your own Pins, interact with other engaging content. By saving and commenting on popular Pins, you can cultivate a community and forge relationships with influencers and other key figures.
Pinterest Content Strategy
With some social media platforms, you can dive right in and get started. With Pinterest, however, you have to map out a strategy first.
What should your Pinterest content strategy include?
From boards to Pins, every successful Pinterest strategy needs a few key elements. Yours should include the following:
Pinterest boards: As the main organizational components of your Pinterest profile, boards hold Pins. Boards typically have themes, such as product launches or seasonal events. Although most of your boards are likely to be public, you can create secret boards that your team can use for planning. You can also create or join group boards, to which multiple users can contribute. Altogether, you can have up to 500 boards linked to your account.
Standard pins: Every board has at least one Pin, which is the equivalent of a Pinterest post. Pins include an image or a video, a title, a description, and a URL.
Rich pins: They fall into four categories—App Pins, Article Pins, Product Pins, and Recipe Pins—that each feature specific formatting and functions. For example, you can access recipe formatting for Recipe Pins and up-to-date prices for Product Pins. To create Rich Pins, you have to add rich meta tags to your website and test them with Pinterest's Rich Pins Validator.
Pin title: The headline includes up to 100 characters and gives you a great chance to capture interest right away.
Pin description: Pin copy can include anything from product descriptions to calls-to-action (CTAs). Pin descriptions can contain up to 500 characters, including hashtags.
Pin hashtags: To increase visibility and searchability, you can add hashtags to your Pin descriptions. You can include as many hashtags as you like, as long as they fit into the description's 500-character limit.
Landing pages: Every Pin includes a link to an external URL, such as a blog post or a product page. Choose the most relevant landing page for each Pin, so users arrive right at the correct page with a single click.
7 tips for a successful Pinterest content strategy
What's the key to creating a social media marketing strategy for Pinterest? Follow these seven tips to develop a successful Pinterest strategy.
1. Plan boards carefully
To brainstorm boards, think about topics that appeal to your target audience where your brand can lend expertise. If you choose a broad topic, consider dividing the board into sections. Taking this step won't affect how people discover your content in searches. Yet it will help users navigate your boards more easily.
2. Choose appealing images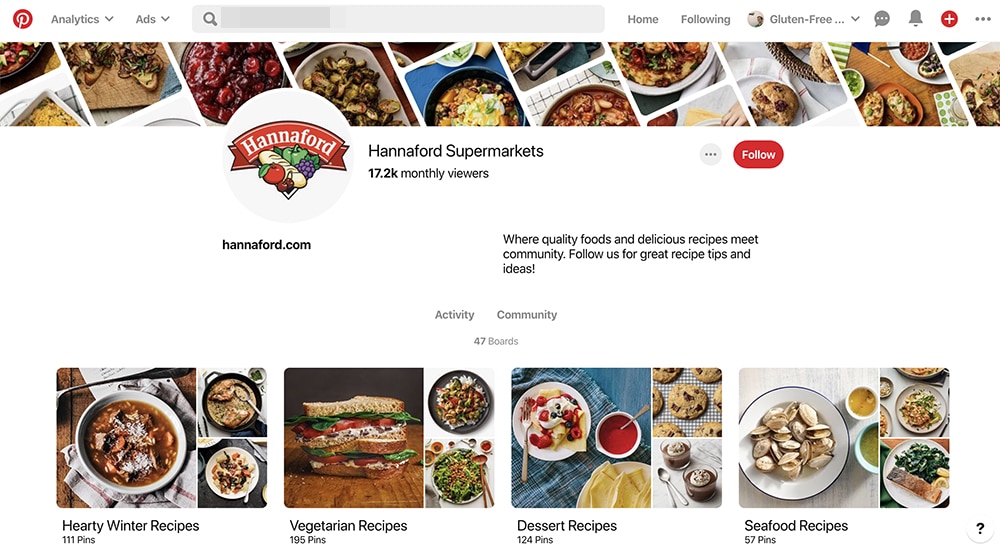 When you create Pins, use images that can attract your target audience's attention with a single glance. Since both the desktop and mobile versions of Pinterest show vertical images, create Pins with a 2:3 or 4:5 aspect ratio. Using the right format ensures that users won't miss a thing when your Pins appear in their feeds.
3. Make compelling videos
On Pinterest, videos tend to work best for how-to or inspirational content, which almost every brand can make. To create high-performing videos, keep your content short and sweet, usually around 15 seconds or less. Since videos often play without sound, use captions or text to make sure your audience gets the message.
4. Highlight your brand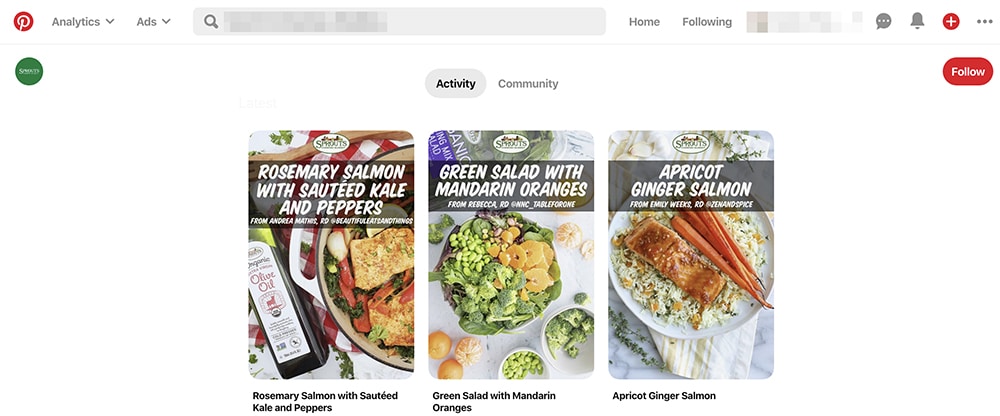 Pinterest offers ample opportunities to put your brand in the spotlight. Every time you create a Pin, add a logo, the name of your brand, or even your URL to the image or video. Taking this extra step can help you increase brand awareness, even when users save and share your Pins.
5. Incorporate text into Pins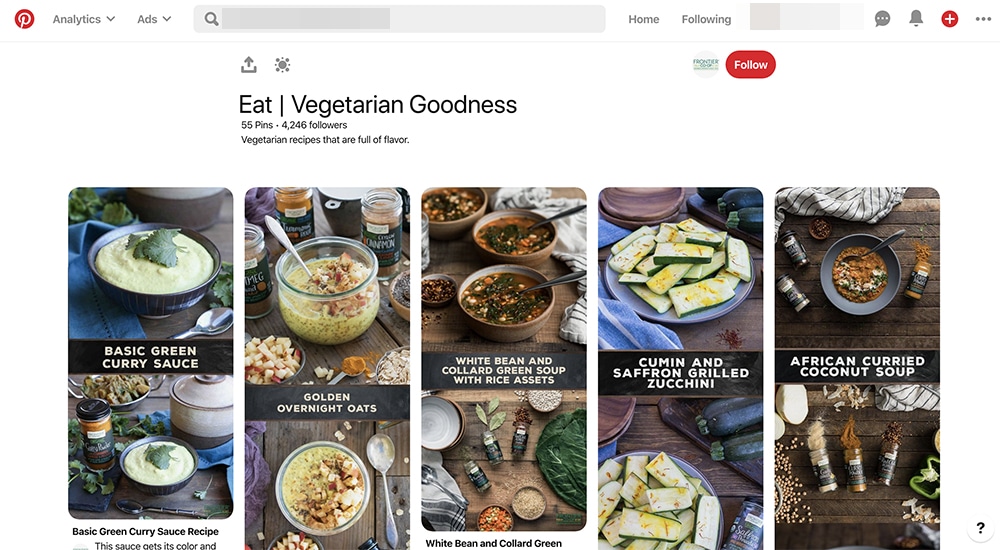 Unlike some social media platforms, Pinterest doesn't punish text overlays. In fact, Pinterest encourages you to add text to your Pins. For example, you can add a title or a CTA onto the pin itself. Turn to a user-friendly design program like Easil to layout images and text in an appealing way.
6. Optimize your copy
Your Pins' visuals might attract attention first, but your copy should drive the message home. Use the 100-character title section to tell users exactly what the Pin features or pique your audience's interest.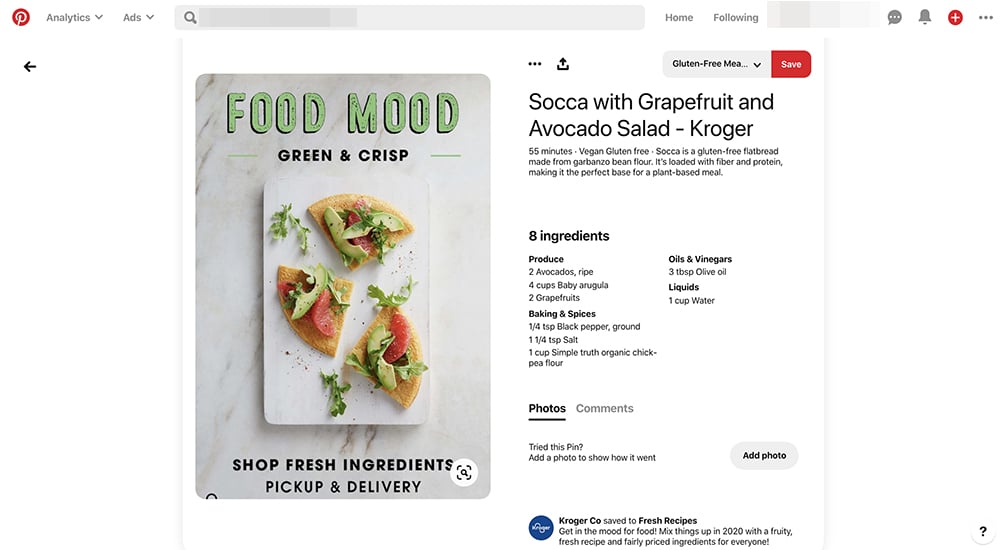 Then use the description to inspire your audience to try, use, or buy what's in your Pin. Many users discover Pins through the platform's search feature. That means you should be sure to include relevant keywords and hashtags in your copy.
7. Save other users' content
Although it's tempting to pin only your own content, most social media experts recommend sticking to the 80:20 ratio on Pinterest. Make sure about 20% of your Pins are content your brand has created.
The remaining 80% of the content on your boards should be curated content or repins from other brands. Saving other brands' content can do more than just add diversity to your boards. It can also help you grow a community, build relationships with influencers, or earn trust from users.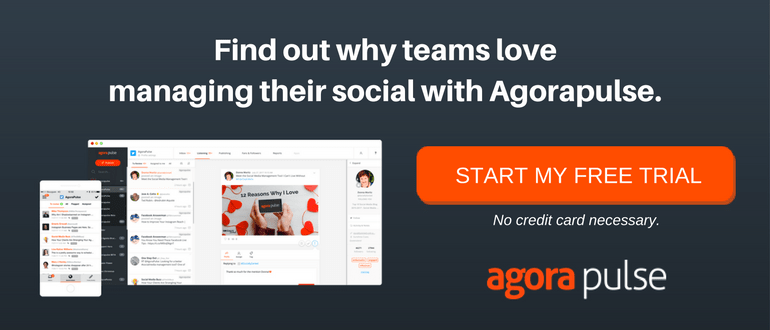 Pinterest Algorithm
To get the results you want on this social media platform, you should understand the Pinterest algorithm. Let's dig into the basics.
How Does the Pinterest Algorithm Work?
To make the Pinterest algorithm work for your brand, you need to know where the platform surfaces your content.
Your Pins can appear in one of these four spots:
Pinterest Smart Feed: Also known as the homefeed, the Pinterest smart feed appears when you first sign in to your account. Pinterest auto-populates this feed with Pins from accounts and boards that you already follow, suggested Pins that line up with your interests, and targeted ads. The platform relies on your activity— including saves, clicks, and searches—to populate the smart feed.
Following Feed: You can navigate to the following feed by clicking on the Following button in the top menu bar. Here, you'll find pins from accounts and boards you follow along with some targeted ads. Unlike the smart feed, the following feed prioritizes more recent content.
Search Interface: Whether you search for terms or hashtags, Pinterest's search interface surfaces both relevant pins and targeted ads. Pinterest uses standard search engine optimization (SEO) metrics. It also factors in your preferences and activity when determining which content to show.
How to optimize your strategy for the Pinterest algorithm
Now you know what drives the Pinterest algorithm. But how can you craft a strategy that takes advantage of these factors?
Use the right keywords. Without relevant keywords in your description, Pinterest searches may not surface your content. To find relevant keywords, you can use standard free SEO tools like Google Ads Keyword Planner. You can also type keywords into the Pinterest search box and take note of the suggested terms.
Make your content engaging. Pinterest users can save or repin your content to their own boards, comment on your Pins, or click through to the embedded URL. When users engage with your Pins shortly after publication, Pinterest is more likely to surface them to your followers. To make your content more engaging, use the tips above to create a solid content strategy.
Time your content. Rather than posting Pins when it's convenient, rethink your timing. Schedule your content to post at popular times or when your audience tends to be most active. No matter when you post, publish branded Pins first, as the Pinterest algorithm tends to give more weight to the first few Pins you post each day.
Increase your domain quality. Pinterest has a vested interest in making sure your website is as high-quality as possible, and you can influence its decision. You can encourage Pinterest to view your site favorably by claiming your domain. Enabling Rich Pins can also boost your domain quality.
Improve your account quality. You can show Pinterest that you have a high-quality account by being an active Pinner. To increase your account quality, save popular posts that are relevant to your industry. You can find trending content by searching for relevant topics and seeking out Pins with a lot of engagement.

Whether you want to drive traffic to your website, increase brand awareness, or grow your online community, it's important to track your results. With native Pinterest analytics, you can easily chart your progress.
What are Pinterest analytics?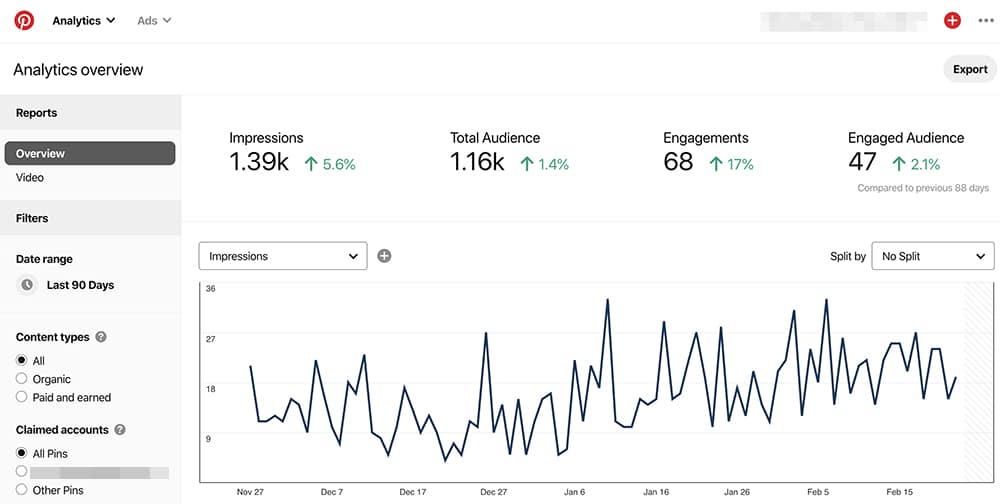 With a Pinterest business account, you automatically get free access to native analytics.
Here are the key Pinterest metrics to monitor:
Impressions: The number of times your Pins appeared in searches or feeds
Engagement: How many times users saved, clicked through, tapped for a closeup, or commented on your Pins
Top Boards and Pins: The boards and Pins with the most impressions and engagement
Audience Insights: Information about your audience's interests and demographics
How to use your brand's Pinterest analytics
Your Pinterest analytics are much more than just numbers. Here are a few ways you can use this data to learn from and optimize your Pinterest strategy.
Drive more engagement
Start by reviewing which Pins and boards generated the most engagement. Make note of your top-performing content. Then use it as the basis for creating new content that really resonates with your audience.

Then review content that didn't perform quite as well. Identify ways to improve it moving forward, such as writing better headlines and captions or using more engaging images.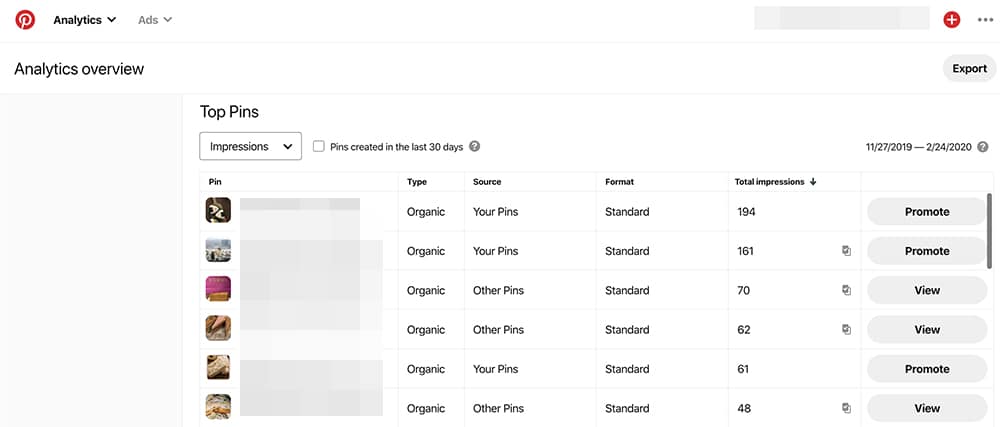 When you check your Pinterest analytics, you can also see who saved your content and read the descriptions they created. Reviewing this in-depth data can give you better ideas about how to organize your own content. It can also give you insight into new angles for your Pins.
Learn what your audience likes
Pinterest's Audience Insights panel offers a surprisingly detailed look at your audience's interests. You can see what percentage of your audience likes high-level topics like travel or food and drink. Then you can dig deeper into each category to see how many like niche topics like U.S. travel destinations or desserts.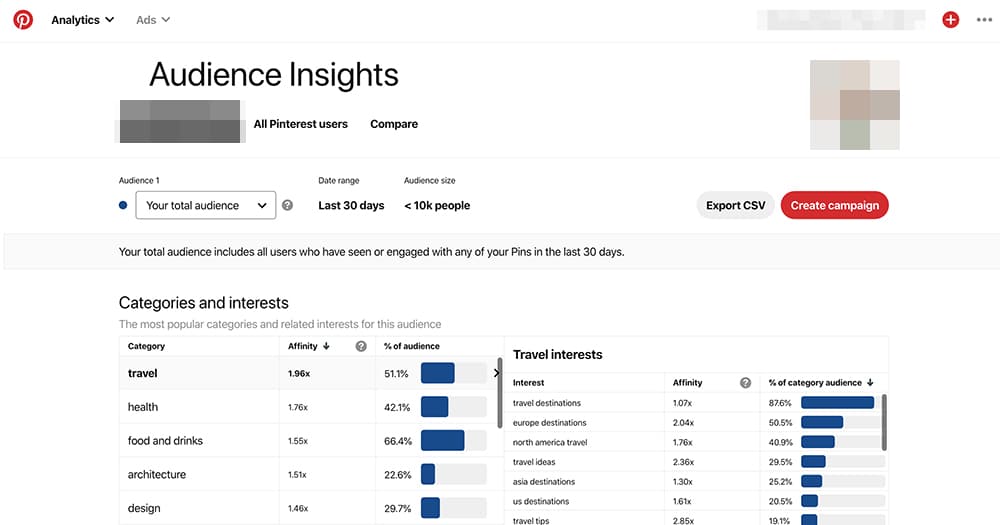 Then you can fine-tune your Pins so they truly appeal to your audience. You can also get ideas for new types of content, especially if your Audience Insights reveal surprising interests.
Measure return on investment
How much value does Pinterest generate for your brand? To measure ROI, use a free tool like Google Analytics. Once you've set up e-commerce in your Google Analytics panel, you can track how much revenue Pinterest drives.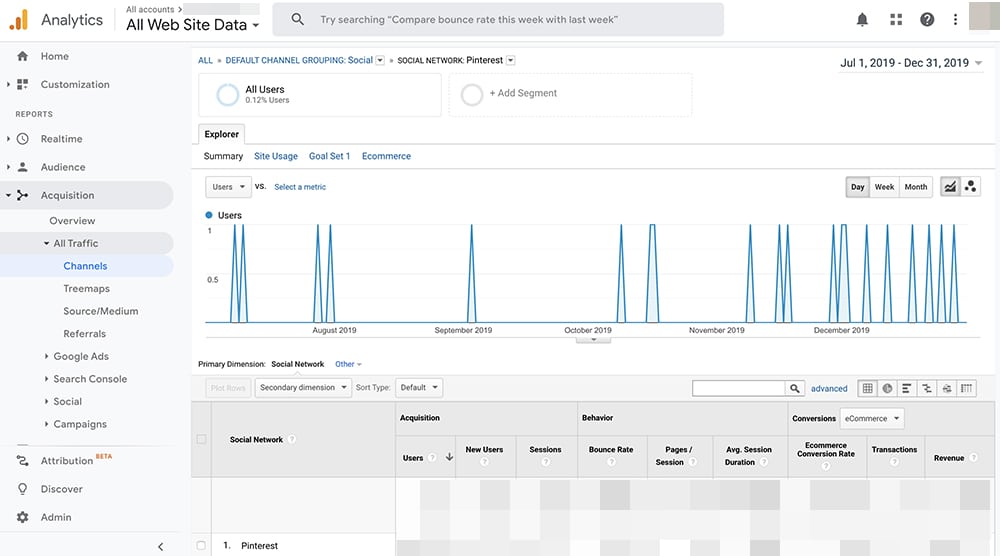 Navigate to the Acquisitions panel within your Google Analytics account, and then click on Social. Find Pinterest in the list of social media channels, and click for more detailed analytics. You can check revenue each month, each quarter, or throughout campaigns to meet your team's goals.
Pinterest Advertising
With a solid Pinterest strategy and a capable team, your brand can grow organically. But when you need an extra boost, Pinterest ads can help you get even more out of this platform.
How does Pinterest advertising work?
When you advertise on Pinterest, you can highlight your business with a variety of ad types. As of early 2020, five ad types are available:
Promoted Pins: Look and work like standard Pins but with much higher reach. Users can engage with promoted Pins by saving, commenting, and clicking through.
Promoted Video Pins: Are similar to regular video Pins except you have more size options. You can get more attention with a maximum width promoted video Pin, which spans two columns.
Promoted Carousels: Feature between two and five promoted Pins that users can swipe through. Each Pin in the carousel can include a different image, caption, and link.
Promoted App Pins: Encourage users to download apps from Pinterest. Promoted app Pins are available only for mobile and link directly to the Apple or Google Play store.
Buyable Pins: Let users purchase products right from your Pin. Users can tap to get more product information, and you can include multiple buyable products in one Pin.
How to create effective Pinterest ads
When you advertise on Pinterest, you want to get your money's worth. Follow these five tips to create the most effective Pinterest ads possible.
1. Install your Pinterest Tag
Similar to a Facebook Pixel, a Pinterest Tag is a snippet of code that you add to your website. Once it's in place, you can track conversions and measure your ad performance.
2. Pick the right campaign type
Pinterest offers six campaign types. Each is designed to meet a specific advertising goal:
Brand Awareness: Introduces your brand or products to users
Video Views: Encourages users to watch your video Pins
Traffic: Drives users to your website or a destination within Pinterest
App Install: Invites users to install your mobile app
Conversions: Inspires users to purchase, subscribe, or complete other conversions
Catalog Sales: Urges users to buy from your e-commerce store
3. Target your audience
Pinterest allows you to create audiences using everything from basic demographics to interests and keywords. Reference your buyer persona to create a target audience that's most likely to be interested in your brand.
4. Choose the best Pins
You can advertise using either preexisting or new Pins, and you should include at least two Pins in each ad group. For best results, choose Pins that meet the content tips above. Then write compelling copy to hook users right away.
5. Track your results
Log in to your Pinterest Ads Manager to monitor performance throughout your ad campaign. From this dashboard, you can track everything from impressions and engagement to clicks and cost.
In Conclusion
Pinterest has tons of potential to help your brand grow. Use this guide to get started, and keep it handy to review best practices and develop a winning Pinterest strategy.
* * *
Sign up now for a FREE demo.