Need to learn how to use Pinterest for business? Check out these highlights from the 2020 social media agency guide from Pinterest.
From introducing brands to new customers to selling products and growing loyal communities, Pinterest is designed to help companies of all kinds grow. But if you want to get the most out of Pinterest, you should know how people use it and how your brand can take advantage of its many features.
Read on to learn more about these highlights from the 2020 Pinterest media agency guide to find out what this social media site can do for your company or clients.
1. Pinterest Has Enormous Reach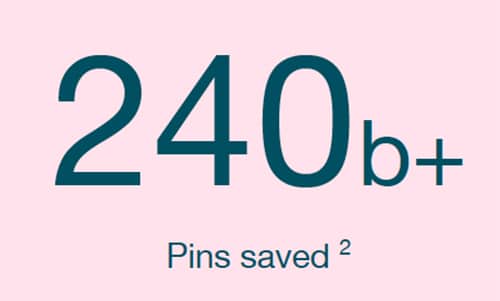 Pinterest has nearly 370 million active monthly users in almost every corner of the globe. The social media site is home to over 240 billion Pins on more than 5 billion boards.
Since Pinners use the site for both personal and social purposes, Pinterest continues to grow quickly.
2. Pinners Use the Site as a Search Engine
It's easy to label Pinterest as a social media site—but it's much more than that. In fact, many users rely on Pinterest as a search engine.
Yet unlike other search engines, Pinterest tends to attract users much earlier in the search process. In fact, 97% of top searches on the site are non-branded. That means Pinners tend to research general rather than specific topics.
As a result, Pinterest can be the ideal place to get your brand in front of people browsing the kinds of things you offer.
3. Pinterest Inspires Discovery
In regards to encouraging discovery, Pinterest truly shines. The platform offers six features that inspire users to learn about new ideas, find new brands, and realize solutions to their challenges:
Home feed
Offers inspiration and interest-based recommendations when users first log in
Following tab
Shows content from creators that users already follow and Pins from brands relevant to their interests
Today tab
Features trending Pins and topics as well as timely content designed to inspire users
Search
Provides Pins and topics based on users' keyword searches
Related pins
Suggest Pins similar to those users are already viewing, encouraging further discovery
Lens
Lets Pinners use the Pinterest camera to surface relevant Pins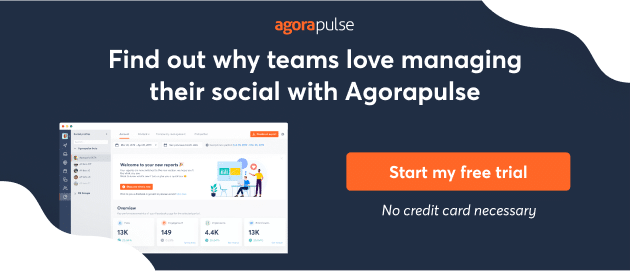 4. Video Content Shines on Pinterest
Like many other social media platforms, video is a big area for growth on Pinterest. In fact, video views have increased more than 200% year over year.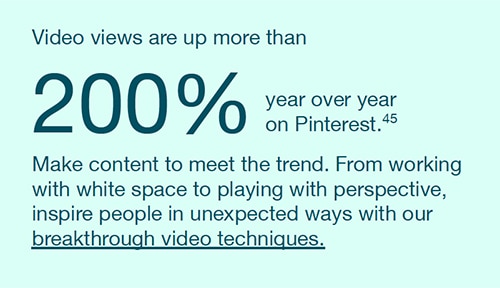 But Pinners don't just view videos. This type of content is key when users are considering a purchase. Compared to video views on other social media sites, Pinners are over 50% more likely to buy a brand after watching a video on Pinterest.
The platform gives brands two organic options for creating video content:
Standard Video. Sized like regular Pins to increase brand awareness and influence consideration
Max Width Video. Spans the entire width of Pinterest's mobile feed so brands can stand out
5. Pinterest Is a Paradise for Planners
Pinners aren't always looking to take action right away. Instead, many users rely on Pinterest for planning purposes. Rather than planning a few days or a couple of weeks in advance, Pinners tend to use the platform to get inspiration months ahead of time.
When creating Pinterest campaigns, social media managers to keep this timeline in mind. For example, users often create boards and save Pins when planning for holidays, birthdays, weddings, and other events. That means brands should plan to launch campaigns several months before major holidays or event seasons.
6. Pinterest Is a Major Shopping Destination
Although some users head to Pinterest to plan, others are ready to buy—especially once they get to know a brand. Pinners spend about a quarter of their Pinterest time shopping. About two-thirds of Pinners go to the platform when they want to find a product.
Pinners also tend to make repeat purchases and become loyal customers. Many turn into brand advocates, spreading the word about their favorite products and companies to friends and family.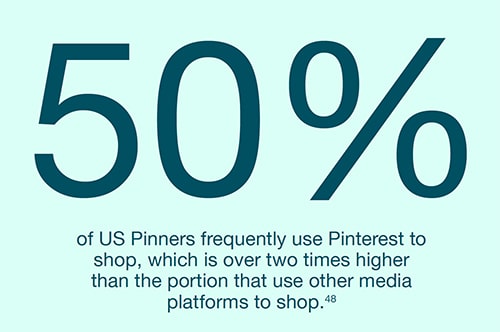 Pinterest users are often loyal to the platform, too. About half of American Pinners regularly rely on Pinterest to shop. That's more than two times the percentage that frequently shops on other social media platforms.
7. Pinners Are Big Spenders and Early Adopters
Purchases from Pinterest users can have a big impact on brands. That's because users spend 80% more on retail purchases than people off Pinterest do.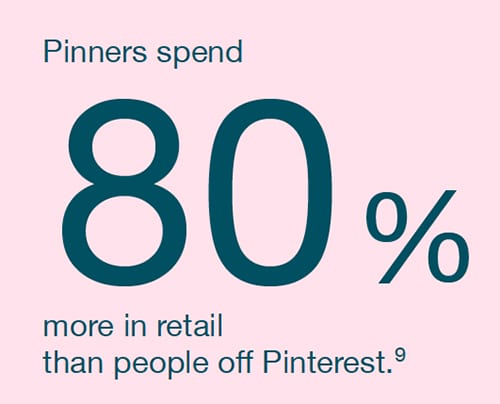 It's no surprise that Pinners have comparatively higher incomes and more purchasing power. The platform attracts nearly 50% of US Internet users with household incomes of $100,000 and over.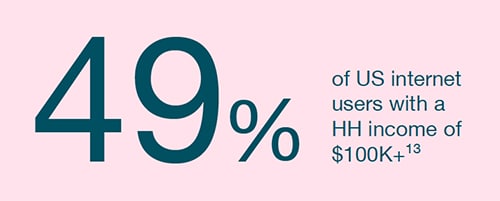 While Pinners shop for a wide variety of brands and items, they have a special appreciation for new products. Pinners are more likely to try new products within the first 90 days of launch. In fact, Pinners buy new consumer packaged goods (CPG) almost 40% more in the first 30 days after launch.

8. Brands Can Amplify Growth With Pinterest Advertising
An organic approach can help your brand grow and reach new customers. But when you add advertising to the mix, you can take growth to the next level. That's because Pinterest Ads tend to deliver impressive results. They have a 2.3 lower cost per conversion compared to ads on other social media platforms.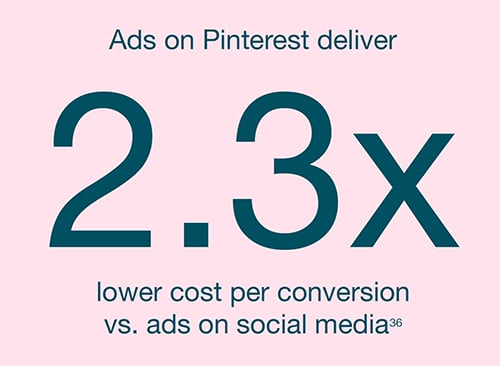 Pinterest Ads can boost your brand at any stage of the funnel. That means they can help you improve awareness, encourage users to consider your brand, or invite them to purchase. Along with shopping ads, you can design Collections with up to 24 products and dynamic retargeting ads that target Pinners who already visited your brand's website.
When you design Pinterest Ads, you also get a ton of targeting power. You can reach users based on keywords, interests, or demographics. You can also create similar audiences and retarget customers or followers.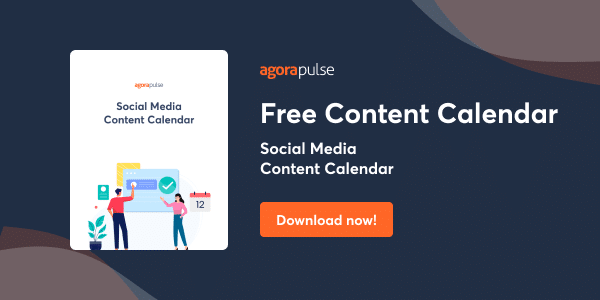 9. Following Best Practices Can Help Brands Thrive
Testing out new Pinterest strategies can help brands get ahead. But for optimal results, you should make sure your team follows best practices.
Pinterest recommends that social media managers and digital agencies:
Get a business account. To get access to analytics and advertising, start a Pinterest business account for your company or client. Alternatively, you can convert a personal account to a business account.
Aim for consistency. Plan to post Pins every day on a consistent schedule. You'll stay top of mind with followers and also attract greater interest over time.
Use keywords and hashtags. Before publishing Pins, take the time to research keywords and hashtags. When used correctly, they can help you connect with more customers.
Take advantage of both organic and promoted Pins. Rather than committing to an organic or promoted approach, develop a strategy that uses both. That way you can grow your audience organically and amplify key content on Pinterest.
Know your Pin specs. Whether you create standard Pins, carousels, shopping ads, or promoted videos, you must follow aspect ratio and copy length guidelines.
10. Pinterest Analytics Keep Brands on Track
Pinterest offers native analytics so you can track your audience growth and the impact of your organic and promoted Pins. With Pinterest analytics, you can monitor key metrics like:
Impressions
Engagements
Video views
Close-ups
Saves
Link clicks
Engaged audience
You can also leverage Pinterest Audience Insights to learn more about your followers. This tool shows demographics, locations, devices, interests, and more.
11. The Pinterest 100 Spotlights Trends
Since Pinners tend to use the platform to plan several months out, understanding what they're searching for can help your brand look forward, too. Every year, the platform publishes Pinterest 100. This list features 100 emerging trends likely to make an impact in the year ahead. No matter your niche, you can use this research to better understand what customers want and to inform your own strategic planning.
In Conclusion
No matter what your business goals are, there's a good chance Pinterest can help you achieve them. From boosting brand awareness and selling products to cultivating loyalty, Pinterest can help brands in almost any niche accomplish more.
* * *
Sign up now for a FREE demo.