Is your Pinterest marketing strategy struggling hard to get anywhere? You may be missing out on one crucial aspect of Pinterest.
While Pinterest is a social networking site, the way it functions on a marketing level is very similar to Google.
There are many ways that Pinterest acts as a search engine, which aligns with an SEO-focused mindset.
If you're using your Facebook or Instagram plan to build out your Pinterest strategy, you're losing out on opportunities to reach your audience.
Read on to find out how Pinterest and Google are connected, and how you can use SEO strategies to boost your Pinterest marketing.
SEO for Pinterest Marketing
Marketers are busy people. So, if they can replicate the same strategy across multiple platforms, it saves them time and energy.
However, that method won't work with all social media.
Though you can use similar strategies for Facebook, Instagram, and Twitter—maybe even LinkedIn—Pinterest is entirely different. You'll specifically need a Pinterest strategy.
The physical layout of Pinterest is unlike other platforms. It doesn't have a timeline that updates with every new post from the accounts that you follow.
Instead, Pinterest displays posts according to the specific interests of the user—time plays little part in how and what you see.
Older content from years ago can appear alongside visuals created days ago.
As long as these have similarities to posts that users' have already viewed on Pinterest, clicked on, or searched for, they will appear on the feed.
You can already see how Pinterest is vastly different from other social media platforms, It functions like Google, acting on search inputs to display results.
To make an effective Pinterest marketing strategy, you need to treat the channel more like you would a search engine rather than a social platform.
What do you do to improve your content rankings on Google?
You optimize your content for search engines by incorporating keywords strategically.
That should be your Pinterest marketing goal—to rank on relevant keywords that will ensure your content is seen by users most interested in it.
(Editor's note: Agorapulse does not support Pinterest just yet. It's on our product roadmap, however. In the meantime, we want to provide tips to set you up for Pinterest success.)
How to Choose Pinterest Marketing Keywords
Keywords are an essential element of search engine marketing, and the same goes for Pinterest marketing.
You need to determine keywords for your niche when you're creating a Pinterest business page or redesigning your account.
Follow this process when you're creating each piece of visual content to post on the channel.
But how do you find the right keywords for your business and content?
One of the simplest ways is to look at your existing SEO strategy for Google.
You can use some of those keywords for your Pinterest pins.
When you're deciding on keywords, take inspiration from how Loganix structures its keyword lists:
Choose high-level/ seed keywords.
Filter keywords by relevance to your topic/ niche.
Analyze your chosen keywords for search volume, CPC, and difficulty level.
Conduct competitor keyword research.
Map out your keywords, content, and target URLs.
But another method that works is to search on Pinterest directly. Type in your brand's chosen keywords in the search bar and look at the results.
For example, here's what I found while searching for "graphic design":
Looking at these suggestions, I can understand the search intent of my audience—not just what they are looking for, but how often enough that it shows up as a related search term.
Then, I can optimize my longtail keywords for visuals like posters, illustrations, or logos that will appeal to my Pinterest audience.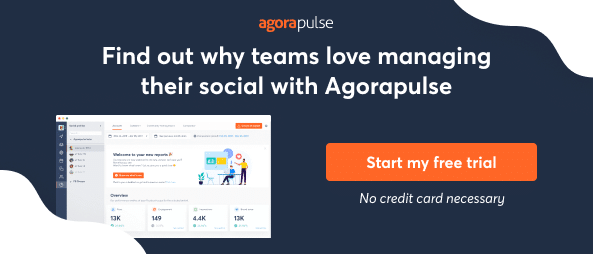 Optimize Your Profile
Before you create your Pinterest content, you need to optimize your profile with your chosen keywords.
Include keywords in your Pinterest bio
Unlike on other platforms, you will want to add keywords to your Pinterest profile name, like in this example. It helps your audience discover you on Pinterest through search results.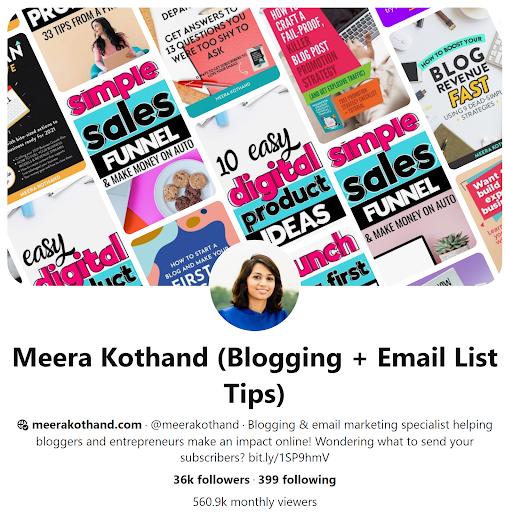 But remember to use the keywords that best describe your brand—accuracy and authenticity are always important.
Another area where you need to use your keywords is in your bio.
First of all, it should be an accurate description of your brand and what you do or sell.
Within your bio, look at opportunities for placing your keywords. It's best to keep the keywords in the first sentence of your bio—the following sentences can be more descriptives.
Your Pinterest bio works similar to a blog post optimized for SEO—keywords should be included in the header and opening sentence.
Include keywords in your Pinterest CTA
Another aspect of optimizing your Pinterest bio is to add a call to action. This gives users the impetus to click through to your site and to engage with your brand further.
While you can't add keywords to your account handle, you should put some thought into how you choose one.
It's best to have the same username across all channels to improve discoverability and create a cohesive brand presence online.
Rich Pin Descriptions
When you create a piece of visual content for Pinterest, add a description that is rich in keywords.
Choose keywords that align with the pin you are sharing—this will tap into users' search intent and display your visuals in the search results.
But you should also use broader keywords around the theme so that you can reach people who are searching around a topic and not for your precise product.
You can find themes around your pins by using the Pinterest search function.
For example, when you search for donut, you get search options for recipe, birthday party, and wedding.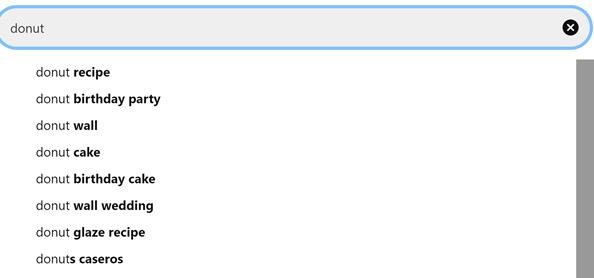 If you own a store selling donuts, you can create a rich pin description about your donuts and how they would be perfect for a birthday party.
Tips for in descriptions
Here are a couple of points to remember about using keywords in descriptions:
Avoid keyword stuffing, just as you would when writing blog posts.
Pin descriptions should always match the content of the page you send users to.
Add a call to action in your pin description to direct users to act on your pin.
Other SEO Opportunities
We've determined that you need to use keywords in your profile name, your bio, and your pin descriptions.
But there are a few other areas where you can add keywords to boost your Pinterest marketing.
Pinterest boards—which users can view under the "Saved" tab—are another place to use keywords. You can add keywords in the board name and descriptions.
Look at how Etsy has added keywords like accessories, handmade, and style trend to their fashion board description.
While Twitter and Instagram have had hashtag strategies for years, Pinterest only recently added hashtags as a discovery mode on its channel.
Choose keyword-centric hashtags to add to your Pinterest bio, descriptions, and comments. This will help users find all content related to the hashtag when they search for it or click on it.
Avoid using hashtags the way you would on Twitter, but more like you would on Instagram.
Instead of including them throughout the description, keep the hashtags at the end of the text so users don't click on them and leave your pin.
Pinterest Marketing Ideas
Now that you know how to optimize your Pinterest marketing using an SEO strategy, here are some marketing ideas you can adopt to increase your views.
Create a Pinterest aesthetic
Your Pinterest presence should align with your overall brand ethos. To do this, you need to create an aesthetic that users can immediately recognize as your brand.
Create a template for your pins, so that your content looks uniform and pleasing to the eye.
Refer to your branding guidelines to determine what your visual aesthetic should be.
Design original Pinterest content
Your Pinterest marketing content needs to be beautiful to catch users' attention, but it also needs to add value to their experience with your brand.
Create original content like the infographic below, charts, and graphs designed specifically for the platform.
Size your Pins correctly
According to Pinterest, the best aspect ratio for pins is 2:3 or 2000 x 3000px.
Size your visuals according to these measurements so that they appear correctly in user feeds.
Prioritize Rich Pins
We've mentioned the importance of rich descriptions, but the pins themselves can contain tons of information that makes it easier for users to discover while searching.
A rich pin is shared directly from a website and contains all the data associated with the page. This not only encourages users to click through to your site—and boost web traffic—but it also improves discoverability for your pin.
Pinterest Video Pins
Video is now directing 80% of web traffic and drawing billions of viewers worldwide.
And it isn't just YouTube and Facebook that are having success with videos—Pinterest video pins are experiencing as much success.
Most mobile users will have noticed that videos show up at the top of search results, making them the most accessible content on smaller screens.
Make video pins an essential part of your Pinterest marketing strategy, so you can get more views.
In Conclusion
Pinterest has more to do with Google than many realize. You can't treat it the same way you would other social platforms.
To recap, here's how you can use SEO to boost your Pinterest marketing:
Choose keywords for your brand and content.
Add keywords to your profile and bio.
Create rich pin descriptions with keywords.
Add keywords to boards and hashtags.
Improve Pinterest views using SEO-focused marketing ideas.
The right keywords and placement of those keywords will make it easier for you to improve your Pinterest marketing strategy and grow your business.
* * *
Get started on saving time and energy on your own social media management! Check out our free trial of Agorapulse to help you schedule, track, and measure all your social media efforts.