Ask agency directors what their biggest pain point has been, and they will likely tell you it's scaling agency work. How do you keep quality high, costs down and acquisition rising?
The second, closely related pain point is attracting top talent to your agency while you're scaling. The best writers and social media managers want their digital marketing agency jobs to be at established agencies for big bucks, right?
In this article, I'm going to share some hacks on attracting top talent while scaling your agency.
Scaling Agency Challenge 1: Nobody Has Heard of Your Brand
Some 72% of recruiting leaders worldwide agreed that an employer's brand has a significant impact on hiring. This is especially true for securing top marketing talent. This is a segment of the population that knows how to check whether a brand is solid and reputable before they fire off an application.
But if you're a startup agency or want to grow your agency, it could be that you need the top talent to build your brand.
So, what do you do?
Guerilla Marketing to Raise Brand Awareness
Not many people had heard of the dating app Thursday until an intern with a $35 budget got creative. Thursday set out to be different from the other dating apps with the app only being accessible on … you guessed it … Thursdays!
Utilizing highly creative interns, guerrilla marketing, and some pretty bold content, Thursday set itself apart from competitors like Tinder, Bumble, and Match. The result was twofold. Get more app signups and attract marketing talent.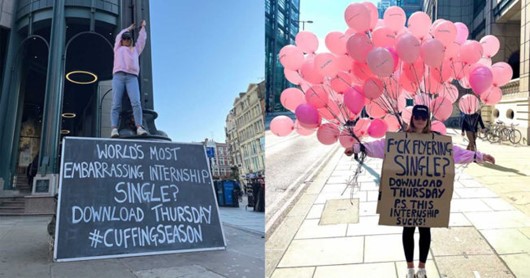 Thursday is also owning the social media space with quirky LinkedIn updates from its team. Updates like this one from Priyanka read as relatable and authentic, positioning Thursday as a great place to work.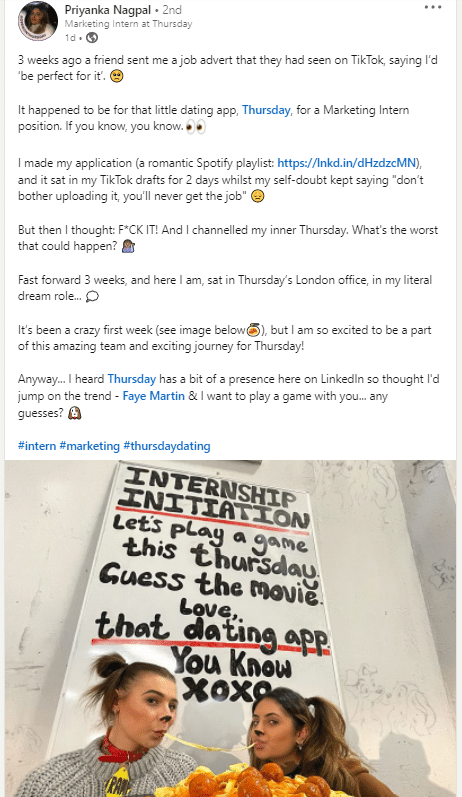 Recruitment marketing is perfect for marketing agencies. It includes lead generation, SEO, guerrilla marketing, social advertising, and content creation. All the things we are great at!
Companies that incorporate recruitment marketing into their marketing hire strategy can generate three times more applicant leads.
Additionally, research found that running a recruitment marketing campaign can save companies up to 40% on total talent costs.
I love this example of a recruitment marketing campaign from Burger King. First, the job title with missing letters "ARKETING ANAGER" grabs your attention. At least, it will if you're a content person! Then you realize that the obvious error has been made to exclude their competitors McDonald's with a "don't mention the M."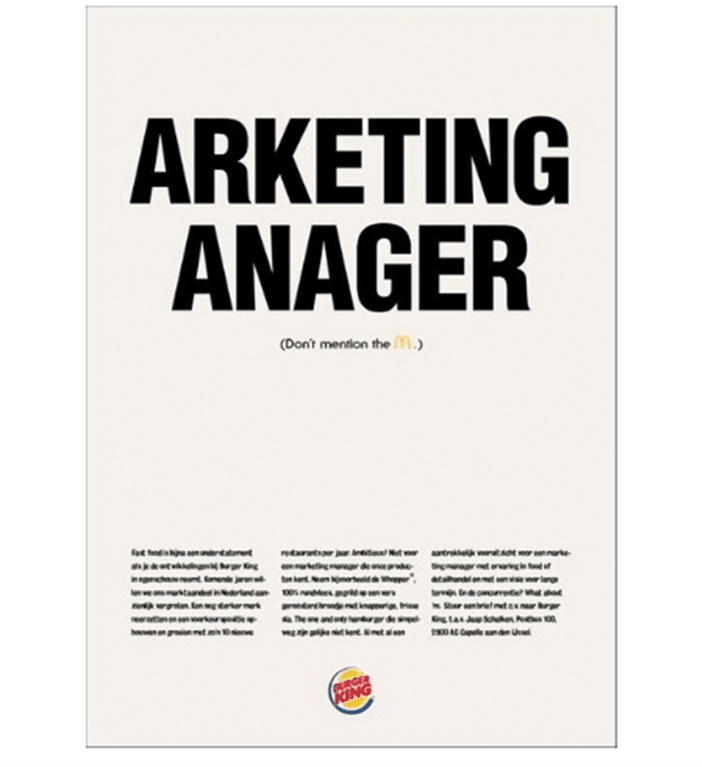 Action items for your agency
As a marketing agency, you can utilize your creative skills for a low-budget but highly effective guerrilla social media marketing campaign. If you're happy to accept work from home candidates, then your campaign can be online with a wider geographical reach.
Be active on the platforms your top talent frequents. For marketers right now, it's likely to be TikTok. Check out Rob Mayhew whose short and relatable TikToks about agency life are winning on LinkedIn.
Be sure that your brand is being represented by people who love what they do and are enthusiastic to welcome more talent. Encouraging individual creativity is key here because a scripted "come join our fun company" won't fool anyone.
Trust your interns. Just because someone is new to your marketing agency doesn't mean that they don't have valuable ideas and creative inputs. Allow your interns free rein to try out ideas and campaigns to help grow your agency and attract more talent.
Showcase positive news about your company culture and what it's like to work there. (Trust me, this goes beyond having a pool table and free snacks.) Think wellness initiatives, supportive leave policies, and top training and development.

Scaling Agency Challenge 2: You Have a Low Budget for Recruitment
I recently wrote about building your social media team when you're starting out. Successfully growing your marketing agency means hiring the right people at the right time to facilitate your growth. And that's not always an easy thing to do.
Scaling your agency is especially difficult if you don't have enough budget to hire the top talent you need.
Let's assume you've worked out the positions you need, but you don't have the budget to attract top talent, what can you do?
Team Up With Local Brands
You don't need to spend huge bucks on advertising your position. You also don't need to break your startup budget on recruiting. Aligning with your target audience (top marketing talent) and providing alternative benefits might be just what you need to do.
German advertising agency Scholz & Friends teamed up with a local pizza delivery company. They included a special "digital pizza" with every order placed by employees of other large creative agencies. The toppings on the pizza were arranged in the shape of a QR code which, when scanned, took the candidate to a recruiting landing page. (That's honestly genius.)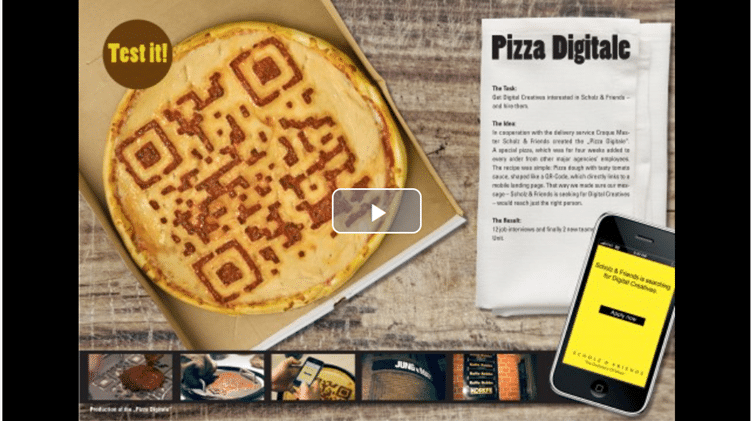 This cheeky guerilla marketing tactic ensured Scholz & Friends reached their target audience without spending a fortune. During the four-week campaign, the agency received applications from 12 highly qualified candidates and acquired enough employees for two new teams.
Action Points For Your Agency
Don't discount freelancers. Some of the best marketing agencies utilize them on a project or contract basis. Utilizing freelancers allows you to build your agency with talented individuals who prefer to freelance than be tied to a permanent contract. Sites like Upwork allow you to finetune your search, request work samples, view reviews, and offer paid trials. Always pay for your trials to ensure you start on the right foot with a fair and balanced freelancer/ agency relationship. And about paying … don't expect to find top content or design talent with a budget of $5 per task Top talent freelancers may be more cost effective than full time team members but they won't work for peanuts.

Don't make false promises about salary. If the starting salary for a position is lower than the average, you should acknowledge that and explain the alternative benefits. One of those benefits is the opportunity to grow to a senior level with the agency. That's something that would be a lot more difficult in a large and internationally established agency. There are also more creative opportunities available and the kudos of helping to build a brand and reap the rewards later.
Compensate for a lower salary by offering other perks. A four-day working week is a popular one right now. You could also offer fewer working hours, flextime or extended vacation leave. Working from home at this stage is not enough of a perk to warrant a lower salary so don't rely on it.
Offer health insurance, gym membership, or spa access. When setting up Contentworks Agency, we found that many insurance companies would provide a company policy for more than five employees, so it isn't exclusive to huge corporations.
Offer equity in your marketing agency. Providing employee stock options is a significant persuader and motivates team members to hit goals and power the agency forward. Stock options should be reserved for employees who passed the one-year point with your company.
Scaling Agency Challenge 3: You Don't Know How to Find Top Talent
If you don't know how to recruit, there is no shame in saying so. Starting a marketing agency is a steep learning curve that means learning outside your comfort zone.
When you're hiring for your marketing agency, you may be tempted to cast a wide net and get loads of job applications. After all, the more applications, the better your choices. Right? Actually … no.
Speaking from experience, I know that if you get inundated with applications, you probably won't pay enough attention to each one and top talent can slip through your fingers. Or you cast your net so wide that you didn't reach the specific segments you wanted.
Focusing instead on targeting only highly qualified candidates allows you to maximize your use of resources.
Be Specific About Who You Target
I really like this job ad from Havas, one of the largest communications agencies worldwide. They tell a poignant story while also being quite specific about the candidates they want to attract. They also targeted this ad perfectly, putting it at a tram stop where employees of the four biggest ad agencies in Amstelveen wait to get their transport into work.
The other great things about this ad is that it showcases exactly what Havas does. They communicate a message beautifully and effectively. This will certainly appeal to top talent marketers. In fact, I know of a similar campaign that happened in the finance space and was the talk around the water cooler for weeks.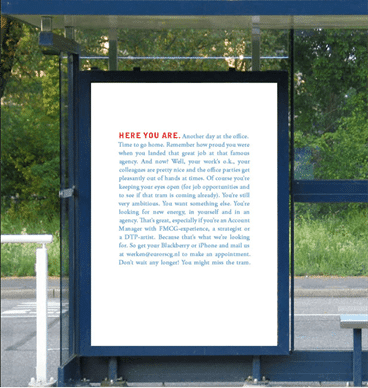 Action Points For Your Agency
Consider partnering with an expert recruitment agency.
But the cost? I hear you … But, in fact, recruitment agency fees might not be as frightening as you think. Usually, a recruitment agency will charge one or two months of the candidate's salary equivalent as a finder's fee. A recruitment agency's goal is to find outstanding talent for the organizations they partner with. So, you can be incredibly specific about what you want.Remember, they remove all the hard work of sifting time wasters, eliminating unsuitable resumes and even interviewing candidates for you. They then present you with the handpicked and likely highly suitable options. The other advantage of working with a recruitment agency is that they have their ears to the ground when it comes to top talent. They know who works where, the salaries they want and how to snare top talent!
If you decide to handle the recruitment yourself, then simplify it.
Have a dedicated landing page set up to capture resumes and candidate applications. If the ad was catchy and minimal like the Havas one above, then your landing page can be more funneled. Here you can be very specific about the job spec and details such as specific qualifications you require.Adding a salary range will also eliminate confusion later. Doing this helps you to avoid receiving unsuitable resumes and gives you an easy get out clause response if you do receive them. If you find that you have received a ton of unsuitable resumes, then something is amiss in your recruitment process.
To recruit top talent, you need to be where the top talent is.
That might be networking at a physical or hybrid marketing event. This is a great place to meet with other agencies, introduce yourself to creatives and source talent. Even if you don't walk away from the event with confirmed candidates, you have likely made great connections that will come in useful later.As an example, if I love a particular marketing campaign or ad, I will always find out who the agency or creatives were behind it. Not necessarily to poach them but to connect with them, appreciate them, and follow their work.
Scaling Your Agency Tips: How to Attract Top Marketing Talent
Set a Challenge If Your Role Requires a Specific Skillset
I can't emphasize enough how important this is, especially for social media roles. That's because many people believe themselves to be a "social media expert" because they use social media.
Setting a practical test will tell you whether this is true. The problem is so widespread that companies like Mettl actually have tests you can utilize when hiring for certain roles.

Show Candidates Who You Are
I love this Agorapulse ad that clearly positions Agorapulse as a friendly, positive and empowered workplace. Given that we work around 8 hours a day, happiness must be ranked highly in terms of consideration!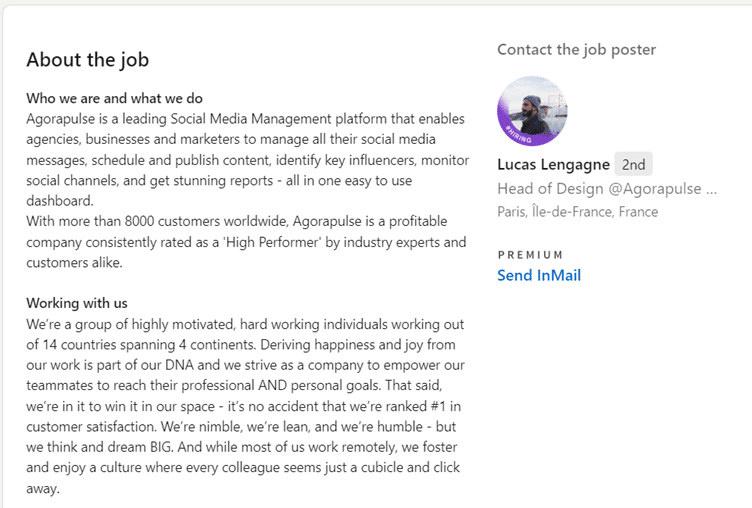 Position Yourself As An Empathetic Employer
KMD, a leading Danish IT and software company released this smart job ad that states: "Get a career with room for your private life. KMD is growing steadily, and we have room for you. But more than that we offer a career with room for both your professional ambitions and your family ambitions. In a work environment where everyone knows the value of a healthy work-life-balance, you can shape your career to match your current state of life."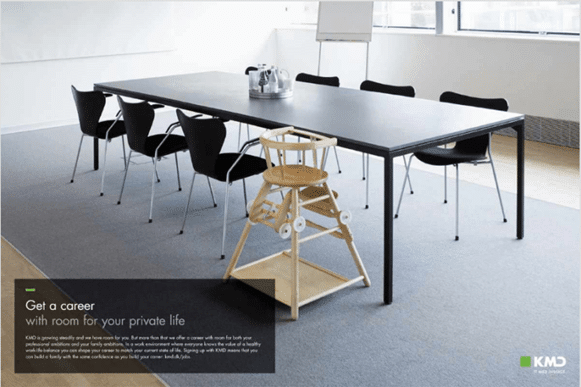 What We've Learned About Scaling Your Agency
With more people working from home, top talent taking to freelancer sites and expert marketers seeking more meaningful job roles, now is a great time to build your team. Remember, you're seeking talent for your marketing agency. Don't take yourself too seriously and be sure to showcase your creative side.
Now that you know how to get started scaling your agency, you are going to need some help managing all those new client social media accounts.
Why not get started on saving time and energy with your social media management right now? Check out our free demo of Agorapulse to learn how it can help you schedule, track, and measure your social media efforts for every account, all from one place.