As a social media marketer, you track social metrics that cover everything from audience growth to community management. Yet the types of data you collect can tell you much more than just how many followers your accounts gained or how quickly your team responded to comments.
Using this data, you can also acquire social business intelligence (BI)—which is key to making smarter decisions for your organization.
Curious how to leverage those insights? Let's look at how to use social media to gather BI and how social intelligence can benefit your business.
What Is Social Business Intelligence?
Social business intelligence is the process of creating reports and building dashboards gleaned from social that visualize social media analytics.
Social BI provides in-depth insights into marketing performance and online conversations, helping your team make data-backed decisions.
Because social BI involves high-level computing and modeling, you might assume that this process requires data scientists. However, many social BI tools offer self-serve analytics that you can easily incorporate into your reporting and strategy workflow.
Social business intelligence data
Most social BI tools draw on several different types of data, including:
Engagement metrics, which reveal how people are reacting to a brand's social media content and presence. These social metrics can help you gauge sentiment and identify upward or downward trends.
Content analytics, which reflect how various topics and media types perform on social media. These analytics can help you understand how well marketing initiatives and paid campaigns are working.
Social listening data, which lets you tune in to discussions across social media. This data can help you find out what people are talking about and how your brand can join the conversation.
Because social BI incorporates such a wide range of information from so many different channels, it generates a ton of data.
Fortunately, there's no need to worry about where to store all that data. Social BI tools are cloud-based. So, you can access the insights you need without having to store information locally.
Why Your Organization Needs Social Business Intelligence
Social business intelligence involves custom analysis and visualizations that address key questions related to your business.
Let's explore a few ways your team can leverage business intelligence BI.
Social business intelligence: Assess customer sentiment
Do your customers have a generally positive, negative, or neutral view of your business and its products or services? Has that sentiment changed over time? And if so, when and how?
Social BI tools can help you understand how existing and potential customers perceive your business and its offerings. Those tools can also help you identify patterns and pinpoint the days and times when critical changes happened.
You can use these insights to understand the activities that have the biggest effect on customer sentiment. Then you can incorporate more of the activities that create a positive sentiment and take a more proactive approach to mitigating negative sentiment.
Social business intelligence: Build customer relationships
Do your customers have a lot of complaints about your business, products, or services? Do they rave about the features and benefits?
With social BI, you can keep a close eye on customer comments, even those that don't tag your brand correctly. That means you can assess what people are saying, join conversations about your brand, and formulate responses that help you build deeper relationships with customers.
You can use these insights to make better decisions about your organization's approach to customer service. You can also use them to improve your products and services while you address your customers' needs.
Social business intelligence: Perform market research
Is your organization considering launching a new product or service? Are you planning to expand into a new region or market?
Social BI tools let you monitor people's interest in what your business sells. You can also track how people talk about your industry and how aware they are of the available solutions for their problems.
You can use these insights to make smarter decisions about market expansions or product and service launches. For example, you may decide that an educational campaign would help increase customer interest in a new market.
Social business intelligence: Evaluate sales funnels
Are your sales funnels guiding prospects along the customer journey effectively? Are some efforts starting to generate better results than others?
With social BI, you can track the channels that drive the best results for your business. From engagement to clicks to conversions, you can understand how each channel contributes to your bottom line.
You can use these insights to make data-driven improvements to your sales funnel. These insights can also help you create better content for each stage of the sales funnel so you can spend your marketing budget as effectively as possible.
Social business intelligence: Measure campaign success
Did your recent campaign generate the buzz you'd hoped it would? Should you keep running your current social media marketing campaign?
Social BI tools make it easy to measure the success of individual campaigns. You can monitor how people reacted to your efforts and determine whether campaigns moved the needle.
You can use these insights to identify the mix of elements your brand needs for a successful marketing campaign. Then you can start building more effective campaigns and structuring offers more strategically.
Social business intelligence: Research top competitors
How does your top competitor's share of voice compare to your brand's? Do people generally have a more positive or more negative view of the other brands in your space?
With social BI, you aren't limited to monitoring your own brand. These tools also allow you to research the conversations surrounding your competitors' brands—including customer sentiment, points of friction, and marketing campaign success.
You can use these insights to inform your organization's marketing strategy and campaigns. They can also help you position your brand, products, and services more effectively.
6 Types of Social Business Intelligence Features
All BI tools are designed to extract and process social data from a number of sources then visualize it in one convenient application.
However, those tools vary significantly in terms of functionality.
Let's go over what social business intelligence tools can do, so you can find one with the right mix of features.
1. Custom reports and dashboards
A one-size-fits all dashboard doesn't fit every business, so many social BI tools allow custom options. That means you can add what matters to your organization while eliminating the elements that don't factor into your business decisions.
Although most BI tools allow you to customize the social media analytics, metrics, data sets, and channels that display on your dashboards, some give you more advanced options.
For example, some allow you to create your own widgets to meet your organization's unique needs.
2. Visual reports for social business intelligence
Dashboards are great for when you want to visualize data in the moment or quickly check the sentiment surrounding a campaign. But what about when you need to transform those visuals into documents that you can distribute to your team?
Most social BI tools also create reports that you can export from the app, either as raw data or with graphs and charts included.
Some tools also let you notate reports before you send or allow you to export to formats that allow for easily modifications.
3. Real-time monitoring
Social business intelligence tools can typically gather data that spans months or years. Social BI tools allow you to assess patterns and identify trends over time. But some also provide real-time monitoring by pulling and refreshing data at frequent intervals.
With real-time monitoring, your team can make split-second decisions about critical topics. You can also identify pattern shifts at a moment's notice and take actions to guide conversations in a better direction or keep them on the right track.
4. Benchmarks or scorecards for social business intelligence
To make informed decisions, you need to know how your current metrics compare to what you've achieved in the past. In many cases, it's also helpful to compare your results to industry standards.
Many social BI tools offer benchmarks, so you can get a better understanding of how your organization's performance compares to your normal levels. Some tools also provide industry scorecards to help you see how your performance measures up to your peers and competitors.
5. Collaboration capabilities
As a social media manager, you may be responsible for overseeing your organization's social business intelligence processes. But you'll undoubtedly want to share your analysis and findings with colleagues and stakeholders.
Many social BI tools include opportunities for collaboration. That way you can easily share data with colleagues in other departments or distribute reports to your boss and other decision makers.
6. Predictive analytics
Every BI tool pulls data to analyze what's already happened. But what if you want to look forward the future and anticipate what might happen the next day, week, or month?
Some advanced business intelligence tools also provide predictive analytics.
By analyzing the patterns in your social metrics and evaluating market factors, they can predict how trends will continue to develop. With these insights, you can plan marketing efforts and sales strategies more effectively.
Seven Top Social Business Intelligence Tools
Now you know you can find business intelligence in social media. But what are the best tools for analyzing your social metrics, displaying your data, and simplifying decisions?
Let's take a closer look at some top tools for social business intelligence.
1. Agorapulse
If you're already an Agorapulse subscriber, you know that this social media solution is much more than a business intelligence tool. Yet its Reports tab offers some pretty unbeatable social BI.
You can use Agorapulse's standard dashboards to assess the metrics that matter most to your team—including content performance, audience engagement, and even community management.
Each dashboard section features data from a comparison period of your choice, so you can benchmark performance over time and understand what gets your audience talking.
With Agorapulse's labeling feature, you can also measure customer sentiment. Whether you use manual or automated labeling, you can gauge sentiment for any time period to see what's generated the most positive or negative perceptions.
Need to know which Facebook content or campaign generates the biggest bang for your buck? With Agorapulse's Facebook return on investment (ROI) report, you can see what's driving the most revenue and use the data to keep improving your strategy.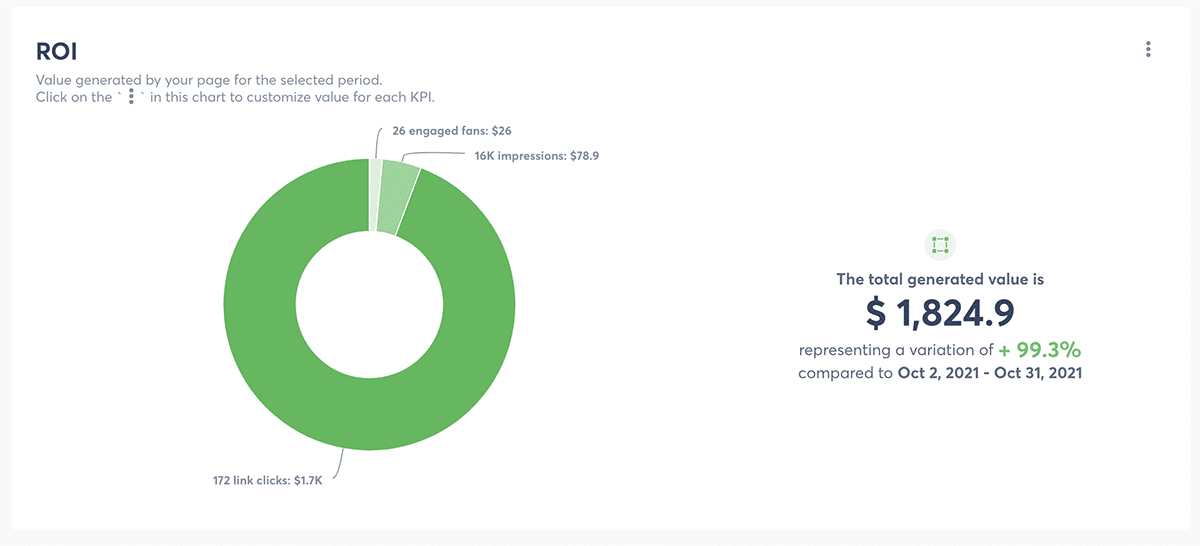 Agorapulse's listening and brand awareness reports also help you gain insights about your brand.
Listening reports can help you assess campaign engagement or competitor performance. Brand awareness reports let you gauge how visible your organization is in the social media landscape.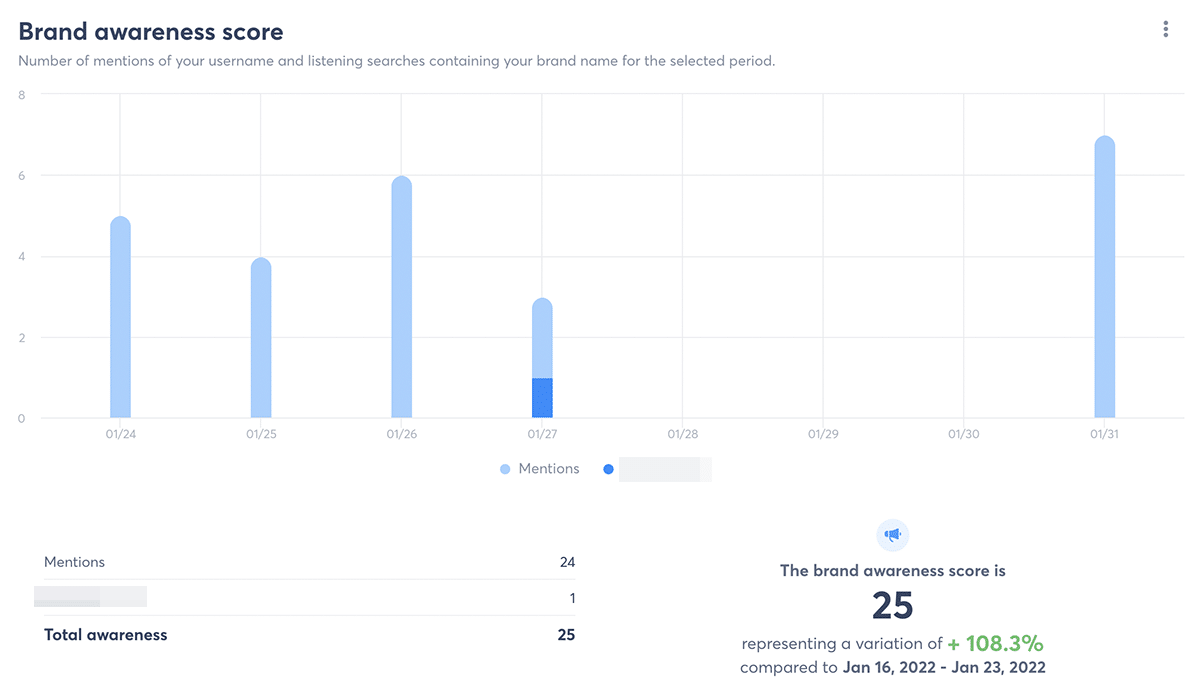 You can also use Agorapulse's Power Reports tool to create custom reports for your team. Add the profiles or labels you want to track, and then add all the metrics you want to monitor. You can view them as dashboards to see up-to-date analytics or as reports to spot trends over time.
2. Audiense
With Audiense, you can draw BI from social media users and use audience insights to guide your decisions. This tool analyzes Twitter users based on factors like hashtags and account followers. It also can evaluate an audience from your customer relationship management (CRM) or social listening tool.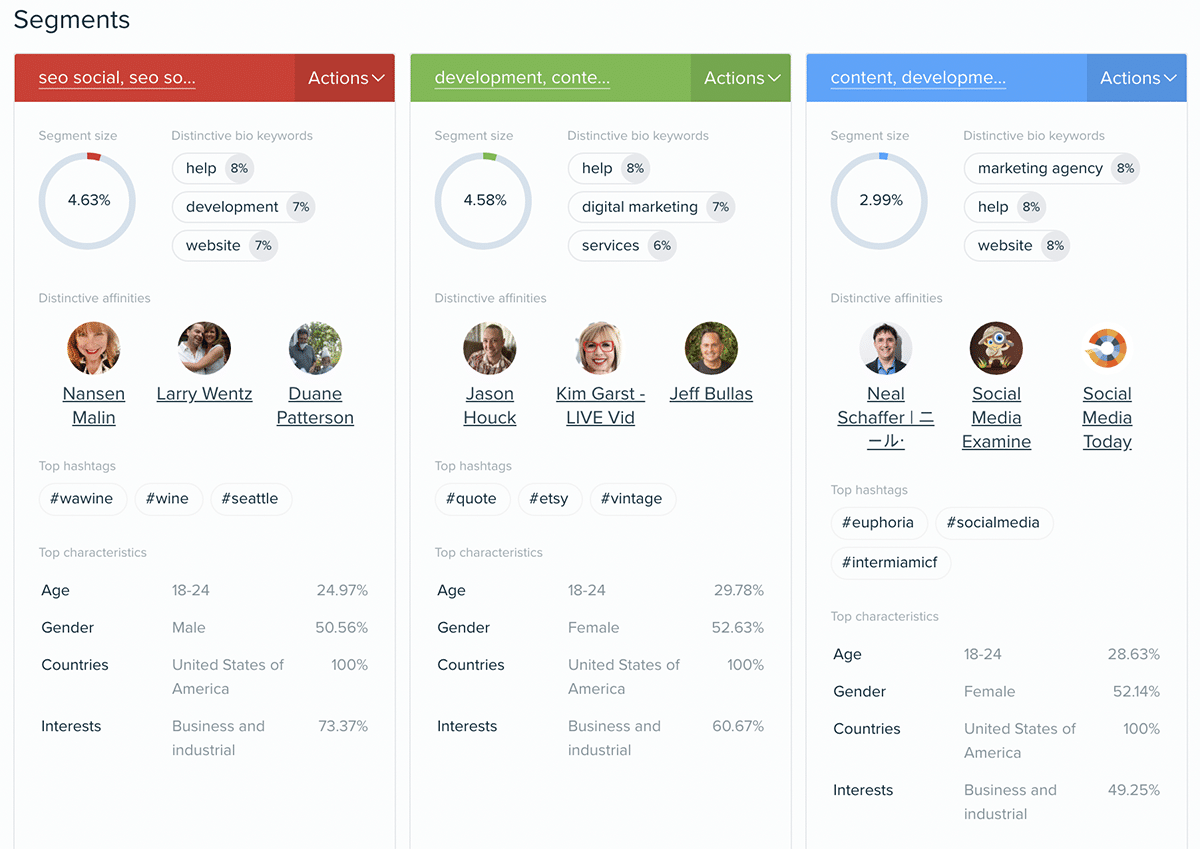 Using the tool's insights, you can identify top accounts and influencers, pinpoint keywords and hashtags, and build audience profiles. You can also create audience segments to get a more nuanced view of your customers. Then you can use the social BI to conduct competitor research, generate leads, do market research, or create better content.
3. Board
An advanced business intelligence tool, Board is designed to analyze your data, forecast future performance, and help your team plan. You can model your data and simulate potential outcomes, so you can assess the impact before it happens.
Board's dashboards and reports are completely customizable, allowing you to set up any analysis your team needs. In addition to these visualizations, Board offers scorecards so you can benchmark your brand against others in the industry.
4. Cyfe
With Cyfe, you can easily build social business intelligence dashboards using the platform's premade templates or your own custom layout. You can link anything from your YouTube channel to your Facebook ad campaigns to your Google Analytics account to track audiences and marketing activities across channels.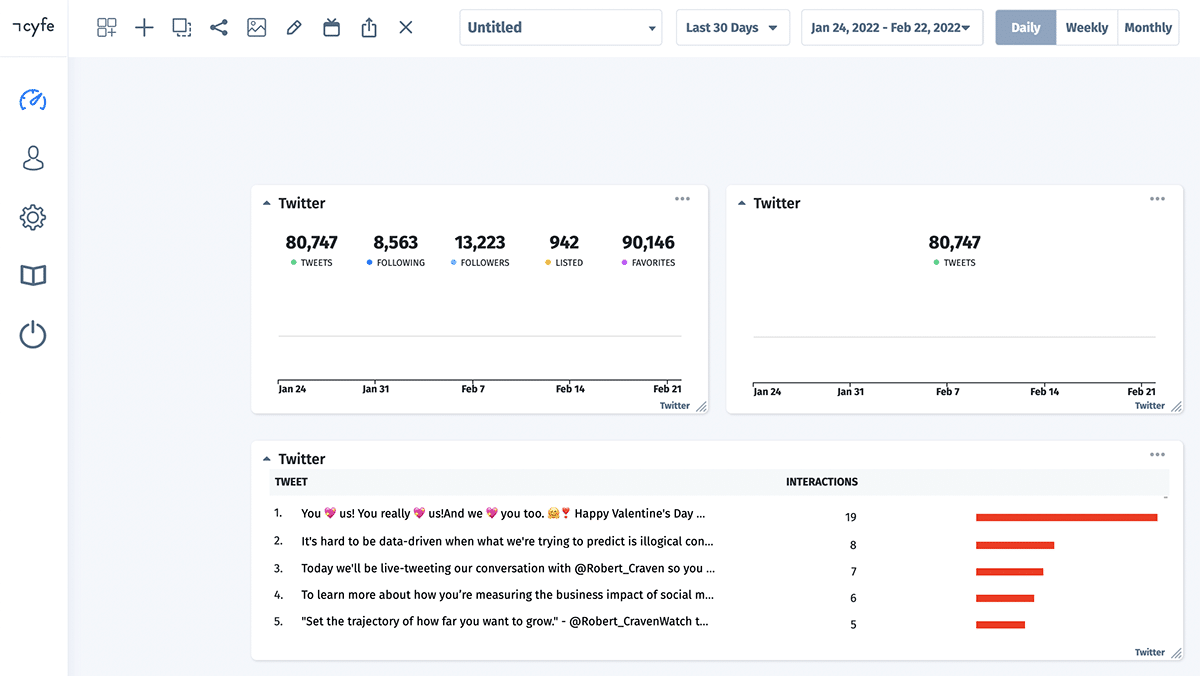 Then you can use these analytics to see what drives the most rapid growth, positive engagement, or high-value sales. You can also analyze competitors' social accounts to enhance your insights.
With this social BI, you can create social media content that resonates, market your brand more effectively, and achieve more ambitious marketing goals.
5. Domo
When your marketing data comes from a wide range of applications, Domo can link them together and provide actionable insights. This social BI tool has more than 1,000 connections. It can also support manual database uploads. So, there's virtually no limit to the type of data this platform can process.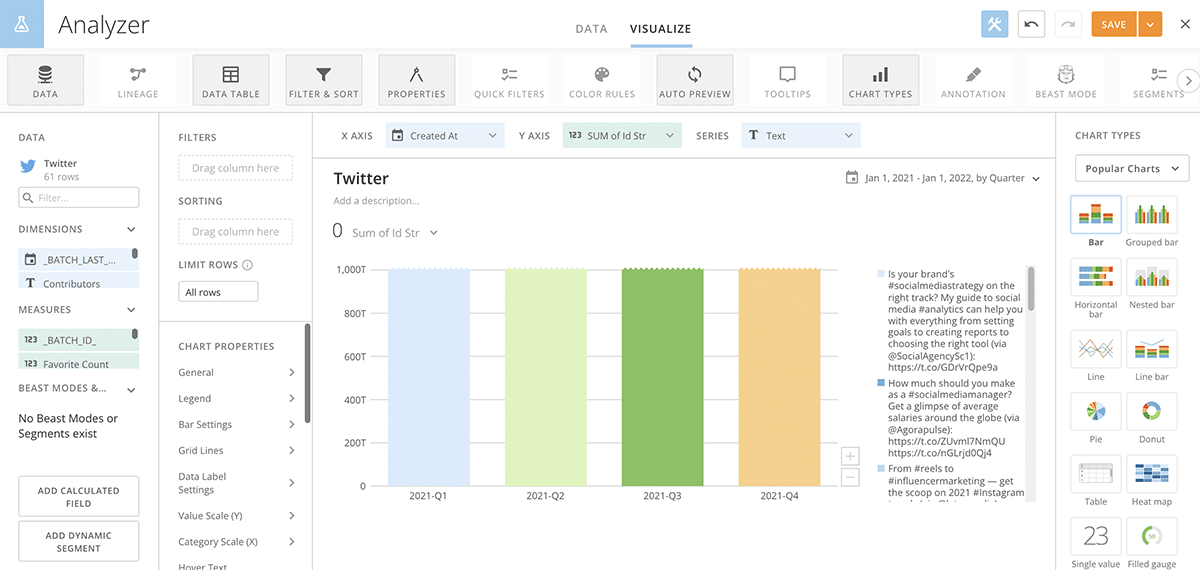 Using Domo's custom visualizations, you can see how your marketing efforts impact company performance. You also can get a big-picture view of what really moves the needle for your organization.
Since you can connect and contextualize so many diverse data sets, you can share social business intelligence across your organization. Colleagues in every department can make data-driven decisions.
6. Looker
With its real-time dashboards and wide-ranging connectivity options, Looker is a smart pick for advanced BI needs. This platform connects with dozens of databases, lets you choose your cloud storage, and allows complete visual customization so you can get the insights your team needs.
Looker lets you connect and relate multiple data sources and channels. So, you can better understand your customers, identify problems before they escalate, and take action when the time is right. This platform also offers data modeling so you can forecast outcomes and make smarter decisions for your organization.
7. Tableau
With a BI tool like Tableau, you don't have to wonder what's driving results on social media. You can create custom dashboards to track key performance indicators (KPIs) and set up alerts, so you never miss a key moment. You can also set up dashboards to track marketing campaigns. You then can easily identify the most effective initiatives.
As important as social media may be to your marketing strategy, it's probably not the only channel that drives results for your organization. Since Tableau is designed to measure and benchmark performance across channels, you can track results at every stage of your campaigns.
Social Business Intelligence: What We've Learned
Social business intelligence can be an incredibly valuable asset to your business. Want to learn more about your customers? Benchmark your business against competitors? Evaluate your marketing efforts? Then the right BI tool can help you make smarter decisions backed by social data.
Get started with your social business intelligence efforts! Check out our free trial of Agorapulse to help you schedule, track, and measure all your social media efforts.