Your agency might have experts in community management, brand monitoring, content strategy, and other ongoing services, but in regards to targeted promotions, where should your team start?
To develop a successful social media campaign, you need a reliable workflow, powerful tools, and a well-crafted plan.
Let's look at how to plan and implement a social media campaign for clients so your agency can deliver the best possible results.
What Is a Social Media Campaign?
A social media campaign is a promotion that your team designs to help clients achieve a marketing goal. Social campaigns have a beginning and an end—but they can span any time frame and include any number of channels.
How is a campaign different from a social media strategy? A strategy is an approach to social media marketing. It often includes several campaigns over a longer period of time.
Why should social media campaigns be strategic? Social campaigns require extensive research and planning. Without a strategy, a campaign is just a series of loosely related social media posts.
Social Media Campaign Benefits and Challenges for Agencies
When planning and implementing social media campaigns, agencies have an advantage over individual brands thanks to retained knowledge, dedicated software, and well-crafted playbooks.
Agency benefits of creating a social media campaign
Your agency can benefit from:
Knowledge. Whether your team is large or small, everyone has impressive experience handling a wide range of social media accounts. Yet everyone also has a unique area of expertise, ranging from paid social to brand monitoring.
Resources. Agencies need the time-savings and enhanced capabilities that marketing tools provide–so they don't hesitate to invest in the most effective ones. When your agency takes on a new client, you already have the dashboards and apps you need.
Experimentation. When you've managed as many campaigns as most social media agencies have, you get countless opportunities to test out new tactics. Your team knows what works since you've tried it all, and you can apply what you've learned to future campaigns.
Agency challenges
Agencies also face some serious challenges when creating campaigns:
Requirements. Getting clients to commit to campaign goals and budgets, and convincing them to provide the input you need isn't easy. If you ask the right questions, you can make the process more productive for everyone.
Approvals. If your clients have multiple stakeholders, you might never get anyone to sign off on the campaign. Encourage your clients to designate one point-person to approve campaign content to streamline the workflow.
Value. Your clients deserve to know if the campaigns they run are worthwhile. But it isn't always easy to show value if your campaigns don't target sales. With insightful reports, your agency can demonstrate value.
Considerations for Big Agencies
Do you run a large agency? You can expect to experience both the benefits and challenges to an even greater degree.
Here are a few things to keep in mind:
Tools: Make sure the tools you use are the best ones for the job. Choose a social media tool that streamlines publishing, monitoring, and reporting.
Workflows. Document your agency's processes, so you can repeat them every time. Modify them when you identify improvements or adopt new tools.
Optimization. Do what works, but don't hesitate to do better. Revisit your tools and workflows quarterly or annually, so you can revise and improve.
How to Run a Social Media Campaign: Step-by-Step Walkthrough
Running a social media campaign may seem daunting at first.
With this complete guide, you can tackle the process one step at a time and deliver optimal results.
1. Set goals and decide on a budget
To create a successful social media campaign that delivers results and value, your team needs an objective. Avoid overly vague goals and set SMART goals instead.
Focus on SMART goals
SMART goals make the objective, the reasoning, and the tracking crystal clear.
Here's how to set SMART goals for client campaigns.
Specific: What does your client want to accomplish and why? Be as precise as possible so you can develop a campaign that really hits the mark.
Measurable: How do stakeholders define success? Choose a measurable metric like revenue, website clicks, or new followers.
Attainable: Is the goal possible to achieve? Set ambitious yet attainable goals to motivate your team.
Relevant: Does the campaign support the client's marketing objectives? Make sure the goal is relevant–otherwise, it doesn't matter.
Time-based: What's the deadline for reaching the campaign goal? Clarify when the campaign starts and ends.
Calculate a budget
Social media campaigns aren't free, even if they include only organic content. It's important to factor in the cost of your team's fees, content production, and advertising.
If your client needs budgeting advice, do some reverse engineering. Start with the campaign goal and factor in the client's benchmarks or your agency's past campaign results. Then estimate how much they'd need to spend to get the outcome they want.
2. Do Research to Guide Your Approach
After confirming the campaign goal and budget, focus on research.
To get the information you need to plan a successful campaign, your team needs audience and competitive research.
Study your client's audience
Who is your client's target audience anyway? You need to know so you can create a social media campaign that speaks to the right people.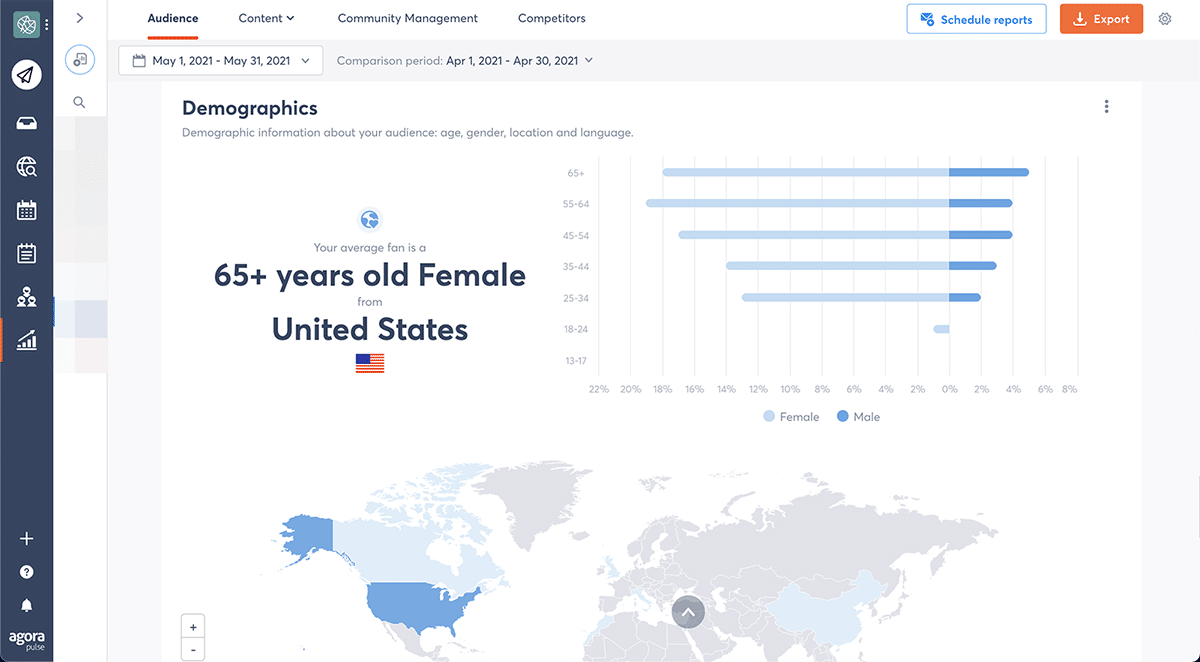 First, go to your client's Agorapulse audience report. You can find essential demographic data like location, gender, and age.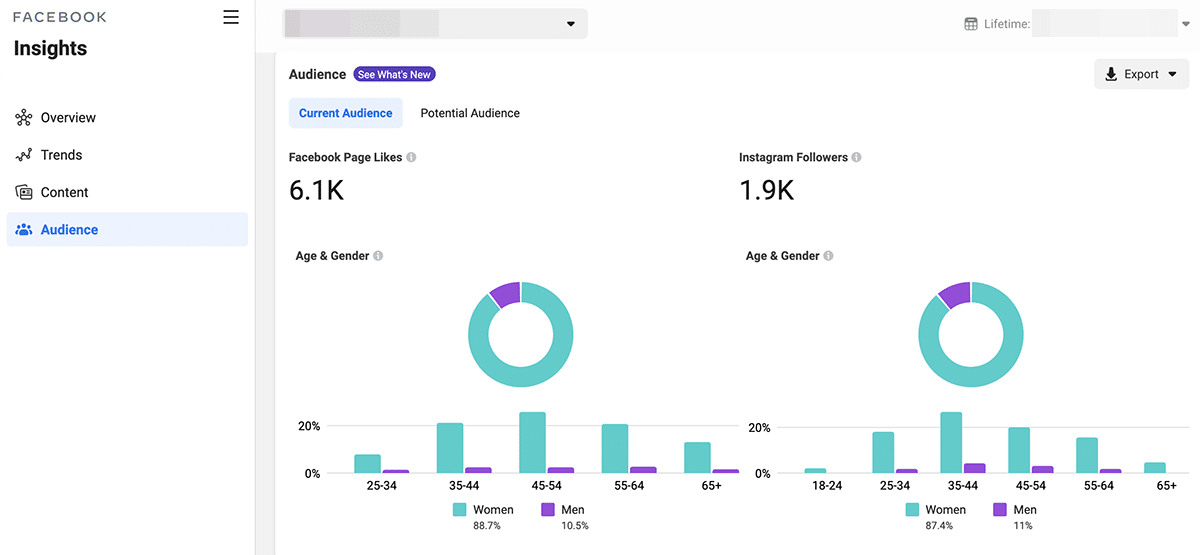 Next, use native social media tools to check your client's profiles and fill in any blanks. Facebook's built-in insights focus on demographics, while LinkedIn's delve into employers and fields.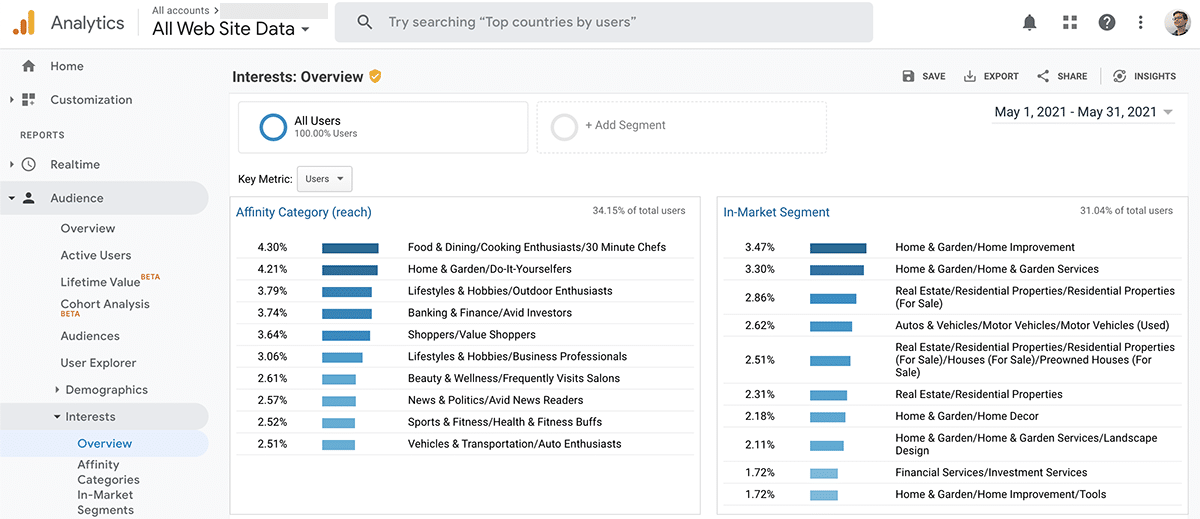 Then check your client's Google Analytics report to get more information on their website visitors. In addition to demographics, Google Analytics reveals visitors' interests and shopping habits.
Stay on top of the competition
Copying what your client's competitors are doing probably won't get you very far. Yet it's helpful to keep an eye on what their top competitors are doing and if they're succeeding.
Make a shortlist of your client's top competitors, and scroll through their social profiles. Take note of the features they're using and the promotions they're running. Do any of them seem to be working well, and can you tell why?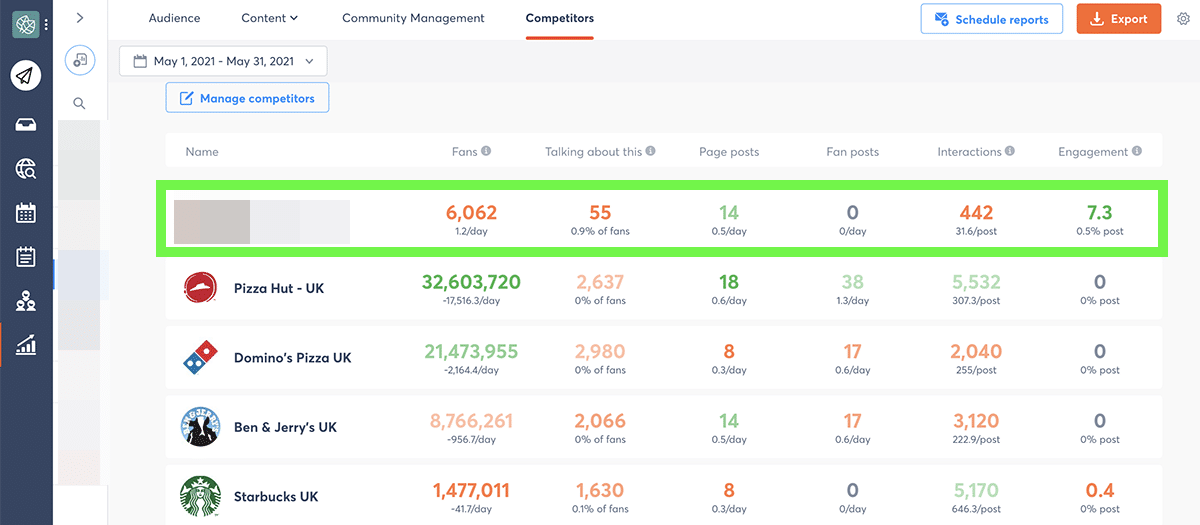 Then use a competitive research tool like Agorapulse's competitor report. Plug in your client's top competitors and see how they measure up in terms of engagement and audience size.
3. Structure the Social Media Campaign
Once you know how much your client intends to spend, your team can start structuring the campaign. Develop a framework by choosing the best channels and building a social media funnel.
Choose social channels
In some cases, it makes sense to use the social channels where your client already has a presence. But that doesn't mean you should automatically rule out other channels.
Instead, take a look at sources like the Pew Research Center, which compiles statistics on who uses social platforms. Review your competitive research to determine which channels your client's competitors use.
Weigh paid vs. organic methods
The social media campaigns your agency designs can include paid, organic, or both methods.
When deciding which to use, ask these questions:
Can organic content alone help you reach the campaign goal?
Does the budget include enough for a paid campaign?
What could you realistically achieve with the remaining budget?
(You can find out more about how other agencies feel about paid vs organic methods in our 2021 State of Social Media Agencies report.)
Build a social media funnel
The best social campaigns speak to an audience at a specific stage of the buyer's journey. Then they guide prospects through the sales funnel and toward a conversion.
Here's how to incorporate your client's buyer's journey into your team's social media funnel:
Top of the funnel: Use an awareness campaign to introduce your client's brand as a possible solution to the audience's problem.
Middle of the funnel: Build a consideration campaign to help prospects do more in-depth research as they seek out a solution.
Bottom of the funnel: Create a conversion campaign to urge prospects to make a purchase, try a demo version, or sign up for a free trial.
4. Choose the Right Tools for the Job
Does your agency have what it takes to run social media campaigns? Get started with these essential apps and tools.
Agorapulse
Is your agency in the market for a social media management tool that handles publishing, engagement, monitoring, and reporting? With Agorapulse, you can manage just about every aspect of your social media campaigns in one place–for as many clients as you have.
Asana
Do you need to stay on top of tasks like content creation, copywriting, scheduling, and reporting? With Asana, you can manage complex projects, set deadlines, and assign tasks to team members or external clients.
Canva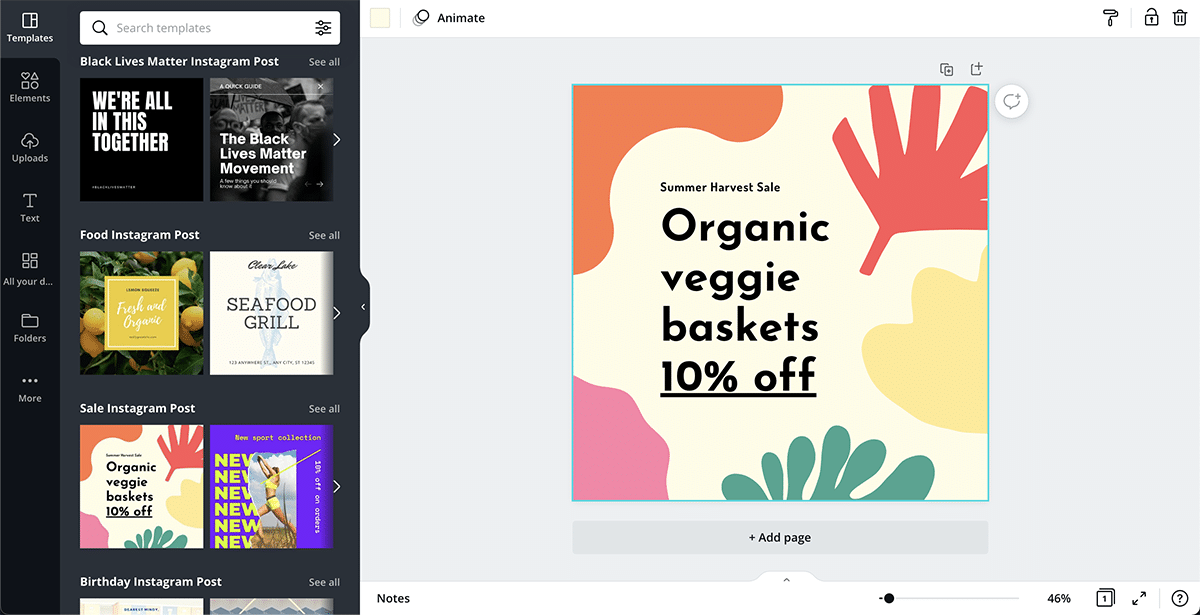 Do you want an app that simplifies design and organizes campaign content? With Canva, you can access design templates, make graphics shine, and maintain your client's branding and style.
Google Sheets
Are you looking for a simple tool that helps with planning campaigns? With Google Sheets, you can create calendar templates, draft content, and chat with your team. You can also share campaign materials with team members or clients.
5. Plan Campaign Content
Now that you have the campaign framework and tools in place, you can produce a rough draft. This is the time to get your style guide, hashtags, and calendar in order.
Create a calendar
Take your campaign framework and translate it to calendar form. Mark the start and end dates, including introductory and last-chance posts. Then pencil in the rest of your content ideas like:
Posts about your client's brand for top-of-the-funnel prospects.
Informative blog posts and competitor comparisons for middle-of-the-funnel prospects.
Prompts to subscribe, try out, or purchase for bottom-of-the-funnel prospects.
Fine-Tune the style guide
Your social media team could waste tons of time guessing what to say and how to say it. To ensure you get it right every time, create or fine-tune a style guide. It should include:
How to spell and capitalize branded terms
Which words or emojis to use or avoid
What writing style and tone of voice to use
Decide on a hashtag
With a campaign hashtag, your team can track metrics like reach and brand awareness. Strive to choose a hashtag that's unique, short enough to be memorable, and catchy enough for your audience to adopt.
6. Produce Copy and Creatives
After overseeing the planning process, you can shift gear into production. Since creatives often take more time to complete, it's often best to tackle them first.
Develop creatives
Sit down with your team and schedule all your campaign creatives.
Your list might include these visual components:
Filming and editing video
Taking and editing photos
Designing graphics
Searching for stock photography
Finding user-generated content (UGC)
Scripting livestreams
Write the copy
Next, perfect the campaign messaging and use it to write the copy. Aim to use two or three main points that support the overall objective, and repeat them throughout the campaign.
Then write and edit all the captions for the planned posts for your social media marketing. To prompt your clients' audience to take the next step, use social calls to action (CTAs) like:
Buy now
Learn more
Sign up
7. Upload and Schedule Campaign Content
Livestreams aside, you can schedule all your social media campaign content in advance. When you schedule instead of posting in the moment, you ensure that everything goes out right on time.
Identify the Best Time to Post
Unless you're timing campaign posts around things like product launches or sale announcements, it's best to publish content when your client's audience is most likely to see and respond to it.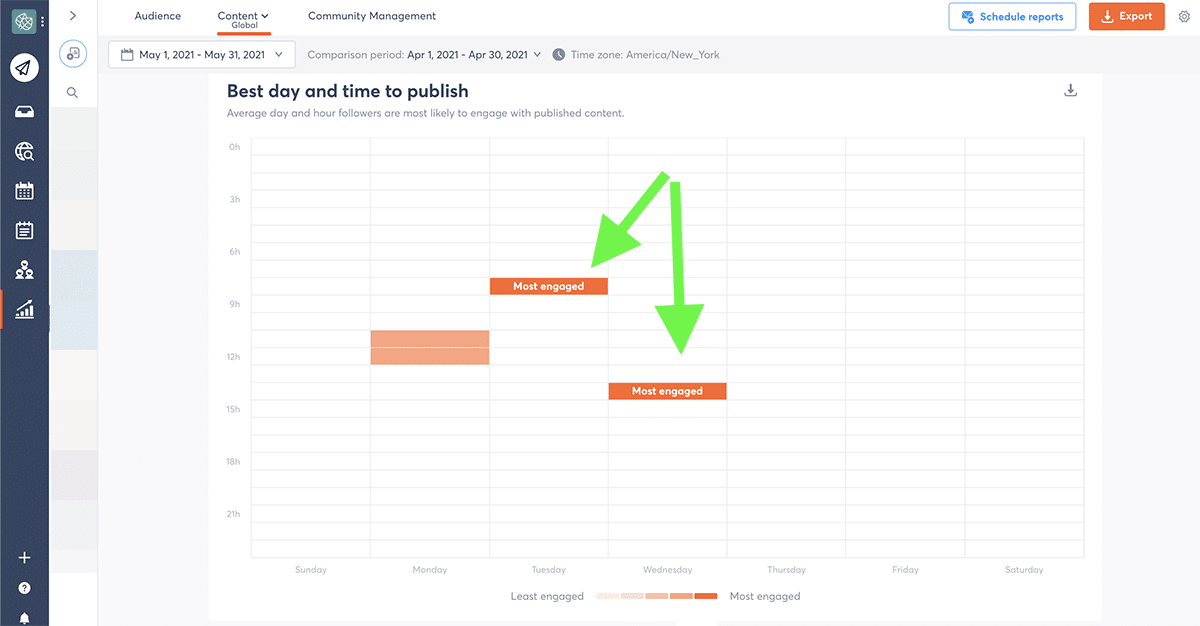 To identify when they're most engaged, check Agorapulse's audience report. Take note of the best times to post for each channel and pencil them into your campaign calendar.
Bulk publish campaign content
Rather than uploading each post individually, save time with Agorapulse's bulk publishing tool. You can upload a group of images or a CSV file of campaign content and links.
Review the posts, confirm the timing, and add UTM parameters for tracking. Then schedule all the content with one click.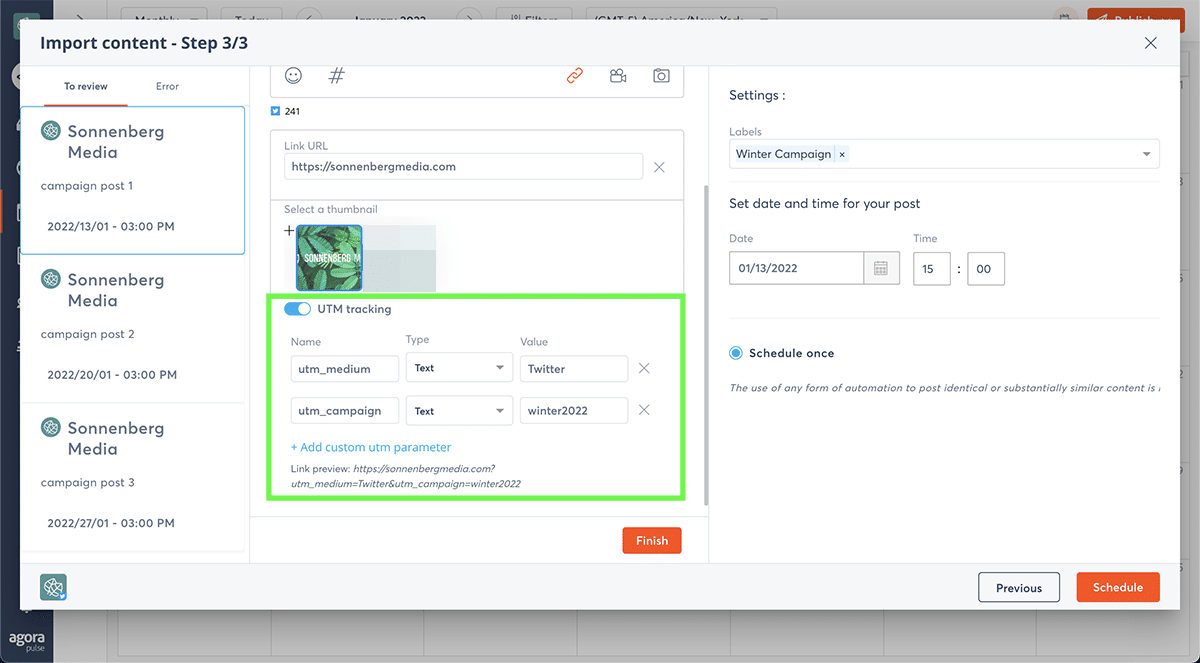 8. Confirm Stakeholder Approvals
After scheduling the campaign content, you can get stakeholders to sign off. Since Agorapulse creates previews that show how the post will look when it's live, stakeholders can see how the copy and creatives come together.
First, make sure you know who needs to sign off. Is it your agency's account manager, the client's point-person, or both? Then use one (or both!) of these methods to get campaign content approved:
Assign posts to stakeholders. You can assign any individual post to an internal or external stakeholder. The post won't be published until the assignee approves it.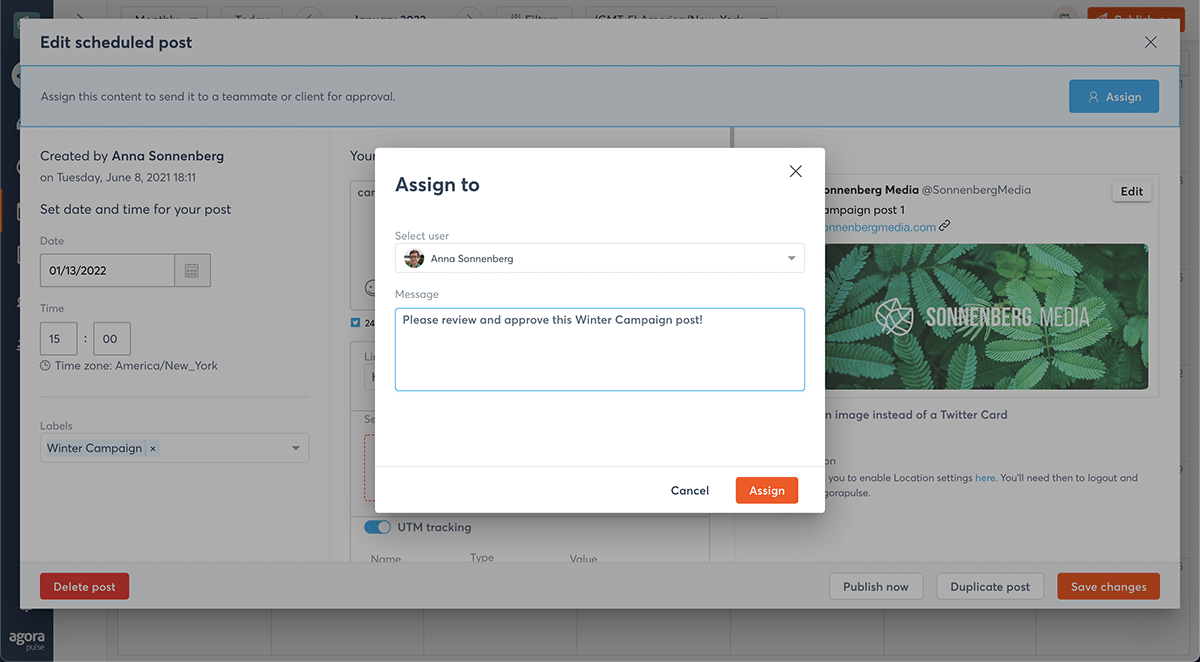 Create a Shared Calendar. Give clients access to your Agorapulse Shared Calendar so they can get an overview without any assignments. They can see and comment on any scheduled post–but they don't have to take action.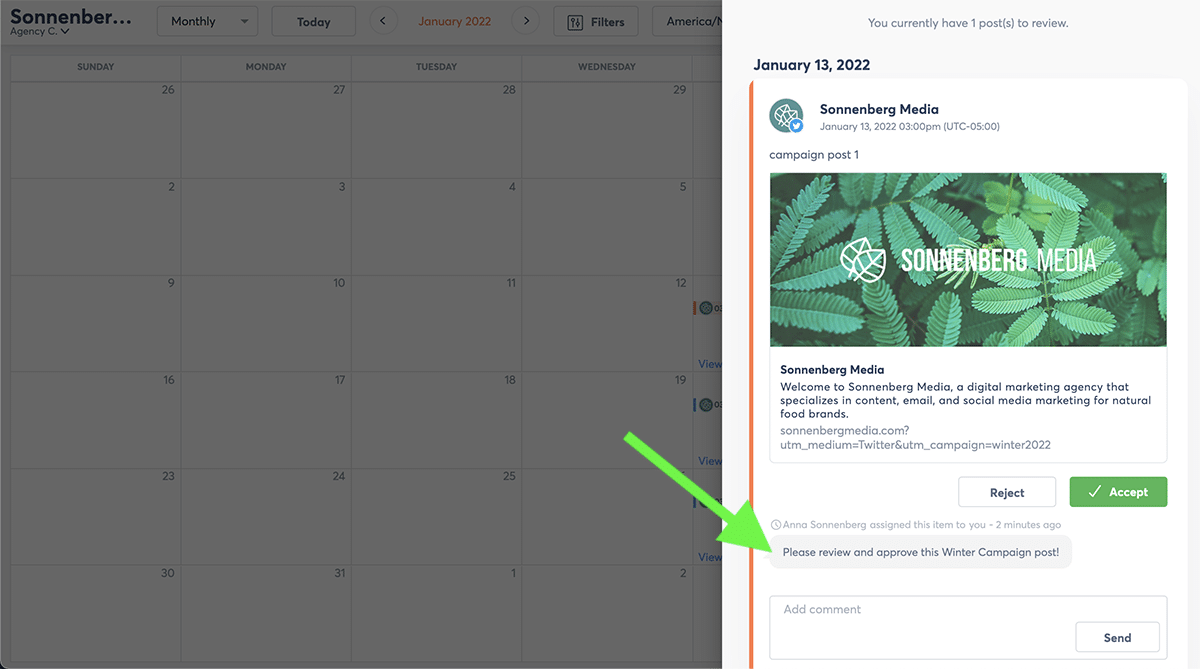 9. Manage Social Engagement
When the campaign content goes live, your team should be ready to monitor engagement.
Use these tips to streamline your workflow:
Write saved replies

There's no need to type the same response again and again. Create saved replies in the Agorapulse dashboard, so your team can respond to engagement more efficiently.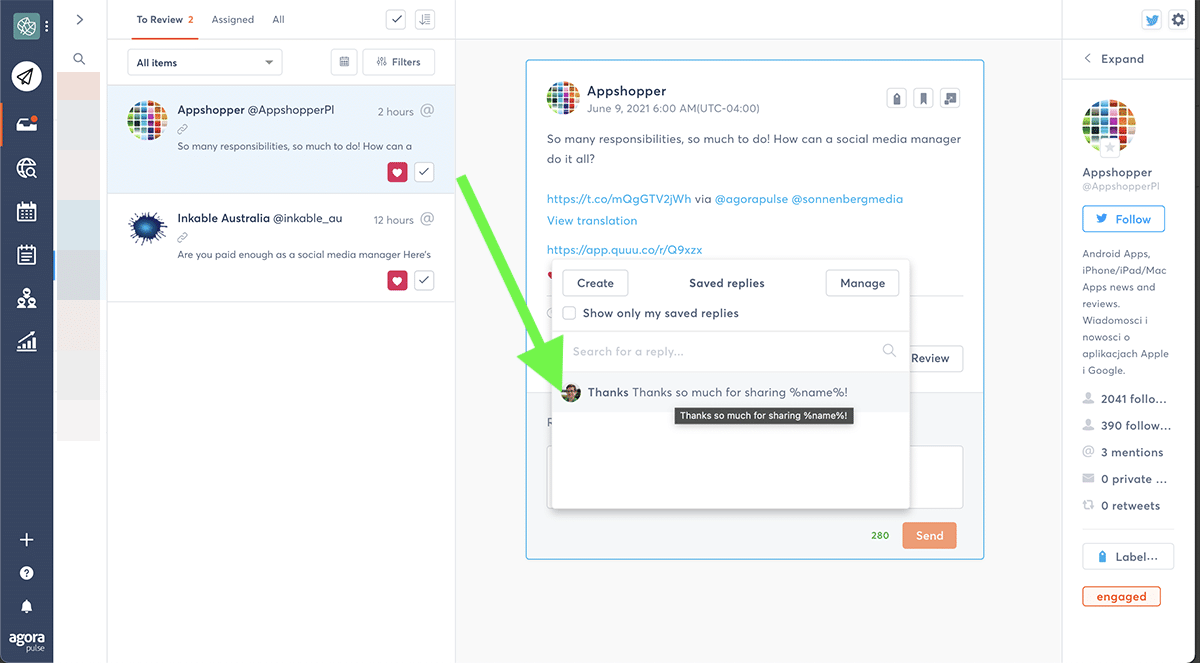 Automate moderation
Don't let spam comments see the light of day. You can set up moderation rules to hide, delete, or review spam comments so you don't have to waste time.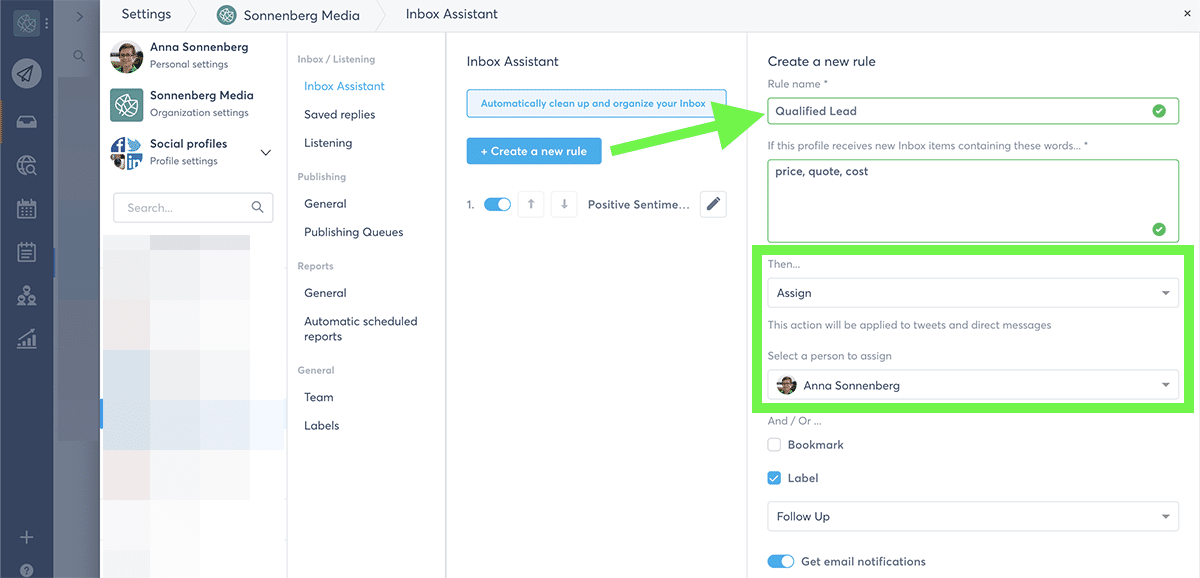 You can also automatically assign important comments or DMs to team members. Flag them for future follow-up so your team doesn't miss any critical engagement.
Label social inbox items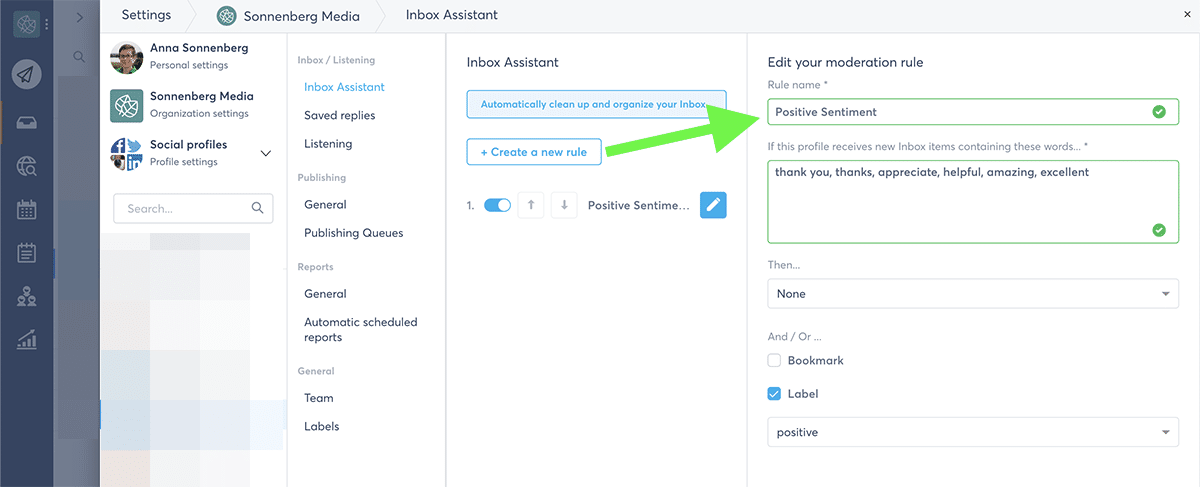 Clients often want to know how customers feel about the brand or the product. Create labels that reflect customer sentiment so you can collect data for your campaign report.
10. Leverage Social Listening
Your agency can leverage social listening any time. However, it's particularly helpful to use during social media campaigns.
Monitor mentions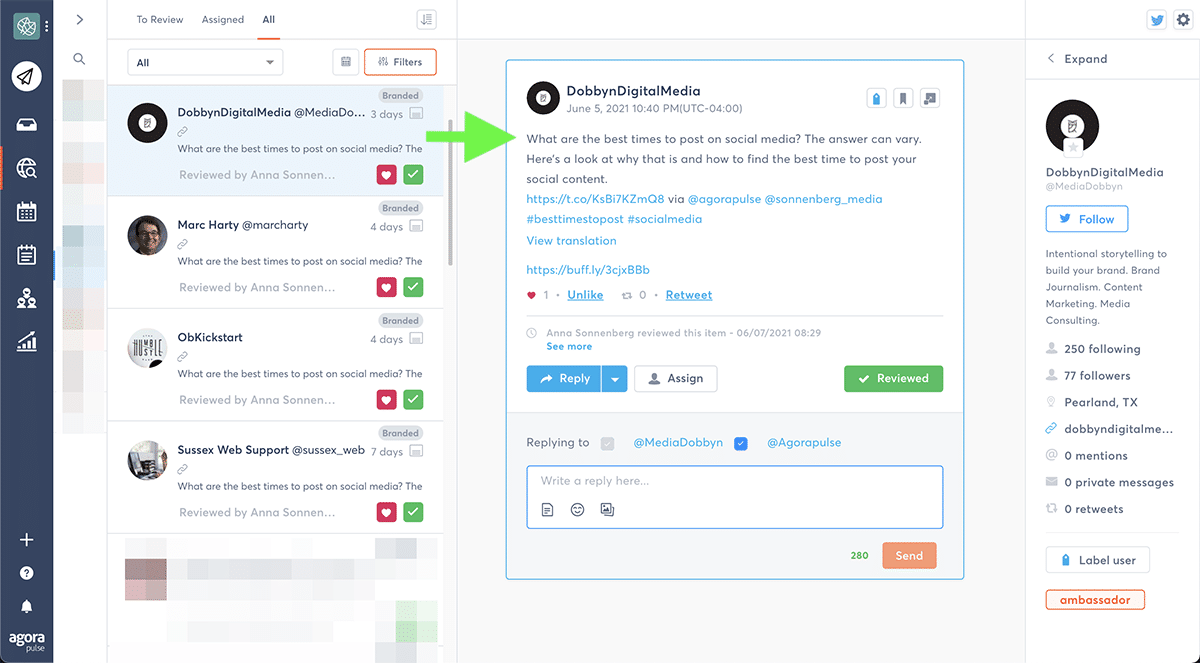 Agorapulse automatically listens for direct brand mentions. You can also create searches to track indirect mentions or conversations about your client's products, services, or even competitors.
Follow campaign hashtags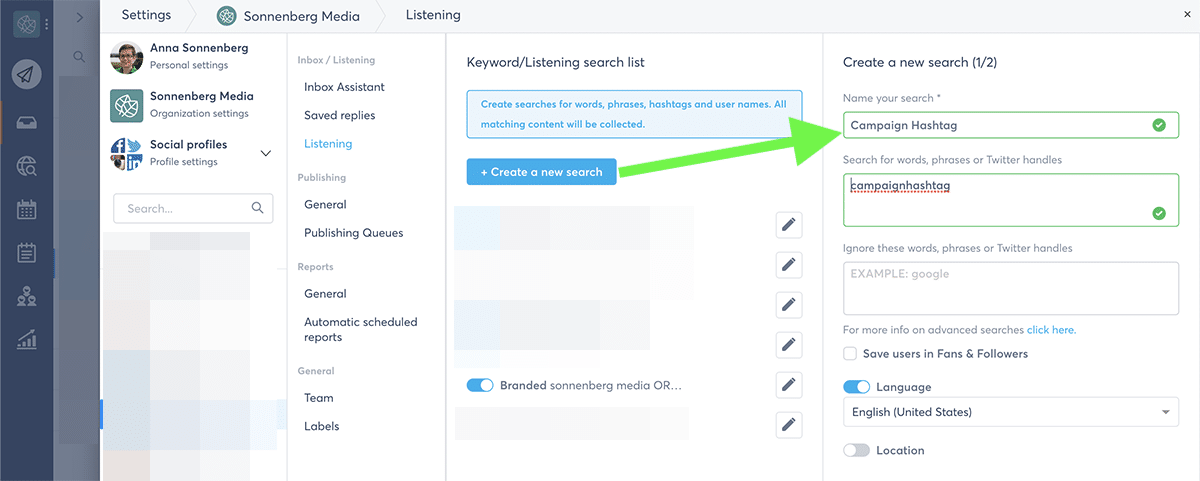 Did you create a hashtag for the campaign? Add it to your listening dashboard so you can tune into every relevant conversation. You can also reply or share directly from the Agorapulse dashboard.
11. Review and Optimize
Whether you're running a short or a long campaign, always monitor results while it's in progress. That way your team can catch and fix issues and optimize the outcome.
Monitor campaign results
Use Agorapulse's reporting dashboard to stay on top of important metrics. For example, you can view engagement during the campaign time frame.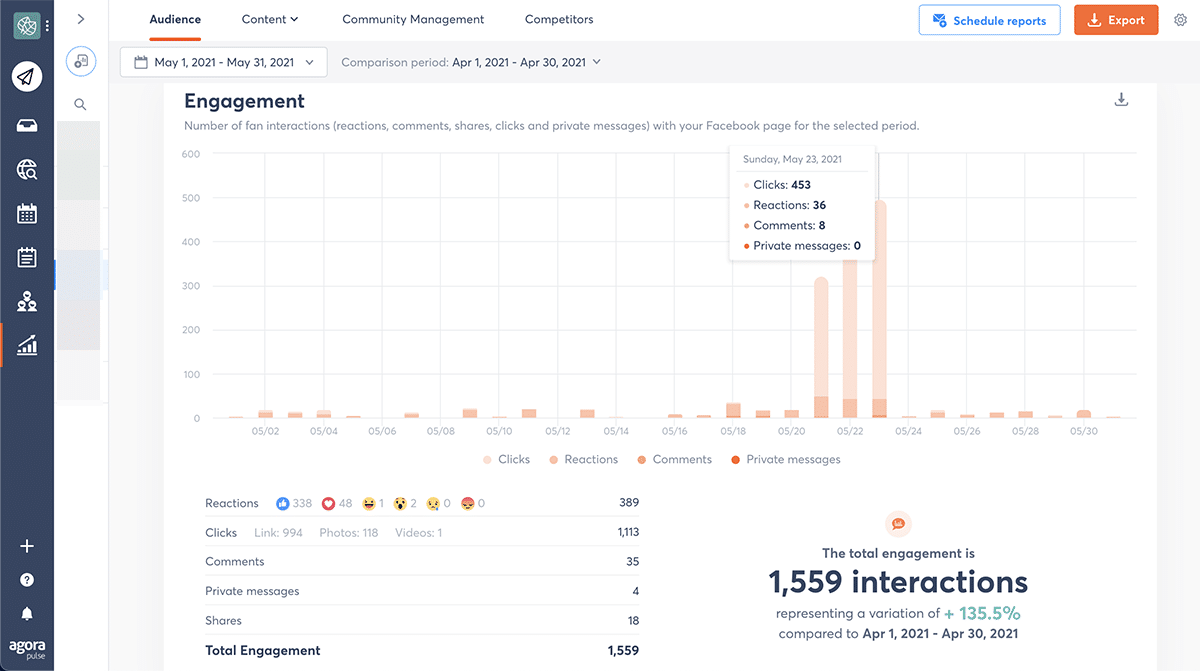 Click on the content report to take a closer look at metrics for individual posts.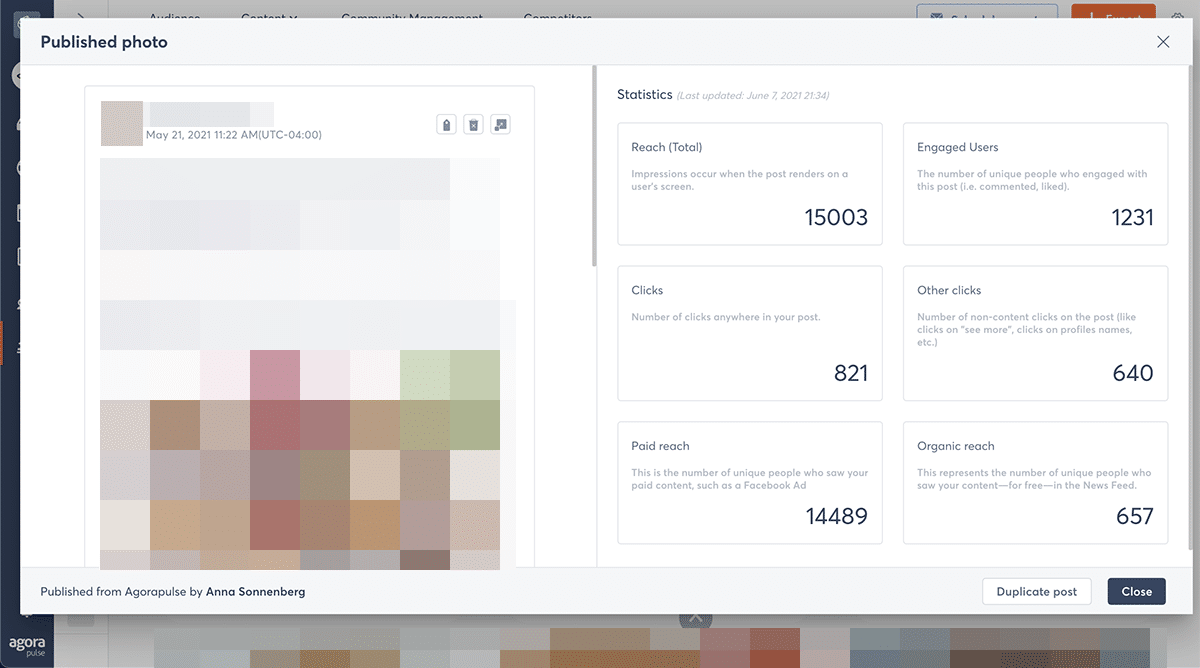 You can also keep an eye on hashtag interactions and brand mentions to see how much buzz you're generating.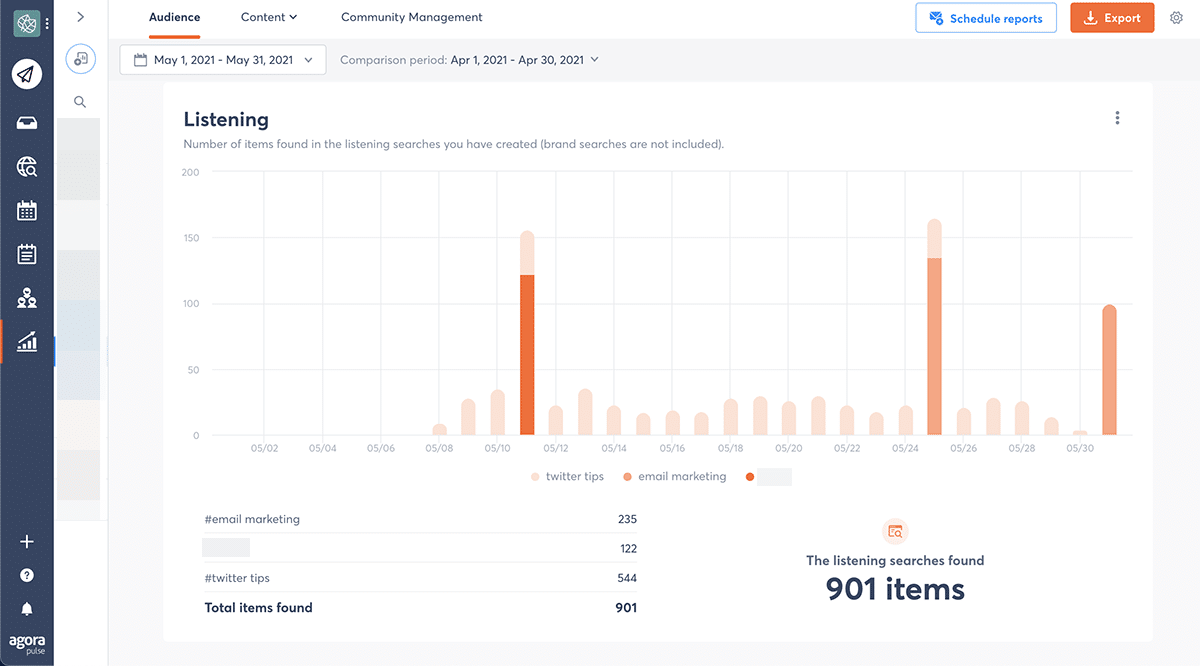 Use Agorapulse's AdsReport tool to monitor Facebook Ads. You can track metrics like CTR, CPM, and revenue.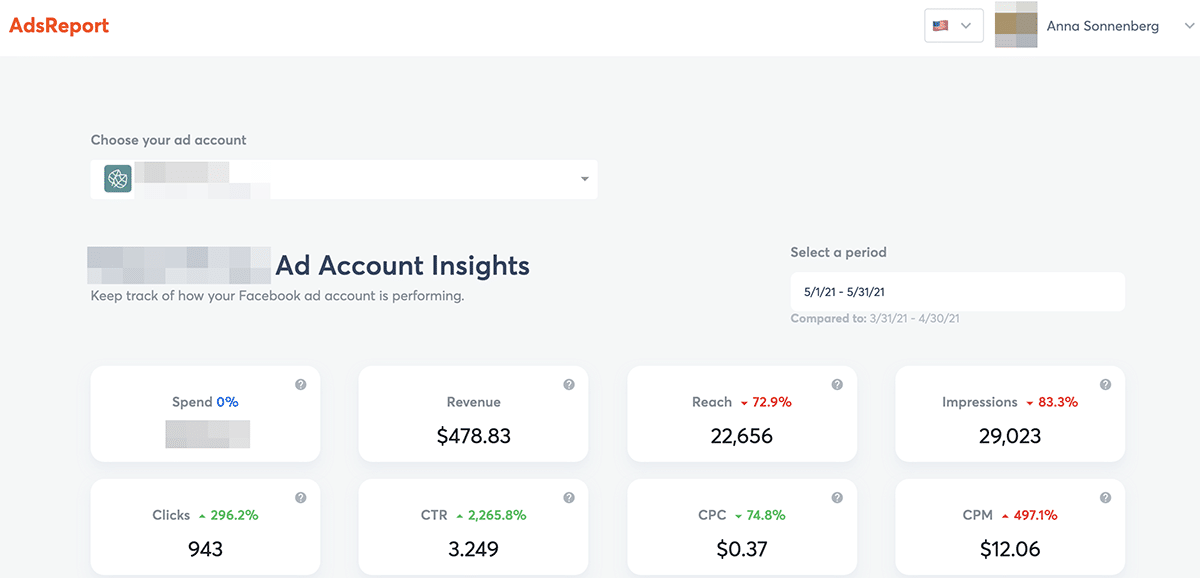 Optimize the campaign
If your client's campaign isn't meeting the goals you set, make adjustments before the campaign ends. Test out optimizations like:
Reworking the messaging so it resonates with the audience.
Improving CTAs so they encourage the right actions.
Posting at more convenient times for the audience.
12. Report and Analyze
Report on the results at the end of a one-off campaign or at regular intervals during an ongoing promotion. Use these tips to make your agency's reports as insightful as possible without taking tons of time.
Focus on the metrics that matter most
A campaign report could easily include over 100 metrics. Yet reports often provide more value when they focus on the metrics that matter most.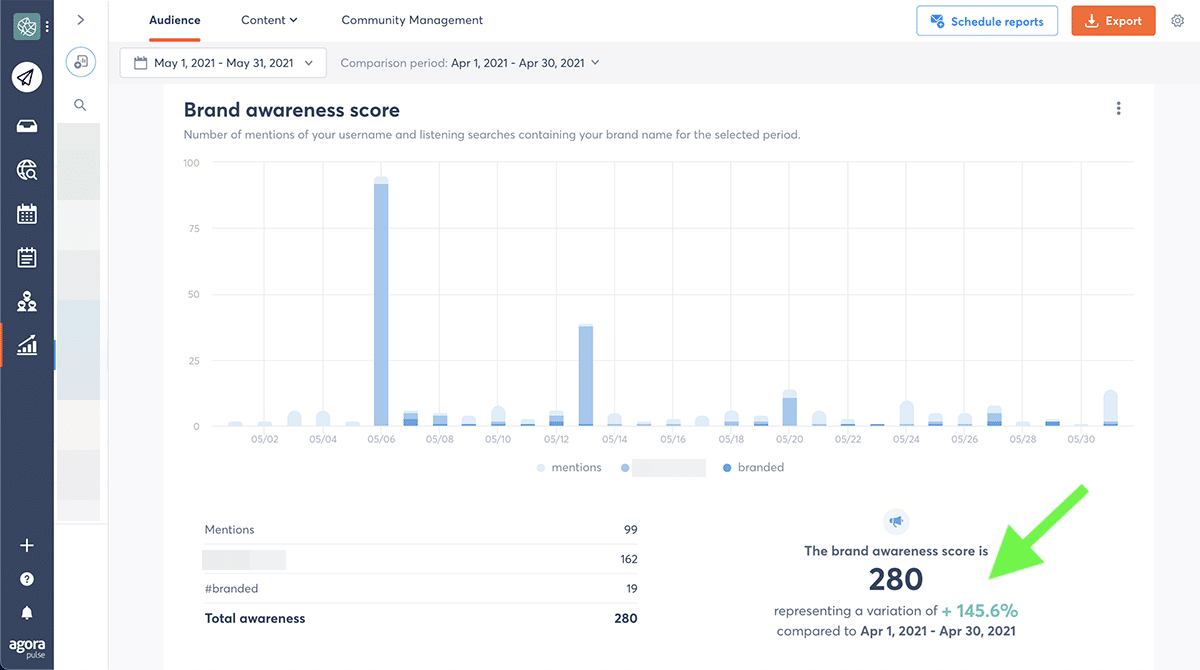 In other words, you might start with a campaign overview for context. Then for a brand awareness campaign, you can quantify the results and showcase top-performing content.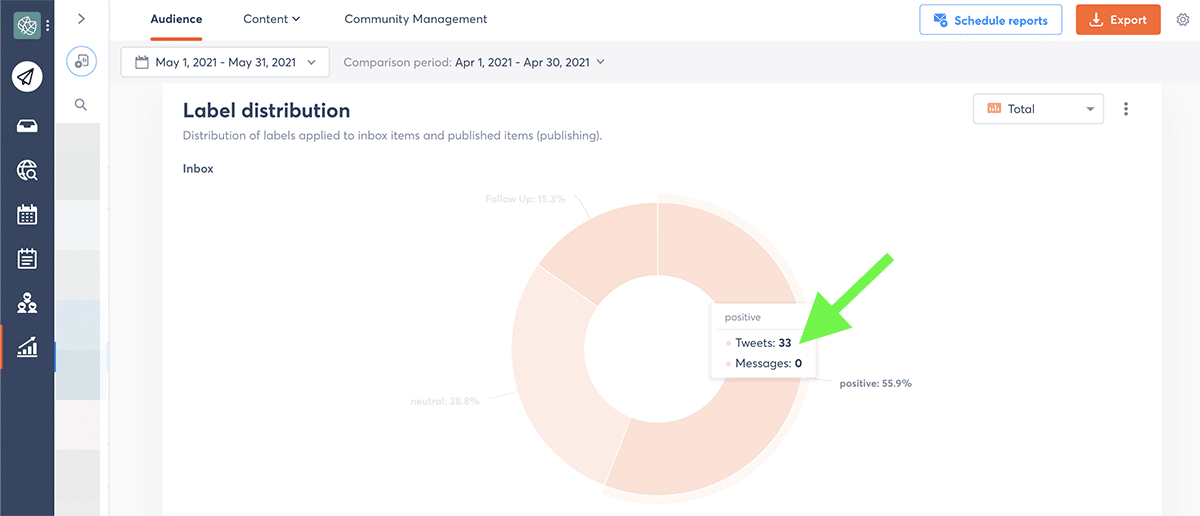 You might also measure customer sentiment and report on hashtag interactions.

Create comprehensive reports
With Agorapulse, you can create custom reports with the social profiles and metrics that matter. You can schedule weekly or monthly reports to send directly to any internal or external stakeholders.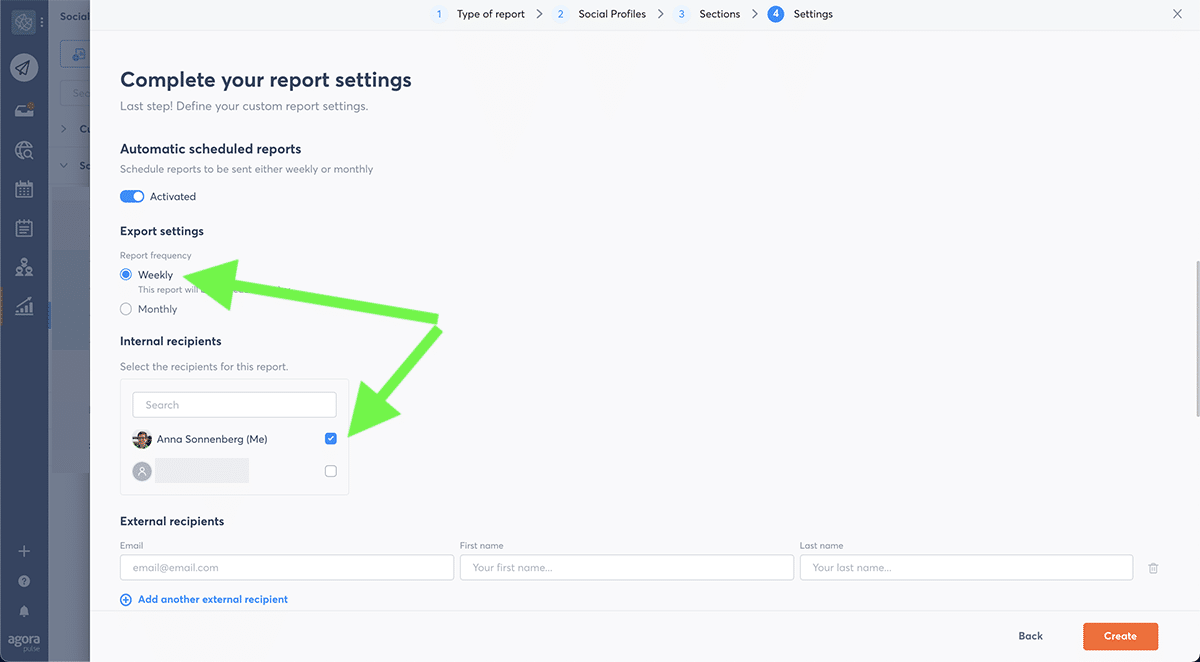 Before forwarding the social media report on to your client, add supplementary metrics. For example, you can include an AdsReport breakdown of any paid campaigns.

You can also include Google Analytics breakdowns of website traffic, conversions, and e-commerce revenue.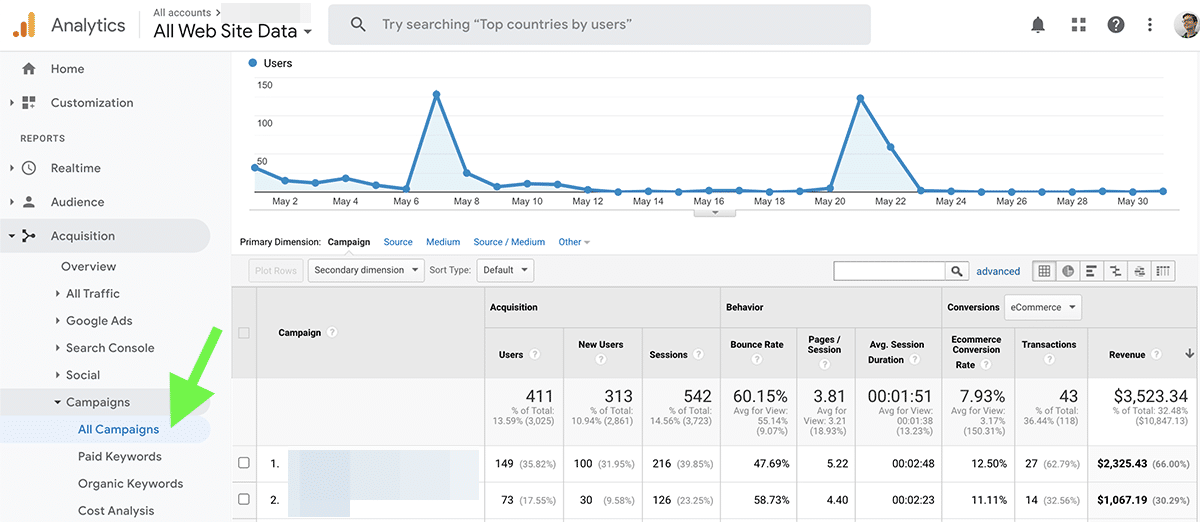 Include expert insights
Finally, add your team's expert insights to the report:
Did you meet the campaign goal?
What were the campaign highlights and challenges?
What would you do differently next time?
How much value did the campaign generate?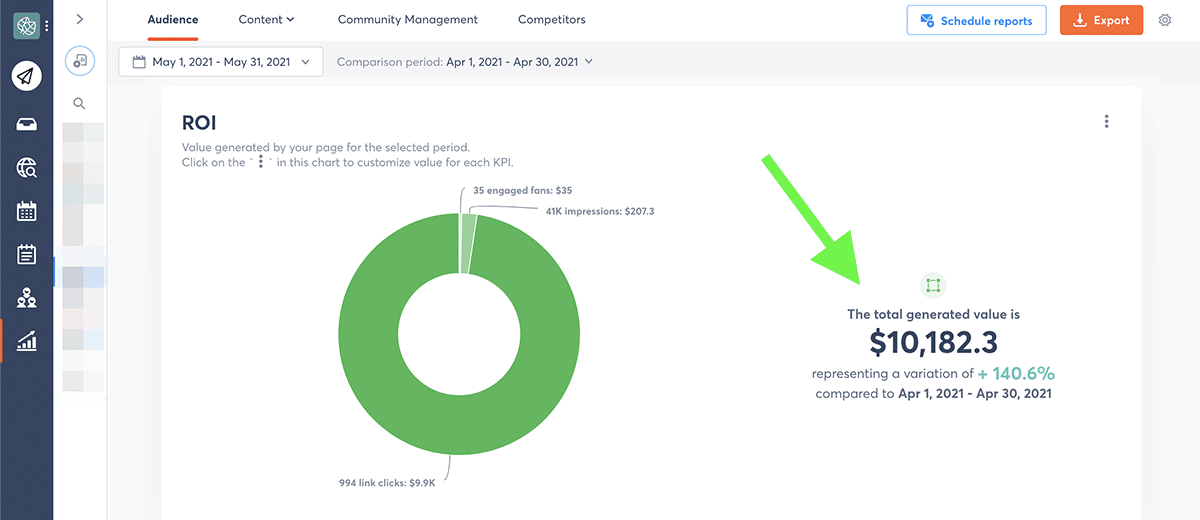 Take Your Agency to The Next Level
Use this guide to create an approach that works for your team and your clients – and give equal attention to planning, implementation, and analysis.
Take control of your social media! Check out our free trial of Agorapulse to help you schedule, track, and measure all your social media efforts.