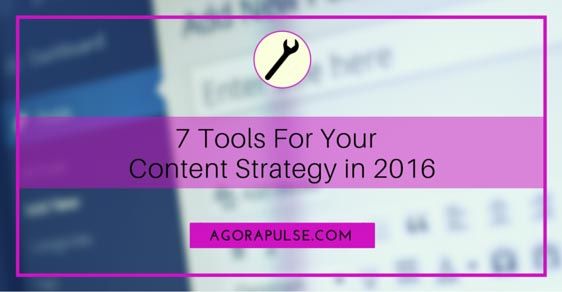 Marketer Jay Baer may have said it best with this tidbit:
Content is fire, social media is gasoline.
Which is only to say, even a good social media strategy starts with content. But with Americans consuming more content than ever, and impending downward trends like Content Shock, it's getting harder and harder to ensure your content is being seen by the people that matter most — your target audiences!
To continue to gain exposure and rise above the noise and fluff, you're going to have to get creative with your content and the ways in which you create, share, monitor and publish it.
How Tools Can Up Your Social Media Content Strategy
It's simply not enough to create epic content anymore. You have to get that content in front of people, be seen, and entice social signals through sharing and conversation.
And it's pretty hard to do all of that without the use of some spectacular tools.
We've got seven for you to check out today — some you may have heard of and others you may not have. Either way, they're worth using to cut down on the time it takes to deliver a stellar social media content strategy in 2016.
Related Post: Social Media Marketing 101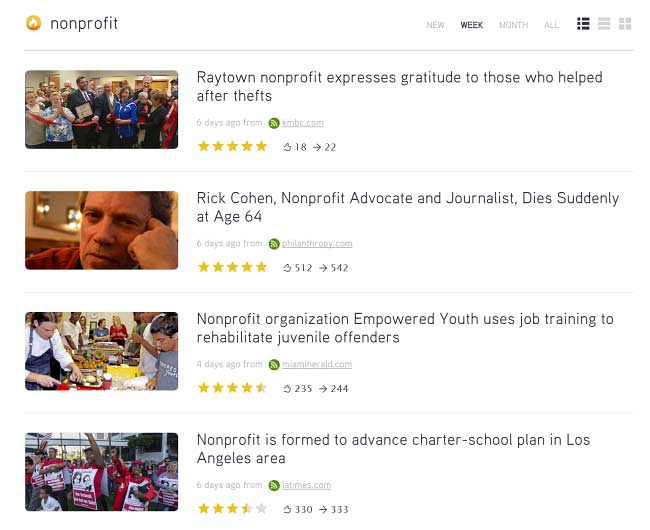 Did you think you would need an entire Facebook marketing team to make your social media content strategy efficient? Thanks to Post Planner, you can replace such a team with a single tool.
One of the most useful features of Post Planner is the Status Ideas Engine – it enables you to get proven ideas for Facebook statuses with a single click. That's not where the benefits end, though! With the help of this tool, you can schedule viral posts to all your Facebook pages and save a lot of the time you would usually spend on your daily marketing and scheduling activities.
Don't waste time guessing which status updates will significantly increase engagement. Let Post Planner help make the decision — even if it's just a starting point for creating your own, orginal content.
Agorapulse Barometer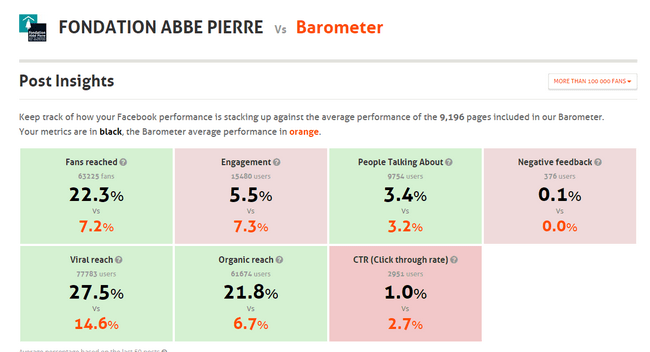 This free tool from Agorapulse will perform an in-depth analysis of your Facebook Page and compare it to the pages of other companies that have a close number of fans and have also used the Barometer. The tool will analyze the last 50 posts on your page and return a report that compares your average score to the one of other Pages that went through the same assessment.
With information on:
Fans you reached
Engagement levels
The number of people talking about your page, and
Negative feedback your content is receiving
you can easily understand and compare the performance of your Facebook Page compared to competitors.
Don't let the guy next door outsmart you with content. Use this tool to give yourself a benchmark, find the gaps, and improve.
BuzzSumo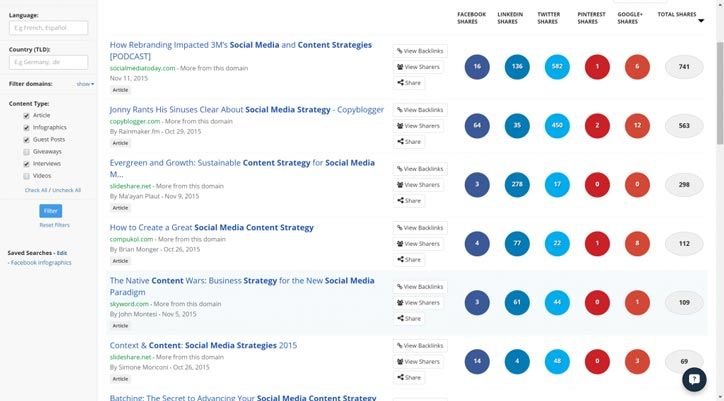 This is one of the most important tools used by successful content marketers and SEO campaign managers. I probably use this on a daily basis for myself and clients!
BuzzSumo looks at one of the most social media content metrics — sharing — and enables you to use this insightful data to create your own content that is working well in your industry. You can enter any topic or domain in the search bar and see firsthand how it resonates with your audience.
This handy tool provides you with a list of the most shared content by:
In addition, you can also use the tool for tracking and analyzing the performance of your competitors, or use it to find influencers to partner with in your specific space.
Tagboard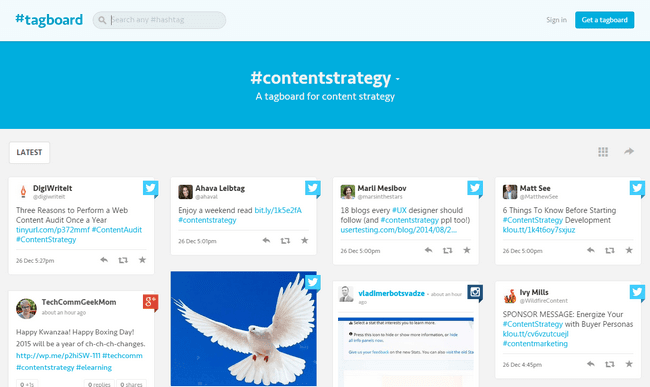 Many people think that hashtags look silly, but smart content marketers know better. With the help of hashtags, you are able to reach your specific target group and create trends that will increase the popularity of your business.
Tagboard enables you to get a collection of social media posts from Facebook, Twitter, Instagram and other platforms that share a common hashtag.
Tagboard is fully interactive and you can retweet, comment, reply, and "like" without having to access platforms individually.
Grammarly

Grammarly is like having a copyeditor in your pocket 24/7. I'm using it right now to help me write this post!
This automated tool checks your writing, in real time, for 150 (for free, or 250 for paid) types of spelling, grammar and punctuation mistakes — and suggests corrections.
For someone like me who constantly makes comma splice errors, this tool has made my writing better … IMMEDIATELY with free use.
And knowing that nearly 59% of people in this study said they'd steer clear of businesses with spelling and grammar errors in their marketing materials, you may want to give more weight to spelling smart than sounding smart!
This tool lets you do that with ease.
SEMRush

What social media content strategy is complete without a little keyword research? If it starts with content, then it really starts with understand what keyword phrases your target audience is searching for.
SEMRush helps you:
Find keywords (long and short), keyword phrases, and related matches
See top publishers and advertisers in your space
Analyze competitors' ads
Rate domains
Using the free or paid version of this tool, you're well on your way to the fastest and most efficient way of learning what keywords are critical to your content marketing strategy (on or off social).
IFTTT
If your content doesn't move, it pretty much doesn't exist. That's why concentrating on content distribution is so important to your social media content strategy.
The best and easiest tool I use to help me with this is IFTTT, which stands for "if this, then that."
IFTTT allows for the automation of your social channels with several other applications out there on the web. It's smart, easy to use, fast, and because of the "Browse" area you don't even have to get clever with your recipes.
Take a look for yourself and grab tried-and-true content distribution recipes made especially for social channels, like:
Saving your liked (favorited) tweets to Evernote
Tweeting out Medium stories that you've recommended
Keeping your profile pictures in sync (meaning if you change it on Facebook, IFTTT automatically updates the new pic on Twitter, too)
And many, MANY more!
Automation is one very smart way to keep up with the demanding world of content. Make sure you use this cool tool to your advantage.
START HERE
Remember: the first thing you should focus on is creating great content. But with the right tools and enough commitment, you can develop a successful social media content strategy that will boost the popularity of your business AND save you time.
What tools are a must in your content marketing or social media arsenal? Let us know in the comments section below!