Is your email marketing on an island by itself? Consider integrating email marketing and social media to make your campaigns stronger and richer.
A strong social media strategy can help your clients or company reach an impressive list of goals. With social media, you can do everything, from increase brand awareness and generate new leads to drive sales and cultivate loyalty.
But you can amplify your efforts by linking social media with another powerful channel: email marketing.
Email marketing is known for its jaw-dropping return on investment (ROI), which can be as high as 4,400%. That means for every $1 you spend on email, you could make as much as $44.
Because email marketing connects with customers via their inboxes rather than social media apps, it's the perfect complement to social media marketing.
Let's take a closer look at what you can accomplish when you combine social media and email.
What Can You Do With Email Marketing?
As a social media marketer, you already know Facebook, Instagram, Twitter, and LinkedIn like the back of your hand.
So what does email marketing offer that social media doesn't?
Super-high deliverability rates
Over 90% of emails land in customers' inboxes and some email platforms offer deliverability rates as high as 99%.
Compared to average organic reach on social media, which is typically around 5% for Facebook, email gives your brand a much better chance of making a connection.
3X higher conversion rates
Average conversion rates for email marketing are at least 3X higher than those for social media.
Whether you want subscribers to read a blog post, register for an event, or buy a product, email is designed to drive conversions.
Targeted promos without the cost of ads
Email lets your brand send targeted promotions without having to pay for ads. With email segmentation, you can split subscribers into groups based on interests or behaviors.
That means you can make sure the messages you send are as relevant and engaging as possible.
An email subscriber list gives you a wider range of permissions. By nature, email is a permissions-based marketing channel. Yet when subscribers opt into your messages, they can also allow your brand to target them on other channels, such as SMS or social media.
When you leverage both channels simultaneously, you can get more from your marketing efforts. So where should you start?
Depending on your brand's goals and preferred platforms, you could combine social media and email in several effective ways.
1. Create a Unified Approach
If another team runs your brand's email marketing campaigns, a visual or voice-related disconnect could spring up between email and social media.
When your brand looks or sounds completely different from one channel to the next, customers can get confused or lower their trust levels.
To create consistency, get the two teams together for a branding review.
Make sure you use the same brand voice to write copy and the same style guide to create graphics and videos.
2. Cross-Promote Campaigns
Unless your brand has promised exclusive content for one channel, you have every reason to share your promotions and campaigns on both channels.
You can post:
Company updates
Publish seasonal sales
Contests and giveaways
Also, you can share your social media calendar with the email team and vice versa to make sure you're on the same page.
Cross-promotion can help you reach your goals more effectively, thanks to the added touchpoints.
Naturally, customers who subscribe to your email list and follow your brand on social media will see your messages on multiple platforms. That means your brand gets extra opportunities to convert the most engaged customers.

3. Grow Your Email List on Social Media
If you want to tap into the high ROI of email marketing, you need engaged subscribers.
But growing an email list can be slow going, especially if you're starting from scratch. However, you could leverage many automation tools to help you speed up the process—from verifying email addresses on social media to exporting the list, sending emails in bulk and tracking them.
Of course, if you've invested in social media, then you already have a captive audience to work with.
Make a point of posting your email subscription forms on social media regularly. Invite social followers to join, and give them an incentive, such as a welcome discount.
4. Drive Email Subscribers to Social Channels
What if you have the opposite goal?
If your email list is already thriving but your social channels need more followers, you can use your email list to boost your audience.
You can add social icons to the end of every email campaign, so subscribers can easily find your brand's social pages.
To give subscribers an extra nudge, add a call-to-action (CTA). A prompt like "Be in the know" or "Become a superfan" can encourage customers to click the follow button.
5. Publish Email Campaigns on Social
One of the best ways to grow your email list is to let non-subscribers know what they're missing out on.
Every time you send a newsletter or a special message from the founder via email, share a link on social media.
Email marketing software like MailChimp let you format Facebook and Twitter cards so your campaigns look sharp on social media.
You can also integrate your social channels with your email service so your emails automatically post to social media. If your email provider doesn't offer social integrations, use an app like Zapier to auto-post instead.
6. Encourage Email Subscribers to Share Campaigns on Social
Want to spread the word about a promotion or a new campaign?
Ask email subscribers to share the campaign on social media. You can add social sharing buttons that let subscribers post your campaign on their own social channels with a couple of clicks.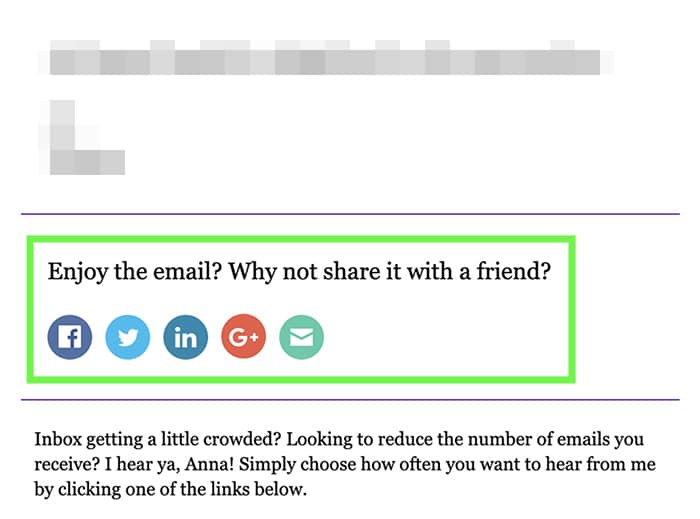 Alternatively, consider including a shareworthy idea in your email—and then prompting subscribers to post it on social media.
With tools like Click To Tweet, you can pre-format tweets with copy and links so subscribers can simply click to post.
7. Get More Mileage Out of UGC
Whether you run influencer campaigns on Instagram or you have tons of loyal fans on Facebook, there's a good chance your brand collects—and reshares—user-generated content (UGC).
But why stop with sharing your best UGC on your social channels?
When you feature UGC in your emails, you can get way more mileage out of your social campaigns.
With high-quality UGC, you can showcase your brand and build credibility with customers without appearing sales-y.
8. Provide Social Proof via Email
Like great UGC, stellar reviews don't have to stay on social media.
In your next email campaign, consider breaking up the company updates or promotions with a positive customer comment.
In addition to providing social proof, sharing reviews lets you quote your customers word for word. That gives new prospects a chance to identify with your current customers, urging them another step closer to conversion.
9. Target Email Subscribers With Social Ads
If your brand runs Facebook Ads, you can take advantage of one of the most powerful ways to mix email and social media.
First, export your subscriber list from your email platform.
Then create a Custom Audience in Facebook Ads Manager and upload your customer list.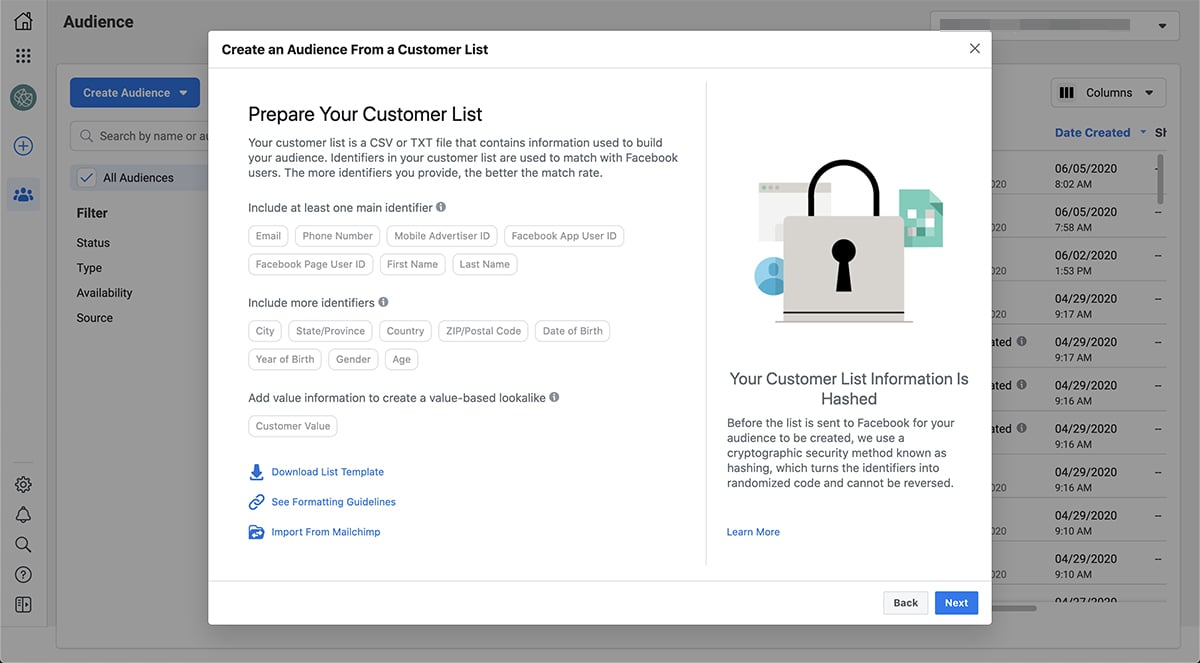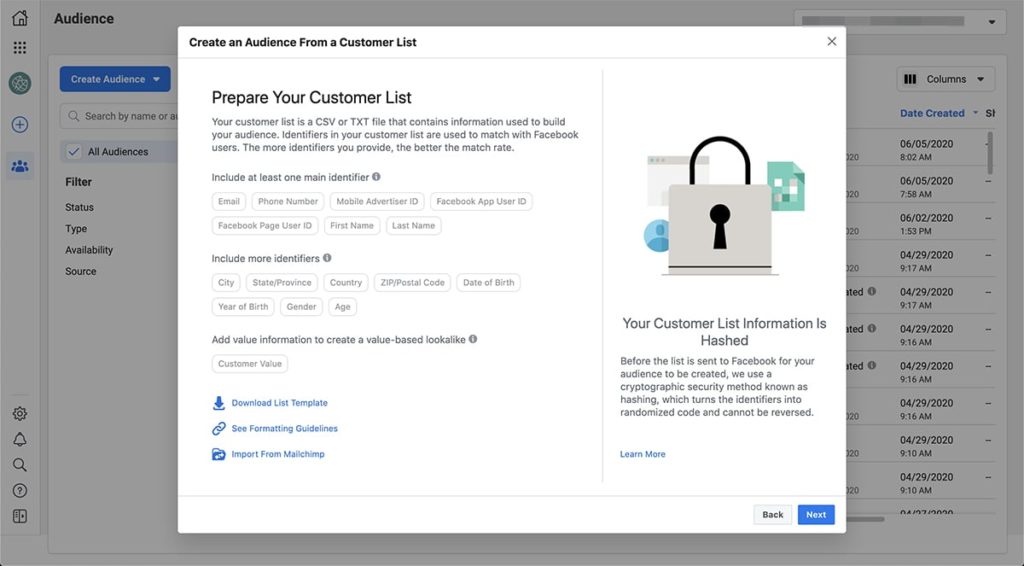 When you create your next social ad campaign, you can target your Custom Audience and reach people who are already engaged with your brand. Upload just a segment of your customer list, and you can connect with even more specific groups, such as repeat buyers.
In Conclusion
Ultimately, it isn't about which is better: email or social media.
Why commit to one channel when you can get better results with more?
When you combine social media and email, you have the power to exceed your goals and raise the bar for your brand.
Get started on saving time and energy on your own social media management! Check out our free trial of Agorapulse to help you schedule, track, and measure all your social media efforts.