What's the main feature that every social media dashboard must have? We interviewed 23 social media marketing experts to find out!
Social media management tools are constantly evolving to keep up with businesses' and marketers' needs.
And while many dashboards have amazing selections of features, many marketers still need social media dashboard features not included in those dashboards. So, they have to look at other tools to help them.
For this blog post, I've approached some of the top influencers and bloggers in the social media world and asked them two questions regarding social media management tools.
Your Social Media Dashboard: What Does It Need?
I wanted to know what those influencers and bloggers say is the main feature missing from social media management tools today. Even though social media dashboards are doing their best to incorporate as many features as possible under one roof, quite a few are still missing, as evidenced by the responses from the social influencers I asked.
The second question focused more on what they are looking for in social media management tools: What is the number-one feature that they need to see in a good dashboard?
Ted Rubin
"It's not what is missing in the tools, but what is missing in the instructions and guidelines … always keeping first and foremost the fact that the real opportunity here is creating a connection, not simply scheduling posts, automating responses, and being alerted about mentions.
"In regards to the features I'm looking for in social media management tools, it's the human touch, relationship-building tools, and the ability to truly understand and relate to a conversation whether being a part of it or simply watching and learning."
Website: tedrubin.com
Twitter: @tedrubin
Evan Carmichael
"The biggest thing that I'm missing with YouTube is the ability to easily find comments that have not been responded to. I'm obsessed with making sure people get responses to comments. Everybody says that at the start and it's fine, when you're getting like two comments a day it's easy to do, or if you're getting a few tweets a day it's easy to do. It's a lot harder when you grow and you get hundreds of comments a day. I want to make sure those comments are being responded to, whether it's me or my team
"There's no easy way to do this on YouTube; there's no easy to find the comments and be able to bring that out to your team.
"A lot of people on social, as they build their channels, it's the engagement that got them to that level. It's because I was so involved with my community that that's why they like the posts and leave comments. I think it's rude not to respond to somebody when they take time to be able to leave a comment on your channel, and it's just kind of standard practice. You'd be surprised at how many people write back to say 'I can't believe you actually wrote back'."
Website: evancarmichael.com
Twitter: @EvanCarmichael
Marsha Collier
"There are several things I am looking for in social media management tools:
Search capabilities for keywords and mentions of brand names (often two words) as well as Twitter handles
It would be great to be able to measure the sentiment of tweets.
The option to separate customer service requests from social comments
The tool needs to continue to grab and list tweets even if the app or desktop window is unattended for a length of time (like overnight)
The option to mark influencers and list ranking scores"
Website: mcollier.blogspot.co.uk
Twitter: @MarshaCollier
Donna Moritz

"I think the number-one feature I look for in a tool is more of a cluster of features than a single feature. It comes down to a combination of three features:
A great user experience on desktop and mobile as I need to use the tool wherever I am as part of my daily flow.
It allows me to save time on tasks or solve problems so I free up time in my business (these vary depending on the tool).
A company that is dedicated to dynamic tool development and listens to its customers
"That's why I love Agorapulse and a few other key tools like Tailwind, Later, and PostPlanner. They listen and actually care about their tool being a virtual team member in my business. For example, I started using Agorapulse because I was flat-out missing tweets and mentions. Since adopting it as part of my workflow, their team has continued to add or modify functionality based on problems I was experiencing in managing my scheduling and engagement. (This is not a sponsored comment, it just happens to be my best example!)."
Website: sociallysorted.com.au
Twitter: @sociallysorted
Neal Schaffer
"Social media management tools, from an analytics perspective, are good at just taking simple data and showing it to you.
"Unfortunately, the analytics provided by these tools never gives me any actionable insight. Since tools tap into APIs and have databases of content and past performance, there's a lot of insight that they can give users based on simply analyzing past performance and giving specific recommendations—perhaps even semi-automating some of these suggestions. This is the main feature missing from social media management tools today.
"I want a tool that will not just help me perform a social media function better and faster, but one that offers me additional functionality that I simply can't find elsewhere. I feel there is too little innovation in social media tools, and there are a plethora of opportunities for present tools vendors and new startups to create demand based on the actual needs of social media marketers, not what is merely possible with the present-day tools."
Website: maximizeyoursocial.com
Twitter: @NealSchaffer
Rebekah Radice

"The main feature missing in social media management tools today is the use of artificial intelligence.
"Today's best marketers use a mix of curated and created content. Similar to Netflix, AI should simplify marketers' lives by serving up the exact right content. And not just that, it should continue to improve upon those recommendations over time.
"The one feature I'd like to see would be improved is team management capabilities. Most are still lacking a truly transparent workflow that fully integrates into an inbound strategy. Most are still siloed with few features, clunky and inefficient from a productivity standpoint."
Website: rebekahradice.com
Twitter: @rebekahradice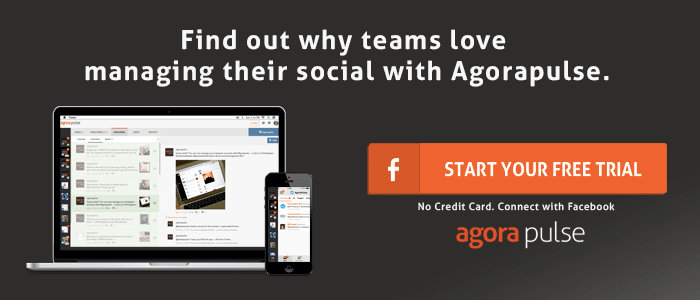 Social media scheduling has been around for years, but it hasn't evolved at the rate marketers want and expect. Melonie Dodaro points out a big need for scheduling to become more customizable and efficient.
Melonie Dodaro
"The #1 feature that I think is missing from social media management tools is the ability to schedule posts into different categories or campaigns for a specific account.
"For example, let's say you want to schedule a specific number of tweets from your blog posts, various quotes, and graphics as well as curated content. It would be wonderful if there was a way to create these categories, schedule numerous tweets or posts for each, set the total number to post for each day (including the ratio of each type to go out) and a button to randomize the order.
"The number-one feature that I look for in my social media management tools is the general ease of use. I want it to be both intuitive and also play well with other tools, apps or devices that I use. I don't want to have to change browsers to use something or not be able to use it on both my phone and desktop. It should make my work quicker and easier not longer and harder."
Website: TopDogSocialMedia.com
Twitter: @meloniedodaro
Ian Cleary

"I think there isn't enough content analytics. It's OK to show engagement and reach on social media posts, but you want to see traffic generated to the website and what happened with that traffic. If there is a stronger focus on helping customers identify content producing real results, that would be great."
Website: razorsocial.com
Twitter: @IanCleary
Ian Anderson Gray

"For me, it's simple. I want to respond to all my social media mentions and messages quickly and efficiently. When I respond or a response is not required, I don't want it to disappear from view in the same way as I archive emails that are dealt with. Almost no social media management tools offer a way to manage your social mentions like this.
"Social media management tools need to be powerful and flexible as well as being intuitive and easy to use. That's a difficult job! For me, the most important feature is making engagement easy. I get many comments, messages, and mentions across all my networks each day, and responding to these takes time. A quick and easy to use engagement feature is the most important feature for me, particularly if it only shows messages I haven't responded to yet."
Website: iag.me
Twitter: @iagdotme
Mike Allton
"If I were to wish for a single feature, it would be for a social media management tool to incorporate key features as add-on modules.
"Here's an example. I currently use Agorapulse for all of my social monitoring, as well as much of posted social activity. But the one thing that Agorapulse does not do for me is automatically re-share tweets from an evergreen queue indefinitely (you can recycle tweets but only so many times). So, I use SocialOomph to keep the 250+ evergreen pieces of content in my archive going out to my audience day after day. I'd happily pay to add that capability to my Agorapulse, even if it was the same as what I'm paying SocialOomph, just to reduce my number of tools and complications.
"And Agorapulse could gauge interest in that particular feedback among existing users so that they'd know it was going to be worth the development.
"With an à la carte menu of social networking features and add-ons, I could assemble exactly the tool that I need, at a reasonable cost, and eliminate a lot of overlap and complexity that comes from having to use multiple tools.
"As far as my own number-one feature is concerned, that's actually it. Being able to easily set up multiple queues of content to be shared to a variety of social channels indefinitely.
"There are many tools that support various versions of this feature, but none flawlessly. It's either painful and time-consuming to set up, or not every network is supported, or the content doesn't automatically re-queue forever. That's what I'd love to see."
Website: thesocialmediahat.com
Twitter: @mike_allton
Ana Hoffman
"For me, it's definitely, evergreen social media updates. As a matter of fact, I've been looking for services that do that. Some have a version of it with no flexibility to recycle, some have a robust evergreen content version (actually, only two from so many I've tried), and most don't have any at all."
Website: trafficgenerationcafe.com
Twitter: @anatrafficcafe
Martin Shervington
"I would like to be able to better optimize time spent on social media and by those members of the team. To set goals, to target volumes of traffic (not just engagement) to make is a game-driven environment, with a goal at the end of it. For my clients they care about quality visitors and nurture them through the process of being educated through to sales. I would like a 'goals met = 57%' view of what is happening. Some platforms we are using help with that, but I think the targeting element could be even more engaging."
Website: plusyourbusiness.com
Twitter: @MartinSherv
Ron Sela
"The most important attribute currently missing from social media management tools is the capability to intermingle the most necessary daily functions in one common location. One tool should have the ability to serve several functions starting with the means to locate fresh, new, and shareable information. This same feature should be sophisticated enough to schedule the content being shared.
"As a result, it would significantly free up the need to be active on social media at specific times while simultaneously having the benefit of publishing suitable content at the most precise, high-traffic moments. Content monitoring and content analytics should go hand in hand as a way of guaranteeing a constant improvement in productive visibility."
Website: ronsela.com
Twitter: @ronsela
Gini Dietrich
"We are really big on analytics here and, while most tools offer a surface-level look, they are missing a deeper level view. It'd be great to have that with the option to export reports for further analysis and internal use. And, if we're getting picky, being able to do it on mobile would be even better.
"In terms of the number-one feature we're looking for in social media dashboards, you can probably guess at my answer: Analytics and reporting are must-haves for any social media management tool. We also look for fast integration/incorporation of the newest social media channels on the market."
Website: armentdietrich.com
Twitter: @ginidietrich
Luke Brynley-Jones
"The feature we'd most like to see is pretty simple: bulk upload with image support. Many platforms offer the ability to bulk upload content to be scheduled, but the image functionality is lacking, often just pulling across any image from the URL (which may not be appropriate). When you're working with quantities of content, having to add images manually becomes a headache."
Website: ostmarketing.com
Twitter: @OSTMarketing
Madalyn Sklar
"I would also like to see content curation added to my social media management tools. This can be either curated content the tool provides or the ability to add my RSS feeds. This doesn't seem to be a common feature among most management tools."
Website: madalynsklar.com
Twitter: @MadalynSklar
Adam Connell
"I manage a few different social accounts, so it's essential that I know exactly which mentions/updates I've seen and which I haven't.
"In the past, when using certain tools I've had to spend 10-15 minutes just to get a clear picture of who I've replied to, which updates I've seen etc. And jumping from desktop to mobile-only confuses the matter even more.
"I like how a few tools are making this process a lot easier. For example, SproutSocial has a 'mark as complete' button in their social inbox, and Agorapulse has a 'reviewed' button.
"On the surface, this may seem like a minor feature, but it saves me hours each month. I hope more tools add something similar in the future."
Website: adamconnell.me
Twitter: @adamjayc
Ashley Faulkes
"As a big Instagram user, I have yet to find a tool that really does everything I need. Perhaps I have not used the right tool yet, but for most tool developers, it is either an after-thought or they only cover one area of Instagram well.
"It would be awesome to have an Instagram tool that gives me actionable metrics to help me grow my account (best hashtags, most active followers, bests posts, best times, most clicked link I have used in my bio and when it was clicked, and many more).
"Some of these metrics exist already, but not always in the most helpful way. It is possible to know the best hashtags you have used, but it is more complex than just knowing which hashtag got the most reactions. It is a combination of the post, the hashtag, the time and the people who responded. It also depends on whether you got into the top 9 posts, and how tough the competition was on that day. All of this data needs to be able to be combined to help you know what works and what doesn't."
Website: madlemmings.com
Twitter: @madlemmingz
Erik Emanuelli
"What I see missing from social media management tools is the semantic analysis.
"For example, if part of your audience dislikes something in your business (a product, or a service), it would be beneficial to analyze the data to understand the actual reason behind it."
Website: erikemanuelli.com
Twitter: @ErikEmanuelli
David Leonhardt
"The most important feature in a social media management tool will vary greatly from a freelancer or agency perspective on the one hand, to a corporate perspective on the other hand.
"For freelancers and agencies, being able to manage multiple accounts from a single dashboard is unquestionably the most important feature. If you doubt it, close your eyes and picture me sitting here with dual screens, spinning around to check in on a laptop on the table behind me–Oops, wrong laptop, it's this one. No, wait, it's the other laptop.
"On the other hand, most companies have a single account on each platform. For them, I suspect that analytics is most important because that's how the social media manager can develop an ROI-reporting process that keeps her job safe.
"I like simple. Make it easy for me to do a lot quickly so that my clients and I can be everywhere … even when my rural Internet connection gives me attitude. All accounts on one dashboard is my favorite feature."
Website: THGMwriters.com
Twitter: @amabaie
Chris Makara
"For me, this biggest feature missing from social media management tools (and one I am looking for) is finding one that serves all my needs from top to bottom. I find myself using more than a handful of tools to meet my needs but would rather have everything in a single tool. Trust me, I tried looking and even compiled a list of nearly 600 different social media tools.
"Currently, I use a tool for follower management (and for each channel), then a tool for monitoring conversations and relationships, a service for curating and scheduling posts (and for each channel), and I track not only social engagements but also what impact did these efforts have on my site, leads, sales, etc.
"But because there is not a single tool that does this all for me, I am able to find and use tools and services that only do one or two things and they do those things really well. Whereas if it were a single platform that tried to do everything, chances are they would miss the mark on something."
Website: chrismakara.com
Twitter: @chrismakara
Sue Anne Dunlevie
"I appreciate a tool that has a library. In other words, it keeps all the posts/pins/tweets you have done already and lets you use them over and over again.
"Because of that, I like Tailwind for Pinterest as it has a library of my pins that I can reuse, along with a scheduling section."
Website: successfulblogging.com
Twitter: @SueAnneDunlevie
Brian Lang
"One of the most requested features I see is analytics that tie social media activity to revenue. A lot of businesses are focused on ROI, so it would be good to see if social activity is actually generating a return.
"Each major social media platform has its own analytics, so it would be great if social media management tools integrated with these analytics so that I could view everything in one place.
"It also seems like tools that are made specifically for Instagram have better Instagram functionality so it would be nice if I could use one tool for all my social media, rather than using multiple tools. So basically, more complete and better integrations with all social media channels and their analytics."
Website: smallbusinessideasblog.com
Twitter: @sbizideasblog
In Conclusion
While everyone's needs are different when it comes to social media management tools, as evidenced by the earlier responses, there are still quite a few common threads among these 23 influencers and the features they are looking for.
One of the themes that has come up the most is the need for better social media analytics. Marketers and businesses have moved away from vanity metrics and are looking for truly relevant, actionable metrics that will help them not only identify their ROI but also help them take their social media strategy to the next level.
Another common point is being able to easily share updates from an evergreen social media queue. These help you increase your reach, and traffic and it would be very helpful to easily and quickly share them from an existing list.
Mentions–specifically notifications for mentions–are another important aspect for many of the influencers we asked. It can sometimes be very difficult to wade through your mentions and make sure you don't miss anything that requires your attention.
I've also noticed quite a few are looking for better team management capabilities. Managing several social accounts, even when you are using a social media management tool, usually requires the attention of several team members, simply because it would otherwise take up too much time.
* * *
Sign up now for a FREE demo.