Whether you're a current Sprout Social customer, or you're thinking about becoming one, there's no getting around it: Sprout Social is expensive.
"The price is about 200% more than other solutions. The pricing is just way too much." (Kevin M, President)
Spending a significant amount of budget on a social media management platform, like Sprout Social, isn't necessarily an issue though, is it?
Some people don't mind paying a little more for something if it's worth it. If it provides us with good value for money. If it helps us do our jobs more efficiently and effectively.
The amount we pay only becomes an issue when we do not know why we're paying what we're paying.
What Does Sprout Social Charge?
If you already use Sprout Social, you might want to skip this bit. You're no doubt fully aware of just how much you have to pay to use the tool.
But suppose you haven't yet committed to Sprout Social, and it's a social media platform that you're seriously considering. In that case, you'll want to know how much it costs compared to other social media management platforms.
Hootsuite and Agorapulse have similar features to Sprout Social, so we'll compare Sprout Social's pricing to theirs.
Sprout Social pricing vs Hootsuite pricing
Here's a look at Sprout Social's pricing:
And here's a glimpse at the pricing plans from Hootsuite:
It's hard to compare Hootsuite and Sprout Social, side by side, because Sprout Social charges per user and Hootsuite gives you a set number of users for each pricing tier.
To make it easier, we'll compare their lowest tier pricing plans, as both of these plans give you one user:
With Hootsuite, you'll pay $107 per month for one user, on a professional plan, which is their lowest tier.
With Sprout Social, you'll pay $249 for one user, on a standard plan, which is their lowest tier.
Already, you can see that you'll be paying $147 more a month for Sprout Social.
But what about the features you get?
Do you get more features and functionality with Sprout Social vs Hootsuite?
At a first glance, it looks like you get more for your money with Sprout Social than you do with Hootsuite: Sprout Social's feature list looks way longer.
But that's not actually true. Not really.
Hootsuite has chosen to list fewer features to persuade you to choose a more expensive plan (yes, that is incredibly sneaky, but well… this is Hootsuite we're talking about. They have previous).
If you scroll down Hootsuite's pricing page, you'll see that, like Sprout Social, Hootsuite does give you access to a content calendar. You can build reports, and you do have access to their mobile app, on their lowest tier plan.
All the features that Sprout Social lists on their entry-level plan–with the exception of one or two–Hootsuite offers too. You'd be paying $107 extra per month for the ability to manage reviews and monitor profiles, keywords, and locations better.
Is that worth an extra $107 to you?
Chances are, if you're choosing the entry-level plan, you might not need those little extras.
Plus, Hootsuite gives you 10 social profiles. Sprout Social only gives you five.
Sprout Social Pricing vs Agorapulse Pricing
Sprout Social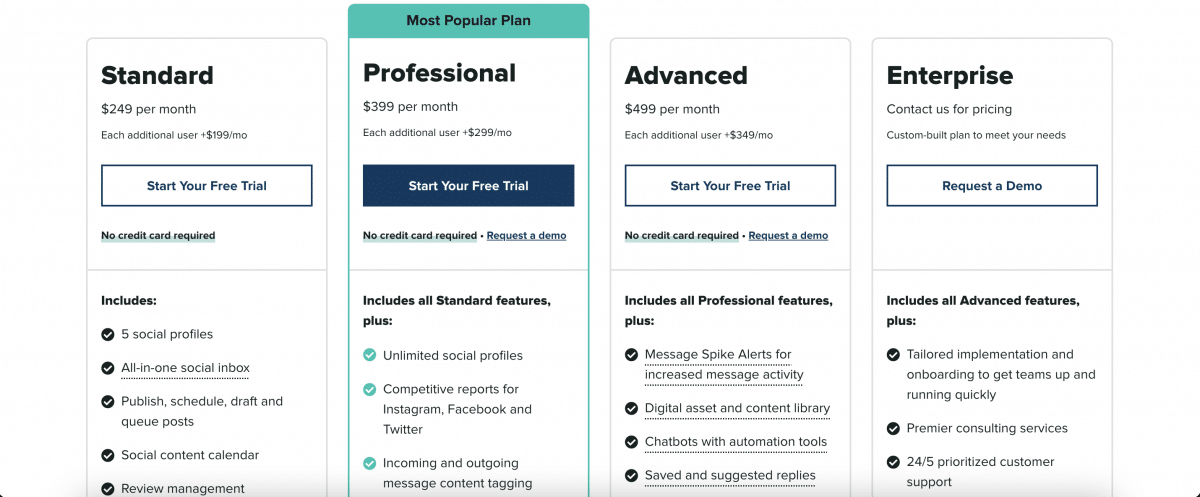 Agorapulse
Like Sprout Social, Agorapulse also charges per user, but we'll still compare the two entry-level plans to see how much more expensive Sprout Social is.
And it doesn't take long to work out just how much more Sprout Social will cost you each month: $249 vs $52 = $197.
Sprout Social costs nearly 200 bucks more than Agorapulse.
And for what? What do you get with Sprout Social that you don't get with Agorapulse?
Do you get more features and functionality with Sprout Social vs Agorapulse?
You get a lot more for a lot less money with Agorapulse.
Both platforms offer:
A social calendar
Mobile app access
Reporting functionalities on their lowest tier.
But Agorapulse's analytics and reporting features are more enhanced, you get double the number of social profiles (10 vs 5), and you also get access to the Social Media ROI tool.
The Agorapulse Social Media ROI tool is, by far, the most useful social media management feature to have under your belt, especially if your social media budget is under heavy scrutiny. Which, let's face it, in this economy, whose budget isn't?
Plus, if you needed to add an extra user to your account, with Sprout Social, you'd have to pay an extra $199 per month. With Agorapulse, you'd only need to pay an extra $15 each month.
We can now see why Sprout Social has a reputation for being expensive.
But why do they feel they can charge such astronomically high prices when its biggest competitors are charging a fair amount?


What You Need to Know About Sprout Social's Sky-High Prices
1. Investor pressure
When the business first launched in 2009, Sprout Social was awarded over $11 million by investors. Since then, it's raised over $250 million, and has been listed on the Nasdaq since 2019.
It's great having some of the biggest VCs in Silicon Valley behind you, putting their money where your mouth is, so to speak. It boosts share prices and customer confidence. It gives you the freedom to splash out on extra marketing campaigns and R&D.
But all that game-changing cash coming into the business means that even more cash needs to go back out. Investors aren't investing in your business out of kindness. They're investing in your business because they believe that you can make them even more money. They expect a significant return for the money they've invested. And that return comes in the shape of lots of customers and lots of dollars.
But don't feel sorry for Sprout Social and the amount of pressure they're under to make a return for their hungry investors. They're taking this pressure off their shoulders and giving it to their customers. They have to charge you a fortune, so they can make a fortune.
2. Misleading legacy plans
You might wonder why people are paying such high prices to use Sprout Social when there are so many other cheaper–but equally as comprehensive–social media management solutions to choose from.
Truth is, there's a lot of love out there for Sprout Social. But that love mainly comes from their long-standing customers, who used to pay $39 a month for the entry-level plan.
And, although Sprout Social has been very kind to its legacy customers and kept their plan prices the same, that will only last for so long. They'll have to sunset their legacy plans at some point, and the jump from $39 to $249 is quite the leap.
Not everyone that uses Sprout Social is paying through the nose for it. But will these customers continue to be die-hard Sprout Social fans when they have to start paying $210 extra each month for the same social media management features?
I don't think so.
Plus, surely Sprout Social has to compensate in some way for losing money on their legacy plan customers. And who do you think is picking up that slack?
3. Rising overheads for innovative features
I know, I know. Every company, including us, has to pay overheads. And, to make a profit, your prices have to reflect your overheads.
But Sprout Social is likely to have more overheads than most. They'll have a massive marketing budget, large monthly server costs, a big team with big salaries, and hefty research and development costs to pay for. All driven by pressure to meet investor demands.
Building a set of innovative, industry-first social media management features requires a lot of manpower–and therefore needs a lot of money–but what innovative, industry-first features has Sprout Social launched?
Agorapulse was the first social media management tool to build and launch the social inbox. Agorapulse was also the first social media management platform that enable you to prove and report on Social Media ROI.
Agorapulse is the only tool that connects to Google Analytics and auto-adds UTMs to all the links that you publish on your social networks. This allows you to track what users are doing with your content all the way through the funnel, which means you can determine exactly where the return on your investment is coming from.
Sprout Social doesn't have anything like this.
What is Sprout Social paying their research and development team to do—and why they're charging customers as much as they are? The overheads needed for a team of developers to build and maintain basic integrations with social networks, an inbox, approval workflows, and publishing queues seem small to me.
Although, they have just bought Repustate, a natural language processing business that uses AI-powered technology to model sentiment analysis and search solutions. So perhaps we'll see some groundbreaking features soon?
New features would be fantastic, but—call me cynical—alongside these new features, I'd expect yet another price increase. How else will they pay for the cost of the acquisition and the cost of whatever new features they release as a result?
Conclusion
Examine the features that Sprout Social is offering you. Are they worth that many extra dollars each month?
The choice is yours, but I know who, where, and what I'd rather put my social media budget into: Agorapulse.
Get a free Agorapulse demo and chat with the sales team about the pricing options and features that are available to fit your social media budget.