With so many different options available, choosing which social media management platform to invest in is a minefield.
But the long and short of it is, whichever social media management platform you choose, you need it to have features that will:
Save you time and make your job easier
Help you track performance, make improvements, and prove social media ROI
Make it easy to use daily
Provide you with quality help and support whenever you need it
I've spent the last month trawling through G2 reviews and digging into the Agorapulse vs Sprout Social social media management tools to see which one does the above the better.
This is what I found.
TL;DR
On internationally recognized review site G2, reviewers gave Agorapulse 4.5 out of 5 stars for its product features, ease of use, and quality of support. Reviewers only gave Sprout Social 4.3 out of 5.
When comparing the quality of ongoing customer help and support, independent G2 reviewers gave Agorapulse 9.2 and Sprout Social just 8.8.
80.4% of social media marketers would recommend Agorapulse to another social media marketer, whereas only 66.1% would recommend Sprout Social.
Agorapulse vs Sprout Social Overview
Below are some quick-fire facts about both platforms to whet-your-whistle before we get into the juicy stuff.
Fun facts about Agorapulse
They have a growing team of over 150 people, based all over the world.
The social media management platform is used by over 31,000 marketers globally.
Over 80% of Agorapulse users would recommend Agorapulse to another social media marketer.
Fun facts about Sprout Social
Sprout Social is based across three locations in the US and has a team of 890.
Sprout Social is used by around 25,000 marketers globally.
60% of Sprout Social users would recommend the platform to another social media marketer.
Agorapulse vs Sprout Social: Which Will Save Me Time and Make My Job Easier?
To save you time and to make your job easier, you need a social media management tool that has a core set of features that take care of the daily grind: those manual, time-consuming, and mundane tasks. Tasks like creating and posting content on different networks, replying to messages or comments from across your various platforms, and sending work for internal or external approval, to name a few.
You're looking for a social media management tool that has a top-notch set of publishing, inbox, and approval-workflow features.
So, how do Agorapulse and Sprout Social stack up in regard to those types of features?
Publishing features

Agorapulse
Publishing content across your social media networks is one of the most important tasks. But it can also be one of the most time-consuming.
As we can see, Agorapulse comes out on top in regard to its publishing features:
Agorapulse allows you to publish content on all major social networks. Sprout Social doesn't.
Both allow you to preview content in situ, which is useful, but Agorapulse goes one step further. Rather than creating individual posts for different networks, you can publish different content to different (or the same) social media networks, from one place.
Here's a look at Agorapulse: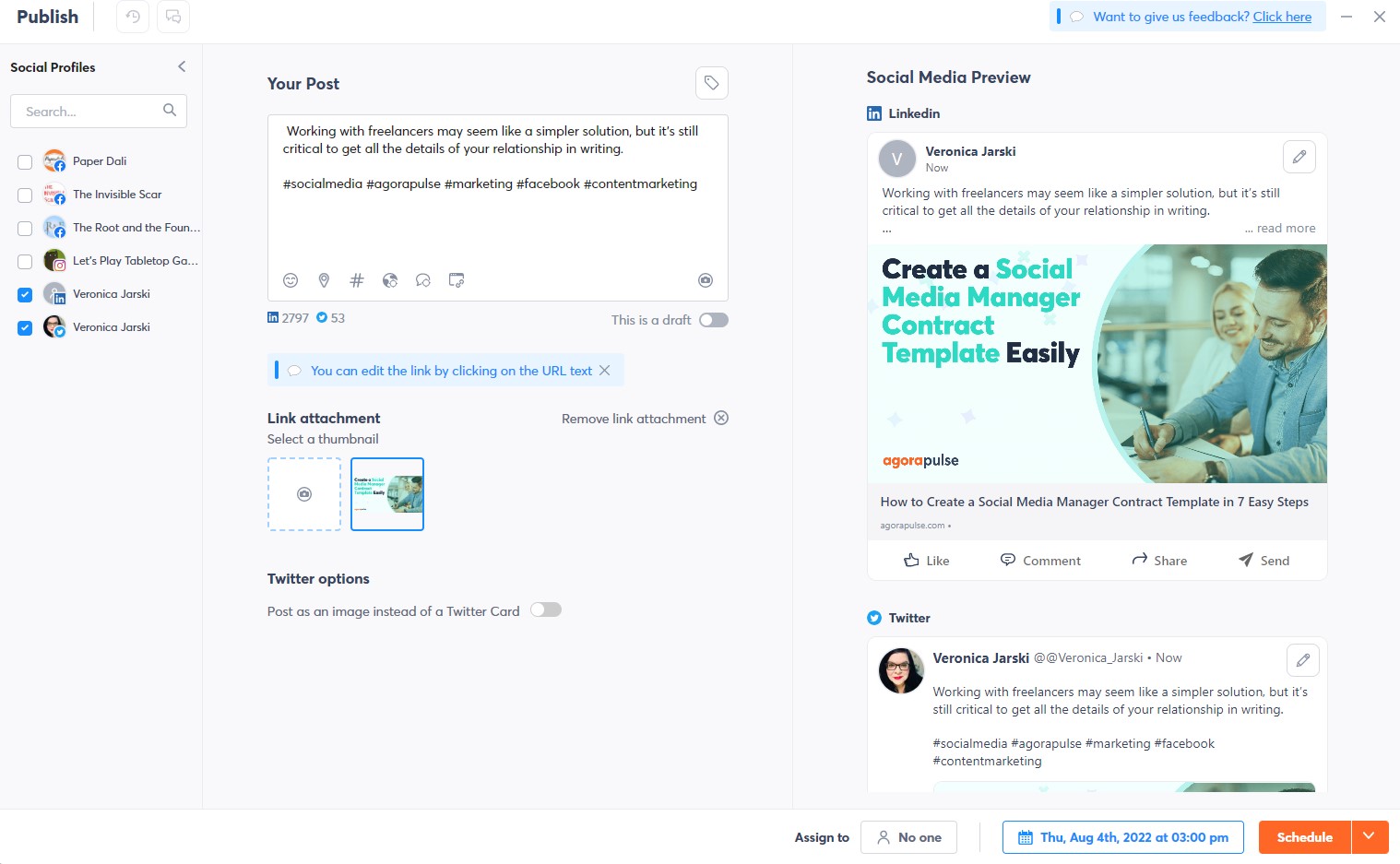 And here's Sprout Social: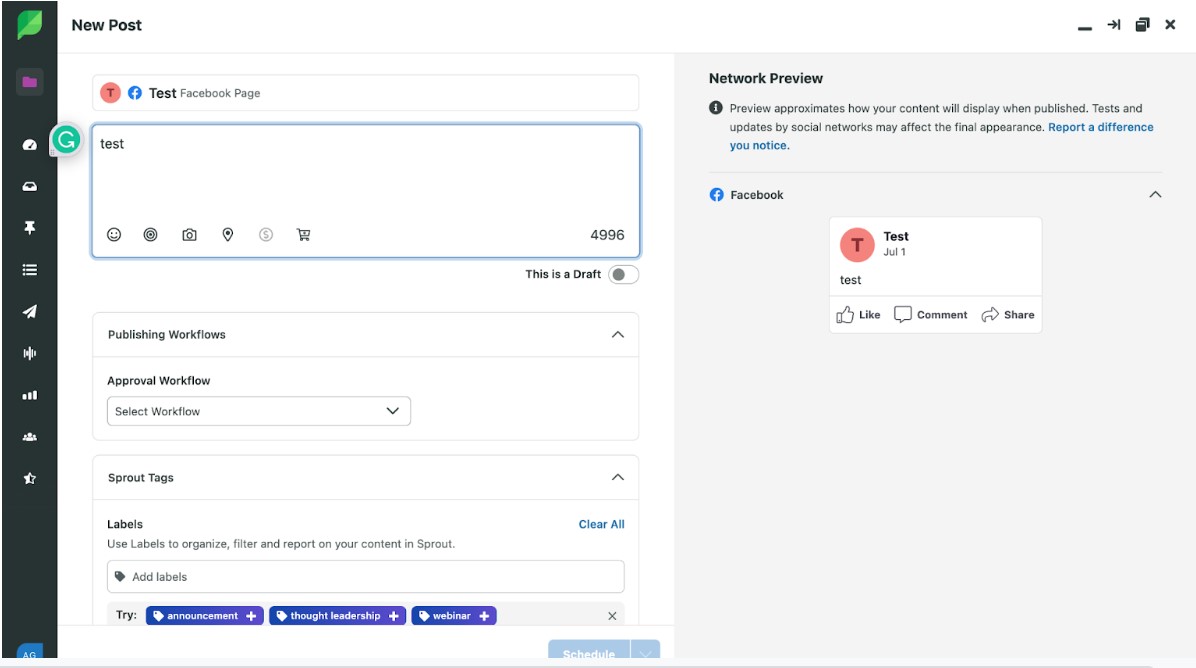 When adding media to your content, both tools allow you to add images or videos from your computer, from the media library, or from Canva. But Agorapulse stands out because it has a built-in editing suite that allows you to edit your images as you're adding them to your content.
Plus, you can add a linked image without having to manually add the link to the image yourself.
Anything that makes those fiddly micro-tasks easier will make all the difference when it comes to publishing content every day.
The social calendar on both platforms allows you to schedule posts in advance, which is to be expected.
The calendar view on Agorapulse makes it so much easier to see what content you have scheduled. You can see the post, the time, and the platform you're posting on each day. It's like a real calendar view.
Agorapulse's calendar view: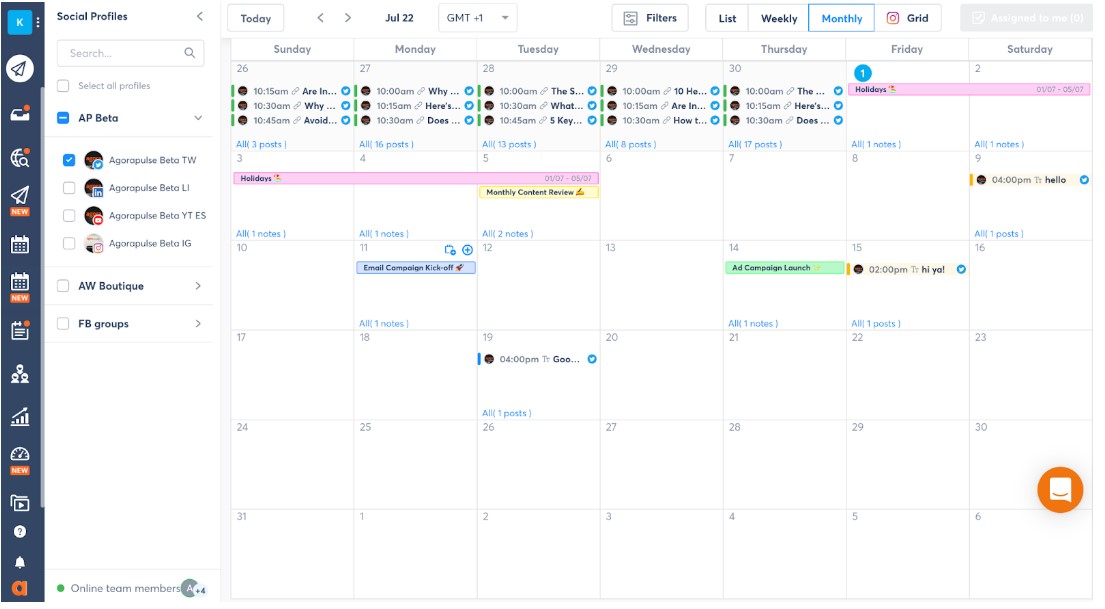 With Sprout Social, you can only see what posts you have scheduled by clicking on a specific day. You don't get a bird's eye snapshot of all your scheduled content. That makes it harder to, at a glance, see what content you've got coming up and spot the gaps that need filling.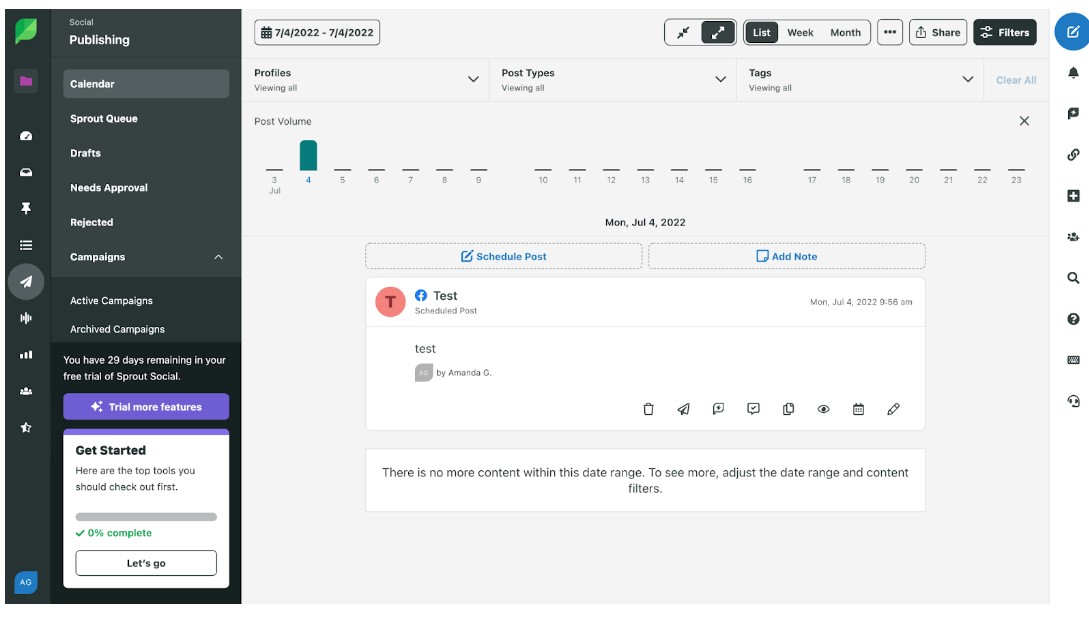 Inbox features

Agorapulse also leads the race in regard to its Inbox features.
Both Agorapulse and Sprout Social have a handy Inbox Assistant feature that automatically assigns, sorts, and labels all your comments, messages, and interactions so you can keep your inbox organized and never miss a new engagement from your audience.
Plus, they both have Saved Replies, which means you can knock out standard messages to your audience quickly and efficiently.
But the downer for Sprout Social users is that these two features are only available on the top-tier plans. In contrast, those features are available on all Agorapulse plans.
Approval-workflow features

Sometimes, you need to get content approved before you're able to publish it. So, it's helpful to have a tool that allows you to do that easily.
With Agorapulse, you can create a piece of content within the publisher, and simply assign it to an internal or an external person. You can send the content with a note to add context. If the person you've assigned it to has feedback, the person can leave it within a thread.
You don't have to keep checking Slack or your emails for messages.
To send something for approval and receive feedback within the Sprout Social platform, it's far more convoluted. You have to set up an approval workflow first. This is an over-complicated, restrictive, and time-consuming process because, as we all know, different content can often require a different approval workflow.
Let's just say that if you use Sprout Social, you'll spend a great deal of time creating multiple workflows.
"The approval process is clunky, and our posts cannot be edited once approved. I'd recommend Agorapulse over Sprout Social any day". – Higher Education, G2
Agorapulse vs Sprout Social: Which Tracks Performance and Social Media ROI the Best?
Proving social media ROI is a must in this line of work.
Whether it's for internal stakeholders or external clients, you need to know that the content you're posting is hitting the right audience, triggering the right engagement, and delivering the right results.
You need your social media management tool to collect a wide variety of data and build-out comprehensive reports from that data. That way you can analyze and compare performance, make improvements to your content strategy and prove social media ROI.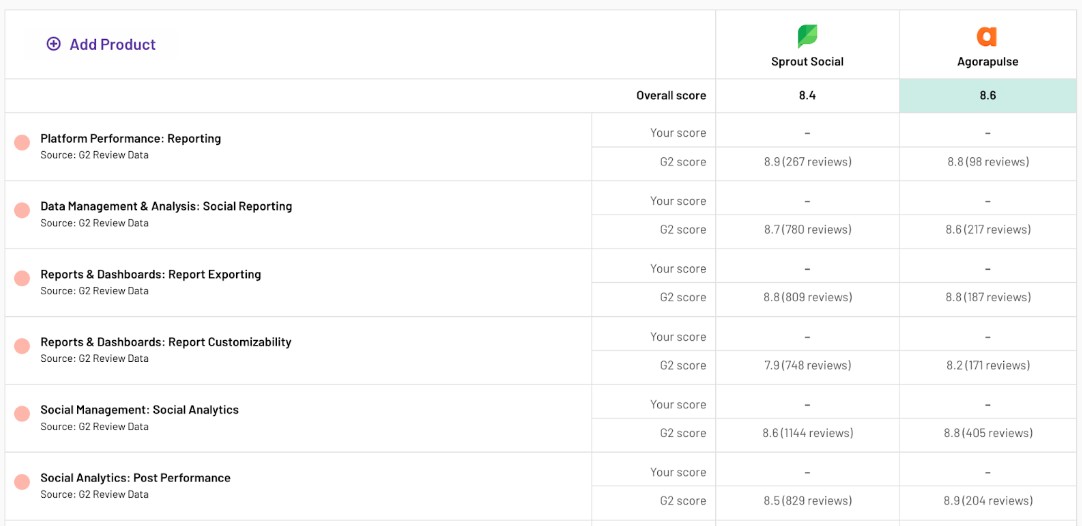 Once again, Agorapulse comes out on top.
First, Sprout Social doesn't have ''best day/time'' reports, making it hard to see if you're posting at the right times. Agorapulse does.
Second, Sprout Social doesn't allow you access to data after 12 months. Agorapulse does. (Depending on the plan you're on, you can access data for up to 24 months).
Third, Sprout Social doesn't enable you to create insightful, custom-built reports. Agorapulse does. Yes, you can create personalized reports with Sprout Social, but you're limited when it comes to the metrics you can use (and you have to pay extra for the privilege). With Agorapulse, while you do also have to pay extra for the Power Reports feature (on Pro and Premium plans only, it's included in your Enterprise plan), you can build truly customized reports that include specific metrics, timeframes, and data from multiple networks, and you can set them to run on customized comparison dates.
Lastly, unless you're on one of their top-tier plans, Sprout Social doesn't let you auto-schedule reports to run on the regular. Agorapulse does. You can automatically schedule custom reports to run at certain times each day, week, or month. And you can download or email these reports as CSV files, PowerPoint presentations, or PDFs.
But the real clincher is that Agorapulse has a special social media ROI feature that automatically adds UTM parameters to links shared in posts, comments, and messages, and collects the data from Google Analytics. So, you can see exactly what content is driving the most sales, leads, and traffic across all of your social platforms.
Bonus point: You can do all of this without spending hours digging into Google Analytics.

Agorapulse vs Sprout Social: Which Is Easiest to Use and Set Up?
How many times have you tried a new tool that promised to save you time, money, and effort, only to find it impossible to use because it was over-complicated, difficult to set up, and hard to navigate.
A few?
You shouldn't have to dedicate loads of time, learning how to use a tool supposedly designed to save you time.
Investing in a social media management tool that's easy to set up and even easier to use is a no-brainer.
This is why Agorapulse wins this race. You only have to look at the scores to see that:

But scores aside, let's see exactly why Agorapulse is the best tool for ease of setup and ease of use.
They have an award-winning set-up process: Agorapulse won the 2022 G2 award for the easiest product to set up for Enterprise.

Agorapulse has a simpler interface. Agorapulse has a clean, uncluttered, and intuitive interface that makes finding your way around the platform feel natural from the word "go."
"If you are looking for an easy and simple tool that will make your social media management more productive, Agorapulse is the way … It's really simple and practical to use." – Social Media Manager, G2
Every feature is where you'd expect it to be and works exactly how you'd expect it to work.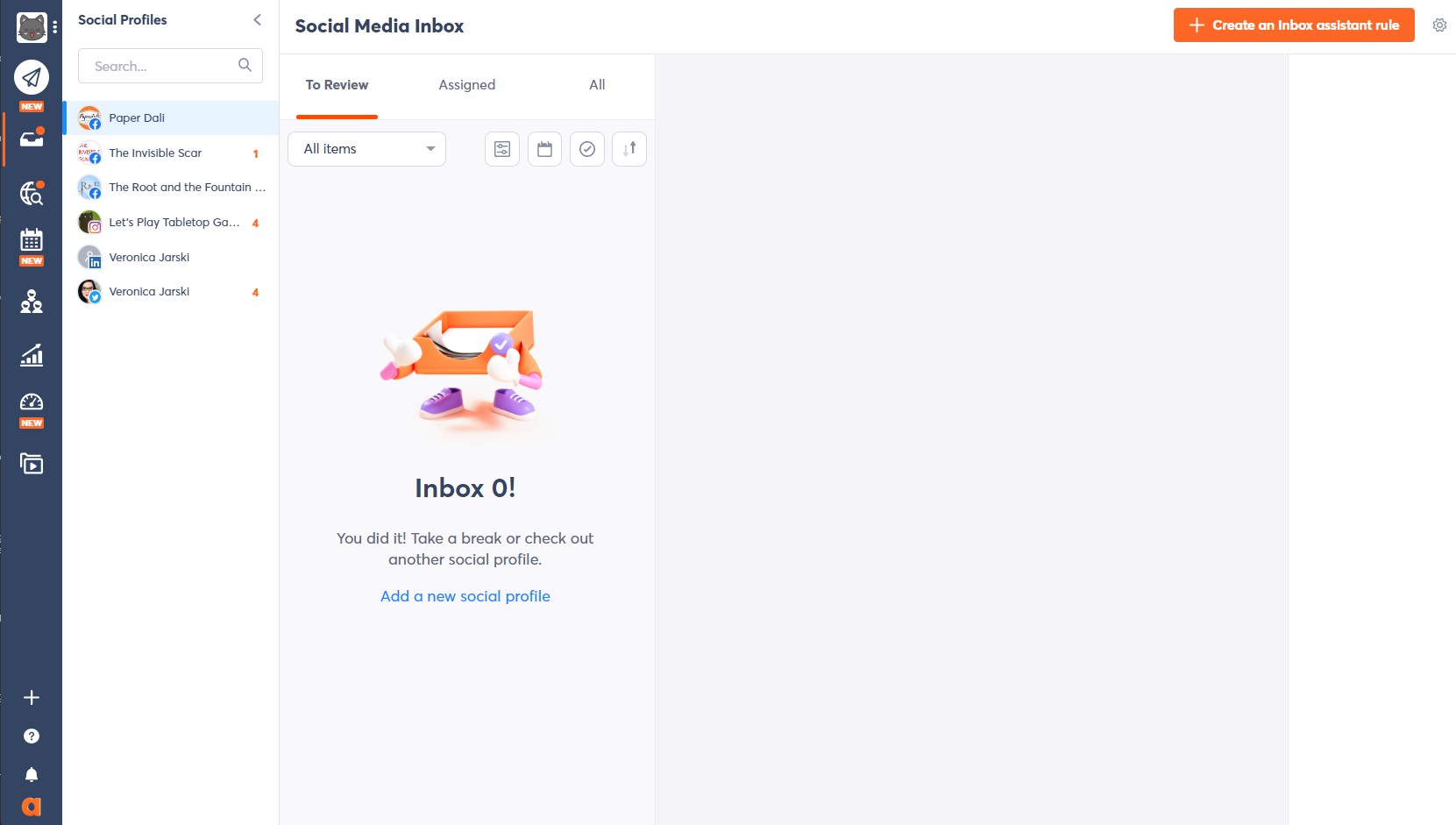 Sprout Social, by comparison, feels clunkier and busier. Features like the social calendar are hidden within the publishing menu, which took me a while to work out.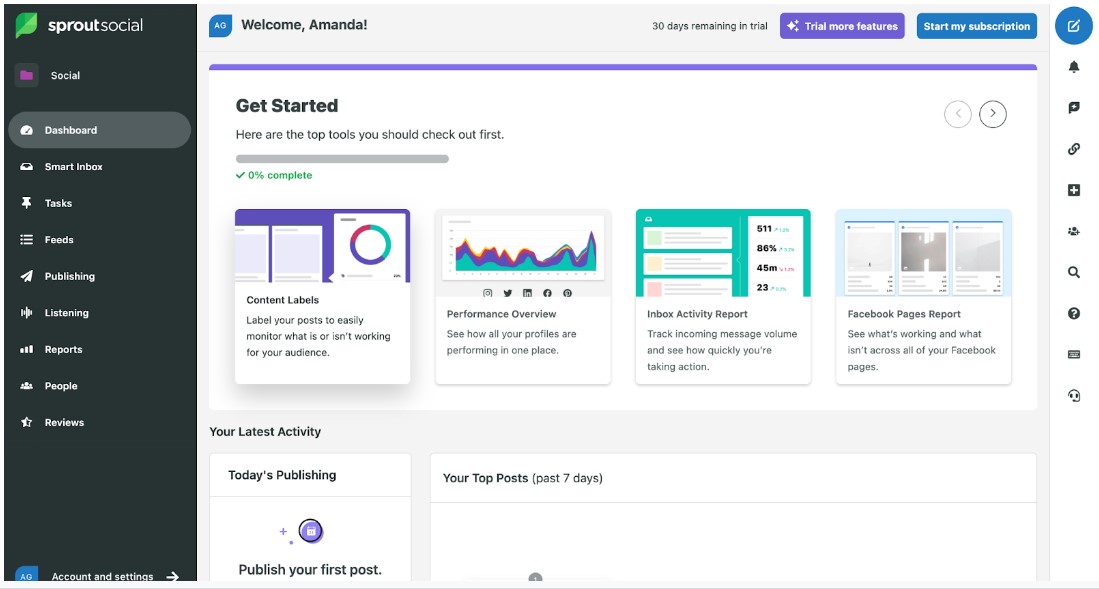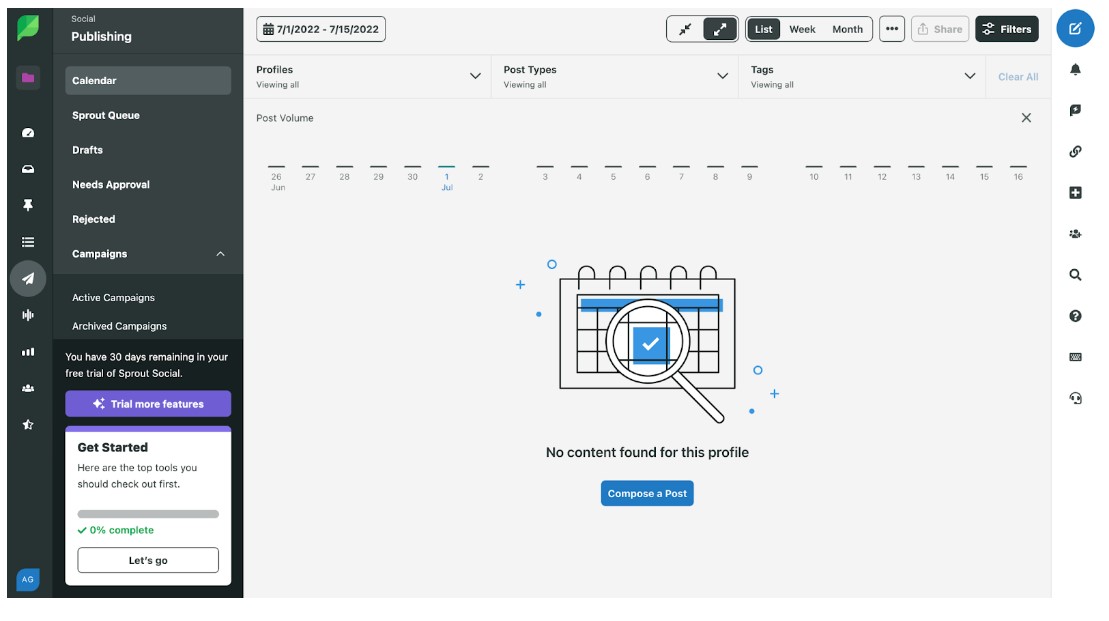 There are just so many different areas to navigate through. I also found that some of the icons weren't part of the standard, universally understood set, making the navigation experience confusing and frustrating at times.
For example, if you clicked on this icon, what would you expect to see?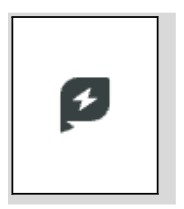 Notifications maybe? Integrations perhaps?
Nope. Team chats.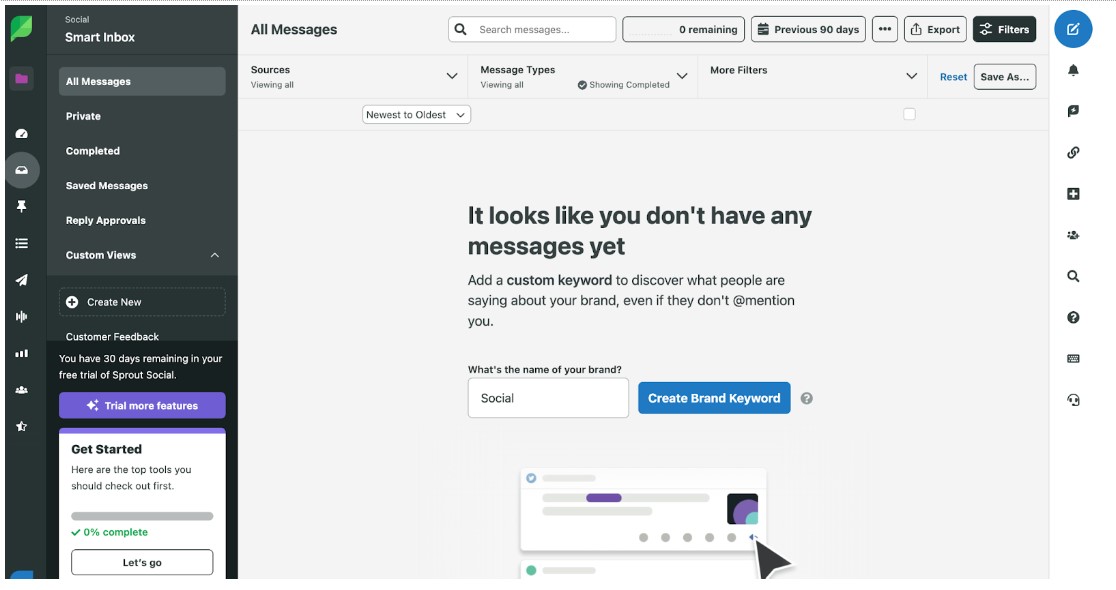 "Could be more user-friendly. I found it difficult to find full conversations in our past tickets (even though we had those past tickets in our system)." – Administrator in Retail, May 2022, G2
Agorapulse makes it easier to add all your social media networks to your account: All social media management platforms tend to take you through the process of adding your networks to the platform in a few, simple, easy steps. Agorapulse and Sprout Social are no exception.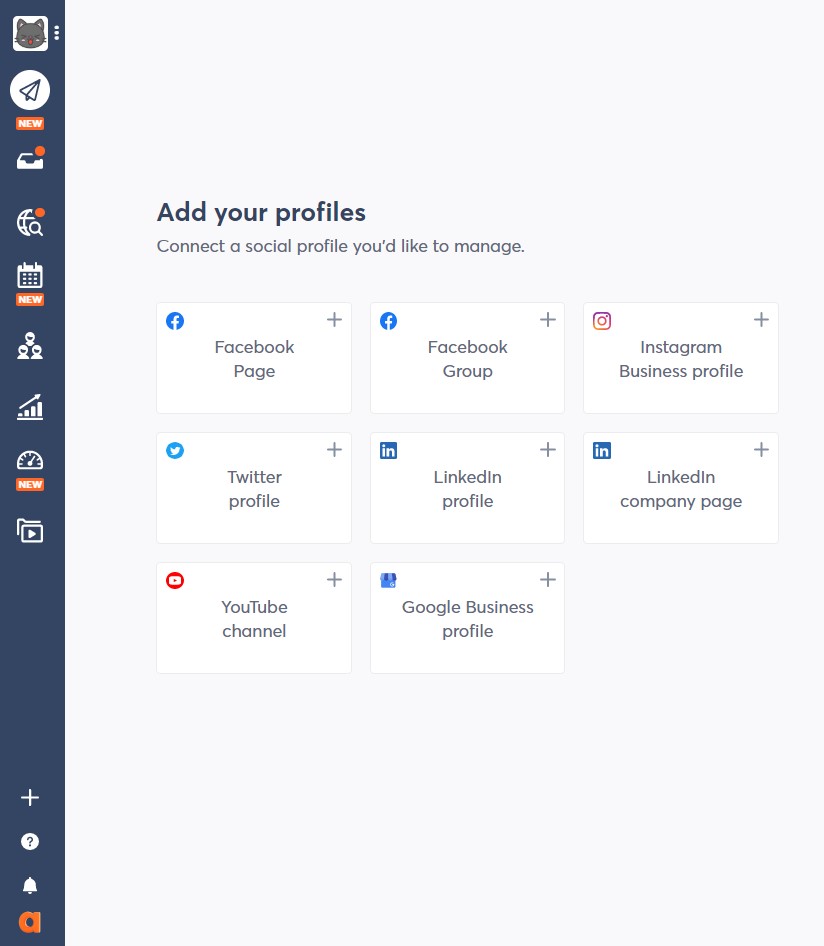 However, what I found frustrating with Sprout Social, was that you could only add two accounts to begin with: Facebook and Twitter.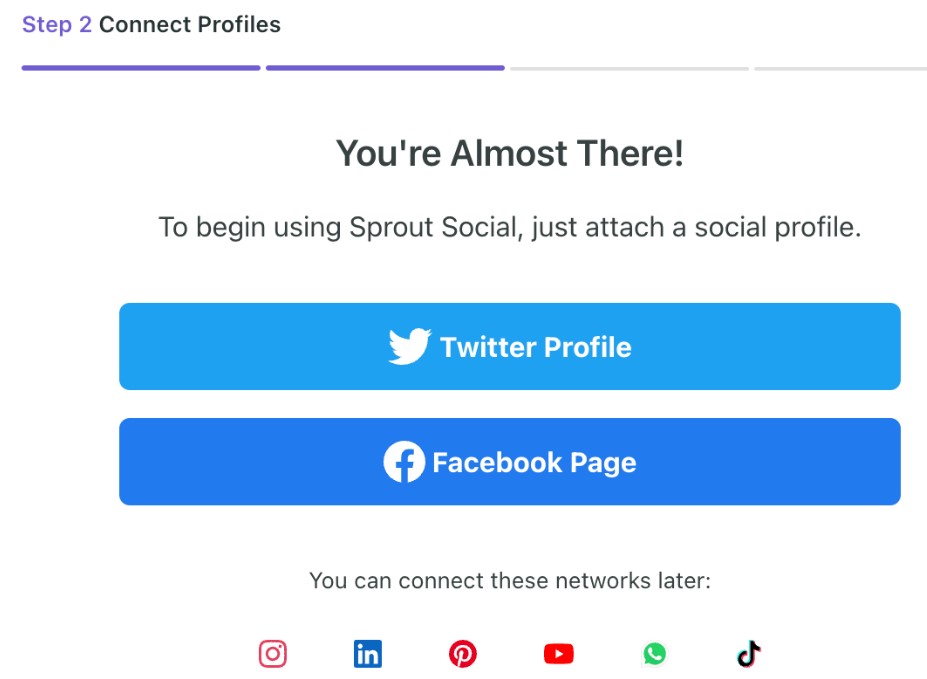 While you can add more profiles later, I found it took more time because you have to go back and manually add the others. Whereas with Agorapulse, you can add as many as you like, straight away.
"It takes a lot of time to set up your account with Sprout to get value…requires a lot of manual set up." – Administrator in Sporting Goods, May 2022, G2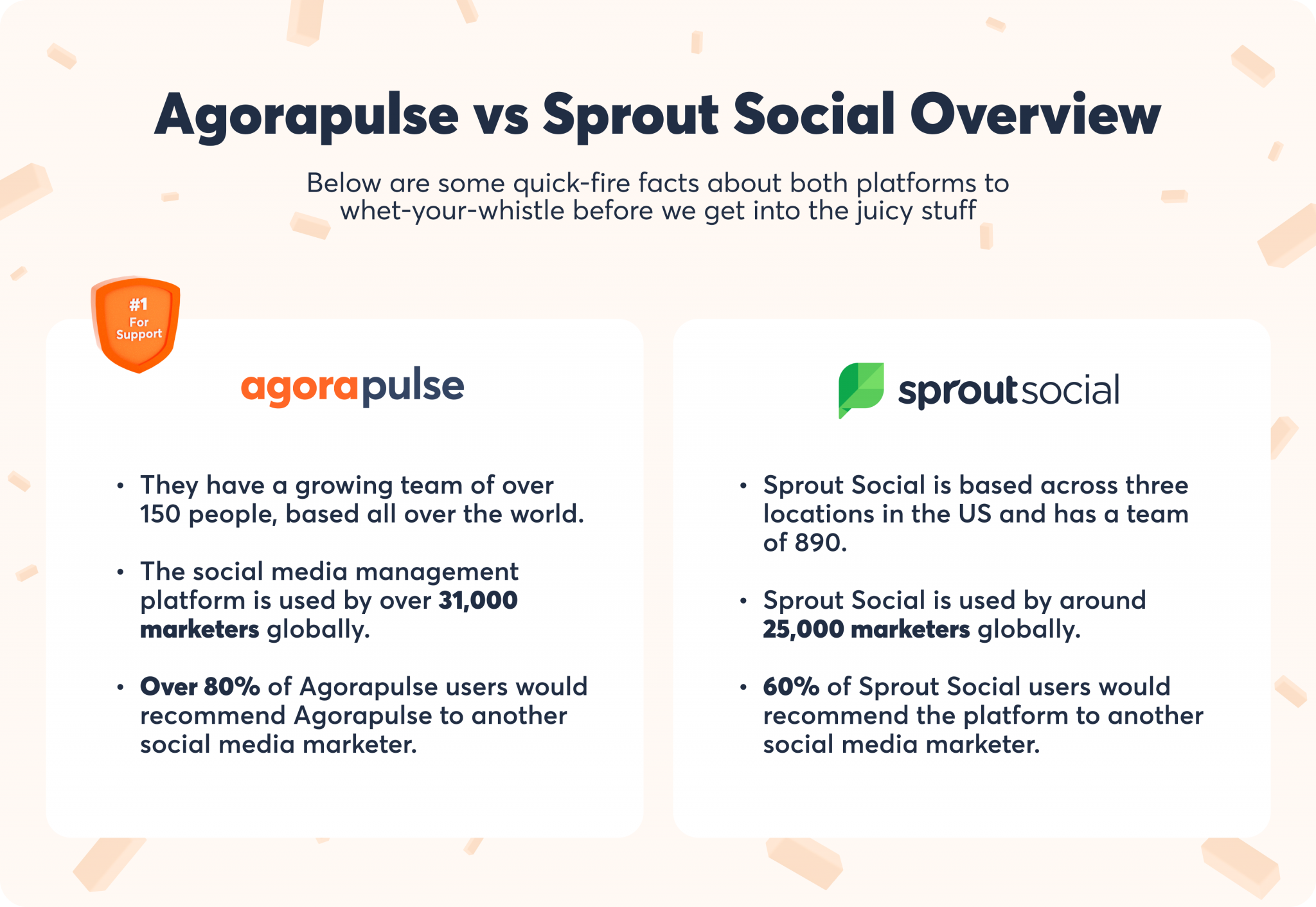 Agorapulse vs Sprout Social: Which Gives Me Quality Support When I Need It?
Again, with the scores on the doors, we can clearly see that Agorapulse has done it again. They take the prize for offering the best level of customer service and support when compared to Sprout Social.

Why?
It's simple.
Agorapulse has better self-help options. With Agorapulse, you get to choose what type of self-help you want by selecting an option from a simple drop-down menu. So, instead of having to read an article about setting up multiple profiles, you can opt to watch a video instead, for example.
Plus, all the materials you access open up within the dashboard. You can stay within the platform at all times making the process of getting help, quick, easy, and simple. (A recurring theme with this platform.)
With Sprout Social, to access their help resources, you are taken out of the platform into a separate help center where you can then search for topics by category. But I find that if you need help or support for an issue you're having within the platform, it's often easier to view the source of help while you're in the app, rather than having to switch to and fro.
Plus, the variety of self-help materials seems to be limited to just articles, FAQs, and webinars.
Agorapulse has better customer service:
"Customer service is amazing. One of my team members is in her 50s and loved the complete and thorough job they did of walking her through a problem — as well as the prompt service and replies." – Digital Media Manager, G2
"If you send over a question, the answer often comes in just moments… I've never been left waiting or with questions unanswered. And they are as personable as I am. I love my people at Agorapulse, it is like having extra members to the team." – Senior Account Manager, G2
"After trialing virtually all other competitors, the Agorapulse team's customer service and communication is unmatched." – Co-Founder & CEO, G2
When you read reviews like this, from real, active Agorapulse users, it's easy to see why people score Agorapulse and their customer service highly.
And especially when you compare them to some of these recent reviews, from Sprout Social users:
"The customer service is absolutely abysmal …" – Marketing and Advertising Exec, G2
"My point of contact was horrible to deal with. I received rude and condescending emails from my sales representative. I ended up voiding my contract before it was executed " – CEO, G2
"The customer service people bounced me back and forth without any answers. Meanwhile, I was paying for software that was useless to me." – Food production administrator, G2
"We have also experienced a delay in receiving service from support. We always get the same answer: 'We are experiencing a high volume of calls'' … Social is 24/7, an always-on channel. People don't have days, weeks, or months to wait for an issue to be solved." – Health Care administrator, G2
Agorapulse offers 24/7 support. Following on from the terrible customer service and lack of support that the Sprout Social team offers its poor users, Agorapulse wins by offering 24/7 support for everyone, across all of their plans. They even guarantee a 30-minute or fewer response time on certain plans.
Sprout Social only offers their support Monday to Friday, and it doesn't say when they're available. But by the sound of the customer reviews, it's not all that often.
Agorapulse vs Sprout Social: Which Is Better?
As we established at the beginning, you need a social media management platform that will:
Save you time and make your job easier
Help you track performance, make improvements, and prove social ROI
Make it easy to use daily
Provide you with quality help and support whenever you need it
With G2 reviewers giving Agorapulse an overall score of 4.5 out of 5 stars, and Sprout Social only 4.3, I think it's clear which social media management platform is better.
When we broke this overall score down and looked at how good their product features were, how easy they were to use, and how helpful their support was, Agorapusle came out on top every single time.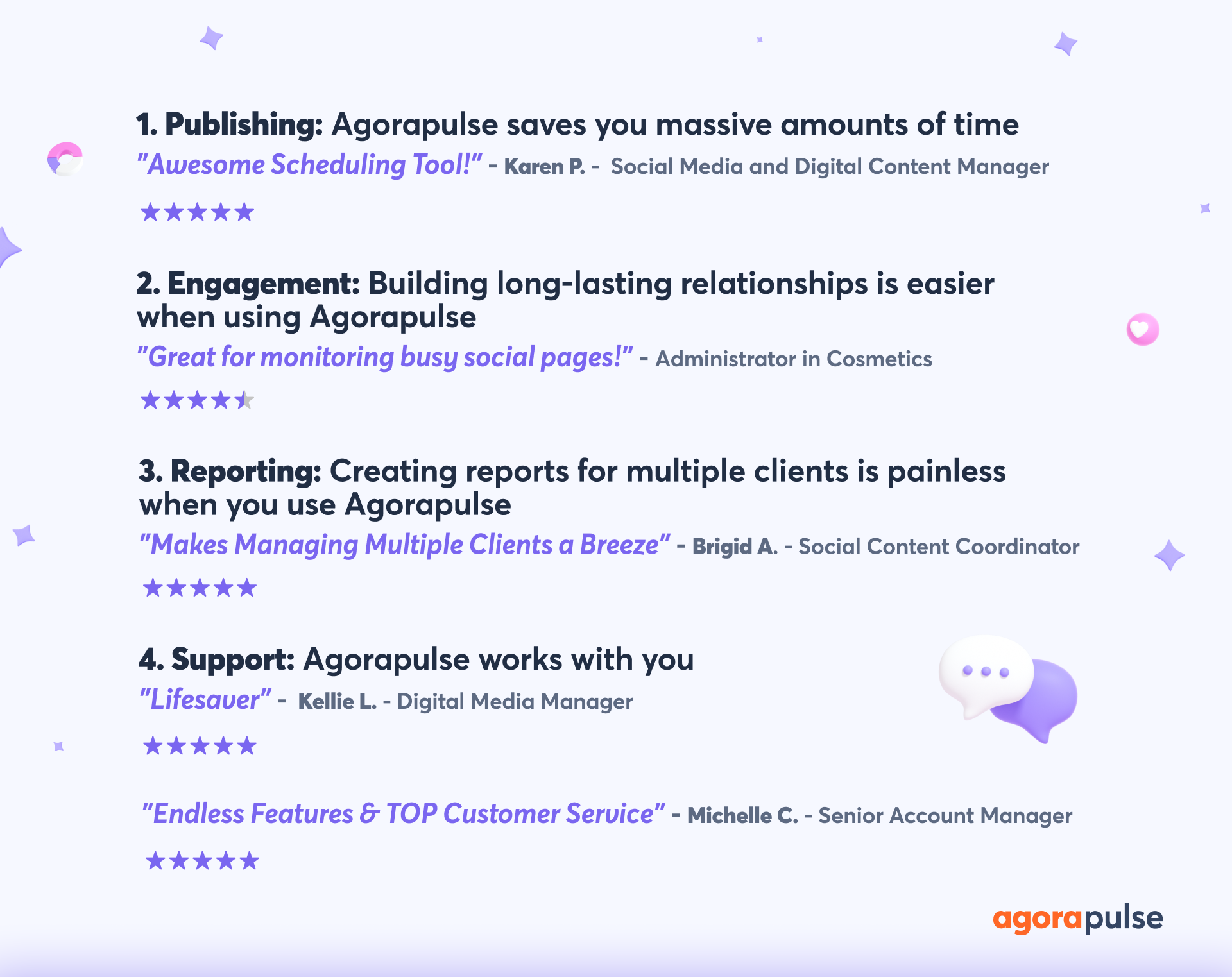 But, as with anything, it's always best to try before you buy. Sign up for a free trial with Agorapulse and see for yourself.