Here are the 20 best free social media marketing tools money can't buy—because they're available at no cost. So, why not give them a try?
Whether you're part of a bootstrapped social media agency or a digital marketing department, you always have a social media marketing budget. And all too often, it just doesn't cover everything you need to do your job well.
But sometimes, you can get something for nothing. In some cases, a top-notch social media marketing tool, app, network, platform, or service doesn't cost you a thing.
So, which freebies are actually worth your time?
I've rounded up 20 of the best free social media marketing tools that I use regularly at my digital marketing agency, Sonnenberg Media.
From design and copy to video and image editing to analytics and automations, these top social media apps can help you stay at the top of your game without increasing your budget.
1. AdsReport
With a successful paid social strategy, you can accelerate progress toward your brand's goals.
Whether you want to grow your audience, sell more products, or do anything in between, Facebook Ads can give a much-needed boost.
But tasks like monitoring ad accounts and tracking results aren't as simple as they should be.
If you need to confirm basic metrics like spend, impressions, or cost per click (CPC), you often have to sort through a mountain of data in your Facebook Ads account.
When you want to streamline your analysis, AdsReport has you covered.
A free tool from Agorapulse, AdsReport analyzes your Facebook Ads account to reveal both an overview and in-depth insights.
Key metrics like spend, revenue, impressions, clicks, click-through rate (CTR), and CPC appear at the top. AdsReport automatically displays comparative metrics, so you can see progress at a glance.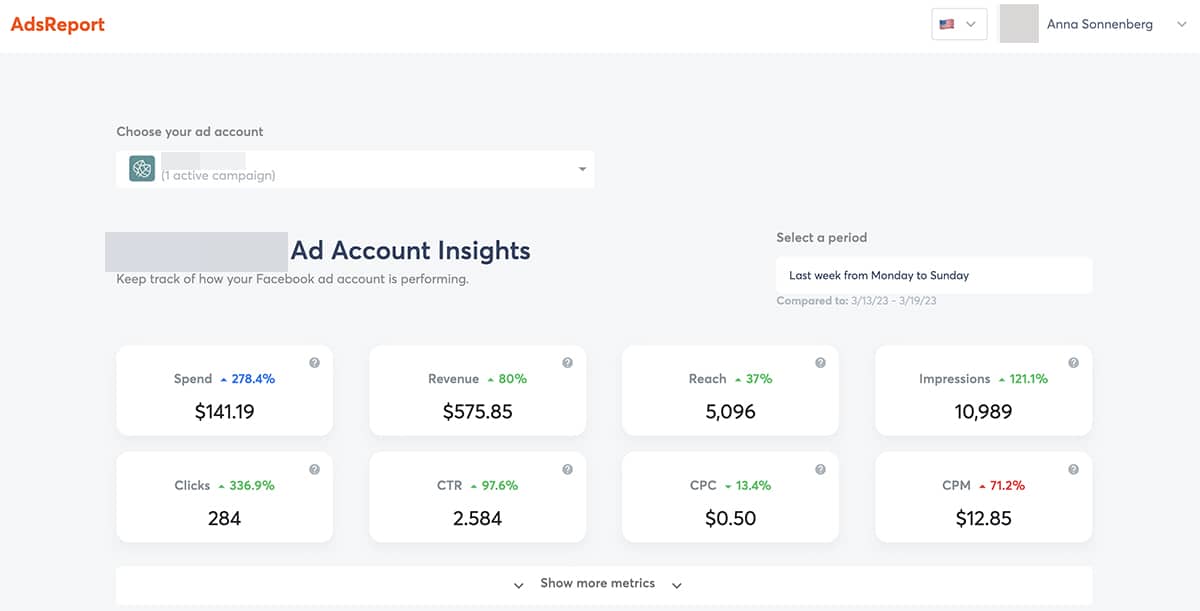 Click to view more social media metrics, and you can see all the other data that matters to your team, such as page likes, landing page views, post engagement, and purchase metrics.
Just want to check stats for a specific social media marketing campaign? Scroll down and select the right campaign.
Along with social media campaign metrics, AdsReport identifies the best-performing ad based on criteria like clicks, impressions, CPC, or CTR.
2. Agorapulse
Did you know that Agorapulse has a free version? Not just a free trial but a whole free social media management tool that doesn't have a time limit.
With the free version of Agorapulse, you can connect three social profiles and schedule up to 10 social media posts in advance. You have the option to use the desktop version or the mobile app to schedule and manage content.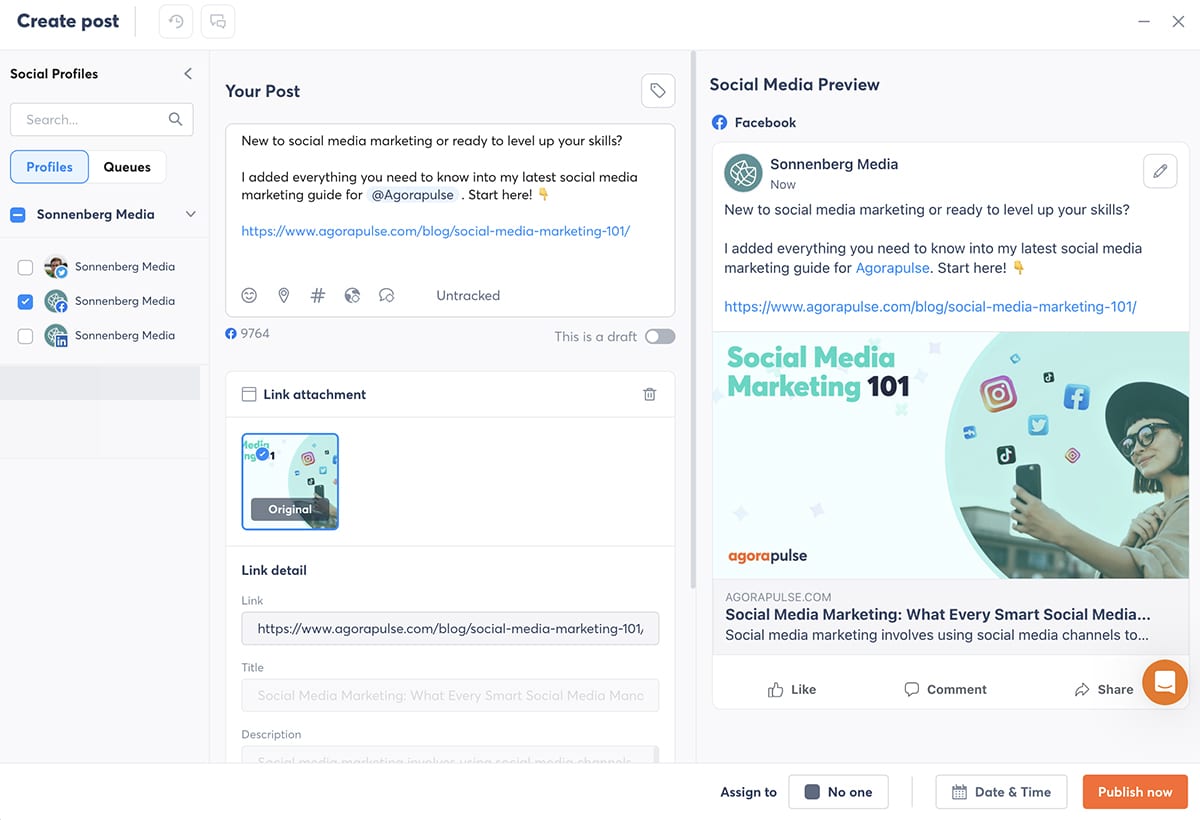 Then you can use the social media management platform to create basic social media and ROI reports for yourself, your company, or your clients. Using those insights, you can continually improve your social media content plan.
Will the free version be enough for a social media agency or a marketer who needs a fully featured all-in-one tool? No. But it does give you access to essential tools until you have the budget to upgrade.
With a paid subscription to Agorapulse, you get access to a unified social media inbox, unlimited scheduled posts, and social listening tools for better brand management. Paid plans also have space for multiple team members, so you can collaborate with colleagues.

3. Airtable
Social media management platforms like Agorapulse are great for drafting and publishing. You can even use the note feature on the publishing calendar to keep track of ideas for future social posts.
But what about managing your social media content workflow?
Airtable is ideal for managing content creation. It's a free app that lets you:
Create lists of ideas
Map out calendars
Collaborate with team members
I use Airtable to keep track of creative assets like photos, videos, and graphics. Then I link the assets to the social media posts that I draft in the app. Since I can display everything on a calendar, I can easily see when I need more social media content.
With Airtable, you can also create forms that you can share with your clients or team members. Your colleagues can fill out these forms to suggest or request posts, which can automatically appear on your calendar or to-do list.
The free version of Airtable is pretty robust and supports multiple users. But if you want to integrate the tool with other apps in your martech stack, consider a paid subscription.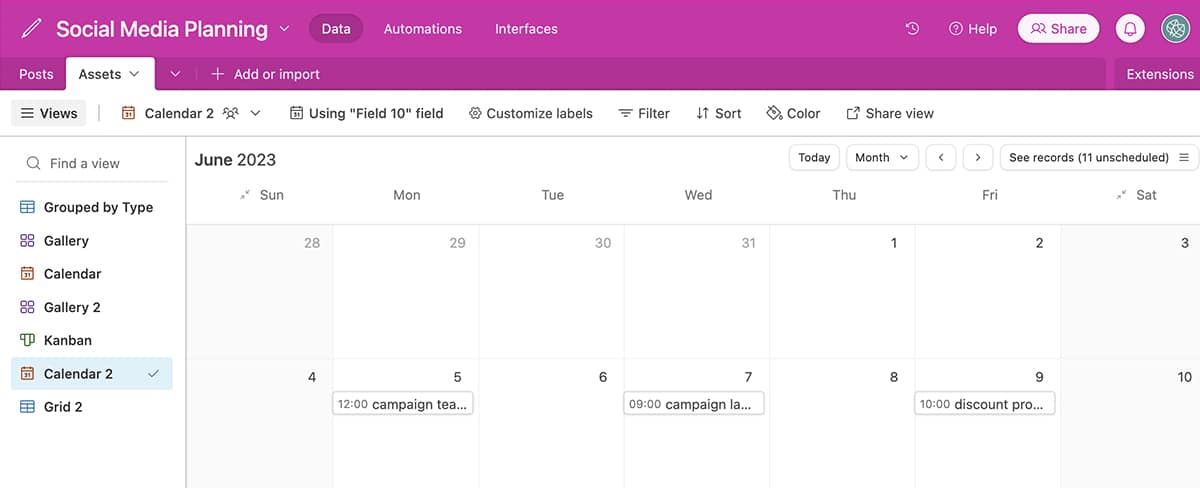 I use Airtable to keep track of creative assets like photos, videos, and graphics. Then I link the assets to the social media posts that I draft in the app. Since I can display everything on a calendar, I can easily see when I need more content.
With Airtable, you can also create forms that you can share with your clients or team members. Your colleagues can fill out these forms to suggest or request posts, which can automatically appear on your calendar or to-do list.
The free version of Airtable is pretty robust and supports multiple users. But if you want to integrate the tool with other apps in your martech stack, consider a paid subscription.
4. Bit.ly
When you share links on social media, you don't always want to show the original URL. Maybe the URL is way too long and would clutter up your post so you'd prefer a shorter link. Perhaps the URL points to a website that you don't manage and you'd like to find a way to track stats.
Many of the best social media management apps include tools that automatically shorten your URLs. For example, Agorapulse uses Pulse.ly to shorten tracked linked that contain UTM codes.
But these built-in tools don't always give you much control over the process.
Meet Bitly, a free social media marketing tool that shortens URLs and stores them in your own personal database.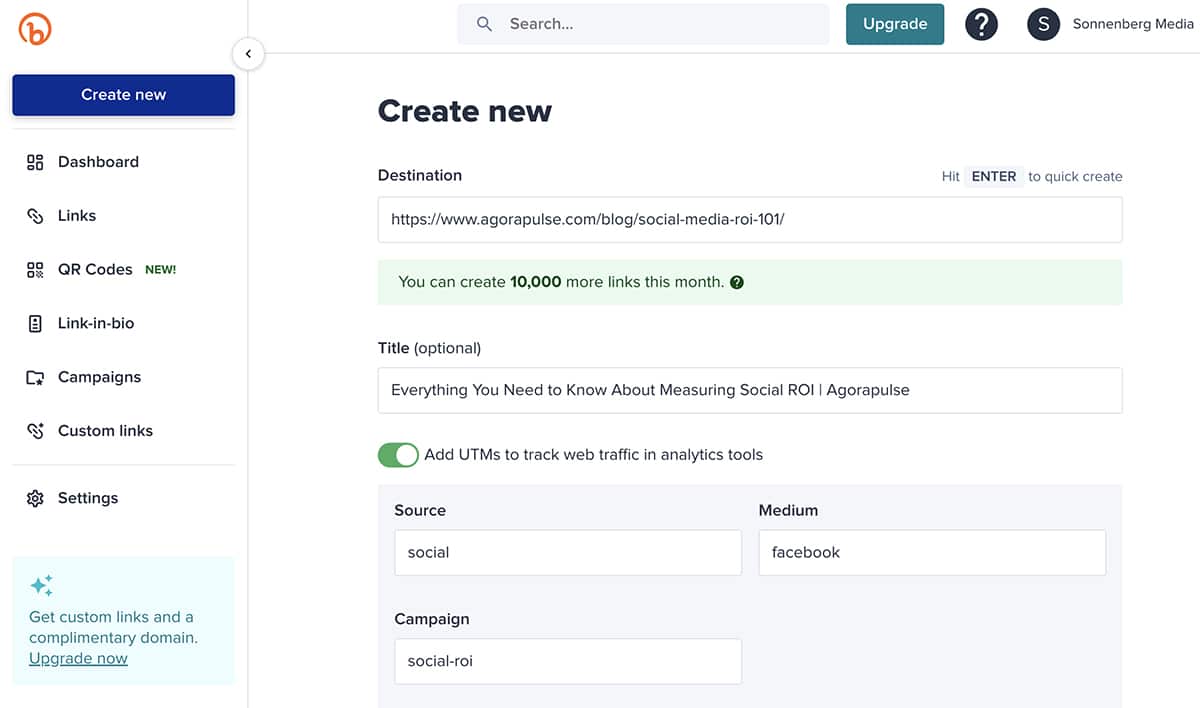 With Bitly, you can make any URL shorter or create a URL with a custom slug, such as bit.ly/my-custom-slug.
Within your database, you can give URLs original titles and add tags for better organization. That means you can tag all URLs related to a campaign or promotion so you can find and analyze them easily.
But Bitly offers much more than shortened URLs. This tool also provides basic analytics, so you can understand how each link performed. You can monitor the number of clicks your URLs received each day, and you can track each link's referrals.
With a quick glance, you can see whether social media, email, or SMS campaigns drove clicks.
If QR codes are part of your marketing strategy, you'll appreciate Bitly's simple QR code generator. You can create a QR code for any Bitly link, giving your audience another way to connect with your brand.
If you have extra room in your budget, Bitly also offers paid features.
With a paid plan, you can create branded URLs with custom domains, which can improve CTR and help you reach your web traffic goals even more reliably.
5. Campaign URL Builder
If you use your brand's social media profiles to drive traffic to your company's website, you need a way to track what happens next—including engagement and conversions.
In some cases, tools like Google Analytics can tell you which social channels drive traffic to your site.
But these tools can't tell you which profile or post generated the traffic.
With Google Analytics Campaign URL Builder, however, you can track the source of your website traffic. This free tool lets you configure UTM codes that you can add to URLs and share on social media.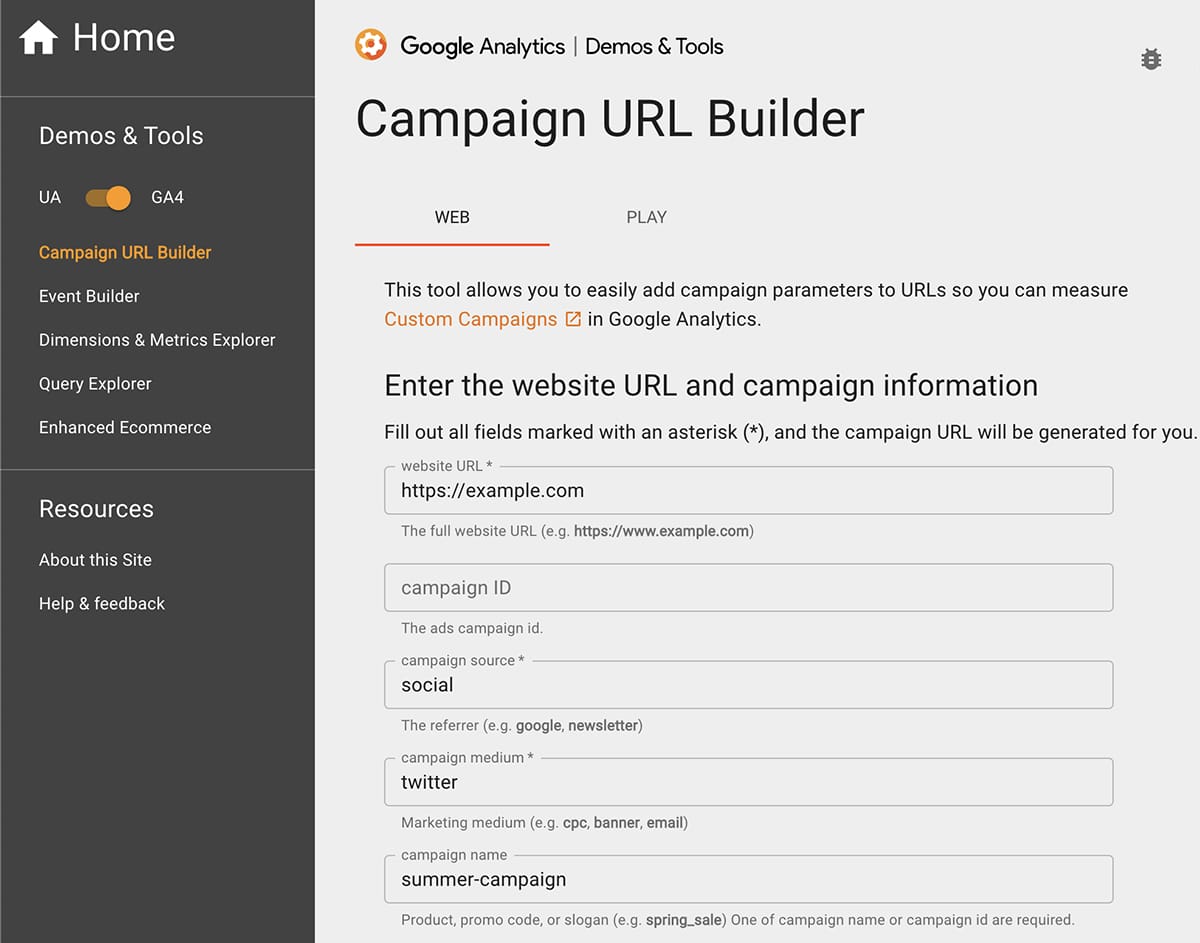 Using Campaign URL Builder, you can create URLs that track the channels, campaigns, or posts that drive traffic and conversions on your website. Then you can use Google Analytics to review this data.
You can even use Campaign URL Builder to create trackable URLs that you can share in comments or DMs. With this method, you can track the results from almost any link you share on social media.
Unlike most of the tools on this list, Campaign URL Builder doesn't have a paid option. It's always free to use, no matter how many URLs you need to build.
6. Canva
Whether you're sharing a blog post, a seasonal sale, or anything else on social media, you need images. Good, high-quality images.
But snapping your own photos and designing your own graphics takes time and money.
If you don't have much of either to spare, Canva is an excellent option. This free design app lets you create all kinds of graphics, from Facebook cover images and Instagram Stories to tweets and images for your social media posts.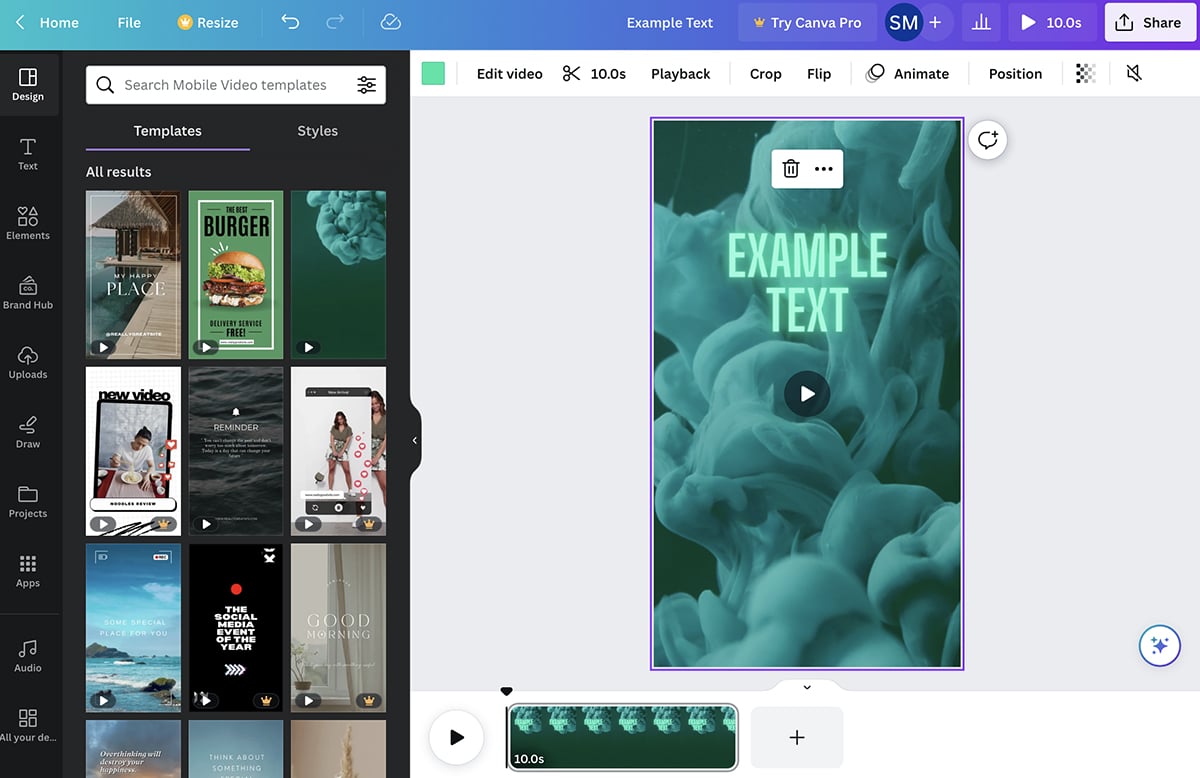 You can get started by choosing from hundreds of templates.
All of Canva's social media templates follow each platform's recommended image dimensions, so you don't have to worry about resizing. Just swap in your own text, logos, and photos to customize each graphic.
If you don't have original photos to work with, choose from Canva's free library or download free images.
Once you create something you like, you can use it over and over. Just copy the design and update the text or images, and you've got a branded template that you can reuse.
Canva is also my go-to app for social media videos. The design app makes it easy to stitch together multiple short clips, add text at certain timestamps, and layer audio tracks.
If you find that you're using Canva constantly, you might benefit from the paid version.
When you upgrade to Canva Pro, you can set and save brand colors and fonts, add GIFs, and resize designs for other platforms with a single click.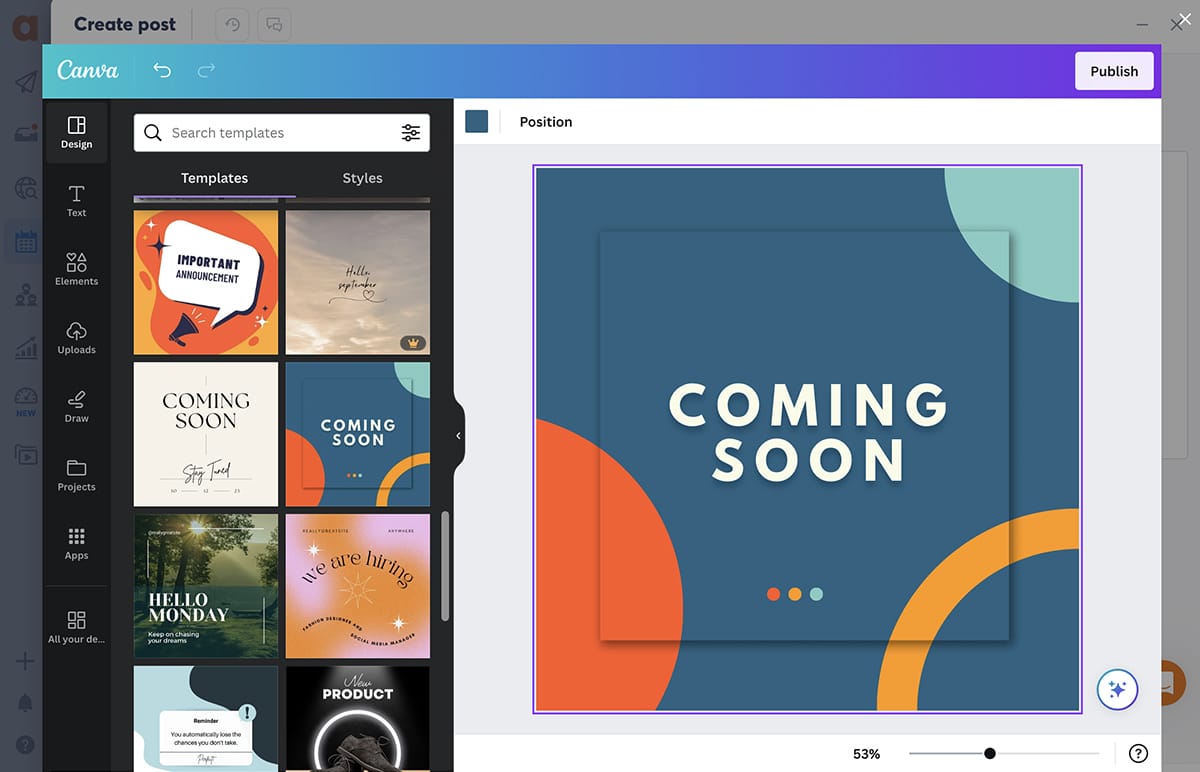 If you're an Agorapulse user, you can also take advantage of our Canva integration. Canva integrates with the Agorapulse post composer and asset library, so you can easily import and store social media creatives.
7. CapCut
One video editing app definitely isn't enough for all those short-form videos on your content calendar. CapCut is another must-have free tool for social media managers.
Although it's designed for TikTok, CapCut can help you create compelling short-form video content for any social media platform—including Instagram, Facebook, and YouTube.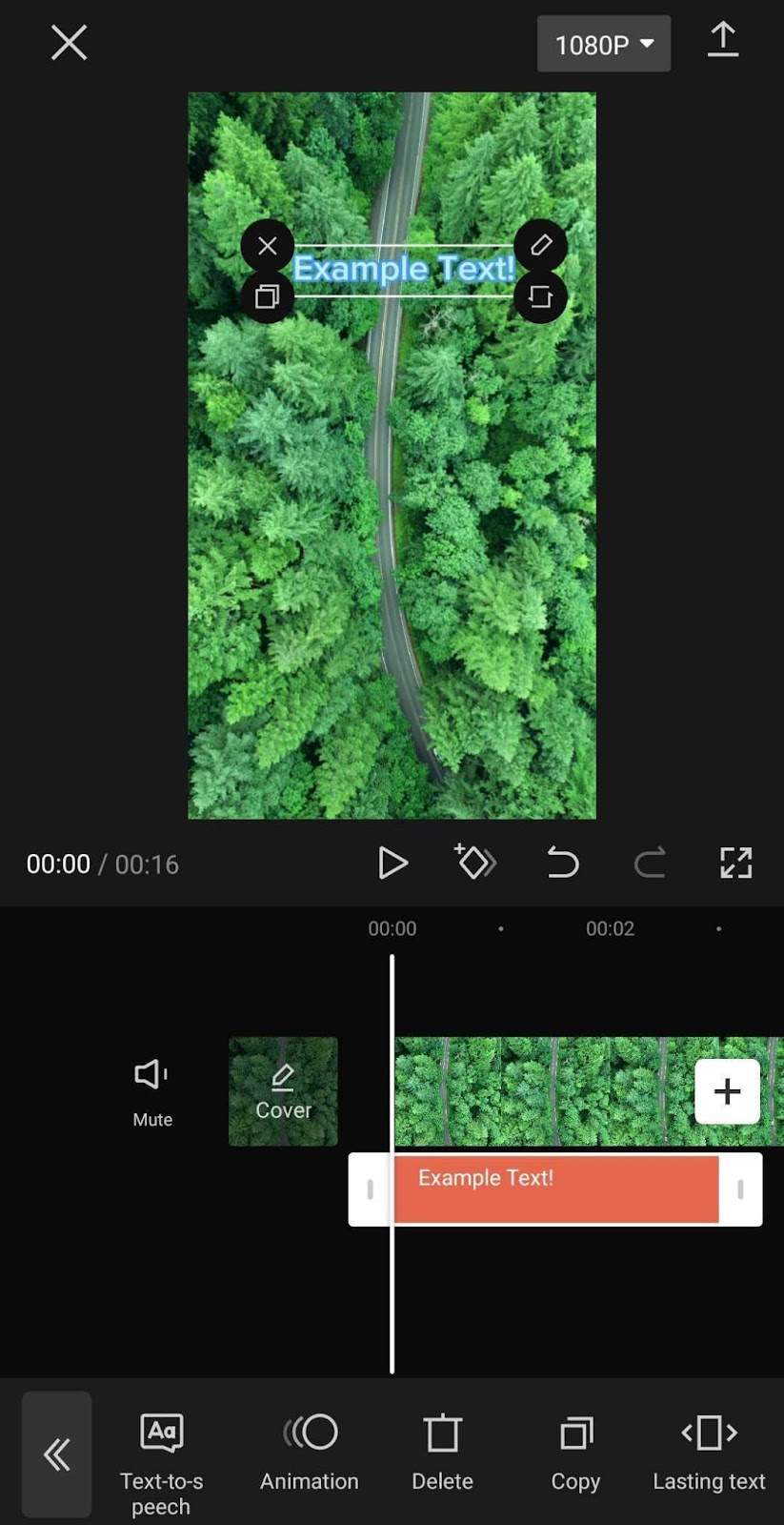 CapCut gives you access to standard photo and video tools like background removers, animations, and speed adjustments. It also has style templates to boost your creativity and text overlays to make your messaging clearer.
If you add a lot of dialog or voiceovers to your short-form videos, you'll appreciate CapCut's audio editing tools as well. The free app has a speech-to-text feature, voice effects, noise reduction, and text-to-speech.
Because CapCut integrates with TikTok, it lets you publish edited videos directly to the social platform. It also exports video files so you can upload to Instagram and YouTube.
8. ChatGPT
If you're a social media marketer with limited time and budget, free AI tools should be at the top of your must-have list. OpenAI's ChatGPT is a great app to start with, as it has a free version that's pretty robust.
How can you incorporate ChatGPT into your social media marketing workflow?
Here are a couple of ideas.
Speed up your content creation process by prompting the tool to write captions for you. Give it a topic or a URL, and add some notes about the platform or the tone of voice.

Note that if the output doesn't sound quite right, you can always modify your prompt or click the Regenerate response button to try again. I also recommend editing AI content manually to incorporate brand voice and other unique details.
You can save tons of time by prompting ChatGPT to outline a content calendar for your brand. Start by giving it necessary details like topics, platforms, and number of posts. In the example below, I mentioned the month so the tool would also add posting dates.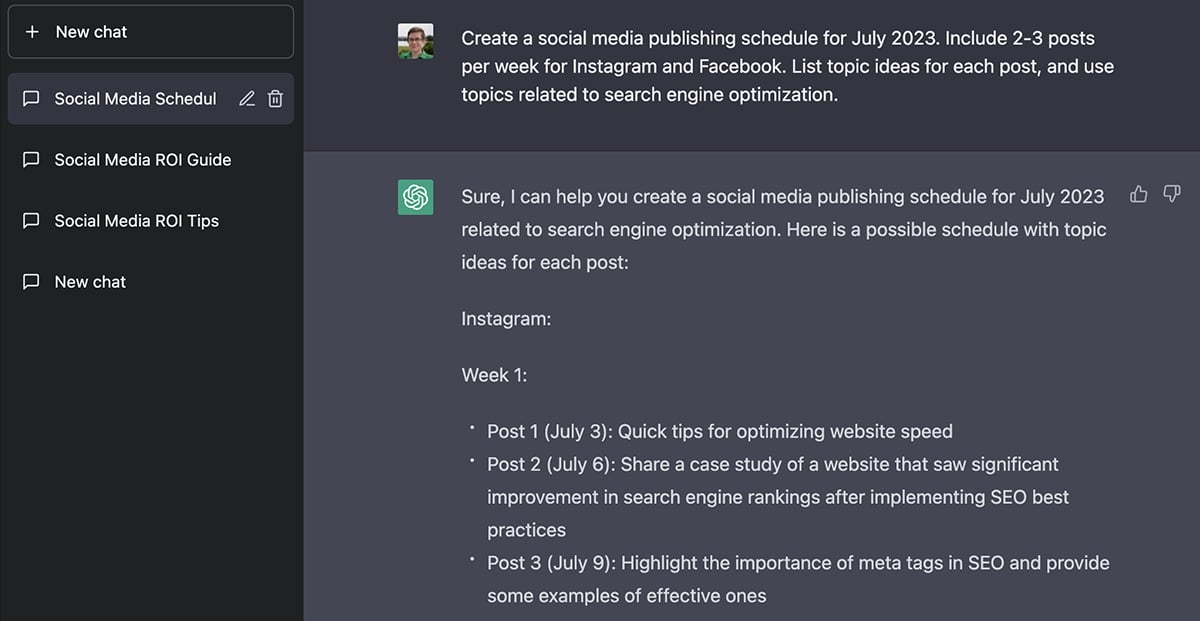 Keep in mind that the information that AI tools produce isn't always perfect or 100% accurate. That's why it's essential to read through the output and add a human touch. Always use your expertise to vet the topics and edit as necessary.
9. Crowdfire
When you share social media content like photos, videos, and graphics, you'll want to use one of the free apps on this list to create eye-catching posts that stand out in the feed.
But not all of the content you share on channels like Facebook, LinkedIn, and Twitter will be original. To curate high-quality content from other creators and companies, you need a dedicated app.
With Crowdfire, you can curate content for your audience without wasting a ton of time scrolling through newsfeeds.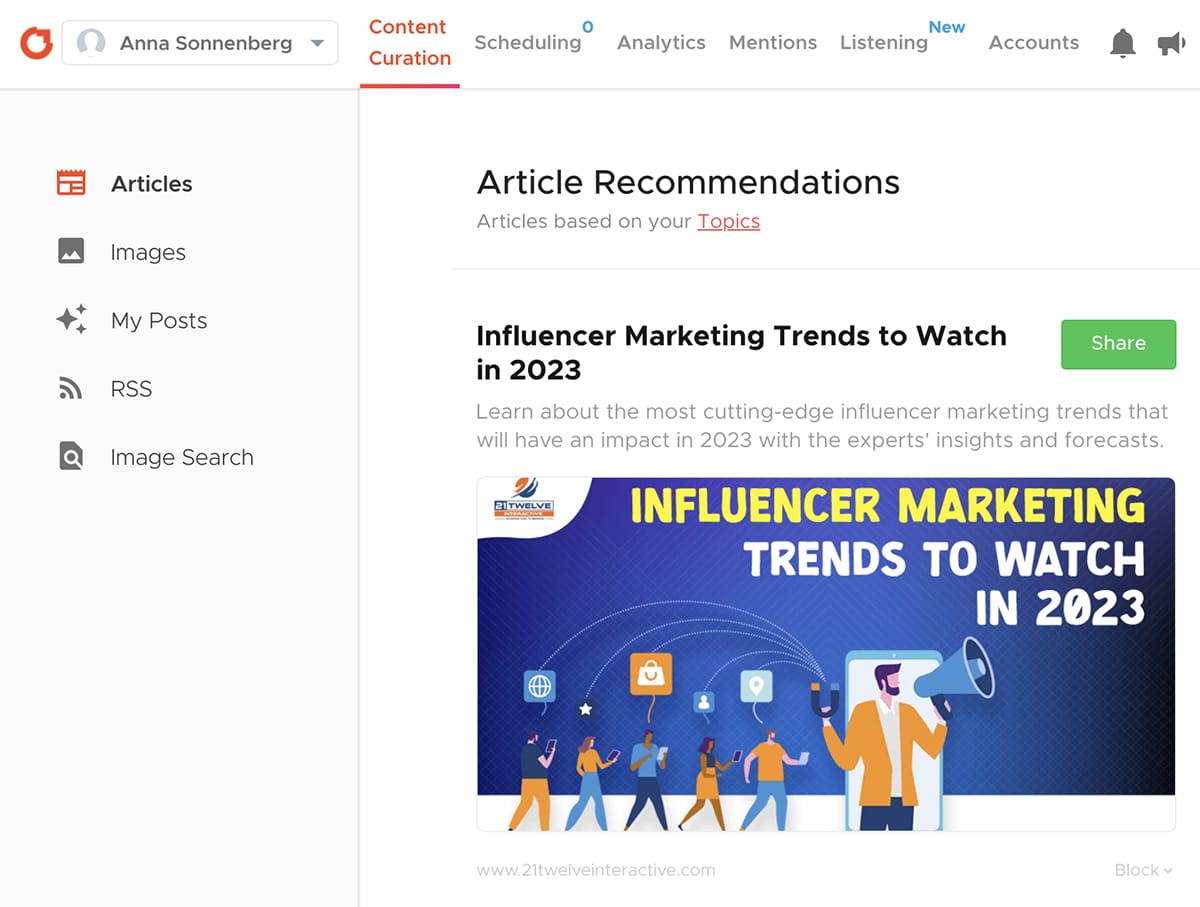 To use the app, select topics that relate to your industry and resonate with your audience. Then the free app automatically recommends newsworthy content that you can share across channels with a single click.
Crowdfire also sources stock photos based on your preferences. If you struggle with finding royalty-free images to publish to your social channels, this app can save you tons of time.
10. Easel.ly
When you publish a social media post, you have limited space and time to attract attention. If you have a long or complicated message to share, you have to get your point across before followers scroll past.
Infographics use the power of images to capture attention and convey more complex ideas.
But designing infographics takes talent. You can't just throw one together in a few minutes.
That's where free social media marketing tool Easel.ly can help.
This free social media tool lets you create sharp-looking infographics without a graphic design degree.
Get started by choosing a basic template. Then add graphics, charts, data, and other visual elements.
To add movement to your infographic, you can insert animated GIFs. Easel.ly is also integrated with Unsplash, so you can add royalty-free photos to your design.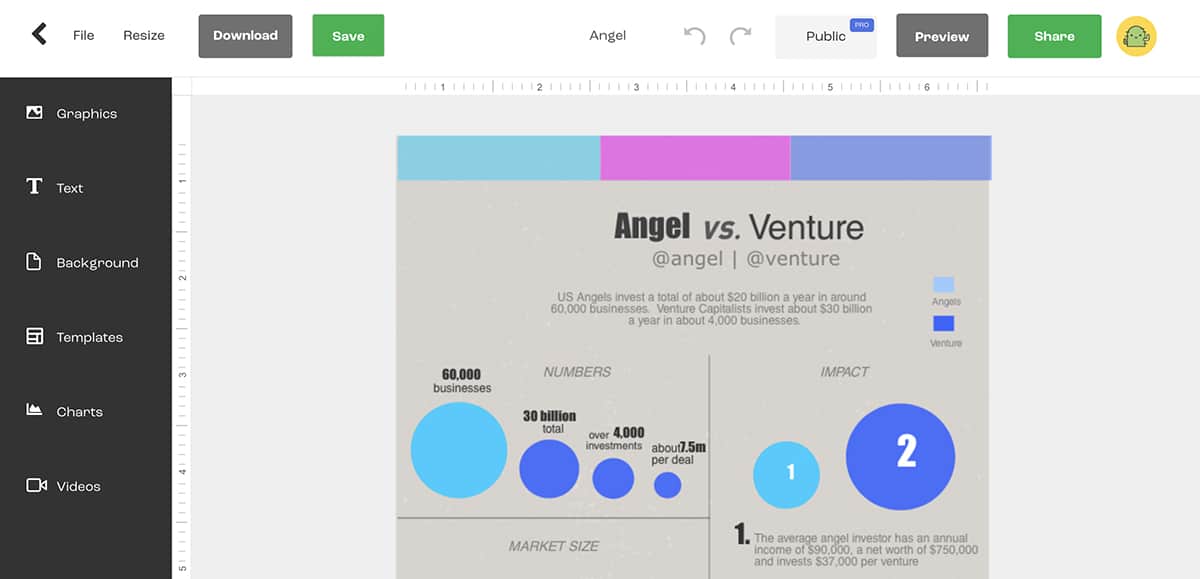 When you're finished, you can download or embed your infographic. You can also use Easel.ly's social media integrations to share directly to Facebook or Twitter.
Although Easel.ly is one of the top free apps for social media, you can get even more out of the paid version of this tool. Upgrade to get hundreds of premium templates, over 1 million icons and photos, and better organization.
11. Easy Advocacy
When your company or client writes a new blog post or publishes an amazing piece of content, you want to get the word out on social media. Your fellow team members can easily become some of your brand's biggest supporters.
But first, you have to get them on board.
If you've found that emails and Slack threads aren't doing enough to get the message across, you need Easy Advocacy, a free social media marketing tool. You can keep coworkers and stakeholders informed about new content. And you can make it easy for them to share it, too.
First, set up your distribution list. Then create a campaign by entering a link, title, and suggested copy. Send it to your distribution list, and each person will receive an email prompting them to promote the campaign. The email includes social share buttons and an email link, so promotion takes a single click.
Once you send out the campaign, you can skip manual follow-ups. Your Easy Advocacy dashboard tracks all the key statistics from your campaign automatically.
You can see which members of your distribution list are your brand's best advocates and on which social network your campaign has performed best.
12. Express
When you want to get creative with short-form video clips, text, and other elements, the video editing apps above are great choices. But when you need only minor technical edits, Adobe Express is a smart solution.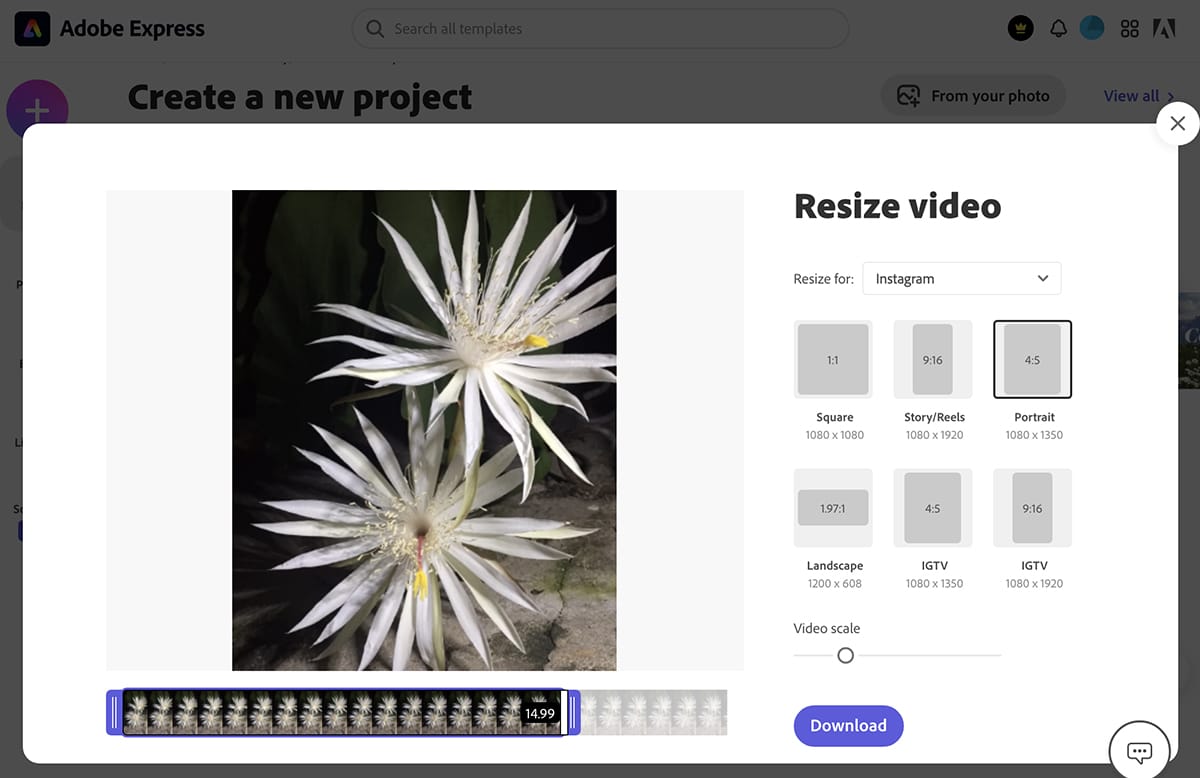 13. Feedly
As a social media marketer, you need to keep up with what's happening in social media, marketing, and beyond.
What's your audience reading? What's trending in your industry? What content creation ideas can you glean from what your competitors are publishing?
Feedly, a news aggregation app, lets you make sense of all that noise.
With Feedly, you can create your own customized newsfeed. Add the sources you want to follow, and you can filter out irrelevant content while making sure you don't miss anything important.

To organize your feed, group relevant sources together in a single feed. That way you can browse all the new posts on a single topic at once. As you read, you can check articles off your list or save important ones to read later.
You can also save articles to a board, which essentially bookmarks them for future reference.
14. Giphy
Does your audience use GIFs to react to news, trends, and other content? Using popular GIFs allows your brand to join conversations using the language your audience speaks.
But you don't have to rely on popular GIFs alone. With Giphy, you can create custom GIFs for your business.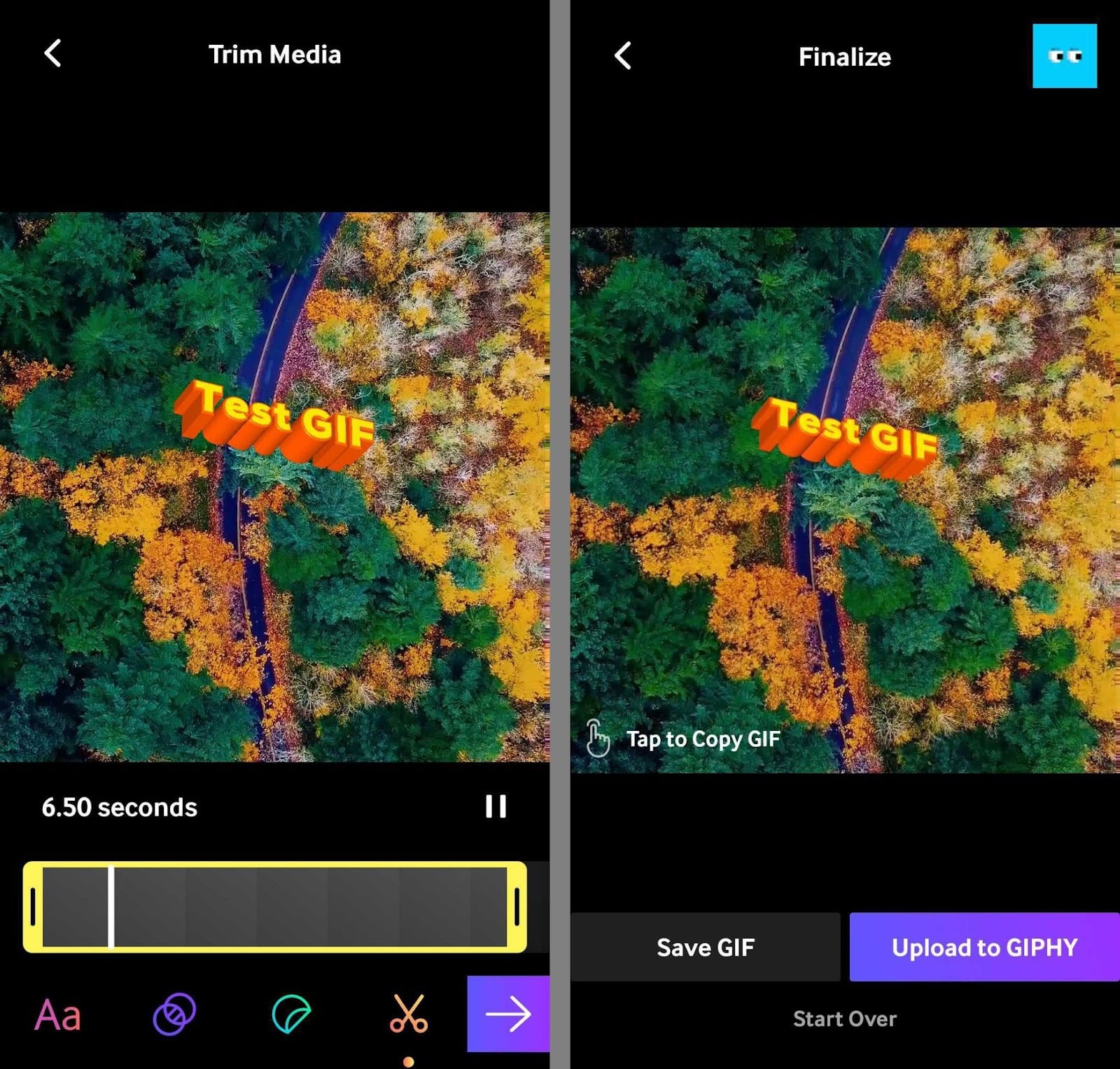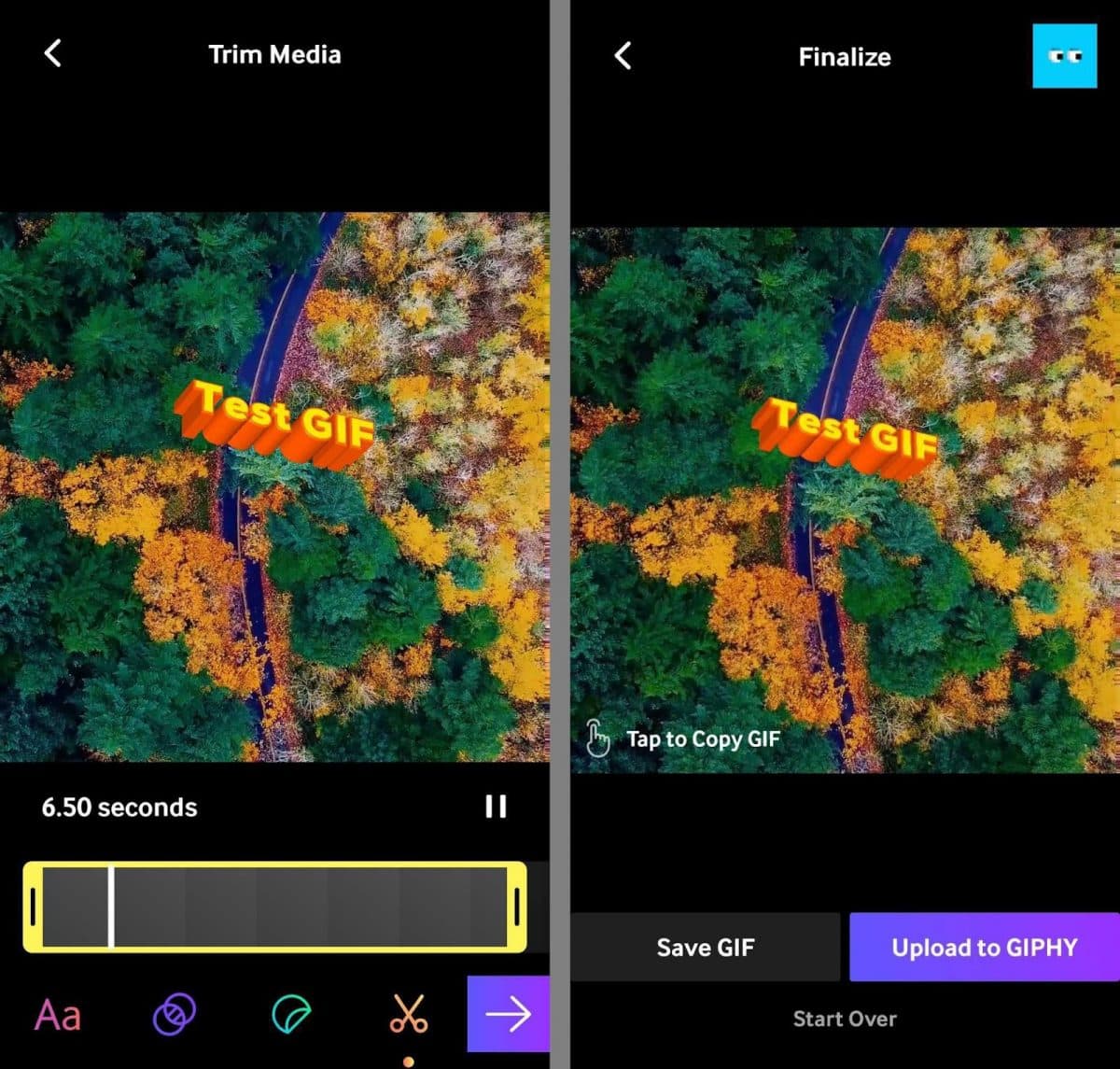 Using the free Giphy app, you can upload premade videos or record new content. Then you can transform those video files into GIFs in seconds.
The Giphy app includes basic editing tools for trimming and cropping. It also has text and sticker tools to help your GIFs stand out on the timeline.
After creating a GIF, you can save or copy the file to post on social media. You can also opt to upload it to Giphy, where users can find and use it in their own social media posts and comments.
15. Hashtagify
If you're an Agorapulse user, you can rely on the social media management platform to track all the hashtags you add to posts. It automatically tracks the number of interactions each hashtag generates so you know which ones to add to future posts.
But what if you don't have much data to reference? What if you're testing out some new hashtags and want to make sure you choose the right ones?
Hashtagify is a free tool that analyzes hashtags for Twitter and Instagram. Type any hashtag into the search bar and assess its popularity instantly.
Hashtagify calculates overall and recent popularity as well as weekly and monthly trends so you can see whether a given hashtag is worth using.
Want to add more contextual hashtags? The free version of this tool also recommends related hashtags and reveals the accounts that use the hashtag most often.
Note that the free version of Hashtagify includes Twitter hashtag analysis only. If you want Instagram hashtag analysis or if you want the tool to recommend hashtags based on your posts, consider upgrading to the paid version.
16. InstaChamp
Messaging is becoming an increasingly important outlet for social media marketers to connect with followers and drive conversions. But most social media platforms have limited options for automated DMs.
With InstaChamp, you can set up automated responses to a variety of engagement on Instagram and Facebook. Not only can the app save you time, but it can also generate more timely responses—so you can check your inbox less often.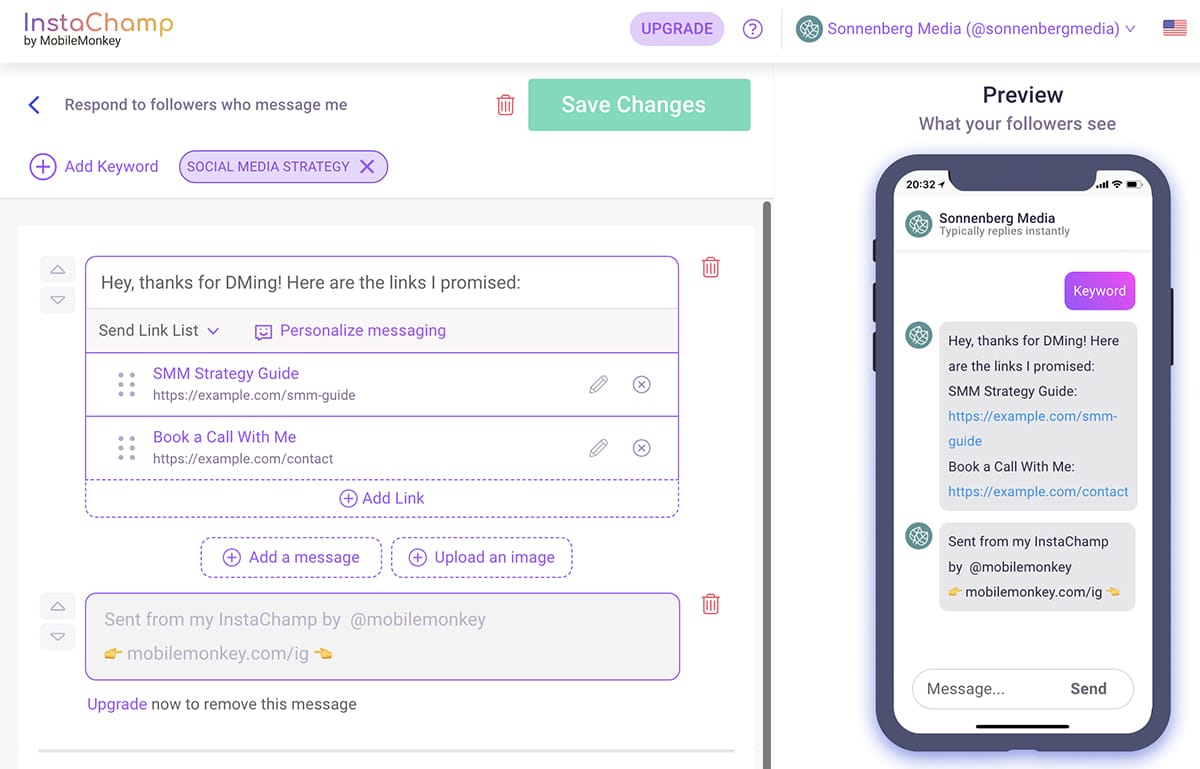 The free version of InstaChamp lets you set up responses to everyone who mentions your brand in an Instagram story or everyone who reacts to your story. It also lets you send automated responses to everyone who engages with your Instagram lives.
Looking to generate leads with Facebook or Instagram? InstaChamp can automatically DM anyone who comments on your posts with a specific content.
With this tool, you can do a lot more than send a one-line response. You can ask questions, get to know prospects, qualify leads—and eventually convert customers.
17. Linktree
Instagram gives brands limited opportunities for adding external links, so you have to make them count—especially when adding a link in your bio.
You could link out to your company's homepage from your Instagram bio. But using a website link that isn't tailored to Instagram can cause you a lot of traffic and conversions.
With Linktree, you can create an Instagram landing page for your brand.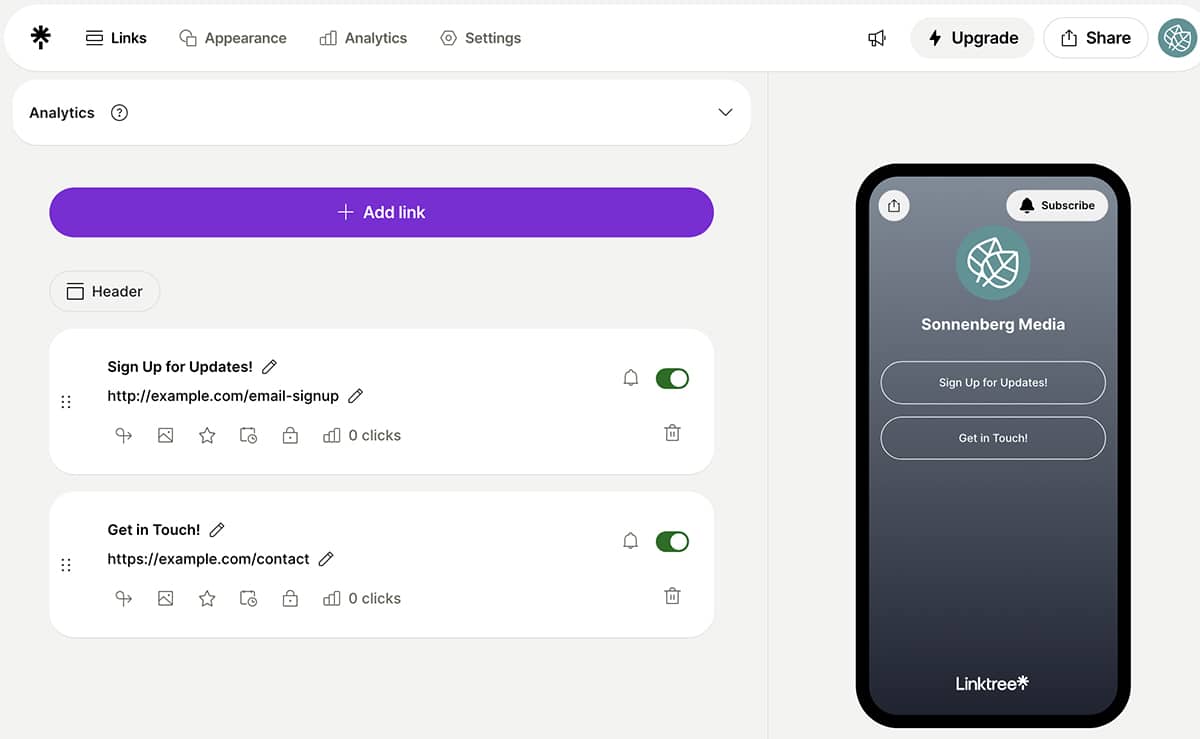 The free version has plenty of customization options. For example, you can add your company name, logo, and bio. Linktree also has several free skins that you can use to add a pop of color to the page.
Then you can add unlimited links to your website, ecommerce store, or other social media profiles—and order them however you like. The free version of Linktree comes with basic analytics so you can track views and clicks.
For advanced analytics, more design customization, and other features, consider upgrading to the paid version of the tool. The paid version of Linktree also offers ecommerce and email marketing integrations to help you build your business.
For small brands, the free version might be all you need. But if you find that you need to send thousands of DMs or create more complex conversations, there's a paid plan.
18. Loom
You can't always say everything in your social media captions, especially if you're limited to 280 characters. Ever want to dash off a quick message without having to write it all down? Or create a brief how-to video that explains it all?
Loom lets you share and record your desktop or mobile screen quickly and easily.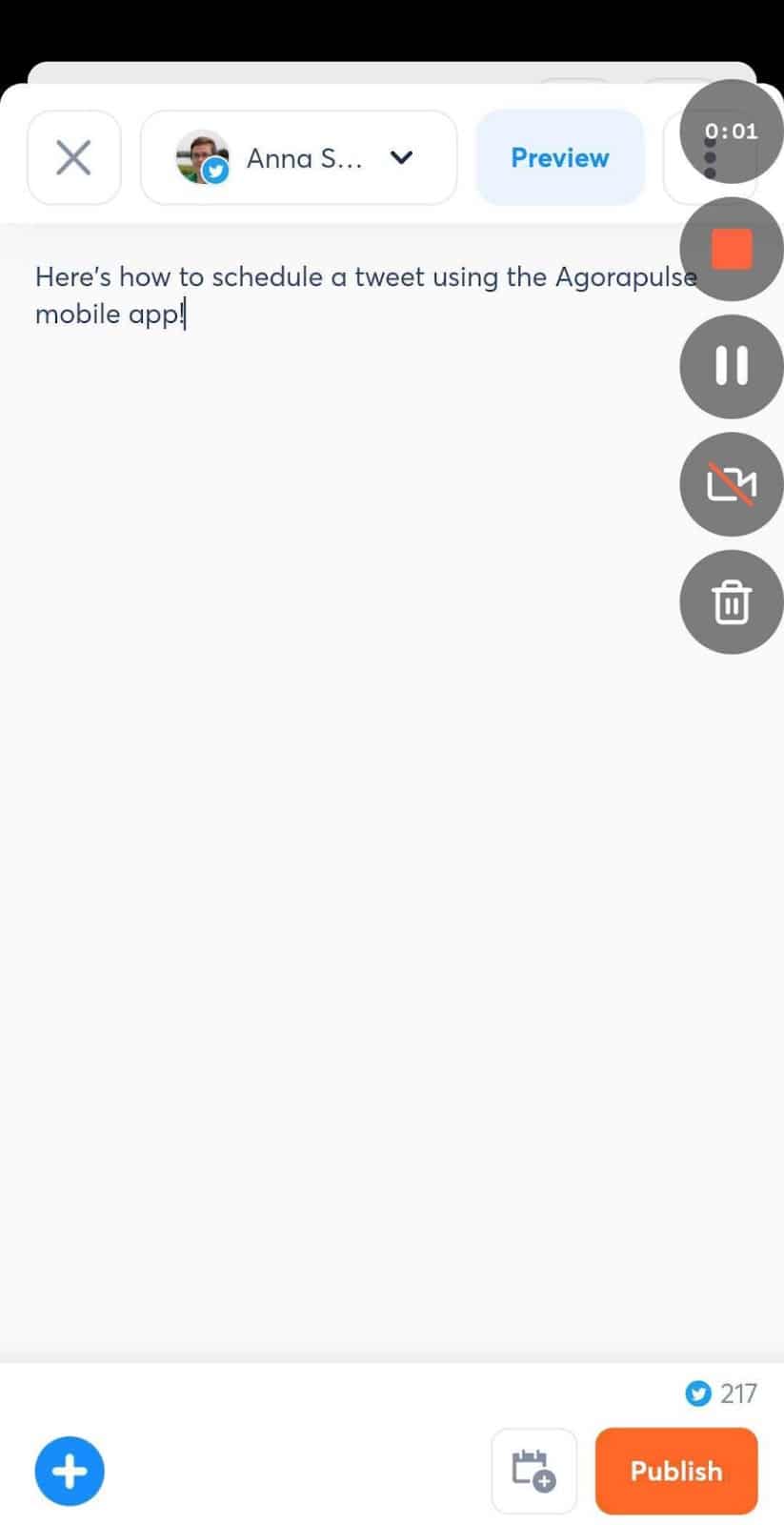 It's particularly great for sharing a process or walking followers through a complex process. I like using it with software as a service (SaaS) clients, whose products tend to be highly technical. In the example above, I recorded a brief walkthrough of the Agorapulse mobile app.
For a nice personal touch, you can include a small video of you in the corner, explaining the screen share. Or you can record just your voice or the screen only.
Just press record, say your message, and share it with your audience.
When you're done with the video, you can click to share to Facebook or Twitter immediately or copy the link so you can paste it into a scheduled social media post.
Incredibly easy to use, Loom makes these video messages quick and efficient.
19. Quuu
Finding relevant, newsworthy articles to share with your audience can take a ton of time—especially if you also have to write captions and schedule social media posts.
With Quuu, you can automate the entire content curation process.
Start by opting for a completely automated queue or choosing to process the curated posts manually. Then decide on the number of posts to place in your queue each day.
If you create a queue for Twitter, for example, you may want to add five or more curated posts to your feed to ensure you tweet consistently. You can also add relevant news articles to your queue to ensure your brand is part of important conversations.
Then curate content by choosing pertinent topics. This free app supports general topics (like Marketing) as well as more specific topics (like Social Media Marketing).
Quuu also lets you omit content with certain keywords from your queue, which is helpful for keeping your audience engaged and preserving your brand image.
20. Zapier
Social media managers often have seemingly endless to-do lists. From planning campaigns to connecting with influencers to reviewing analytics, there's always more to do.
Automation can help you streamline workflows and complete tasks more efficiently.
In many cases, social media apps already have built-in automation options. For example, Agorapulse automatically publishes the social media content you schedule.
But in other cases, you may need additional automation options or want to share data between apps without as much manual back and forth.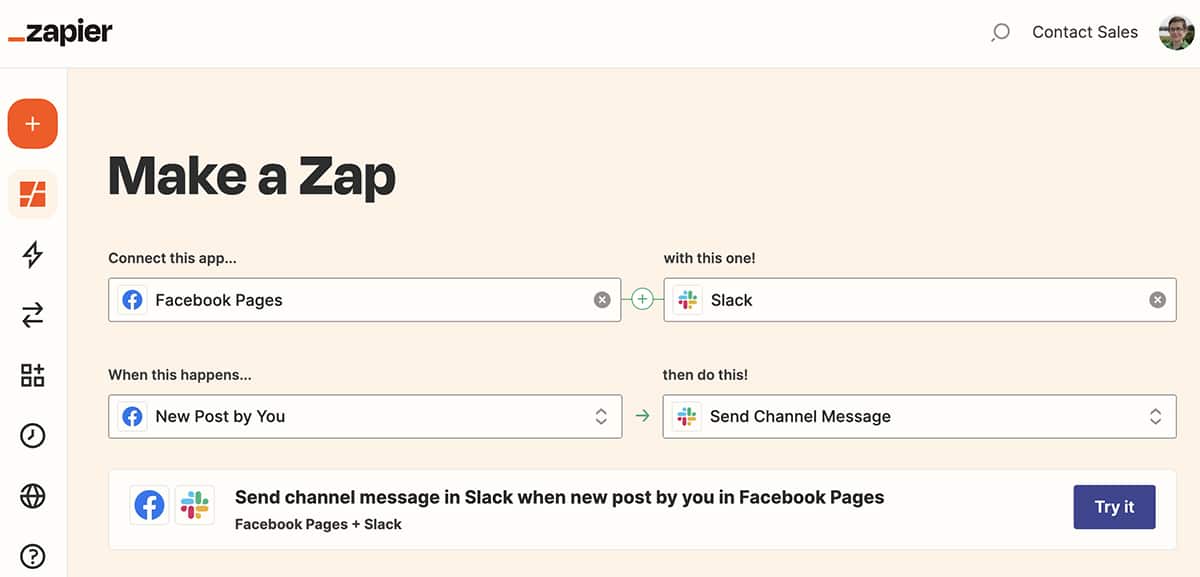 Zapier offers a mind-boggling number of automations across more than 5,000 apps.
With Zapier, you can automate a ton of simple tasks and save your team a lot of time. For example, Zapier can automatically send purchase events from Facebook to a Google Sheet, where your team can analyze conversion data.
Zapier can also manage tasks like sharing Facebook posts to Slack, where you can encourage colleagues and stakeholders to amplify content.
You can set up plenty of Zapier automations using the free version of the app. With a paid subscription to Zapier, you can access more advanced options, including sharing data from Facebook, Instagram, and LinkedIn ads.
Wrapping Up This List of Free Social Media Marketing Tools
Sometimes, it makes sense to pay for a social media marketing tool. Many tools are worth the investment, especially when you need a reliable platform for content scheduling, social listening, and reporting. Still, you don't have to pay for everything.
Add some of the best free social media marketing tools to your arsenal, and start driving better results for your company or clients.
Check out our list of 26 Social Media Marketing Books to Advance Your Skills.
Get started on saving time and energy on your own social media management! Check out our free demo of Agorapulse to help you schedule, track, and measure all your social media efforts.