Every Social Media Manager has been there at some point. The sales manager enters the marketing office on the last week of the month because leads are down and the company looks set to miss target. All eyes turn to you. As Social Media Manager it is your duty to save the day … but how? In this article, I'm going to give you my top tips on what to tweet during a slow sales period and how to maximize your Twitter sales funnel.
1. Your Twitter Sales Funnel
If you want to get leads from Twitter, you need to think about your sales funnel. A sales funnel is the journey a prospective client will make from seeing you online through to making a purchase. Generally speaking, a long and complicated funnel will hemorrhage business along the way. Here's a quick example featuring Twitter user Bob:
Bad Funnel
Bob clicks on your offer link on Twitter
Your link goes to your website homepage
The offer is not visible on your homepage
Bob must search to find it
Bob finally finds it and clicks the link
The link then opens a call back form which must be completed
Nothing happens until the sales team calls the Bob
Bob probably finds another deal elsewhere
Good Funnel
Bob clicks on your offer link on Twitter
Your link goes to a dedicated landing page
Bob enters his email and receives an instant discount code
Bob instantly uses the code online to make a purchase
SourceTakeaway: Think about the journey your visitors need to make before they can purchase. Minimize the number of clicks and wherever possible automate the process via a landing page.
2. Your Tweets
Time is tight so you need a tweet which is going to yield swift results. Here are my three favorite fast-working techniques to use in a sales drought.
The Coupon Tweet
It's not ground breaking but still 75% of shoppers will go to Twitter to find deals and coupons. They also work whether your sales happen online or offline.
Here's one I made for a hair salon using Canva. This coupon got seven likes and one appointment within the hour… not bad right?
Keep your coupons simple yet eye-catching and remember to use hashtags to gain the attention of your target audience.
It is also worth noting that coupons are less effective if you run them all the time. Run them occasionally with a deadline and you will see a much greater impact.
The Retweet To Win Tweet
Retweets mean more attention, more buzz, and potentially more sales for your brand. Getting retweets with boring sales talk isn't going to happen so you need to sweeten the pot. National Lottery handle @TNLUK regularly uses retweet to win to whip up a frenzy.
Running a "retweet to win" contest is easy but don't be tempted to cut corners as it can be a whole world of legal trouble, especially if you are a big brand. Check out the Twitter contest application from Binkd which allows you to quickly set up Twitter contests that include terms and rules.
Pro tip: your tweets have a 12x higher chance of being retweeted if you ask and 23x higher if you spell out the word "retweet."
The Social Proof Tweet
Social proof is the psychology marketers use to gain trust and engagement via the actions of other users. In many cases this is through reviews and recommendations. In fact, 83% of consumers in 60 countries say they trust recommendations over any other form of advertising.
Perhaps your sales are low because your potential clients are not 100% convinced about your product or services… enter social proof. I use Kudobuzz to gather online reviews for Charli Says and if I want to drum up some business I simply share them.
Perhaps you have some great reviews or testimonials from clients who loved your product… share, share, share!
Takeaway: Rustle up a few winning tweets in a short time but make sure you communicate the offers to your sales team. Communication is key if you are planning to swiftly onboard clients.
3. Your Schedule
Did you really think that one tweet was going to save your company sales team from missing their targets? Every second there are 6,000 tweets (visualize them here), which corresponds to over 350,000 tweets sent per minute.
This means that you need to be very active if you want to be seen in the Twitter feed of your potential clients. Here are some points to consider:
Twitter engagement for brands is 17% higher on weekends
Twitter users who mostly use a mobile device are 181% more likely to be on Twitter during their commute
Your target audience may not be working the same hours as you
Great social media marketers know to spread out their tweets and hit potential clients when they are actually online. In the sad dark days before Agorapulse, this actually meant I was logging on and tweeting… all the time!
Now thanks to the easy calendar scheduler I can requeue key tweets and run them regularly throughout the day and night on multiple networks…YAY! The calendar looks like it took hours to complete but it didn't… 2 minutes max! [[Update: Agorapulse supports 280 characters on Twitter.]]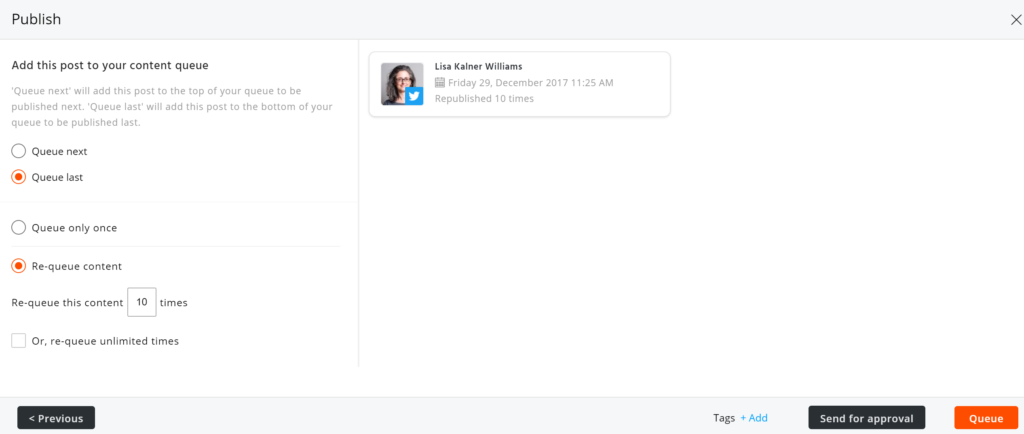 Takeaway: If you've got a great tweet, then be sure to shout about it. Use your Agorapulse analytics panel to see which tweets work best and at what times and then maximize them.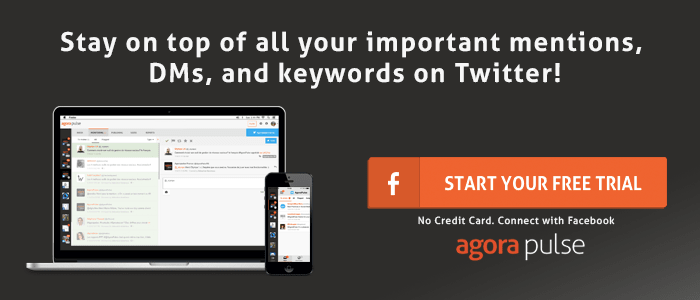 4. Your Remarketing
All the techniques I listed above can be achieved for free. But is your sales team ready to put down some cash money?
Twitter advertising is 6 times more expensive than Facebook advertising, but the clickthrough rate is 8 to 24 x higher. If they are frantic then you might want to consider some paid advertising to boost the figures. Twitter recently revealed that total ad engagements are growing 208% year-on-year and there are plenty of ad types to choose from. As we are on a tight time frame, let's look at my favorite quick-fix advertising model… remarketing (also known as retargeting).
Twitter allows you to set up website tags or small pieces of code which will help you create campaigns based on audience data and past conversion rates. This means that you can find and target users who have recently visited your website and tempt them back.
Generally, 2% of shoppers convert on the first visit to an online store. Retargeting brings back the other 98%!
Takeaway: Twitter remarketing is easy to set up but don't waste the opportunity to make it work. Remember these visitors have been to your site before, you need to create visuals and an offer that makes them want to head back to buy ASAP.
There are a number of basic Twitter practices like influencer marketing which you should be doing anyway but these will take time. The ones I mention here will produce swifter results.
So now you know what to tweet during a slow sales period. Let's just hope your sales team are ready for all those Twitter leads!