If you're a busy social media manager juggling multiple social media accounts, reviewing analytics reports, and tracking smart goals, why add something new like Instagram Stories to an already hectic mix?
And aren't Stories just a glorified Snapchat Stories copycat?
Ever since it launched this August, Instagram Stories has been incessantly compared to Snapchat Stories and, to be fair, the two do share a lot of similarities.
Both let you post spontaneous content that automatically deletes after 24 hours, use filters, add captions and doodle in a fun assortment of colors.
What sets Instagram Stories apart is the platform itself.
Stories integrates beautifully with Instagram's regular feed, adding a touch of playfulness and personality. It's like a personal backstage invitation from a band you already love.
Related post: Instagram 101: What Every Smart Social Media Manager Needs to Know
Why should I use Instagram Stories?
Posting a story is a fantastic way to step away from your carefully curated, on brand feed and show off a different side of your personality. It's freedom, whimsy and spontaneity all wrapped into one neat package.
It's a unique chance to share a bit more about the people behind the gorgeous curated feed your followers already love- like this behind the scenes meeting of the Refinery 29 team shared by co-founder Piera Gelardi.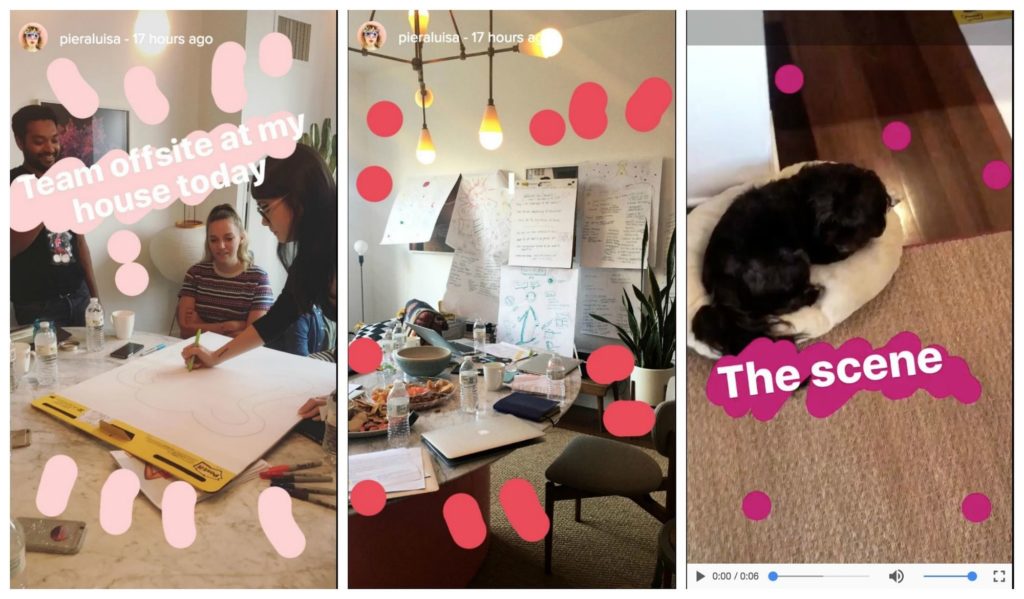 It's fun, colorful, human, and different. It shows a glimpse of the team behind the work and incredible photos that populate the Refinery 29 feed.
Anything you post on Stories doesn't appear in your regular feed – they are displayed in a bar at the top of your feed. Scroll through different accounts you follow and check out what they've been up to over the last 24 hours!

Plus, you can create special, targeted content!
Stories mirror your profile's security settings – if your profile is visible to the general user then your Stories are too.
But, if you really want to get into specifics, you can pick exactly who gets to see your latest Story in settings. And just like with your normal images, you can use relevant hashtags to make it easy to find and view your posts.
So how does Instagram Stories fit in with your overall marketing strategy? In three powerful ways that I'll explain right now.
1. Show off your human side
The perfect Instagram shot takes time and planning. It may look effortless but it's the culmination of design, multiple takes, precise lighting, editing and a great eye. It stands out and enchants on its own and fits into your overall look. That's a lot of work.
Instagram stories are a chance to break free. To try something new. To show off the human, the personal. To be a little different.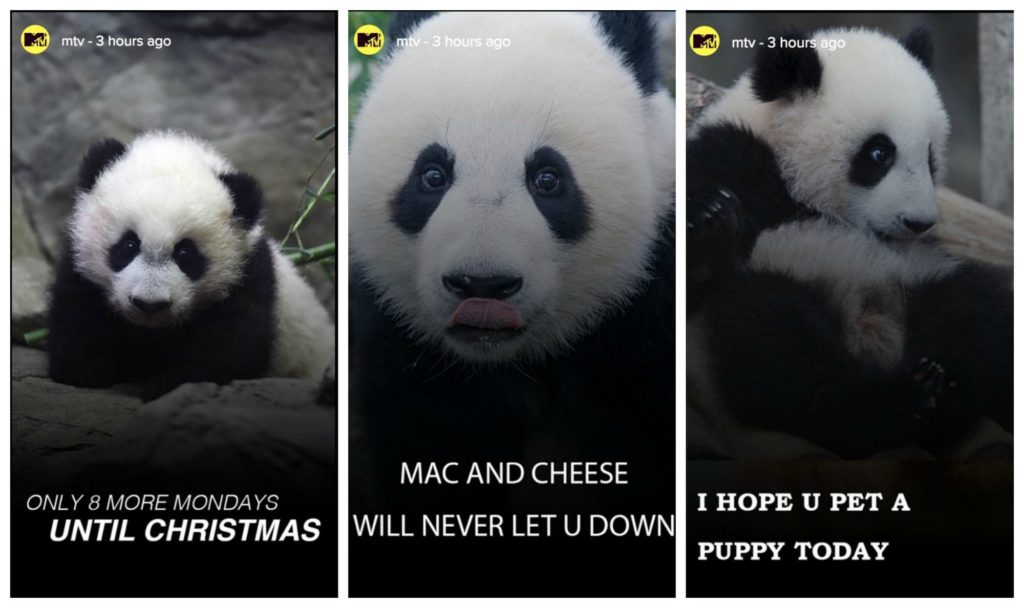 It can be as simple as sharing some Monday morning inspiration. Nothing brings people together like cute fluffy animals.
Because there are no likes and comments, it's the perfect way to step out of your comfort zone in a relatively risk free way. And anyone who loves what you are doing can send you messages directly through the slideshow!
So snap a pic backstage. Show your followers what goes on behind the scenes. Share some mid afternoon inspiration.
Give us a glimpse of the hard work you do and share the special moments that aren't traditionally photogenic.
A little bit of personality goes a long way on social media.
2. Offer your Instagram followers exclusive content
Use Instagram Stories to stage a promotion or tease the release of a special product exclusively to your followers.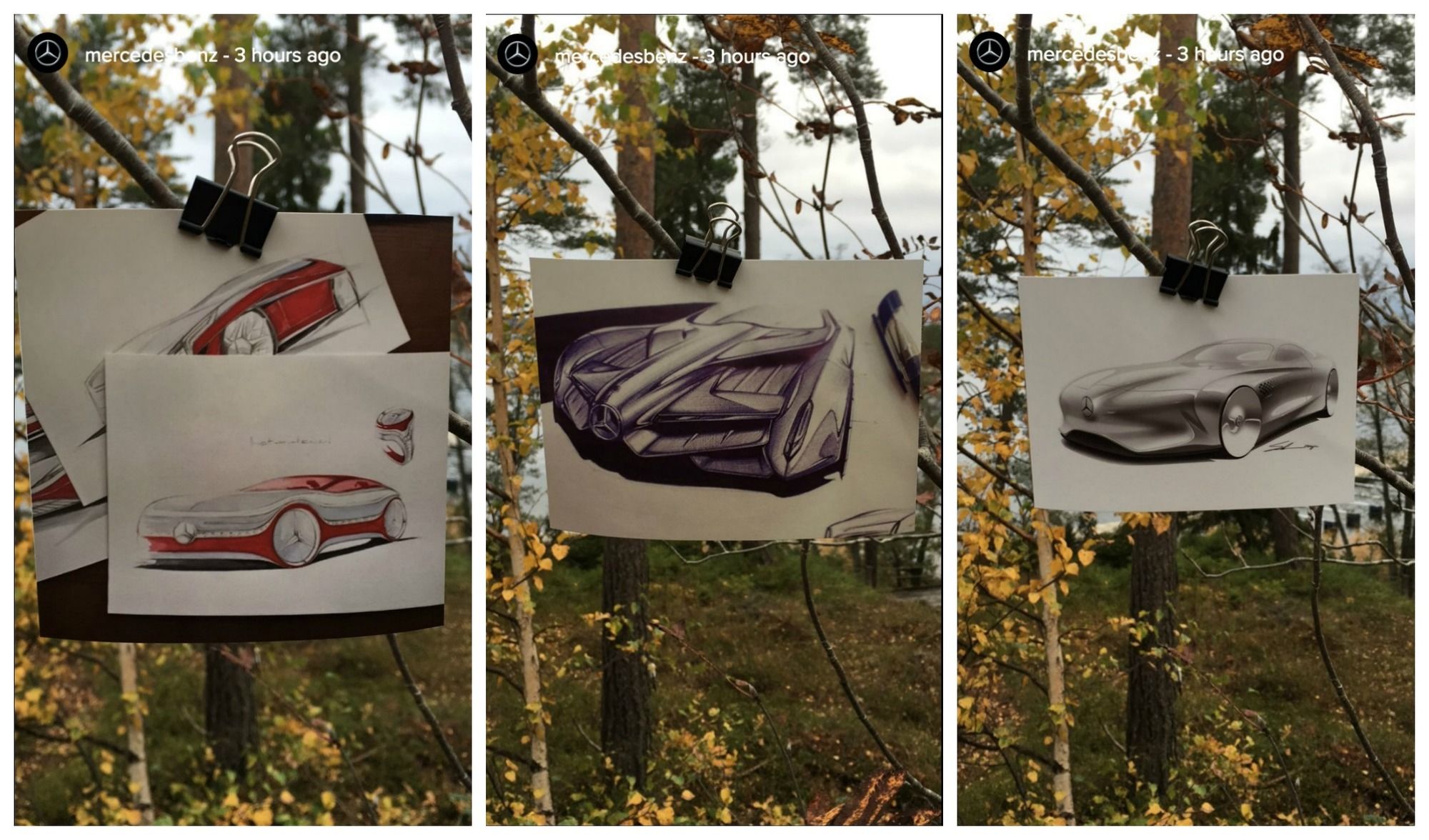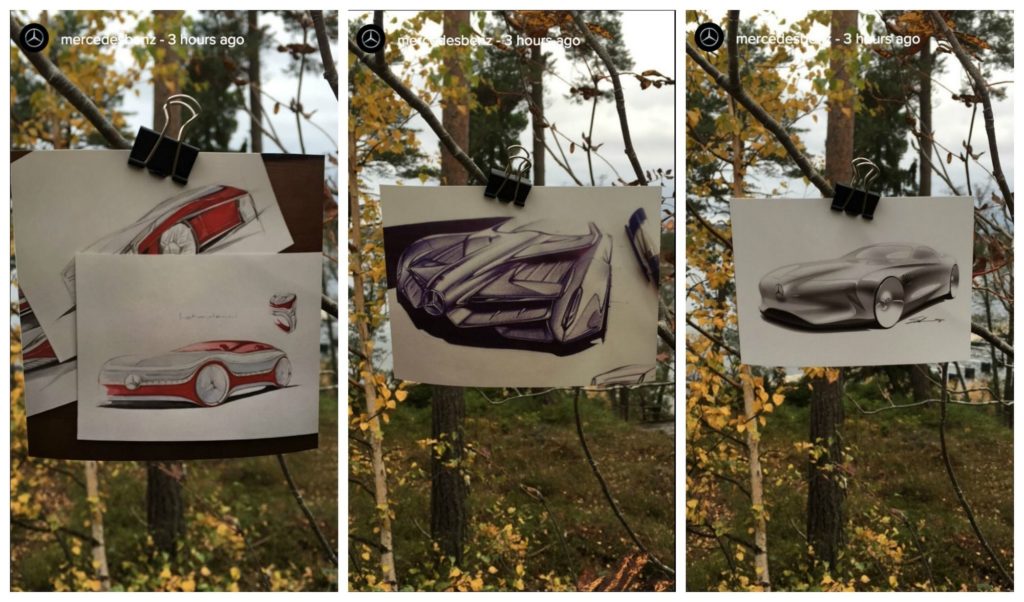 In the Instagram story above, Mercedes shared exclusive concept drawings to build hype around the new car class they presented at an expo in Stockholm. Over the summer, JCrew used Instagram stories for an exclusive, one day only pre-sale of their new new line of sunglasses.
You don't have to do it on that scale (though you totally can!)
Use Stories to remind followers about a webinar you are running, offer sneak peaks from a product launch or run a limited time exclusive offer.
You can generate excitement in the moment without the huge time investment that goes into a traditional Instagram marketing campaign.
3. Reach a new audience
Stories let you collaborate with others and stage your own Instagram takeover! And you don't even have to develop awesome spy skills.
Find a partner in crime whose account complements yours and persuade them this is an awesome idea. Once you are both ready, snap a pic or make a short 10 second video, send it to each other and upload it through your Instagram Stories.
Now your followers (and their followers) get to hear from an account that's similar to the stuff they already love. It's a win-win.
You get exposure to a new, engaged audience and they get to check out an awesome new account.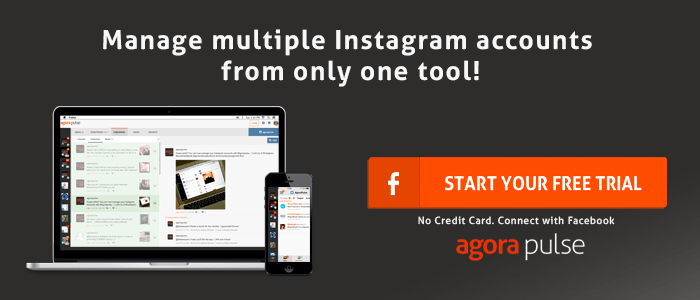 Some non-traditional uses for Instagram Stories
And, that's not all you can do! If you want to share a video and don't have time to use Periscope or Facebook Live, why not use Stories instead?
You can use the video feature to:
Share exclusive product details
Do power interviews at events
Answer quick questions from your audience
Ask your followers questions
At the start of November, Instagram began testing a brand new feature that can revolutionize your CTAs. It now allows verified accounts to add an external link in Instagram stories. To visit it, you simply have to swipe down.
Traditionally, you can only link to your website in your bio. Now, you'll be able to create specific CTAs that can take your followers anywhere.
The possibilities are limitless.
Related Post: A Secret Hack to Help You Publish Instagram Stories From Your Desktop
A helping of fun with your Instagram marketing
Instagram Stories are a fantastic opportunity to experiment and engage your followers in a new way. So have fun with it. Share some behind the scenes footage. Answer questions. Take your followers on adventures.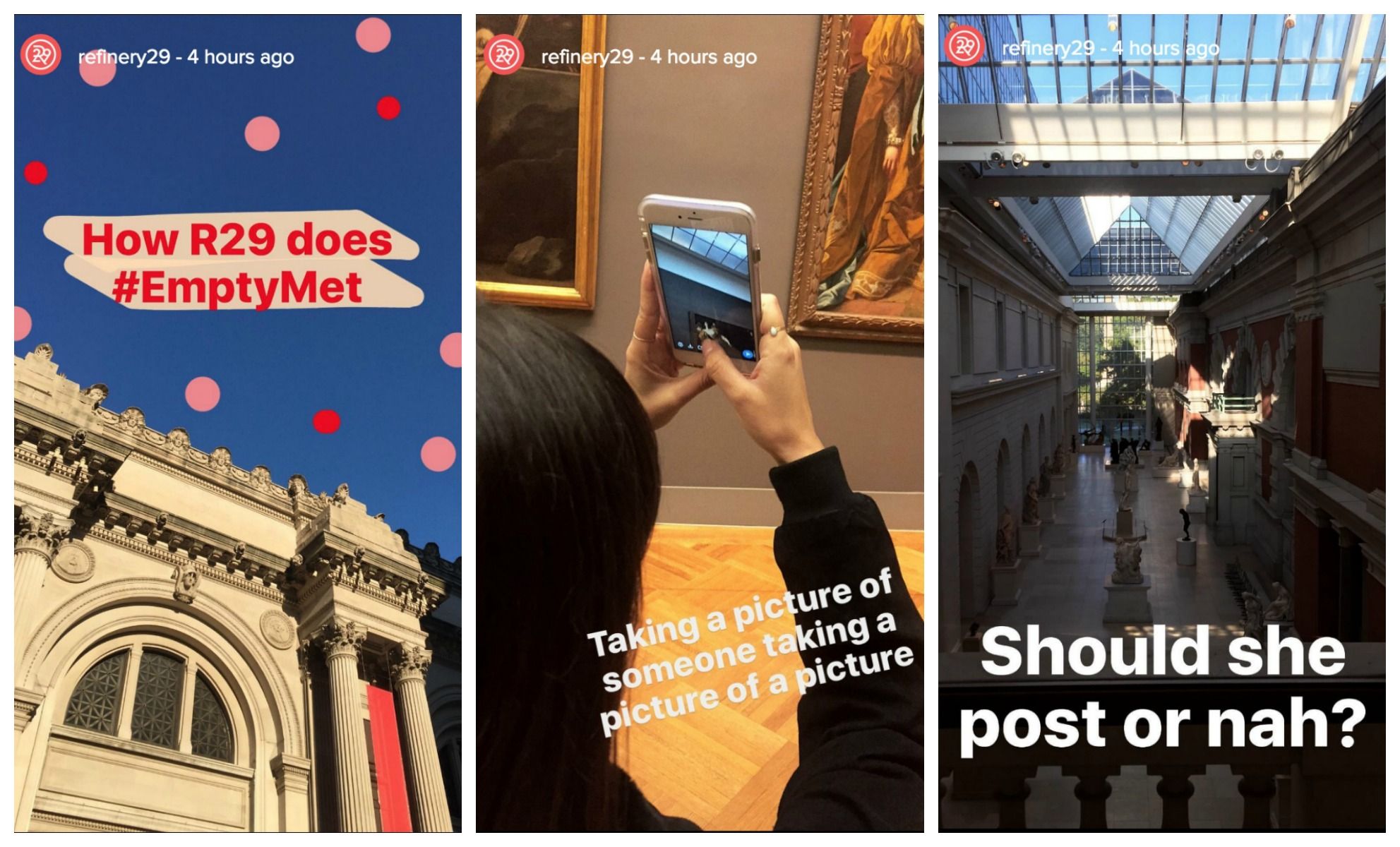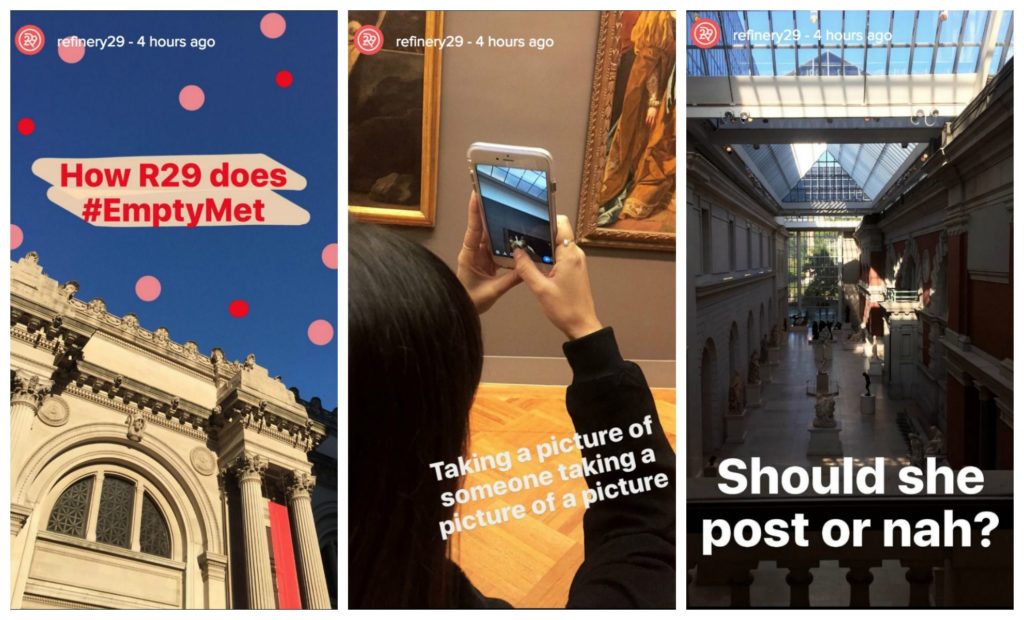 It's a simple, effective way to put the fun and human into your social media marketing! (If you follow Agorapulse on Instagram, you can catch a Story from them from time to time.)
Do you use Instagram Stories? Are you tempted to try? Do you have a favorite Story so far? Let me know in the comments!