Let's take a quick break from our planning for 2019 to reflect on the different social media management features that Agorapulse launched in 2018 that helped make managing social media easier and more efficient. (You may discover a feature that you overlooked during your busy workday.)
January 2018
Queue Categories
We start 2018 with a game changer for social media managers — the ability to queue your posts according to publishing categories.
Users now can sort their publishing queues according to topic or type. Want all your photo posts to go out on Thursdays at 9:15am? Need your social proof tweets to publish on Mondays, Wednesdays, and Fridays? Set up these categories, and make that magic happen each time you upload your content to Agorapulse.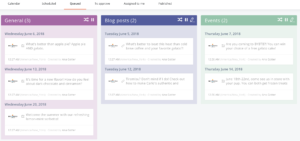 Our social media influencer friends share real-world examples of how they used these queue categories.
Bulk Upload
Imagine how easy and time-saving that filling in all the queue categories with one upload of a CSV file could be. That's what we thought that social media managers would want— so we create the bulk upload feature.
Share your filled-in CSV with your team for approval then upload it to your publishing calendar. BAM! You now have tons of preapproved content ready to publish when you tell us to do so.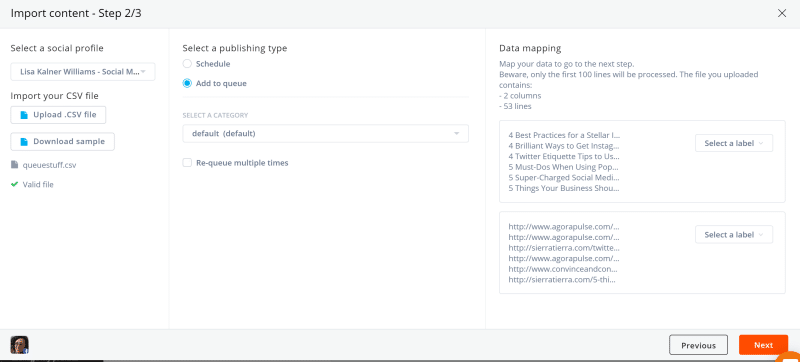 Community managers often want to take public conversations offline. (You probably can think of examples from your own experience.)
The option to reply in Private Message (Facebook) or Direct Message (Twitter) is perfect for when you want to talk to a user without the whole online world listening in. Conversely, switching to PM/DM mode allows some users to speak more openly when they know solely you are listening.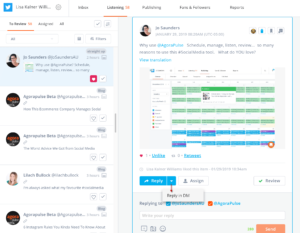 February 2018
RSS Bulk Upload
Bulk upload content that you don't have to create! Simply plug in the RSS feeds of your favorite blogs, podcasts, and YouTube channels, then select which content from those sources you'd like to share with your audience.
You now have an abundant amount of content in a flash.
Our CEO Emeric Ernoult was able to upload 20 tweets in 45 seconds using this feature.
Instagram Direct Publishing
Originally an Instagram writer for Agorapulse, I have been here for four years so far, and I can tell you that this was the number one request of my time with the company. Busy social media managers wanted to "set and forget" their scheduled Instagram posts.
So, when the Instagram API permitted this functionality, we do everything possible to bring this to our users. (We even beat some of the bigger tools out there to make Instagram direct publishing happen!)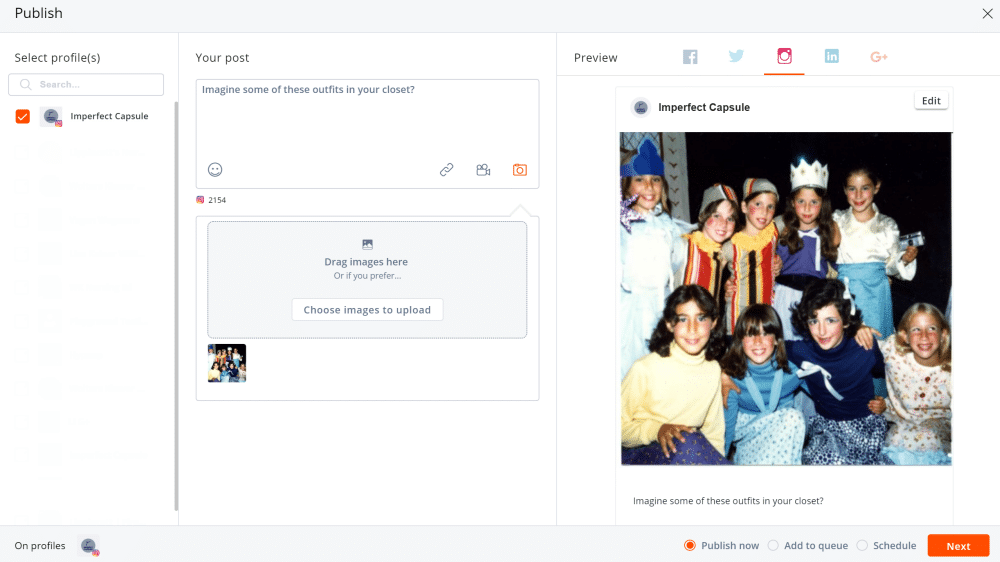 New Mobile App
The infrastructure of our mobile app (iOS and Android) gets an overhaul to now support a host of features we release.
(If you haven't been on the mobile app lately, you should. We now have view-only reports in addition to our inbox, monitoring, and publishing features.)
March 2018
Inbox UI Revamp
We re-align our inbox functions to make managing your profiles' comments, mentions, ad comments, and messages even easier.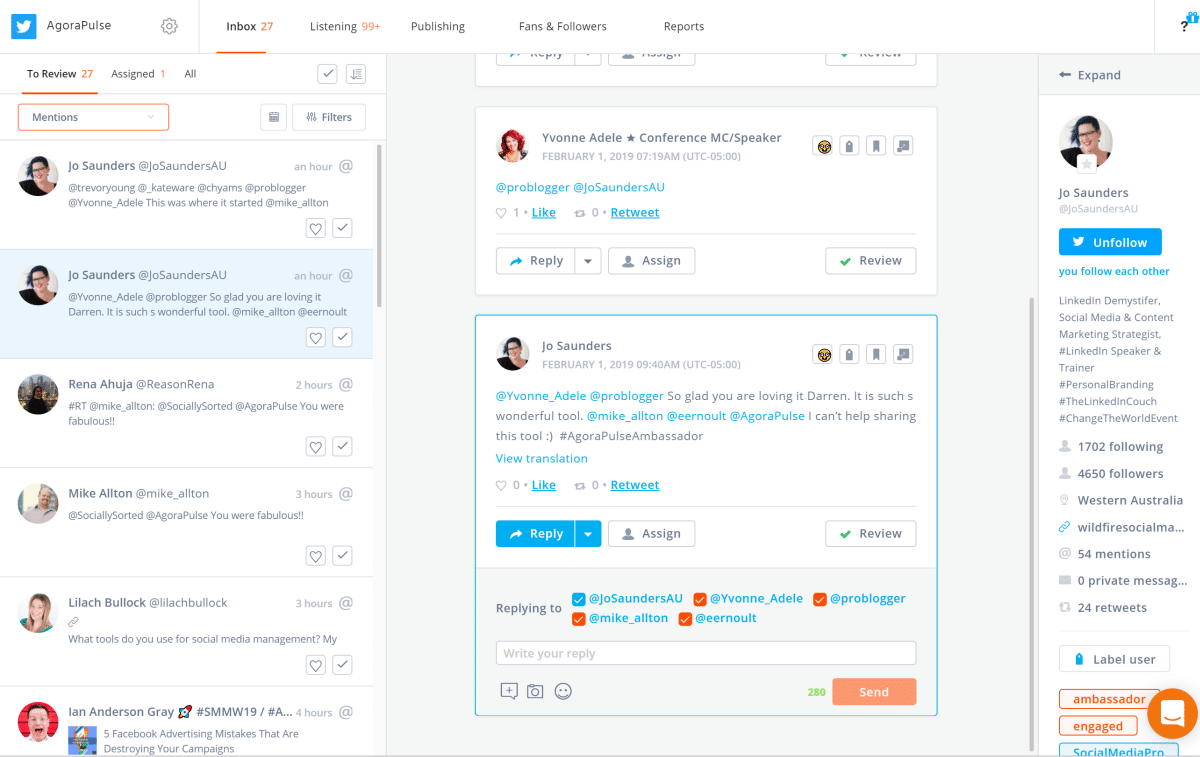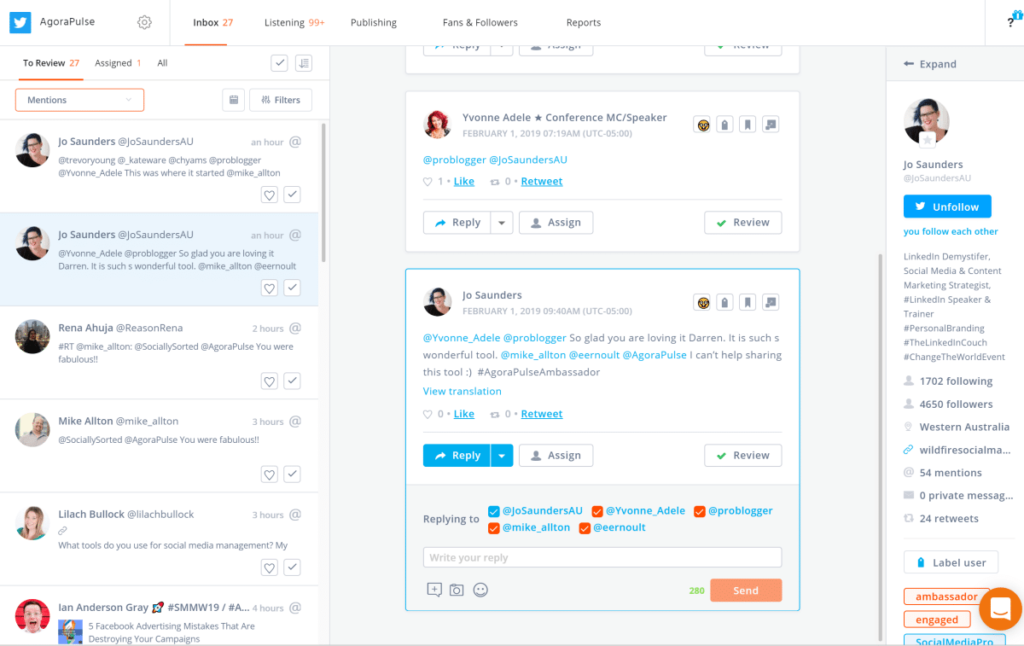 Image Bulk Upload
Now that Instagram direct publishing is in place, we want to make scheduling many image posts easy for users.
Image bulk upload is born: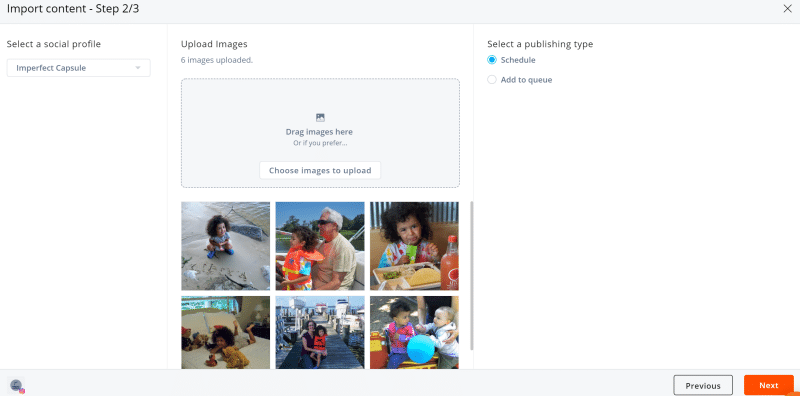 April 2018
YouTube Comment Premoderation
With comment premoderation, you are the gatekeeper of comments before they appear beneath your YouTube videos. Comment premoderation is a great tool to stop any PR crisis before it can develop any further.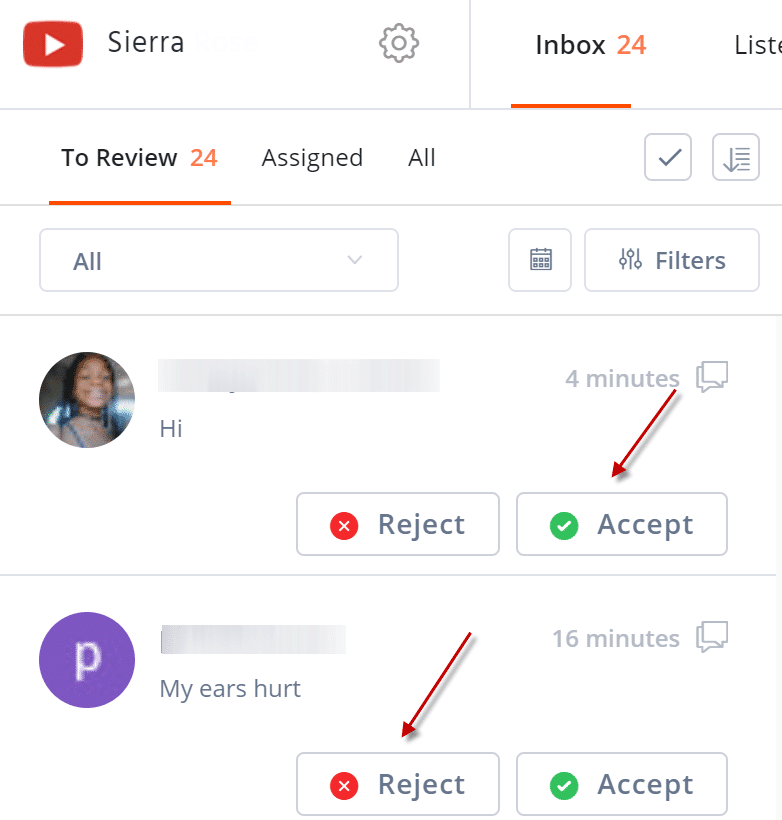 End of Facebook Apps
Agorapulse began in 2011 as a Facebook app. Since then, we've blossomed into an all-in-one solution for several top social media networks. We now bid farewell to those apps, so we can focus 100% on the most-used features in our social media management tool.
May 2018
Facebook Groups Publishing
We are thrilled to offer marketers the ability to publish to Facebook Groups. Moderators especially love the ability to regularly schedule community guideline announcements to their groups.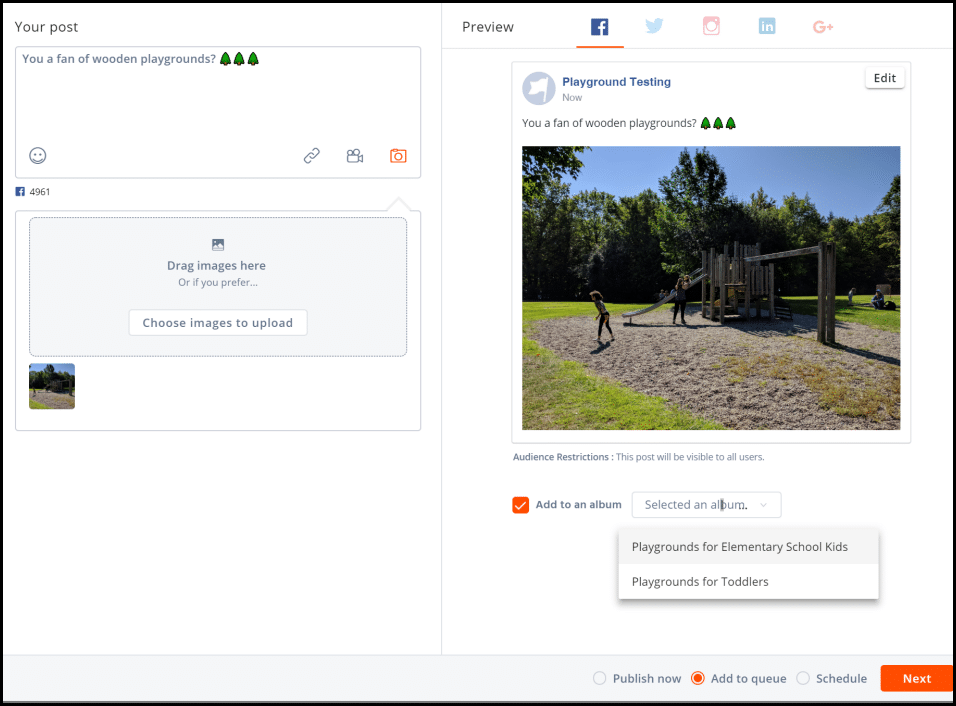 June 2018
Email Login Option
To give existing users (and potential new users) more flexibility in connecting to Agorapulse, we add an email/password option to our sign-up and log-in pages.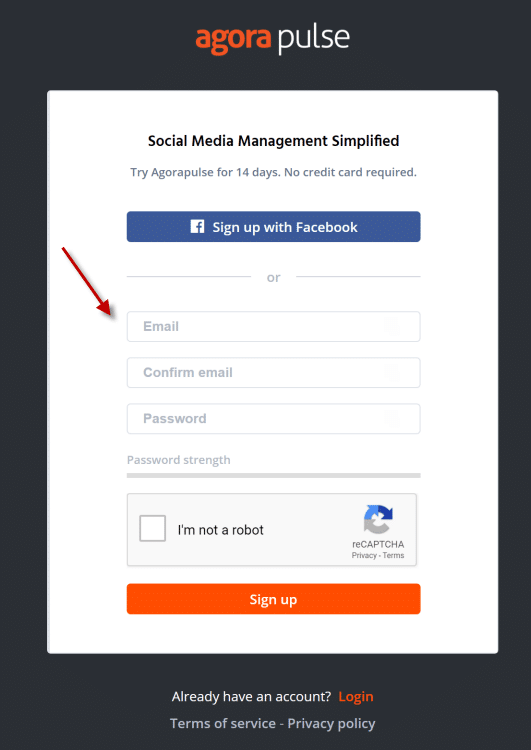 Global Bitly Integration
Marketers can more easily track click-throughs. We extend our Bitly integration to Facebook, Twitter, and LinkedIn.
July 2018
Internal Notes in Private and Direct Messages
Teammates can now leave internal notes to each other. Doing so allows teams to provide more efficient customer service — a win-win for customers and businesses alike.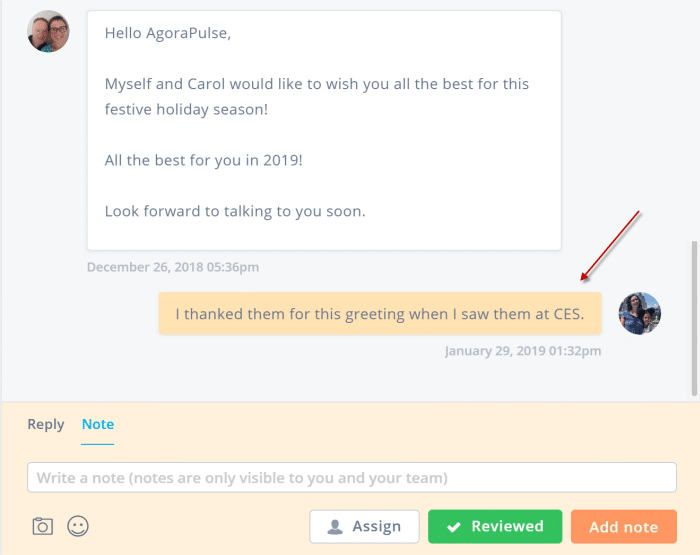 UTM Tracking
A month after expanding our Bitly integration, we let users create UTM parameters to track users who go from their social media posts to their Website.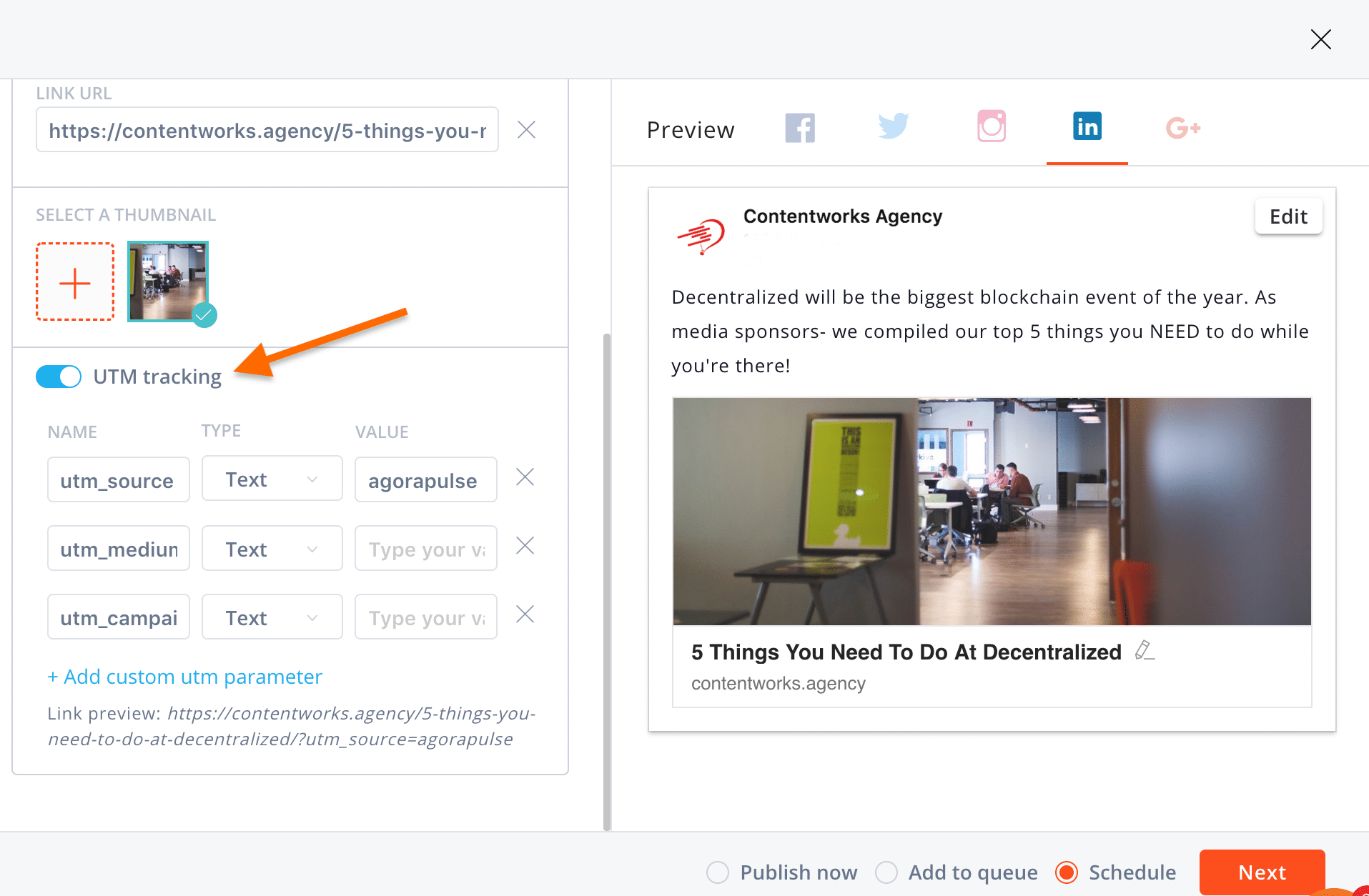 August 2018
LinkedIn Web Reports
August is a great month for adding more LinkedIn functionality.
First, we add viewable Web reports for Company Pages.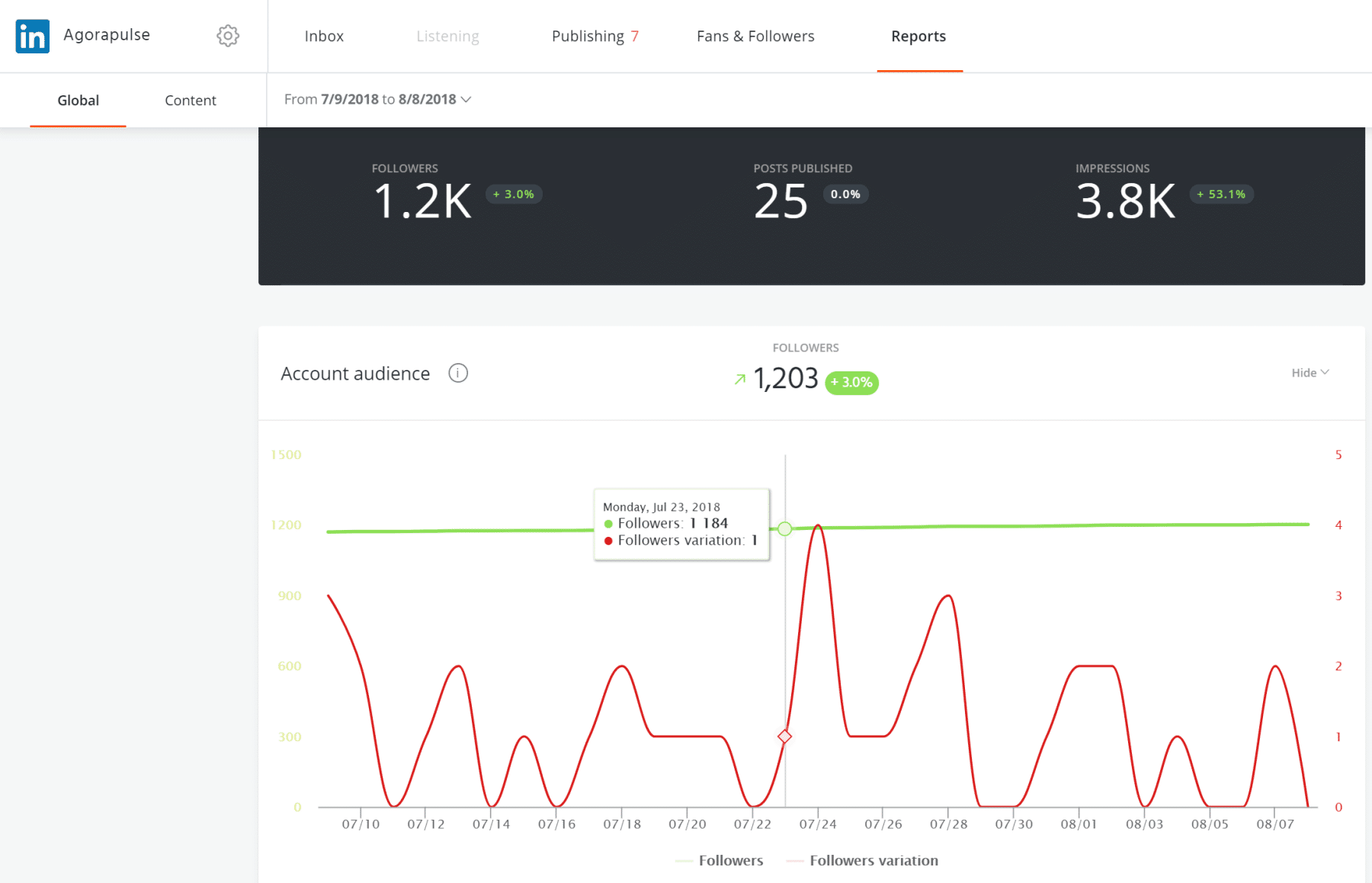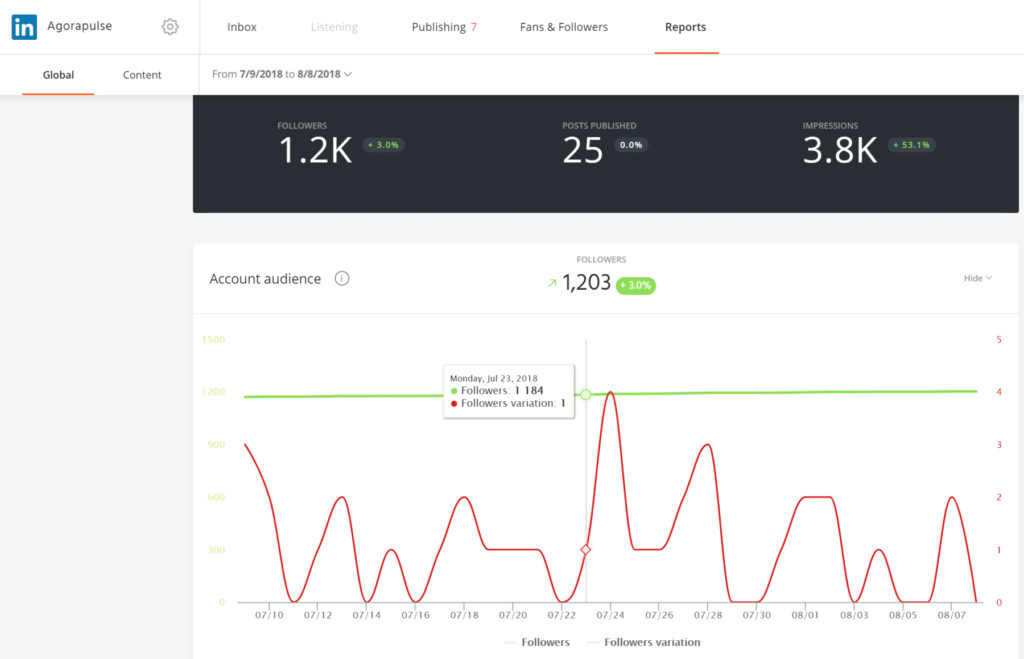 LinkedIn Inbox
Second, we bring you a crisp inbox to manage all the comments on your profile and Company Page posts.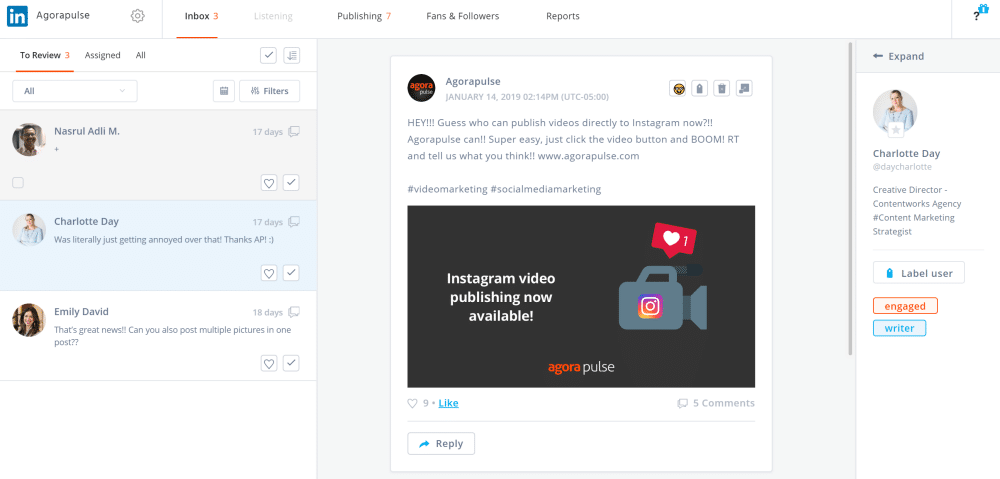 (Those changes are in addition to the LinkedIn publishing features we already offer for profiles and Company Pages.)
Multiple Ad Accounts Support
In non-LinkedIn releases, we provide you a way to easily link more than one ad account to each of your Facebook and Instagram profiles. (As you might know, you can monitor Facebook ad comments and Instagram ad comments right in your inboxes.)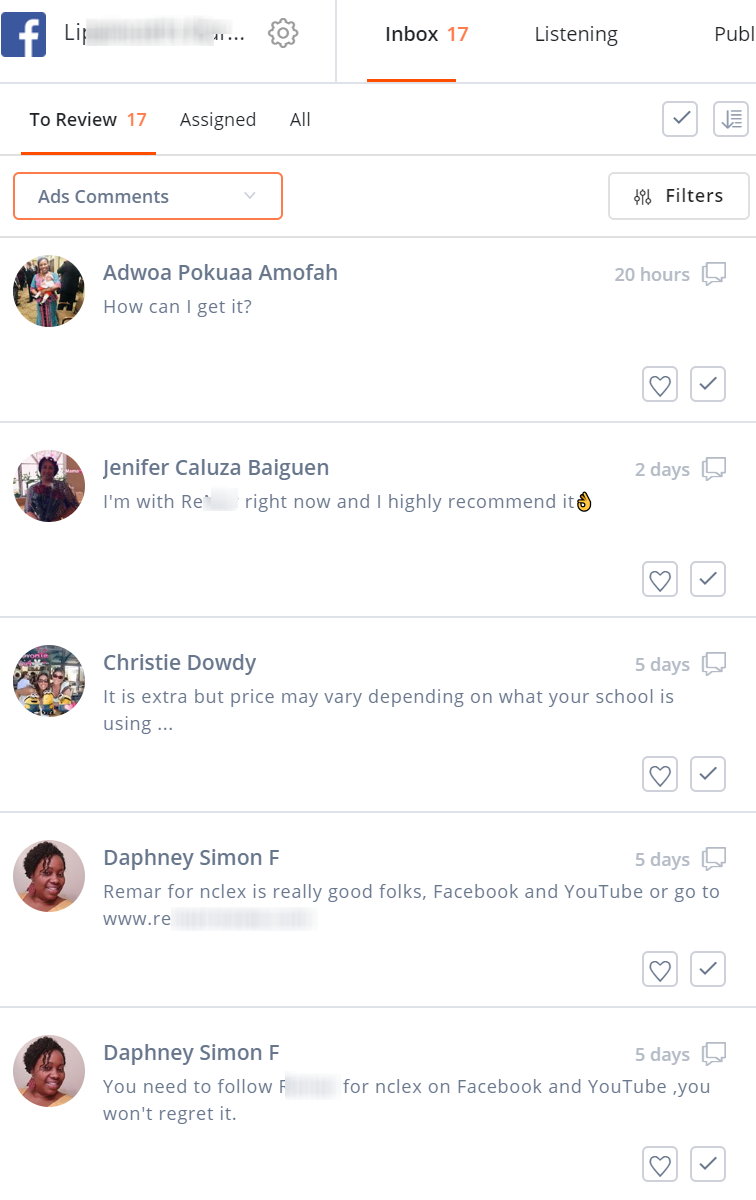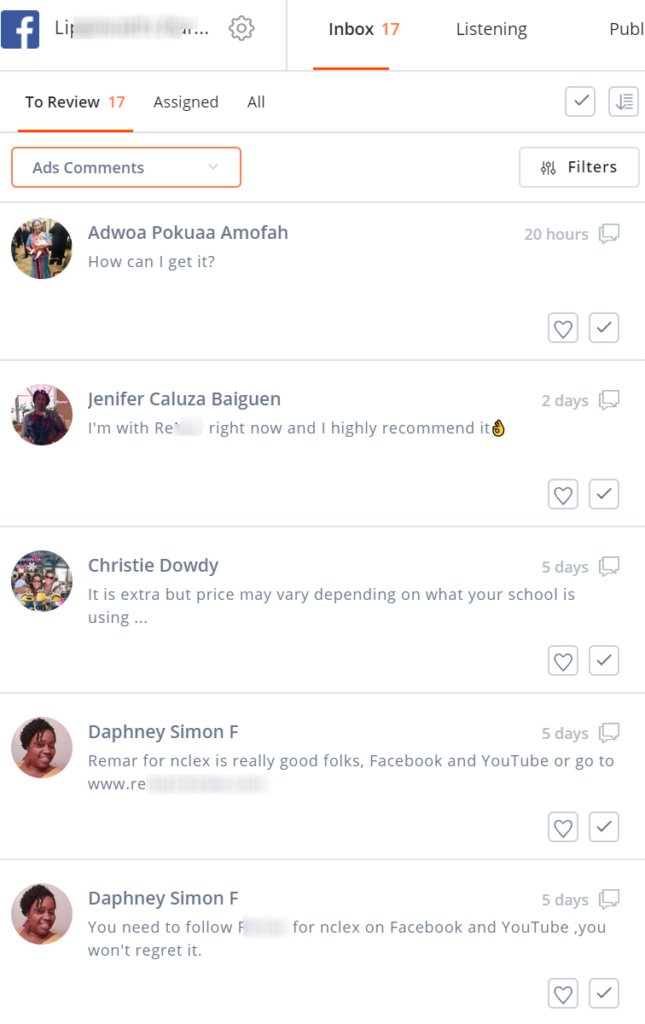 September 2018
Instagram API Changes
Instagram business profiles are allowed more functionalities than personal profiles — all in preparation for the upcoming API restriction of personal profiles. Fortunately, that restriction impacts very few of our awesome customers.
Inbox Assistant
We rehaul one of our most killer (yet somehow highly underused) features. If you use our moderation rules, you soon see them named Inbox Assistant.
If you never use moderation rules on Agorapulse, you should try the Inbox Assistant today. It's a near-seamless way to automatically funnel key inbox items to teammates, bookmark other inbox goodies for later use, or delete from your posts.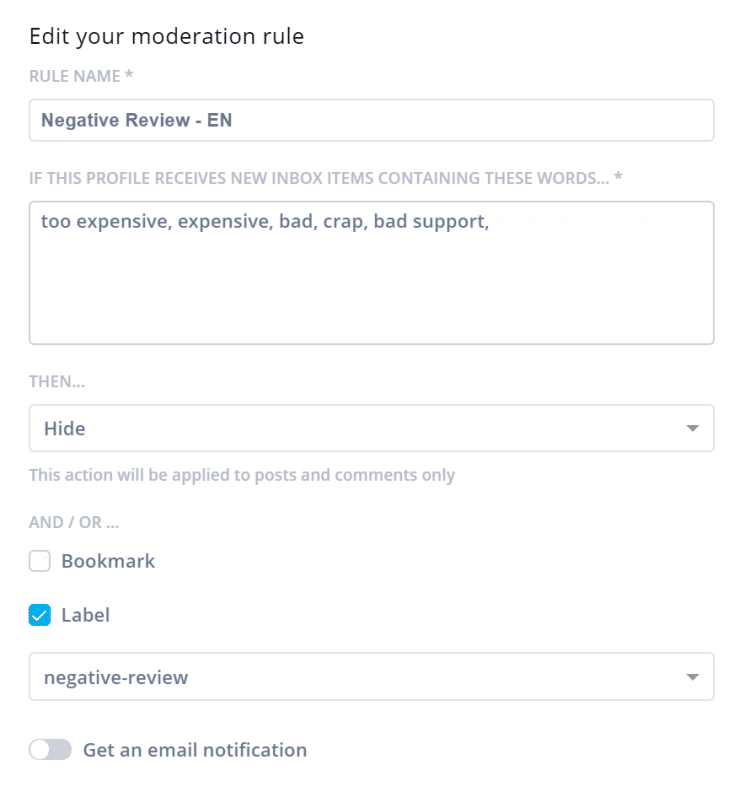 We've put together this list of Inbox Assistant hacks to keep your incoming conversations well organized.
October 2018
Calendar and List Views Revamp
With so many more ways to publish on Agorapulse, we want to make sure you easily see which types of posts go out when. So we redesign the calendar views for simpler viewing and retrieval: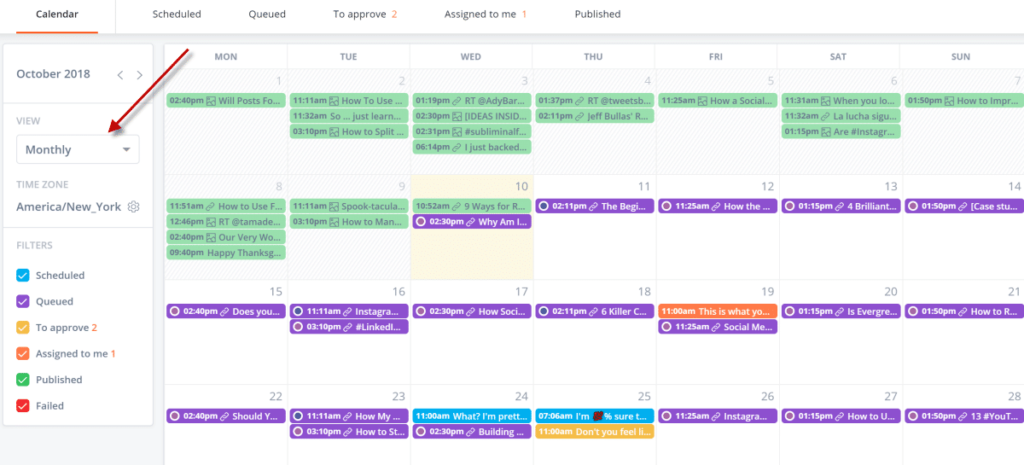 Report YouTube Spam
Choose not to use the YouTube comment premoderation feature we launched in April? Then you can use our newly released "report as spam" feature to tidy your video comments feed.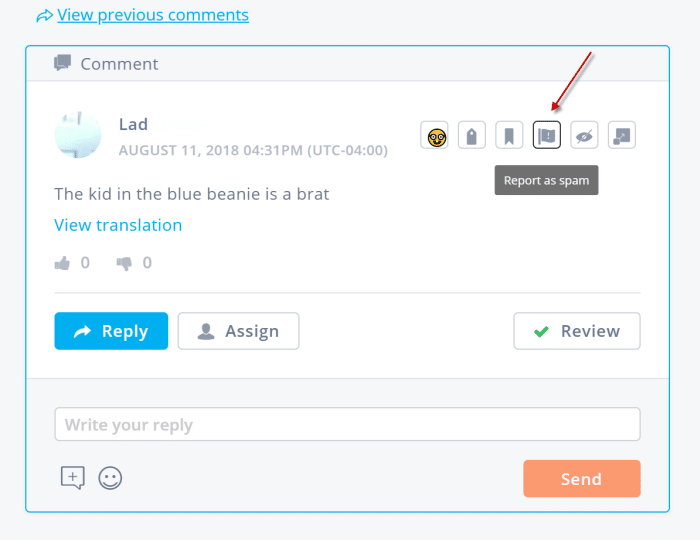 (If you struggle with not-so-great comments on your YouTube videos, this post on dealing with YouTube trolls might help.)
LinkedIn PowerPoint Reports
Users can now download unlimited LinkedIn reports to track the progress of their Company Pages.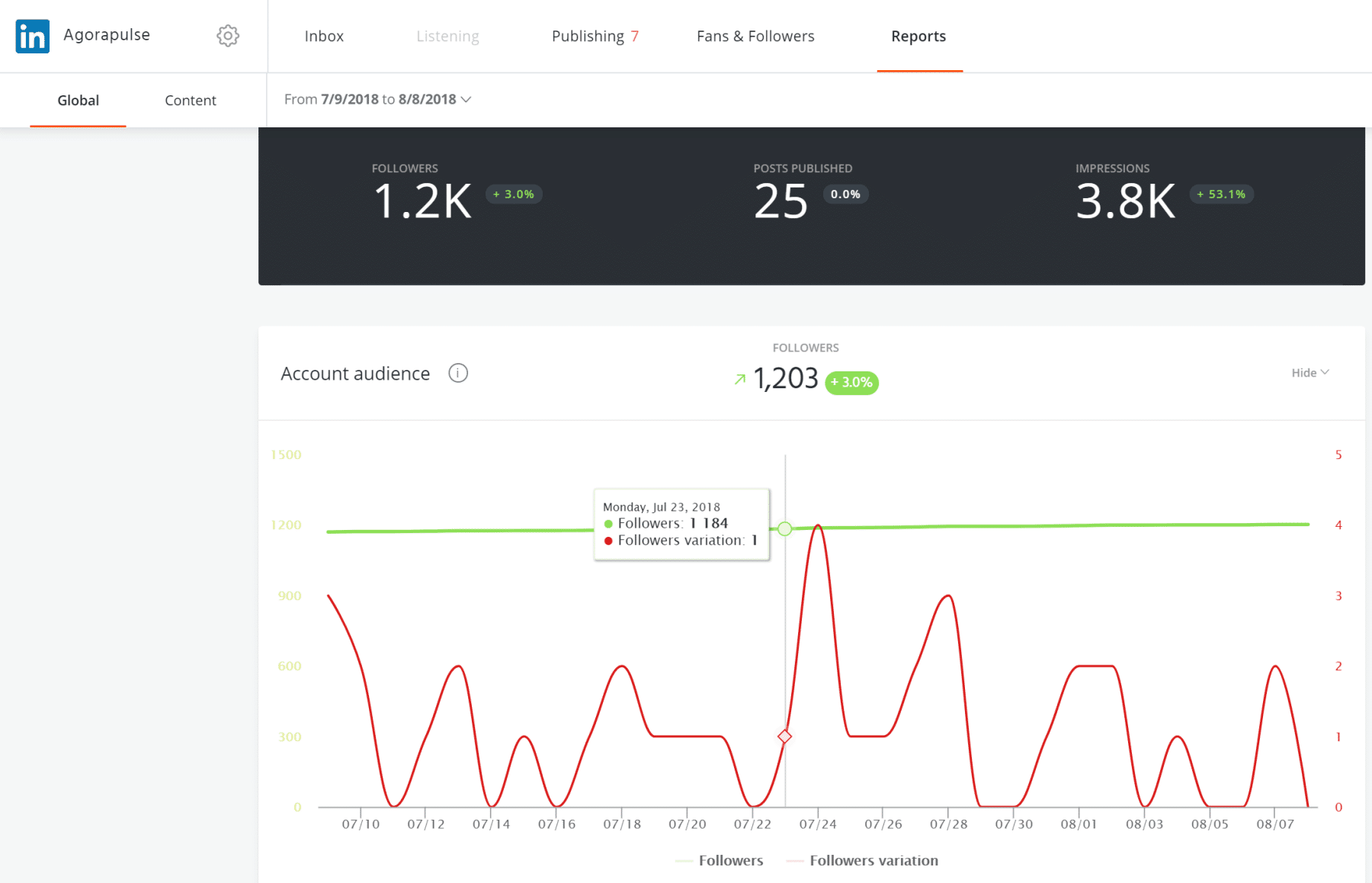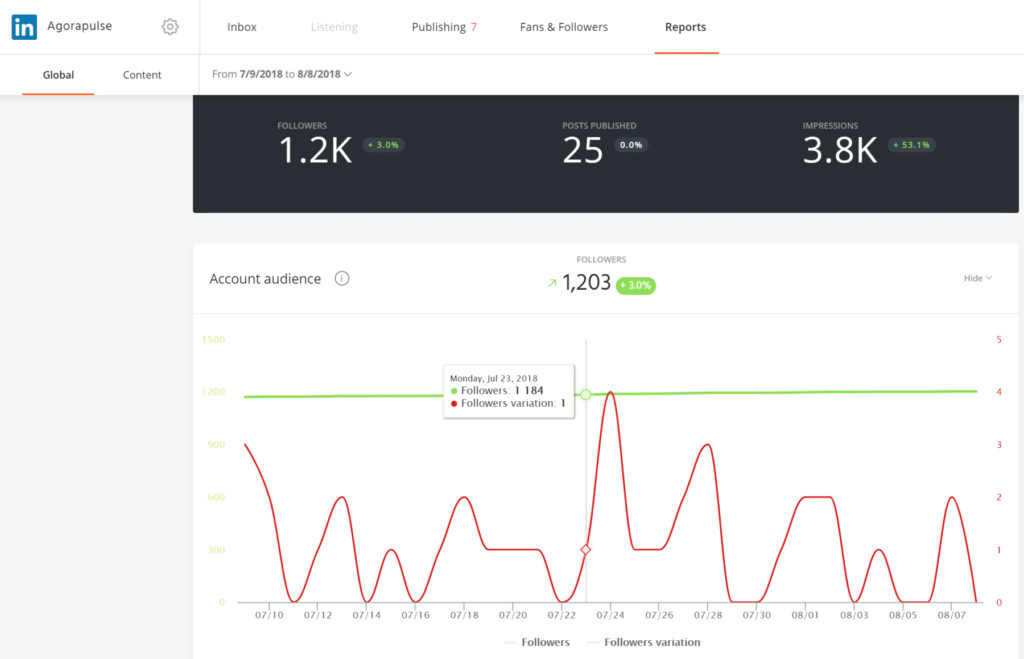 November 2018
Date and Time Format Customization
Many of our customers have worldwide teams. So, we've allowed each team member set their time and date to the way they prefer.
Want dates shown as mm/dd? Rather see your calendar start on a Monday? Make that customization happen with a simple click or tap.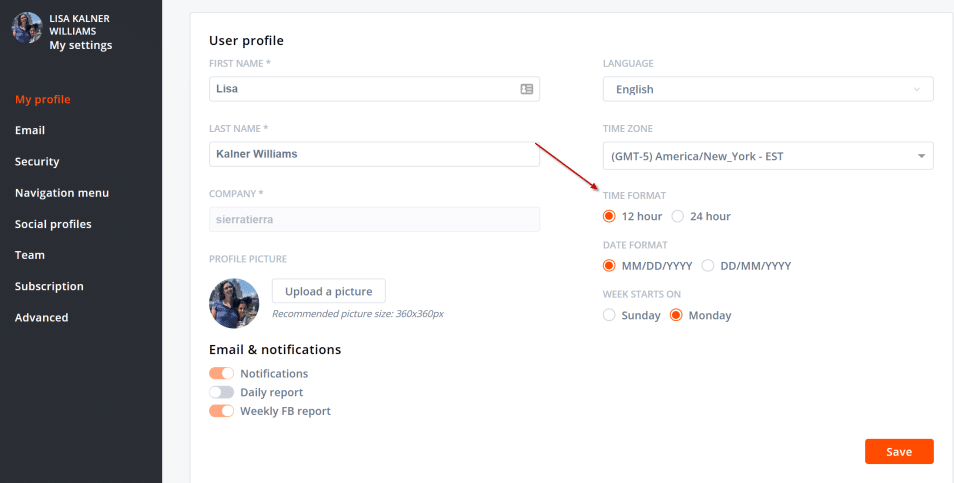 December 2019
Onboarding Upgrade
The first few steps of getting started with Agorapulse are even easier. (Sign up for a free trial and see how easy we've made it.)
Team Management Revamp
We've changed the organizational roles, so Managers can also add new team members and social profiles to the organization. (Prior to this change, only the Subscriber/Owner could perform these tasks.)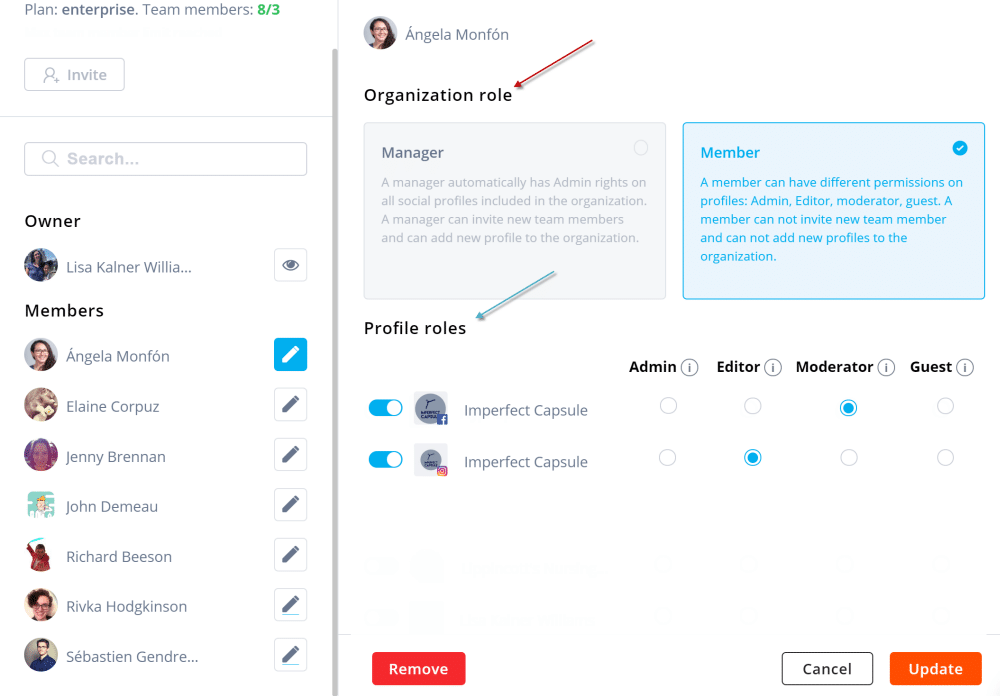 Instagram Hashtag Search Update
We concluded 2018 with more Instagram API adjustments — this time around dealing with hashtag searches.
Curious about what the API allows third-party tools to do with displaying hashtag search results? Read this Hashtag Search API article for help.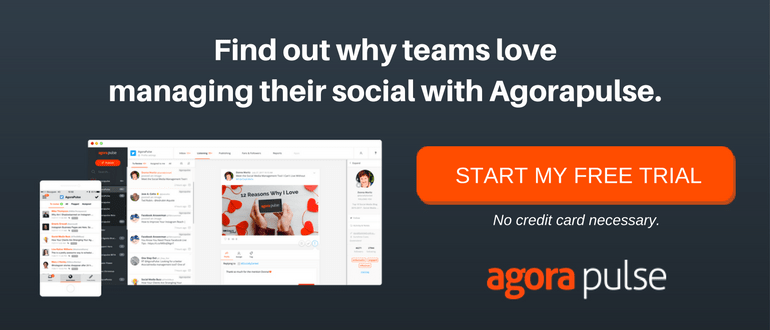 Looking back on all the features we released in 12 months is just incredible. We're not the biggest or most-well funded tool on the block — but we are the most passionate about continually updating our features to bring you an easy, streamlined way of managing your social media. In 2018, we delivered the features that social media managers around the globe wanted most.
Want a quick visual of our accomplishments? I present you with this colorful, snappy journey of our feature releases of 2018.
Want to know what we release in 2019? Find out as it happens by signing up for our Release Notes!

[/hidden_pin]