Racking up more than 30 billion (yes, with a B) views per day, YouTube Shorts are kind of a big deal. Shorts are a smart addition to your company's or clients' social media strategy if you have a thriving YouTube channel, if you're already creating short-form video for other channels, or if you're looking for new ways to connect with your audience.
So how can you get started? Find out how to make YouTube Shorts, and discover how to make this short-form video format work for your brand and your audience.
What Is a YouTube Short?
A YouTube Short is a short-form video that uses a full-screen vertical format. Shorts are similar to TikTok videos and Instagram and Facebook Reels, yet they have their own built-in audio and editing tools.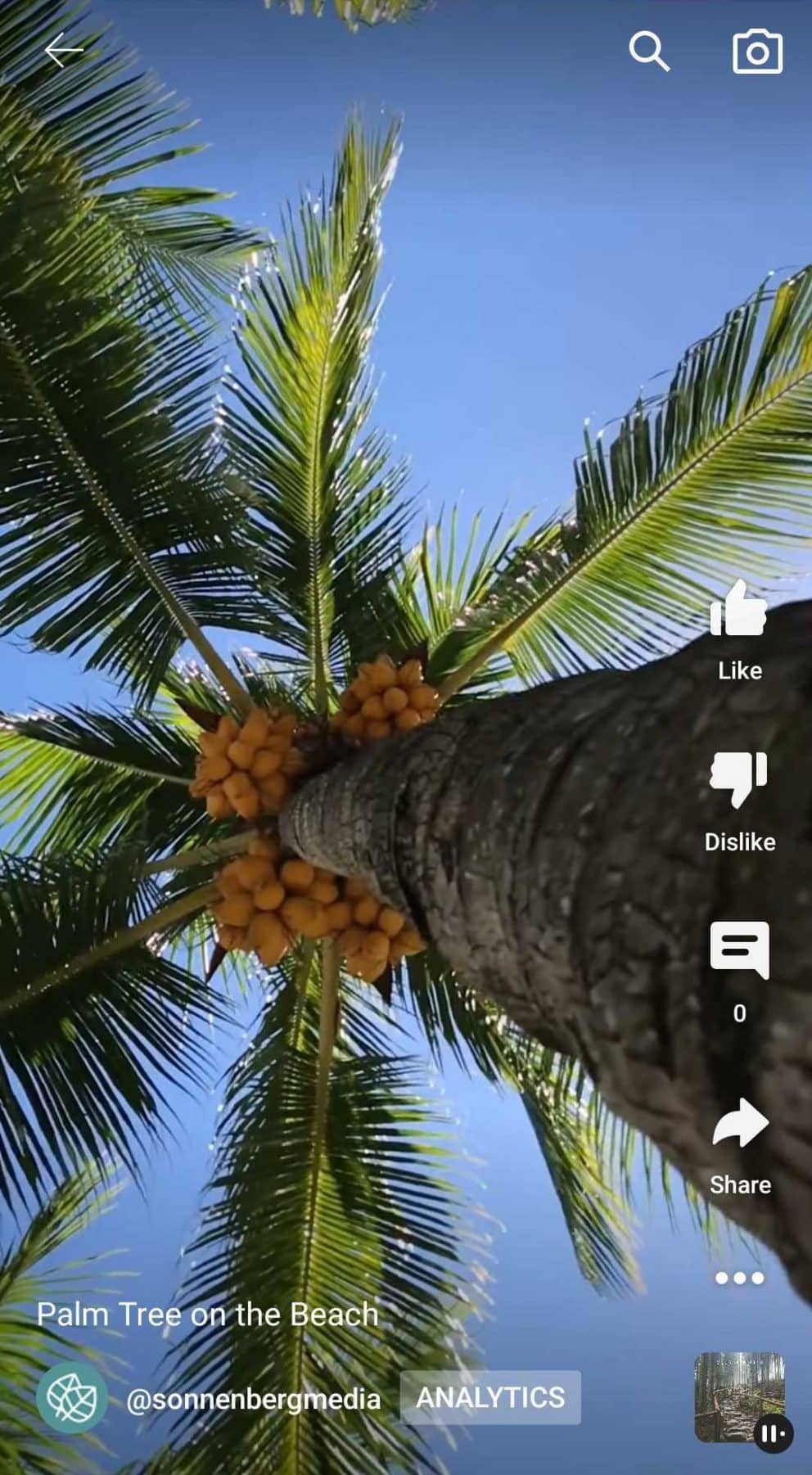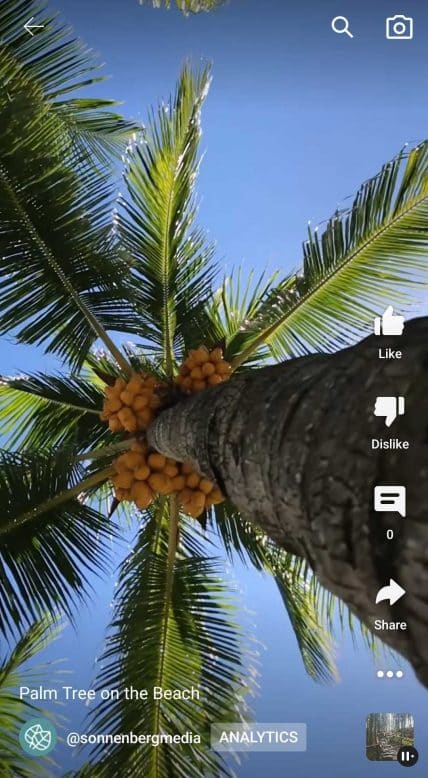 YouTube began launching Shorts in 2020, and this short-form video format debuted globally in 2021. Shorts are now widely available around the world, and YouTube displays them in their own dedicated feed.
Whether or not your team already has a YouTube channel, Shorts can be a valuable addition to your social media strategy. You can create bite-size Shorts to complement long-form videos or you can focus your YouTube content completely on short-form video.
How long are YouTube Shorts?
Shorts can last between 3 and 60 seconds. They can include a single cut or feature multiple clips stitched together.
YouTube Shorts vs. other short-form video formats
On the surface, Shorts are similar to Reels and TikTok videos. But before your team begins creating YouTube Shorts, know about a few key differences.
YouTube Shorts:
Have shorter time limits than most other social networks. Instagram Reels can last up to 90 seconds, and TikTok videos can last up to 10 minutes.
Don't support interactive stickers. So you can't ask your audience interactive questions, launch countdowns, or link out to your website using stickers.
Allow titles that automatically display and descriptions that don't. Viewers have to open the video's menu and select the description to read it.
Do allow tappable links in the description. Since the description doesn't automatically display for Shorts, click-through rates (CTRs) may be low.
Options for YouTube Shorts monetization
Like TikTok, Instagram, and Facebook, YouTube has experimented with monetization options to incentivize creators. Although the social network is sunsetting its Shorts Fund in February 2023, the revamped YouTube Partner Program (YPP) will give Shorts creators new monetization options.
Essentially, Shorts creators with at least 1,000 subscribers and at least 10 million public views in the last 90 days can now join the YPP. Starting in February 2023, creators in the YPP can earn a share of revenue generated from ads placed between videos in the Shorts feed.

How to Make YouTube Shorts
Social media managers have several options for making YouTube Shorts. You can film them in the moment, upload prerecorded clips, or use your existing YouTube videos as source material. Let's walk through all three workflows.
Produce YouTube Shorts in the YouTube app
The biggest benefit of creating Shorts in the YouTube app is getting access to the built-in editing tools. If you don't already have a preferred video editing app, then using YouTube's tools is a smart move.
Unlike long-form videos, you make Shorts directly in the YouTube app. Open the app and tap the plus sign in the center of the main menu. Tap Create a Short.
Record new content for YouTube Shorts
YouTube Shorts automatically default to 15 seconds. To create a 60-second Short, tap the time frame in the upper right corner, which toggles between 15 and 60 seconds.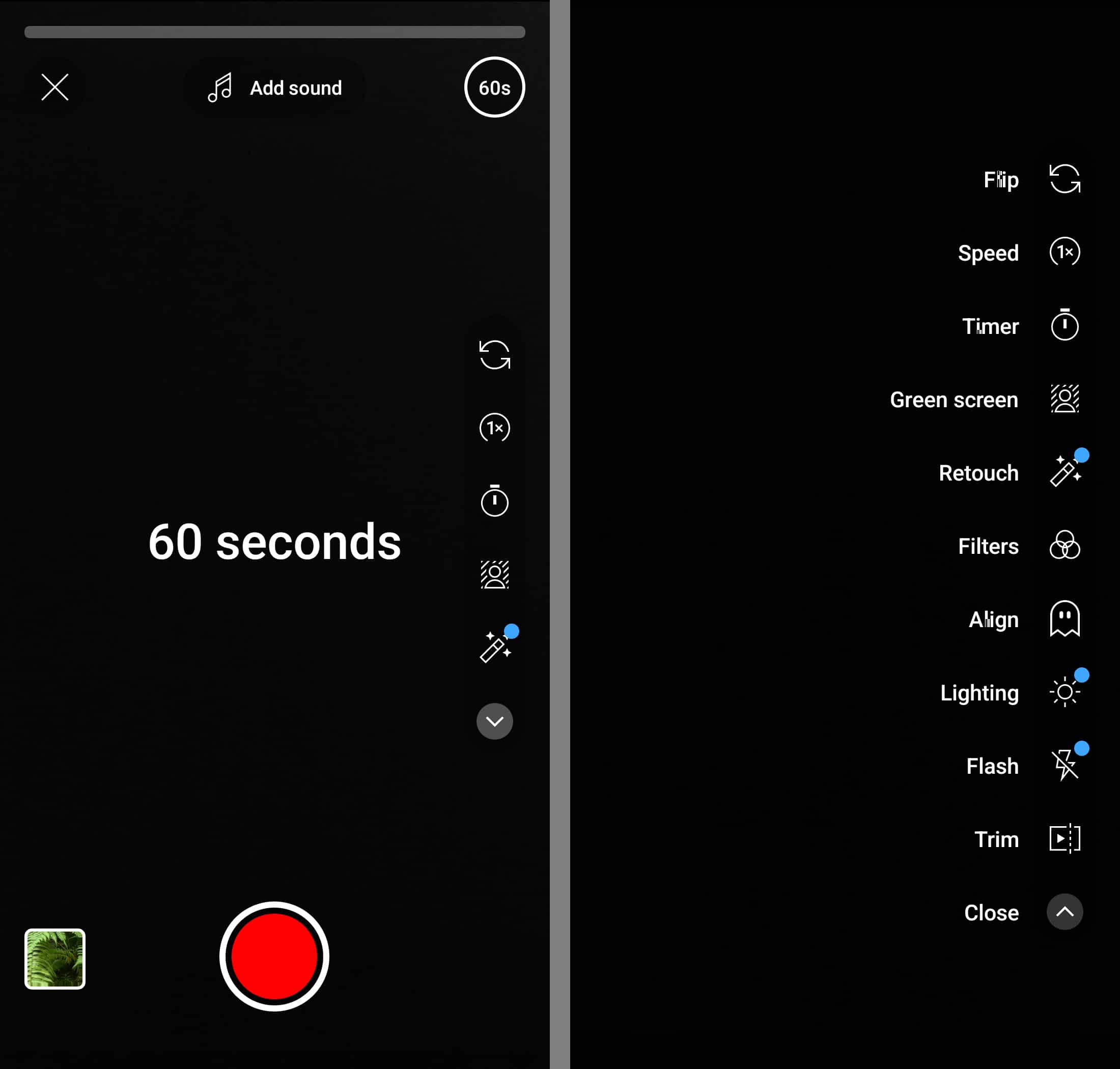 Then tap to view YouTube's content creation tools. Here's a quick overview of your options:
Flip between the back and front camera
Slow the speed down to 0.3x or speed it up to 3x
Set a timer so the app starts recording at a preset time for up to 60 seconds
Add a green screen to display behind the subject
Retouch the subject to smooth over imperfections
Add filters with preset color, brightness, contrast, and saturation settings
Adjust the light levels or add flash
You also have the option to add audio before you start recording. You'll see another option to add audio during the editing workflow.
Press the red button to start recording. To remove and re-record a clip, tap the back button. When you're ready to edit, tap the checkmark.
Use existing content for YouTube Shorts
To add existing content to a YouTube Short, use the steps above to start a new short-form video. Instead of recording, tap the gallery icon in the lower left corner. Then select a clip from your device's gallery.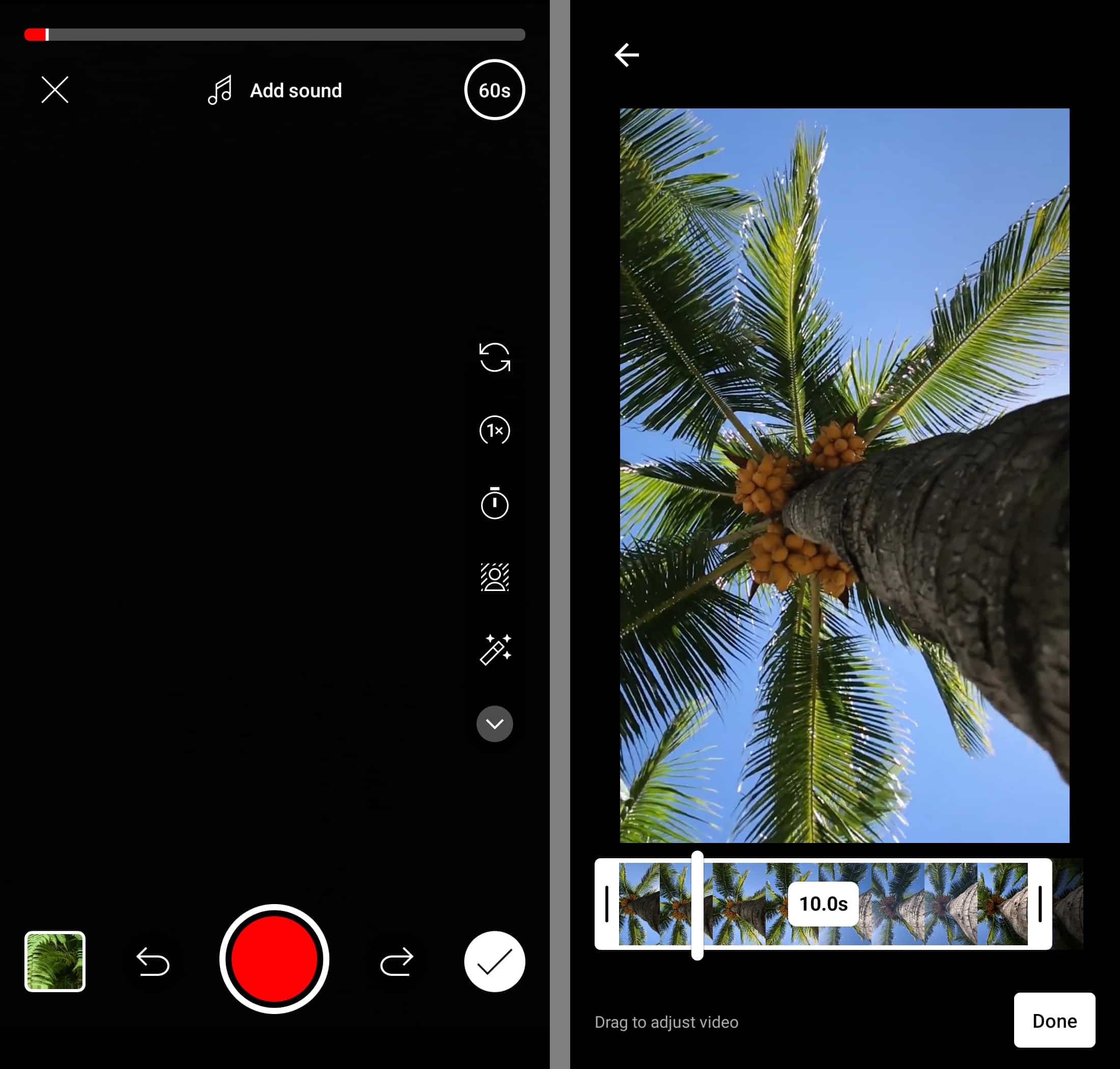 Adjust the beginning and end of the clip to get the timing right. Then tap Done to continue creating your video. You can add more clips until you reach the 60-second time limit. You can also combine premade content and newly recorded content in the same Short.
Finished? Tap the checkmark to edit your Short in the YouTube app.
Edit Shorts in the YouTube app
Compared to TikTok and Instagram, YouTube's editing tools are somewhat limited in scope. For example, the YouTube app doesn't have effects or transitions.
Here's what you can do with YouTube's built-in Shorts editing tools:
Add text overlays. You can create as many overlays as you like, using your choice of color schemes.
Apply video filters. Make your short-form content stand out in the feed with your choice of about a dozen filters.
Adjust the timeline. Display text blocks at certain time stamps by changing the settings for each overlay.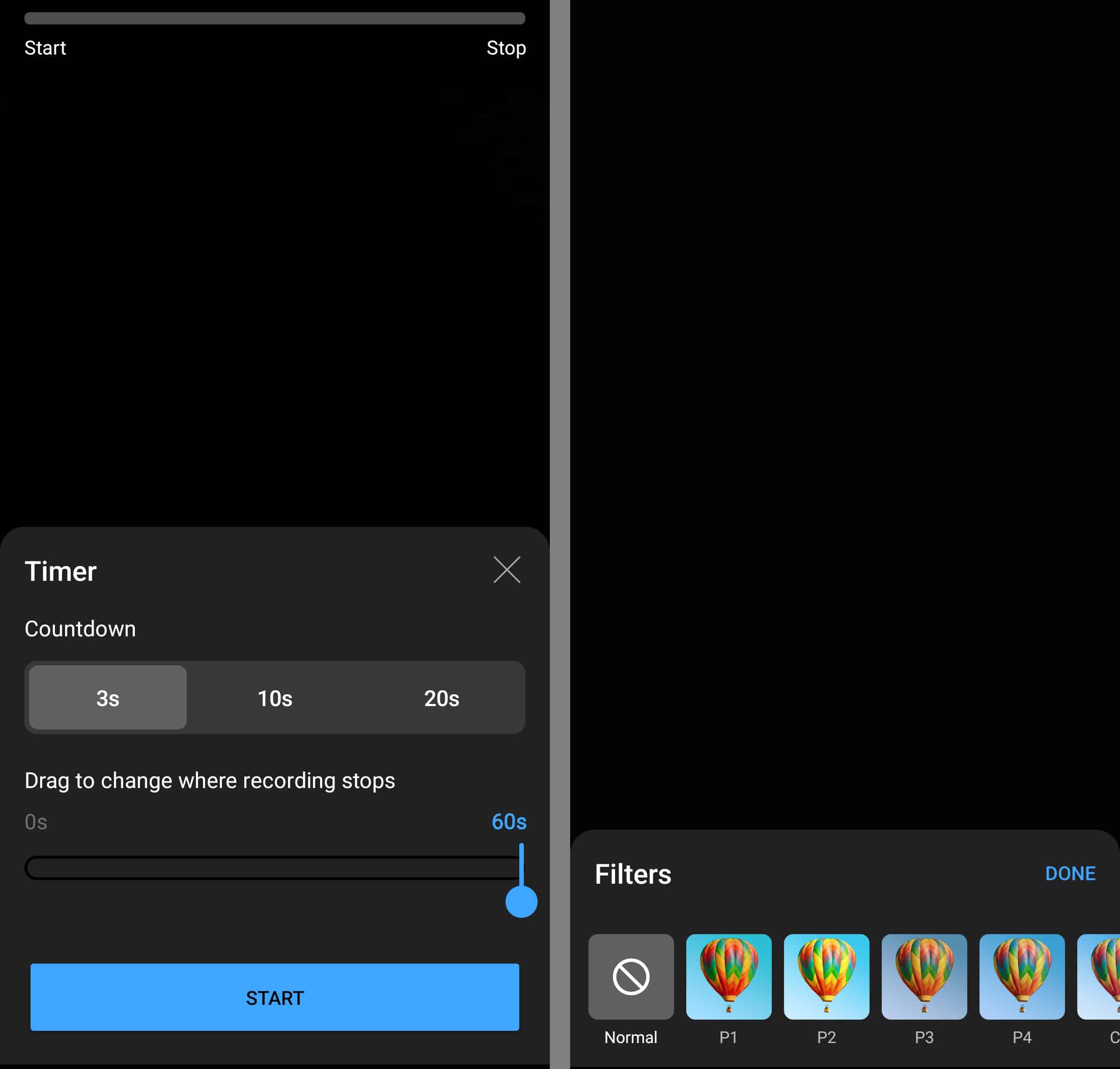 You can also choose audio tracks during the editing process. Tap the Sound button to browse the YouTube Shorts audio library.
Similar to TikTok and Instagram, the Shorts audio library displays the number of videos that already use each track to help you gauge popularity. It also lets you search or browse by genre, artist, or title so you can find the ideal track for your Short.
Create YouTube Shorts in a third-party app
Does your team already have a preferred video editing app? You also have the option to use third-party mobile apps like CapCut and InShot to produce Shorts.
Prefer producing videos with a desktop device? You can use desktop apps like Canva and CapCut to create compelling short-form videos too.
If you use a third-party app, make sure to remove any watermarks before uploading the video to YouTube. It's also helpful to use YouTube's built-in editing tools to make them unique. Like other social media networks, YouTube tends to deprioritize watermarked content or videos that aren't original—which can compromise your results.
The only downside to using third-party apps is that they don't have visual guides to help you place text and visual elements correctly. When creating YouTube Shorts, make sure to account for on-screen elements. For example, your channel name and video title appear in the lower quarter of the screen, and engagement buttons appear along the right edge.
Turn long-form YouTube videos into Shorts
Have you already created amazing long-form videos for your YouTube channel?
In many cases, you can easily repurpose them and turn them into Shorts. This option is a good idea when you want to:
Highlight key points in your long-form videos.
Promote existing content to a new audience.
Attract more Shorts viewers to your channel.
To turn long-form videos into Shorts, open the YouTube mobile app and find the content you want to repurpose. You can either search for the video or go to the Library tab, open the Your videos panel, and scroll through the list.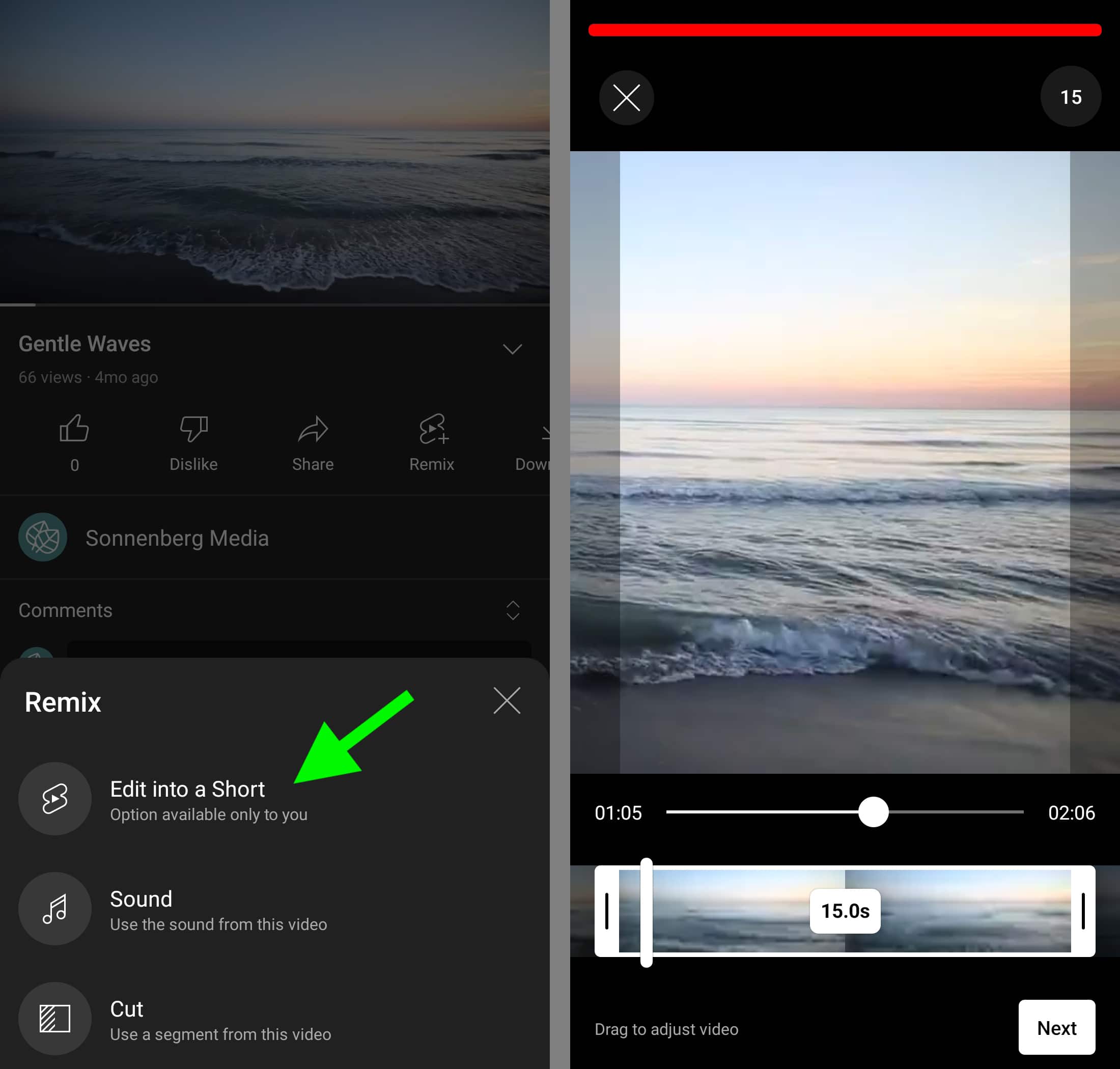 Open the video and tap the Remix button. From the menu, select Edit into a Short. Note that you can only turn your own channel's long-form videos into Shorts—so other users won't be able to access this option.
YouTube automatically resizes your video using a fullscreen vertical aspect ratio and selects a 15-second clip. Use the slider to choose a different 15-second clip. You can also shorten the clip and select less than 15 seconds—but you can't pick a longer clip.
When converting long-form videos to Shorts, YouTube typically uses footage from the center of the screen. You can drag the window left or right to show a different section. Tap the Next button when you're ready to edit.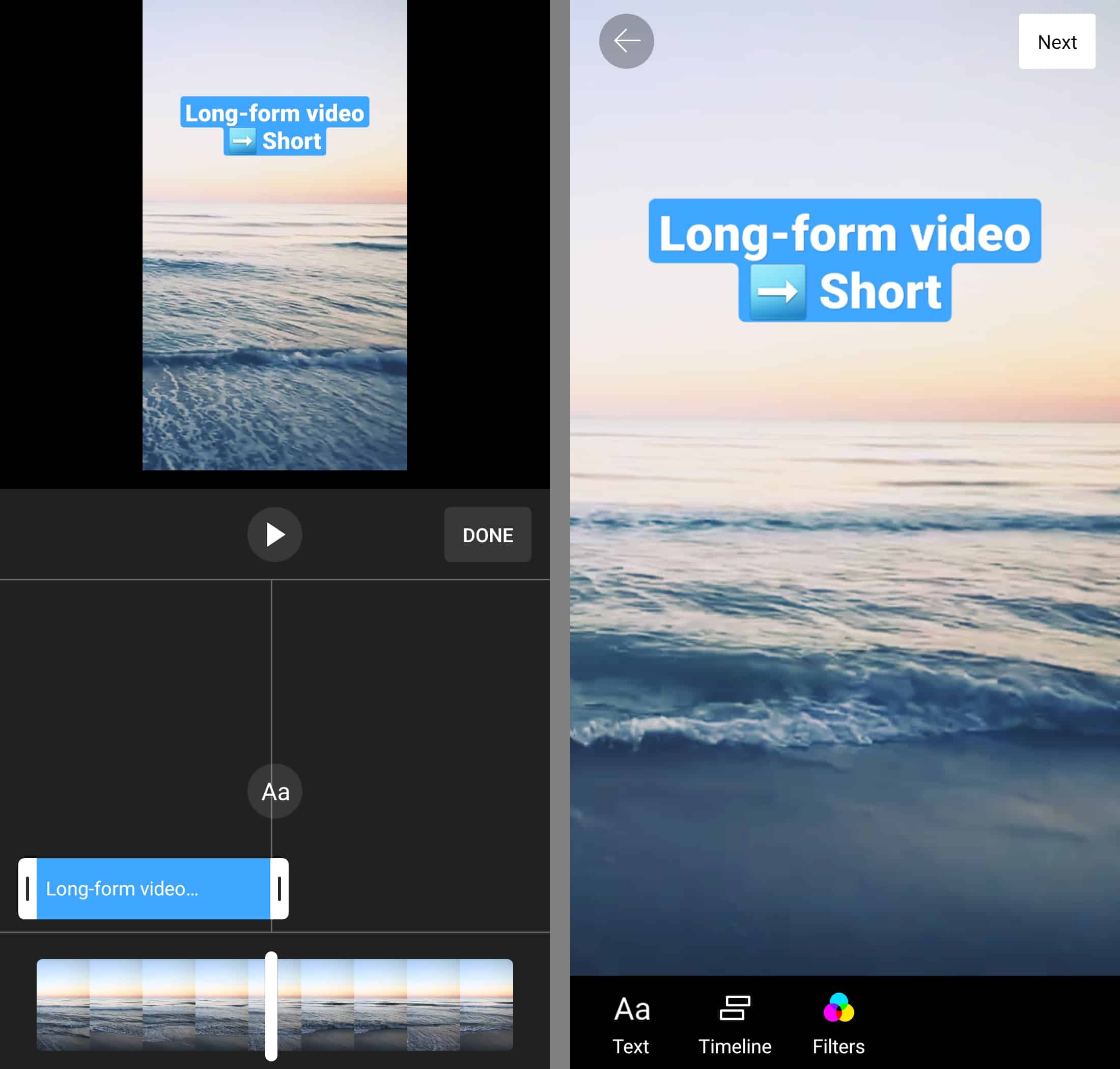 Next, use the YouTube app's editing filters and text overlays to capture the Shorts style. You get access to the same editing tools we covered above, including the timeline feature to time on-screen elements.
How to Upload Shorts on YouTube
After creating a Short using one of the workflows above, you can publish it to your YouTube channel. If you used the YouTube app to create a new Short or repurpose a long-form video, this step is easy. Tap the Upload Short button to publish to your channel.
If you used a third-party video editing app to produce your Short, you have a few other options. You can either schedule the Short or publish it right away. Here's how to do both using YouTube Studio and Agorapulse.
Publish Shorts with YouTube Studio
To publish or schedule a YouTube Short on desktop, open YouTube Studio and upload the short-form video you created. Note that when you upload a short-form video, YouTube Studio automatically identifies it as a Short and generates a Shorts link.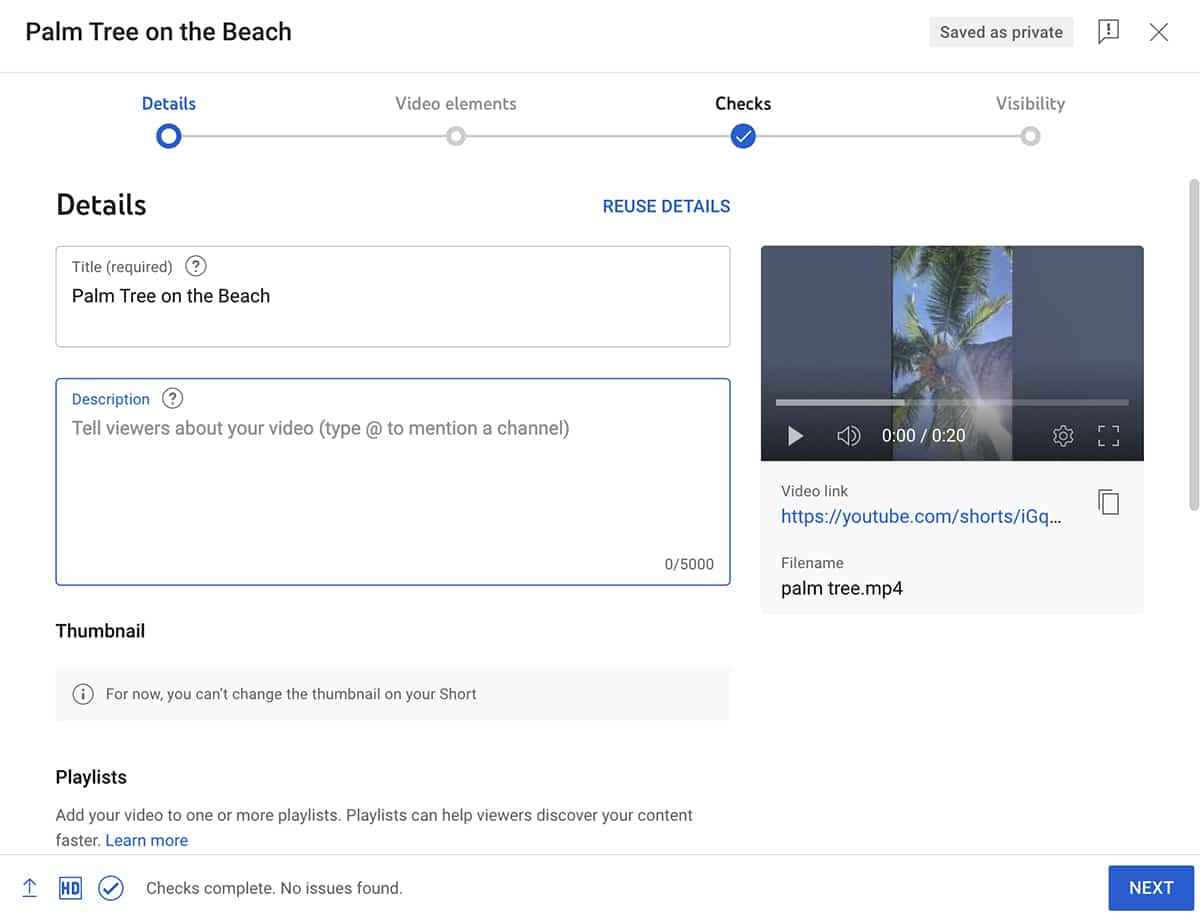 Next, give the video an eye-catching title that includes your primary keyword. See the tips section below for keyword best practices.
Then write a short description. Although the description is optional and is less visible in the Shorts feed, it's still a good idea to leverage this field. Use the space to include more context in your content, add a call-to-action (CTA), or insert a link.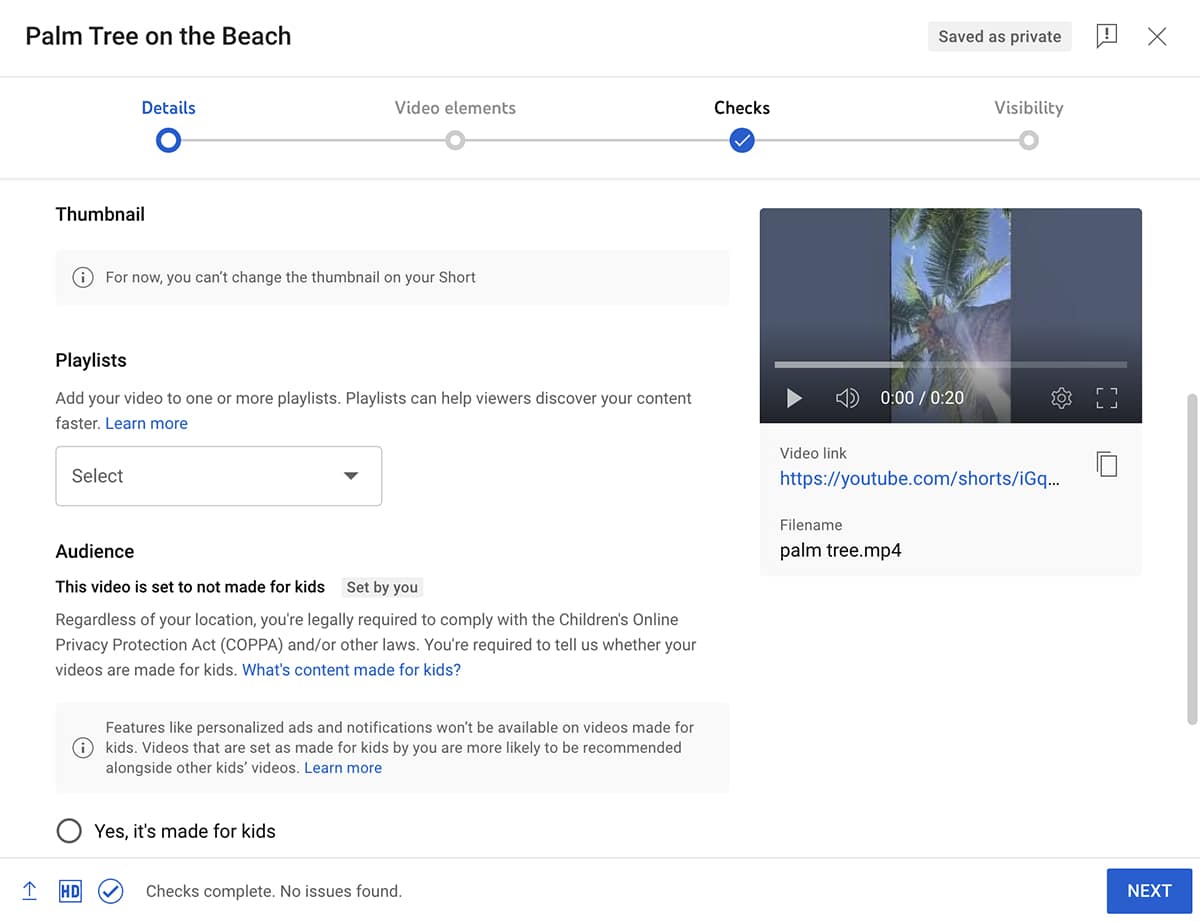 Currently (as of January 2023) YouTube Studio automatically selects thumbnails for Shorts and doesn't allow you to pick one manually. However, you do have the option to include the Short in a YouTube playlist or add tags and locations.
It's also a good idea to add subtitles to Shorts that include narration or dialogue. You can either upload a caption file or input them manually.
Then you're ready to publish or schedule the Short. Select Public to publish the video to your channel instantly. Otherwise, click Schedule and pick the date and time when you want the video to go live.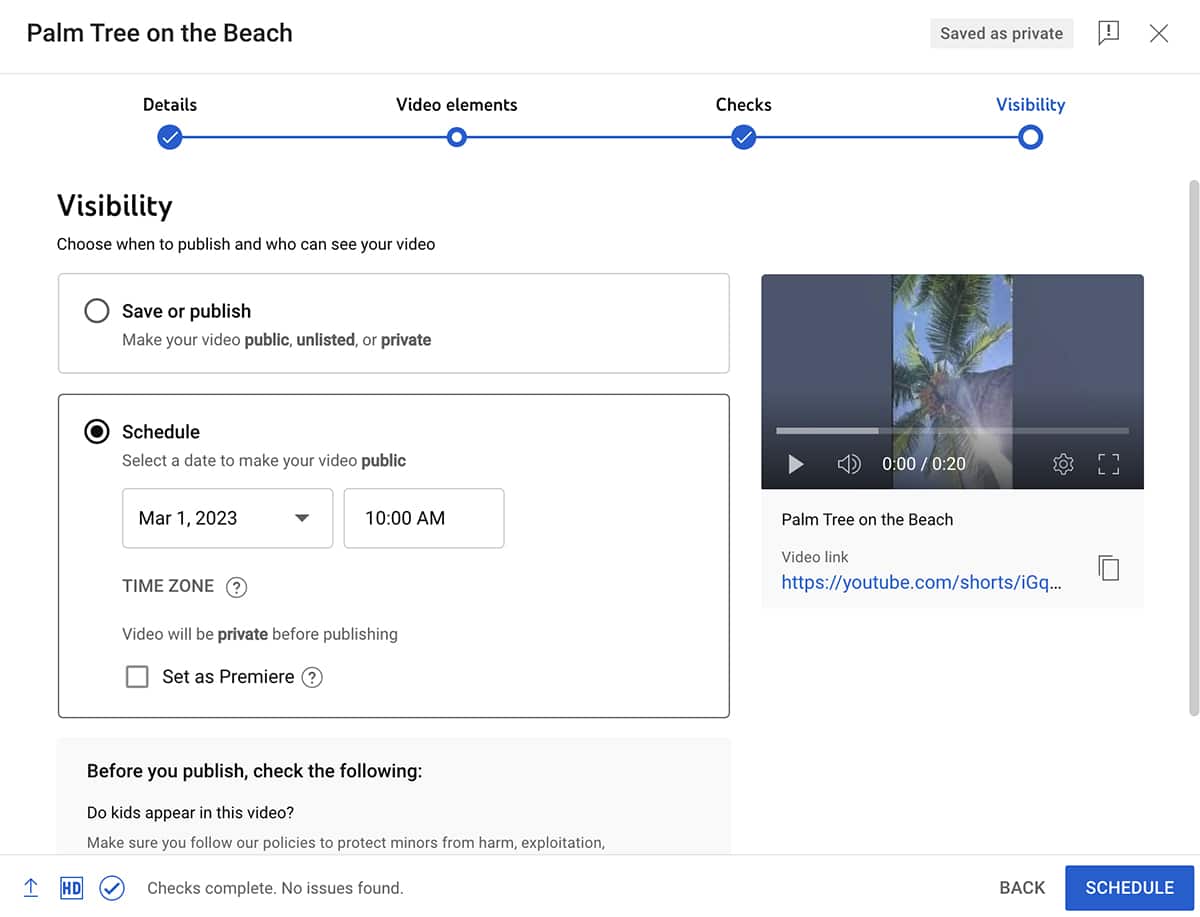 You can manage published, scheduled, and draft videos on the Content tab in YouTube Studio. To reschedule a video, click to reopen the publishing workflow and change the date and time.
Schedule YouTube Shorts with Agorapulse
With Agorapulse, you can make publishing or scheduling YouTube Shorts a seamless part of your content creation workflow. From your Agorapulse dashboard, click to publish to your YouTube channel. Then upload the short-form video from your device or from your Agorapulse asset library.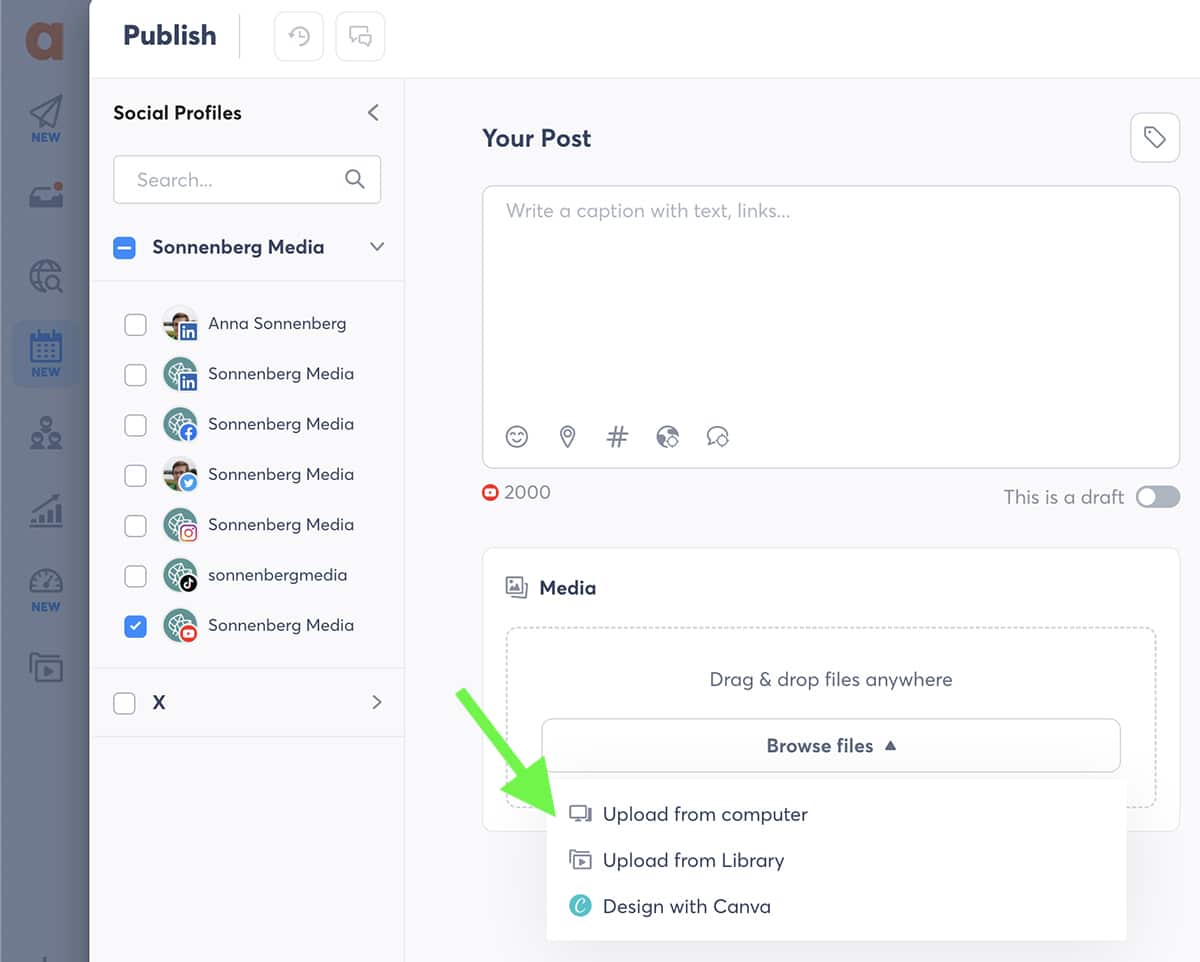 Scroll down to the YouTube options panel and add a catchy title. You can also add an optional description in the caption field at the top of the screen. Make sure to select either Public or Private for the video status.
Then scan the optional fields to add extra information. For example, you can select a playlist, choose a category, and pick YouTube tags. You can also toggle YouTube's embedding and notification options from your Agorapulse dashboard.
If you've verified your YouTube account, you also have the option to choose a custom thumbnail. Click the three dots and select Edit video. Then upload a thumbnail or choose one of the video frames.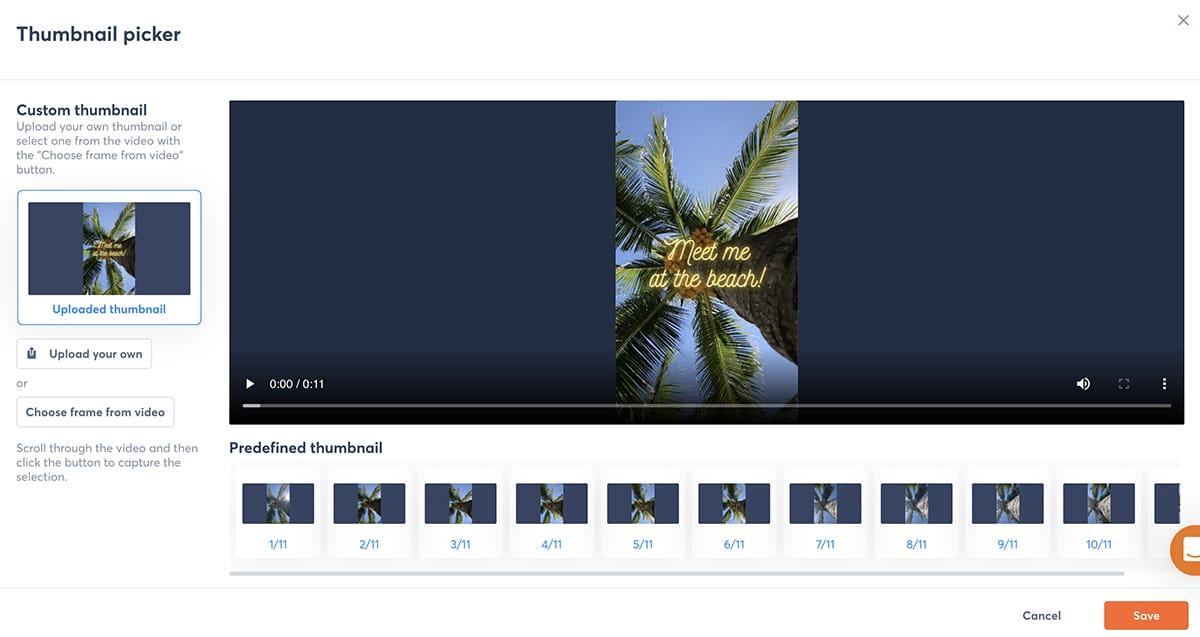 When you're ready to publish your YouTube Short, you can do so directly from the dashboard. You can also schedule YouTube Shorts with Agorapulse, so you can make sure to publish content at the optimal time for your audience.
Four Tips and Best Practices for YouTube Shorts
Now you have a step-by-step guide for creating and uploading YouTube Shorts. But how do you make good Shorts that truly resonate with your audience and help your team reach key YouTube marketing goals? Use these tips and best practices to improve your Shorts and get better results.
1. Start with a hook
When viewers watch your short-form video in the Shorts feed, they can easily swipe away if it doesn't hold their attention. That means it's critical to create hooks that capture their attention right away.
In the first 2 or 3 seconds, give viewers a reason to watch. Think about ways to use humor, surprise, or intrigue to get viewers interested and prevent them from swiping away from your Short.
Not sure how to hook viewers? Repurpose some of the tactics that have worked for your TikTok videos or Instagram Reels. It's also helpful to watch Shorts from other companies and creators in your niche so you can see what works.
2. Get creative with cuts
Longer cuts and single scenes may work well with long-form videos, but they aren't ideal for Shorts. Because short-form video is so fast-paced, frequent cuts and transitions are often necessary for keeping viewers' attention.
To find the ideal timing for your content, experiment with different clip lengths. For example, you might find that adding cuts every few seconds is necessary for audience retention.
YouTube metrics can help you optimize retention. With YouTube Studio analytics, you can see how long viewers tend to watch and when they tend to swipe away from each Short.
3. Optimize for search
YouTube is much more than a video platform. It's also a popular search engine. If you incorporate search engine optimization (SEO) into your content, you can boost visibility, grow your audience, and get more views on YouTube.
Before creating YouTube Shorts, do keyword research. Identify relevant keywords for your industry and analyze competing content. Then optimize your Shorts by answering common questions, including keywords in the title, and adding your brand's unique take.
4. Tease YouTube channel content
Does your team also create long-form videos for your YouTube channel? You can use Shorts to tease longer videos, attract more subscribers, and guide viewers through your social media funnel.
To get Shorts viewers to browse your YouTube channel, include calls-to-action (CTAs) in short-form content. It's also helpful to video links in the description, but keep in mind that viewers may not find or follow them without a strong CTA.
Wrapping Up What We've Learned About YouTube Shorts
Whether your brand already creates short-form videos for other social networks or you're just getting started with YouTube, Shorts have tons of potential. Use the steps above to start making YouTube Shorts and optimize your short-form video results by following best practices.