How familiar are you with YouTube analytics? A lot of social media managers know other platforms' data far better than YouTube's. Fortunately, this step-by-step guide will get you up to date with YouTube analytics.
We've noticed that a large majority of social media marketers (including in-house marketers and agencies) are all-too-familiar with analytics for popular social platforms like Facebook, Instagram, and Twitter.
Because of that fact, most of those people aren't as familiar with YouTube marketing or even YouTube analytics.
So, in this article, we're going to take you step by step through the YouTube analytics set up and show you what you can learn from the data—and how to use it to improve your channel moving forward.
Table of Content
YouTube analytics has an abundance of information that can benefit social media managers, including details about video viewer behavior and engagement.
There's so much data! So, you must know exactly how to use it and access it.
Who Can Access YouTube Analytics?
Most social media marketers and business owners are already familiar with the idea of "business accounts" that they need to create on Pinterest, Facebook, and Instagram to access analytics.
Good news: You can skip this step here!
Short Answer: Everyone
Because all channels can create and view content, all channels can access YouTube's analytics feature.
You can turn off analytics for certain people "managing" your channel if you choose when you work with a team.
But your YouTube channel will still have analytics that you can view. Even my sad little channel with two "example videos" uploaded for these posts has analytics!
As long as you can access your channel's "Studio" (which we'll show you how to do in a second), you can find your analytics.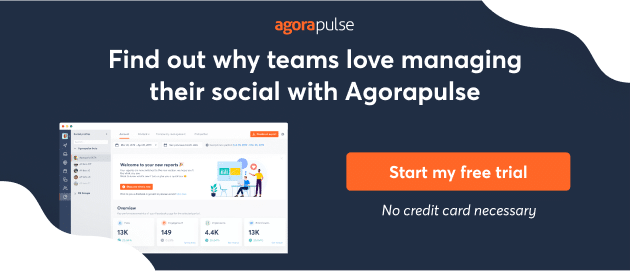 How to Access Your YouTube Analytics
You can get to your YouTube Analytics in two different ways.
1. Access through Studio
The easiest way to do so from any point on YouTube is going to be through your Studio.
Click on your YouTube profile picture in the top right corner, which will cause a dropdown menu to pop up.
You'll see "YouTube Studio" as the third option.
Once at the studio, a navigation menu is on the left side. You'll see analytics listed here.
Click it, and you'll be in your analytics section.
2. Access through individual videos
You can access your analytics through each one of your videos if you happen to be viewing it at the time.
This can be seen in one of my lovely example videos here. When viewing videos on your own channel, you'll see a blue "Analytics" tab under "share or save."
When you click that tab, as you'd imagine, you're taken right to the analytics.
What You Can Learn with YouTube Analytics
YouTube's analytics can teach you an enormous amount about what's happening on your channel and how you can optimize it moving forward.
(Fair warning: These numbers aren't going to look so impressive because of my small channel … but they'll do the job in making my points.)
Let's break it down by each individual tab.
Channel overview
Your overview page is going to show you the most important core numbers quickly like "analytics at a glance."
You'll see how many views your channel has received over a set period of time. (The default is the last 28 days, but you can customize this, so we've got it on 365 days here.)
You can also see your top video, and the number of subscribers and views you've gained in the last 48 hours, along with your top videos in the set period based on view duration and number of views.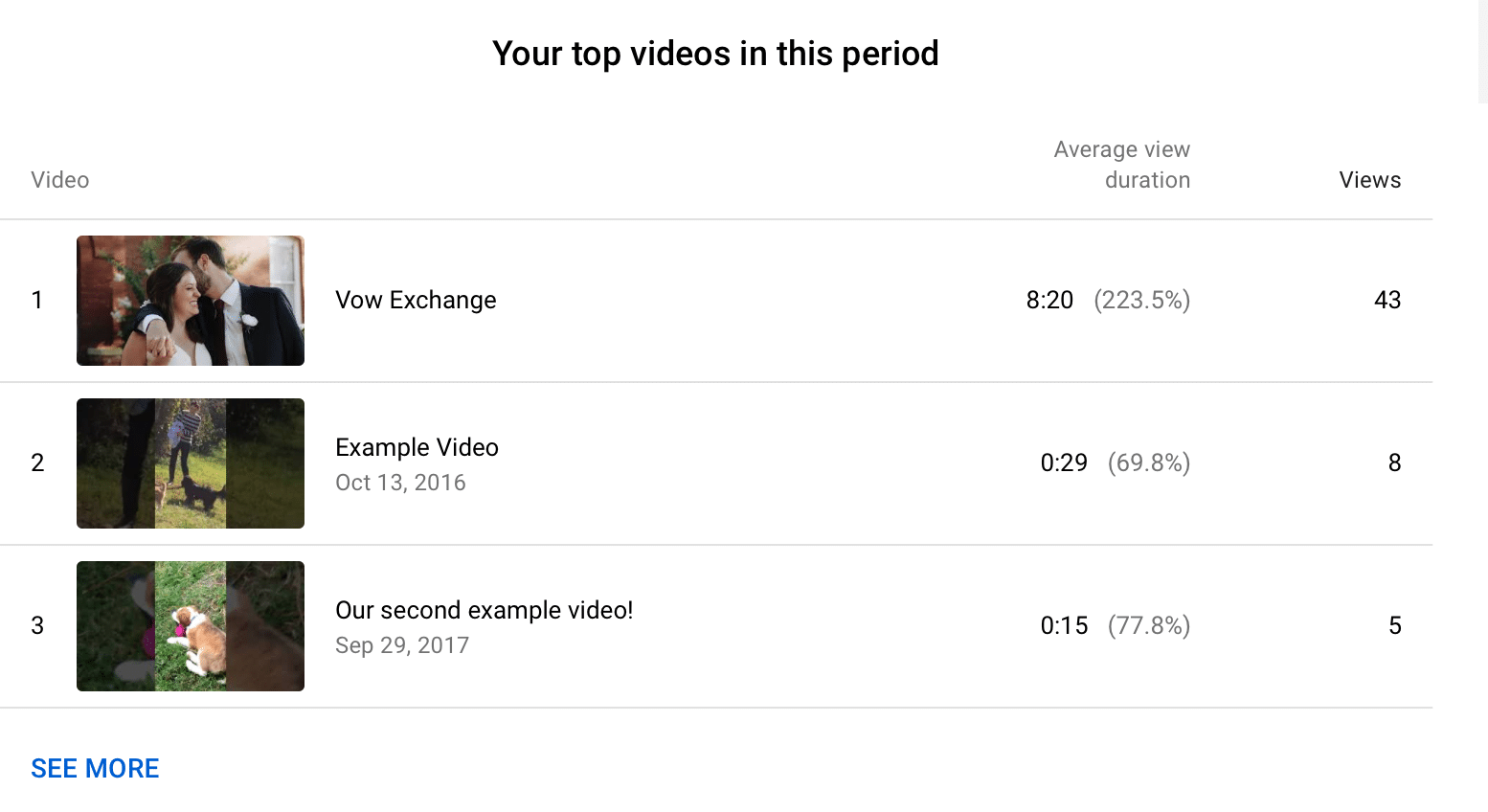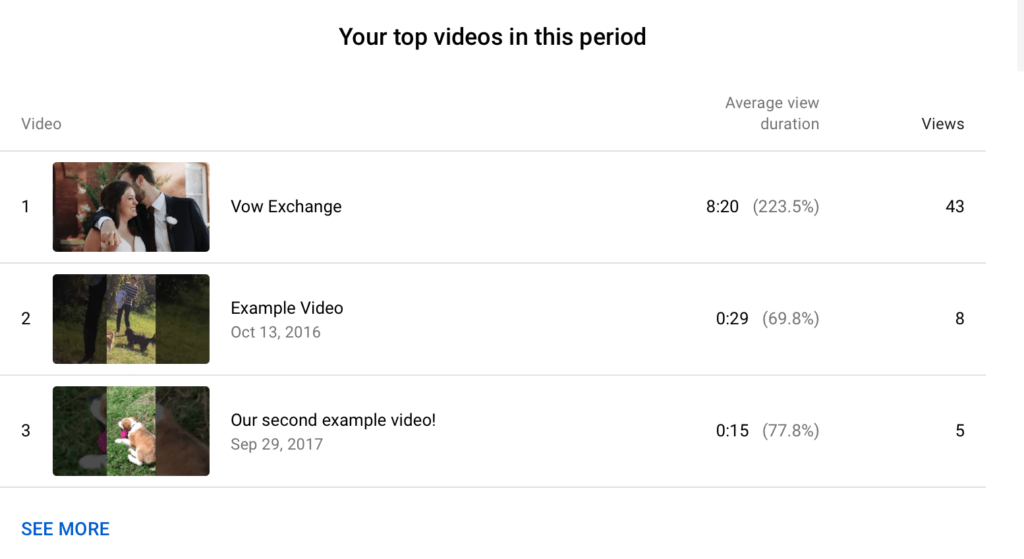 The overview doesn't give you anything that you won't find in the other tabs, and you'll find much more detail in other places.
That being said, it's a good snapshot to keep an eye on things day to day.
Reach
Your reach tab is going to show you how many people you're reaching, how many of these people are viewing or clicking, and where they came from.
You'll also see where your traffic is coming from, and a funnel showing how many impressions became views, and how long those views lasted.
Here's how you can use this information to improve your marketing efforts on the platform.
Look at how many people see your video and then click to watch.
Look at both total numbers and the percentage.
You can use this to see how well your video titles and thumbnails are performing to attract attention and drive clicks.
If your CTR is low, it means that you may not be optimizing your content well.
See what traffic sources are working well.
You'll see here where your best traffic is coming from.
Direct means they're coming from links, and channel pages mean they've found you through your page.
You can also see if other YouTube features (like "suggested videos" or search) played a key part in driving traffic.
Use this information to increase your reach, putting a bigger emphasis on the top-performing sources while also optimizing your videos to perform better in other areas.
You might realize, for example, that creating a playlist could help you get more suggested traffic from YouTube, for example, or that you might need to use more keywords in your video titles to be linked to relevant content.
Assess realistic reach with unique viewers.
You might have 500 views on your content, but only 400 unique viewers.
That means that 100 views came from users who had already watched other content from you within the time frame. While you do want additional views, know that your true reach is assessed as a "unique" viewer.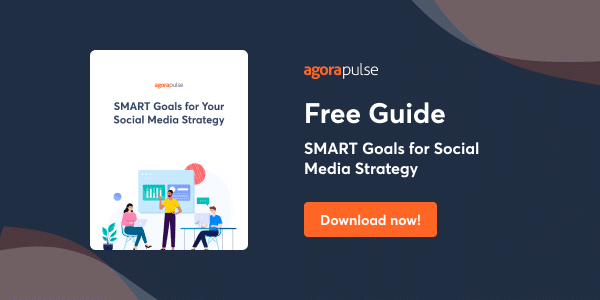 Engagement
Your engagement tab in YouTube analytics will tell you how users are engaging with your videos once they find them.
The data you'll find here can tell you how effective your videos are at keeping users' attention and potentially driving on-platform actions.
As you can see here, you can see how long viewers are watching your videos and the average view duration.
See which videos receive the highest view retention rates, and which ones have the most views of the end screen or engagements with a card.
You can see what types of end screens drive clicks, too.
How to use that data
Here are a few ways you can use this information.
See which videos are keeping users engaged.
You want to know which videos are having the longest viewer retention times because this shows quality, interest, and relevance. Find your top-performing videos and look for trends.
Are they a certain type of content, like tutorials, or around a niche subject?
Take what you learn and optimize your channel with it.
Determine which card type is most effective at driving results.
There are different types of cards and end screens you can add to your YouTube videos to drive off-platform results.
See which ones are driving clicks and actions. The actions you want users to take are likely paired well with their videos, which can improve results.
See which videos are most effective at driving results.
Certain videos will naturally work well with middle-funnel users, like those targeting high-value keywords. These videos should be driving a high number of results.
If not, look at the videos and potential drop-off points to see where there's room for improvement.
Audience
Here, you're going to learn everything you need to know about your audience, including:
How many views per session they're watching
Your total number of subscribers
Unique viewers
You'll also see when your audience is online, what else they've watched, where they live, their age and gender, and their top CC languages.
The best way to use this information will be to adjust your content to your audience.
You may find yourself attracting different demographics than you even realized that you had.
Your age and gender demographics can reveal this, but so can the "other videos" section, which can tell you about their general interests.
Consider offering niche content created for your most engaged audiences.
Revenue
This tab is only for accounts that have ads enabled to run on their videos and who are trying to monetize this accordingly.
We do recommend that most brands offering information to their followers to build a relationship do not have ads enabled.
You don't want there to be any potential barrier of entry that would keep them from watching.
That being said, if you're focused on creating content to drive income in and of itself, this is a tab to pay attention to.
You can see here everything you need to know about your estimated revenue, including top-earning videos, the ad types appearing on your content, and your sources of revenue.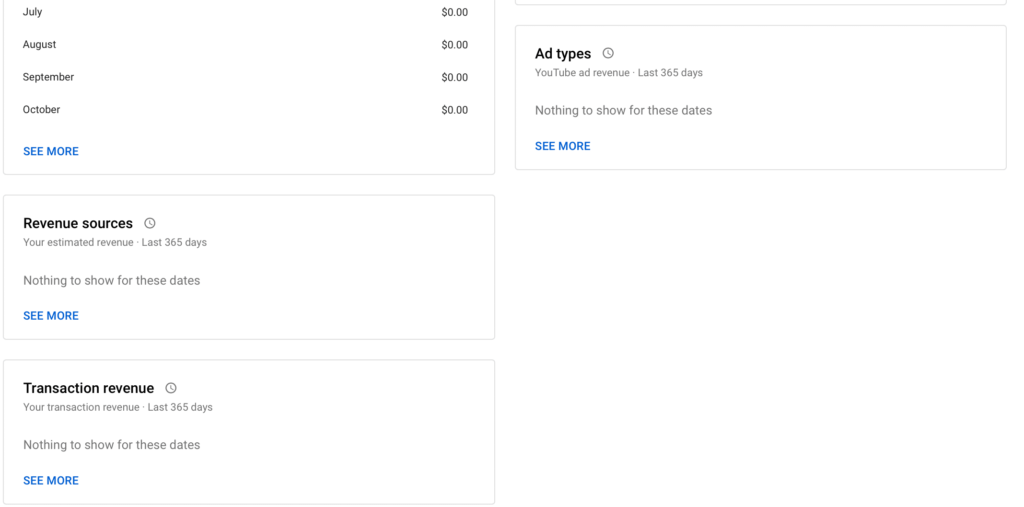 The best way to leverage this information is to see which videos are driving the most revenue and researching what would draw users to them.
It may be a popular topic, for example, or you might have a playlist that's ranking well.
Optimize the rest of your content with the best practices you used to get eyes on the high-performing, revenue-earning content.
What Is YouTube Analytics' Advanced Mode?
When you look at your analytics on YouTube, you'll notice that in the top right corner, there's an "Advanced Mode" option.
This allows you to view analytics in another way, but it's all the same information.
If you have an enormous library of content and want to search through filters or compare data like device types, this can help.
If not, you're likely good to stick to the standard analytics tab.
What's Coming Next?
YouTube is a part of Google, so it shouldn't be much of a surprise that Google has just announced that it'll be expanding its data-driven attribution (DDA) tools to YouTube.
These tools (also known as "search attribution tools") help marketers see how Google Ad views bring users closer to conversion.
When you start running YouTube Ads, this will be immensely helpful, as you'll be able to see conversion lift metrics that will shed light on your customer's path to purchases.
Right now, DDA features for YouTube are only in beta testing, but we hope to learn more about this soon.
Final Thoughts
YouTube's analytics are extraordinarily detailed, giving marketers and brands a ton of information about what's happening on their channel. You can see how many people are viewing your content, how long they're viewing it, and even where some of those views came from.
All of this information can be used to adjust your campaigns and on-platform content, tweaking it for success. Find what works, and optimize accordingly!
* * *
Get started on saving time and energy on your own social media management! Check out our free trial of Agorapulse to help you schedule, track, and measure all your social media efforts.