Are your videos just sitting on YouTube and not making money for you? Then check out these different ways of how to monetize your YouTube channel.
Maintaining a successful YouTube channel comes with lots of perks, including daily interactions and potentially becoming an influencer or celebrity. But one of the biggest advantages of working on a YouTube channel is a variety of monetization options, each of which can become a solid source of income.
Here's how you can monetize your YouTube channel:
1. Native YouTube Methods
Youtube offers a variety of built-in monetization methods to encourage high-quality content creators to create more great videos.
To qualify for any of those methods, YouTube will make sure that you:
Are over 18 years old
Qualify to be part YouTube Partner Program (YPP):
For that you will need to:

Generate at least 4,000 public watch hours in the last year
Have over 1,000 subscribers
Create a linked AdSense account

Are based in the US or one of the supported countries
Don't have active Community Guidelines strikes
Additionally, you will have to meet this specific requirement to enable these monetization methods:
| | | |
| --- | --- | --- |
| # | Monetization method | Requirements |
| 1.1. | Ad revenue | Content must meet YouTube's advertiser-friendly content guidelines |
| 1.2. | Brand connect | US-only |
| 1.3. | Channel memberships | The channel must have more than 30,000 subscribers |
| 1.4. | Merch shelf | The channel must have more than 10,000 subscribers |
| 1.5. | Super Chat & Super Stickers | Supported in these countries only |
| 1.6. | YouTube Premium revenue | Your content must be watched by a viewer who is a YouTube Premium subscriber |
Here's a bit more info on each method to help you understand how to monetize your YouTube channel.
1.1. Enable YouTube ads
There are several types of ads YouTube may show inside your videos, once you become a YouTube partner. These include skippable and unskippable video ads, overlay, and display ads, etc.
You can choose which formats you want to appear inside your videos.
Additionally, you can block certain advertisers by URL as well as opt-out of ads on certain topics (by general or sensitive categories).
YouTube ads used to be much more effective, income-wise though. These days, more and more YouTube creators are forced to look for alternative ways to monetize their channels as native advertising earnings are dwindling across the board.

1.2. Apply for YouTube BrandConnect
Currently, an invite-only, BrandConnect (previously known as FameBit) allows creators to work with brands to create branded campaigns.
The nice thing about this program that YouTube will help you find advertisers. YouTube doesn't guarantee you will find brands to work with using this program but it will certainly increase your chances.
1.3. Invite your subscribers to become your premium members
You can create several levels of memberships and invite your viewers and subscribers to upgrade in exchange for perks.
There may be different kinds of perks (e.g. access to premium videos, private chats, etc.), but you are not allowed to allow free downloads of video or audio files or set up contests or lotteries as premium features.
1.4. Set up your merch shelf
It is a good idea to brand a few T-shirts and other branded merchandise, and allow your audience to purchase those. Obviously, you need to have a very strong brand and a very well-recognized brand identity for this method to work.
Your merchandise shelf will always be there on your main channel page.
Your selected product will also show up underneath your video:

1.5. Allow Super Chat and Super Stickers
If you enable this feature, your video viewers will be able to pay for their message or sticker to be highlighted in the chat.
Naturally, this type of monetization will not do for all the categories. It would be great for gaming but it will hardly work for the marketing niche, for example.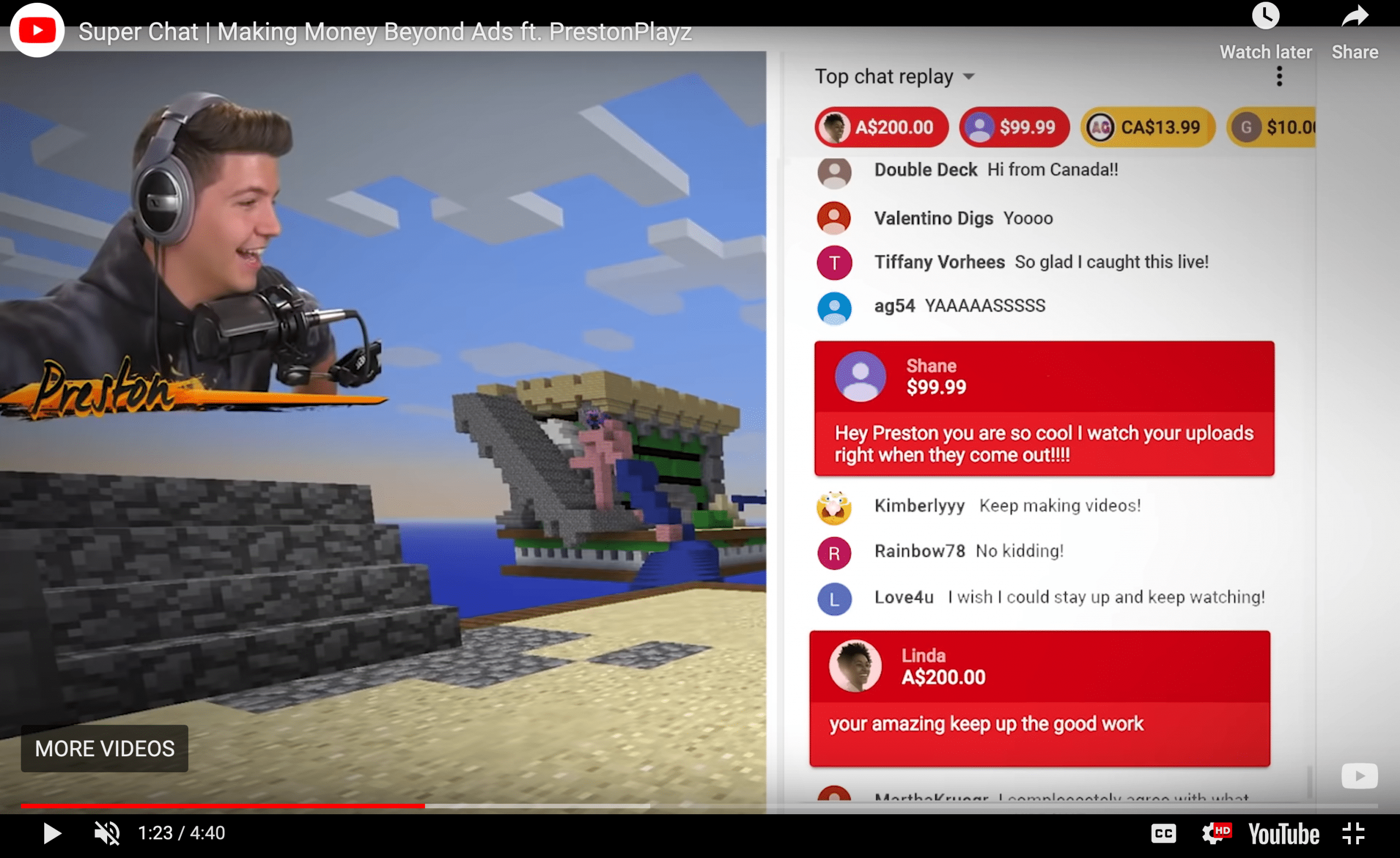 1.6. Earn part of premium revenue
YouTube allows users to upgrade to YouTube Premium to never see the ads (see 1.1.) If those premium users view your content, you will be paid part of what YouTube is earning.
Obviously, it's next to impossible to tell how much you will get paid but it is still nice to have.
2. Third-Party Monetization Methods
This is another approach to how to monetize your YouTube channel.
2.1. Create sponsored content
Youtube's BrandConnect is the most effective way to find sponsors, but it is not the only one.
Finding sponsors independently is another option that you may want to pursue. There are lots of sites that connect creators to brands:
Grapevine
TapInfluence
Channel Pages
AspireIQ
Izea
They all have varying requirements as to the number of subscribers your channel must have. To give you some estimate of an income here, sponsors tend to pay between $20-$40 per 1,000 video views.
Dealing with sponsors has its advantages and disadvantages. This income is not as predictable as ad-monetization but potentially much more substantial.
You will have to comply with different content requirements, so it might impact your freedom and editorial flexibility. I'd recommend spending some time looking for the right sponsors ( i.e., brands that match your content and those that will potentially become long-term partners).
2.2. Use YouTube to generate leads
In many niches (SaaS, B2B, etc.), Youtube is one of the most powerful lead-generating platforms out there.
One if the greatest opportunities of Youtube is that it ranks insanely well, and organic traffic brings the most qualified leads.
SE Ranking's serp position tracker is a great way to discover organic opportunities for Youtube videos:
Here's a detailed tutorial on how to turn your YouTube channel into a lead generating and qualification machine.
In short:
Set up a dedicated landing page that would be customized to your YouTube content.
Always add a slide instructing how to learn more,
Make sure to add your contact details (email and phone number)
Set up an AI bot / AI assistant using Exceed based on your video content and the funnel.
Let the AI bot qualify those leads autonomously and schedule the calls with your sales reps.
Here's an example of the slide you can create: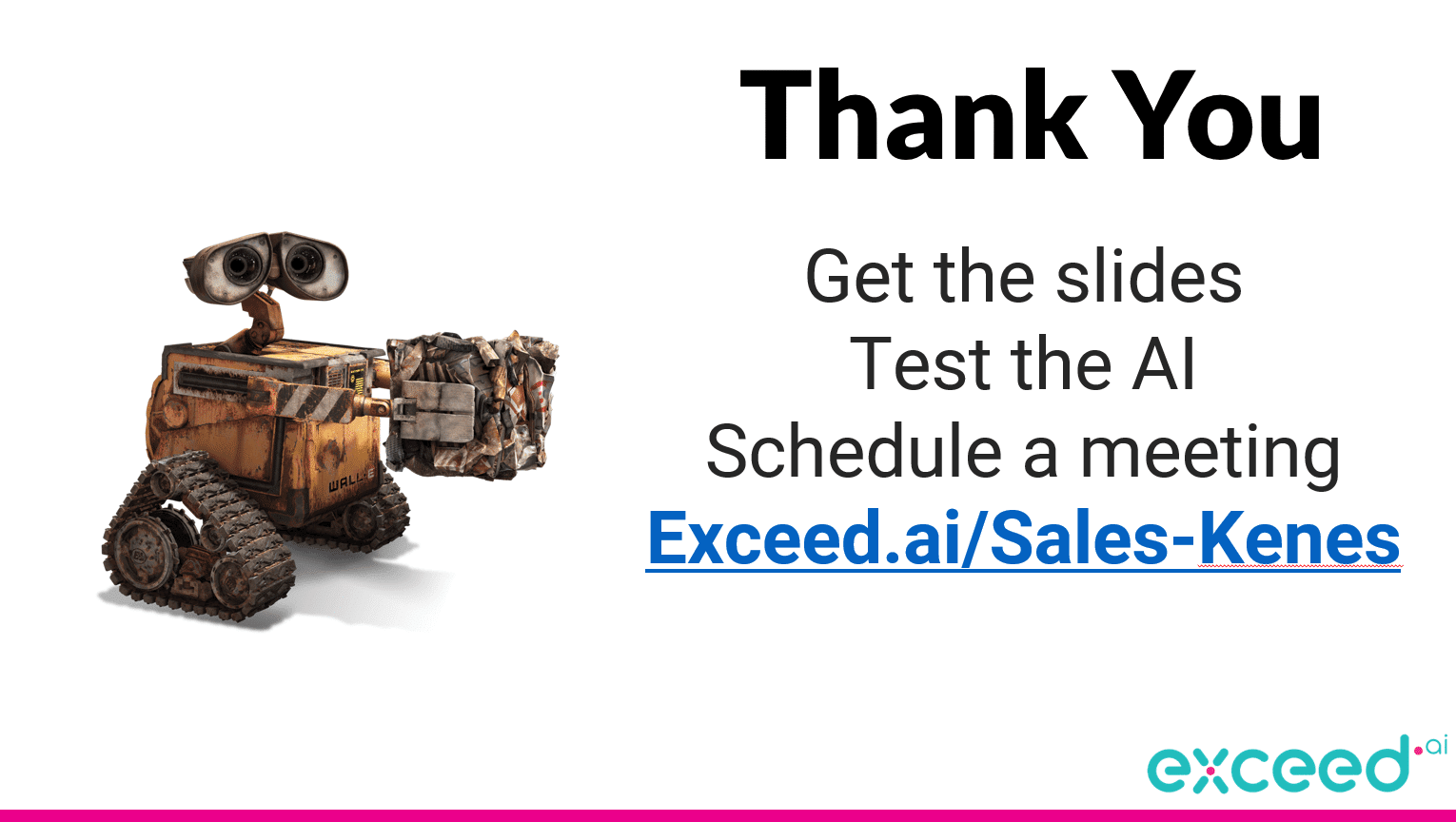 Exceed will independently handle email follow-ups and appointment scheduling: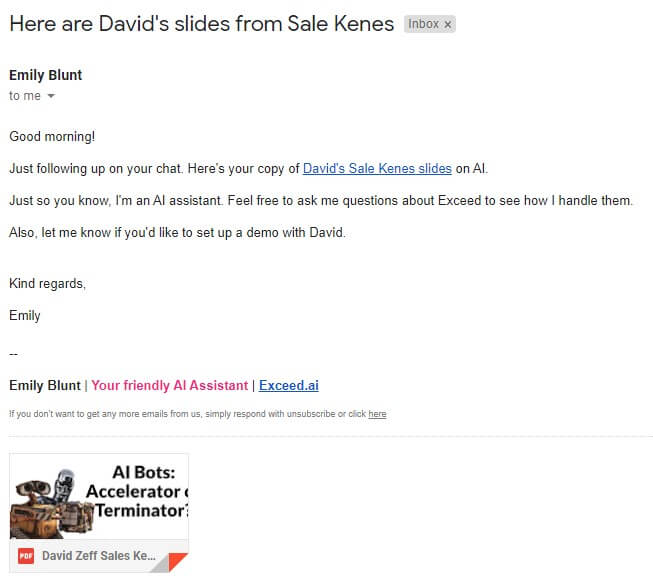 Finteza is another useful tool allowing you to turn your channel into a lead-generating powerhouse.
The tool will show exactly what types of assets and products work with your YouTube traffic for you to be able to adjust your strategy accordingly: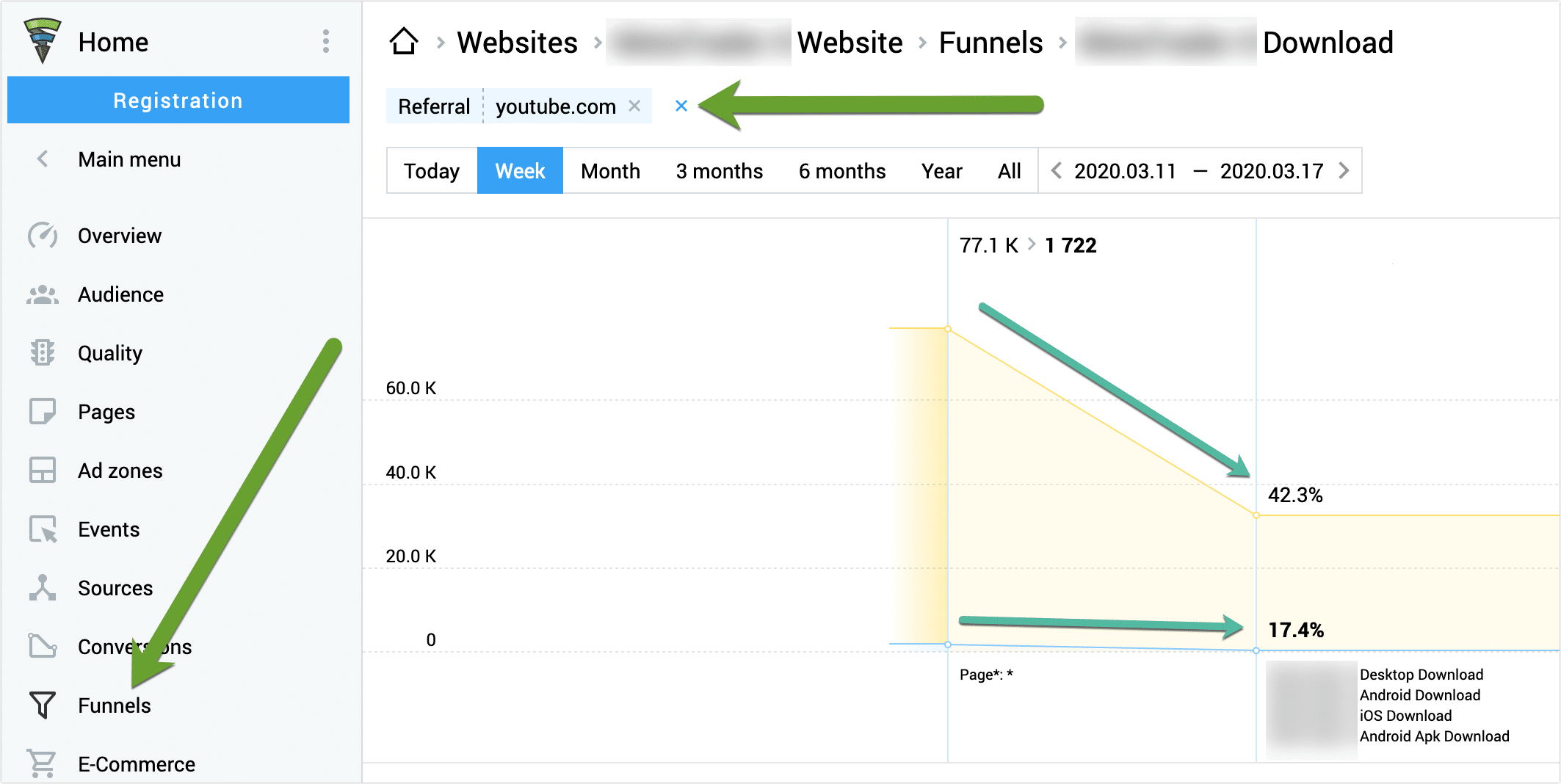 If you need help with your strategy or need to make sure that your goals are aligned to the bigger picture, download our free SMART Goals Ebook. You'll need to know what you want from your YouTube channel and then see how to monetize your YouTube channel.
2.3. Build recurring revenue through Patreon
Patreon is a membership platform that is used by YouTube creators to generate independent funding.
Your fans can sign up to pay a creator a small amount of money to support his/her efforts to create content regularly. The money is being charged regularly and automatically, so this is a good way to build recurring revenue off your YouTube channel.
Your monthly revenue will depend on how many "patrons" you have.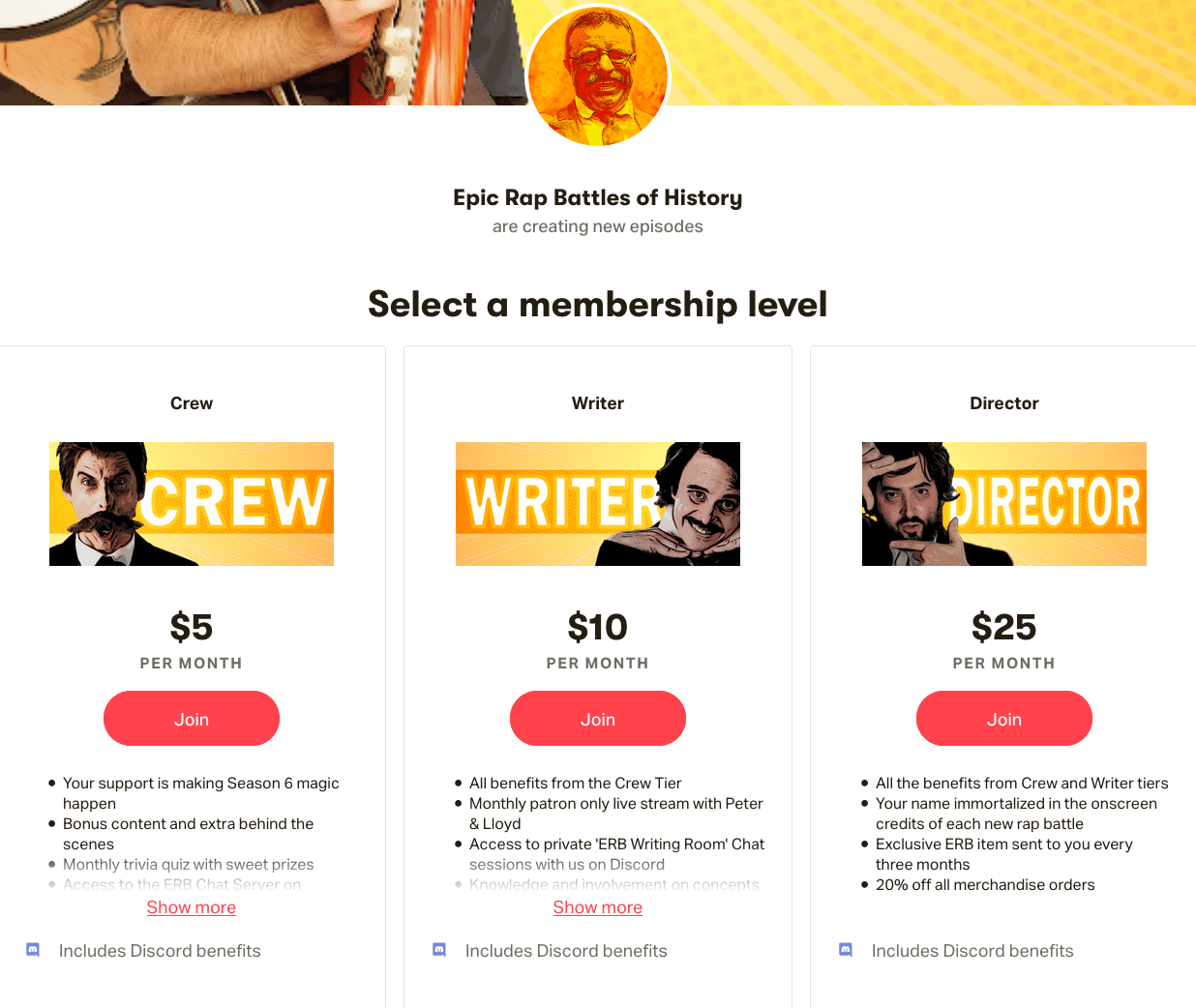 Again, this monetization method is not for everyone, and once you have your patrons, you will be forced to create new content regularly, not to disappoint them. It's a good motivation method for sure!
2.4. Use your affiliate links
If you do product or tool reviews, you can use your affiliate links in the product description. As long as you clearly state you may be paid a commission when people buy through those links, this is a legit and effective tactic to make some additional income off your videos.
To make links look prettier, you can use your own domain to "cloak" them.
Don't include those links in the comment section though as these will be ghost-hidden by Youtube.
Conclusion
You can use any of the above methods to monetize your channel and even combine many of those. What really comes first is the quality of your content, so before creating a monetization strategy you need to come up with an effective content creation strategy.
How much you will end up earning off your YouTube channel is a complicated question with too many "it depends" but one thing for sure: You'll start low and will slowly build it up if you keep creating, optimizing, and promoting high-quality videos on a regular basis. Good luck!
Get started on saving time and energy on your own social media management! Check out our free trial of Agorapulse to help you schedule, track, and measure all your social media efforts.