As we predicted, ContentCal is sunsetting at the end of March 2023. So. if you're on the hunt for a new social media management platform, you've come to the right place.
Although there are a lot of ContentCal alternatives out there, only a few are worth considering.
Here they are.
1. ContentCal Alternatives: Agorapulse
Number of reviews on G2: 857
Average score: 4.5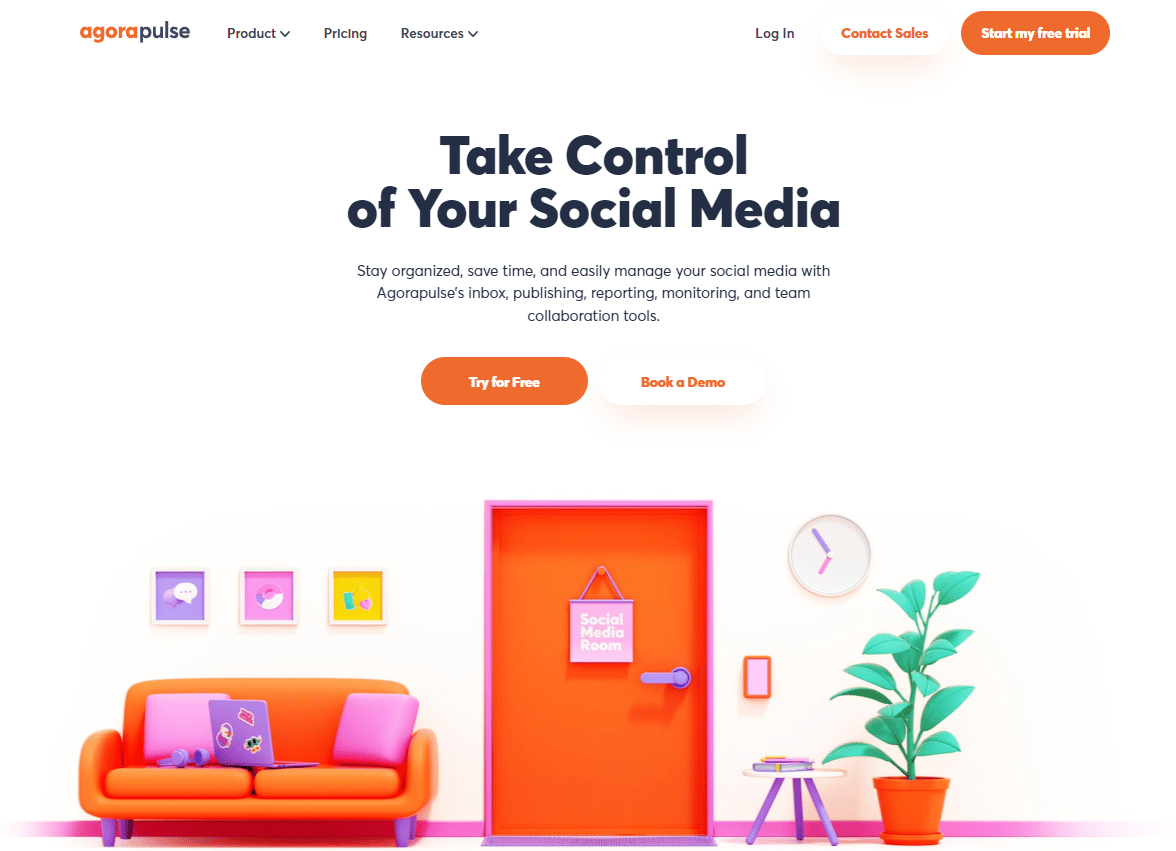 Agorapulse has been around for more than 10 years now and is rated as one of the best social media management software platforms out there, ahead of VC-backed Hootsuite or Sprout Social.
Agorapulse has steadily grown, organically, without any investment from VC funds. It hasn't thrown money at the wall to grow quickly. It's never had to provide a unicorn-like return on investment to demanding investors. This is why Agorapulse's pricing has always remained reasonable. More importantly, customer support has always remained a top priority: You will receive fantastic support and attention from the Agorapulse customer success team.
Who is Agorapulse for?
Agorapulse is perfect for social media managers and marketers that work for mid-sized companies. Those who need all the features of an all-in-one social media management platform—publishing, inbox engagement, advanced reporting, and ROI reporting*—on a reasonable budget.
*Yes, Agorapulse is the only social media management tool that provides advanced reporting on the revenue, leads, and traffic you're generating from social media.
Pros and cons of using Agorapulse
Pros
Custom reporting options for a reasonable price
Shared calendars specifically designed to help agencies work with internal teams and external clients
The best social inbox on the market: Agorapulse invented the social inbox in 2014, then everyone copied them.
A comprehensive content calendar, complete with smart filters, different views, and editing options for last-minute changes
Advanced collaboration features, such as built-in feedback and approval processes
Access to its Social ROI feature. With this feature, you'll be able to measure the traffic, conversions, and revenue your content is generating. Agorapulse is your best (and only) choice if you want to prove the business impact of the social media content you've worked so hard to create and publish.
Cons
Agorapulse isn't a great fit if you're a solopreneur or a small business with very basic social media management needs. It's also probably not the best option for very large enterprises that need to go through a thorough RFP process to choose their next software vendor. If this is you, maybe consider another social media management platform, like Sprout Social or Brandwatch (formerly Falcon).
How much does Agorapulse cost?
Agorapulse pricing starts at $49 per user, per month. To support business growth, Agorapulse allows you to buy more users or profiles without moving up to the next pricing tier.
You only pay for what you need with Agorapulse.
They also offer a free plan if you want to experience the product without the time constraints of a free trial.
Contact the team for a free demo and see first-hand how Agorapulse could work with your business.
2. ContentCal Alternatives: Sprout Social
Number of reviews on G2: 2,113
Average score: 4.3/5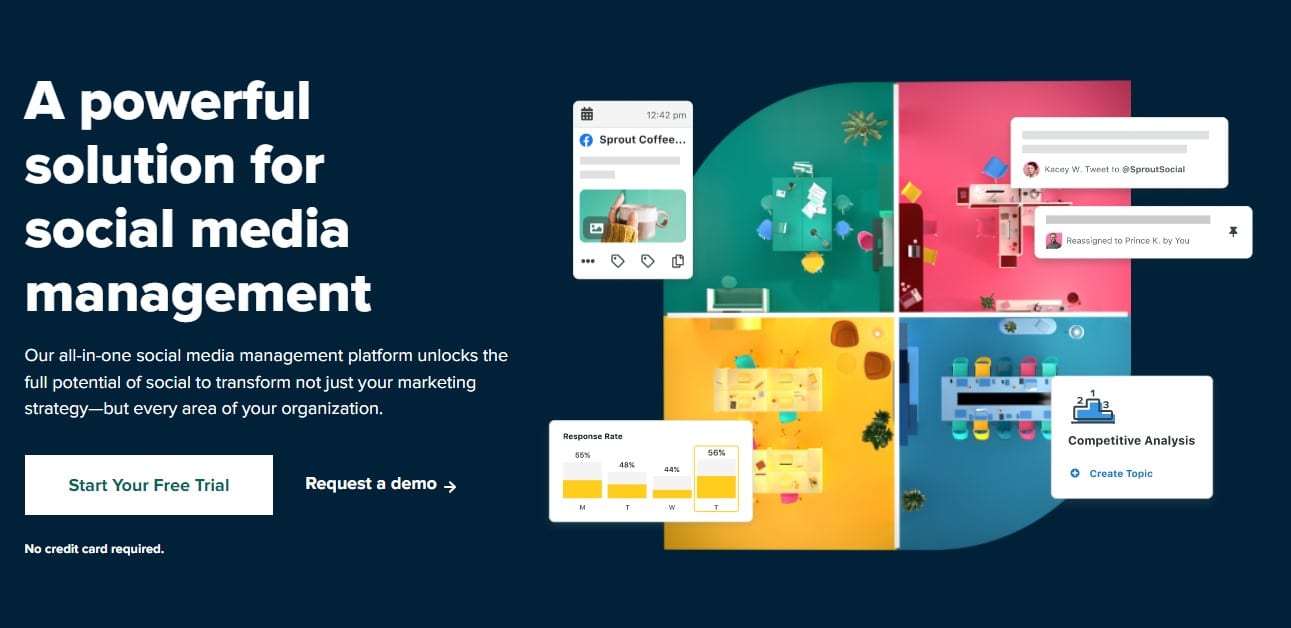 Sprout Social is the fastest-growing social media management tool in the US market.
It's raised over $250 million and has been listed on the Nasdaq since 2019. It's a heavyweight in the social media management space.
One of the biggest benefits that this position has given Sprout Social is large teams and unlimited budgets for building new features and improving its software.
But the biggest downside that this position has given them is high prices.
To satisfy its investors, Sprout Social's pricing is very, very high. Most businesses aren't ready to spend more than $1,000 a month on their social media management needs. Looking at Sprout Social's latest metrics this is, on average, what they're charging new clients.
We've been competing with Sprout Social for over 10 years and have a lot of respect for what they've built: It is truly remarkable.
We also know, however, that Sprout Social isn't a perfect fit for everyone. Many prospects choose Agorapulse instead of Sprout Social. We see a lot of businesses switching to Agorapulse after a disappointing experience with Sprout Social.
Who is Sprout Social for?
Like Brandwatch (which is coming up next), Sprout Social is a better fit for large enterprises. The other ContentCal alternatives in this article, including Agorapulse, are better for mid-size companies.
Sprout Social is a good option to consider if you have a large budget and care more about having a comprehensive social media management package than about getting the best value for money.
Sprout Social is ideal for companies with multiple teams and a large social media presence. It's also better for companies based in North America, as it's harder to achieve GDPR compliance with a vendor based outside the US.
Pros and cons of using Sprout Social
Pros
Advanced social listening add-ons
The ability to manage review sites such as Yelp, Glassdoor, and Tripadvisor
Cons
You have to pay for support. If you're not paying Sprout Social between $1,000-1,500 per month, you'll be classed as "yet another small client" and won't, therefore, get the support you need.
Sprout Social is not a good fit if your business is based in Europe as their data is hosted in the US, which will lead to compliance issues with privacy laws and GDPR.
How much does Sprout Social cost?
Sprout Social prices start at $249 per month, but for this, you only get five profiles. If you want to grow your team and add more users, you'll need to pay over $199 per extra user.

3. ContentCal Alternatives: Brandwatch (formerly Falcon)
Number of reviews on G2: 734
Average score: 4.1/5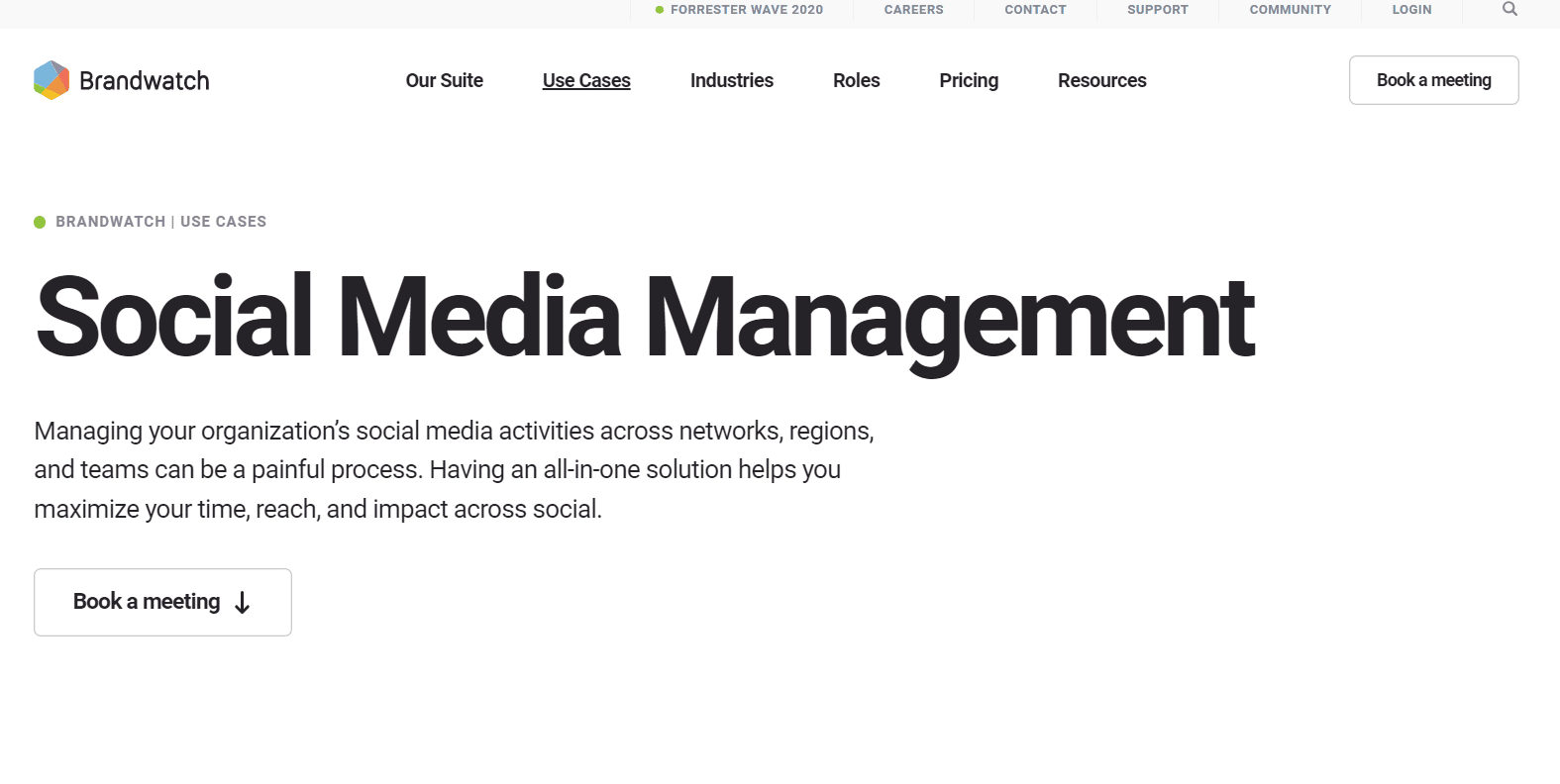 Falcon was an independent social media management software company until it was purchased by Cision in 2019 and then merged with Brandwatch. You're definitely playing in the big enterprise playground with these guys.
This could be why their G2 score of 4.1 is the lowest out of all the social media management platforms mentioned in this article. Large companies don't tend to provide the level of customer service and innovation that smaller, more agile businesses, like Agorapulse, can provide.
Nevertheless, Brandwatch is a significant player in the European market. If you're based in Europe and have plenty of budget for social media management tools, you should consider checking out Brandwatch.
Who is Brandwatch for?
Brandwatch is ideal for large companies with multiple teams and a large-scale social presence.
Pros
If your business is based in Europe and you care about GDPR compliance, Brandwatch is a better solution to look into vs. Sprout Social.
Cons
It's very,

very

expensive.

Falcon/Brandwatch has the worst G2 score out of all the social media management tools in this article. This is definitely concerning.
How much does Brandwatch cost?
To find out how much a plan with Brandwatch would cost you each month, you'd need to book a meeting with a sales rep.
But, we know that in the past, plans used to start from around $800 per month. Brandwatch is seen as an expensive ContentCal alternative. It is not designed for small businesses.
4. ContentCal Alternatives: HeyOrca
Number of reviews on G2: 236
Average score: 4.7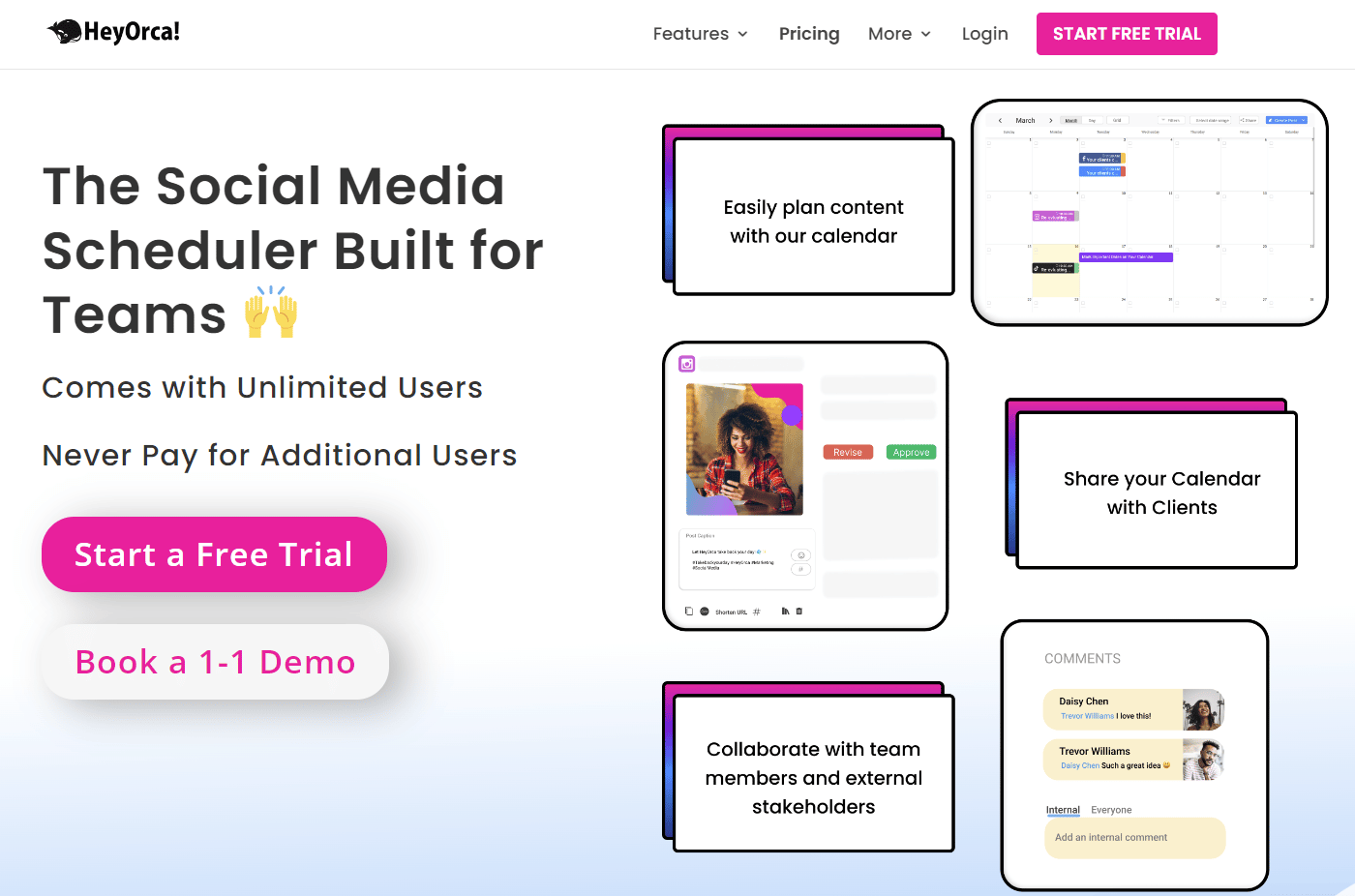 HeyOrca is a decent alternative to ContentCal: It's a visual content calendar with built-in, collaborative processes that streamline the development and approval of social media content.
Who is HeyOrca for?
HeyOrca is a good choice for agencies that need to collaborate on content creation with their clients. In fact, HeyOrca was purpose-built, specifically for agencies. It's also good for large teams where content creation and approval sit in different departments, or with different team members.
Pros and cons of using HeyOrca
Pros
HeyOrca describes itself as the "#1 social media calendar for social marketing agencies," and it does this well.
It comes with unlimited users. This is a treat if you have lots of users and don't want to pay more, per seat.
Cons
HeyOrca is not an all-in-one tool. If you need more than a content calendar to create, publish, and report on social media, don't go with HeyOrca. They don't have an inbox, or social listening and reporting features.
How much does HeyOrca cost?
Starting at $35 for each calendar, per month, you can see why their pricing is an attractive option for agencies.
5. ContentCal Alternatives: Kontentino
Number of reviews on G2: 110
Average score: 4.8/5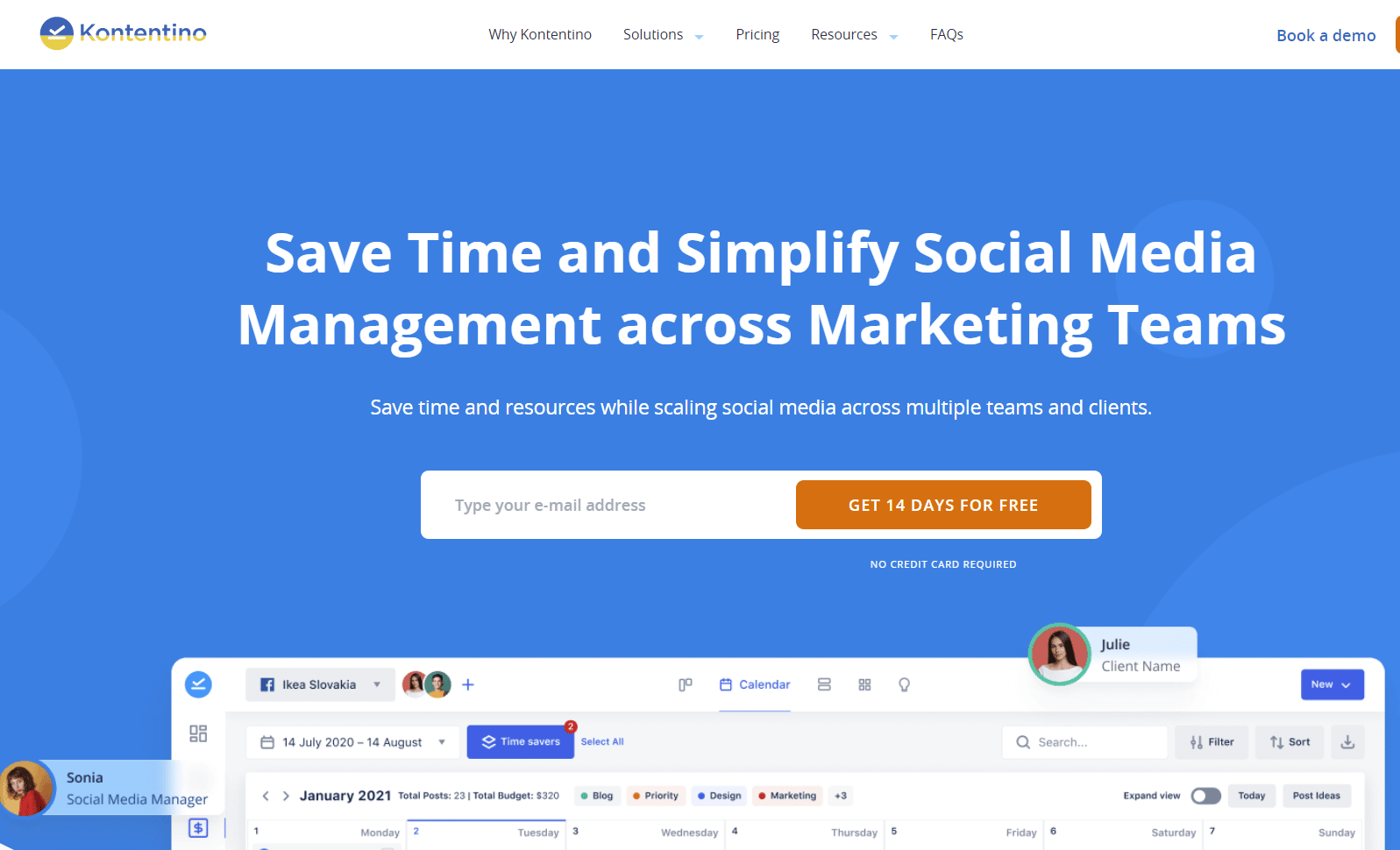 Kontentino was initially built as an internal tool and designed to streamline content workflows for one of the top social media marketing agencies in Slovakia.
Now, Kontentino is a social media management platform that aids collaboration between social media teams and agencies, and their clients and colleagues from all over the world.
Who is Kontentino for?
Kontentino is the cheapest ContentCal alternative in this article. So, it is worth considering if keeping costs low is more important than having an easy-to-use social media management tool, with advanced features that can help you grow your social media presence while making your life easier.
Don't expect the quality that a high-end enterprise solution, such as Brandwatch or Sprout Social, can offer you. Or the great reporting features that Agorapulse gives you. You'll just have access to a functional social media management tool.
Pros and cons of using Kontentino
Pros
It's affordable. If you're a small business or you have budget constraints, Kontentino is a solution to consider.
Cons
Kontentino will not be the high-quality, all-in-one tool you may need to manage your social media presence or help your clients with theirs. It's an affordable tool, and with affordability comes limitations, especially if your needs are a little more advanced.
How much does Kontentino cost?
Prices start at $44 per month, but that only includes three users.
What We've Learned About ContentCal Alternatives
With ContentCal sunsetting at the end of March 2023, many users are looking for a ContentCal alternative. If you're one of them, remember to look at the pros, cons, and budgets for all the available social media management tools. After all, no one solution will perfectly suit everyone's needs.
If, after reading this, you still need more information before you're ready to commit to a ContentCal alternative, why not learn more about what to look for in a social media management tool? Book an appointment with our award-winning customer support team to find out how Agorapulse could meet your social media management needs. There will be a plan that works for you.