The version of Agorapulse that you're using, trialing, or considering adopting for your team isn't the same dashboard that was available a year ago. It's better. That's because Agorapulse is constantly evolving as our team develops new features, improves integrations, and makes our social media solution even greater.
Want to see how? We're thrilled to show you how our social media management tool evolved in 2022. Let's dive right into the tools and optimizations that Agorapulse introduced over the past year.
Here's an infographic highlighting it all. Read on to find more about each specific feature.

Social Media ROI Dashboard
Historically, return on investment (ROI) has been tricky for social media managers to prove. Likes, comments, and clicks don't always equal exact values. And sorting through website analytics to track conversions can be incredibly time-consuming.
Now Agorapulse's social media ROI dashboard makes it much easier and faster to measure the value of your efforts—and prove the impact your work has on the business. All you have to do is link your Google Analytics account to Agorapulse.

Your Agorapulse ROI dashboard automatically tracks all the visitors, transactions, and revenue that have resulted from your social media content. Curious which social media channel or campaign drove the greatest value? The ROI dashboard charts all these metrics for you.

If your team uses Agorapulse's campaign tracking tools—which let you add UTM codes in the publishing composer—you can dig deeper into your data. The ROI dashboard reveals the social profile, content type, and even piece of content that's driven the most value.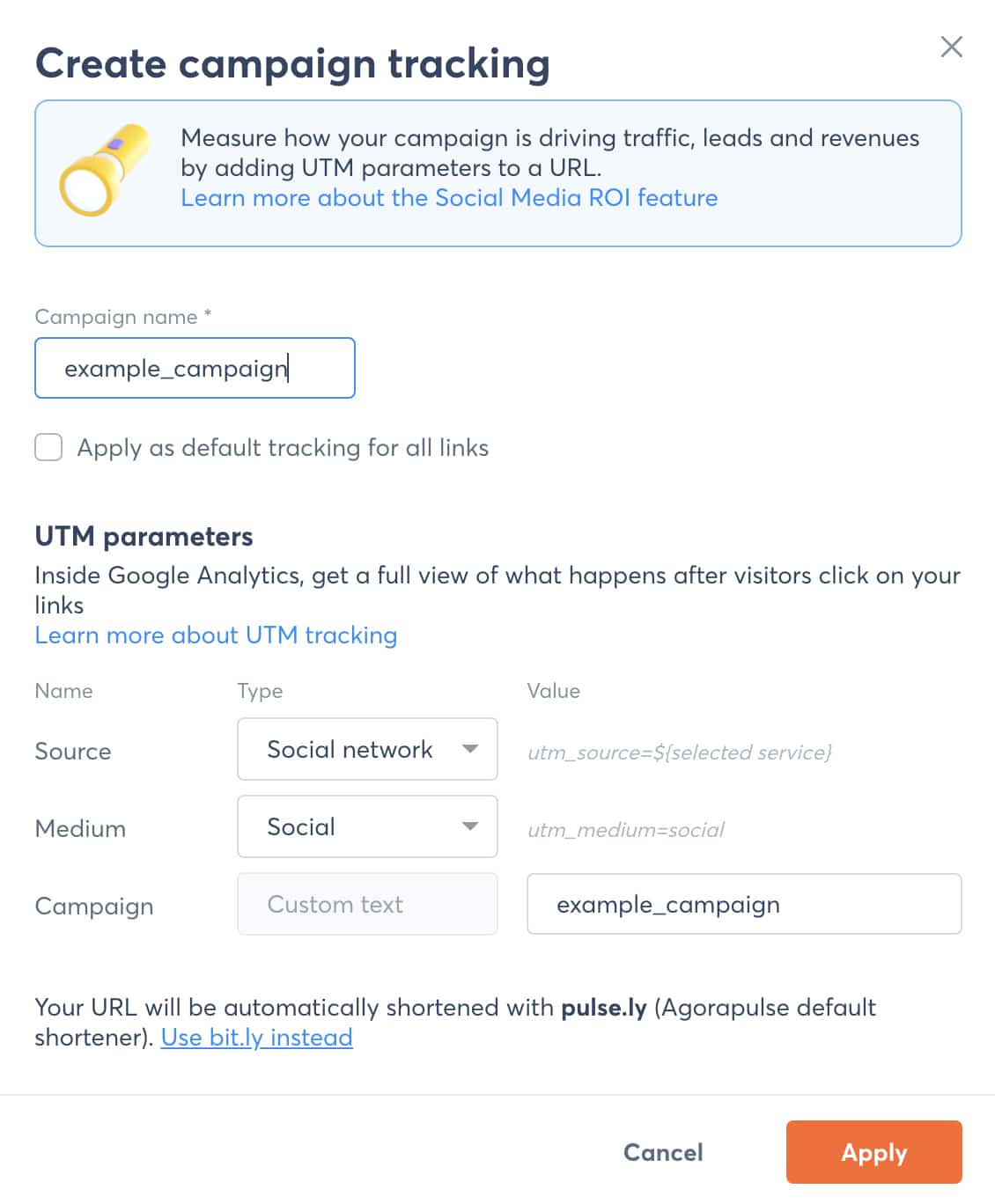 With this data, you can better understand the business impact of your social media efforts. Then you can use these insights to create better content, improve social media ROI, and continue to increase the value of your work.
TikTok Publishing and Scheduling
With about 750 million users and growing rapidly, TikTok is an increasingly important social platform for brands. Agorapulse now supports TikTok publishing and scheduling so you can seamlessly plan your company's or clients' short-form video content.
Using Agorapulse's publishing composer, you can upload videos, add captions, and insert hashtags. Simply click the hashtag icon in the composer to access, use, or modify your saved hashtag groups.
To save time when creating TikTok content, consider using a third-party editing app like CapCut or Canva. Then export the video with audio and save it to your Agorapulse asset library so you'll have it on hand when you're ready to publish to TikTok.
Before pressing the Publish button in the composer, make sure to double check the available TikTok options. Comments, duets, and stitches are automatically enabled, but you can switch them off prior to publishing.
Then use Agorapulse's scheduling and approval options to move content through your workflow. For example, you can schedule TikTok videos for hours, days, or weeks later. You can also assign content to team members for approval.
Note that TikTok engagement and reporting are currently in beta testing. You can look forward to using Agorapulse for all your TikTok marketing needs soon.
Instagram Reels Management
Short-form video completely took over social media in 2022—and Agorapulse responded. In addition to TikTok publishing, Agorapulse now supports all aspects of Instagram reels management.
Instagram reels publishing
You can now publish Instagram reels directly from your Agorapulse dashboard. Start by uploading a short-form video to the publishing composer and write a reels-ready caption (i.e., short and sweet). You can use Agorapulse's hashtag groups to add branded and other keywords to your caption.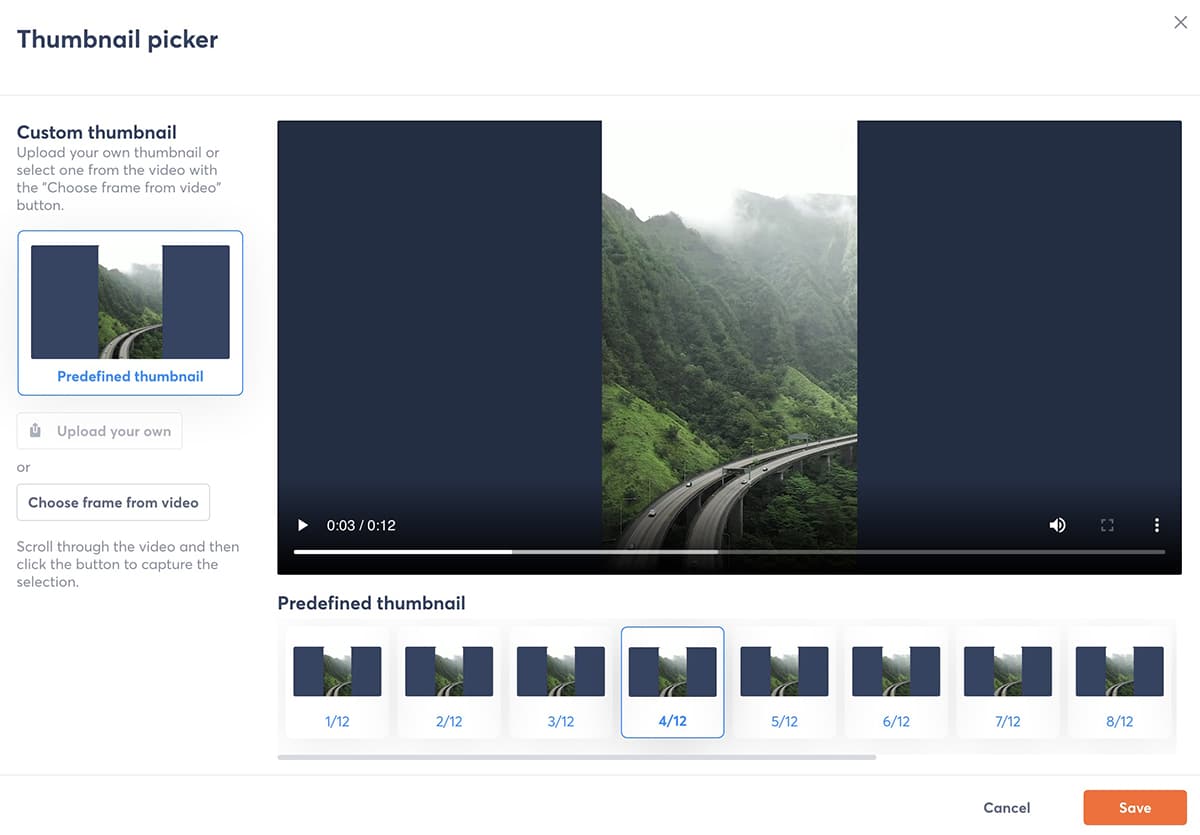 Don't love the thumbnail that automatically generates? Click the three dots next to the video thumbnail and select Edit video. Then use the thumbnail picker to choose a better thumbnail. You can choose an auto-generated option or select a frame from the reel.
Then scroll down to review the Instagram publishing options. First, make sure you've chosen reel as the post type. Then decide whether to share the reel to your account's feed (i.e., grid) as well as to the reels feed.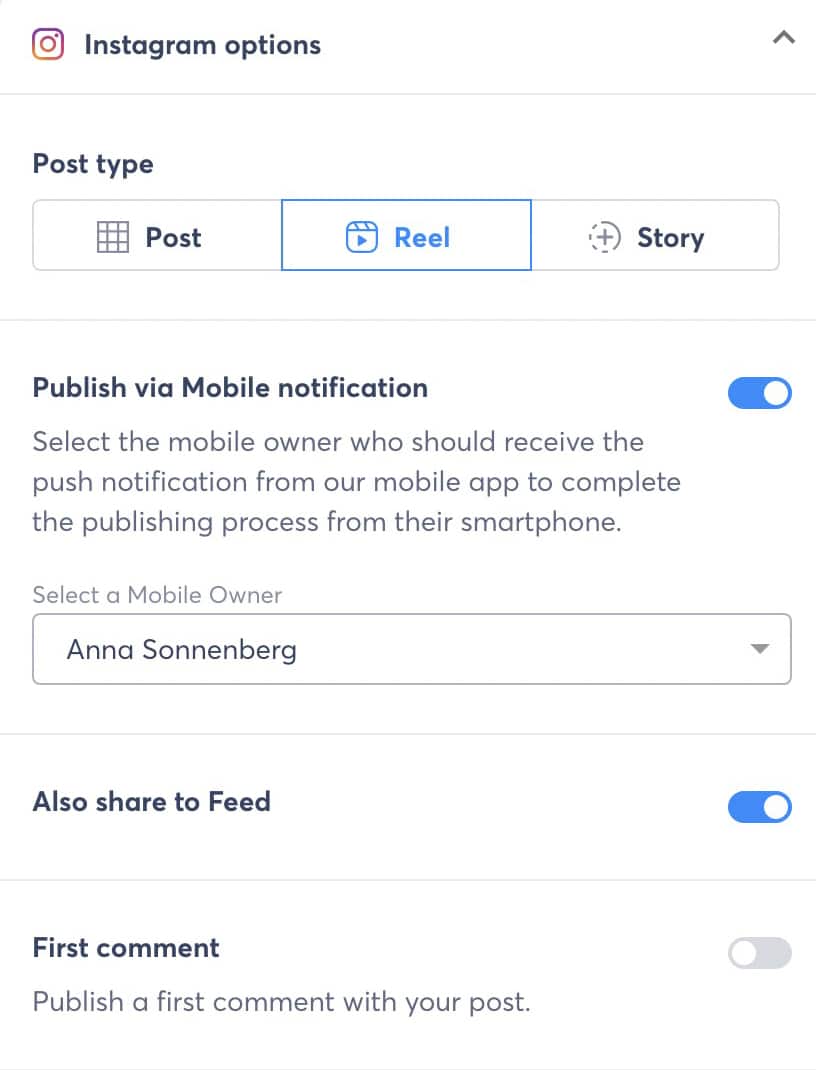 Do you want to add in-app transitions, text, stickers, or audio? Switch on the Publish via mobile notification toggle and select the team member who will publish the reel. The person you select will get a notification when it's time to post.
With reels, you also have an option to publish the first comment on your content. See below for more on this new feature.
Instagram reels engagement
Do your Instagram reels tend to generate a ton of comments? Now you can find them in your Agorapulse inbox, alongside comments on Instagram feed posts. You can respond to them directly from your Agorapulse dashboard—and even use saved replies for efficiency.
What Instagram Reels Mean (and Do Not Mean) for Social Media Managers
Instagram reels reporting
Want to see which reels are resonating with your audience? Now you can find reels insights in your Agorapulse reports. You'll see both reels and post metrics on the content reporting tab.
You can also use the Best post type to publish chart to get a broad overview of your Instagram content performance. And you'll also see top-performing reels highlighted on your Instagram profile's top content report.
UI/UX Optimizations
With a fully optimized user interface (UI) and user experience (UX), your team can work more efficiently and collaborate more effectively. As a result, your social media marketing efforts can provide more value.
So our team took steps to make Agorapulse faster. You might have noticed that we've optimized key components like the publishing composer, the publishing calendar, the social inbox, and even the dashboard's navigation.
Or you might just realize that it takes you less time to complete all your social media management tasks. Either way, Agorapulse's UI / UX optimizations are designed to help you save time and hassle.
Agorapulse Inbox Improvements
Agorapulse's social inbox is your destination for managing comments and direct messages—which means it's a critical hub for social media managers. In 2022, we made some key improvements to how the inbox looks and functions.
Redesigned inbox experience
This year, we essentially superpowered our inbox. Thanks to the more intuitive design, you can now manage your teams' and clients' inboxes much more efficiently.
Now you can respond to all types of engagement from a unified inbox for each social profile. In other words, you can do less clicking around and respond to engagement faster.
The type of engagement you see for each profile depends on the social channel. For example, Agorapulse supports organic comments, ad comments, private messages, reviews, and visitor posts for Facebook pages. If you want to focus on one type of engagement, click the All items dropdown menu and select an option.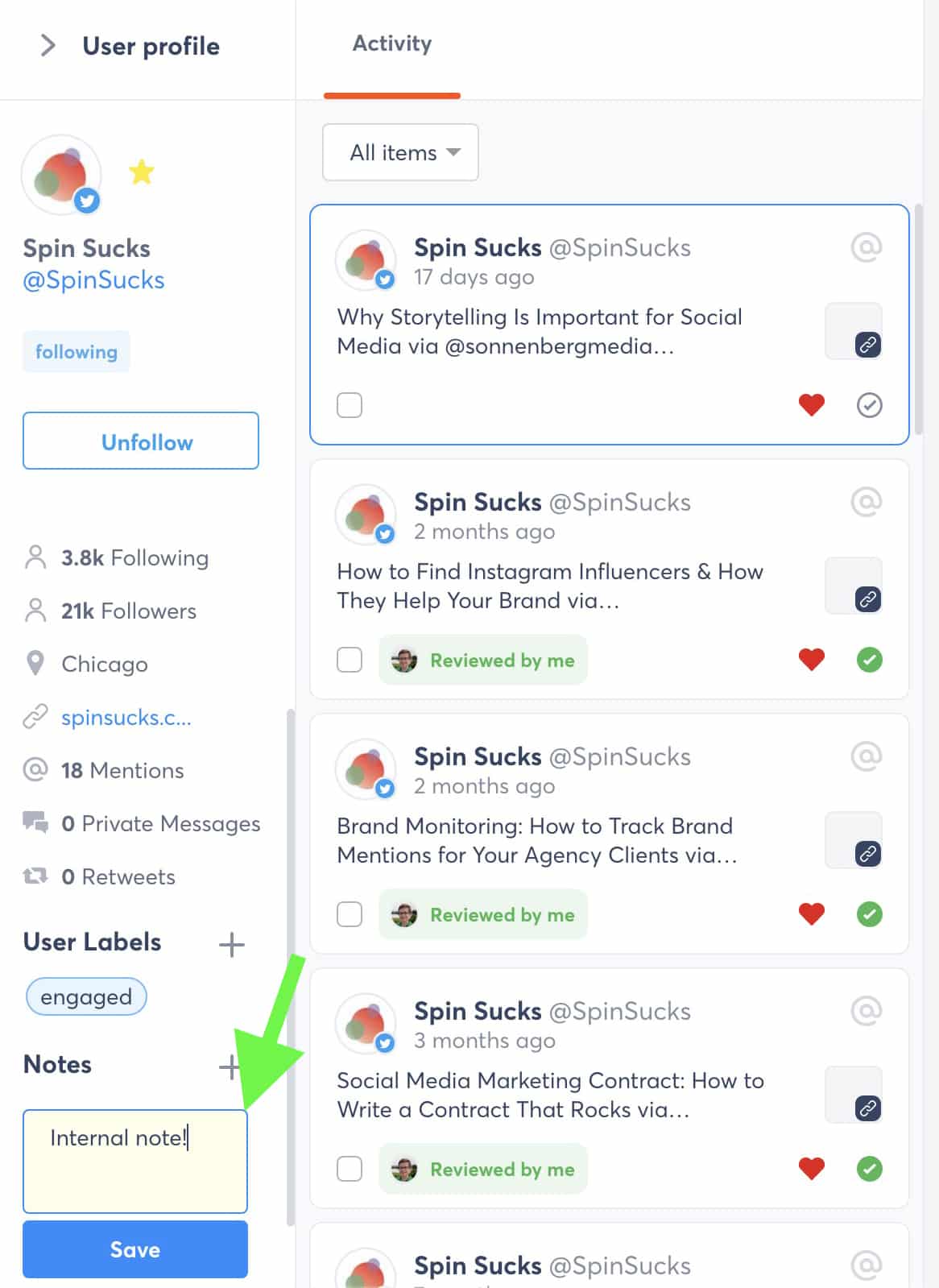 Need a little more context before replying to a comment? Open the user profile panel in your Agorapulse inbox to learn more about the user—including a complete history of their interactions with your brand. You can also click to add internal notes for your team.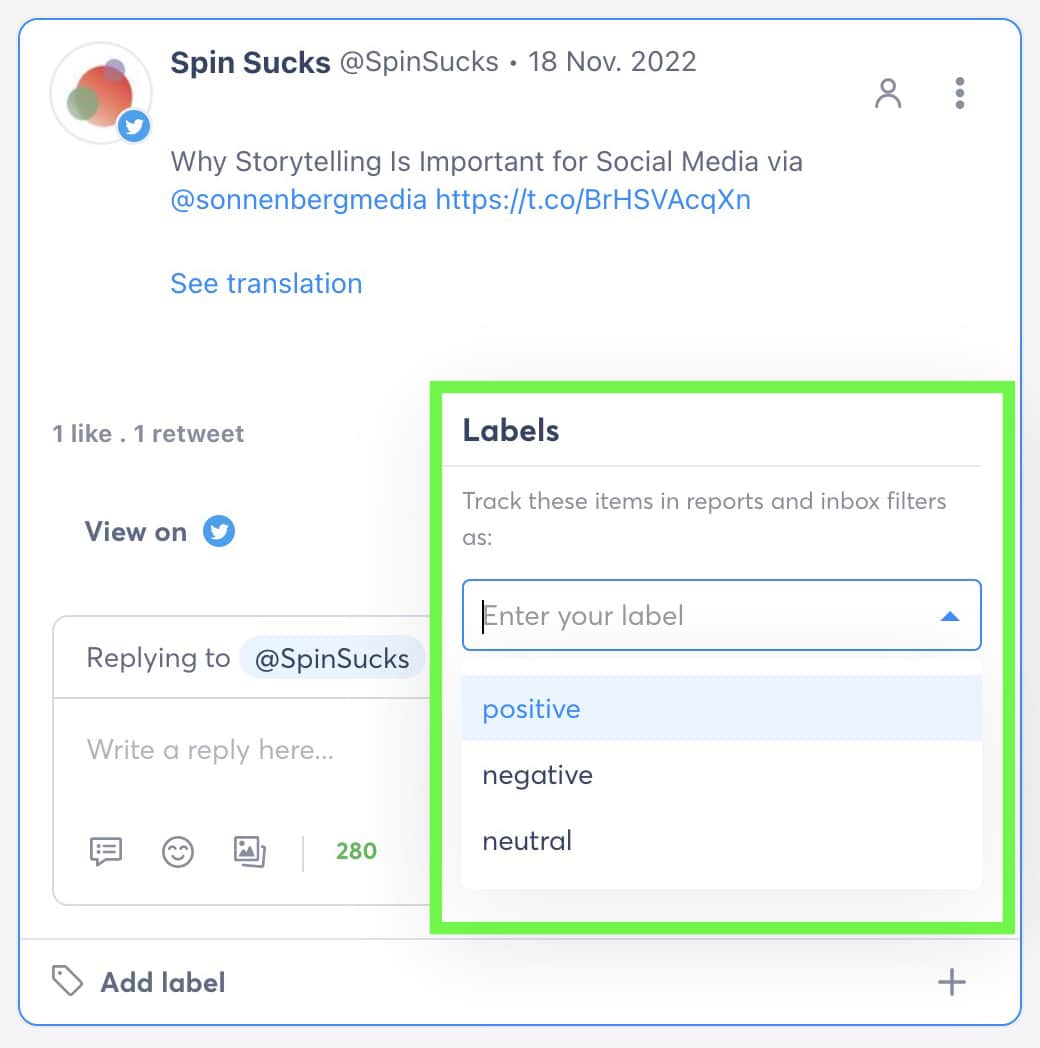 Want to categorize inbox items so you can analyze them more efficiently? Click the Add label button below any inbox item to add a label or create a new one manually.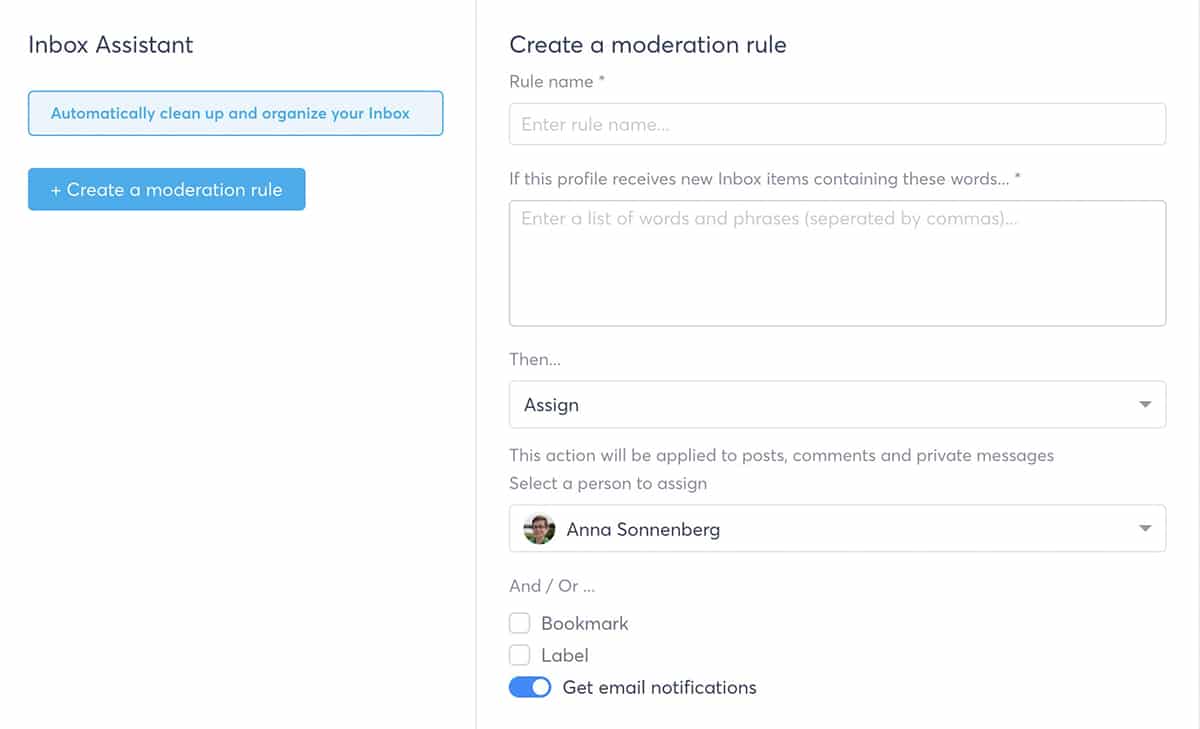 You can also automate labels and other inbox moderation tasks by clicking the Create an Inbox assistant rule button in the top right corner of the inbox panel.
Options vary a bit depending on the social network you need to moderate. But you always have the option to automatically review inbox items based on keywords and assign items to specific team members.
Bulk actions for inbox items
Is your team responsible for managing an overflowing social media inbox? The automated moderation tool above is likely to help your team save a lot of time.
So will the bulk action tool.
To review everything in your inbox, just click the checkmark icon at the very top. If you want to review select items instead, select them by checking the box in the lower left corner. Then click the checkmark icon.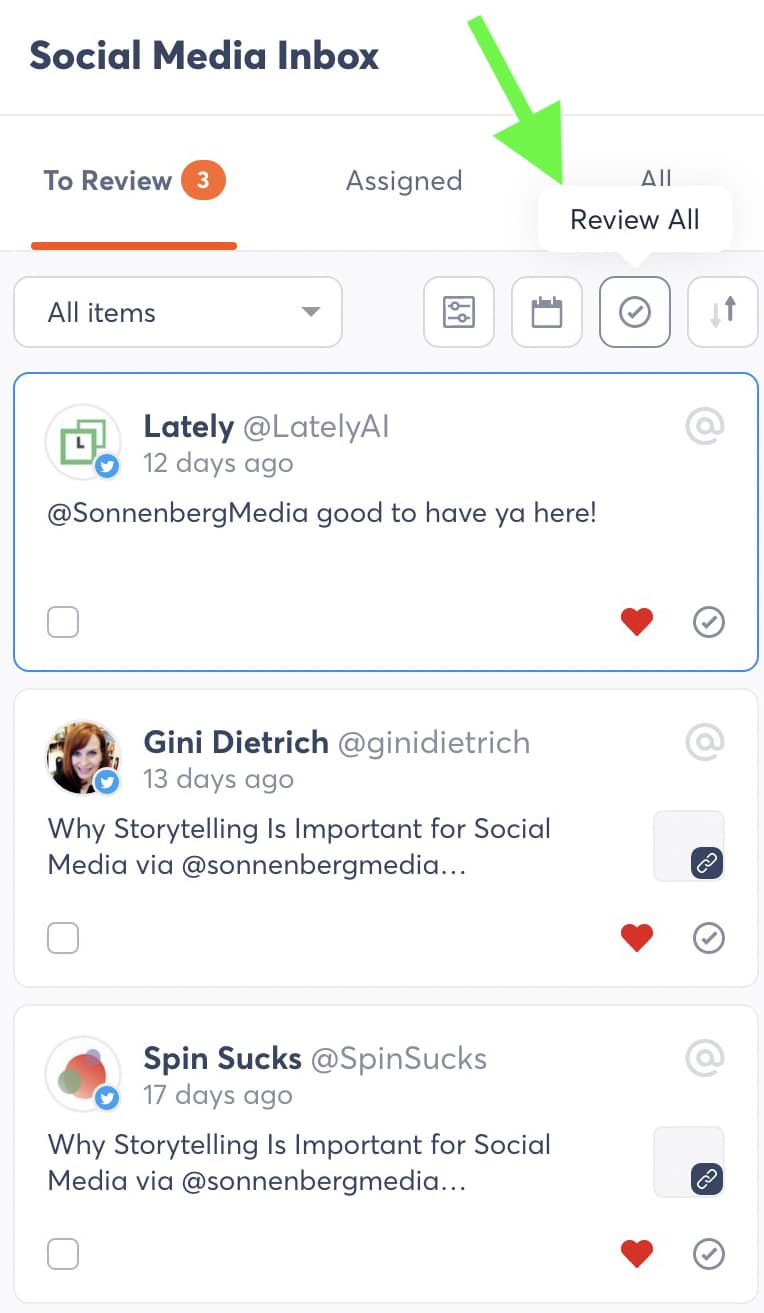 Want to label multiple inbox items at once? Select everything you want to label, and click the label icon at the top of the inbox. Then select at least one label from the popup menu and click to apply.

Need to assign several items to a team member? Select them and click the silhouette icon at the top of the inbox. Then pick the right team member from the dropdown menu and add an optional message.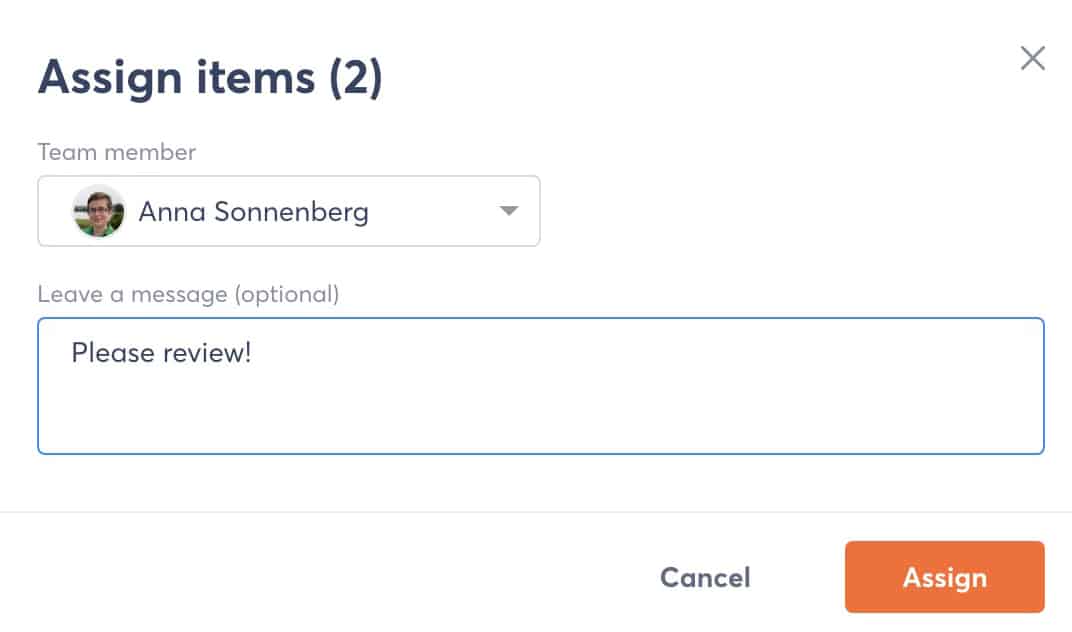 These bulk actions also work in your assigned items folder. That means you can review or tag items quickly, so you can get to social inbox zero much more efficiently.
Publishing Calendar Feature Releases
Across social media channels, content formats and publishing best practices evolved in a big way in 2022. Agorapulse kept pace with these changes by rolling out several new publishing calendar features.
Calendar filters
Social media content calendars can get crowded quickly—especially if you're managing multiple social profiles or if you have a complex approval workflow. With Agorapulse's new calendar filters, you can stay on top of your workflow and manage content effectively.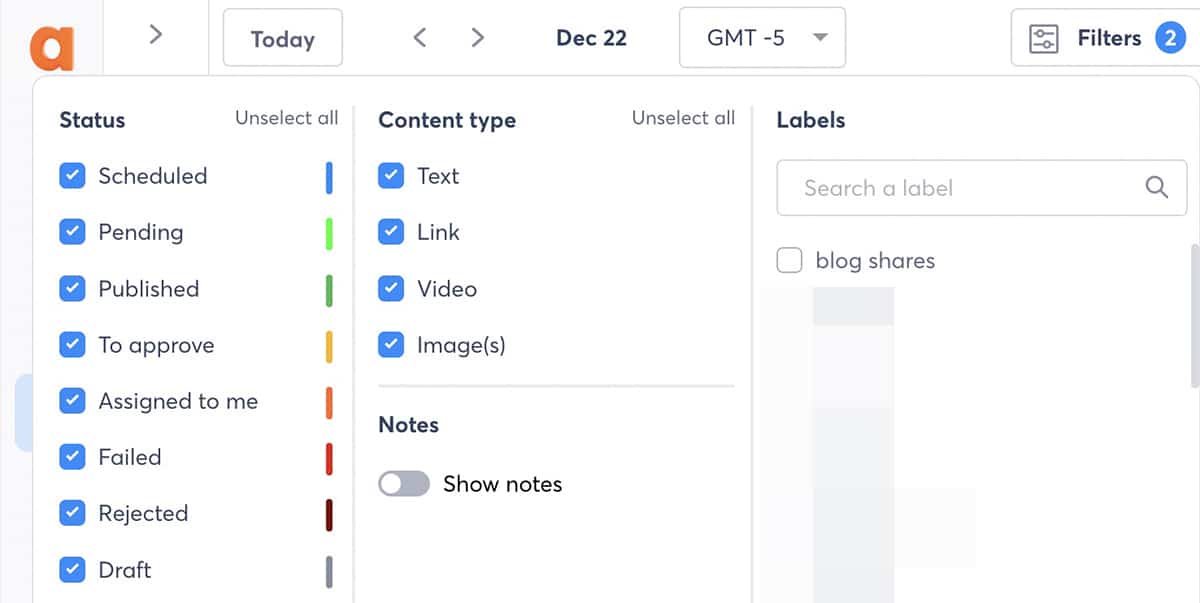 For example, you can opt to view draft content only so you can complete posts you've already started. Are some of your posts still awaiting approval? You can opt to view content that needs approval so you can send reminders.

Need to focus on posts that are waiting for your approval or content that a colleague rejected? Choose a relevant status from the list to help you focus. You can also use the Agorapulse's filters to view certain types of content or content with certain labels.
Calendar notes
With Agorapulse's new calendar notes feature, you can jot down ideas for your team directly in the publishing calendar. First, check the filters and enable notes. Then hover over a date and click the note icon.
Give the note a brief title that will display on the calendar. Then include more details or links in the notes box. Click Save to add the note to your calendar.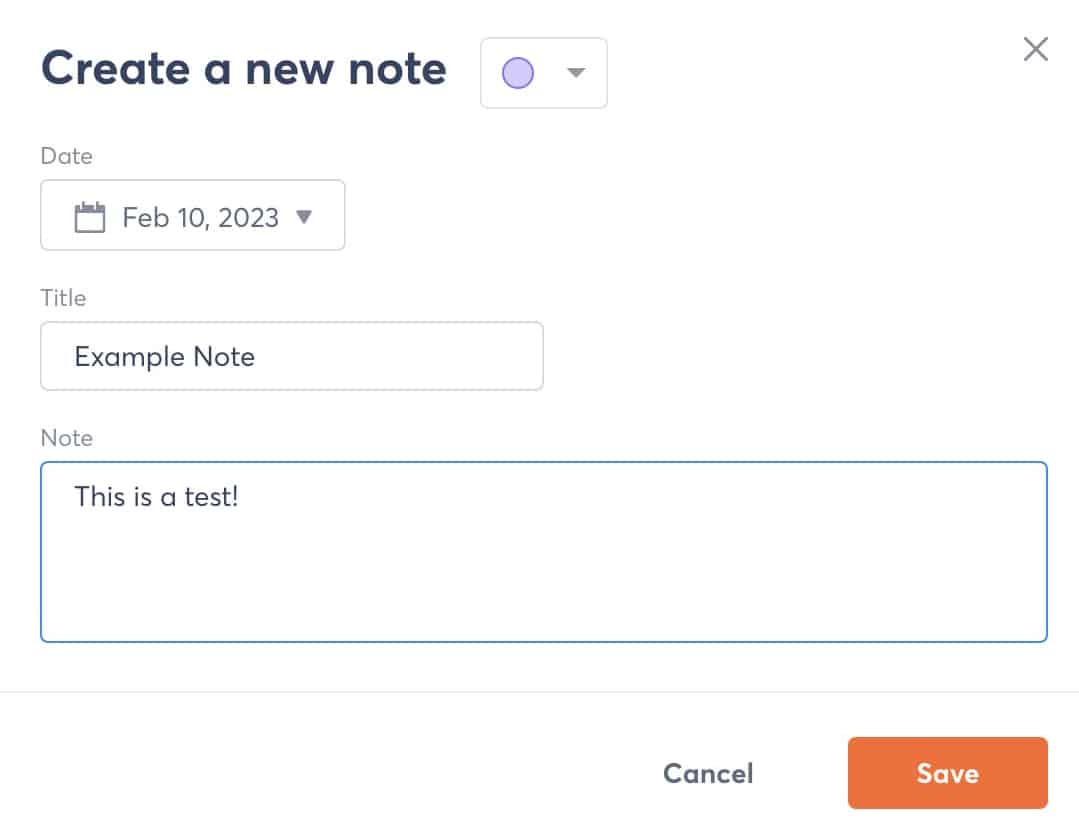 Keep in mind that all users on your Agorapulse account can view and edit the notes you add to the publishing calendar. So they're great for collaboration, but they're less ideal for notes to self.
Google Business Profile publishing
Do you want to create updates for your Google Business Profile and manage reviews? Agorapulse now supports both capabilities.

In the publishing composer, you can write copy and upload creatives from your device, the Agorapulse asset library, or a connected Canva account. You can also choose from several types of posts.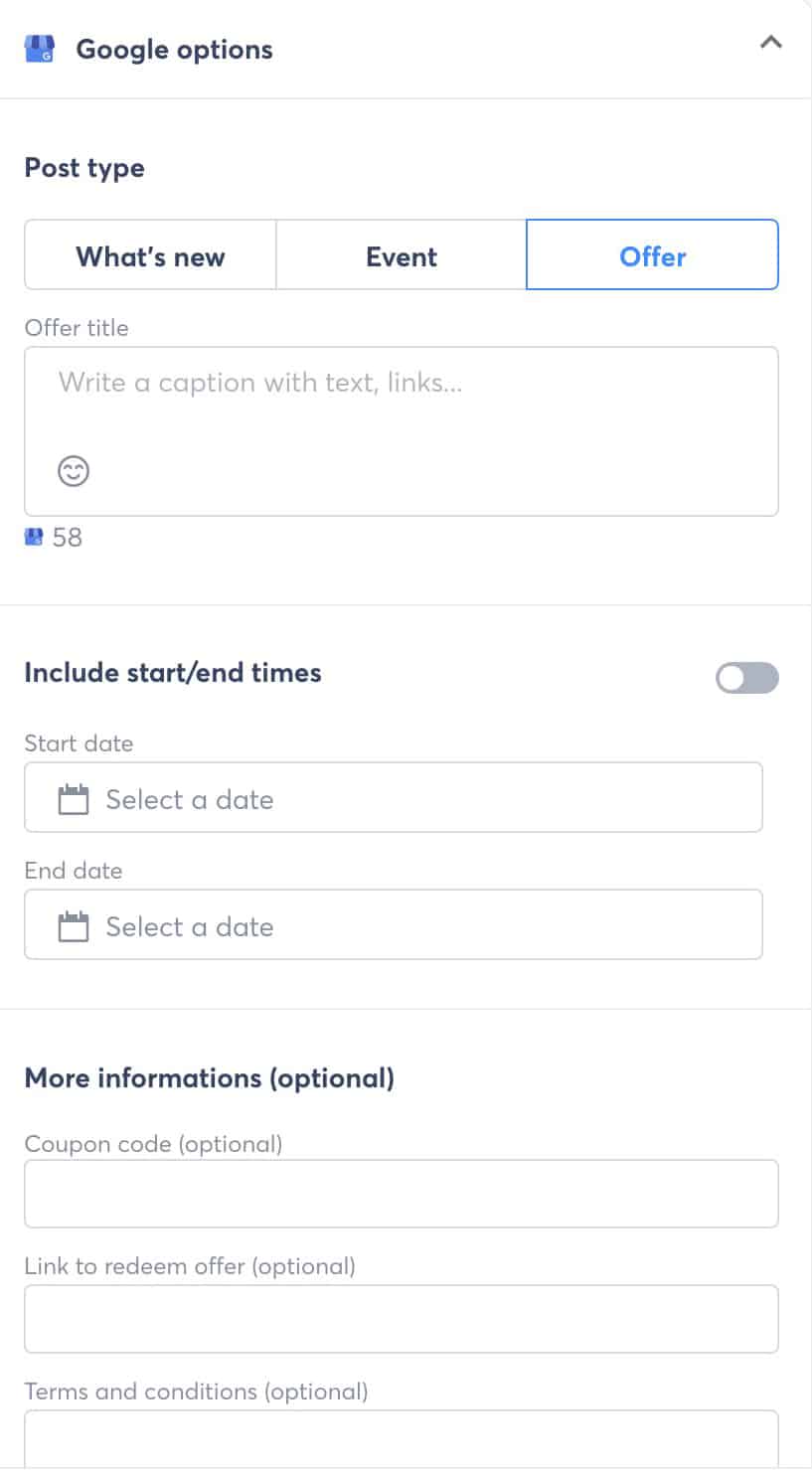 By default, Google Business Profile posts are published as updates. But you also have the option to publish an offer or an event from Agorapulse. Note that offers and events require additional information, so you'll need to add a title, dates, and other details to publish.
Instagram first comment
When you want to keep Instagram captions concise, adding extra details in the first comment is a great choice. Agorapulse now lets you publish the first comment on your Instagram content immediately after the post goes live.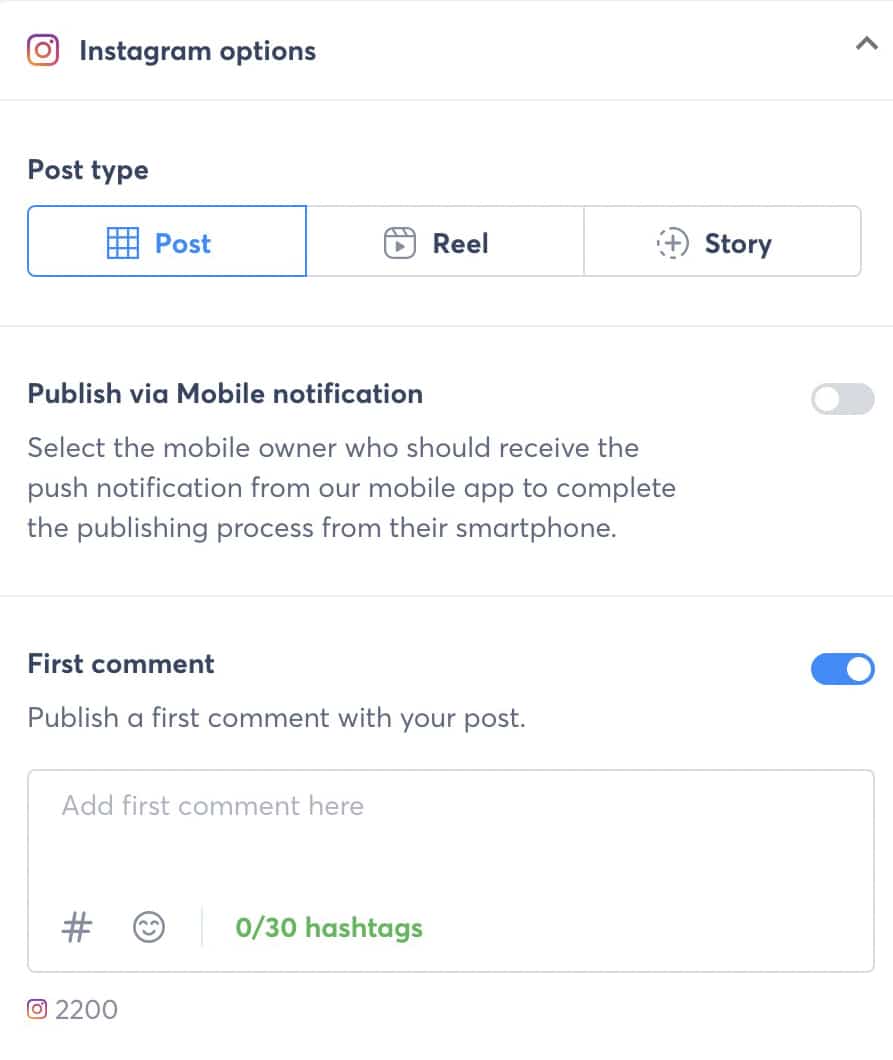 To use this feature, create an Instagram post and switch on the First comment option. Then add up to 2200 characters and up to 30 hashtags. Once the post is live, you have the option to use the Instagram app to pin the comment to the top of the thread.
Instagram grid view
Want to maintain a certain aesthetic on your Instagram grid? Now you can toggle between the grid and calendar view in your Agorapulse dashboard.

The grid view automatically pulls in your scheduled Instagram content so you can see how it will look alongside published content. Then you can make informed decisions. For example, you can reorder feed posts or avoid publishing reels to the feed.
Instagram carousels
Now that Agorapulse supports mixed media carousels, you don't have to limit your posts to a single creative—or a single media type. In the publishing composer, you can now create Instagram carousels with up to 10 images, videos, or a combination of the two.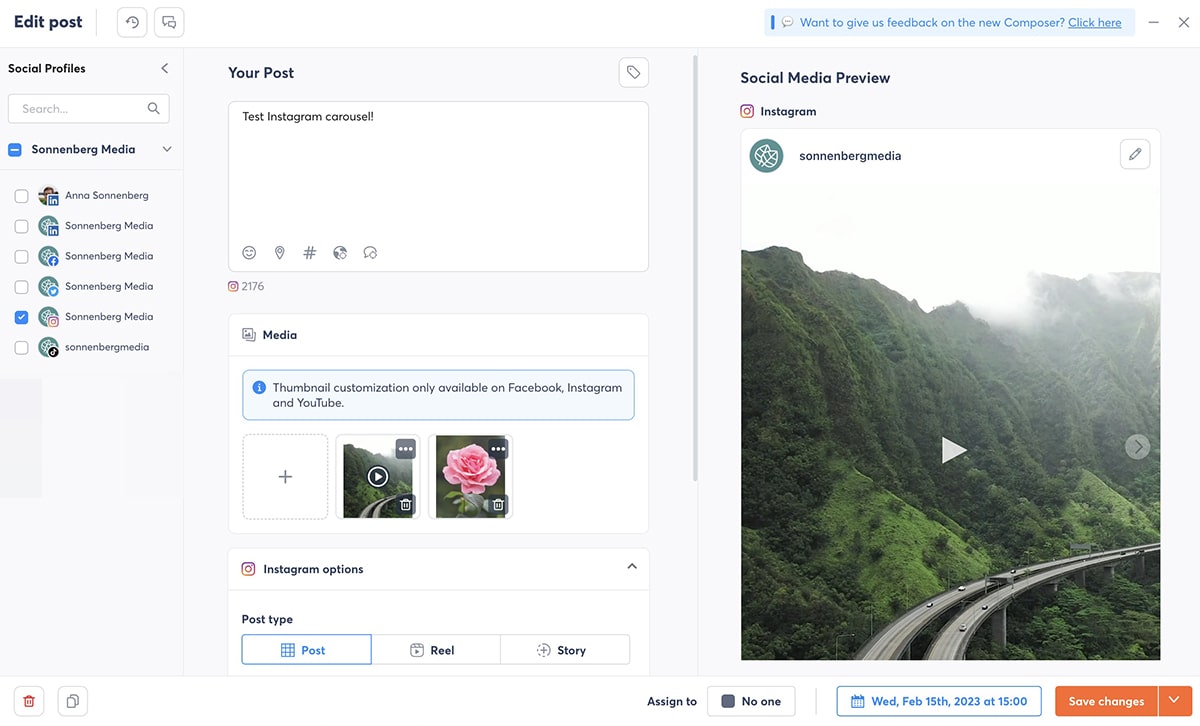 Want to change a video thumbnail or edit an image size before publishing? You can access all of Agorapulse's creative tools from the carousel creation workflow.
Agorapulse Mobile App Updates
Social media users are increasingly gravitating toward mobile devices, and so are social media managers. In 2022, Agorapulse's mobile app received two major updates designed for social media managers on the go.
Mobile inbox v2
Prefer to manage your inbox while you're out of the office? With Agorapulse's updated mobile inbox, you can review, respond, and organize engagement much more efficiently.
When you open your mobile inbox, you can click the dropdown menu in the upper left corner to locate the social profile you want to review. Tap to view any item and engage directly in the app.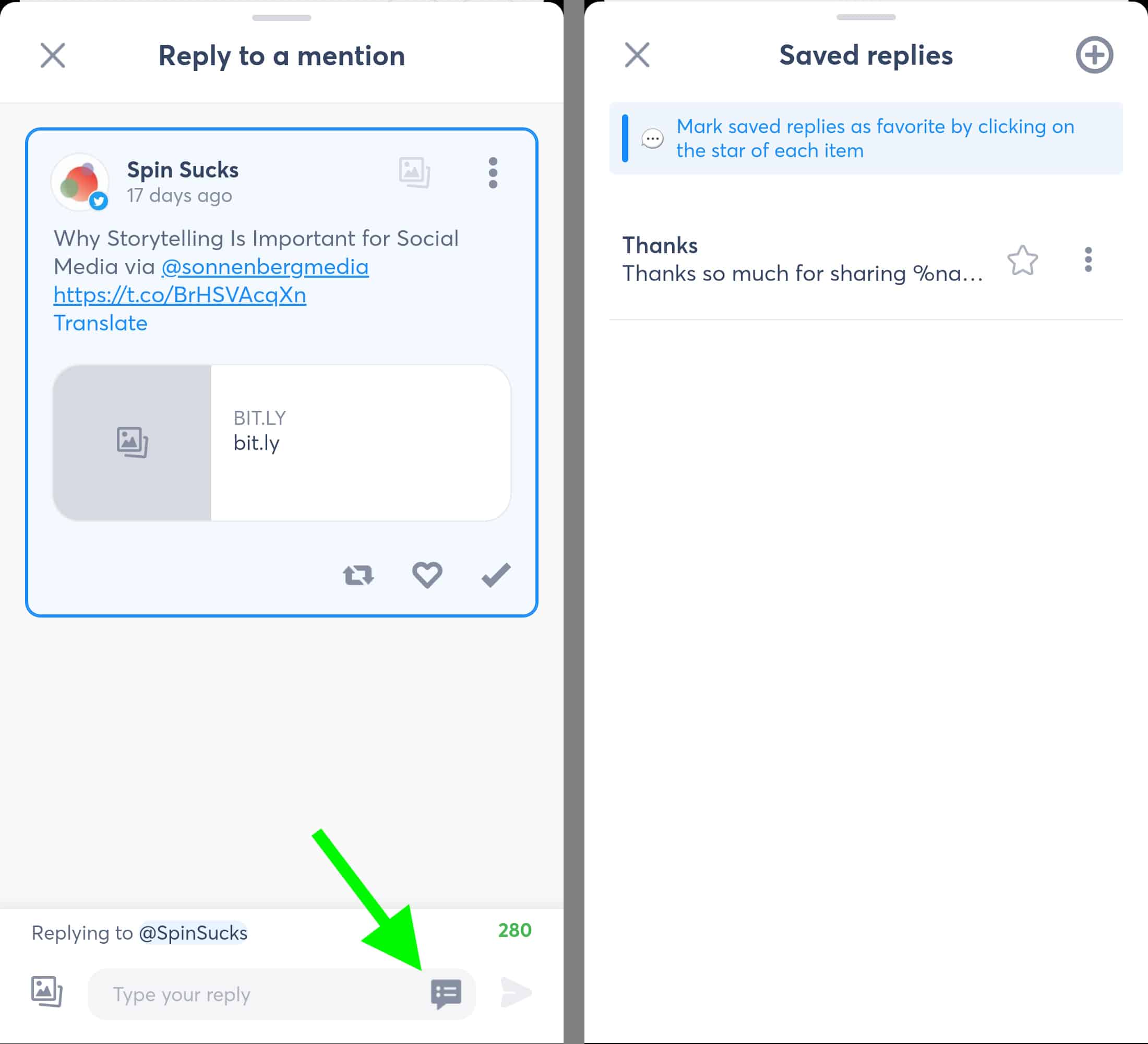 For example, you can like, share, and respond to comments. Want to use one of your team's saved replies to provide a faster and more consistent response? Tap the message icon in the lower right corner to open and select from your list of saved replies.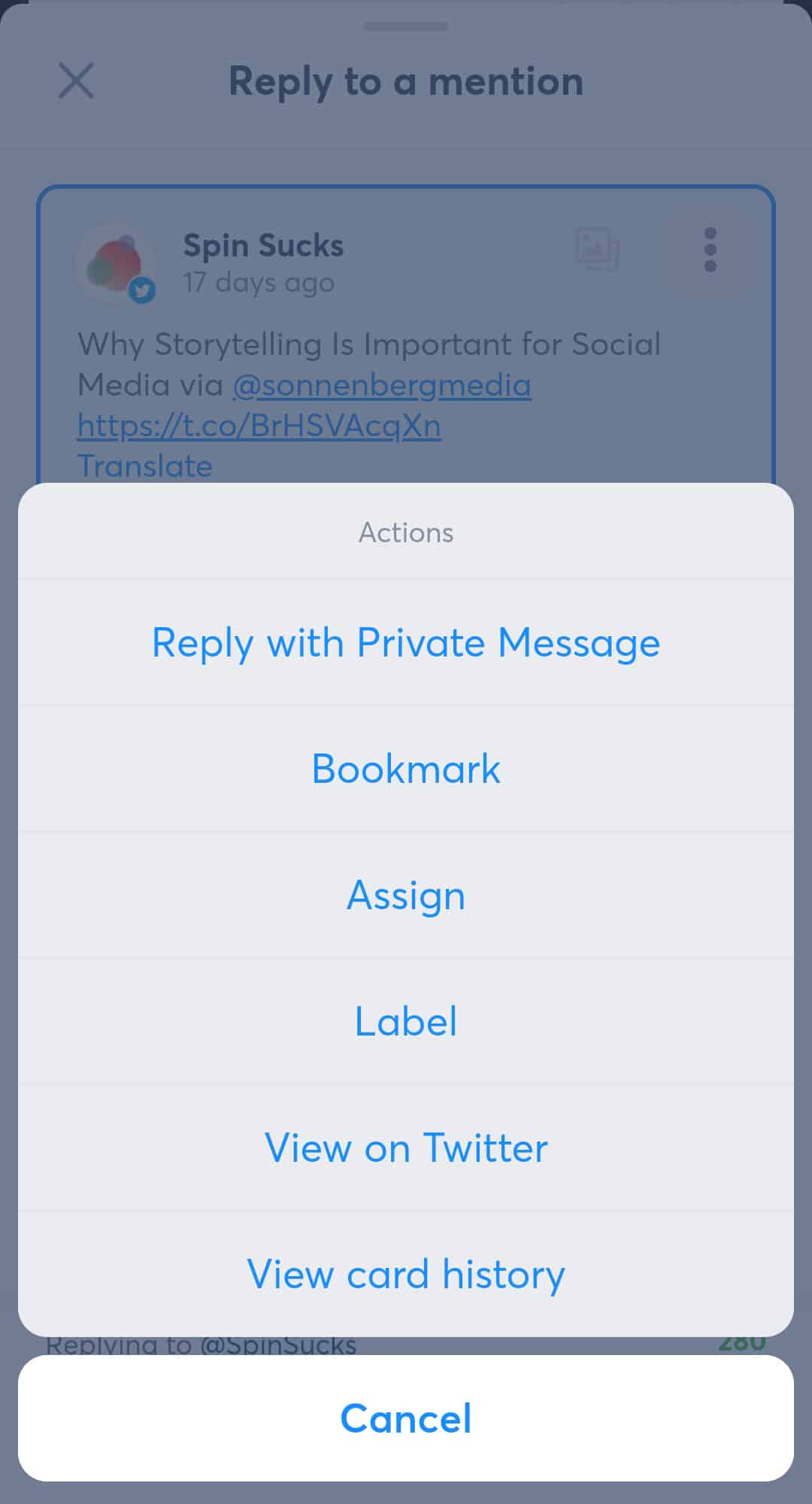 Need to label an item or assign it to a team member? Tap the three dots in the upper right corner to select another available action.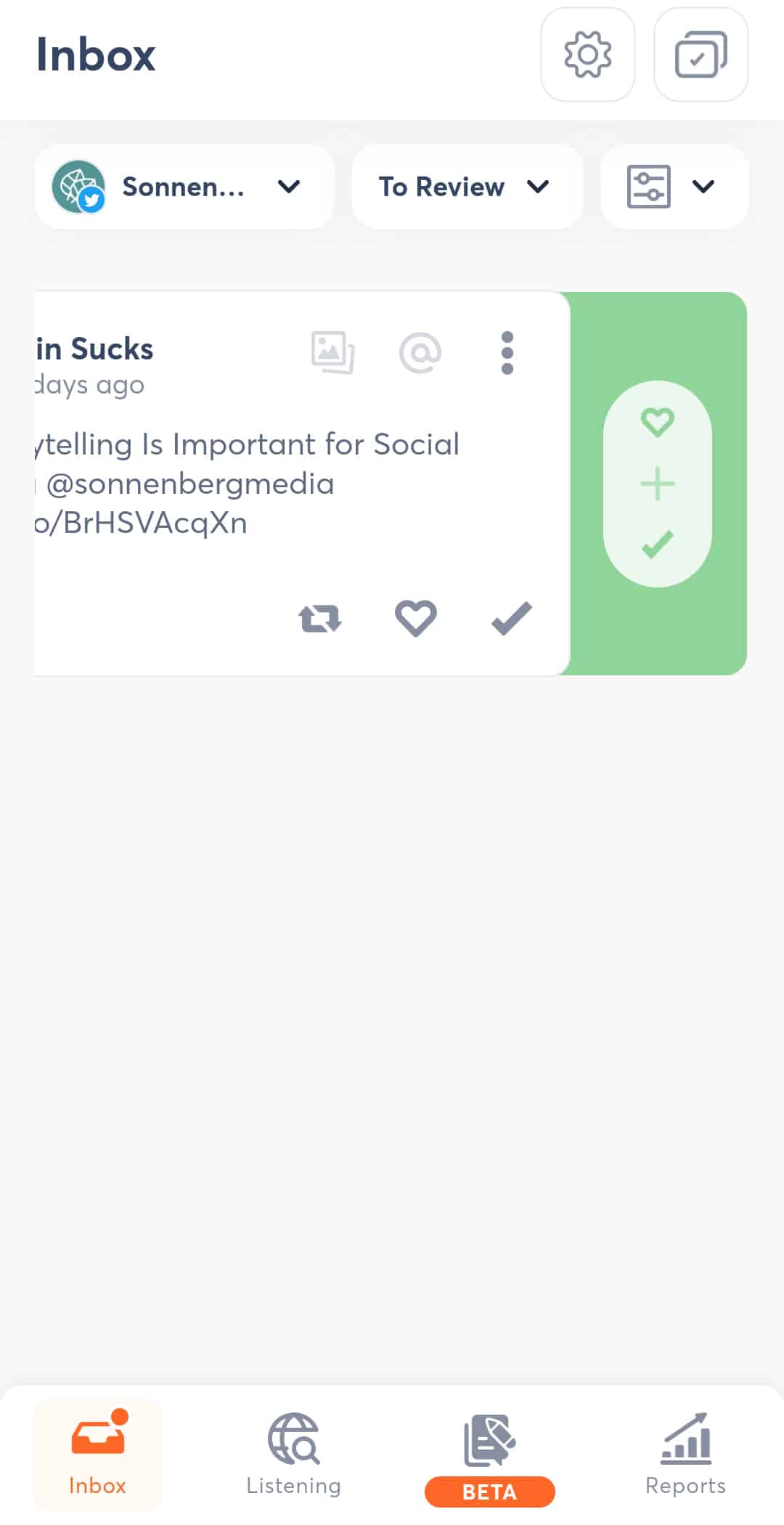 Just want to review inbox items quickly? Swipe left to check them off your to-do list. Swiping left also gives you the option to choose from other actions you frequently take in the inbox—such as liking items.
Mobile publishing composer
When you create content for an entire week or for a whole campaign, using Agorapulse's desktop publishing composer often makes the most sense. But when you're live tweeting an event or sharing breaking news, you need a reliable mobile publisher.
Agorapulse's new mobile composer makes it easy to create content from virtually anywhere. To put it to work, go to the publisher tab and select a social profile from the dropdown menu. Then tap the plus icon in the lower right corner.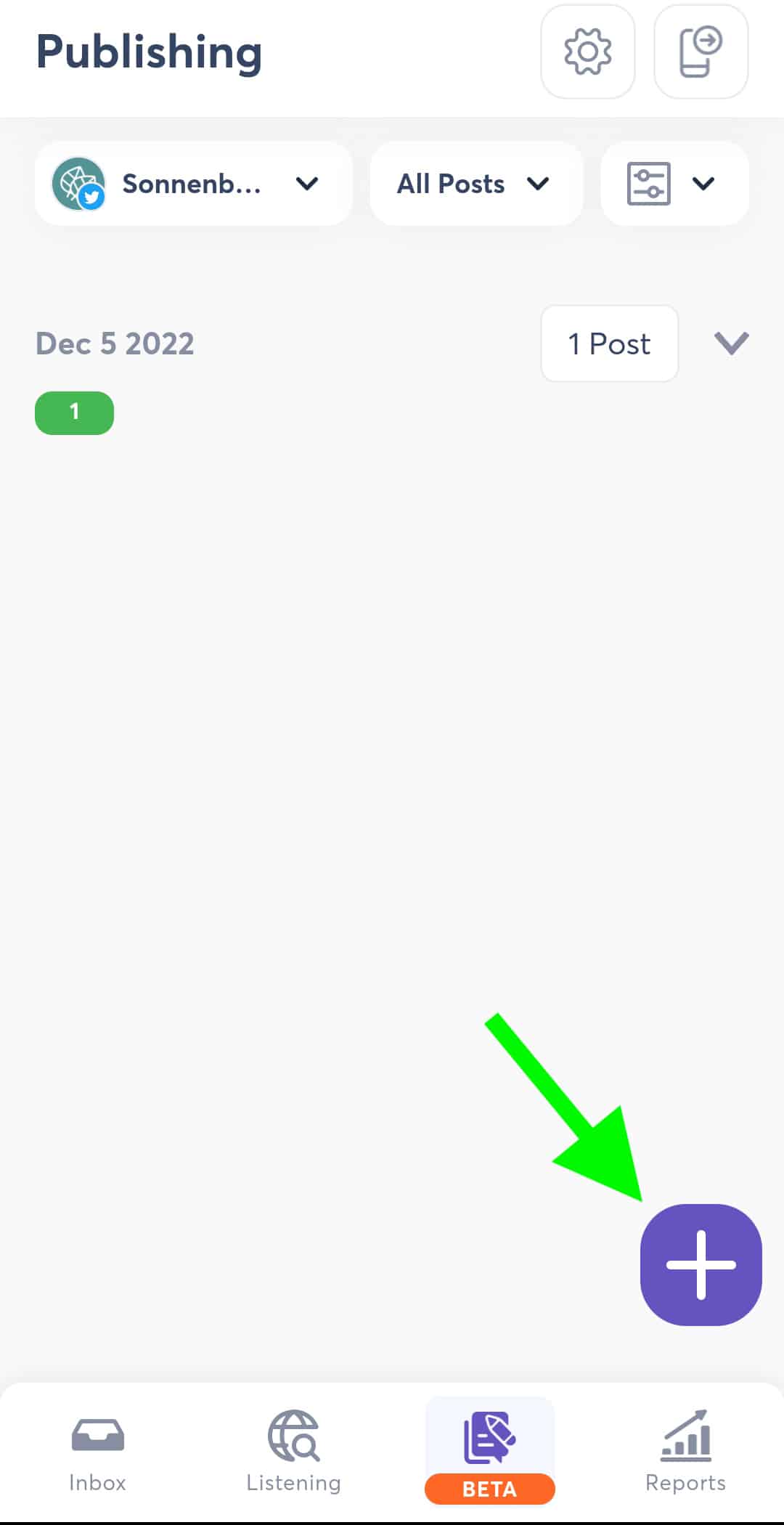 From here, you can upload media and write a compelling caption. You can also tap the plus sign in the upper left corner to cross-post the content on multiple social profiles.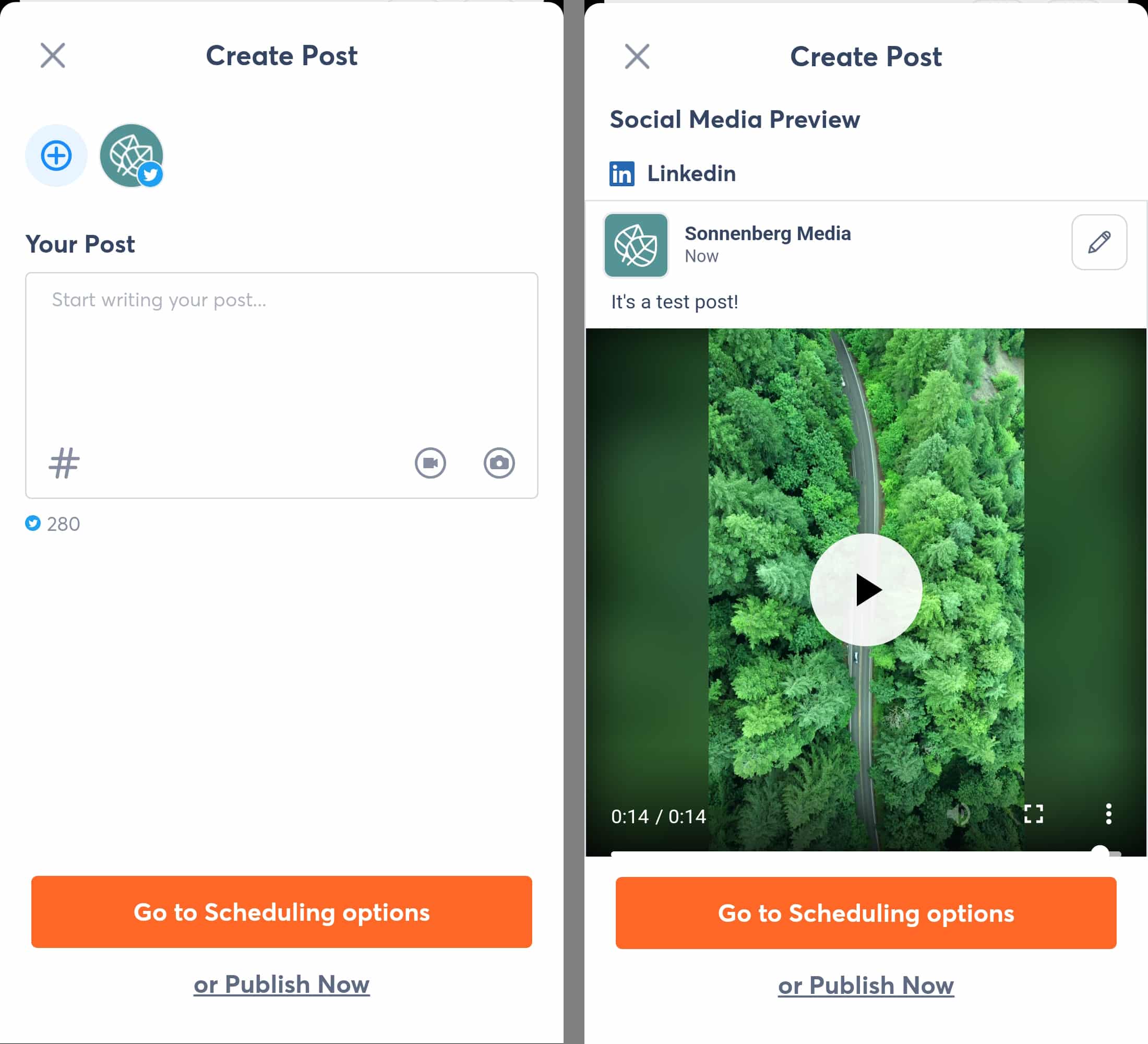 If you select multiple profiles, you can scroll down to see a preview for each. You can also tap the pencil icon to create a custom edit for each social profile.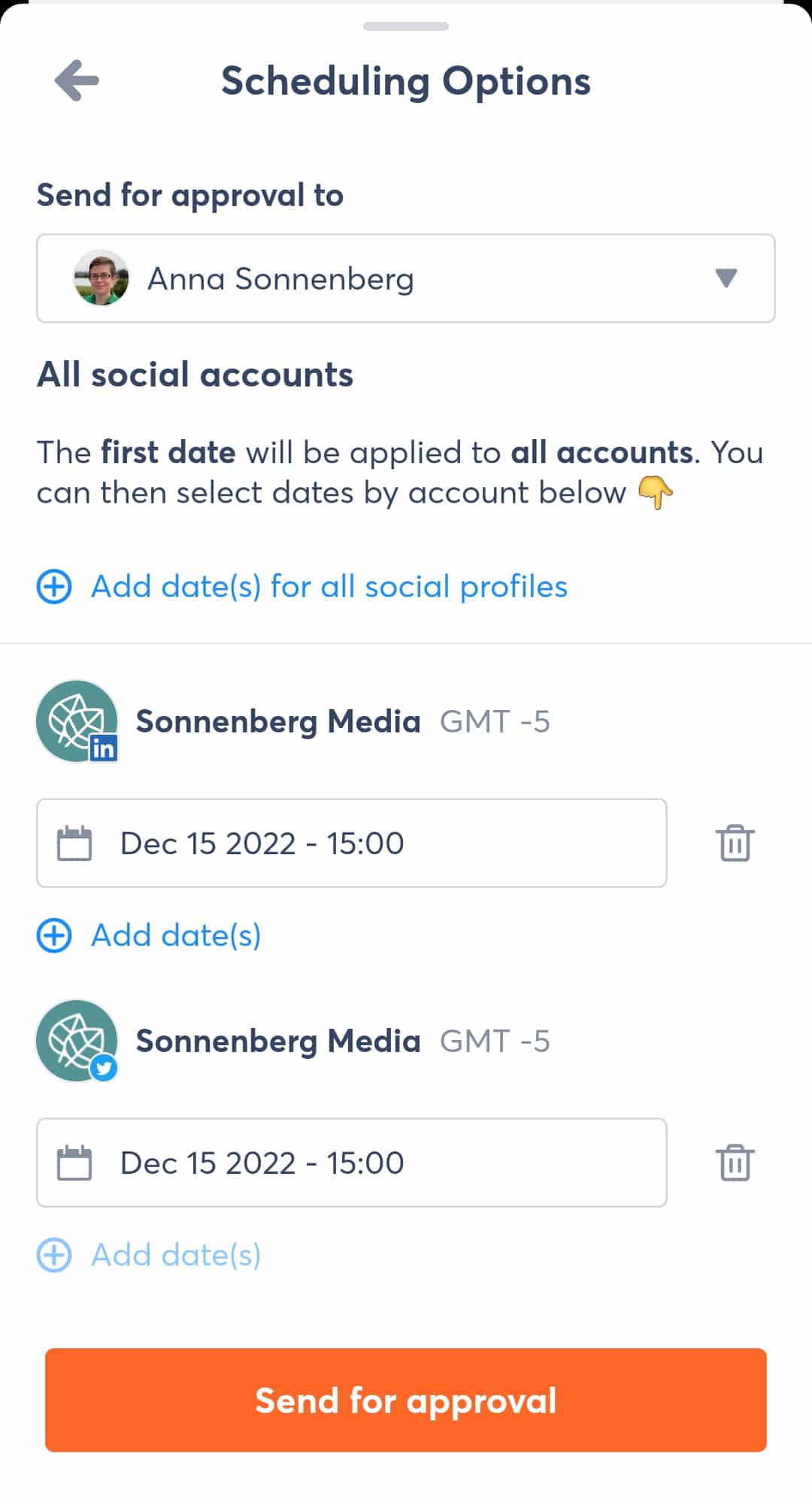 Then you can publish right away or schedule for a future time. Need a team member to green light your content before it goes live? You can send posts for approval directly from the Agorapulse mobile app.
Wrapping Up How Our Social Media Tool Evolved in 2022
These ongoing improvements are one of the reasons G2 ranks Agorapulse as a top marketing product. They're also a key reason that Agorapulse ranks ahead of other popular social media dashboards in G2's product direction poll.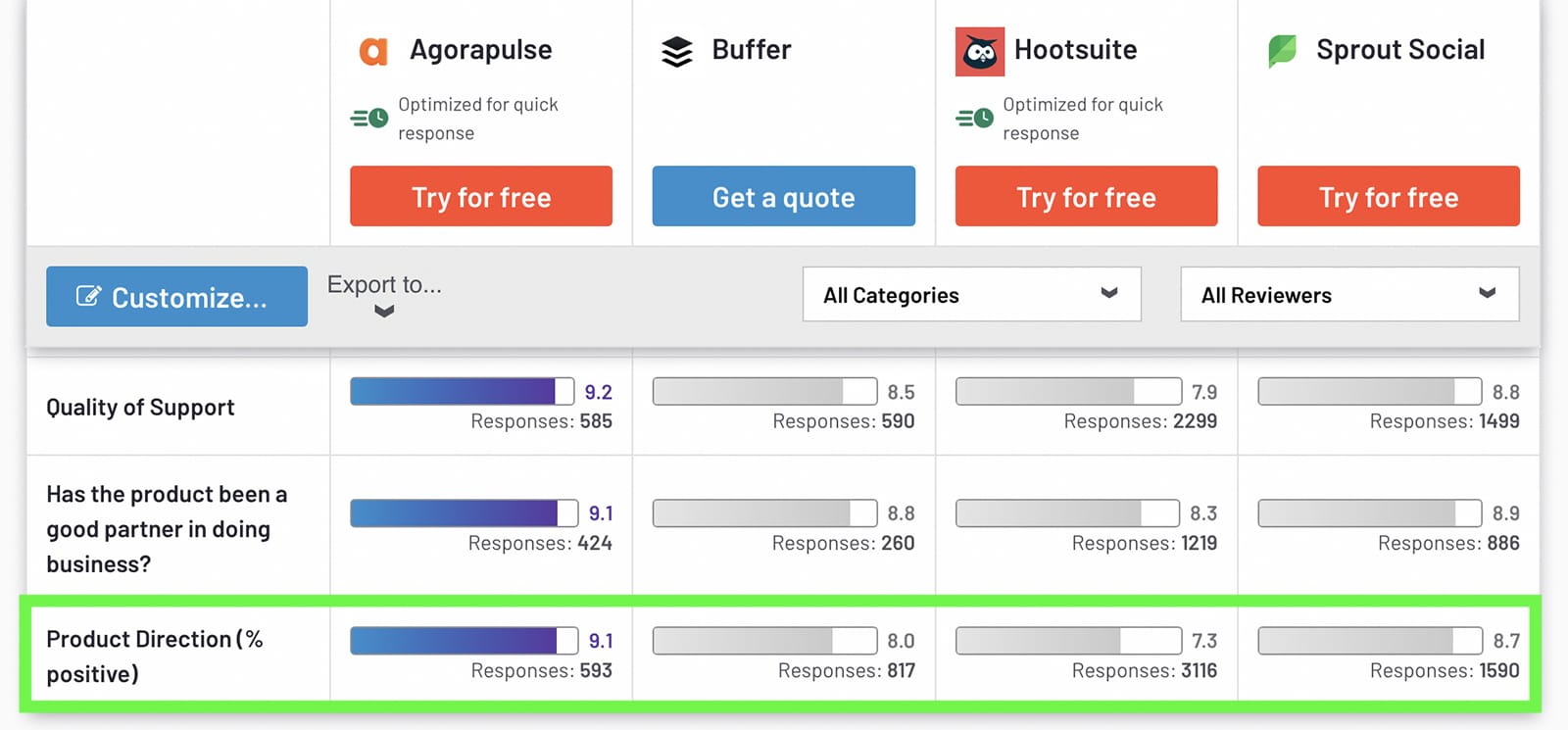 In other words, if you're in the market for a social media solution that's always moving forward, Agorapulse is a great pick. Head over to your dashboard to explore the features above or sign up for a free demo from us today!