A social media value chain, sometimes known as a social media funnel, converts your audience into customers. I'm going to share the conversion optimization journey a potential client takes on the road to becoming an ambassador for your brand.
The following seven steps can help you create an impactful social media value chain.
How Does
a

Social Media Value Chain Work?

Different industries have different ways of referring to the phases of the funnel. How they are used depends on their product, the amount of touchpoints needed, the price points, and the size of the company.
Example of a long funnel
Customer sees a social post for a free software trial on Instagram.
Customer clicks on the ad to download the trial.
Sales receive the customers details as a lead and follow-up.
Customer receives several emails about the product.
The trial expires, and the customer makes a purchase.
Customer follows the brand's social media page.
Customer refers a friend or upgrades.
Example of a short funnel
The customer makes an impulse buy on Instagram.
His details are added to the company's subscriber list.
The company gets future purchases through email marketing.
The social media value chain charts the customer's path until the desired outcome of a purchase, at which point the person becomes a brand ambassador who generate leads for your business. That result is the holy grail outcome for a social media value chain.
Social media value chain tip
According to author Adam L. Penenberg's book "Viral Loop: From Facebook to Twitter, How Today's Smartest Businesses Grow Themselves," many titans of industry have leveraged social media to exponentially increase their brand visibility and revenue. The book coined the phrase that embodies the social media value chain.
A viral loop is a mechanism that encourages your existing audience to refer your business, product or service to others. Once a customer becomes an advocate, the person drives business for you by promoting your brand and sharing positive experiences.
Here are the seven stages of a successful social media value chain.
1. Awareness and Impressions
4.65 billion people are actively using social media. Which means that, unequivocally, your potential customers are sharing their likes and interests across popular social media platforms like Facebook, Instagram, and Twitter.
The first step in gaining your next and best brand advocate? Letting potential brand advocates know you exist.
Identifying a problem that your target audience needs solving is one way to build brand awareness. That doesn't mean your potential lead must be knowledgeable about your brand. You just need to relate to them by offering a solution to their problem.
Another way is simply to be eye-catching, on brand, and fabulous like Gucci in the example below. The user might not be thinking about buying a Gucci purse but would consider engaging and following. And that's enough at this stage.
The first contact is not the time to hard pitch your product or services.
Today's social media audience is a savvy one. Digital marketing experts estimate that most Americans are exposed to 10,000 ads each day. At some point, we start a screening process for what we engage with and start ignoring advertising messages unless it's something that we have a personal interest in.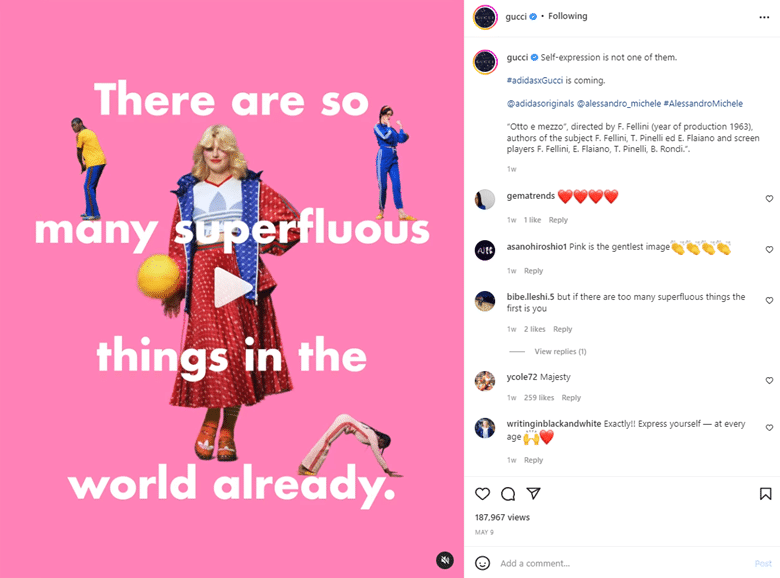 2. Reach and Likes
You know you want them! Likes are quick tap manifestations of audience engagement, enjoyment, and awareness. They are worth their weight in gold to your social media value chain. Call this the "consideration" phase of the social media value chain, where your desired customer is aware of you, interested in you but still explores the possibility of engaging further.
They're beginning to come to you as a resource for the information or entertainment they want. And at this stage, they might also be researching competitors in your space to determine where to invest their money and trust.
Your primary objective at this stage is to win over your audience. This is your opportunity to provide more detailed information to guide potential customers further into the value chain. The immediate and real-time validation of your efforts will come in the form of likes, comments, or shares, which in turn gives your business invaluable insight into the marketing efforts and posts that resonate with your audience.
Social media value chain tip
Organic engagement is hindered by the algorithms of platforms like Facebook. So, if you see more than 1% of your followers engaging with a post then you're doing great. 0.5% is considered good. You can use these likes as a benchmark of what your audience likes to see.
Here's one of our recent posts that had 70 likes. As our page is at 31,000 fans, 1% should be 310 likes. If you want to accelerate likes at this stage, you could try a targeted boost.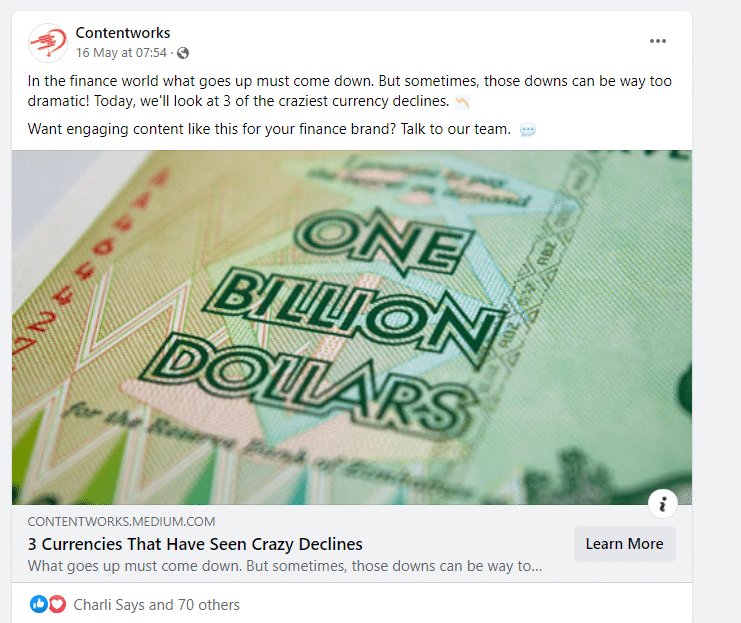 Add tracked links to paid social media posts and check in with your Google Analytics platform to see what worked. If you spent money on it, it needs to be accountable in the ROI department.

3. Engagement and Shares
Shared content is the next stage of the social media value chain. It represents the point where your audience goes from following you, to wanting to advocate for you. They possibly didn't make a purchase yet, but they are closer. Plus, they are inadvertently inviting others to do so.
Don't be afraid to ask for increased engagement at this stage. Look at how Australian boot retailer Blundstone drives interaction by asking a targeted question on Instagram.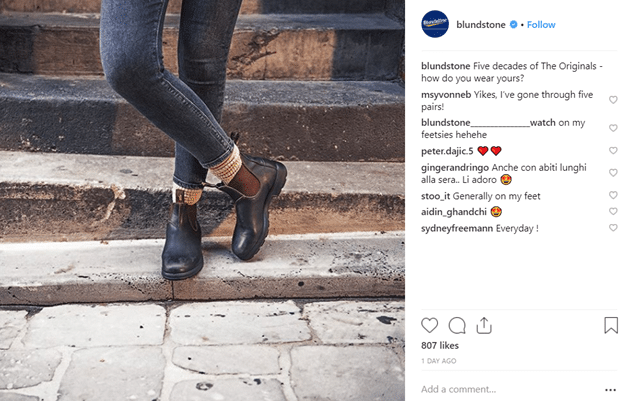 Here's another subtle strategy: Banana Republic hints at a surprise reward for tagging a friend. this is another form of content sharing.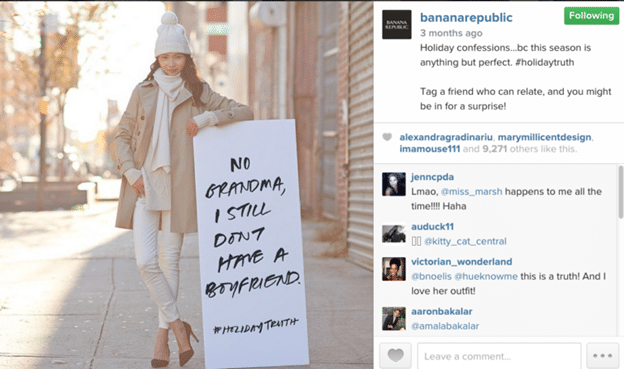 Over on Twitter, brands incentivize retweets among their fans like PBShop did in the tweet below. Remember, we are still not suggesting anybody purchases anything at this stage in the social media value chain.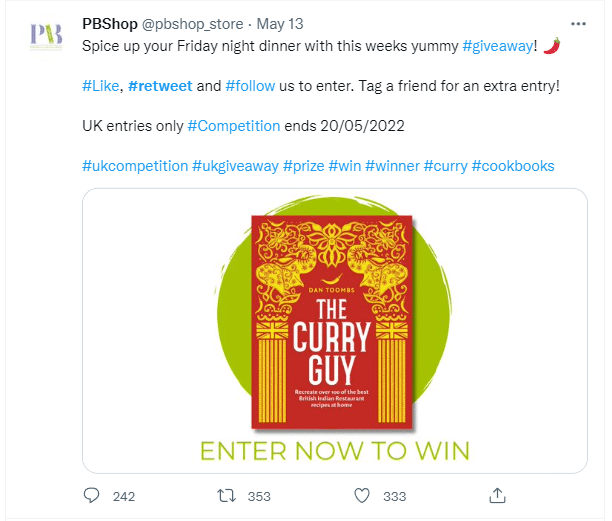 4. Audience and Subscribe
Subscriber Data can include the name, email address, telephone number, and preferences identifying a subscriber. Often, that involves getting fans to subscribe off social media to your email newsletter or fan database. Getting your fans to subscribe to your content is crucial.
Once your fans subscribe, you can continue to communicate with them, ask for feedback, and later upsell. Whether the subscribe comes as part of a social media value chain or as a standalone, it's effective. But you're more likely to get subscribes from dedicated fans who know and trust your content.
As a subscriber to H&M, I am more likely to be interested in its promotions and launches. Plus, I can be treated to birthday discount codes, subscriber incentives, and refer-a-friend offers.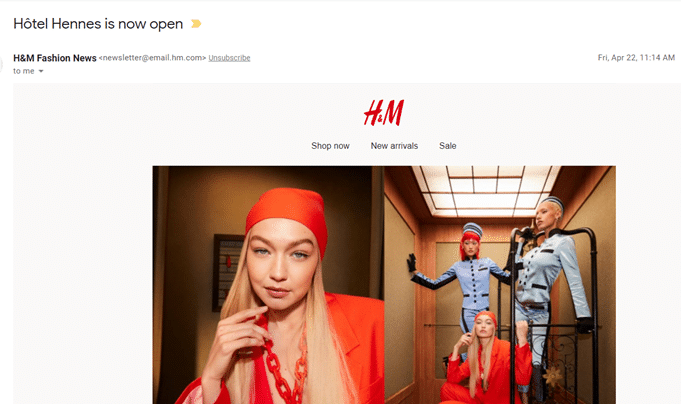 Social media value chain tip
Don't abuse your subscriber lists! If you do, subscribers can easily hit unsubscribe. Emails sent too frequently or those with aggressive sales messaging don't resonate well. The best frequency for newsletters is two times per week as a maximum. 61% of consumers want to see at least one email a week from brands they follow.
So, sending out a weekly newsletter to subscribers is the sweet spot.
5. Education and Website Visits
Your social media channels, email newsletters, videos, and downloadables are likely driving traffic to your website. So, what then?
Visitors landing on your website won't stay if your website content is stale, salesy, or nonexistent.
Here are some examples of nudging content to take visitors to the next stage:
An education center: Explain your products and how to use them to build knowledge and confidence. Explain difficult terms and offer FAQs.
Case studies: Show your new visitors success stories from real customers who use your products and services. This will build trust and confidence to purchase. You can also link to positive reviews.
Blogs: Your new visitors will often head straight to your blog, so make sure its packed with up-to-date news stories, PR, company culture, and events.
Portfolio: Showcase your best work with a portfolio page. Visitors will enjoy browsing work examples and this will help them to move further along the funnel to a purchase.
CTAs: Make sure your website has plenty of obvious CTAs for visitors to make their purchase. Avoid annoying pop ups and roadblock banners, though!
Here's an example of how JetBlue effectively utilizes an email campaign designed to drive traffic to its website.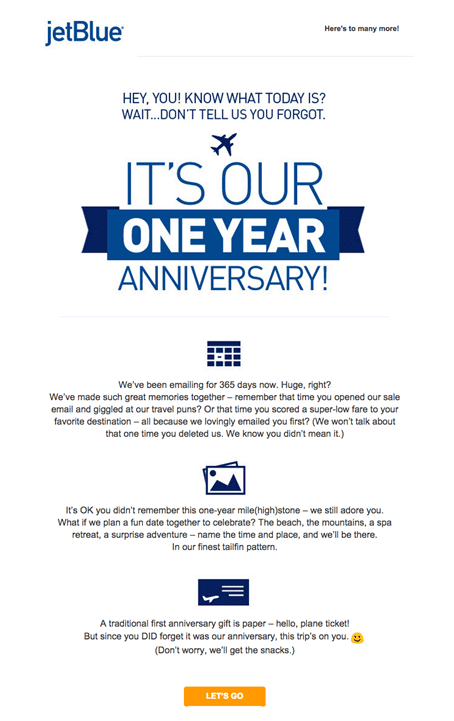 Social media value chain tip
Install a Facebook Pixel to retarget people who visited your website but left without purchasing. It's completely free to set up and increases your chances of recapturing anyone who escaped your social media funnel.
6. Sales and Revenue from Social
Finally, it's sales time! With an effective, targeted, and informative social media marketing funnel, you've converted a curious visitor into a sale. Sales can be achieved directly through social media or by driving traffic to your site.
Include a point of sale by:
Implementing shoppable Product Pins or Catalogs on Pinterest
Creating a Facebook or Instagram shop, where users can checkout directly
Utilizing a shopping plugin like Taggshop with shoppable social feeds on your website.
Connecting plugin shops like Shopify, WooCommerce, Magento or Wix to your social media pages
Ensuring straightforward CTAs on your social media pages and bios
Crafting tempting offers in organic posts, Stories and Reels
Creating video content that captivates audience and has a powerful CTA
A recent article published by Shopify projects the global ecommerce market will grow to hit $5.55 trillion in 2022. Prior to COVID-19 lockdowns, only 17.8% of total sales were attributed to online purchases. The number is projected to hit 21% by the end of 2022, and 24.5% by 2025, a 6.75% increase in just 5 years.
A tempting flash sale can inspire an order. Especially if your potential customer has already seen or engaged with other touch points.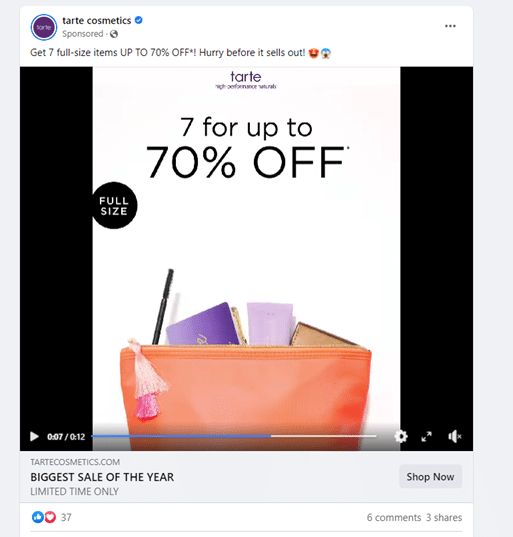 7. Advocacy, and Positive Mentions and Shoutouts
Does anything feel better than the validation stemming from a job well done? (You'll want to track the social media ROI to prove that success!) The positive mentions, comments and shoutouts of captivated audience may be more beneficial than the purchases they make.
For every satisfied customer that takes to social media to share their experience, five more curious individuals could be entering the top of your social media value chain. This potential growth defines the principle of the viral loop, and ensures your company remains visible among its competitors.
Remember to show gratitude to your loyal customers and reward them for spreading the word about your brand. Gathering testimonials and reviews is also a great idea once you know who your brand ambassadors are. And how do you find out?
By monitoring your social media channels with Agorapulse. The intuitive Agorapulse dashboard will help you to identify brand ambassadors on each of your social media channels.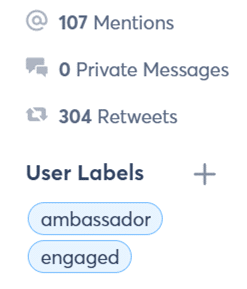 Once you know who they are, you can shout out to them and offer a discount code, limited edition merch, VIP access to a new product or event tickets.
Keep a close eye on the ROI of your social media value chain. Check out our free trial of Agorapulse to help you schedule, track, and measure all your social media efforts.