A Scalable Social Media Tool for Growing Agencies
Katherine George is the founder of Oh So Social, an international multi-award-winning social media marketing agency.
Like many growing agencies, Oh So Social realized that as they scaled up, finding the right social media scheduler software became a real challenge. Katherine understood quickly that it was essential for her business to have a reliable, scalable social media tool to support its continued growth.
"Finding the right social media scheduler software has been an ongoing challenge for us. We've struggled to find a software that doesn't crash, that integrates with everything, that has a good support system, and that has an affordable price."
All these things are serious considerations for agencies that need to find a solution that allows their team to manage various clients' social media accounts.
Luckily, as Katherine said, after trying everything else in the market, Oh So Social discovered Agorapulse, a tool that is "simple, comprehensive, and reliable."
Seamless Client Approvals That Make Your Clients' Lives (and Yours) Easier
Shared Calendars was the main feature that got Katherine's team's attention when they began exploring Agorapulse as a social media management tool.
Typically, it can be difficult to set up a client-agency collaboration process that actually works for both parties. On one hand, clients want to have full visibility into what the agency is doing with their brand, and they might even want to be able to comment on the content that the agency produces for them. On the other hand, agencies don't want to spend tons of hours taking screenshots or updating spreadsheets to let their clients know what they're working on and then have to wait for feedback.
By adopting the Shared Calendars, Katherine and her team have found a solution that allows their clients to actively participate in the content creation process, leave their feedback, and have full visibility into their brand's presence on social media. And they can do all of this without spending time on other tools like spreadsheets and Google documents.
According to Katherine, having her agency's social media process centralized to a single platform instead of spreading the work across different platforms was key for her business to increase efficiency and save time. She even noted that clients were more easily onboarded into the platform and loved the Shared Calendars from day one.
"The Shared Calendars feature in Agorapulse is literally a lifesaver. It saved us hours of time! We showed them to our clients, and they said it was the best content approval process they've ever used."
(Here's a short video tutorial on shared calendars.)
In addition to saving time with a collaborative content approval process, Oh So Social is now able to show their clients that they invest in quality software where clients' brands are safe, and their strategies are backed by top industry experts.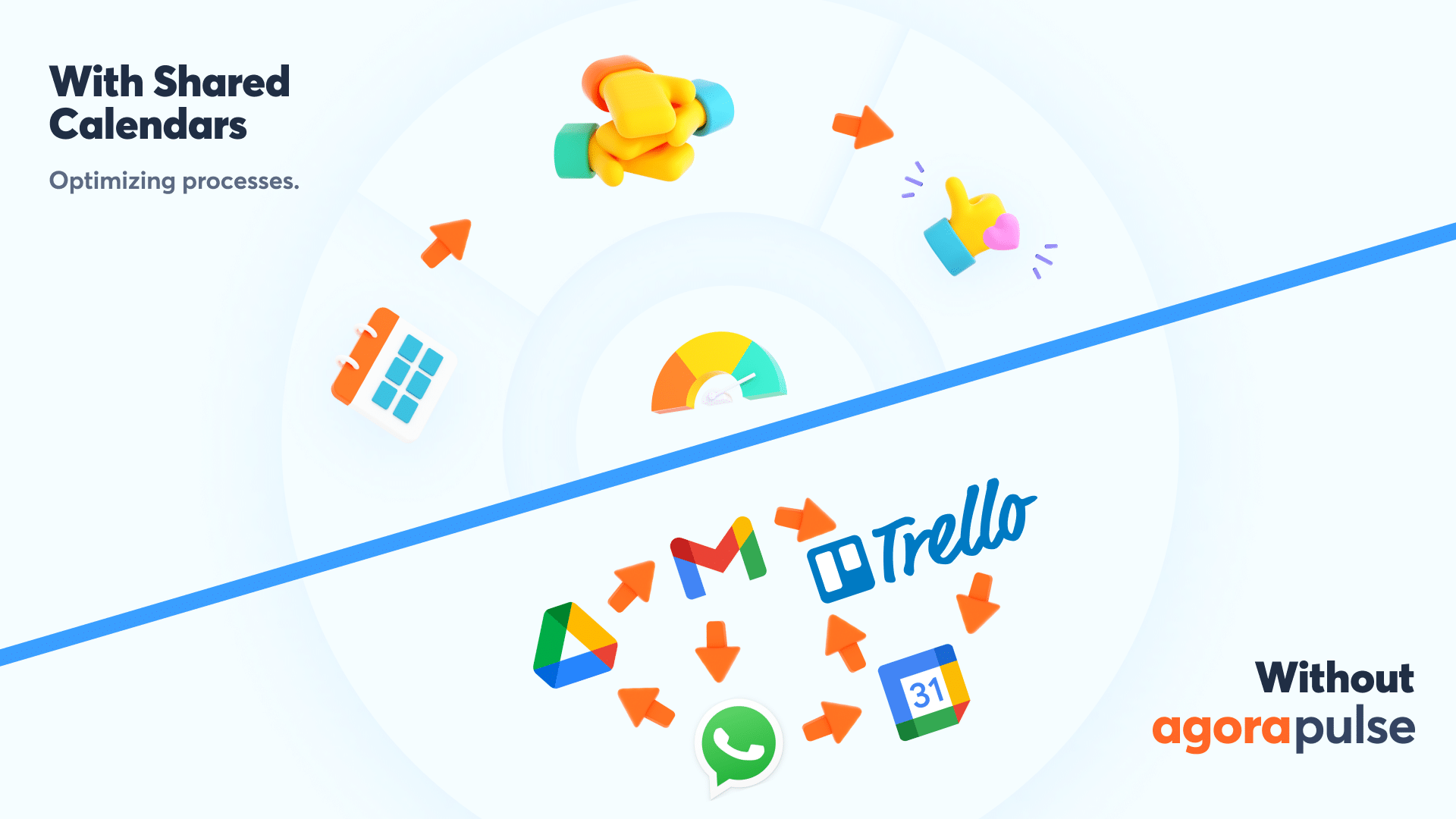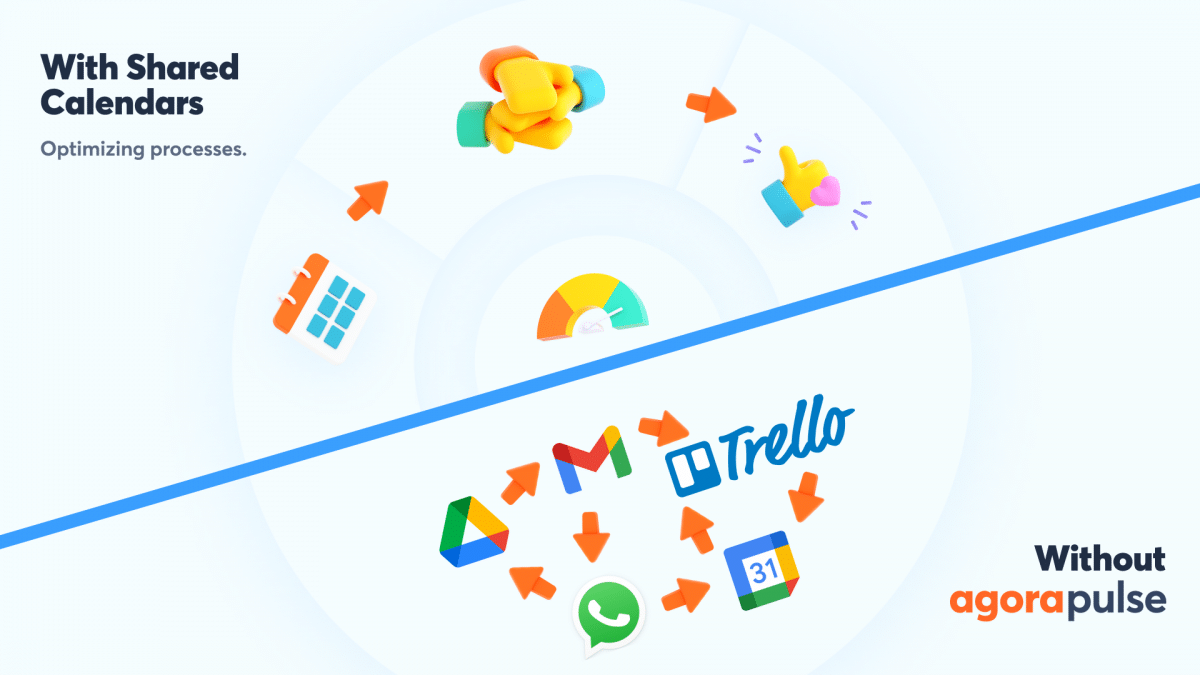 With a shared calendar from Agorapulse, Oh So Social can now:
Give their clients the final say
Agencies can either publish first and then their clients can reject or comment on already scheduled posts or agencies can schedule all content and it doesn't go live until the clients approve them.
Get post-specific feedback
Clients can add notes and comments to a specific scheduled, published, or pending post.
Improve day-to-day productivity
Agencies save time by eliminating all those emails flying back and forth and back and forth, etc. They also can keep content-related conversations in one place, and ask clients specific questions when agencies assign content for review.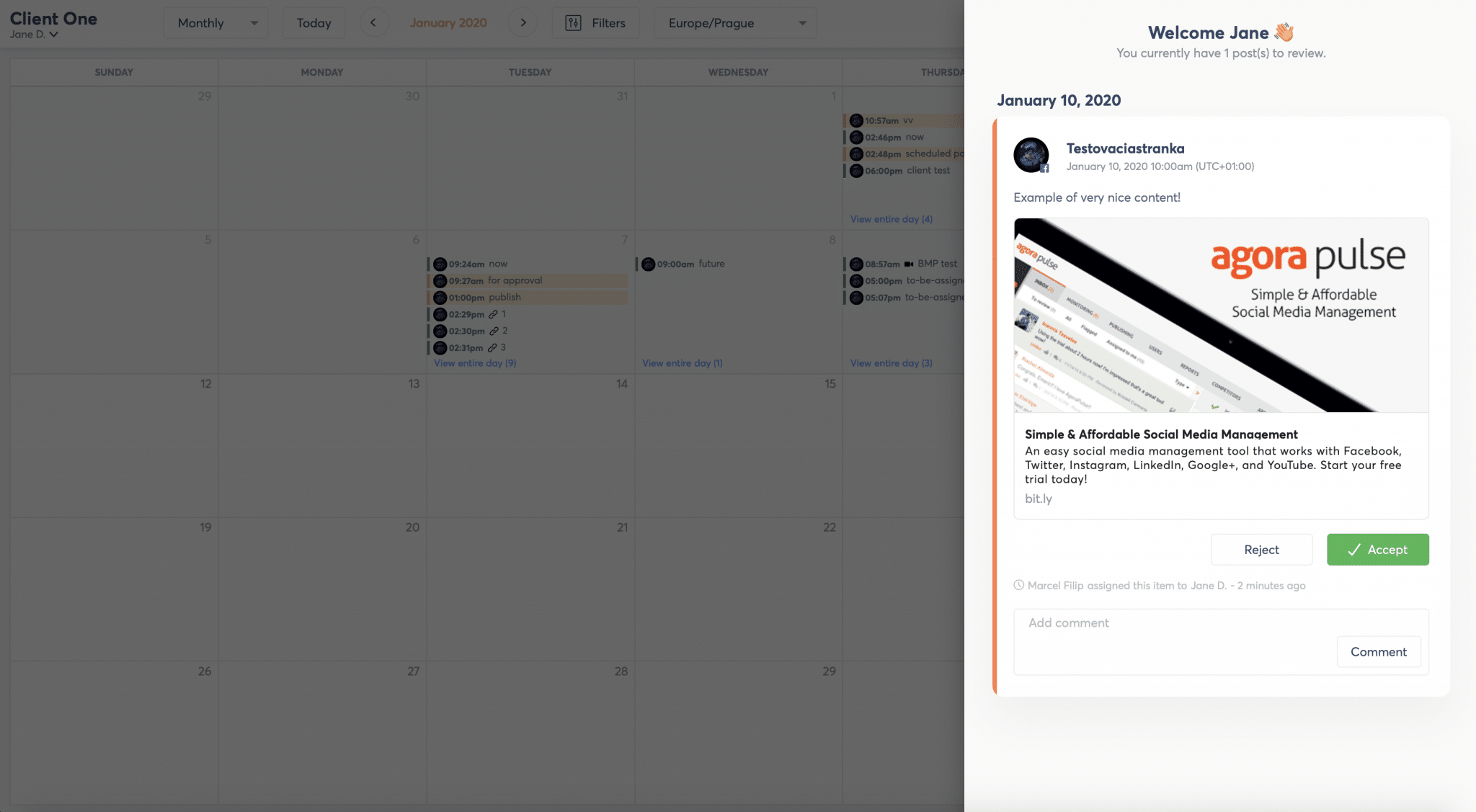 An Easier Way to Manage Social Media
Since they started using Agorapulse, Oh So Social has significantly expanded, which means having a robust tool for social media management is now more important than ever.
Apart from using Agorapulse for client approvals, there are some other key features in Agorapulse that help the agency centralize all their social media tasks.
Monitoring their social media presence
Team members can better understand how brands are being perceived on social media.
They can conduct:
Replying to conversations
Community management is essential for this international agency, and the community management section helps them ensure that nothing gets lost.
Check out these tips about building a social media community.
Assigning tasks internally
Being able to collaborate with other team members in the platform promotes transparency and efficiency.
Reporting on goals
Tools help them analyze their performance across social media profiles and provide their clients with clear data on their success.
Agorapulse is passionate about helping agencies and social media managers easily create detailed social media reports without going bananas:
In Conclusion
By using these Agorapulse features combined with Oh So Social's expertise in social media marketing, the agency has continued growing.
"Agorapulse has helped us level up, massively. As I keep talking about the Shared Calendar feature, it just helps you so much, but all of it combined saves you time, saves you effort, and actually brings in a massive return on investment. I can't recommend Agorapulse high enough."
Check out our free trial of Agorapulse to help you schedule, track, and measure all your social media efforts.