Which social media management tool, Kontentino or Agorapulse, is better? To answer that question, we're going to look at both social media management platforms and compare product features, prices, and the reviews from current and ex-customers.
By the end of this post, you'll have a clear idea about whether to put Agorapulse on the top of your Kontentino alternatives list and which wins the Agorapulse vs Kontentino debate.
Agorapulse or Kontentino: Which Has the Better Social Media Management Features?
Before we dig into who has the best product features, I'm going to leave this, from the renowned review site, Capterra, here: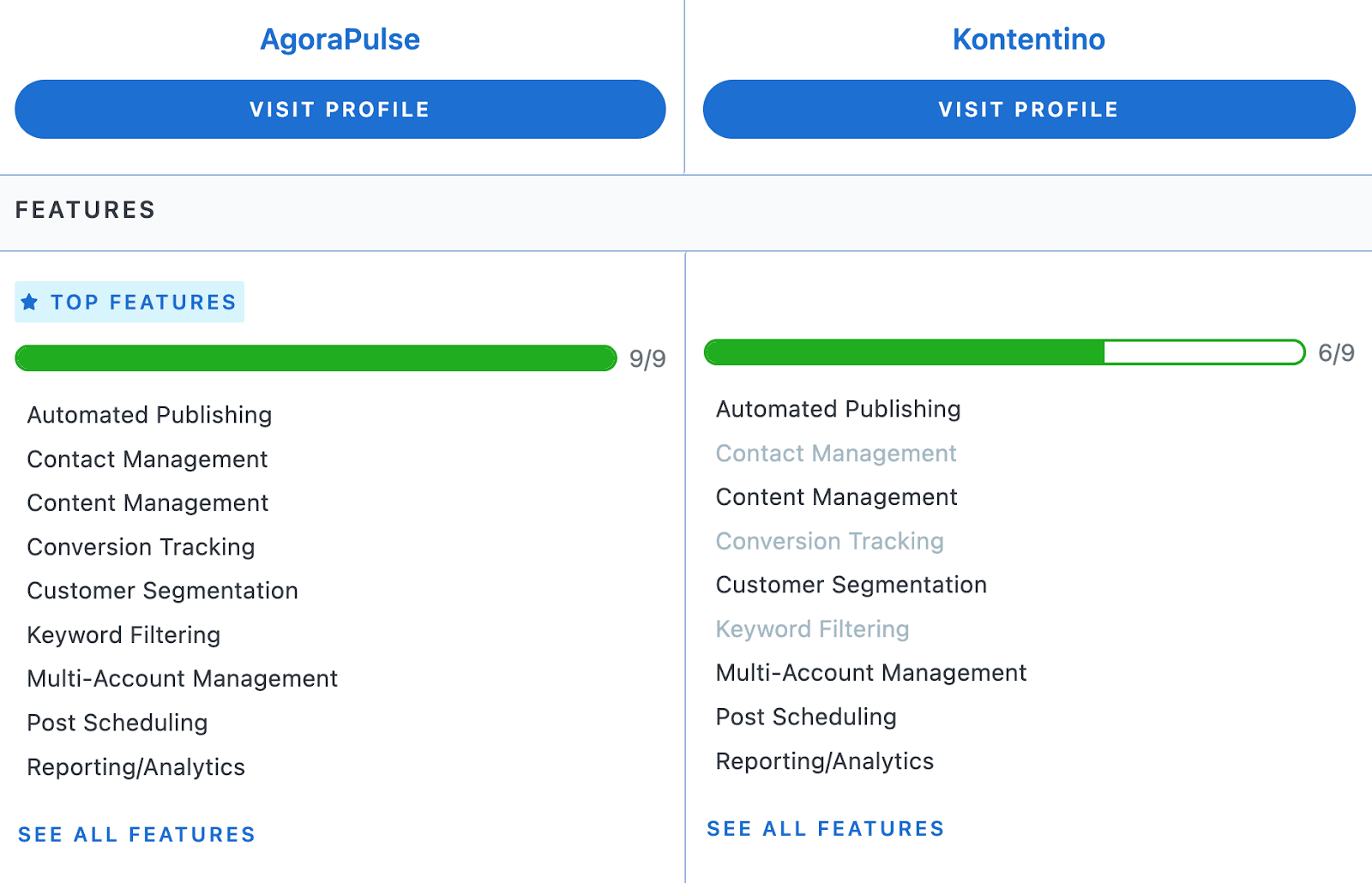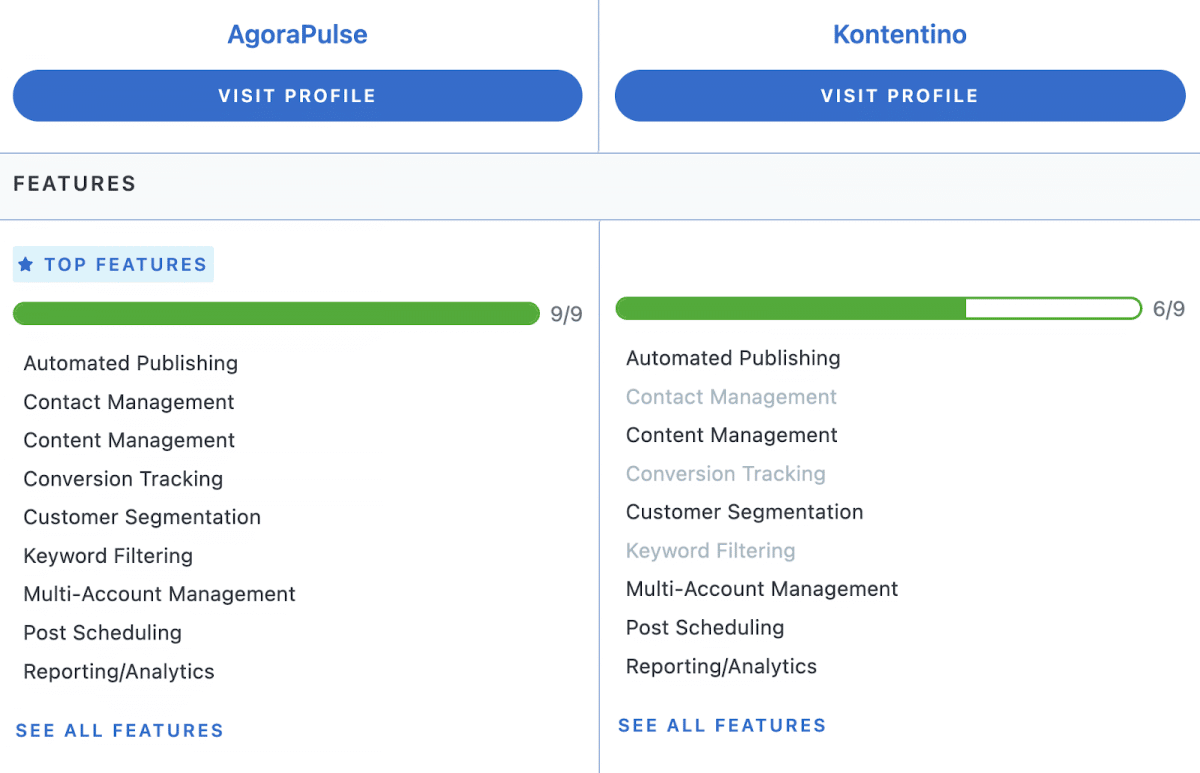 Scoring a full 9/9, the reviewers on Capterra clearly feel that Agorapulse has better social media management features than Kontentino. But this means nothing if we don't know why.
Why does Agorapulse have better social media management features than Kontentino?
An effective social media management platform needs to make social media management as easy, efficient, and stress-free as possible.
Therefore, the platform or tool you choose needs to have the following four features, as a bare minimum:
Both Agorapulse and Kontentino have these four features, but let's look at why Agorapulse's are better than Kontentino's.
Publishing Features: Agorapulse vs Kontentino
Both social media management platforms have publishing features that make the creation, scheduling, and posting of content quick and easy. However, Agorapulse has a few extras that make these tasks even easier.
For example, Agorapulse has a built-in image editing feature that allows you to make edits to your content, even after you've scheduled it. This means you can catch mistakes and quickly adapt your content to last-minute changes.
You can also duplicate content and tweak it for different social media networks from one, central place.
And you can use smart filters to easily find images, videos, or documents that have been stored in the media library. You can also use the "used content" filter to stop you from posting duplicate content.
Kontentino doesn't have any of the time-saving publishing extras that Agorapulse has.
Reporting Functionality: Agorapulse vs Kontentino
On G2, Agorapulse scored 18 points more than Kontentino for its reporting capabilities.
This is an overview of why that is.
Content tagging
To track the performance of a piece of content, you need the ability to tag it.
While both platforms allow you to add tags to your content, Kontentino only allows you to use these tags to find content, not to track or report on it.
Agorapulse lets you label your content so you can not only find it, but also analyze its performance, run detailed reports, and establish what topics and types of content work, and which don't.
Data and metrics
Kontentino only allows you to report on the following four metrics and collect basic data that you can already get from Facebook Business Manager:
Page/post cumulative reach
Page likes and unlikes
Engagement rates
Competition analysis
Agorapulse collects comprehensive data from each of the social media networks you have connected to your account.
The social media management tool Agorapulse gives you clear insights into things like:
Number of impressions
Team performance
Team activity
Brand awareness
Demographics
Best day and time to publish
Best post type to publish
Plus, Agorapulse is the only social media management platform that connects to Google Analytics, auto-adds UTMs to content, and lets you measure and prove Social Media ROI. So, if you're looking to secure more budget or grow your team, Agorapulse is the social media management tool for you. (Put it on top of your Kontentino alternatives list and try us out.)
Custom reports
Agorapulse's report builder allows you to create a custom report in just three clicks. You can select the data you want to report on (even if it's from several sources), select the type of report you want to create, and then export it. Simple!
Kontentino's report builder lets you create a custom report … but you have to choose whether you want a text, post, or graph report. With Kontentino, you can only use one set of data from one source at a time. This makes their so-called custom reports quite un-customizable. This all also takes time and effort to create a report of any real value.
Content calendar: Agorapulse vs Kontentino

Clearly, the reviewers on G2 prefer Agorapulse's content calendar.
Agorapulse's content calendar has features that make viewing the content within the content calendar easier than Kontentino does.
For example, with Agorapulse, you can filter the content calendar by status, content type, and label so you can find the content you're looking for, quickly and easily. You can also view the calendar in list view, so you can see each scheduled post in more detail. That makes editing and proofreading content easier.
Kontentino doesn't have this feature. Moreover, it doesn't have content filters either, so you have to manually trawl through your calendar to find what you're looking for. Plus, with Kontentino, you have to scroll up and down to see a full month.
With Agorapulse, you can see the entire month in one go.
You can also view your calendar by week or by month with Agorapulse, which is easier for tracking performance.
You can only view the calendar by month with Kontentino.
Connection to major social networks: Agorapulse vs Kontentino
What's the point in having a social media management platform to help you manage your social media accounts if it doesn't connect to all the major social networks?
Kontentinto allows you to connect your account to Facebook, Instagram, LinkedIn Pages, and Twitter.
Agorapulse allows you to connect to all of these networks, but it also lets you connect to TikTok, LinkedIn Profiles (which is vital for personal brands), YouTube, and Google My Business.
Need I say any more?
Summary: Which tool has the better social media management features?
Earlier, we saw that Capterra reviewers gave Agorapulse three points more than Kontentino for its social media management features.
G2 reviewers clearly feel the same, giving Agorapulse an overall score of 8.8 for its social media management features, and Kontentino just 8.6.
This makes Agorapulse the winner in regard to product features.

Plus, let's not forget that you can't connect Kontentino to four of the major social media networks that you can connect Agorapulse to. Would you really pay for a social media management platform that doesn't connect to all the major social media networks?
I suppose that might depend on the price.
Agorapulse vs Kontentino: Which Offers the Better Value for Money?
Given that Agorapulse has the best social media management features, you'd think it would be astronomically more expensive to use, wouldn't you?
It isn't.
Agorapulse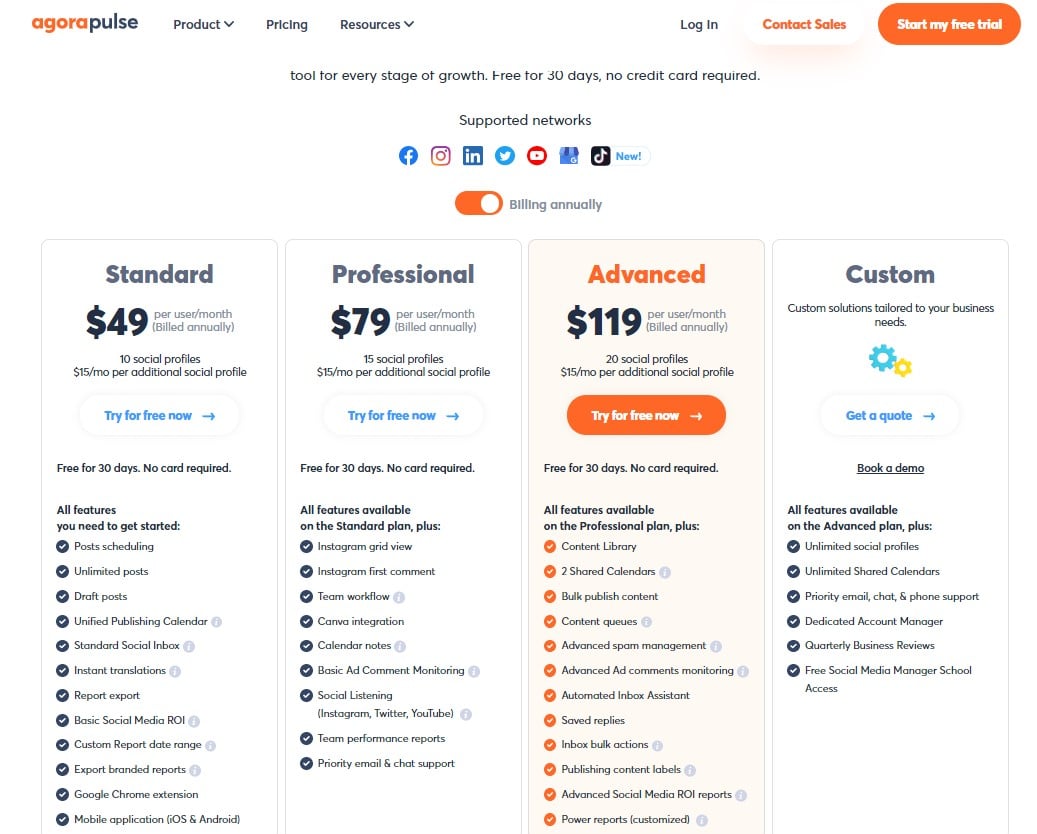 Kontentino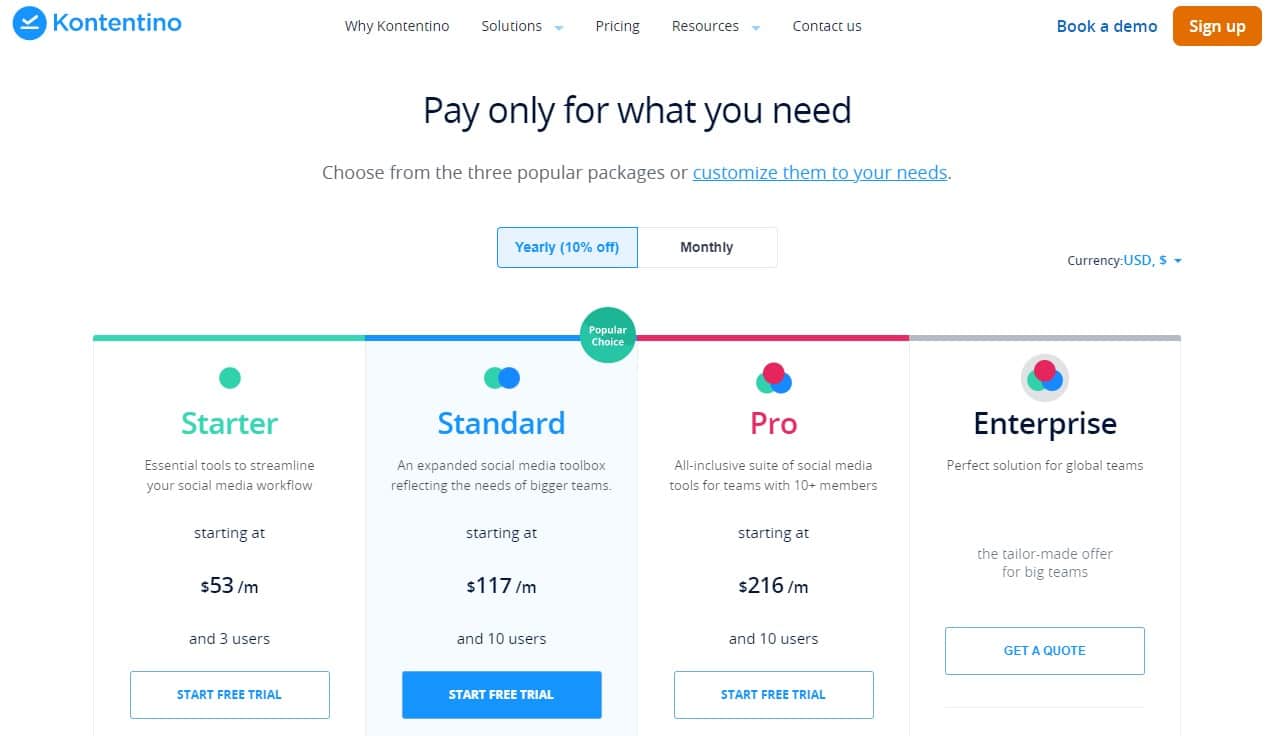 Both platforms offer four pricing tiers, and both give you the option to create your own, custom pricing plan.
But this is where the similarities end.
Although, on its pricing page, Kontentino claims you will "pay only for what you need," it's not true. It's Agorapulse that allows its users to only pay for what they need, not Kontentino.
Let me explain.
Agorapulse uses a pay-per-user pricing model because they believe in only charging their customers for what they need and what they use.
For instance, say you're happy with the features you have on your current plan, but you need more users or profiles. With Kontentino, you'd have to upgrade to the next tier, which would cost you a lot more. With Agorapulse, you could stay on your existing plan and just buy extra users and/or profiles for $15 a piece. (If you're an annual subscriber, you pay just $10 per add-on profile.)
So you see: You really do just pay for what you need with Agorapulse. They understand that companies have different social media management needs at different stages of growth.
Speaking of growth, Agorapulse is also more committed to supporting business growth through social media than Kontentino is. If you don't need to connect to more than three social networks and don't plan to publish more than 10 posts a month, you can use Agorapulse for free. This is perfect for solopreneurs and start-ups that need a helping hand to get started.
Kontentino doesn't offer these struggling companies a free option. This is further proof that Kontentino doesn't understand the needs of its customers, and it doesn't support business growth through social media. Does this sound like the right social media management tool for you?
Agorapulse vs Kontentino: Which Is the People's Favorite?
As you can imagine, there are hundreds of customer reviews on sites like G2 and Capterra. So, to establish which, out of Agorapulse and Kontentino, has the best reviews, I'll give you a brief summary of the top pros and the most common cons of both. Then you can see for yourself which is the preferred social media management tool.
Top reasons to use Agorapulse #1: efficiency
Agorapulse users love the platform because it creates day-to-day efficiencies, which leave them with more time to focus on the bigger ROI tasks.
For example, users can share their content calendar with internal and external stakeholders to get feedback and approval. This removes bottlenecks and streamlines the approval process.
"The efficiency of scheduling posts for our clients has increased using Agorapulse." – Social Media Director
"Thanks to my new ability to automate social media, my team and I can upload content to Facebook, Instagram, and the like faster and more efficiently." – Web Developer
"Agorapulse helps our team work more efficiently." – Marketing Executive
Top reasons to use Agorapulse #2: customer service
One of the biggest benefits of having Agorapulse as your social media management platform is its award-winning, 24/7, customer support.
Day or night, if you run into a problem with the tool, have a question, or a social network goes down when you urgently need to publish a post, there will always be someone there, going above and beyond, to help and support you.
What more could you ask for?
"I like everything, but the biggest plus I find is the great response when it comes to customer service. My responses are answered right away, and feedback is given when needed." – Insurance Director
"Agorapulse has the best customer service I've experienced. Their live chat reps respond in less than a minute and are very helpful and easy to talk to. They are receptive to feedback and suggestions too!" – Copywriter
"Agorapulse gives you the hope that everything will be ok and has the most amazing customer service ever who are there to help you and guide you no matter what the problem is." – Marketing and PR Executive
Top reasons to use Agorapulse #3: Comprehensive but easy to use
If a tool, platform, or piece of software is difficult to understand or overly complicated, are you likely to use it?
Probably not.
Agorapulse is renowned for its clean and intuitive interface that make navigating around the platform quick and easy. And, as we saw earlier, this simplicity doesn't dilute the effectiveness of its features: It really is the full package.
"If you need a full suite of easy-to-use social media marketing tools I strongly recommend Agorapulse." – Managing Director
"Much more powerful and easy to use than the big competitors." – Physiologist
"Try it: It's got easy-to-use, advanced features for those who want to manage social networks more efficiently." – Marketing Executive

Top reasons to use Kontentino #1: simple and straighforward
Some social media management platforms can be overwhelmingly complicated and difficult to use (ahem, Hootsuite). Not Kontentino, though. Its users like its plain simplicity.
"Kontentino is a straightforward tool that will allow you to reduce the number of emails related to content approval for some social media channels." – Marketing Executive
Top reasons to use Kontentino #2: Customer support
Like Agorapulse, Kontentino also offers its customers good customer service, especially during the onboarding and set-up phase.
"Anytime I have a question, I get it immediately answered by Kontentino's associates. They are all kind, and with the first initial setup, they helped me a lot." – Social Media Specialist
"The customer service is just great. You always talk to a real person and not a bot." – Head of Communications
Top reasons to use Kontentino #3: Team collaboration
Most social media management tools (including Agorapulse and Kontentino) are built in the cloud. That means internal and external stakeholders can access it at any time, from wherever they are in the world.
And because social media content often needs approval before it goes live, most tools will also offer their users an approval process and centralized content management features, such as a shared inbox and content calendar, so that teams can collaborate with no problems.
Kontentino (and Agorapulse) is no exception to this:
"We don't need to send a lot of e-mails to each other. Every part of the team can check the plan for social on Kontentino and write corrections directly into it." – Social Media Manager
"You can collaborate easily with copyeditors, designers, and other team members" – Digital Marketing Specialist
"It allows you to collaborate with your team quickly." – Communications Officer
Common Cons About Agorapulse
Agorapulse does get negative feedback, like this, for example:
"There should be more educational resources available." – Small Business Owner
"I dislike the way you can't reorder imagery like the way you can with Facebook Business Manager." – Small Business Owner
But one of the best things about this platform is that Agorapulse uses negative feedback as an opportunity to grow and make its social media management tool even better for its users.
For example, a few months ago, some comments came in about the inability to track the performance of Instagram reels. So, they prioritized the development of this feature, and now, users can track the performance of their Instagram reels!
Just like that!
The same happened with the ability to connect to TikTok and being able to preview content in a like-for-like Instagram Grid format.
Most of their new features come from negative feedback: TikTok integration and Instagram Grid preview are now live!
You speak, and Agorapulse listens.
Common Cons About Kontentino
As we discovered earlier, it's easy to understand why Kontentino gets a lot of negative feedback around the simplicity of its reports and one-dimensional data and tracking capabilities:
"The analytics could be more complex. Hopefully, they will upgrade those a bit." – Online Marketer
"Analytics were lacking some of the overviews we needed." – Copywriter
"No reporting options for LinkedIn. I know I can get these straight out of LinkedIn itself, but I'd like to be able to get everything in one place." – Business Owner
But it's not just the reporting features that Kontentino users struggle with. Many also struggle with the platform's outdated user interface:
"It's a bit slow and the UI needs an upgrade." – Managing Director
"It's not as aesthetically pleasing as I'd like." – Creative Director
And, although most software products and services will experience the odd, random bug, publishing glitches and inconsistencies seem to happen more often than not with Konentino:
Conclusion: Why Agorapulse Should Be Top Your Konentino Alternatives List
I promised that, by the end of this article, you'd know which out of Agorapulse and Kontentino was the better social media management tool. And now, you know!
With the best social media management features, the best value for money, and the best customer reviews, there's no question that Agorapulse is the best social media management tool.
Why not see for yourself and sign up for a free demo right now?