As a social media manager, you may have your standard marketing toolset centered on scheduling, listening, reporting, and advertising tools.
But if you work with an ecommerce company or clients, you need to master (or, at least, know how to integrate) a much wider range of marketing tools.
What tools are essential for marketing an ecommerce business? Which platforms can help you save time and achieve better results?
From social media and email platforms to automation and optimization solutions, let's look at 18 of the best e-commerce marketing tools you can use to promote your business and automate growth.
Types of Ecommerce Marketing Tools
Ecommerce marketing tools are designed to do everything from promoting products to retargeting customers to analyzing performance.
In this article, we'll cover these types of e-commerce solutions:
Website builders that create online storefronts and integrate with marketing channels
Social media marketing tools that streamline publishing, engagement, and listening
Email marketing services that let you connect with customers in their inboxes
Opt-in automation tools that incentivize customers to enter your sales funnel
Site optimization tools that test and improve your ecommerce site
Marketing analytics tools that report on sales and site performance
Ecommerce Website Tools to Sell Products Online
Searching for the ideal platform to sell products and process payments? Take a look at these e-commerce website builders.
Shopify
With an e-commerce website platform like Shopify, you can seamlessly sell your inventory online. Shopify has all the tools you need to run a high-performing website—like search engine optimization (SEO) options and integrations with shipping and payment processors.
The platform also connects to marketing platforms like Facebook and Google. So, you can sell inventory across channels. Shopify even integrates with email marketing services, so you can market to specific customer segments based on their shopping habits and activity.
Considering a content marketing strategy? Shopify sites have built-in blogs, so you can market to customers across the funnel alongside your ecommerce store.
BigCommerce
As a leading ecommerce website platform, BigCommerce is designed to help you build and run an online store efficiently. You can use the platform's conversion tools to optimize your store without code and simplify the checkout experience to get more sales.
The platform's inventory management tools can help you run your business more smoothly. You can also use your site data to create customized experiences for select customer groups.
Whether you want to market products on Facebook and Google or channels like Amazon and eBay, BigCommerce can help you reach your goals. To accelerate growth, the platform also offers features for flash sales and discounts—helping you win more customers.
Squarespace
If you're looking for a simple way to get started with ecommerce, Squarespace's website templates make the process easy. With Squarespace, you can select the color scheme and layout for your site and get set up quickly.
Because Squarespace sites have integrated blogs and email marketing, the platform can handle many of your marketing needs in a single place. You can also use the platform's built-in design app to create sharp-looking social media content that captures your brand aesthetic.
Discover how to rock ecommerce at our FREE summit on Dec. 15!
Social Media Marketing Tools for Ecommerce
Looking for social media tools that can integrate with major channels and market your ecommerce products?
Check out these social media marketing options.
Agorapulse
As a complete social media marketing solution, Agorapulse can handle everything from publishing to analytics.
With Agorapulse, you can market your ecommerce business using the following features:
Publishing. Whether you want to announce a new product, share a sale, or promote a bestseller, you can publish and schedule social media content with Agorapulse. Because you can create social media content across supported channels, you can promote your business everywhere your audience spends time.
Engagement. Responding to comments, direct messages, and Story mentions is essential for building relationships with ecommerce customers. You can use Agorapulse's inbox automation tools to moderate engagement and respond more efficiently.
Listening. As you grow your ecommerce business, you should know when people are talking about your products—and what they're saying. Agorapulse's listening dashboard lets you follow keywords, hashtags, and handles. You can tune in and respond to conversations about your business, competitors, and industry.
Reporting. With Agorapulse's social analytics dashboard, you can track everything from audience growth and content performance to hashtag interactions and brand awareness. You can also discover what kind of ecommerce content resonates best with your target audience so you can do more of what works.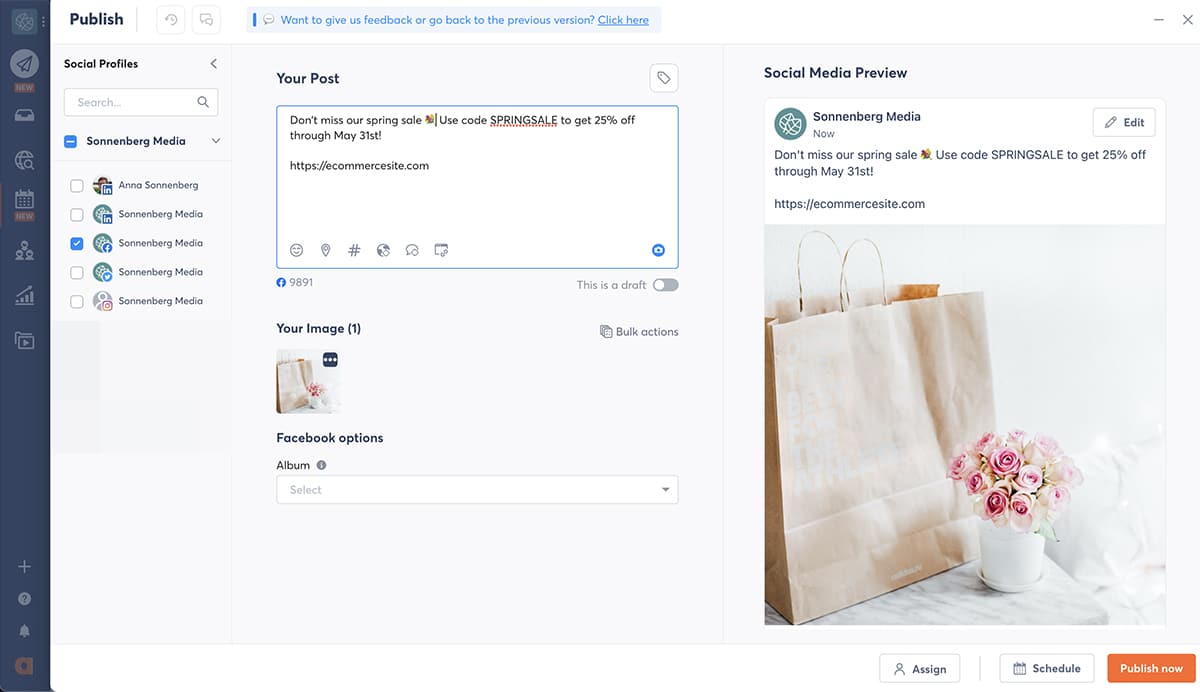 Agorapulse also has built-in tools to streamline your ecommerce marketing. The asset library makes it easy to store and schedule product and lifestyle photos. The campaign tracker creates UTM tags that you can track with an analytics tool—so you can measure the return on investment (ROI) from your social media marketing campaigns.
Facebook Shops
Sharing e-commerce links on social media can certainly help you increase awareness and drive sales. But if you rely on Facebook and Instagram for social media marketing, there's an even better way to promote your products.
Facebook Shops is a native tool that you can set up in Commerce Manager and integrate with ecommerce platforms like Shopify or BigCommerce.
Once you've completed the setup, you can create a shoppable storefront on your Facebook page or Instagram account.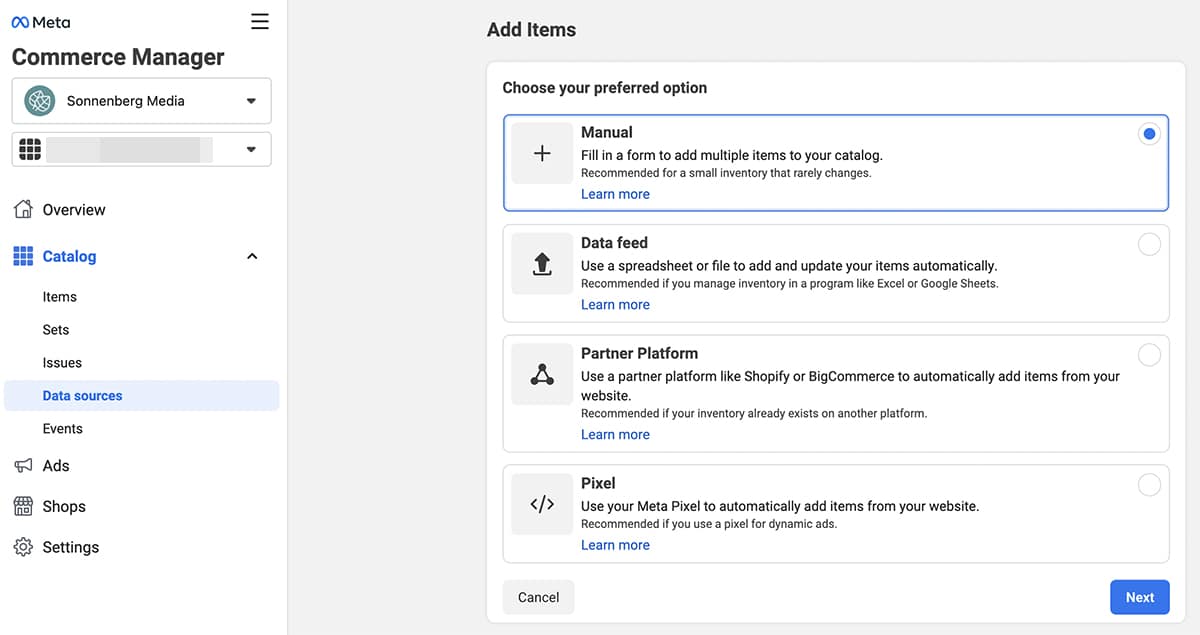 With Facebook Shops, you also get access to product tags—which you can add to virtually any kind of Facebook or Instagram content. Then customers can tap the products in your posts to shop your ecommerce inventory without leaving the social media channel.
If you enable in-app checkout, you can allow customers to purchase your e-commerce products without leaving Facebook or Instagram. With this functionality enabled, you can also promote and sell products via livestreams.
Facebook Ads
Organic social media marketing may help you reach some of your business goals. But when you want to expand your audience and scale your ecommerce sales, paid Facebook campaigns are often essential.
With Facebook Ads Manager, you can run campaigns simultaneously on Facebook and Instagram. Ads Manager supports marketing objectives throughout the funnel. You can use the platform to increase awareness, drive consideration, and make ecommerce sales.
Because Agorapulse integrates with Ads Manager, you can moderate and respond to ad comments efficiently. That way, you can use every available opportunity to build relationships with customers, provide support, and secure sales.

Email Marketing Tools to Build Your Ecommerce Business
Want to get your marketing messages in customers' email or SMS inboxes? These email marketing tools can integrate with your ecommerce platform.
Klaviyo
Whether you want to write monthly email newsletters to keep your customers up to date or you want to send frequent emails about sales and discounts, Klaviyo can help. This email and SMS marketing platform has tons of templates to make your messages look great. It also has dozens of automations that let you connect with customers based on shopping activity.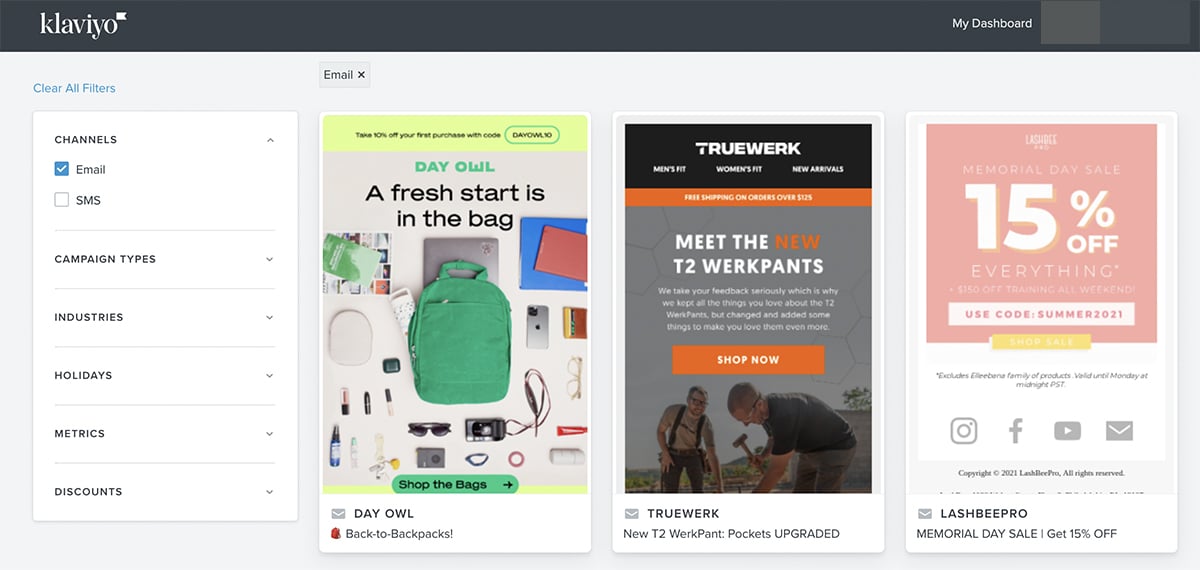 Klaviyo integrates with e-commerce platforms like Shopify and BigCommerce, so you can build a customer list and remarket seamlessly.
With Klaviyo's automations, you can even upsell or cross-sell based on customer behaviors, helping you grow your business around the clock.
ActiveCampaign
As a complete marketing automation platform, ActiveCampaign is designed to help your e-commerce business grow. Because it integrates with WooCommerce, BigCommerce, and Shopify, ActiveCampaign can automate growth no matter what e-commerce website platform you choose.
With a mix of email, SMS, and chat marketing, this tool can help you reach customers on almost any channel. Using ActiveCampaign's customer relationship management (CRM) tool, you can keep track of customer activity and build segments. With the platform's ecommerce site and event tracking, you can easily understand customer behavior and send the right messages at the right times.
Omnisend
With Omnisend, you can automate emails, text messages, or both. Since the marketing automation solution integrates with major e-commerce website platforms, it can help you connect with customers based on their preferences. The platform's templates make it easy to start promoting your business, and the automations help you simplify your workflow while ensuring you send messages at the ideal time.
From abandoned cart messages to personalized discounts to perfectly timed remarketing messages, Omnisend's automated flows can email or text customers based on browsing history, purchasing activity, or cart size.
Automated Opt-In Tools to Streamline Ecommerce Marketing
Need more customers to opt in to your marketing messages? These marketing tools offer irresistible incentives to attract customers automatically.
Sumo
When you want to build a customer list efficiently, Sumo can help. This email capture tool works with Shopify and WordPress e-commerce sites, allowing you to create popups and forms that encourage visitors to sign up for your list.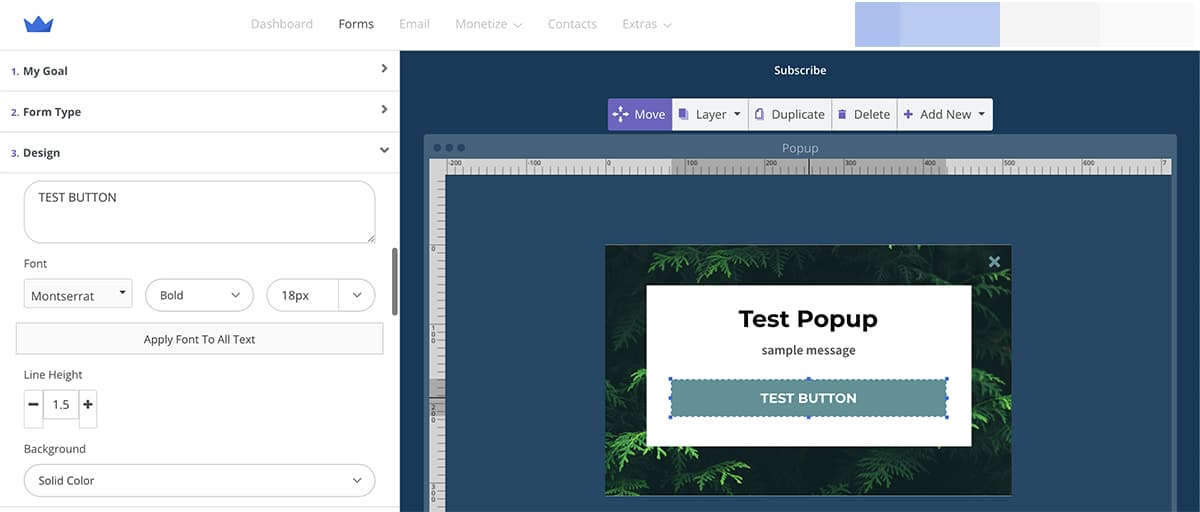 Since you can set the popups and forms to appear in certain spots or after specific amounts of time, you can engage with website visitors at the ideal time for a conversion. Once you link Sumo to your email marketing service, you can start connecting with commerce and driving ecommerce sales automatically.
OptinMonster
One of the top ecommerce marketing tools for conversion optimization, OptinMonster has a range of forms, popups, and boxes for capturing emails. Using this tool, you can share irresistible offers with your ecommerce website visitors, encouraging them to provide their contact information in exchange for discounts and lead magnets.
OptinMonster also has gamification tools to engage customers and make conversions more interactive. You can use the geolocation tools to present location-specific offers. You can also apply the exit intent detection tool to display offers at the exact moment a potential customer is about to click away. That way, you can avoid losing customers and maximize conversions.
Namogoo
If you're looking for an ecommerce marketing tool that can handle opt-ins and email marketing, Namogoo is a good pick. This automation tool uses intent-based promotions to display the right offer for each website visitor—helping you win more customers.
Namogoo also personalizes website and shopping experiences for individual users to streamline the customer journey and improve conversions. Using Namogoo's email and SMS marketing features, you can also connect with customers beyond your website. You can set them to automatically send offers based on customers' preferences and shopping activity.
Analytics Tools to Track Ecommerce Sales and Site Performance
Curious how your site is performing or how much revenue you've generated? These website and social media analytics tools can track and report on the metrics that matter to your e-commerce business.
Google Analytics
One of the top free tools for e-commerce analytics, Google Analytics can integrate with any website platform. This tool can track everything from the source of your website traffic to the pages people visit. It can also help you understand user flow, so you can find points of friction.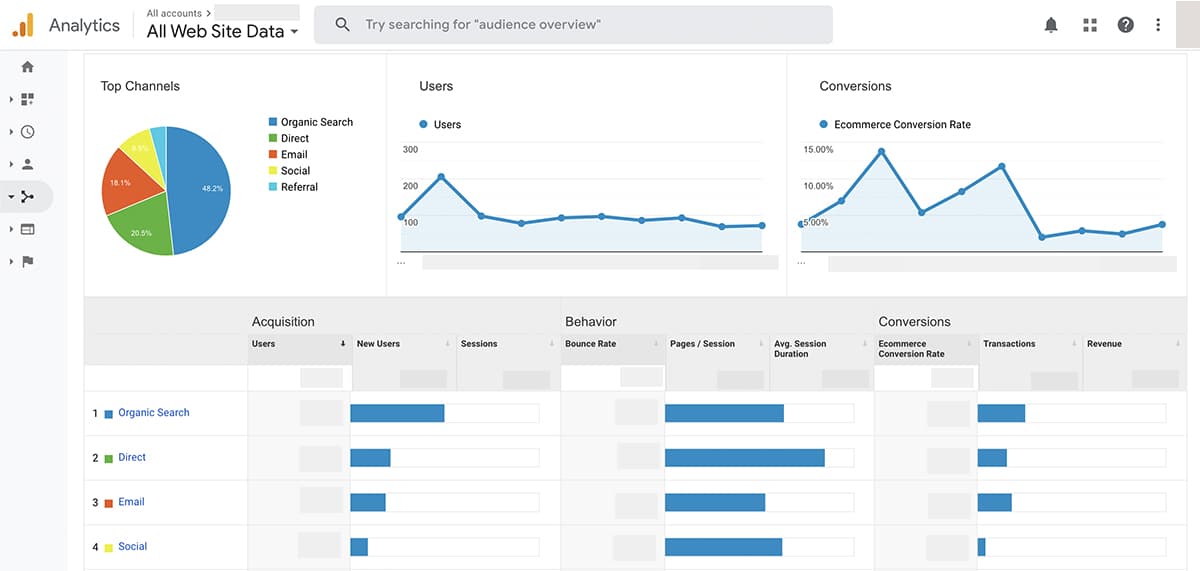 With Google Analytics, you can set up custom goals to track conversions across your site. You can also enable e-commerce tracking so you can report on ecommerce ROI. If you use UTM tags with organic and paid social media, Google Analytics can even help you track the success of your campaigns—including conversions and revenue.
Kissmetrics
When you want deeper insights into your ecommerce business performance, an analytics tool like Kissmetrics can help. This analytics platform integrates with ecommerce sites to improve your understanding of user behavior.
With Kissmetrics, you can identify issues with your checkout process and make improvements. You can also discover your most successful product categories and subscription options. That way you know where to focus and how to improve your site so you can drive more revenue.
Heap
When you want a tool that can analyze website data and show you how to act on it, Heap is a good solution. This analytics tool collects data on every user action so you can see user journeys and funnel paths. It also analyzes your data to find the events that have the biggest effect on your customers' experience.
With Heap's insights, you can make informed decisions about what to change and what results you can expect. Since Heap integrates with ecommerce platforms and CRM tools, it can streamline data and improve workflows across your martech tool stack.
Optimization Tools to Test and Improve Marketing Performance
Could your website performance stand to improve? Take a look at the top tools for testing and optimizing ecommerce sites.
Hotjar
With website analytics, you can see the pages people visit and how they navigate through your website. But it isn't always easy to understand where they encounter friction or how they feel about your site. Optimization tools like Hotjar can help you get a sense of how people behave on your site—so you can make it even better.
Hotjar has a range of features designed to reveal how users actually experience your site. With the tool's heatmaps, you can see where people click and scroll. With recordings, you can view playbacks of site visits so you can better understand your customer's journey. You can also use Hotjar's feedback tool to ask e-commerce customers for their opinions.
Crazy Egg
One of the top ecommerce marketing tools for site optimization, Crazy Egg has the features you need to analyze and improve your site. Crazy Egg's heatmaps show which parts of your product pages are getting the most clicks so you can make them more user-friendly.
The platform's overlay tool shows if e-commerce customers are clicking in the right spots—so you can eliminate friction. And the ad traffic tracking tool zeroes in on the behaviors of people who clicked your social media ads.
Once you identify potential areas for improvement, you can use Crazy Egg's built-in A/B testing tools. That way you can experiment with new layouts and features to see what drives the most ecommerce revenue.
Optimizely
If you're looking for a solution that can both manage and optimize your ecommerce site, Optimizely is a smart pick. The platform uses artificial intelligence (AI) and customer data to create personalized experiences for both B2C and B2B ecommerce businesses.
With Optimizely, you can collect data on user behavior and shopper activity. Then you can use the insights to find areas for improvement and test new layouts and features. Optimizely streamlines ecommerce testing so you can deliver the best experience and optimize conversions across your site.
What We've Learned About Ecommerce Marketing Tools
Whether you're responsible for ecommerce marketing strategy, implementation, or analysis, you need the right tools for the job. With these ecommerce marketing tools, you can help your company or clients acquire more customers and sell more products across social media and other key channels.
Get started on your ecommerce marketing! Check out our free trial of Agorapulse to help you schedule, track, and measure all your social media efforts.