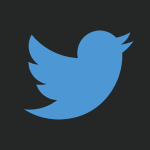 After 6 months of hard work, we've released our new Twitter account management feature in order to solve the issues we were having with other third party tools. Not long after publishing this blog post on the value of a few of it's features, we discovered a way to leverage a tool we had neglected to mention- the Twitter monitoring feature. You can do a lot of things with it, like monitoring your brand's or your competitors' mentions, and, as we've recently discovered, you can also leverage it to promote your content to all users who are already discussing the subject you're writing/blogging/vlogging about. In this blog post, you'll learn how we've obtained 2,200 shares on a single blog post by leveraging our Twitter monitoring feature.
Content is king without a throne, unless you're promoting well
It's frustrating when you're just starting out- your audience is small and your social media presence is minimal. What's the point of spending a full day to produce valuable, unique content if only a handful of people actually read it? Content is King, but content promotion is Queen, and everyone knows the Queen rules the house 🙂
Content promotion tactics are unpredictable and time consuming
We've tried everything! Reaching out to influencers with big audiences, building a newsletter to our user database, sponsoring Facebook posts… everything! Once in a while, an influencer with a great audience has republished our blog posts giving us a nice bump, but this was mostly relying on luck and it never really scaled. Newsletters, tweets, Facebook posts, LinkedIn Group sharing and the "bare minimum" rest works, but it has rarely produced more than 150 or 250 shares. Getting out of the hundreds and into the thousands meant an entire week's worth of PR, blogger outreach, etc. Not the kind of efforts a small marketing / content team can invest in on a regular basis. For the definitive source on content promotion, check this article from Ian Cleary on RazorSocial: How to Promote Your Blog Post to Get 1,000 Shares.
Related Post: How to Find the Right Instagram Influencers for Your Brand
Twitter monitoring to the rescue: how we've built our Twitter outreach plan
We knew we had valuable, unique data on a hot topic in the Social Media Marketing Ecosystem with our infographic on the evolution of Facebook reach in 2013/2014, and we decided to try something new. We used our new Twitter monitoring tool to create a search targeting all tweets mentioning "Facebook reach", "Facebook organic reach" and "FB reach":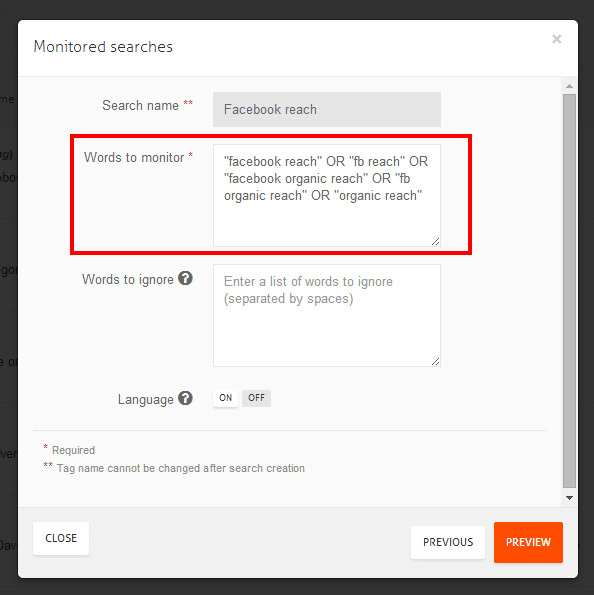 The estimated results for this search were 6,480 tweets per month. That's 216 tweets per day. 1 tweet every 5 minutes. Definitely a hot topic!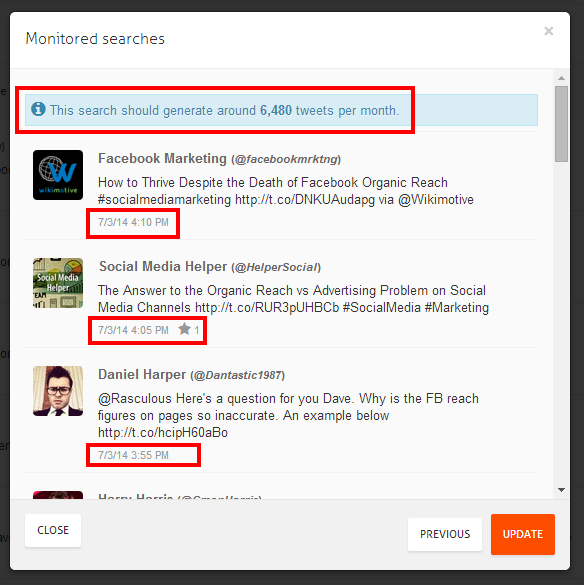 Then, we engaged with them, sharing our blog post / infographic on the subject.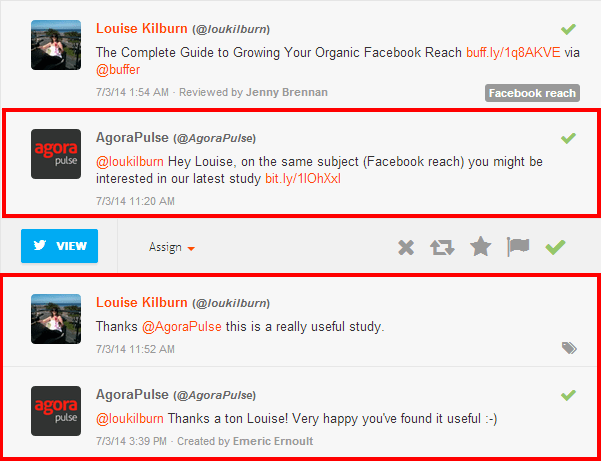 1st win: we got awesome feedback on Twitter, and great conversations
The feedback has been very positive: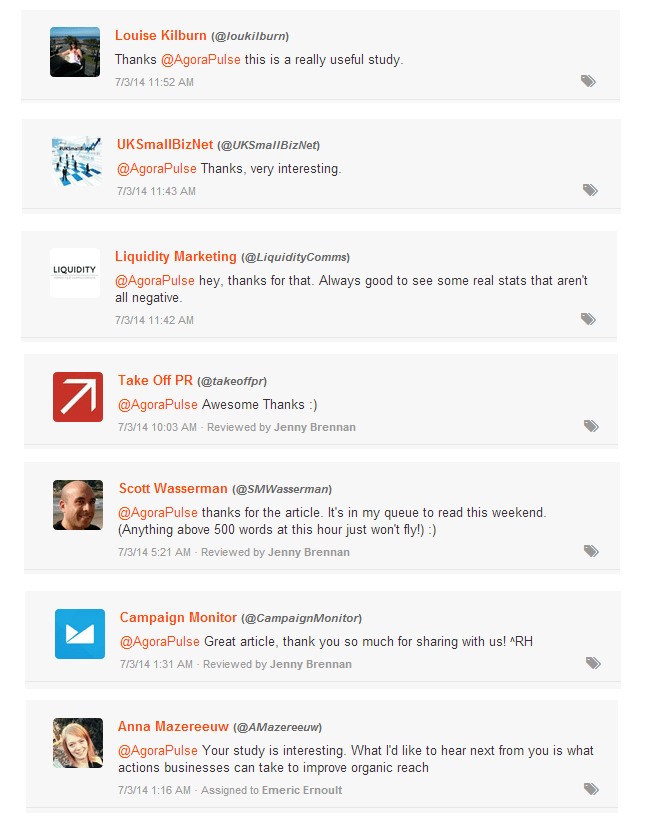 And, that's not even the best part…
2nd win, this generated 1,300 shares on Twitter in less than a week
People began sharing it on Twitter like crazy! In less than 5 days, we got 1,300 tweets. Twitter shares alone were more than half of the total social shares.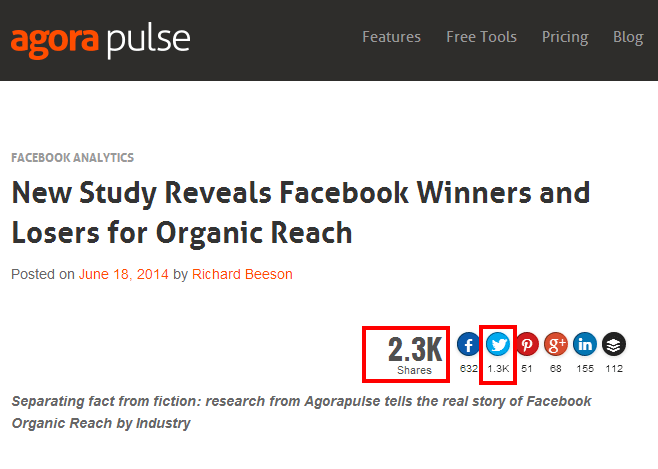 3rd win: this post became one of the most visited pages on our site
The post itself got more than 4,700 visits in 5 days, generating 106 signups. The 4th best performing landing page on our site behind the home page and a landing page we paid $3,600 for. Wow!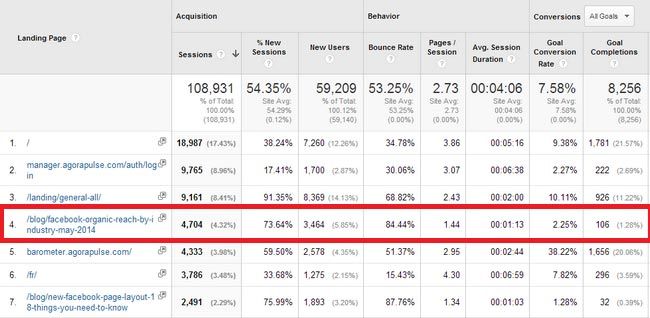 Any downside to this?
Yes. Among the 4,700 visitors, 106 prospects, and hundreds of pieces of positive feedbacks, one guy accused us of "spamming" people.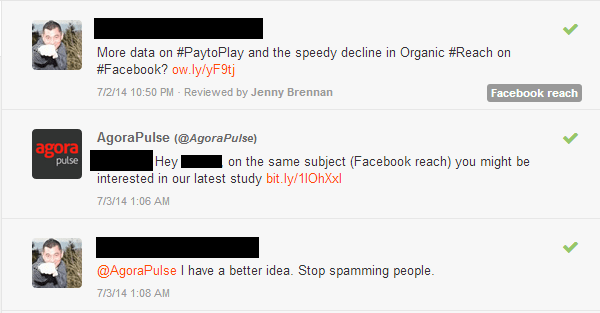 There are some who think reaching out to people this way is not appropriate and you shouldn't mention people you don't know. We believe spam is about irrelevant low quality content (or worse, irrelevant commercial offers). When the content is valuable and pertinent to the discussion, we're convinced it's appropriate to reach out to the people having those discussions to let them know. Our results support that conviction. One piece of negative feedback vs. hundreds of highly positive returns is all the evidence we need.
Regarding Value
Time is money, and we're a very small team. This processs took us 2 hours per day over a 5 day span, 10 hours of work, total. That's much less than other tactics have cost us in the past. Plus, we've had great conversations with valuable prospects! Your turn: do you think that was a smart move? Or do you think we've crossed the line? We'd love to hear what you think.