Want a more robust Instagram audience for yourself and your agency clients? Check out these tips for how to get more Instagram followers who make sense for your business or social media agency.
Would you like Instagram followers who are interested in your content and want to regularly engage with you? The good news is you don't have to simply wait for it to happen. You can use active strategies to build the following that you want.
Try these five methods to find followers on Instagram who will be likely to follow you and engage with you.
1. Dive into the Instagram Explore Tab
Instagram "Explore" is a great place to find followers. Tap the magnifying glass icon at the bottom of your Instagram app to discover this hidden gem.
Once you're there, you can tab through a wide variety of suggested topics, or search for your own interests.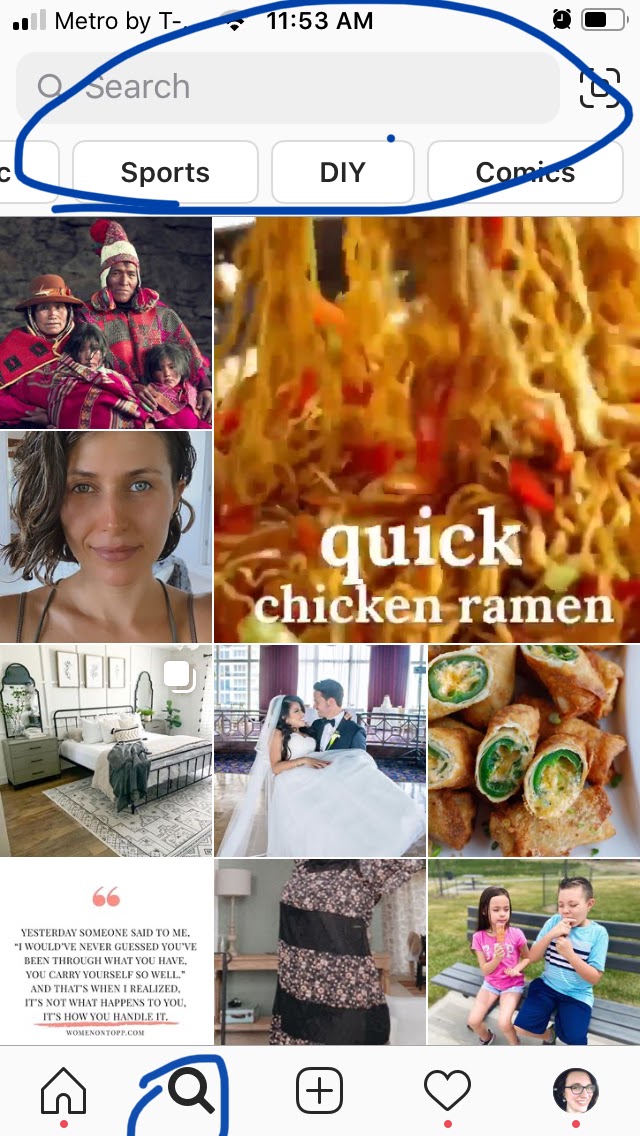 For example, I love this DIY stream. Now that I am here, I can click on any of the images and go into a related feed where I can heart, follow, and comment on posts.
Once I have selected an image, I also have the option to see similar posts. You will find people to follow that you might not find any other way. (Use some of the time-saving tips at the end of this post to make sure you don't go too far down the rabbit hole!)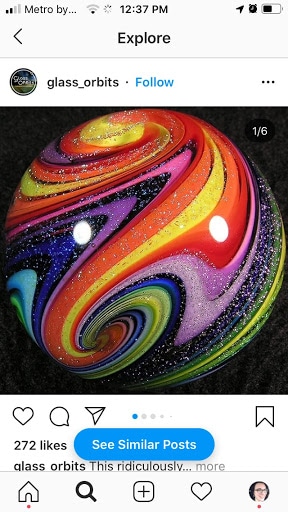 Think about what topics are important to your audience. They could be things related directly to your products or services, or what most people who like your products have in common.
2. Explore the Heart Tab
If you're a small social media marketing agency on Instagram, you probably use the heart "Activity" tab to see who likes your posts, sends you a comment, or follows your account.
But are you using this space to follow up on Instagram's recommendations?
Instagram makes all kinds of recommendations based on who you already follow, the topics you post content about, and people who follow you.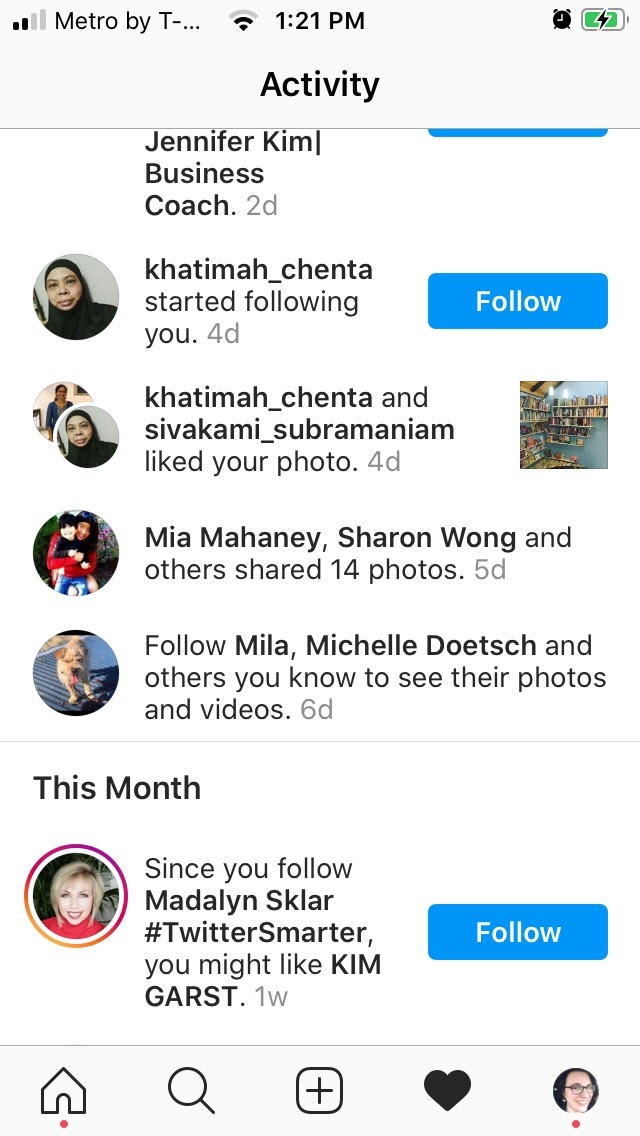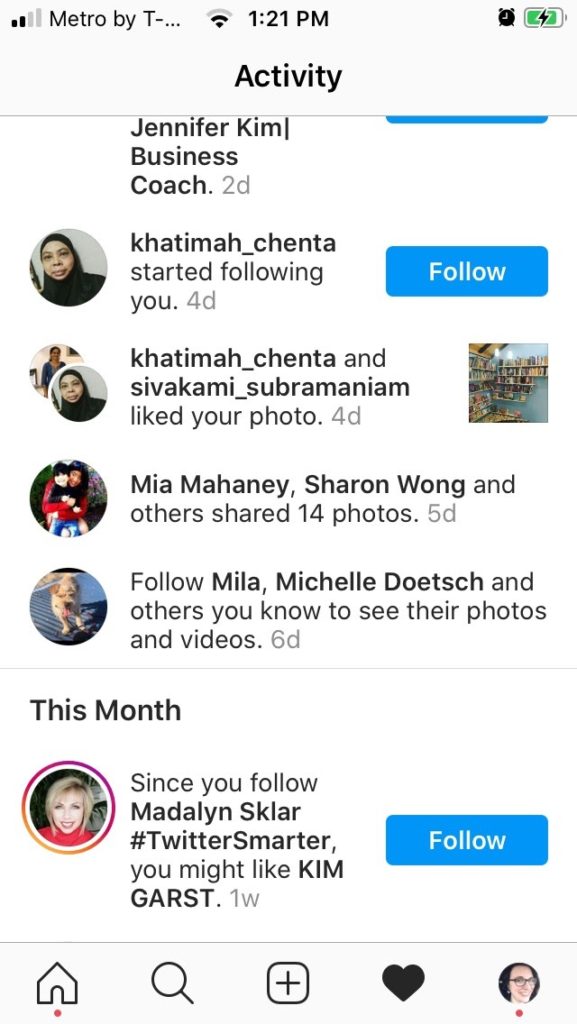 When you click through on one of these recommendations, you will see a full list of recommended people to follow.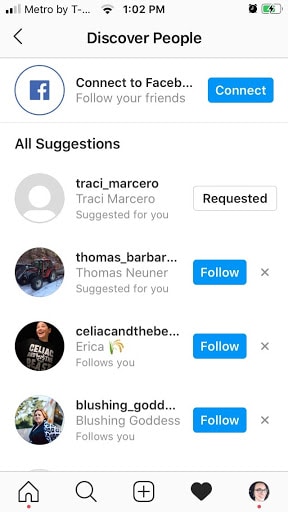 You can also connect your Instagram account to your Facebook account, and to the contact list on your phone to find even more people you are already connected with in other places.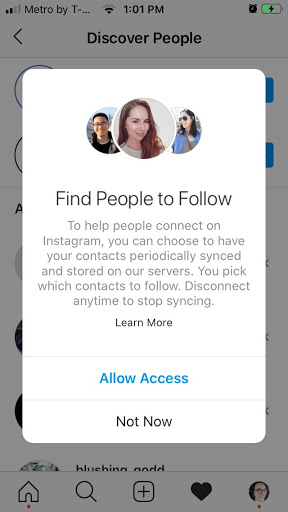 3. Follow Relevant Followers to Get More Instagram Followers
Another strategy is to utilize the audiences of others to build yours for your social media marketing agency and for your agency clients.
And, yes, this is totally ethical and legal. Find relevant accounts and follow the people that follow them.
What are the relevant accounts in this case?
Direct or indirect competitors. If they like the competitors' products, they might like yours!
Adjacent industries. For example, if you are a wedding planner, look for wedding cake bakers or photographers.
Other areas of interest to your target audience. Do you know that most of your clients happen to love golf, even if your business is not related to golf?
This strategy can be especially helpful if you are late to the Instagram game and trying to catch up. It will help you find targeted accounts quickly more likely to engage with your brand.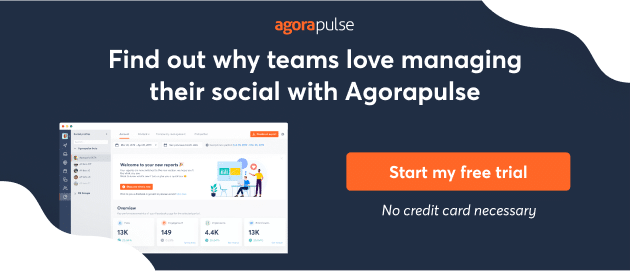 Be warned that the one possible downside to this strategy is that if your competitors catch on, they may block your account to try and prevent you from getting an inside scoop to their customers.
Do some brainstorming and research:
Who are competitors that I can offer something unique to their clients?
What types of businesses are great referral partners?
Are the accounts active and post regularly?
Do their followers engage in their content?
Are their followers my ideal clients?
You want to take time to research because some of these things can be red flags that the followers on that account were purchased, and you don't want to tag along with that.
4. Optimize the User Data in Agorapulse
I have yet to use a social media management tool that gives me as much user data as Agorapulse does.
At a quick glance, I can see my top evangelists, commenters, and post likers. And from that information, I can also see which of these Instagram users I'm not following. If I want to keep these Instagram users engaged with my content, I better follow them at a bare minimum, don't you think?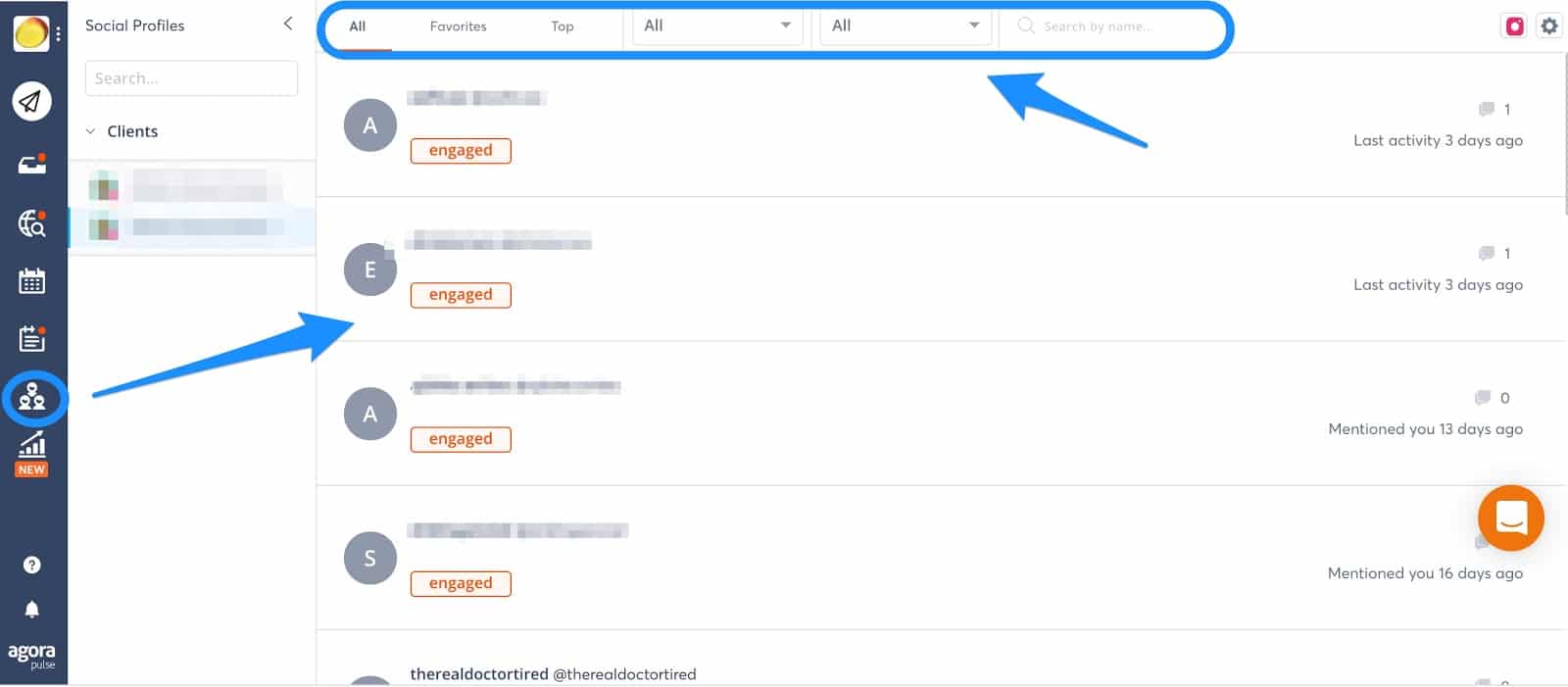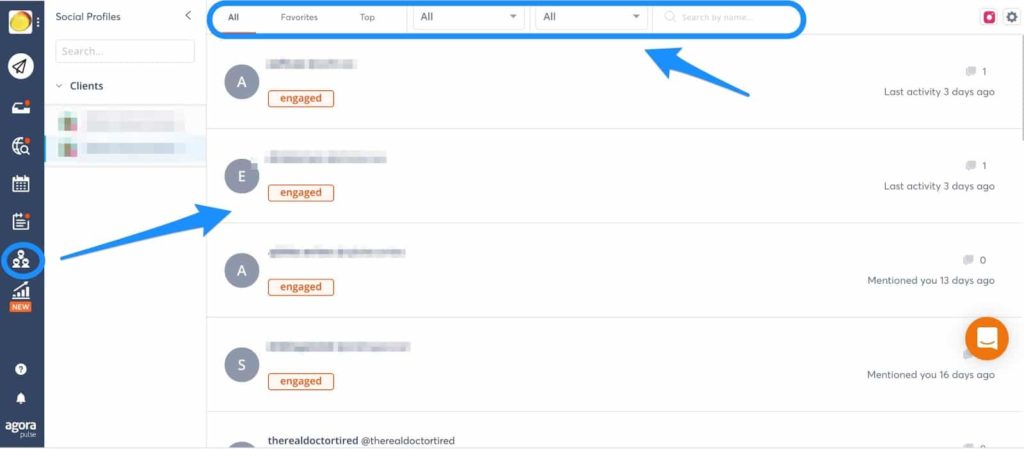 You can also look at each individual account in your inbox and see their past engagement with your brand, make notes, and even add labels. This can be helpful keeping track of possible referral partners vs. potential clients vs. influencers.

All this data is only as good as how you use it. Include researching your top engaged community as part of your regular to-do list on social media.
5. Focus on Hashtags and Social Media "Listening"
In addition to all the other ways to find and connect with relevant users, you can also search hashtags – or "listen" to the chatter happening on the social media platform. You can do this either manually on Instagram itself, or using tools like Agorapulse. Let's look at native listening first. Simply search any relevant hashtag in the search. It will show you the relative number of posts for that hashtag, and also suggest similar hashtags.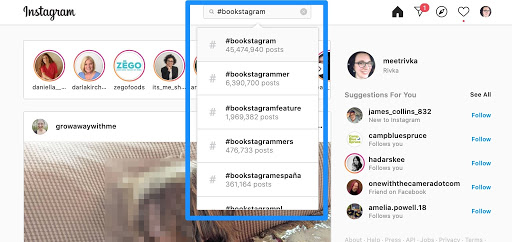 You can do this on either desktop or mobile. Clicking on any of these search results will take you to a feed of the people using those hashtags in their posts.
If you have a regular list of hashtags that you use, this can be a good way to connect with others using them as well. This strategy is the core component of Gary Vaynerchuk's Instagram strategy.
If you want to save time then you can automate this process by setting up the "Listening" tab on Agorapulse to automatically search for the hashtags you choose. As an added benefit you can then combine the listening data with the user data in Agorapulse.

How to Engage and Get More Instagram Followers
Once you find the right people to connect with, you can engage with followers on Instagram in many different ways. Which ways make the most sense for you and your goals?
Following
The most basic way to engage with users is to follow them. Before you do this make sure you have a strong bio with a clear call to action. Most users will check out your profile when you follow them. Whether they follow you back or not depends on your bio and your content. (Another reason why compelling Instagram content is still important!)
If this is a high-value prospect, then following may not be enough.
'Heart' Content
Show the person you are following what you like about them with a few hearts. Choose the content that best resonates with your brand. Be careful overdoing this one. It can seem a little stalker-like if you go through their whole feed and leave 100 hearts, or like a lot of their older content. One or two on recent posts is great. And of course, make sure you are engaging with your users on a regular basis by scrolling through your feed and giving them some love on their new content.
Comment
Are they sharing photos of using your product? Don't just like it, let them know how much you appreciate it with a comment! Are they asking a question you can answer or a problem you can solve? Now is your chance to be the hero. Have they reached a milestone that you can celebrate with them?
Comments take longer, but done right they can yield much deeper results in terms of real relationships with your following. Avoid one- or two-word comments and the same comments to a large number of people as this can look like a bot rather than a person.
Another opportunity in the comment section is asking them if you can reshare their content. User-generated content can add authenticity and interest to your brand and make people feel good too.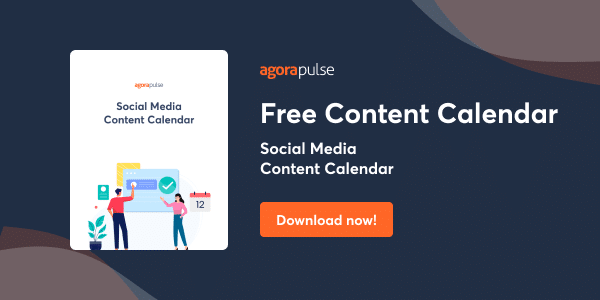 Message
Last but not least, you can send a direct message. Use this thoughtfully because going about it the wrong way can make you seem like a spammer.
Ask yourself:
Is there a benefit to this being a message rather than a comment?

Will this add value to the person I am messaging?

Is my message clear, short, and to the point?

Do I give them a social out if I am asking for something so they don't feel pressured?
Messages are best when you want to make a direct sales pitch, are interested in partnering with them, or have a question or comment that is best kept private. Remember that anything you send in a message can still be screenshot and shared, so don't send something that would be damaging to your brand if it became public!
In Conclusion
None of these find-Instagram-user methods is the "set it and forget it" kind that you might long for. It can be easy to feel overwhelmed by this new to-do list. But if you are consistent every day these methods will bring results. Some ways to manage your time with these methods are:
Schedule 10-15 minutes per day in your calendar for working on these strategies

Set a timer so that you don't get sucked into social media land

Run weekly reports so you can see the growth of your accounts and analyze how to improve your results
Using these strategies do not have to take over your whole day to get a real and engaged following. The benefits of bringing more qualified users to your Instagram account are well worth the effort. You just have to make sure to be focused on how to get more Instagram followers for your social media agency and/or its clients.
* * *
Sign up now for a FREE demo.